We test and review fitness products based on an independent, multi-point methodology. If you use our links to purchase something, we may earn a commission. Read our disclosures.
Smart home gym equipment has come a long way in recent years—from eye-catching hardware to software with on-demand workouts at your fingertips. The modern age of fitness equipment delivers personal training right to your very own garage gym or living room.
That said, if you're looking for the rowing machine with the best rowing app and programming to reach your fitness goals, keep reading. In this comparison, we're going to look at Aviron vs Hydrow, which are two rowing machine brands with high-tech touchscreens, built-in programing, and off-rower workouts.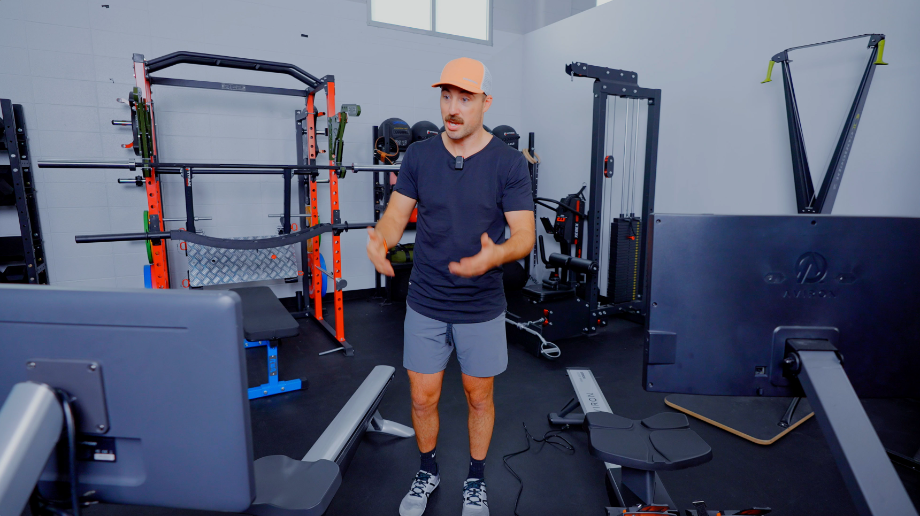 Aviron Strong Series Rower
GGR Score: 4.3
Product Highlights
Compact rower featuring game-led software 

Durable construction made with premium steel and aluminum

Features a 22" rotating touchscreen, wide 20" seat, and a 19" handlebar that rotates for a more ergonomic grip

Width on footplate can be adjusted

2 front transport wheels and upright storage

Impressive maximum user weight capacity of 507 lbs and a 6', 8" height maximum

Equipped with up to 100 lbs of resistance derived from a dual air and magnetic resistance system

Over 500 workouts provided
Pros & Cons
Pros
Compact
Quality build
100 lbs of resistance
Adjustable footplates
Gamified experience
Hundreds of workouts
Cons
Shorter length may feel constricting for some
Monthly subscription required for full functionality
Bottom Line
If you are looking for a high-tech, well-made rower with a ton of workout options, the Aviron Strong Series Rower may be for you.
Hydrow Rower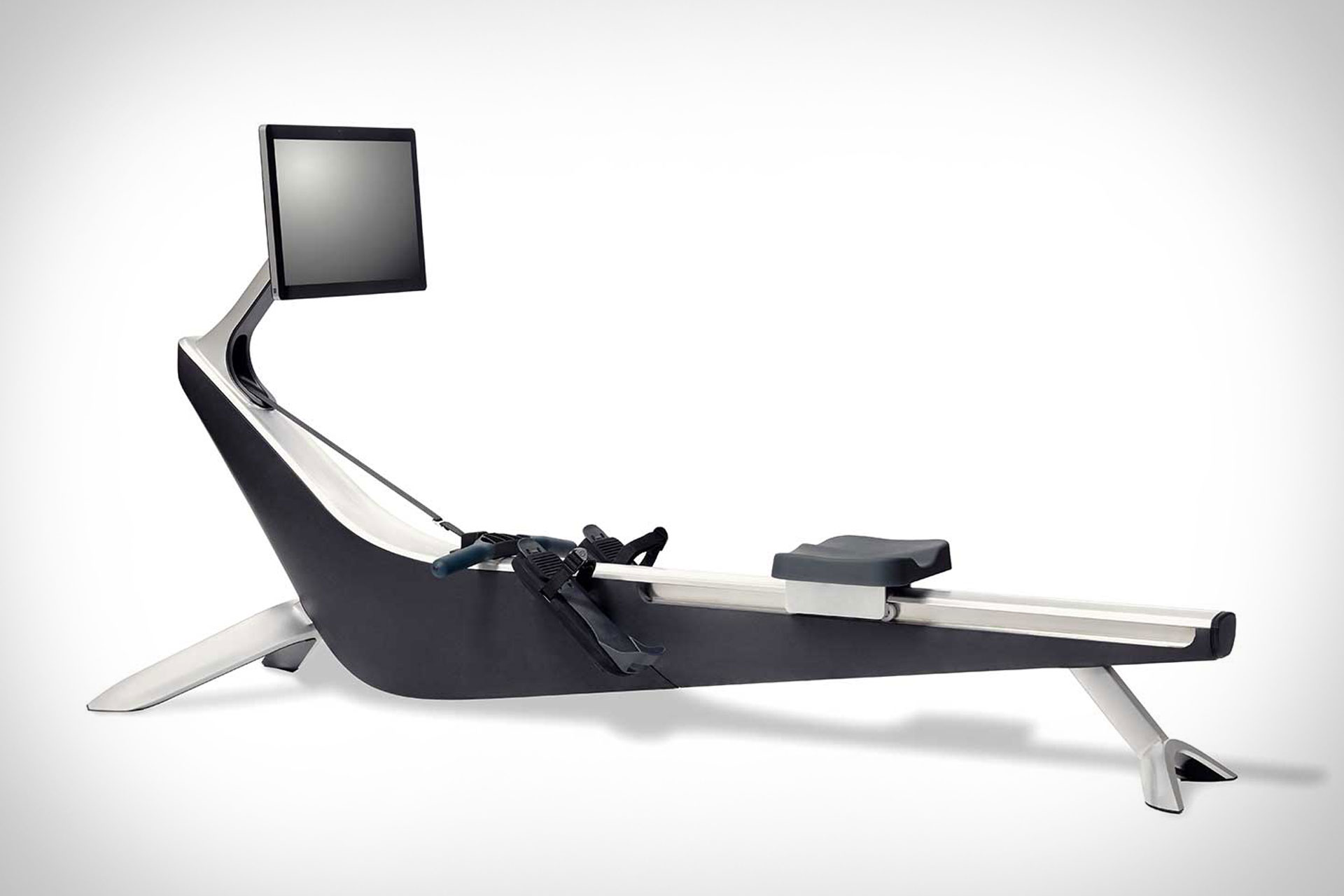 GGR Score: 4.2
Product Highlights
Sleek and sexy design
16″ touchscreen display
Magnetic resistance done right
Gorgeous virtual rowing workouts filmed on location all over the world
Smooth rowing experience
Pros & Cons
Pros
Consistent and smooth magnetic rower
Engaging interactive programming
Ability to compete against others via a leaderboard
Sleek and modern design
Cons
Just under $2,500 for the Hydrow Essentials Package
Additional subscription fee for programming
Limited customer service contact options
Bottom Line
This is a fantastic, advanced rowing machine ideal for people who have the money to spend and the desire for trainer-led workouts.
Aviron vs Hydrow Comparison Chart
| | | |
| --- | --- | --- |
| | Aviron Strong Rower | Hydrow Rower |
| Price | $2,199 | $2,495 |
| Footprint | 84″ L X 27″ W X 48″ H | 86″ L x 25″ W x 47″ H |
| Resistance type | Dual air and magnetic flywheel | Computer-controlled magnetic resistance |
| Weight limit | 507 lbs | 375 lbs |
| Height limit | 6' 8" | Fits up to 36" inseam |
| Product weight | 114 lbs | 145 lbs |
| Display | 22" rotating touchscreen | 22" HD touchscreen |
| Bluetooth | Yes | Yes |
| Programming | Aviron Active programming | All-inclusive Hydrow Membership |
| Warranty | 10-year frame and 1-year parts | 5-year frame, 1-year components, screen, and electronics |
RELATED: The Best Rowing Machines for Your Home Gym
Quick Look: Aviron vs Hydrow
Aviron and Hydrow are two brands that offer high-quality home rowers with excellent programming. Each brand has a unique style of training it delivers—Aviron leaning more into the gamified experience, and Hydrow providing more of an on-water experience.
While both brands feature two different row erg models, this comparison will focus on each brand's top machine: The Aviron Strong Series Rower and the Hydrow Rower.
Hydrow also features a smaller, lighter, and less expensive rower called the Hydrow Wave. It's an ideal option for folks who want the Hydrow experience on a budget. If you'd like to read more about that machine, check out our Hydrow Wave review for all the details.
Aviron also makes another erg, which is called the Aviron Impact Series Rower. It's only $300 less expensive and is basically a lightweight, less durable version of the Strong Series. I will also mention that the Strong Series replaced the Aviron Tough Series Rower, which is now discontinued (in fact you won't even be able to find it on sites like Amazon).
RELATED: The Best Magnetic Rowing Machines
Who Should Buy Aviron
Folks who enjoy a gamified workout experience
Anyone who would like the option to connect with third-party streaming app like Netflix
People who want programming for rowing workouts and strength training
Anyone looking for a rower to accommodate a large user weight or height capacity
Folks who want upright storage capabilities without additional mounts
Who Should Buy Hydrow
Folks who want instructor-led workouts with classes filmed on-water
Anyone who wants a scenic outdoor rowing experience
People who want a quiet rowing machine
Individuals who want a leaderboard competition while rowing
Homeowners with the floorspace for this bulky machine (or the ability to install the wall mounting kit, sold separately)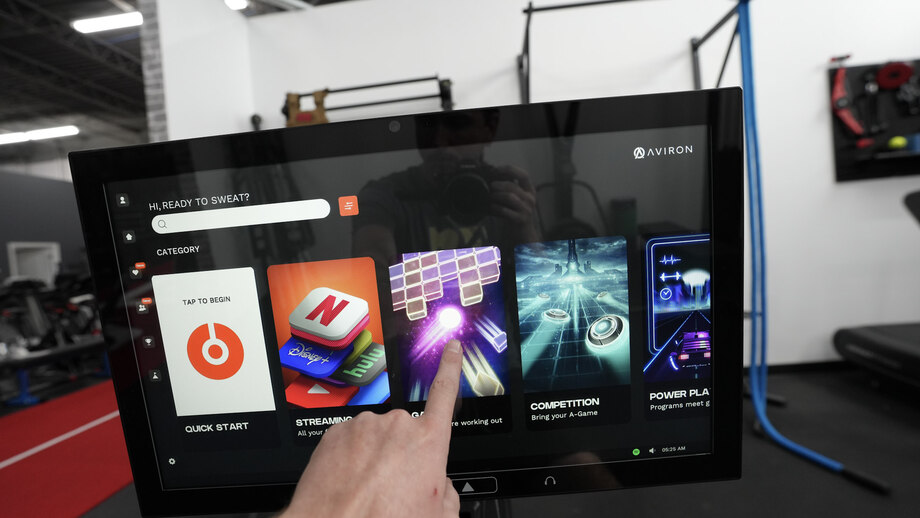 Key Similarities Between Hydrow and Aviron
Large footprint home rowing machines
Low-impact, full-body workouts
More than just rowing machine workouts: strength training and mobility is also available
Touchscreen pivots and tilts for ergonomics in addition to off-rower workouts
Rowing workouts filmed in scenic outdoor settings
Upright storage options
Leaderboard competition
Bluetooth connectivity for wireless headphones
Important Differences Between Hydrow and Aviron
Hydrow Rower is nearly $300 more than the Aviron
The maximum user weight on the Aviron is 132 pounds more than the Hydrow
Aviron does not need a wall mounting kit for upright storage
Aviron features patent-pending adjustable-width foot plates
Hydrow membership is $44 per month, while Aviron is $29 per month
Programming and Technology
Like the Ergatta Rower and CITYROW Go Max, both of these smart rowers have subscription-based programming that will provide guided workouts, but the method of instruction and style of workouts will be different on each machine. Additionally, both row ergs feature 22-inch touchscreens that pivot and tilt for easy viewing (and navigating workouts) on and off the rower.
Although both brands are rowing-focused companies, either option will provide you with strength training, yoga, and pilates for additional at-home workouts.
If you're someone interested in rowing as a sport, the Hydrow might appeal to you because all of the rowing workouts are filmed on the water. The coaches featured in the Hydrow all-inclusive membership are also world-class athletes and rowing experts.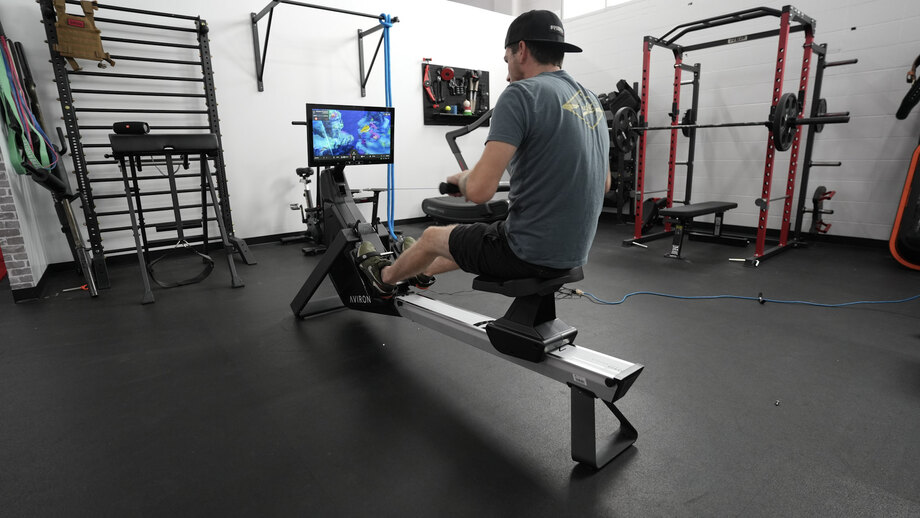 With Aviron, you will have the option of rowing, strength training, and stretching with personal trainer Austin Hendrickson. You will also have access to scenic rowing workouts for that outdoor feel. And most notably, your workouts can be entertaining with video game-style quests and races, leaderboard live competition, HIIT rowing workouts, and Pros vs Joes rowing races against Olympians and professional athletes.
Both machines allow you to use Bluetooth connectivity for syncing a pair of wireless headphones to listen to instruction while you row. Aviron takes things a step further with the built-in WiFi connectivity for streaming entertainment like Netflix, Hulu, YouTube, or Spotify.
If you're curious about our testing experience and the full run-down on technology, be sure to check out the Aviron Strong Series Rower review for all the details.
Rowing Experience
The Aviron is a unique rower with a dual resistance system featuring both magnetic and air resistance. According to the website, the dual method can provide up to 100 pounds of resistance at the highest settings, which is a lot of resistance during a cardio workout.
Dual resistance basically means that within each defined level of magnetic resistance, you can change your effort and speed to manipulate resistance even more with the air intake. The nice thing about this dual resistance machine, it's not nearly as noisy as a traditional air rower, as we discuss in the Concept2 RowErg review.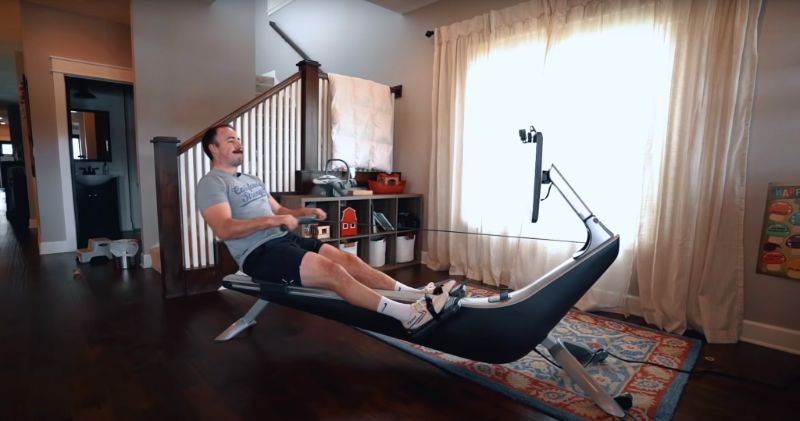 The Hydrow Rower is a magnetic rower with patented electromagnetic resistance mechanism. Although the website does not list the number of resistance levels, it does note that the electromagnetic drag mechanism is patented technology that simulates a smooth but fairly realistic water rowing sensation.
RELATED: Air vs Magnetic Rowing Machines
Construction Differences
The Hydrow Rower is not only sleek and modern, it's also built with durability in mind with a heavy frame constructed from both aluminum and steel. The Aviron is also durable with an aluminum frame and some plastic parts, but weighs much less at 114 pounds, versus the Hydrow at 145 pounds.
GGR founder and expert product tester, Coop Mitchell has tested both rowers and reports no shaking, shifting, or general unsteadiness on either machine.
It's worth pointing out that the Aviron might be lighter but has a higher user weight capacity at 507 pounds. The Hydrow will also accommodate a wide range of users at 375 pounds (and is above industry average for rowers) but is 132 pounds less than the Aviron.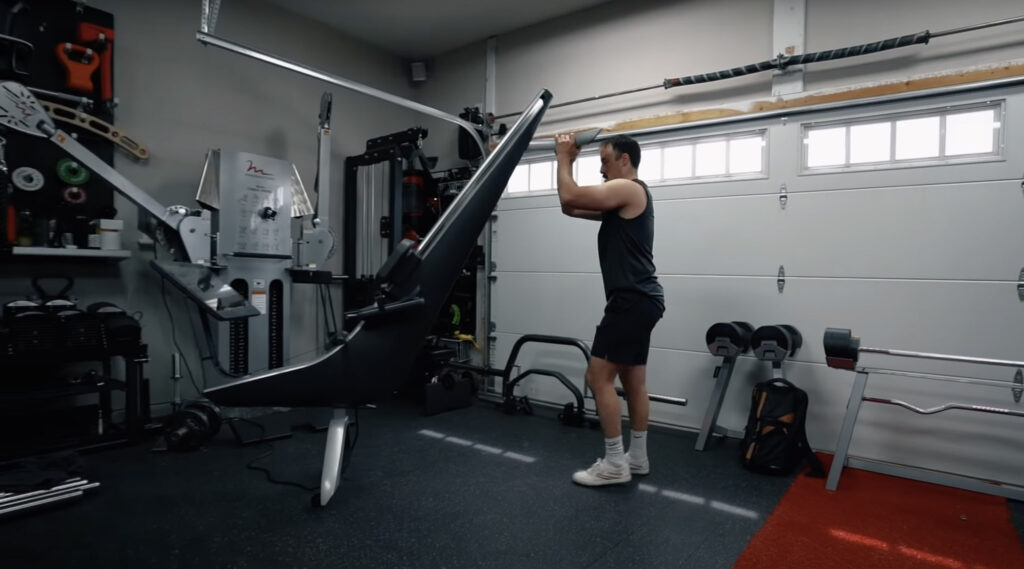 Another thing to note is that neither machine is compact. Both will take up about 7 feet of space lengthwise and over 2 feet in width. Both machines can be stored vertically so you can gain back floorspace in your home gym, but the Hydrow Rower requires a separate upright storage kit (for an additional $80) to safely stow in the vertical position. The Aviron on the other hand can be stored upright and does not require any additional kit or mechanism to do so.
I also think it's worth mentioning that the Aviron has a higher seat height than a traditional rower, sitting at 20 inches tall. It's also a roomy seat, measuring 20 inches wide.
Company Policies
Before you purchase your rower, know what to expect when it comes to company policies:
Warranty Policy
The Aviron warranty covers a one-year period where the brand will repair or replace any parts that are found defective in material or workmanship. There is also a limited 10-year warranty on the structural frame.
You can make a warranty claim with Aviron by reaching out to the company via email, live chat, or phone. You will need confirmation from Aviron customer support before your product can be qualified for a warranty claim or before you return and parts or accessories for repair.
The Hydrow warranty policy is also a limited warranty that covers a five-year period on the structural frame. There is a one-year policy for all moving parts and components (including handles, straps, seat, and hinges), electronics, and touchscreen. The Hydrow website also states the warranty does not cover damage from normal wear and tear, improper assembly, or neglect.
Return Policy
If you're a brand new customer with Aviron, you can utilize the brand's 30-day risk-free period, which basically means that you won't be charged restocking and return fees if you decide you're going to return your Aviron rower. However, the website states the rower needs to be shipped back in the original packaging.
Similarly, new Hydrow customers (who purchase directly through the Hydrow website) can take advantage of the Hydrow 30-day risk-free home trial. During this risk-free period, if you regret your purchase, you can contact member services and the company will arrange a free pickup of your Hydrow Rower.
If you are not a new customer, returning your Hydrow Rower will cost you $250 to ship it back and you won't be refunded for any of your original shipping or installation fees.
Financing Options
When you purchase an Aviron rower, at checkout you will have the option to finance your purchase with Affirm. This third-party service will give you a rate between 0 to 36% APR depending on your credit history. You can also get loan terms of 6, 18, or 36 months.
Hydrow uses Klarna for financing at checkout. With a credit check you can receive financing as low as 0% APR for 48 months, while standard purchases are 19.99% APR.
RELATED: The Best Budget Rowing Machines
Final Thoughts about Aviron vs Hydrow
The Hydrow Rower and Aviron Strong Series Rowing Machine both offer high-quality hardware, software, and workout experiences. While there are quite a few similarities, here are the biggest differences:
Hydrow row costs about $300 more than the Aviron upfront in addition to $15 more per month with the all-inclusive Hydrow monthly subscription.
The Avrion Strong Series is a lighter rowing machine than the Hydrow, but has a heavier user weight capacity at 507 pounds.
While both machines can be stored upright, the Hydrow machine will need a separate mourning kit for vertical storage.
While Aviron programming features a personal trainer and off-rower workouts the bulk of the programming are video games, power play races, and live competitions.
Aviron vs Hydrow: FAQs
What is comparable to the Hydrow rower?
We think the Hydrow Rower is pretty comparable to the Aviron Strong Series and the Peloton Rower. In fact, we have an entire article comparing Hydrow vs Peloton.
How much is Aviron monthly?
Aviron monthly membership fee is $29 per month and if you want to be billed on an annual basis, the cost breaks down to $25 per month.
How long has Aviron been around?
According to the Aviron website, the brand's software launched in the commercial market space in 2018 and the consumer market in July of 2020.
Does Aviron have Netflix?
The software on Aviron rowing machines is compatible with streaming platforms including Netflix, Hulu, Spotify, and YouTube. You will have the ability to watch your favorite shows, movies, or sports and track your stats and metrics without missing a beat.
Not many cardio machines have this feature compatible streaming feature—even the best NordicTrack rowers will only let you stream iFIT-specific streaming. That said, it's worth noting that your Aviron monthly membership does not include the subscription fees for any additional entertainment platforms.