We test and review fitness products based on an independent, multi-point methodology. If you use our links to purchase something, we may earn a commission. Read our disclosures.
Have you ever thought to yourself: Do I really need two weight benches? Perhaps you've wondered if there will ever be a bench out there for all your benching needs—both adjustable and flat.
If this question has ever wracked your brain like it has mine, keep reading because Coop—OG product tester and founder of Garage Gym Reviews—may have found the premier bench to solve all your benching problems: the Stray Dog Alpha Bench. It's an American-made bench with a sizable price tag, but for the right lifter, it could be worth the investment.
This bench pretty much has it all: a narrow gap pad, adjustable from zero to 85 degrees, and the ideal 17-inch height for powerlifters (and non-powerlifters, too). In this Stray Dog bench review, I'm going to cover everything we love about this bench, why it's worth the hefty price, and explain why you can use the Stray Dog Alpha as your sole home gym bench.
Industry Professionals Test A Premier Bench
GGR was built on the idea of delivering unbiased information to the public on all types of gym equipment, from high-end specialty barbells to budget treadmills and everything in between. Our expert product testers are also fitness industry professionals including CrossFit Level 1 Trainers, nutrition coaches, and certified personal trainers.
For the Alpha bench, Coop put the weight bench to the test in his personal garage gym. We've got an in-depth video to share with you in addition to a deep dive on the specs.
Stray Dog Alpha Bench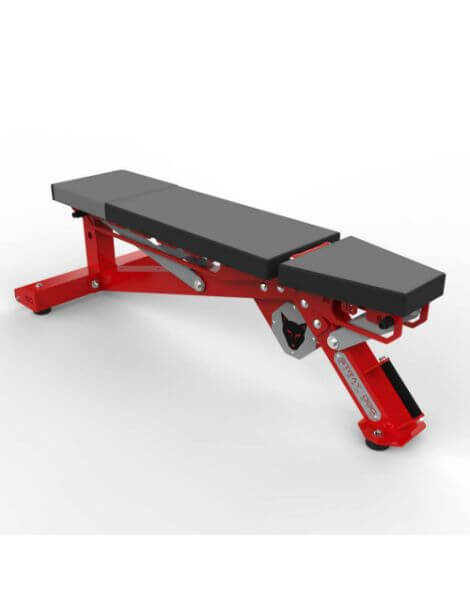 GGR Score: 4.4
Product Highlights
Adjustment ladder on back of the pad

Ladder positions cut into the pad for quicker adjustments

Bronze oil brushing allows for smooth rotation of adjustment points 

Rubber bumpers grip the floor to prevent the bench from sliding

Vertical storage keeps pad off the ground
Pros & Cons
Pros
2 pad options
Holes on the back for attachments
Ladder placed in the back for easier access
Vertical storage saves space
Has holes for rack attachments when seat is inclined
Cons
More expensive than other benches
Bottom Line
The Stray Dog Strength Alpha Bench is great for those looking for a versatile high quality bench.
A Quick Look at the Stray Dog Alpha Bench
Stray Dog Strength gives big-name brands like Rogue, REP, and EliteFTS a run for their money. Not only does Stray Dog Strength design and manufacture everything from squat racks and rack attachments to lat pulldowns and functional trainers—the brand also does start-to-finish facility design and planning for high schools, colleges, and professional sports programs alike.  
Although Stray Dog Strength offers a robust lineup of equipment and design execution, up until last year, you had to call and place orders over the phone with a sales representative. Although this method might sound nostalgic, I find it's still common in the world of powerlifting (especially the more niche and heavy-duty the equipment gets). I know this because I've heard my husband on the phone special ordering a bench shirt from Inzer like we're still in the '90s.
Speaking of the '90s, Stray Dog Strength got its start back in 1998 as The Equipment Guys. The brand was developed from founder Matt Purdy's idea to build a multipurpose rack versatile enough for both squat and bench. Although this is a popular setup now, 25 years ago this was a pretty novel idea and was certainly not an off-the-shelf product.
Before You Buy
You can customize the color of the metal frame (and the upholstery) without additional costs.
This bench has 3-by-3 steel tubing and features a unique post on the back for 1-inch attachments like a leg roller or a landmine.
For additional costs, you can add even more custom features like a laser-cut logo plate and a spotter plate.
Video Review
Is the Stray Dog Alpha Bench Worth It?
The Stray Dog Alpha bench will not be everyone's cup of tea. Much like most strength and conditioning equipment, there is not just one solution for everyone. According to Coop, the Alpha bench is for someone looking for top quality in an adjustable bench. The value in this bench is seen in the sturdy over-built frame, unshakeable tripod design, and unique attachment features that make this more than just a piece of equipment for chest day.
This bench is also for the home gym user who plans to use it in a power rack and out of the rack for dumbbell exercises. If you already have two solid setups for your barbell benching and dumbbell accessories, it might not be worth spending nearly $800 for another piece of equipment.
This bench is heavy-duty and has a lifetime warranty on all welds and the frame itself. The construction of the bench frame matches the construction of the brand's squat racks—including its unique space-saving triad rack and the mega auxiliary training rack (ATR).
Great for:
Anyone looking to use one bench in their home gym for all barbell and dumbbell exercises
Home gym owners looking for a high-end adjustable bench
Taller folks or anyone who dislikes sitting with hips in the pad gap
Not recommended for:
Folks on a budget
People who want a bench purely to get the job done
Anyone who already owns an one adjustable bench and one flat bench
Stray Dog Alpha Bench Specs
| | |
| --- | --- |
| Price | $775 – $875 |
| Footprint | 58" L x 24" W x 17" H |
| Material | 3×3, 11-gauge steel |
| Back pad dimensions | 40" L x 12" W x 2.25" H |
| Seat pad dimensions | 12.5" L x 12" W x 2.25" H |
| Pad gap | 1.25" |
| Back pad adjustments | 0, 15, 30, 45, 60, 75, and 85 degrees |
| Seat adjustments | 0, 15, and 30 degrees |
| Adjustment style | Reverse ladder system |
| Frame and accent color options | Gold, yellow, orange, red, navy, green, royal blue, silver, white, and black |
| Upholstery color options | Black, gray, orange, red, purple, navy blue, royal blue, green, and burgundy |
| Product weight | 117-125 lbs |
| Weight capacity | 1,000 lbs (not verified by Stray Dog Strength) |
| Made in USA | Yes |
| Warranty | Lifetime on all welds and frame, 1-year on all moving parts, 60-day on upholstery and pads |
Standout Features On The Stray Dog Alpha Bench
The Alpha Bench features a unique reverse ladder system for the angle adjustments of the back pad. This ladder is not a traditional pop-pin style system where the ladder is on the frame. Instead, the ladder is on the back of the back pad with the lever arm attached to the frame.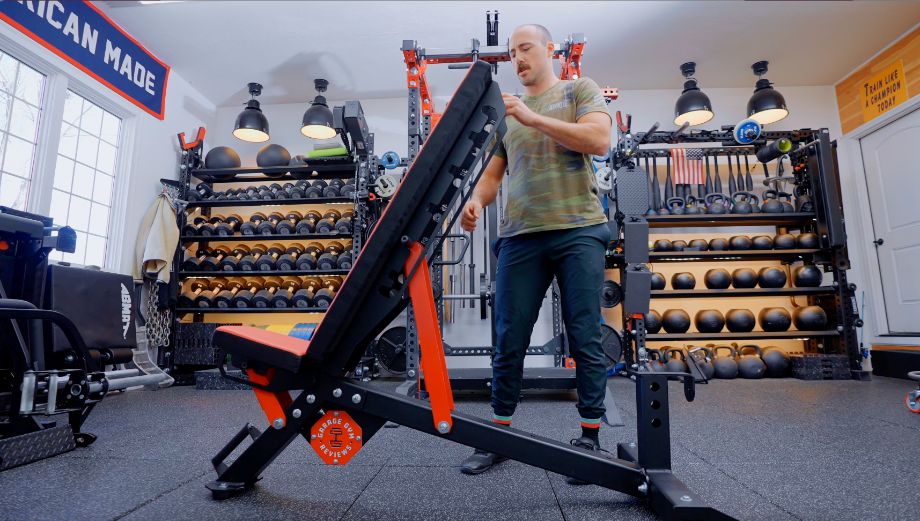 When Coop tested this bench, he found it was not necessarily better or worse—mostly just different. However, the one thing Coops notes is that the reverse ladder system is harder to clip into place with one hand.
Another standout feature on the Alpha bench is the length of the back pad. The back pad alone is 40 inches long and can easily accommodate most folks' bench setup without hips meeting the gap pad. This bench will also be ideal for taller people who usually have trouble with the ergonomics of laying on a flat bench.
More Portable Than Your Average Bench
The Stray Dog Alpha Bench offers some unique design features that will make this bench a standout piece in your home gym.
This bench might be heavy and weigh over 100 pounds, but it can be stored in a vertical position to gain back more floor space when you're not benching. One thing that Coop mentions about this storage option is that it might be best up against a wall if you have kids or pets that frequent your home gym area.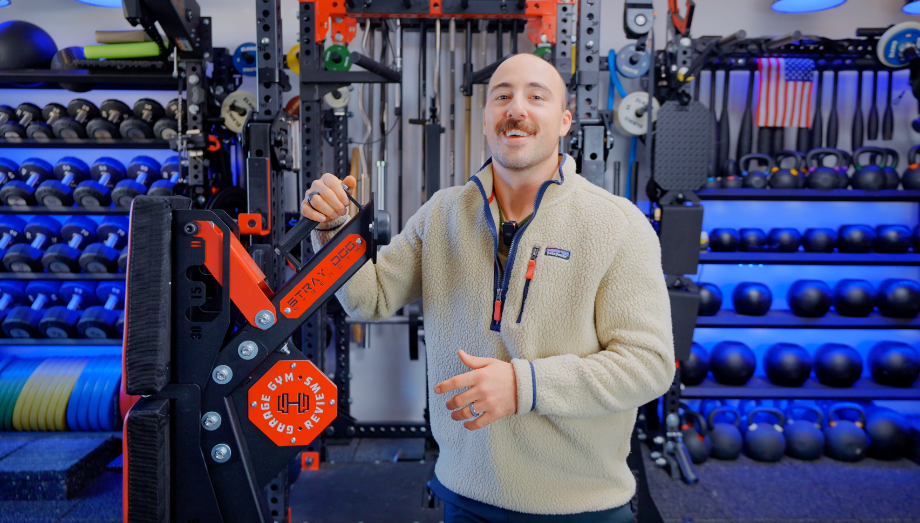 The Alpha bench is also a sizable piece of equipment for your home gym. It's just under 5 feet in length and 2 feet wide. However, if you choose to purchase an Alpha Bench for your home gym, it's unlikely you will need another bench. This bench does double-duty with all the incline adjustments you need for incline benching and overhead pressing in addition to a super sturdy flat bench.
Coop says the super smooth urethane Abec 7 bearing transport wheels make it easy to maneuver around your home gym, too.
A Design Engineered For Stability
Stray Dog Strength puts all products through an extensive design process in addition to a research and development phase on all products it manufactures. Stray Dog is also committed to using American steel and all products are made in a manufacturing facility in Columbus, OH.
Additionally, the Alpha bench is fabricated with solid 3-by-3 inch, 11-gauge tubing. Because of this heavy-duty design, the bench is super sturdy no matter where you sit. For context, normally this kind of rigid construction is reserved for power racks and functional trainers.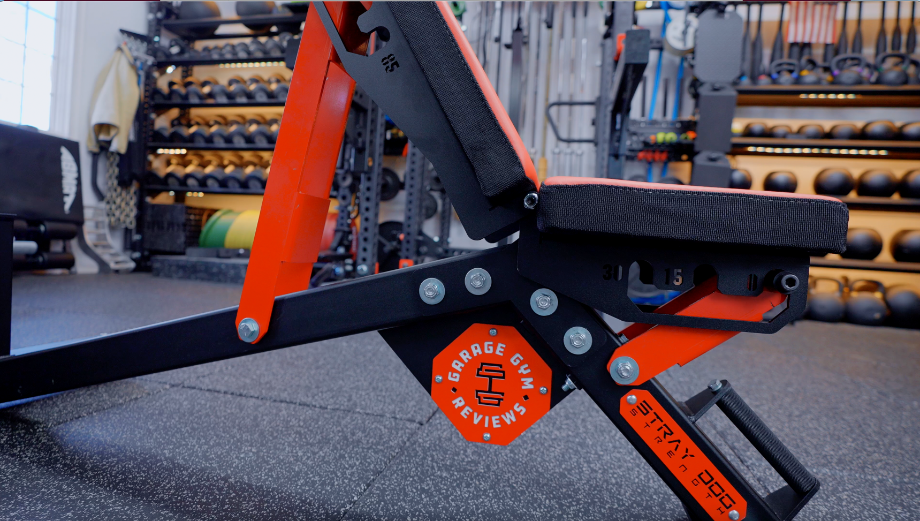 In areas where the tube steel is not used—like the spine and ladder system—the bench features either 7-gauge steel or 5/8-inch steel. With so much heavy metal, the bench weighs anywhere from 117 pounds to 125 pounds depending on the customizations you make.
Additional design features Coop is partial to on the Alpha bench include the quality (and smooth) powder coating, the handlebar for transporting that features barbell knurling, and the optional feature to have a laser-cut logo featured on the frame.
Well-Thought-Out Bench Ergonomics
Firstly, I'd like to point out that the pad gap is extremely narrow at 1.25 inches wide. It is rare to see such a narrow gap that doesn't create any bunching on the back pad when adjusting the angle. I've been a personal trainer for more than six years and I can attest to the fact that gap is a common point of disdain among clients. Most people do not like the feeling of their glutes wedged in the gap pad.
The next thing that excites me about this bench is the fact that it measures 17 inches from the top of the pad to the floor. This measurement is the standard for most powerlifting federations and allows most people to gain quality leg drive. I will say from personal experience of attending dozens of powerlifting meets and coaching clients of all shapes and sizes: If you're under 5-feet tall, it's unlikely 17 inches will allow you to get your feet fully grounded. A pair of bumper plates on the floor usually does the trick, though.
Speaking of leg drive, the tripod design of this Alpha bench is designed more similar to a competition bench than a commercial bench—meaning that the front stabilizer is slim, allowing you to slide your feet back for a proper bench setup and leg drive.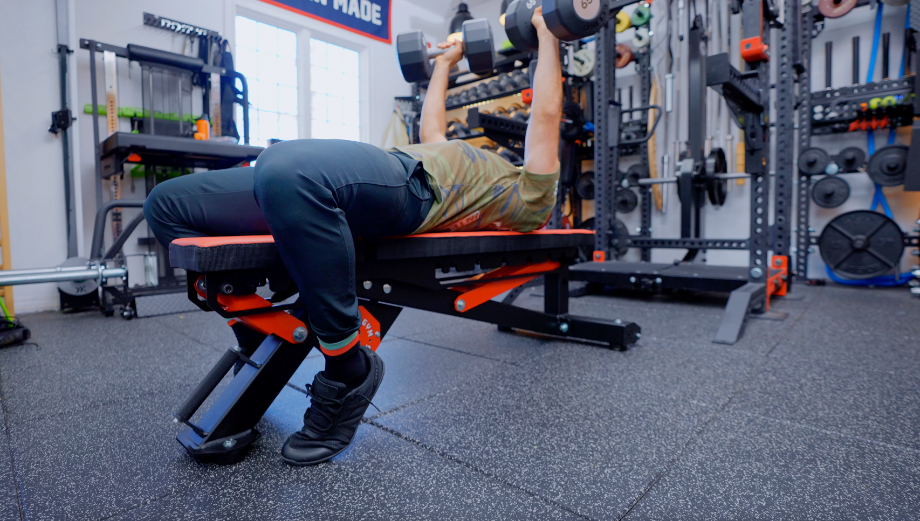 This bench has everything you need for heavy barbell benching and preparing for competition. However, you will also like knowing that there are seven different back pad adjustments ranging from 0 degrees to 85 degrees. Additionally, you will also have three seat adjustments for a secure fit for anything from seated overhead press to chest-supported rows.
Additional Conveniences
An innovative value-add to this bench that we haven't seen before is the versatile back post. When the back pad is in an incline position, the back post is accessible for 1-inch attachments with the holes cut through the frame (much like a squat rack). This allows you to add a leg roller or landmine attachment to instantly make this adjustable bench even more dynamic.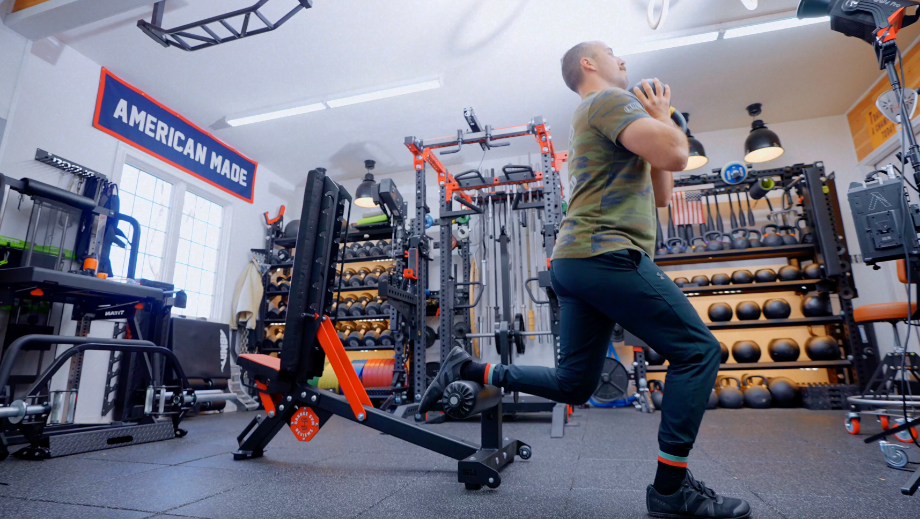 Comparison to the REP AB-5200
The Alpha bench compares most similarly to the REP AB-5200 because of the narrow gap pad and overall footprint. The price of the REP AB-5200 comes in roughly $300 less than the Stray Dog Alpha Bench.
However, with the Alpha bench you are getting a solid (perhaps overbuilt) 3-by-3-inch, 11-gauge steel tubing made from American steel in an American facility. The REP on the other hand, keeps costs a little lower by manufacturing overseas.
Additionally, if you are purchasing an adjustable bench with plans to prep for powerlifting meet, keep in mind that the Stray Dog Alpha Bench features competition bench height of 17 inches while the REP is set at 18 inches.
| | | |
| --- | --- | --- |
| | Stray Dog Alpha Bench | REP AB-5200 |
| Price | $775 – $875 | $499 |
| Footprint | 58" L x 24" W x 17" H | 58.5" L x 20.25" W x 18" H |
| Material | 3×3, 11-gauge steel | 11- and 7- gauge steel |
| Bench height | 17" | 18" |
| Pad gap | 1.25" | 2" |
| Adjustable | Yes | Yes |
| Weight capacity | 1,000 lbs (not verified by Stray Dog) | 1,000 lbs |
| Product weight | 117-125 lbs | 125 lbs |
| Made in USA | Yes | No |
| Warranty | Lifetime on all welds and frame, 1-year on all moving parts, 60-day on upholstery and pads | 10-year on bench frames, 30 days on upholstery |
REP AB 5200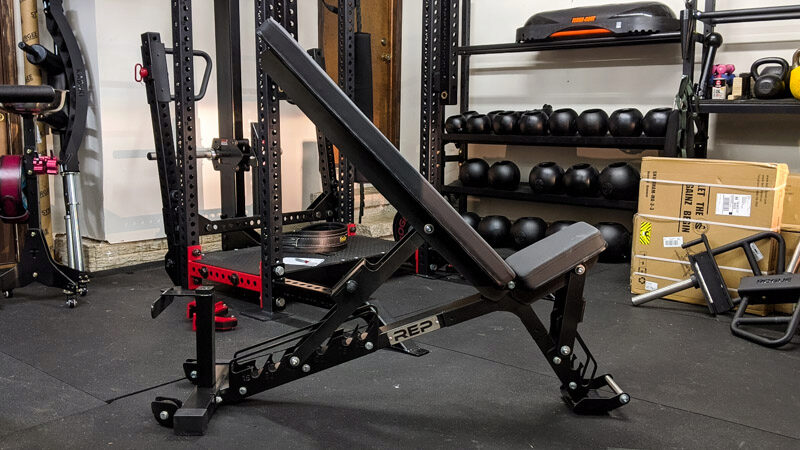 GGR Score: 4.4
Community Score: 5
Product Highlights
Our beefiest adjustable bench ever made, and chock-full of design details that improve typical limitations found on other benches.When it comes to durability and portability, this utility bench offers comfort under any load.
Pros & Cons
Pros
The Rep AB-5200 Adjustable Bench is, in our opinion, the best adjustable bench that Rep Fitness currently sells.
The bench height from the floor to the top of the pad when completely flat is 17.75" which is pretty great for an incline bench with a ladder style.
The bench is made of both 11 and 7 gauge steel through the 2"x3" frame.
1,000 LB capacity, although we'd guess it could handle much more.
There are 7 adjustable back angles and 3 seat pad angles that are quick to change thanks to the ladder-style adjustment system.
All logos are laser cut out of stainless steel, something we've been asking for, for years.
The bench can be stored upright when not in use which is similar to one of our favorite benches, the Sorinex 0-90 NP3 Adjustable Bench that costs more than double what the AB-5200 does.
The vinyl on used on the bench is Rep's signature grippy vinyl that can be seen on the home gym favorite Rep FB-5000 Competition Flat Bench.
There are wheels and handles on the bench that makes it easy to maneuver.
The AB-5200 is very stable when using flat or at an angle.
Cons
Although this is a great value bench, it's still more than some would want to pay for an adjustable bench. This said, if you spend much less, the quality differences will be dramatic.
No decline option available with the bench.
Bottom Line
The Rep AB-5200 Adjustable Bench is one of the best incline benches on the market. In our tests and reviews, we've found it to meet most of our spec requests, and it's priced very competitively for the features available. If you're in the market for an adjustable bench to add to your garage gym, or even a commercial gym (we use ours in one) then this is a bench we highly recommend.
Customer Experience
According to the brand's website, all Stray Dog Strength products have been heavily tested with the above-average training volume of high school, collegiate, and professional teams for over 20 years. That said, the brand believes in the products it creates and offers a lifetime warranty on all welds and frames.
Additionally, Stray Dog offers a one-year warranty on all moving parts, and a 60-day warranty on all upholstery and pads. The brand's policy does extend to non Stray Dog products like the Troy weight plates and dumbbells that are also sold on Stray Dog's website.
If you need to file a warranty claim, the website has a simple form to fill out where you will be contacted via email. The website also provides an email address, phone number, and general inquiry form to contact the company.
Assembling the Stray Dog Bench
The assembly process for the Stray Dog bench might overwhelm you at first because you will have to build the whole thing. However, GGR operations manager and assembly extraordinaire Sam Presely says the process is fairly straightforward.
It took Sam about 45 minutes to assemble the bench alone with only the help of the written instructions, which he found easy to follow. "The only snag was the reverse ladder system. I put it on backwards, but it ended up being easy to flip around," says Sam. "This is the only bench that I know of that uses a reverse system," he adds.
Customer Reviews
Stray Dog Strength does not feature customer reviews on the website. In fact, reviews in general are hard to find on the overall brand and even harder when it comes to the equipment itself. However, I did come across a few customer reviews on Google and Facebook—nearly all were 5-out-of 5-star reviews. Most customers commented on the quality of Stray Dog Strength customer service.
Final Verdict of Our Stray Dog Bench Review
Overall the Stray Dog Alpha Bench is a high-quality option if you're looking for a top-notch all-in-one bench for your home gym. For many folks, the Stray Dog might be a little overkill, but if you're serious about benching, the Alpha Bench is sure to withstand heavy and high-volume training.

Here are some standout features we like about the Stray Dog Alpha Bench:
Training versatility (both with bench positions and attachments)
Made in the USA
Heavy-duty construction
Portable with the option for vertical storage
Lifetime warranty on the frame and welds
Stray Dog Alpha Bench Rating
Stray Dog Bench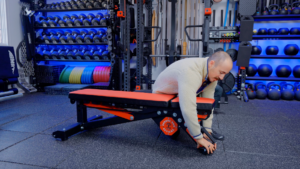 Will you be making room for this American-made adjustable bench in your home gym? Read all about it in our Stray Dog Bench review.
Product Brand: Stray Dog
Product Currency: $
Product Price: 875.00
Product In-Stock: InStock
Stray Dog Bench FAQs
Are adjustable benches worth it?
Yes, an adjustable bench allows you to train through multiple ranges of motion on pressing and pulling exercises. Adjustable benches are often equipped with transport wheels making them portable to roll in and out of a power rack, which means adjustable benches are good for barbell and dumbbell exercises alike.
How big is the pad gap on the Stray Dog Alpha Bench?
The Stray Dog Alpha Bench has a 1.25-inch gap pad.
Is the Stray Dog Alpha Bench worth the price?
This depends on your unique circumstances including budget, goals, preferences, and your current home gym set up. The Stray Dog Alpha Bench can provide massive value to lifters who routinely barbell bench press and have extra cash to spend on an American-made piece of fitness equipment.
Is the Stray Dog Alpha Bench easy to assemble?
The Stray Dog Alpha Bench has clear written instructions that make the assembly process easy-to-follow. Our GGR assembly expert put the Alpha bench together in under an hour.