We test and review fitness products based on an independent, multi-point methodology. If you use our links to purchase something, we may earn a commission. Read our disclosures.
If you're looking for one of the most affordable treadmills ever offered by ProForm, say hello to the ProForm ZT6. Back in the day, this machine was pretty popular thanks to its attractive price tag. Seriously, for $599, you could purchase this folding treadmill from Sam's Club and enjoy a jogger-friendly, brand-name machine. However, like many treadmills, this one was phased out to make room for the new and improved ProForm treadmills. 
Since the ZT6 is now discontinued, you might be able to find it for $300 or less, which is a reasonable price. But just because the price is right doesn't mean the features and specs on this treadmill will be right for you. Therefore, in this ProForm ZT6 review, we'll reveal what you should know about this machine before adding it to your home gym.
We Know ProForm Treadmills
When it comes to ProForm equipment, especially treadmills, we know our stuff. Our expert testers, which include certified personal trainers, exercise specialists, professional athletes, and more, have gotten very acquainted with these machines over the years. As a result, we can tell you how to use a ProForm treadmill without iFIT or even how to troubleshoot your treadmill if it's giving you a hassle. We can also share how this machine stacks up against other budget treadmills since we've had the opportunity to try out so many.
Looking for an Alternative to the ProForm ZT6?
Honestly, coming across the ProForm ZT6 might be like trying to find a needle in a haystack, so you're better off getting something newer. Consider these fantastic alternatives:
Best Alternative to ProForm ZT6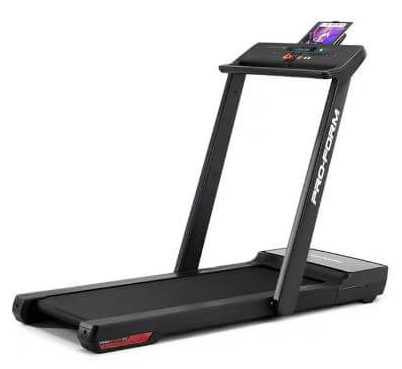 GGR Score: 3.05
Product Highlights
Foldable treadmill 

0-8 MPH

125-lb product weight 

250-lb user weight capacity
Pros & Cons
Pros
Foldable design
iFIT programming with trainer-controlled speed
Tablet holder
Free shipping
Bluetooth-enabled
0-8 MPH speed
Cons
No built in screen for iFIT programming
30-day return policy with $250 shipping + 10% restocking fee
User weight capacity 250 lbs
No incline or decline ability
Bottom Line
The ProForm City L6 folding treadmill is an affordable and compact treadmill to add to your home even if you don't have a dedicated home gym.
The ProForm City L6
If you want a machine that you can walk or jog on and that won't take up a bunch of room, check out the ProForm City L6. It's a relatively simple folding treadmill, offering a max speed of 8 mph, no incline, and a 1.6 CHP motor. Despite its modesty, it still has appreciable technical features, like iFIT compatibility and Bluetooth connectivity.
Trainees will find the City L6 easy to assemble, move around, and stow since it's only 125 pounds. However, because it's so light, it's not very inclusive and can only handle a user up to 250 pounds. Also, if you're tall, you probably won't like this treadmill, as the tread belt is just 45 inches long.
Overall, the ProForm City L6 is definitely worth checking out if you want something compact with interactive programming.
Best Alternative to ProForm ZT6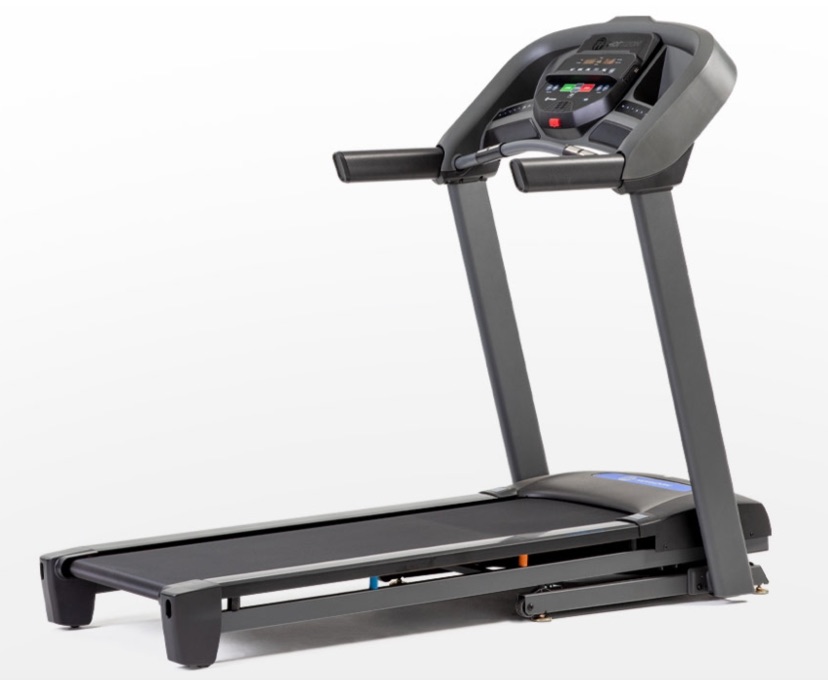 GGR Score: 3.83
Community Score: 2
Product Highlights
Foldable treadmill

Best suited for walkers, joggers or cardio newbies

Compact, sturdy and easy to use

Console fan, Bluetooth speakers, device holder, and a rapid-charge USB port
Pros & Cons
Pros
Easy assembly
One touch keys to quickly shift speed and incline
Integrated Bluetooth speakers
Device holder
Affordable
Easy to use
Great for beginners
Financing available
Cons
2.5 continuous horsepower motor will not support heavy running
Smaller running surface is not ideal for tall runners
Bottom Line
The Horizon T101 Treadmill is a compact, durable and quiet no-frills folding treadmill ideal for walkers or joggers offered at an unbeatable price.
The Horizon T101
When you compare the specs of the Horizon T101 and the ProForm ZT6, they're actually quite similar. Both are no-frills treadmills that cater to walkers and joggers. However, there are some crucial differences, too.
For one, the Horizon T101 provides a whopping 30 built-in workout programs. Most treadmills might come with 10 workout programs and maybe even 20, but not 30. In addition, it has Bluetooth connectivity, so you can sync your device to the speakers and listen to your favorite workout playlist or podcast.
Another admirable feature of this treadmill is the built-in tablet holder, which allows you to watch your choice of entertainment or view instructor-led exercise classes. The warranty package that comes with the T101 isn't bad either, offering lifetime coverage on the frame and motor.
Although the running surface and motor aren't what you'd typically find on the best treadmills, the Horizon T101 is still a quality-made machine. It will benefit the audience it's intended to serve.
A Quick Look at the ProForm ZT6
ProForm's ZT collection, which includes the ZT4, ZT6, ZT8, and ZT10, was created to provide trainees with a complete workout experience. That explains why you see different workout categories when you look at the console on these treadmills. Ultimately, they intended to appeal to the different goals that trainees might have when working out.
The ZT6, in particular, is the budget-friendly, mid-range treadmill of the bunch. Therefore, you get slightly better features than what you'd find on the ZT4 but won't get to enjoy the iFIT compatibility that you'd find on the two other top-of-the-line ZT treadmills. So is this machine really worth it when you don't get the complete workout experience without iFIT? You'll find out if it's worth it to you when you continue reading this ProForm ZT6 treadmill review.
Pros:
SpaceSaver design
QuickSpeed and Quick Incline controls
Deck cushioning
iPod-compatible music port
18 workout programs
Cons:
No workout fan
Short running surface
No heart rate chest strap
Not iFIT compatible
ProForm ZT6 Specs
| | |
| --- | --- |
| Footprint | 73″L x 36″W x 68″H |
| Foldable | Yes |
| Weight | 203 lbs |
| Weight capacity | 325 lbs |
| Motor | 2.5 CHP |
| Walking belt | 20″ x 55″ |
| Display | Backlit LCD Display |
| Incline | 0-10% |
| Speed | 10 MPH |
| Programs | 18 |
| Heart rate monitoring | Grip heart rate monitor |
| Warranty | Frame: Lifetime; Motor: 25 year; Parts and Labor: 1 year |
Key Features Of The ProForm ZT6
So, what exactly does this treadmill have to offer to walkers and joggers out there? Well, the 20-inch by 55-inch running surface will work fine for most users, but tall folks may have to look specifically for treadmills for tall runners. Even an activity like jogging will feel uncomfortable for someone with long legs or a longer stride.
If you're not a serious runner, the 0 to 10% adjustable incline on the ZT6 should be more than enough. You'll be able to up the calorie burn, engage the glutes, and mimic an outdoor run with just a click of a button (thanks to one-touch controls). To spice things up even more, you can crank the treadmill up to 10 MPH and get a good sweat-dripping run in.
Another key feature is the 2.5 CHP Mach Z commercial motor, which ProForm markets as being built to keep up with heavy-duty use. But not so fast. If you walk or jog on the ZT6 three or more times per week, that should be fine. However, if you're talking about running, I'd recommend only doing that on this machine once or maybe twice per week at most. Otherwise, you risk wearing the motor down a lot sooner.
In addition, this treadmill claims to support trainees up to 325 pounds, which is impressive! But it's possible this 2.5 CHP motor might not perform as expected for heavier users. Therefore, I recommend a 3.0 CHP motor or greater if you're heavier, especially if you plan on running or using the treadmill frequently.
Footprint, Portability, and Durability
So, let's say you don't have a lot of floor space to work with, and you need something small enough to fit in your living room. Would the ProForm ZT6 work for you? Hmm, it's possible. Unfolded, the treadmill is a little over 6 feet long and 3 feet wide. So if you plan on placing it in your living room (or anywhere), ensure you have at least 8 feet of clearance behind the treadmill and 2 feet on each side.
If you want the option to fold your treadmill up and stow it away when you're not using it, that's possible, too. It's got the patented SpacerSaver design, so you can raise the frame and align it with the latch pin to ensure it stays folded. Moving this treadmill is feasible as well, thanks to the wheels. However, you should probably recruit an extra set of hands since it's 203 pounds.
ProForm, as a brand, is known for creating durable products, so does this machine meet that expectation? Well, sort of. It's not the most well-built treadmill, but it doesn't have the worst parts in the world, either. ProForm provides a lifetime frame warranty and 25 years of motor warranty coverage, which tells me those are probably quality items. But the parts and labor warranty is mediocre at best. The 1-year parts warranty and 1-year labor warranty are nothing to brag about.
Ergonomics
Have you ever finished an intense workout session on a treadmill and noticed soreness in your joints? If so, it's possible that the machine lacked deck cushioning. Despite this treadmill being budget-friendly, it still uses the same ProShox cushioning you'd find in their more advanced treadmills, which is a perk.
Other than the deck cushioning, though, this treadmill doesn't really scream "comfort," which isn't uncommon among the more affordable treadmills. For instance, you won't find a built-in workout fan on most of these to help cool you down. However, oddly enough, the WalMart version did appear to have a fan. Therefore, I guess it just depends on where the original owner purchased it.
Technology Benefits and Conveniences
Although the ZT6 doesn't have iFIT, you're not entirely out of luck. On the console, you can access 18 workout programs specially designed by certified personal trainers. Those workout programs fall into four categories: Incline, Intensity, Speed, and Calories. What's especially convenient is that the treadmill's speed and incline will automatically adjust based on what's happening in the workout program.
The ProForm ZT6 also features a backlit display where you can glance at your heart rate, calories burned, the time elapsed, and more. To check your pulse, just use the heart rate sensors that are built into the handlebars. Although it probably won't provide the most accurate data, it should still give you a good guesstimate. Something this machine is missing that would've been nice to have is a chest heart rate monitor. Some machines don't include one, but it's optional if you go out and buy your own. Unfortunately, this particular treadmill doesn't even make that an option.
Lastly, the ProForm ZT6 does let you play music, but it's offered the old-school way. Since it's not Bluetooth compatible, you'll have to plug your iPod or other compatible device into a music port to hear your tunes.
Final Verdict of Our ProForm ZT6 Review
Eight years ago, this was the budget-friendly fitness machine to add to your home gym repertoire. If you wanted the straight-up basics, that is. In the fitness world, the ProForm ZT6 is no Belle of the Ball, but it is a good option for those who want to get some light to moderate cardio in without going outside.
Now that you've read this ProForm ZT6 review, it's ultimately up to you to decide if this machine would meet your needs if you happen across one for sale somewhere.
ProForm ZT6 Rating
ProForm ZT6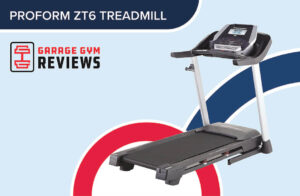 The ProForm ZT6 is an older-model treadmill from a respected brand. See how this entry-level machine stacks up in our ProForm ZT6 review.
Product Currency: $
Product In-Stock: InStock
ProForm ZT6 FAQs
Is a ProForm Treadmill a Good Product?
Yes! NordicTrack and ProForm, which are both owned by ICON Fitness, are leaders in the home gym space. These brands aim to provide quality treadmills and other home gym equipment that'll fit nearly every budget. 
Can You Run On The ProForm ZT6?
Technically, you could run on the ProForm ZT6 since it goes up to 10 MPH. However, I wouldn't recommend this machine if you're a serious runner. The 2.5 CHP motor isn't powerful enough to provide the seamless speed and incline transitions that runners desire.
Does the ProForm ZT6 Have Built-in Workouts?
Yes, there are 18 workout programs, which is helpful since this treadmill doesn't have iFIT.