We test and review fitness products based on an independent, multi-point methodology. If you use our links to purchase something, we may earn a commission. Read our disclosures.
Attention, frugal fitness folks! Did you know that it's possible to find a brand name budget-friendly folding treadmill with more than 10 incline levels? Look, I know that sounds almost too good to be true, but I'm not kidding.
The NordicTrack C2200 treadmill is now discontinued, which means if you come across it, you'll be able to get it at a great price. In fact, while browsing the internet, I came across a listing for as low as $300! Trust me, that's an absolute steal for this type of quality fitness equipment.
Now, I know you're tempted to go off hunting for this treadmill since it's so dirt cheap, but hold your horses for a bit. It's important that you learn more about it first to make sure it can actually meet your needs. Although this is a quiet, quality NordicTrack treadmill, it has some limitations. Therefore, in this NordicTrack C2200 treadmill review, I will give you all the deets so you can make an informed purchase.
When It Comes to Treadmills and Home Gyms, Give Us GOAT Status
In order to become the GOAT (greatest of all time), you have to dominate in your field, and that, my friends, is something we've done. Our testers, which include exercise specialists, personal trainers, and more, have had the pleasure of reviewing hundreds of treadmills.
Thanks to all that testing, we can tell you which treadmills are some of the best on the market right now. For instance, we can share the best treadmills with TV screens and the best treadmills under $1,500.
As the premier online resource for those who train at home, we aim to provide you with all the information you need to achieve your fitness goals. Therefore, with each set of new gear that comes in, our testers try it out for at least a month so we can share with you an in-depth, unbiased review that captures the strength and weaknesses of each product.
So, when you want to know about treadmills, take it from the GOATs (us) because we know our stuff.
Looking for an Alternative to the NordicTrack C2200 Treadmill?
Best Alternative to NordicTrack C2200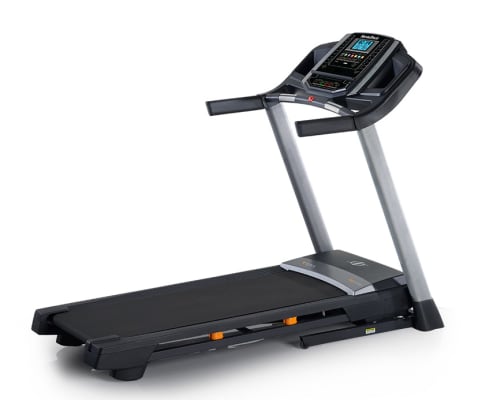 GGR Score: 3.8
Product Highlights
Entry-level foldable treadmill
iFIT-compatible
20 on-board workouts
2.6 CHP motor
Pros & Cons
Pros
Space-saver/folding deck
20 on-board workouts
iFIT- and iPod-enabled
300 pound weight capacity
Affordable
Cushioned running deck
Incline capability
One-touch controls
Cons
Requires a separate viewing device to take advantage of the benefits of iFit
Small 5-inch display
Customers consistently report that the T 6.5 S is very noisy
Motor will not support sustained running
Bottom Line
The NordicTrack T 6.5 S is a value purchase with some notable features. WIth a foldable design and compact footprint, it is a great choice for those with small spaces looking to dive into the world of cardio.
Maybe you need a newer folding treadmill with a slightly better continuous HP motor, more preloaded workouts, and advanced iFIT capabilities. If such is the case, consider the NordicTrack T 6.5 S.
This treadmill offers 20 built-in workouts, 10 power incline levels, and a 300-pound max user weight. Plus, if you have a tablet and sign up for the iFIT subscription, you can access hundreds of trainer-led workouts. With this neat feature, your iFIT personal trainers will be able to automatically adjust your incline and speed to enhance your workout session.
You'll also find a 2.6 CHP treadmill motor on this bad boy, which isn't great, but it can support running once or twice a week. I recommend that you don't use this treadmill at its max speed of 10 MPH too often, or you'll wear it out sooner. Truthfully, motors like this are best suited for individuals who plan to use their treadmill daily to walk or jog.
Although this treadmill doesn't have a touchscreen, it does have an easy-to-read 5-inch backlit display. In addition, one-touch controls for changing speed and incline levels are also present to make switching up your workout easier.
With the NordicTrack T 6.5 S, you're in for a comfortable walk, jog, or run on the 20-inch by 55-inch tread belt, thanks to its FlexSelect cushioning feature. In addition, there are valuable conveniences like a tablet shelf and water bottle holder.
A Quick Look at the NordicTrack C2200 Treadmill
One of the best things about discontinued treadmills is that you can purchase a good one at a great price. For instance, you can find the C2200 treadmill for less than $400 these days, which is mind-blowing. Why? Because treadmills in that price range don't offer half of what this treadmill is bringing.
To give you some insight, treadmills under $500 don't often have different incline levels, one-touch controls, high user weight capacities, or cooling fans. Fortunately, you'd get all that with this treadmill, plus more.
Prepare yourself because we're getting ready to dig into the details even more in this NordicTrack C2200 treadmill review.
Pros:
300-lb max user weight
OneTouch inline and speed control
CoolAire fan
Cushioned deck
Odometer
Heart rate monitor
Foldable, space-saver design
Cons:
Weak 2.25 CHP motor
Short treadmill belt
1 year on parts and labor
Two-person assembly process
NordicTrack C2200 Treadmill Specs
Due to the fact that the C2200 is off the market, our team had trouble finding reputable sources for some of these specs.
| | |
| --- | --- |
| Footprint | 79″ L x 36″ W x 60″ H |
| Weight | N/A |
| Weight capacity | 300 lbs |
| Display | 7" x 10" matrix display |
| Belt size | 20″ x 55″ |
| Incline range | 0-12% |
| Maximum speed | 10 MPH |
| Preset Programs | 10 preset workout programs |
Key Features of the NordicTrack C2200 Treadmill
One of the most attractive features of this affordable NordicTrack treadmill is its 12 incline levels. Adding inclines to your workout sessions can increase your heart rate, target your quads, strengthen your lower leg muscles, and boost calorie burning. That, plus the 0-10 MPH speed range, will offer you plenty of versatility. However, despite 10 MPH being a running speed, this machine should primarily be used for walking.
Another feature that beginners will especially like is the 10 workout programs. The NordicTrack C2200 provides eight preset personal trainer programs and two customizable ones. The treadmill will automatically change your speed and incline levels every 30-60 seconds until you've finished the segment. It's also possible for you to change the settings yourself so it better fits your fitness needs.
One-touch power incline and speed controls are valuable features on this treadmill, too. While it might seem like a simple thing, these controls make it much easier to focus on your workout session. Unfortunately, it's rare to find these one-touch controls on budget-friendly treadmills.
Footprint, Portability, and Durability
The NordicTrack C2200 does have the patented SpaceSaver Design, so it folds vertically to help you optimize your workout area. Thanks to the wheels on the treadmill, you can also move it to another room if needed.
Unfortunately, I could not find the exact weight of the machine, so it's difficult to say just how burdensome it is to move around. However, I did come across a couple of reviews that said the shipping box was hefty and that it definitely requires two people to assemble. Therefore, based on that feedback, I'd say it's a pretty solid machine.
Durability-wise, you can get good use out of this treadmill as long as you're walking. The 2.25 CHP motor on here isn't the most powerful, so jogging or running multiple times a week will wear it out faster. Fortunately, the motor has a lifetime warranty, so it can be replaced if needed.
What does surprise me, though, is the 10-year warranty on the frame. I've come across other NordicTrack treadmills that received a lifetime warranty on the frame, so it makes me question whether this has lesser-quality parts. Now, don't get me wrong, 10 years isn't bad at all, and it's about how long a well-taken-care-of treadmill is expected to last, but it's still questionable. Especially if you consider that the warranty coverage only provides one year on parts and labor.
Ergonomics
The 20-inch by 55-inch tread belt is outfitted with adjustable cushioning to help alleviate the pressure on your joints. However, if you do occasionally want to increase the firmness to simulate running outside, that's possible too. There are cushion adjusters near the front of the treadmill that you can use to make changes to the softness and firmness of the treadmill.
Raise your hand if you like treadmills that DON'T include a fan. Crickets. Anyone who has ever intensely worked out on a treadmill knows how beneficial these things are. The NordicTrack C2200 includes one, and it's very easy to use. Just select the Auto Breeze button on the console to adjust it to low, medium, high, or auto. The latter will automatically increase or decrease the fan speed based on the walking belt's speed.
Both of these functions can make a workout feel a little better, so it's great to see that this entry-level walking treadmill includes them.
Technology Benefits and Conveniences
A quick glance at the Solaris Illumination Console, and you'll notice that this machine features iFIT interactive technology. However, don't expect it to be like the iFIT technology we're used to today, because this one is a bit dated. Here, you'll need to use a stereo audio cable to connect your treadmill to your personal computer, MP3 player, or VCR. You can also access specially-made iFIT.com MP3, CD, and videocassette programs too, but those are sold separately. The iFIT programs can control the incline and speed of your treadmill while the personal trainer guides you along. Trainees who like extra motivation and guidance will appreciate this feature.
The console will also show you valuable data on its four LED displays. Information like calories, distance, speed, incline, time, pace, pulse, and more are easily visible to trainees.
In addition, you'll notice a quarter-mile track on the display matrix. So as you walk, jog, or run, the indicators around the track will lighten as you progress until the entire track is lit. Once a quarter-mile is complete, it'll darken again, but lighten as you continue your workout session.
The console also features training zone displays so you can see your exercise's intensity level. The different levels include warm-up, fat burn, aerobic, and performance.
There is an odometer button that allows you to see the number of miles the running belt has moved during different periods of time (e.g., last week, last month, etc.). When you press this button, the words "My Miles" will appear on the display and show you the total. You can reset it if you'd like.
Other conveniences you'll find on this treadmill include:
Built-in handgrip pulse sensor
Chest pulse sensor (optional/would need to purchase separately)
Book holder
Accessory tray
Final Verdict of Our NordicTrack C2200 Treadmill Review
This NordicTrack C2200 treadmill review revealed that this is a simple-to-use machine with neat features. It's a great piece of fitness equipment for those who plan to use it for walking, but not so appealing if you're hoping to progress to other advanced activities later. It'll begin to lag if you start using it frequently for jogging or running purposes.
Those on a budget looking for a treadmill that's straightforward to use should consider this an option. However, if you want something technically advanced that you can progress with and use long-term, I'd recommend checking out other treadmills. Another thing to consider is that this treadmill isn't the easiest thing to find since it's now discontinued. A quick search on Amazon, and this treadmill didn't turn up, so you may have to look into the alternative.
NordicTrack C2200 Treadmill Rating
NordicTrack C2200 Treadmill
In this NordicTrack C2200 treadmill review, we look at an affordable, discontinued walking treadmill with neat features.
Product Currency: $
Product Price: 699
Product In-Stock: InStock
NordicTrack C2200 FAQs
Can you run on the NordicTrack C2200?
I wouldn't recommend running on this treadmill based on its max speed, belt size, and motor.
Are NordicTrack Treadmills reliable?
Yes, like their sister company, ProForm, they're known for building sturdy treadmills that consumers can use for years and years. However, you should pay attention to a treadmill's specs to ensure it can handle the way you plan to use it. For example, a treadmill that's made for walking will only be able to sustain consistent running for a short time.
How long do NordicTrack Treadmills last?
It honestly depends on how you use it, how often you use it, and how you maintain it. For instance, if you purchase a superb treadmill that you run on 5-7 days per week, it'll experience wear and tear sooner than something you walk on a couple of days per week. Plus, if you notice an issue with your treadmill and continue using it instead of having it serviced, you can expect that it won't last as long. 
On average, treadmills last 7-12 years. So be sure to take care of it to ensure you get the most out of yours.