We review free products that we receive and participate in affiliate programs, where we may be compensated for items purchased through links from our site.
See our disclosures page for more information.
The Rogue Echo Bar is a popular bar for many home gym users due to its price and features. This new Echo Bar is sure to be popular and looking at the tensile strength, it's a strong bar.
Rogue Fitness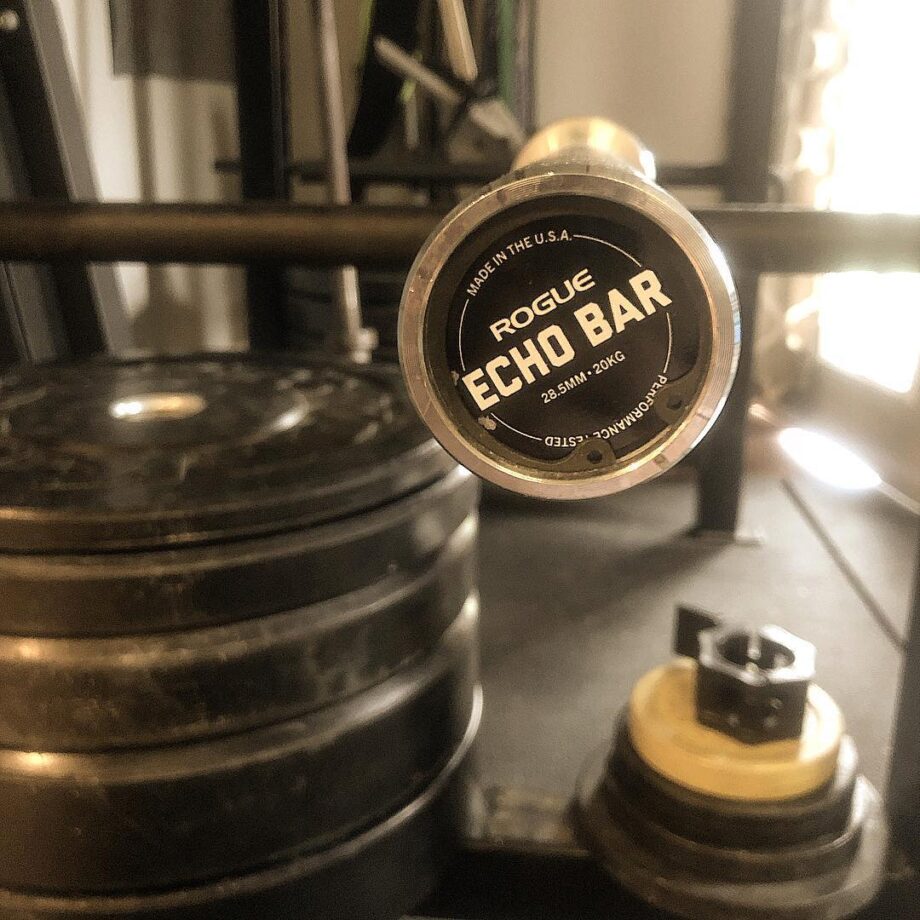 Rogue Echo Bar 2.0
Machined and assembled at our Columbus manufacturing facility, the newly redesigned Rogue Echo Bar 2.0 is an economically priced 28.5MM bushing bar equipped with many of the same features as our flagship Rogue Ohio Bar. Starting with a 190,000 PSI tensile strength steel shaft and bright zinc finish, the Echo Bar also now includes an upgraded snap ring sleeve construction and exclusive Echo branded endcaps. There are single IWF standard Olympic knurl marks (no center knurl or powerlifting marks) and 16.40" of loadable sleeve length. All orders of the Echo Bar also come with a 1-year warranty.* The Echo Bar–just like our flagship 28.5MM Ohio Bar–is constructed from 190,000 PSI tensile strength steel, with quality bronze bushings that act as bearing surfaces between the bar sleeve and shaft. A bright zinc finish across the entirety of the bar finishes the look. Brand new for Version 2.0 of the Echo Bar is a fully upgraded snap-ring construction, battle-tested to maintain optimal stability throughout any type of high-intensity Olympic movement. This, again, is the exact same construction used in the Rogue Ohio Bar. We have also included new Echo exclusive endcaps for this re-design, a feature not found with the original model. The Echo Bar includes single, IWF standard Olympic knurl marks (there are no powerlifting marks and no center knurl) in an consistent, non-abrasive pattern. Every bar shaft is machined in Columbus, Ohio, and treated with artistic precision. Despite its friendly price tag, the Echo Bar is up to the demands of high-performance, competitive Oly lifting. The 20KG bar will produce a consistent spin and "whip" during any traditional Olympic movement, and the durability of its construction is backed by a one-year warranty.*
Rogue Fitness has just released a brand new Echo Bar. This is the bar that I've suggested multiple times as a great option for CrossFit Affiliates or just the general population who doesn't want to drop a lot of money on a bar.
Specs:
Made in the USA
Weight: 20 KG
Diameter: 28.5mm
190,000 PSI Tensile Strength Steel
Finish: Bright Zinc
Single Olympic Knurl Marks
Proprietary Sleeve Design
Info from Rogue Fitness:
By machining and assembling the Rogue Echo Bar at our Columbus manufacturing facility, we've been able to produce an economically priced 20KG bushing bar built to the same high standards as many of our leading competition bars.
The 28.5mm Echo Bar features the same 190,000 PSI tensile strength steel as our flagship Rogue Ohio Bar, and includes a bright zinc finish on both the shaft and sleeves. There are single Olympic knurl marks (with no center knurl), and an innovative proprietary sleeve design—which allows for a more efficient assembly, saving the customer on costs.
All orders of the Echo Bar also come with a 1-year warranty.*
*Warranty against bending does not cover any bar which has been damaged due to negligent or faulty use, alteration, maintenance, storage or handling by the user. Negligent or faulty use includes abusive dropping of the bar (i.e., dropping the bar on a box, bench, spotter arms or pins in a power rack, excessive dropping with insufficient or damaged bumpers, or excessive dropping with iron plates, and similar usage). Any specific issues regarding a Rogue product with which a customer is not satisfied will be reviewed on a case-by-case basis. We have found that most problems with bars we replace are related to abusive use rather than manufacturing or materials issues.