We test and review fitness products based on an independent, multi-point methodology. If you use our links to purchase something, we may earn a commission. Read our disclosures.
Bowflex has come a long way since the first time I laid eyes on an all-in-one home gym set up that was popular in the late '90s. Bowflex now offers an extensive line of home gym equipment including treadmills, ellipticals, weights, benches, and exercise bikes.
The brand's exercise bike lineup consists of three models: the C6, C7, and the VeloCore. The Bowflex C7 is an exercise bike our team has not officially had hands-on experience with. However, we have extensive experience with the Bowflex brand as well as parent company, Nautilus. In this Bowflex C7 review, I'll cover the nitty-gritty details and let you know if it's worth adding this bike to your home gym.
We Put Indoor Cycling To The Test
Our team of expert product testers has reviewed over a dozen exercise bikes including ones that fold, upright bikes, studio cycle bikes, and recumbent bikes. We know what makes a solid investment when it comes to your home cardio workouts.
When it comes to exercise bikes, we've tested the Bowflex C6 bike, which is the brand's base model sans touchscreen. We've also tried the high-end Bowflex VeloCore bike with a leaning feature to help activate core muscles and keep your spin session exciting.
Although we haven't taken the C7 for a spin, our knowledge of industry standards and the Bowflex brand will help guide you to making an informed decision.
Bowflex C7 Bike
Product Highlights
JRNY membership allows you to stream popular apps

100 resistance levels

Tablet holder for custom experience

Pair of 3-lb dumbbells are included in price
Pros & Cons
Pros
Financing options
Connects to Peloton and Zwift apps
Bluetooth-enabled heart rate monitoring
Can support multiple user accounts
Cons
Requires membership
Too tall for users under 5 ft
No water bottle holder
Resistance conversion to Peloton app is difficult
Bottom Line
With access to personal trainer-led workouts in your home and a smaller footprint than a Peloton, the Bowflex C7 Bike is a great indoor cycling option.
A Quick Look at the Bowflex C7 Bike
The Bowflex C7 is a mid-tier bike with a built-in touchscreen display that allows you to access the JRNY app with a membership. Although we haven't tested the C7, based on our experience with the other two models currently available from Bowflex, we think the C7 has a lot to offer.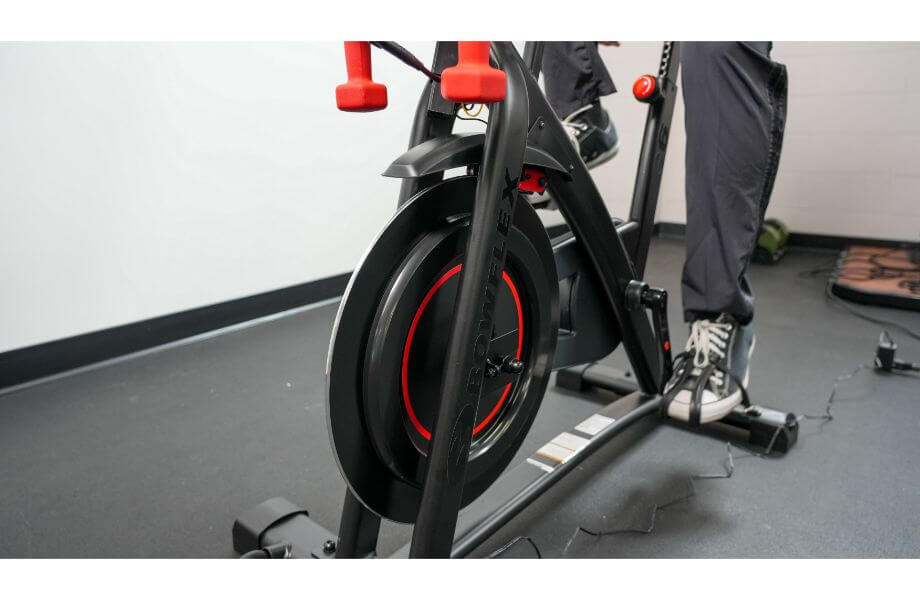 Before You Buy
Bowflex is currently offering a one-year free trial of JRNY, the brand's fitness app with a vast library of on-demand programming ranging from cycling to kettlebell workouts.
If you're feeling unsure, you will have a six-week period to make a return with Bowflex's 100% satisfaction guarantee.
You're not locked into just one app! You can use workout apps like Zwift and Peloton or stream entertainment from apps like Netflix and Hulu. That said, these apps will require a WiFi connection and separate memberships.
Is the Bowflex C7 Bike Worth It?
For a mid-tier indoor cycling bike, I think you get a lot for the price. The Bowflex C7 has a lot of features we see in some of the best exercise bikes on the market. It has a heavy magnetic flywheel, impressive maximum user weight capacity, and a belt drive system. These factors lead to quality rides and have the potential for an extended lifetime of the machine. 
Great for:
Anyone who doesn't want to get pigeon-holed into using just one app
People who like to stream shows and movies while they ride
Anyone who wants the ability to dial up resistance levels for challenging workout
Not recommended for:
Individuals on a tight budget
People looking for a bike that doesn't require power
People who are not interested in dynamic online workouts
Bowflex C7 Bike Specs
| | |
| --- | --- |
| Price | $1,299 |
| Footprint | 48.1" L x 21.3" W x 57.5" H |
| Weight | 111.1 lbs (without dumbbells) |
| Weight capacity | 330 lbs |
| Display | 7" HD touchscreen |
| Customized fit | Up/down and front/back adjustments for seat and handlebar |
| Drive system | Belt |
| Resistance | Magnetic |
| Resistance levels | 100 micro-adjustable levels |
| Flywheel weight | 39.75 lbs |
| Pedals | Dual-sided pedals: SPD clips and toe cages |
| Programming | JRNY (monthly membership sold separately) |
| Bluetooth | Yes |
| Additional features | 3-lb dumbbells included (and holster) |
| Warranty | 3-year frame and mechanical parts, 1-year electrical and labor |
Customer Reviews
On the Bowflex website, there are nearly 200 customer reviews. An overwhelming amount of those reviews are positive. The C7 has an average rating of 4.7 out of 5 stars. The negative reviews have comments on poor customer service and tech trouble with touchscreen display.



Workout Experience on the Bowflex C7 Bike
Based on our experience from Bowflex brand bikes, we know that the C7 offers a solid, smooth, and silent ride. The C7 features 100 levels of resistance and gives you a huge range to customize your workout intensity with minimal noise from the magnetic resistance flywheel.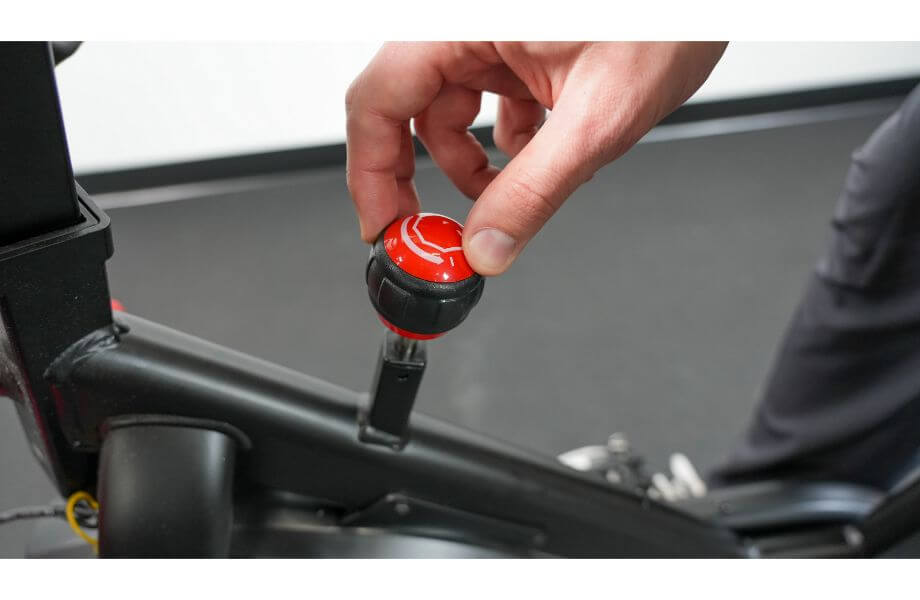 One of the standout features on the bike is the built-in 7-inch touchscreen display and the ability to access the JRNY app. The app has a vast library of on-demand and trainer-led classes in addition to scenic rides around the world. Right now Bowflex is offering a free one-year membership to JRNY (for new members) with the purchase of the C7 bike.
The C7 bike is also Bluetooth-enabled for connecting your smart device (like a phone, tablet, or smart TV) and wearable heart rate monitors to the bike. The Bluetooth connection allows you to connect to apps like Peloton or Zwift with your own device and share metrics like cadence and power from the bike to the app.
In addition to having the freedom to choose your favorite workout app, you will also have the ability to add upper-body resistance to your workout. The C7 comes with a pair of three-pound dumbbells plus a weight holster that mounts behind the bike seat for easy access.
When you're not pumping out the reps with the dumbbells, you'll have multiple options on where to place your hands on the handlebar—when you're riding in the saddle or out. The adjustable handlebars also have a rubber coating for a quality grip that doesn't slip when the sweat starts to pour.
Footprint and Portability
Although this bike will certainly take up some floor space, it's not a particularly bulky exercise bike. The C7 measures about 4 feet long, under 2 feet wide, and nearly 5 feet tall at the top of the monitor, which is the highest point on the bike. The footprint is smaller than the popular Peloton Bike and features a smaller screen, which doesn't add as much overall height.
The machine is just over 100 pounds and has built-in transport wheels attached to the front stabilizers. The transport wheels are great, but the bike lacks a handlebar on the opposite stabilizer for the easy grabbing and tipping of the whole machine. You'll still be able to, just without the convenience of a welded handlebar for that purpose—the stabilizer of the frame will have to do.
Durability and Construction
The Bowflex website doesn't explicitly disclose the materials the C7 is constructed from. However, our experience with the Bowflex C6 indicates that the C7 is made from a steel frame.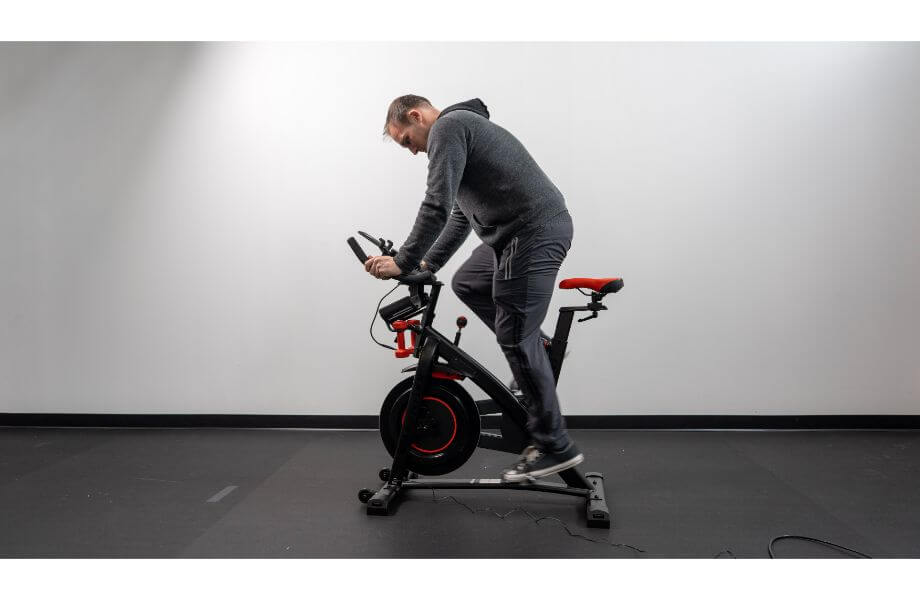 In addition to the materials your cardio machine is constructed from, there are other factors we look for that lead to durable and long-lasting equipment. For exercise bikes, we like to see a user weight capacity of at least 275 pounds paired with a heavy flywheel weight, usually between 30 to 45 pounds. The Bowflex C7 falls within those parameters featuring an impressive 330-pound maximum user weight and a 39.75-pound flywheel.
It's also worth noting that the Bowflex C6 did not wobble or shake while tested through various speeds and resistance settings. I mention this because experiencing unnecessary movement is another good indicator of longevity in a machine—you don't want shifting or shaking.
Ergonomics and Safety
To achieve the perfect fit, the Bowflex C7 allows you to make adjustments up, down, forward, and backward on both the bike saddle and handlebar. Having two planes of motion to make adjustments helps increase usability for a wide range of individuals.
Although the Bowflex website does not give specific recommendations for user heights, the base model C6, which is similar, is designed for users between 4 feet, 6 inches and 6 feet, 6 inches.
Once you get your perfect setup for your height and distance between the saddle and handlebars, you're ready to hop on the C7 and pedal. If you find the adjustable seat lacking the amount of cushioning you're looking for, you can upgrade to a bike seat with extra cushioning for an additional $40 on the Bowflex website.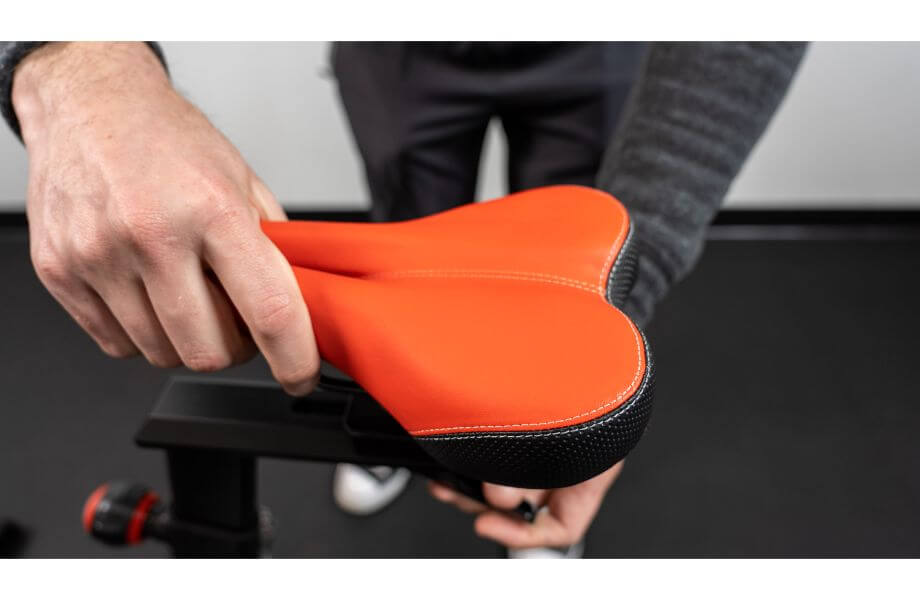 Lastly, the Bowflex user manual suggests locking the flywheel for safety while the machine is not in use. To lock the flywheel, turn the emergency brake (aka the resistance knob) until you feel an increase in resistance. To finish the locking mechanism, you'll rotate the resistance knob another half turn clockwise, which should lock the flywheel in place.
Conveniences of the JRNY App
The JRNY app not only delivers cycling workouts for the C7 bike, but workouts for the treadmill and elliptical, plus barre, yoga, kettlebells, and more. You'll have access to the entire library, regardless of what Bowflex machine you purchase. A JRNYmembership does require a subscription fee and will cost you either $20 per month or $150 per year. Right now, the C7 comes with an entire year membership for free.
Like other internet apps, JRNY collects data on the workouts you complete and your performance to curate daily adaptive workouts specific to you based on your progress. You can also choose workouts based on how much time you have that day or by your favorite trainer.
The JRNY app also allows you to stream entertainment like Netflix, Amazon Prime Video, Disney+, Hulu, and HBO Max. You will even be able to see your workout metrics on a small bar at the bottom of your screen so you don't have to exit your show to check your metrics. It's worth noting that you'll have to use your pre-existing logins for these streaming services—the JRNY app doesn't automatically grant you access.
Bowflex C7 vs Bowflex C6 vs Bowflex Velocore
Bowflex offers three different models of stationary bikes ranging from mid-tier to high-end. The VeloCore bike has the highest price point but features a nifty tilting mechanism that simulates the thrilling feeling of leaning into a turn while you bike.
The Bowflex C7 is a happy medium between all three options. With the C7 you can get a durable machine with a heavy-duty flywheel and an inclusive user weight capacity. The C7 also features a lot of functionality with a 7-inch touchscreen without it being too big.
Check out this Bowflex indoor cycling bike comparison chart to guide the best choice for your home gym:
| | | | |
| --- | --- | --- | --- |
| | Bowflex C6 | Bowflex C7 | Bowflex VeloCore |
| Price | $999 | $1,299 | $2,199 |
| Footprint | 54.6″ L x 30.7″ W x 51.8″ H | 48.1" L x 21.3" W x 57.5" H | 59.8″ L x 24.1″ W x 55.3″ H |
| Weight | 112 lbs | 111.1 lbs | 158.3 lbs |
| Weight Capacity | 330 lbs | 330 lbs | 325 lbs |
| Display | Backlit LCD | 7" HD touchscreen | 16" or 22" HD touchscreen |
| Flywheel weight | 40 lbs | 39.75 lbs | 33 lbs |
| Drive | Front | Front | Rear |
| Bluetooth | Yes | Yes | Yes |
| Warranty | 10 years frame, 3 years parts and electronics, 1 year labor | 3-year frame and mechanical parts, 1-year electrical and labor | 2-year frame and parts, 1-year electronics and labor |
Bowflex C6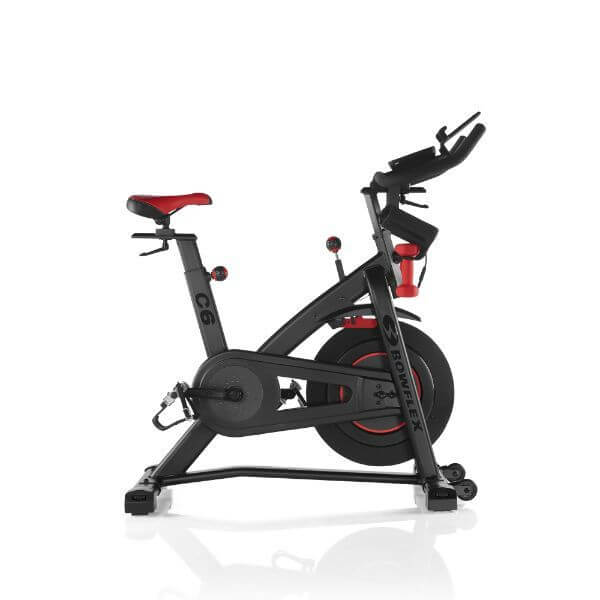 GGR Score: 3.88
Product Highlights
If you're looking for a convenient, low-impact cardio workout from the comfort of your home, the Bowflex C6 is a viable option. This smooth-feeling bike features a backlit LCD console, 100 levels of magnetic resistance, dual-sided pedals (SDP clip or toe cage), a pair of 3-pound dumbbells, a Bluetooth-enabled heart rate armband monitor, and a media device holder. 
Additionally, a one-year membership to JRNY is included, providing access to adaptive workouts, on-demand classes, live coaching, virtual destinations, and music playlists.  Do you prefer another fitness app? No problem. The C6 integrates with Zwift, Peloton, Sufferfest, Rouvy, TrainerRoad, FulGalz, and Tacx, among others. 
Pros & Cons
Pros
Priced well
1-year JYNY membership included
Integrates with third-party fitness apps
Bluetooth heart rate armband monitor included
Free shipping in continental U.S.
Adjustable seat and handlebars
Affordable alternative to pricier brands
Cons
Reportedly noisy
Display is not touchscreen
Bottom Line
The Bowflex C6 is a high-quality, well-priced bike with impressive streaming capabilities making it a solid choice for anyone looking to cycle solo or virtually.
Bowflex VeloCore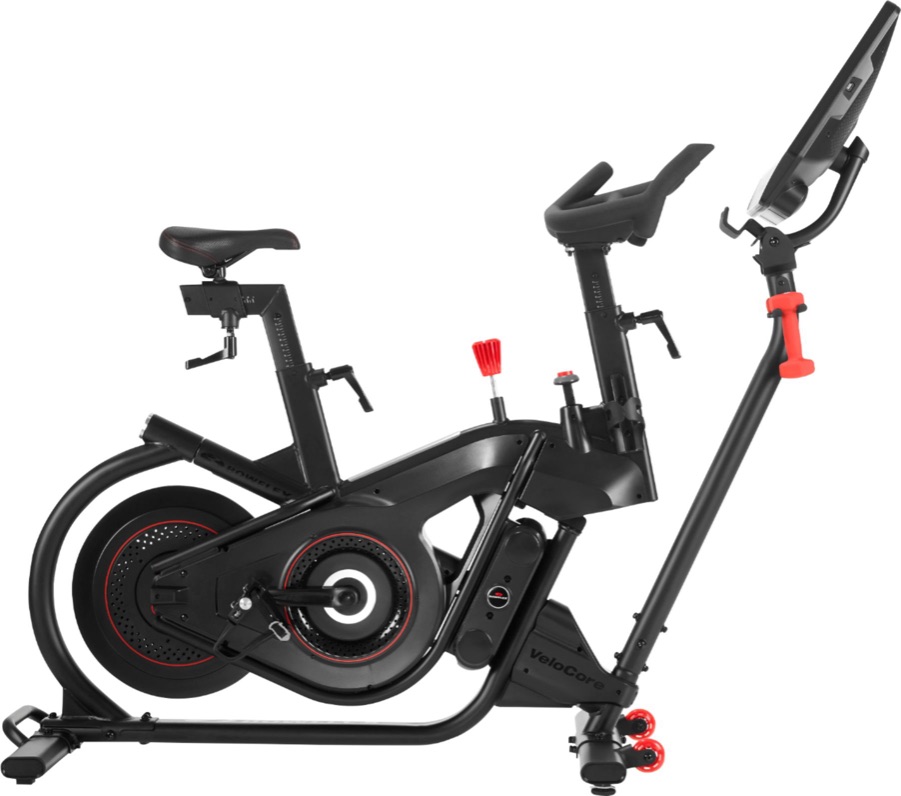 GGR Score: 4.2
Product Highlights
Meet the indoor bike that's thoughtfully engineered with leaning mode to create a wildly immersive riding experience. You'll rock, sway, and bend to life down winding roads.
Customer Experience
Bowflex has a six-week satisfaction guarantee where you can return the product if you are not 100% satisfied. If you need to make a return within the first six weeks, you will have to call customer service at 800-605-3369 for a return merchandise authorization (RMA) number. Customer service can be reached Monday through Friday from 6 a.m. to 5 p.m. Pacific Time.
Without this RMA number, your return will not be processed. It's also good to know that returns will not refund your shipping, handling, or assembly fees.
The purchase of the C7 bike comes with a 3-year frame and mechanical part warranty in addition to a 1-year electrical and labor warranty. For an additional $99 fee, you can upgrade your parts and labor coverage for up to 5 years.
A warranty is a nice safety net to your home gym investment, and we like to see at least 10 years on the frame warranty included with the purchase. The Bowflex C7 misses the industry standard here by quite a bit, especially since the base model C6 comes with a 10-year frame warranty.
Ordering and Assembling the Bowflex C7 Bike
Although our product testers have not tested the Bowflex C7, we know the C7 bike is fairly easy to put together. GGR writer and expert product tester Anthony O'Reilly notes that the C6 is essentially as easy as attaching the main part of the frame to the front and back stabilizers. There are some other components, but he notes that the frame is pretty much already intact.
If you're concerned about the assembly process, for an additional $129 fee at checkout you can have professional assembly upon delivery of your Bowflex C7.
When it comes time to make your purchase, you will have the option to apply for a Bowflex credit card where you can make payments without interest for 18 months. After that 18-month period, you can still make payments but interest will be charged to your account. It's worth noting that the interest rate is not disclosed on the website.
Final Verdict of Our Bowflex C7 Bike Review
The Bowflex C7 is a solid option for home gym owners and will benefit you if you're excited about the following features:
Access to JRNY app
Ability to stream entertainment as well as interactive workouts
7" touchscreen
Bluetooth compatibility with apps like Peloton and Zwift
Heavy-duty flywheel
100 micro-levels of adjustment
Upper body workout options with 3-lb dumbbells
330-lb user weight capacity
Bowflex C7 Bike Rating
Bowflex C7 Bike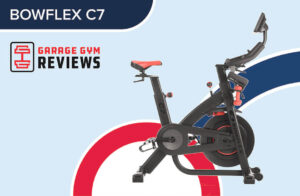 Find out about a rock-solid indoor cycling bike offering access to the JNRY app in this Bowflex C7 review.
Product Currency: $
Product In-Stock: InStock
Bowflex C7 Bike FAQs
What is the difference between C6 and C7 Bowflex?
The main difference between the Bowflex C6 and C7 is the display and the warranty. The C6 has a basic LCD screen while the C7 has a built-in 7-inch touchscreen to navigate the JRNY app. The C6 offers a longer 10-year warranty on the frame while the C7 only has a 3-year warranty on the frame.
Is Bowflex C7 compatible with Peloton?
According to the Bowflex website, if you have a subscription to apps like Peloton and Zwift you can connect the C7 and view with your smartphone, tablet, or smart TV. 
Can you watch Netflix on Bowflex C7?
Yes. You can stream Netflix, Hulu, Disney+, HBO Max, and Prime Video. A nice feature with the JRNY app is that you will still be able to see your workout metrics displayed at the bottom of the screen without having to toggle back and forth between your show and the workout. You will need a separate subscription to be able to access those platforms—it's not included in the JNRY monthly subscription fee.