We test and review fitness products based on an independent, multi-point methodology. If you use our links to purchase something, we may earn a commission. Read our disclosures.
Looking for the best workout apps can be tough, especially if you're looking for a free app. One of the most frustrating things about browsing an app store on your Android device or iPhone is that almost every workout app says they're free, but with in-app purchases. Once you install the app, however, you realize that the in-app purchase is to unlock full use of the workout app.
Other times, the free version is so limited that it almost forces you to pay for the premium deal. It may make you think that there aren't any truly free workout apps available. But, I'm here to say that's not the case.
The Garage Gym Reviews team of expert testers and reviewers has tested over 50 of the best online personal trainers and other fitness apps, and we've determined the ones that have a dedicated free version that can still bring value to the table. Ranging in modes of training and fitness levels, read on for our picks of the best free workout apps.
The 10 Best Free Workout Apps
Best Free Workout App Overall: Caliber
Good for: Anyone wanting a robust workout library for free, with the option to upgrade
In making our list of the best workout apps, Caliber topped our list for its expansive features for group training and one-on-one training; however, its free version is still quite extensive and backed by research, making it our top pick for best free workout app as well.
With the free version, you can log your own workouts, or let the Caliber algorithm create a custom workout program for you, based on a quick assessment while setting up the app. The app is free of ads and contains a library of over 500 exercises. Caliber also records and charts strength progress and body metrics—body weight, waist size, and body fat percentage.
RELATED: Best Online Workout Programs
Each exercise has an extensive overview of the movement, including a video, complete step-by-step instructions, a muscle map displaying the body parts most involved, and even key points and takeaways on form. That's a lot of information for each exercise, leading us to rate the instruction a 5 out of 5.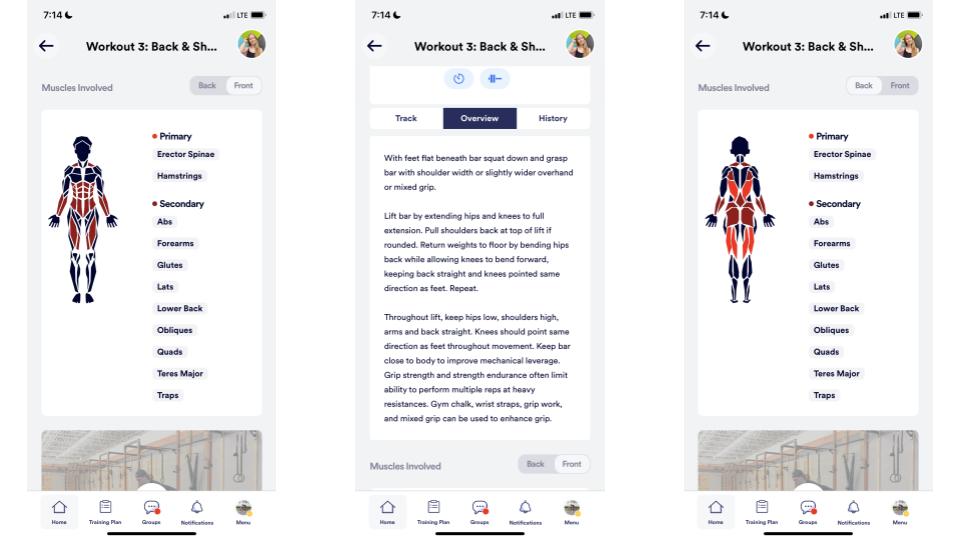 The free version also has good supportive features, as Caliber has groups you can join for common interests. Our tester, GGR writer Amanda Capritto says about the groups, "I joined groups for mountain biking, camping and hiking, cycling, running, and swimming. Each group has its own little social feed where you can post things and interact with others." Amanda gave the interactive features a 5 out of 5, although she adds, "There's not a ton of engagement in these groups, but maybe they will grow as Caliber grows."
One callout that Amanda has is that Caliber lacks integration with common fitness trackers. "I wish the app integrated with Garmin or other fitness trackers instead of only Apple Watch. I have to manually input my walks and runs into the app after I've already logged them on my watch." The rest of the app works well enough, so Amanda rated the ease of use a 4 out of 5.
For more, check out our full Caliber App review.
| | |
| --- | --- |
| Type of training | Strength training |
| Available on | Android and iOS |
| Premium version? | Yes, starting at $19 for group coaching |
Best Free Workout App for Variety: Nike Training Club
Good for: Fitness lovers with a variety of goals wanting expert instructors
Unlike most apps on this list, Nike Training Club doesn't have a free and premium version; it's just free. During the pandemic in 2020, Nike decided to make their app completely free, including specialist tips on nutrition, recovery, and weight loss, providing huge value in a free app for all people on their fitness journey.
Our product tester, GGR writer and certified personal trainer Amanda Capritto, rates the value a 5 out of 5, saying, "Nike Training Club has on-demand and live classes as well as periodized programming for a variety of goals and workout types, and all of the instructors are certified, most are specialists." She adds, "You don't see this kind of value in a free app almost ever."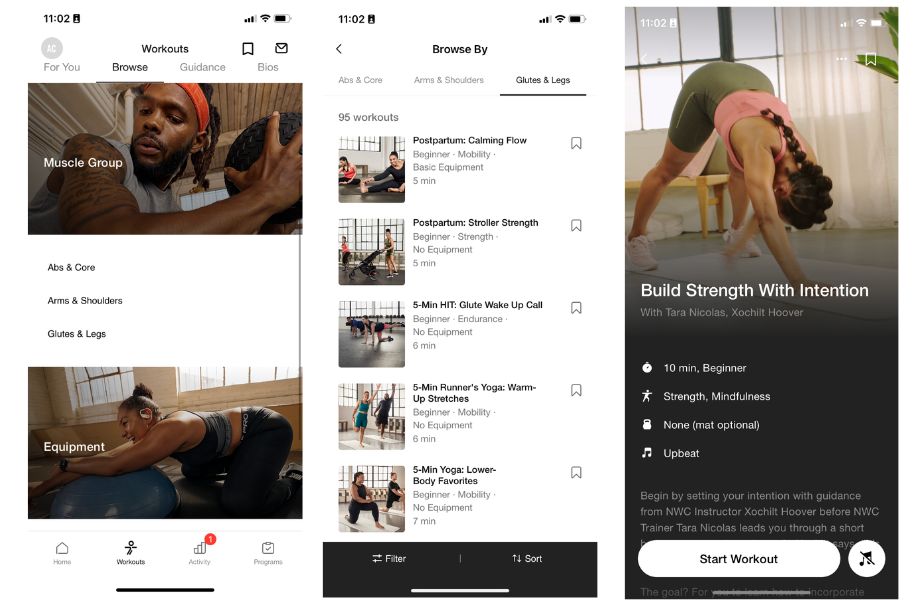 The app features a variety of workouts—hundreds in different formats, from written workouts to perform at your own pace, to on-demand and live fitness classes with excellent instruction that Amanda rates a 4 out of 5. Workouts cover different modalities, from strength training. HIIT, and cardio, to yoga, pilates, and mobility work. Equipment is needed for most workouts, but Amanda says you can filter your search for workouts by the type of gym equipment needed.
If you're looking for accountability, however, this may not be the best app for you. Amanda rates the accountability a 3.5 out of 5, as the shoe and apparel company's app provides basic notifications and challenges. She adds, "In terms of accountability, this is your basic fitness app. You can download it on your phone, but no one is gonna make you use it."
RELATED: Best Cross-Training Shoes
| | |
| --- | --- |
| Type of training | Strength training, yoga, pilates, mobility |
| Available on | Android and iOS |
| Premium version? | No, always free |
Best Free Workout App for Runners: Map My Fitness
Good for: Runners wanting a streamlined running experience with a great interface and instruction
Also known as Map My Run, the best free workout app for runners goes to Map My Fitness, with its expansive GPS tracking and other free features. And while we're here talking about free features, our tester, Amanda Capritto, CPT, CNC, CES, CF-L1, says the monthly subscription can be worth it, with analyses for heart rate, power output, running cadence, and more—all for under $6 a month. "You're really getting a lot for the price," Amanda says, rating the level of instruction a 5 out of 5.
Provided by Under Armour, Map My Fitness is easy to set up and sync with other apps and devices, like Garmin, Apple Health, UA connected footwear, MyFitnessPal, and others. The interface is clean and easy to navigate as well, leading Amanda to rate both the setup and ease of use a 5 out of 5.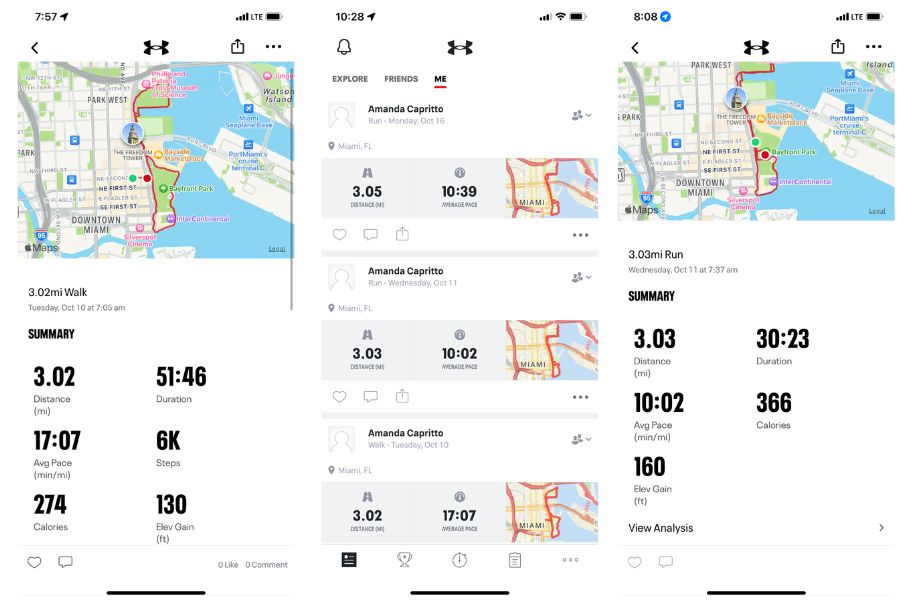 As for accountability and interactive features, there aren't a lot in this running app. Push notifications are present, and you can create and join plans to help with holding yourself accountable—but that's only present in the premium version. There is basic community interaction through a community feed, but if you're looking for a lot of support in your fitness journey, you may want to look for a different running app.
The GPS support seems to work well enough, as Amanda tested its accuracy with other GPS trackers she uses, and it was comparable to those apps and trackers. She gave it a 3-out-of-5 rating, as it still wasn't always accurate, getting within about a tenth of a mile for accuracy.
| | |
| --- | --- |
| Type of training | Running |
| Available on | Android and iOS |
| Premium version? | Yes, for $5.99/month or $29.99/year |
Best Free Workout App for Gym-Goers: Jefit
Good for: Those wanting a variety of strength and high-intensity workouts with nice instruction
For the gym-goer—or home gym user—who's looking for a workout tracker with a comprehensive library of exercises, there's Jefit. Jefit's free version allows you to log and track your workouts, as well as gives you access to some workout routines, although many are locked behind the elite subscription.
RELATED: Home Gym vs Gym Membership
GGR head of content and certified personal trainer Kate Meier tried out Jefit and was impressed with the library of exercises, saying, "there is a huge library of exercises with all kinds of equipment: free weights, cable machines, bodyweight, and more." However, she rates the total instruction as a 4 out of 5, adding, "There isn't any exercise cuing unless you upgrade to Elite, and then there are some 'audio tip' workouts, but there aren't many."
Although the library of exercises is expansive, just be aware that the functionality is limited in the free version. Kate explains, "I entered all the movements for a weightlifting workout, but the app ordered them alphabetically instead of in the order I wanted. To move them, I would have had to upgrade to the Elite plan." She also found it easier to navigate through the desktop version for workout plans, and then locate them on the app afterwards.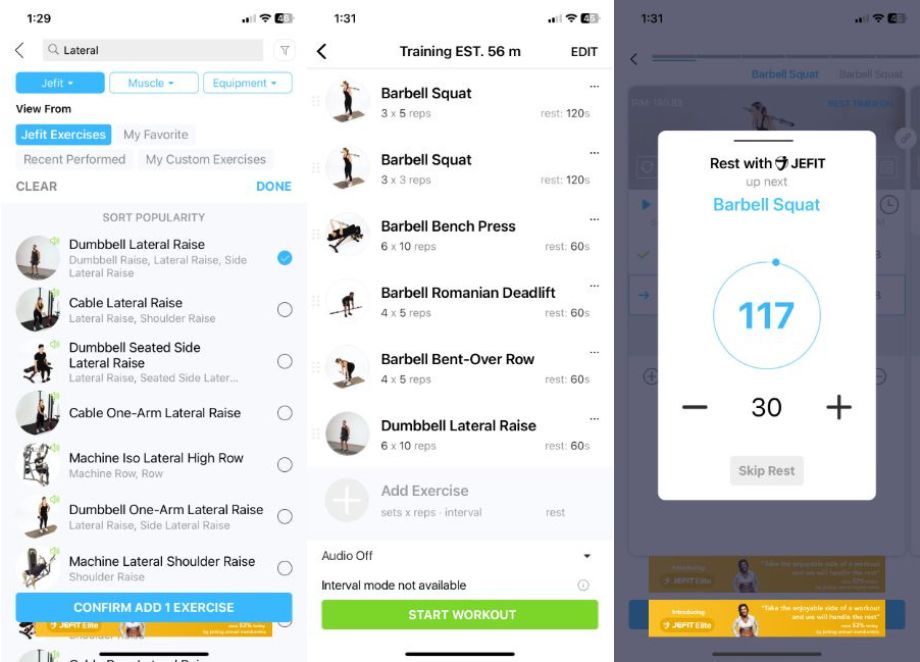 While many of their workout plans are locked behind the subscription plan, the app still provides some free gym workouts, like the 3-Day Core Superset Routine, which Kate did and enjoyed. Navigating through workout plans is pretty easy as well, leading Kate to rate the ease of use a 4 out of 5.
| | |
| --- | --- |
| Type of training | Strength training, bodyweight, HIIT |
| Available on | Desktop, Android and iOS |
| Premium version? | Yes, for $12.99/month or $69.99/year |
Best Free Workout App for Guided Workouts: ClassPass
Good for: Users wanting audio- or video-led workouts, and the ability to try out local studios
If you're looking for guided workouts, ClassPass can be used in two ways. The first, and more well-known aspect of ClassPass, is that you can search for and participate in local fitness classes—HIIT, boot camp, kettlebell classes, plus salon appointments. This requires a paid subscription plan, where you get a monthly amount of credits to use towards dropping into a class. You get 28 free credits for your first month of ClassPass for anyone looking for deals.
RELATED: The Benefits of Group Exercise
However, ClassPass also has a database of workout videos that are completely free to users; you don't even need to be on a subscription plan. Just like their local class options, these trainer-led workout videos vary from strength training to high-intensity workouts and everything in between.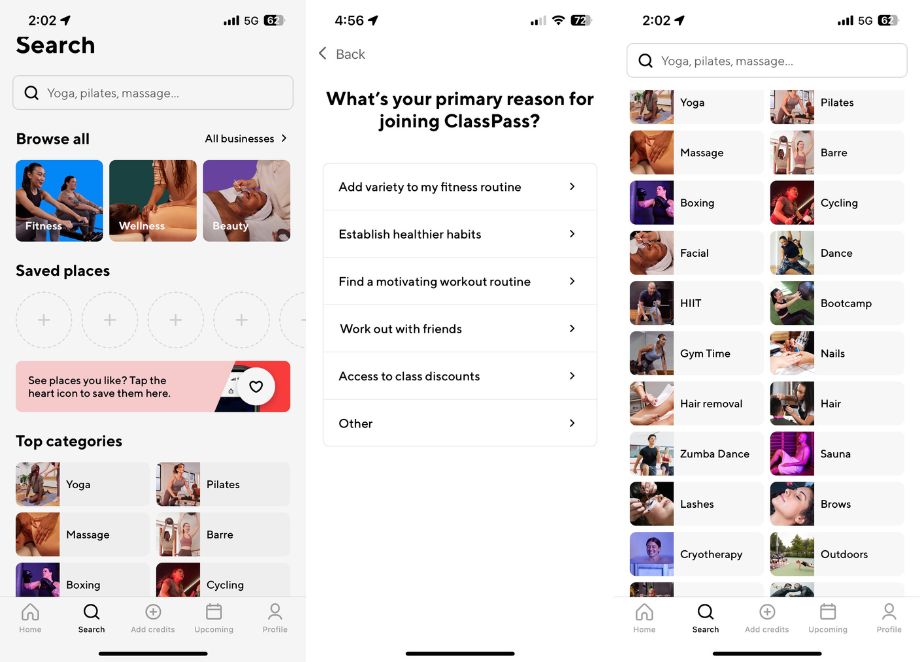 Our tester, Megan Capritto (GGR senior staff writer Amanda Capritto's sister) tried out ClassPass and found the setup and ease of use both quick and simple, rating both a 5 out of 5. "After setup, the user experience was very simple," Megan says. "All the icons are listed at the bottom and they are super easy to navigate." To search local classes, you just use the search icon, and the videos are in another section.
Videos are guided by experts, and provide tips and tutorials of each exercise during the video. Still, within the app there aren't any interactive features to have support from any community. Megan rates the interactive features a 2 out of 5, saying, "There is no community board to post your workouts or see other people's workouts. The most interaction you can do is invite and refer friends through the app."
| | |
| --- | --- |
| Type of training | Strength training, HIIT, cycling, pilates, yoga, boot camp |
| Available on | Android and iOS |
| Premium version? | Yes, for $19, $29, $59, or $199 per month |
Best Free Workout App for CrossFit: SmartWOD
Good for: Crossfitters looking for a variety of functional fitness workouts
Any functional fitness lover will appreciate the variety of CrossFit exercises available on SmartWOD. This app is a WOD generator as well as a WOD creator, so you can search for workouts or make your own custom workout, using the app's integrated timer and marking off reps and rounds. If you're looking for a quick, new workout to do, SmartWOD can provide it.
Amanda tested the app and says, "This is a fun app—very fun if you like CrossFit. You select what equipment you have access to and then press a little spinner button and it generates a random workout." This can be great for traveling with access to limited equipment, or to just find a workout when you don't have one ready to go.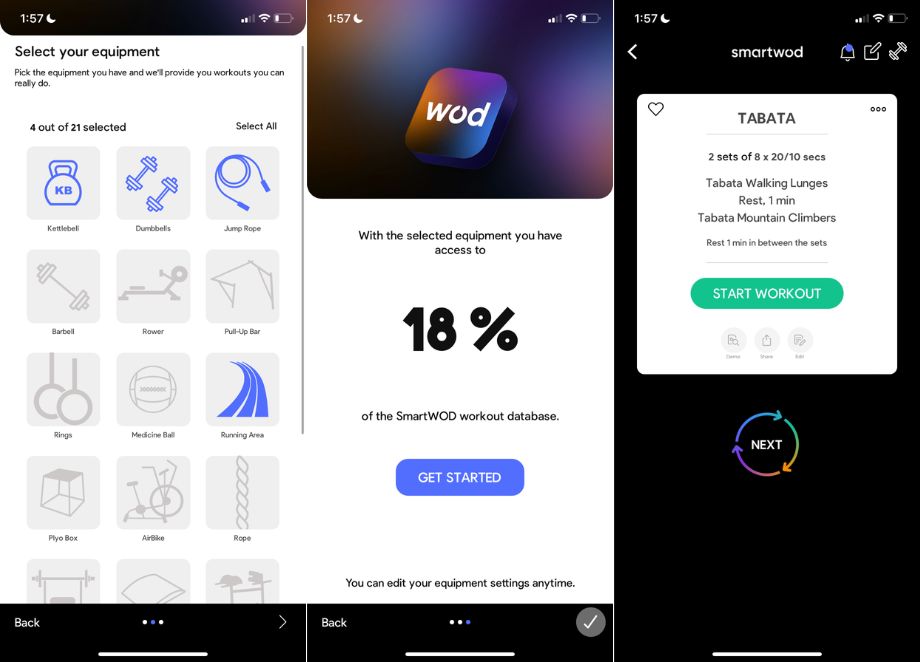 You filter out the workouts by the equipment you have as well as skills. "For instance," Amanda explains, "you could select a pull-up bar for equipment but then deselect muscle-ups for skills and it won't serve you any workouts with muscle-ups." The app also lets you know the amount of workouts you still have available to choose from. The app is very easy to use, and Amanda rates it a 5 out of 5 in its ease of use.
Like many free workout apps, there are limited interactive features and accountability—none, to be exact, earning a 1 out of 5 in both of these aspects. Still, if you're looking for a fun way to get a quick workout in, SmartWOD provides countless workouts that can be catered to your skillset and equipment available.
| | |
| --- | --- |
| Type of training | Functional fitness |
| Available on | Android and iOS |
| Premium version? | Yes, for $2.50/month, $18/year, or $55 for lifetime access |
Best Free Workout App for Cyclists: Strava
Good for: Cyclists wanting an app with a community presence and integration with top fitness trackers
If you're a cyclist, or any endurance athlete, a great app for tracking your bike routes is Strava. Not only is the GPS tracking pretty accurate, but there is a social element that separates it from most other free cycling apps.
"I think the social network-esque aspect of it is what really differentiates it from other free cycling GPS apps," our tester and long-time Strava user Amanda Capritto says. "You can follow people on Strava just like on Instagram or Twitter." Along with that, Strava encourages group challenges and interaction with other athletes through clubs. Strava gets a 5 out of 5 for its interactive features.
Strava also integrates and syncs automatically to major fitness tracker brands popular among cyclists and runners—Garmin, Polar, Wahoo, and FitBit, for example. You can connect your Zwift account and indoor bike to Strava as well, so indoor rides populate the app as well.
Amanda also finds the GPS to be very accurate. She gives the accuracy a 4.5 out of 5, saying, "I sometimes run into problems when cycling through the downtown area of Miami where buildings can impede the GPS signal. But other than that, it does a great job."
The free app will analyze basic workout stats, but for a deeper dive into statistics, the premium subscription is needed. Also, GPS apps like Strava aren't incredibly private and can reveal a lot about your location and other information. This may be something to consider before jumping into an app like this.
| | |
| --- | --- |
| Type of training | Running, cycling, canoe, kayak |
| Available on | Android and iOS |
| Premium version? | Yes, for $11.99/month or $79.99/year |
Best Free Workout App for Beginners: FitOn
Good for: Beginning fitness enthusiasts wanting an easy-to-use app with good instructions
FitOn is a great service for people just dipping their toes into the fitness world, mainly because it's free and gives you access to tons of guided workout videos, still all for free. While the premium option can give you special features like premium music options to spice up your playlist, personalized meal plans, and offline downloads to workouts, the bulk of the app is free.
When I think of an app for a beginner, I would want value, ease of use, and good instruction. You get all of those with FitOn. Megan Capritto, sister of GGR senior staff writer Amanda Capritto and our tester for FitOn, found the interface for the app very easy to use and intuitive, giving it 5 stars out of 5. There is also solid instruction for each of the trainer-led workout videos.
Megan says a motivated trainer is on screen for each workout and shows how to perform each movement, rating the level of instruction a 4 out of 5. She adds, "Most workouts have modifications shown, too. At my intermediate fitness level, the instructions were sufficient and I could follow along easily."
If you're looking for long-term workout plans, FitOn may not be ideal. There are workout programs available on FitOn, but they're shorter ones—about 2 to 4 weeks long. Megan says, "the 4-week program has 10 workouts. That's not enough time to make much progress." Also, the community feed is present and available, but basic, earning just a 3 out of 5. Still, the amount of workouts you get with this app may still be worth it.
| | |
| --- | --- |
| Type of training | Pilates, yoga, kickboxing, strength training, bodyweight |
| Available on | Android and iOS |
| Premium version? | Yes, $30/year |
Best Free Workout App for Community: Hevy
Good for: Lifters wanting a community presence with their workout tracker
If you're looking for a simple workout tracker with an expansive community feed, look no further than Hevy, our pick for the best free app for community support. Along with a robust library of exercises to log your workouts, Heavy also has an entire community feed and social media aspect, where you can share your workouts, videos, and also like, comment, and follow other users and their workouts.
The workout tracker is basic but deep, allowing you to create your own workouts. If there is a workout that you frequent, you can create it as a workout routine to simplify logging it in. In addition, Heavy provides some basic strength training routines of their own, such as 5 x 5 back squats. You can look at Hevy's and other user's workouts for inspiration, if you're not sure what to do that day.
RELATED: Proper Squat Form
When you log a workout, the app will give you neat little celebrations; for example, I was told my total tonnage after a squat workout was like lifting a car. It's the little things, but that sort of interaction can help people through tough days.
Between the community feed and the app's interaction, I rate the app's interactive features a 4.5 out of 5, as there is plenty enough to keep you motivated and involved, but has no true coaching aspect, outside of instruction on exercises.
Each workout you log will add to a heat map, showing muscle groups used more frequently than others. This can be a good indicator of which muscles you should focus on next, and which muscles might be a little tired from previous workouts.
There are notifications for accountability, but they're all focused on the social media aspect, getting likes or follows. Because there's no real way to remind you to workout, I scored the accountability a 1 out of 5. If you're able to stay on task, there is a deep social network behind this simple workout tracker.
| | |
| --- | --- |
| Type of training | Strength training, cardio, functional fitness |
| Available on | Android and iOS |
| Premium version? | Yes for $2.99/month, $23.99/year, or $74.99 for lifetime access |
Best Free Outdoor Workout App: AllTrails
Good for: Runners looking to map their trail routes
For the hiker who loves the outdoors and solid trails, AllTrails is an ideal app for you. While the premium version, AllTrails+, provides added features and details to your map, the free version has the basics needed for most trail hikes: access to guides, trail navigation, syncing with Garmin, and the ability to like and save trail routes.
The free version of AllTrails gives you access to hundreds of thousands of saved trails worldwide, making this a great tool for those who get the itch to travel. You can also save your favorite trails to an easy-to-access list, as well as create your own routes and trails. One thing to note is that you'll have to make a free account to get full access to the free version—otherwise, your experience on the app and web version will be limited.
GGR writer and certified personal trainer Amanda Capritto uses the app for discovering new places for hiking, walking, backpacking, and mountain biking, and to navigate on those trails. "If I'm hiking, I use my Garmin watch to track the actual workout data and use AllTrails on my phone as a handheld GPS," she explains. At the end of a hike, the app gives a summary similar to other route apps: distance, steps, a GPS map, and other data if synced with another tracking device.
RELATED: Best Walking Apps
The free version does have one major limitation if you're trying to get off the beaten path, though. The app only works in areas with cell service; to be able to download a trail route for offline use, you'll need the pro version of AllTrails. "This is helpful (and critical, I'd argue) if you're in the backcountry with questionable cell service, especially if you don't have any other navigational tools or are unfamiliar with the area," Amanda argues.
While the free version is extensive, if you're going on some deep country trails, it may be worth it to upgrade.
| | |
| --- | --- |
| Type of training | Running |
| Available on | Android and iOS |
| Premium version? | Yes, for $35.99/year |
Other Free Workout Apps We Researched and Tested
We've tested over 50 fitness apps, personal training apps, and training programs, free and paid,. With that said, there are tons of great options available, but may not make our final list of the best free fitness apps. Here are some of the competitors worth mentioning:
Sweat: This fitness app has plenty of ways to track metrics, including daily water and steps tracking. However, this app doesn't have a free version; instead, you can try Sweat for a 7-day free trial.
Zombies, Run!: This is a fun workout app to mention, as it takes cardio exercise and game-ifies the running experience. The free version has several missions available, while the subscription version unlocks more missions and challenges.
Freeletics: While this app has workouts available for free, our tester Megan Capritto felt the instruction for workouts and exercises was lacking a bit. The app shows animations but has no explanation on proper form. "For me, this was a bit challenging because there was no one to tell me how to do the move or have the correct form," Megan adds.
Daily Yoga: This daily fitness app for yoga also has workouts in pilates, HIIT, and guided meditation. However, our tester, GGR editor Frieda Johnson, felt that the yoga app's free version was very limited, and the user experience was terrible. She says, "You are forced to go through the 'quiz' every time you open the app, and they're pushing the paid version constantly with pop-ups and ad banners."
Johnson & Johnson 7-Minute Workout: This free-forever workout app is great for short, quick full-body workouts for people constantly on the move. However, we haven't tested this product as this app will be retired by the end of the year.
How We Picked and Tested the Best Free Workout Apps
Each workout app we've tested has been rated across 14 different aspects to determine the best fitness apps. To compile our list of the best free workout apps, we used the same methodology, except for the caveat that the app had to have a free version.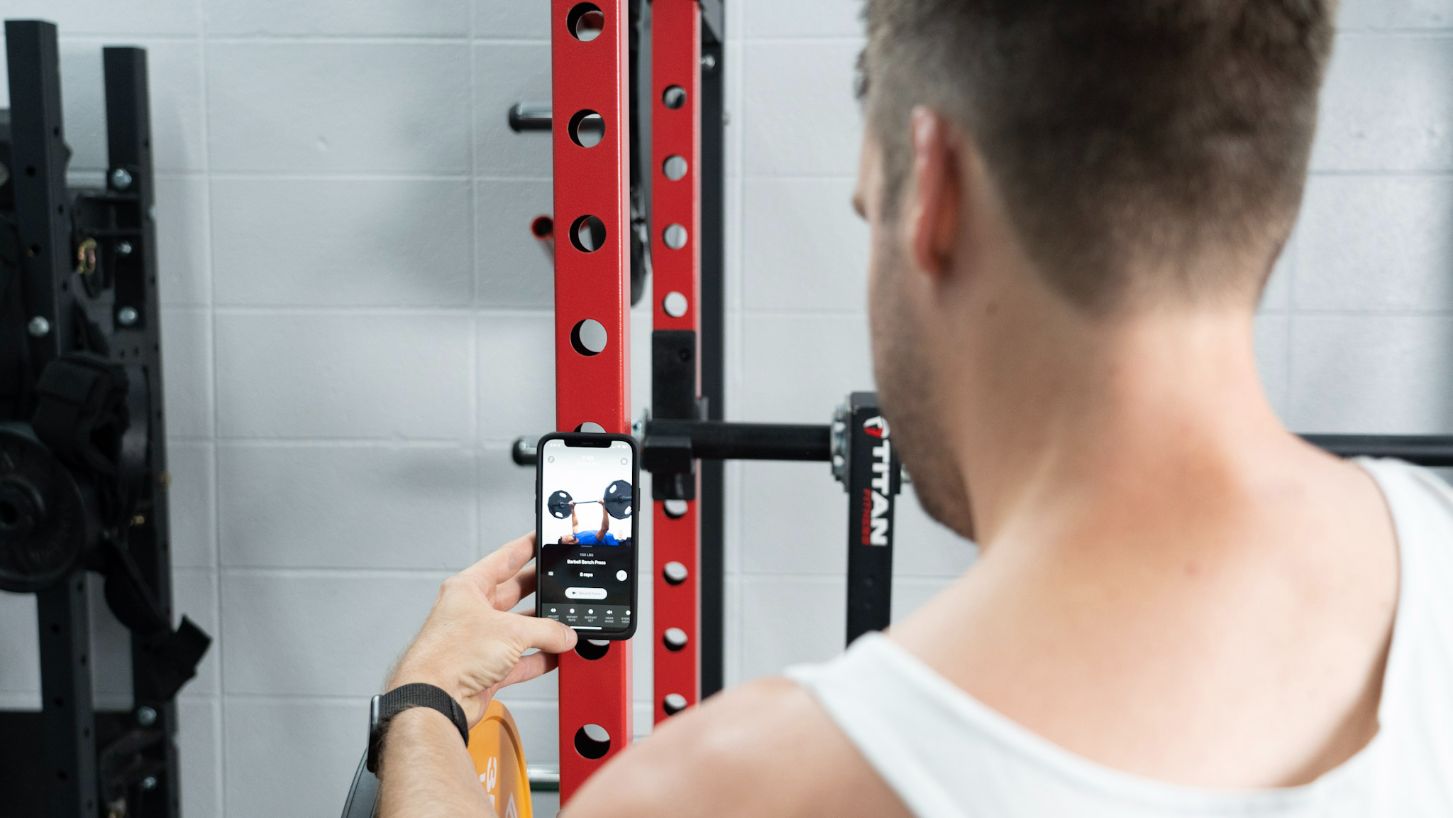 We also made the distinction that free apps mean that there is a free version of the app available—not just a free trial. Each item that makes the list may have a premium version, but there is a free version that is robust and easy enough to use to be added onto this list.
Here are a few other factors we used in determining scores for our top free fitness apps:
Setup and ease of use: Apps should have a quick setup, simply making an account or answering a quick assessment. After setup, the fitness app should still remain pretty intuitive to navigate.
Accountability and interactive features: Apps that score high here have ways to keep you motivated and accountable, either through push notifications, a community of support on social media, or having a personal coach—although a personal coach is rare to see on a free workout app.
Instruction: Even free fitness apps should have decent instruction, with guided workouts that at the very least describe and show exercises being done.
Workout variety: Some apps specialize in one mode of training, but the best apps can accommodate for many different kinds of workouts and any level of fitness equipment available.
Benefits of Free Workout Apps
Getting a personalized training plan can be expensive. If you're not looking for involved workout routines and the support of a one-on-one coach or certified personal trainer, then a free workout app will save you a lot of money and still provide you with solid workout plans and support through an online community.
RELATED: Best Personal Training Certifications
In addition, a workout app can be convenient in a couple of ways. It can help you keep all of your workout records in one place, without having to scour notebooks or fitness logs to check for your one-rep-max deadlift. Also, the app can allow you to train wherever—either at-home workouts or while traveling—cutting down on commutes to a commercial gym.
What to Look for in Free Workout Apps
Ready to find the right free workout app for you? Other than finding one at the low, low price of free, here are some things to consider for the right fitness app for you.
Type of Training
What are your fitness goals? You should know the type of training you should do to best achieve those goals. While many fitness apps have diverse options of daily workouts—HIIT, strength training, cardio, and barre—some apps may specialize in only one or two modes of training.
RELATED: Benefits of Strength Training
Basically, if you're looking to strength train with a lot of different equipment, you should find a workout tracker that provides a pretty comprehensive list of strength exercises. If you're working on your running, an app that can track your GPS location will be extremely helpful. And if you're looking to do a mix of things, find the app that offers that level of variety.
Workout Tracking
Different workout apps will provide different levels of tracking for workouts. Most free ones allow you to record loads and times for daily workouts, but you might also be able to track basic metrics, like weight, water, and inches. Again, make sure the tracking and logging functions match the needs of your fitness goals.
Other Interactive Features
It's important to know the type of person you are when looking for an ideal workout app for you. Do you need a bit of motivation? Try to find an app with a community that can push you. Furthermore, some apps reward badges for hitting new personal records which, just like a follow on social media, can feel very rewarding.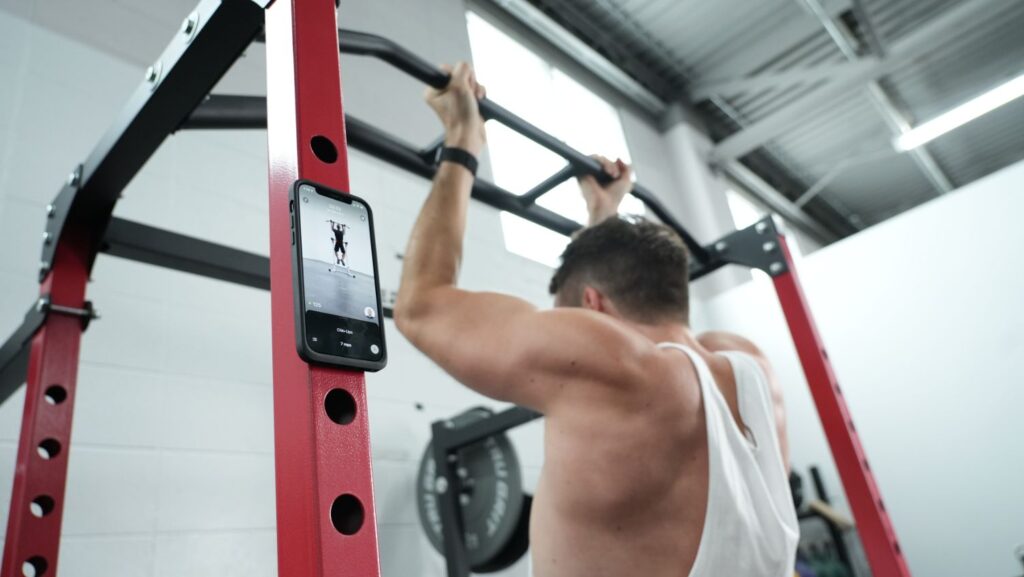 If you don't feel the need for an online support system, there are still ways to stay on top of your workouts. Some apps will add calendar reminders or push notifications to help remind you of your workout schedule for the week.
Best Free Workout Apps: FAQs