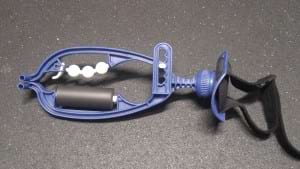 Before I go into how it actually works, I'm going to go into how it's built.
The majority of the Armaid is made using a super tough plastic. Seriously, I wouldn't be surprised if this thing survived being ran over by a car. (On a side note, it did survive being used as a chew toy by my dog 'Famous' Amos. He's a cute but vicious fellow.)
The plastic provides the perfect amount of rigidity while still allowing it to be light and portable. AND portability is going to be something you want in this device because you'll want to take it EVERYWHERE.
The device that rolls your arm is attached to a base that straps to your leg to keep it in place, like so: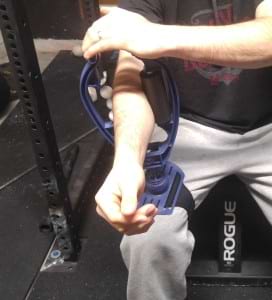 The piece that attaches to your leg has a ball and socket that allows it to spin with force. This comes in handy when you're trying to get both sides of your forearms and would rather not have to unstrap the leg piece each time.
Overall, the Armaid is built to last. I've dropped it many times, accidentally stepped on it, my dog chewed it like I said, and it still works like the day I received it.
The Armaid is very easy to use.
Simply strap it to your leg, adjust the width of the roller, stick your arm in, and start mashing!
After using it for only a short time, you start to realize just how knotted up your forearms are. Think about it, you use your hands more than just about any other part on your body, yet they get rolled out and mobilized least of all.
One of the parts of the Armaid I really like is the top of the device features two handles that allow you to determine how much pressure you want to put on your arm.
I did not get the chance to review all of the various options outside of the small white and gray rubber knobs so I cannot comment on their effectiveness.
I will say however, that the gray and white knobs in my opinion are more than enough until I have the opportunity to try the other rollers.
Something to remember when using the device is that if you're not careful you can really do a bit of damage quickly. By damage, I don't mean the bad kind, but the restorative kind. Your forearm muscles most likely aren't used to being stretched and pulled like they will with the Armaid.
Because of this, my suggestion is to start off slow and overtime build up the volume that you use it.
For whatever reason, when I back squat I grip the bar super tight. This leads to pain and a loss of grip in my hands due to fatigue and tightness. To combat this issue, I started rolling out my forearms with the Armaid in between sets and it has made a WORLD of difference.
Another application I think this is perfect for outside of general trainees, is rock climbers. I've rock climbed casually over the past year and nothing torches your grip like bouldering. This is the perfect device to take with you and in between climbs roll out your forearms. I'm unsure if it's a popular device among rock climbers yet, but I believe it should be soon enough.