We test and review fitness products based on an independent, multi-point methodology. If you use our links to purchase something, we may earn a commission. Read our disclosures.
Versatility and innovation is big right now when we talk about specialty bars. The amount of innovation you can have building the best Olympic barbells has seemed to be near its end, so manufacturers are looking at what ways they can innovate other bars: trap bars, curl bars, and multi-grip Swiss bars.
A smaller American company, Grey Man Gear, has taken a stab at innovation with their Simmons Swiss Bar. And in the words of GGR Founder Coop, it is "quite possibly the most unique multi-grip bar in the world; however, unique doesn't necessarily equal good." Let's unpack what that means in our Grey Man Gear Simmons Swiss Bar review, where we'll go over the good, the bad, and the ugly of this product.
Specialty Bars Are Our Specialty
We've tested a lot of specialty bars at Garage Gym Reviews, from the latest open trap bars to cambered Swiss bars, and even the best curl bars on the market. When it comes to the Swiss bars, our team has tested the high-end bars from brands like Rogue Fitness and Kabuki Strength, as well as budget-friendly options from the likes of REP Fitness and Bells of Steel. We know what to look for in these bars when it comes to value for the consumer.
RELATED: REP Fitness Cambered Swiss Bar Review
Outside of GGR, we just love fitness. Our team is composed of certified personal trainers, competitive athletes, former gym owners, and CrossFit L-1 trainers. We understand the necessity for good equipment and what to look for in a great value product, so we make sure to provide the best information possible to help you in making an informed decision on purchases.
Grey Man Gear Simmons Swiss Bar
GGR Score: 3.6
Product Highlights
Patent-pending swiss bar with adjustable handles

45 pounds and fits both half racks and power rack

5 different grip positions: standard pronated, supinated, neutral, 45-degree supinated, and 45-degree pronated

8 grip width adjustments to accommodate different users and exercises

3 handle positions 
Pros & Cons
Pros
Unique
Multiple positions/grips
Quickly adjusts
Tooless adjustment
Cons
Width of bar may feel clunky/awkward
Price
Handles are raw steel and may rust
Bottom Line
If you're looking for a uniquely designed Swiss bar, the Grey Man Gear Simmons Swiss Bar comes with adjustable handles that have five different grip positions and eight grip widths.
A Quick Look at the Grey Man Gear Simmons Swiss Bar
Grey Man Gear is an American company owned by BeaverFit USA, another American brand that specializes in training equipment and gear for the U.S. Military. Grey Man Gear is named after "grey men" and "grey women," those who train not for fanfare, but who work daily towards reaching their goals. This is often related to military and first responders, but the brand says it can mean people who train without needing to be in the limelight as well.
RELATED: Military Discounts on Home Gym Equipment
The Simmons Swiss Bar was created by Jordon Simmons, a strength coach at Colorado State University. The patent-pending design allows for the handles to be detached, rotated, and attached back on in five different angles, along with adjusting through eight different grip widths. In addition, there are three holes in the center, allowing the bar to be used for carries as well.
The goal for this innovative bar is to provide a multi-grip bar capable of adjusting to anyone—athletes of all sizes, experience levels, and injury history. With so many angles and widths to choose from, it's certain to be able to accommodate most anyone's lifting needs.
Before You Buy
The biggest drawback of the Simmons Swiss Bar is the price. While very innovative, it is still priced well above other top competitors.
The chassis is a bit on the wide size, at 11 inches wide. This can make presses awkward, having to lean back to get out of the way of the bar. Also, the width can cause stability issues with your wrists at heavier loads.
Unlike the couple other Swiss bars with adjustable handles on the market, the Simmons Swiss Bar has a toolless change. It's a much quicker change for angles and width adjustments than having to pull out an Allen wrench for every adjustment.
While a great tool for powerlifting and general strength training, specialty bars are not necessary for a home gym. Only look into Swiss bars if you're going to actually use them.
Video Review
Is the Grey Man Gear Simmons Swiss Bar Worth It?
The Grey Man Gear Simmons Swiss Bar has a very cool and unique design. A lot of the pros and cons would be just about getting into the finer details of the build of the Swiss bar and preferences—if it weren't for the price, that is. At $800 before shipping, this innovative piece of equipment is just not going to be a good pick for a lot of people.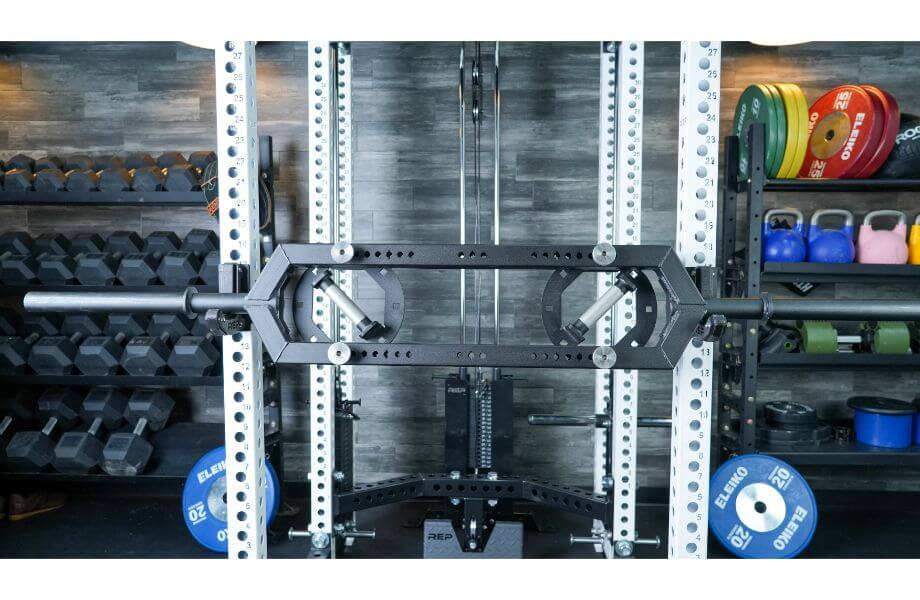 Looking at other premium Swiss bars and multi-grip bars on the market, the Simmons Swiss Bar is priced a couple hundred bucks over top competitors, and it simply doesn't provide enough to justify it. In Coop's honest review of this Swiss bar, he says it best, "They [Grey Man Gear] have absolutely priced themselves out of the market with that price."
RELATED: The Best Budget Barbells
Unless money is no limit and you're searching out unique bars, there are just more options available at lower prices and that provide greater value. While unique and innovative, we can't recommend it for the price.
Great for:
Someone wanting to spend money for a premium item
Those looking for innovative design in their next bar purchase
Not recommended for:
Anyone on a budget
Those looking for high value in their home gym equipment
People who prefer a camber Swiss bar
Grey Man Gear Simmons Swiss Bar Specs
| | |
| --- | --- |
| Price | $799 |
| Dimensions | 71" L x 11" W |
| Weight | 45 lbs |
| Chassis length | 41" |
| Chassis width | 11" |
| Sleeve length | 15" |
| Finish | Black powder coat, raw steel on handles |
| Sleeve diameter | 1.9" |
| Grip options | 5 grip angles |
| Width options | 8 width adjustments |
Using the Grey Man Gear Simmons Swiss Bar
Coop was able to test out the Simmons Swiss Bar, and while the design was very innovative, there were quite a few design choices that felt oddly outdated—in his words, archaic. This led him to theorize that the bar has been in development for several years now, and still had some older designs still integrated.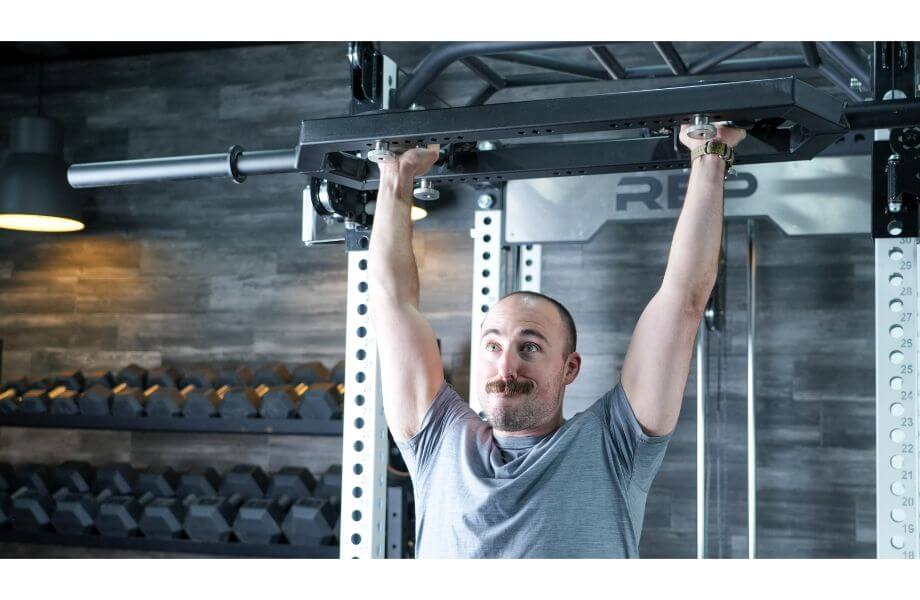 The 45-pound Swiss bar is flat, which is fine, but camber bars have become more popular as of late. The round bend or angle to the bar allows for more range of motion in many upper body exercises. Also, the chassis width is 11 inches, which is much wider than most newer designs. It makes you have to stabilize the bar a bit too much on presses, as well as duck your head out of the way when you lower the bar to your chest.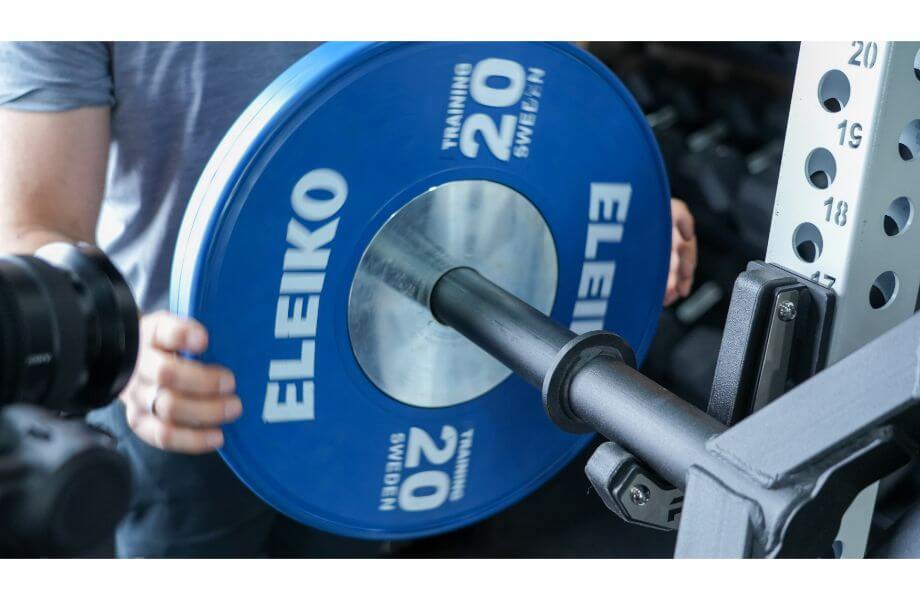 The Swiss bar is rackable, meaning you can load the bar on a power rack or squat rack, for presses, benching, and weight changes.
RELATED: The Best Squat Racks
The handles are the fun part. Attached with knurled chrome knobs, the handles can be easily detached and reattached without the use of tools. This makes for a quicker adjustment than other adjustable multi-grip bars—maybe quicker than some adjustable dumbbells. However, Coop does note that adjusting these handles can be cumbersome enough to where he'd think most people would want to only adjust the angle and width of the handles at the start of a training block.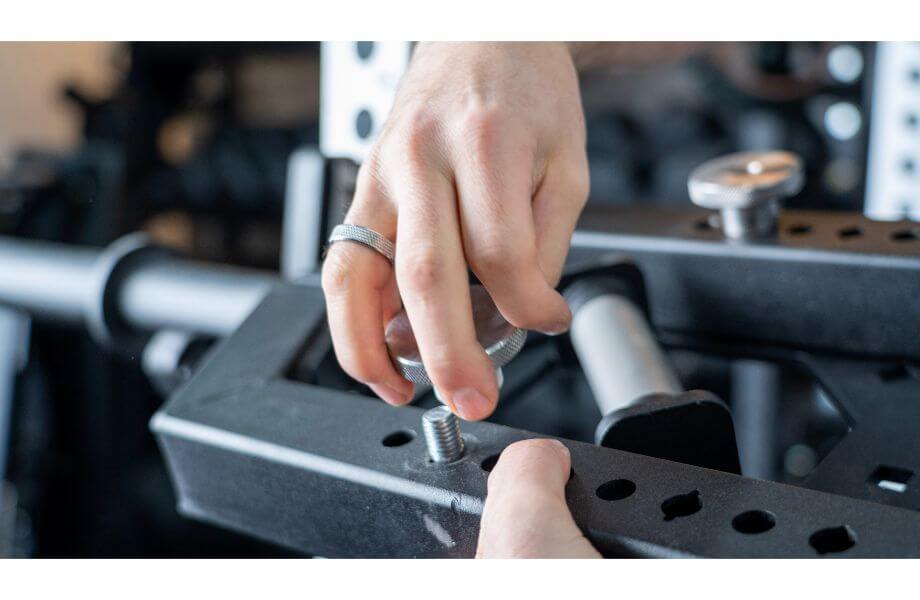 You can get five different grips through adjusting the Simmons Swiss Bar—a pronated, supinated, 45-degree pronated, 45-degree supinated, and neutral grip. With a quick adjustment, you can go from a neutral grip to a 45-degree grip, to double as a football bar. No matter how they are adjusted, the handles are locked and solid, and feel great.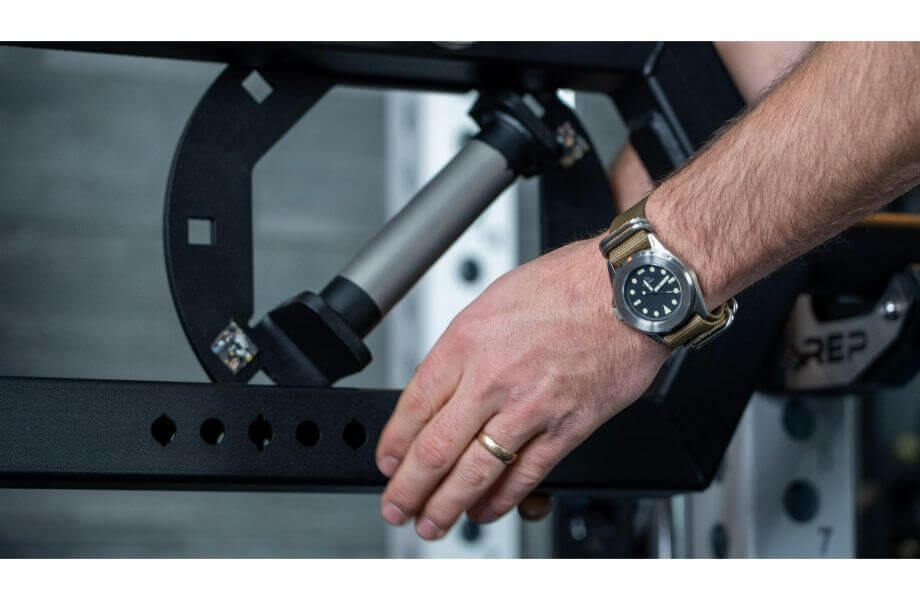 The three center handle positions are a nice touch, but felt like an afterthought. One bar can be used for suitcase carries, but you'd need two bars for farmer's carries. One bar is expensive, but two bars? Coop remarks, "I'm just guessing, based upon the price just so you know, you're probably not going to want to buy two of these bars."
The one bar can be used well enough for suitcase carries, but it does feel awkward and clunky due to the wide chassis.
Construction & Durability
The Simmons Swiss Bar has a few hits, but a few misses, too. One of our favorite positives is the adjustable handles. The tool-less adjustment is great and provides the ability for quicker adjustments. The entire bar—save the handles—is coated in a solid, even black powder coat finish, which gives it a nice initial look.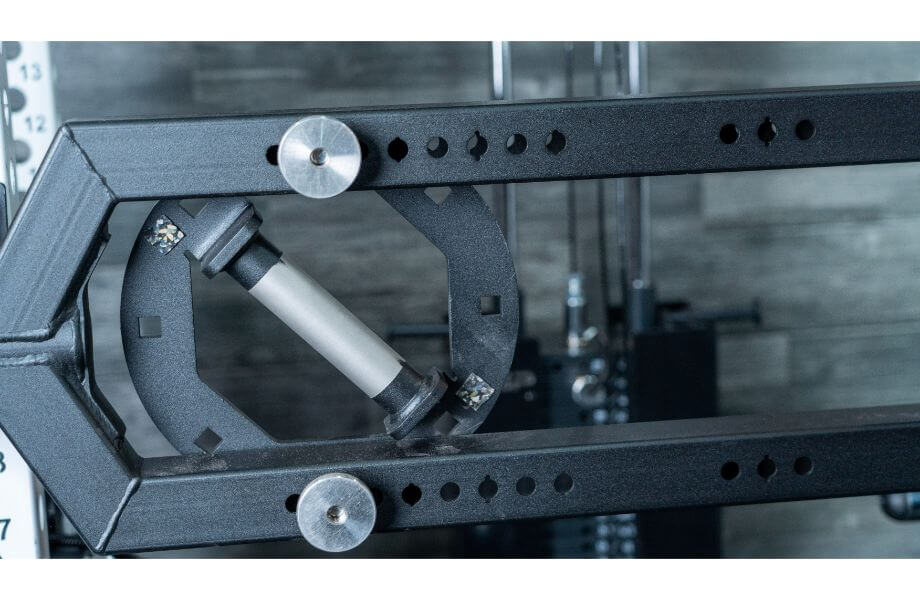 Some choices felt archaic, like Coop said. The wide chassis made some movements feel awkward. In addition, the sleeves are 1.9 inches in diameter, which is an axle bar diameter, just slightly smaller than Olympic barbell sleeves. This slight difference makes the weight plates clang a little bit, and you'll also need collars that will fit axle bars specifically. This is a strange choice, since a lot of new Swiss bars have Olympic-sized sleeves now.
While the powder coating looks pretty sharp, the bar is not built to keep that nice look. The bar sleeves do not spin, which means the weights will easily grind against the sleeve and start wearing the coating down pretty quickly. In our testing, we were able to get some scratches in our sleeves pretty easily. While rotating sleeves aren't necessary for a Swiss bar, it would have helped keep the coating from getting damaged (that or a different coating altogether).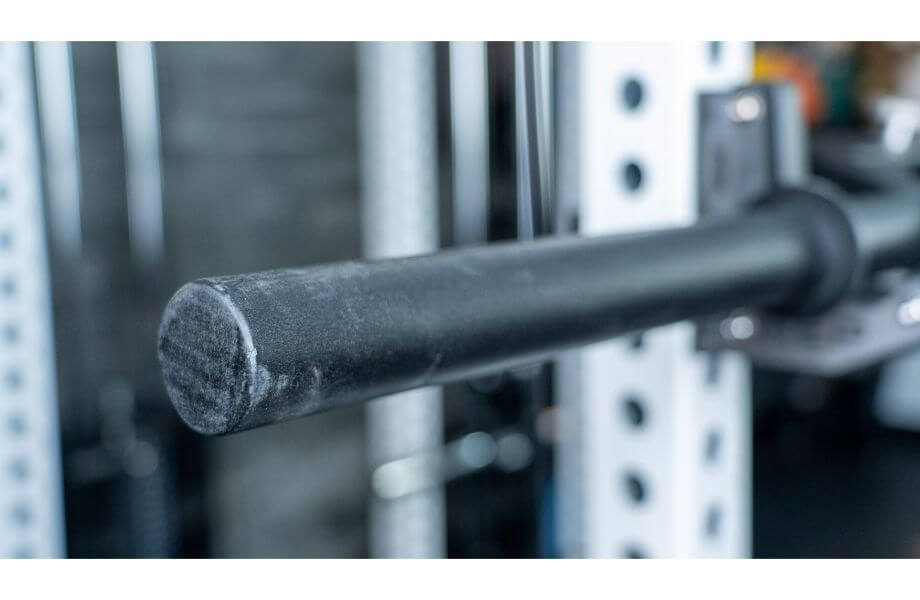 A unique choice was that the handles were not powder-coated—nor were they knurled. The handles were just taped off in painting it, so they are exposed, raw steel. While grip-wise, it's similar to powder coating, the raw steel has a better chance of rusting, especially in a garage gym with less climate control.
The chrome knobs for adjusting the handles have a knurled edge, to make twisting the knob easier. While the knurled knobs were nice, Coop didn't understand why they didn't do the same for the handles. "Now, they recognize knurling would be of value on these [knobs], but didn't recognize it on the handles, which I think was a bad decision." Also, there was no protection on the knobs against the powdercoat of the chassis, further scratching the finish of the bar.
Overall, the quality of the welds and overall build of the product is great, as is what is to be expected from a high-quality American company like BeaverFit. Still, there were some odd design choices that we would have liked changed.
Comparison to Rogue and Kabuki Strength Multi-Grip Bars
Rogue MG-4C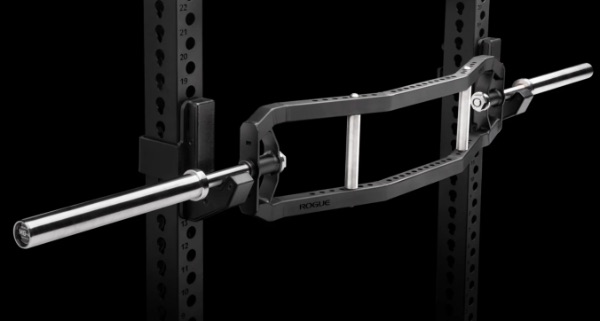 GGR Score: 4
Product Highlights
Perhaps the most versatile camber bar on the market, the Rogue MG-4C gives you options for handle positions as well as angles: straight, 16 degrees, and 20 degrees. Also, choose between two sleeve length options and two finishes (matte black and stainless steel).
Pros & Cons
Pros
Customizable handle spacing and angles
Comes in matte black or stainless steel
200K PSI tensile strength
Choose from short or longer sleeves
Cons
Stainless steel upgrade costs extra
Might be expensive for a specialty bar for some
Bottom Line
The Rogue MG-4C Multi-Grip Camber Bar is loaded with optionality for sleeve length, finish, and handles, making it one of the most versatile camber bars on the market.
Kabuki Strength Kadillac Bar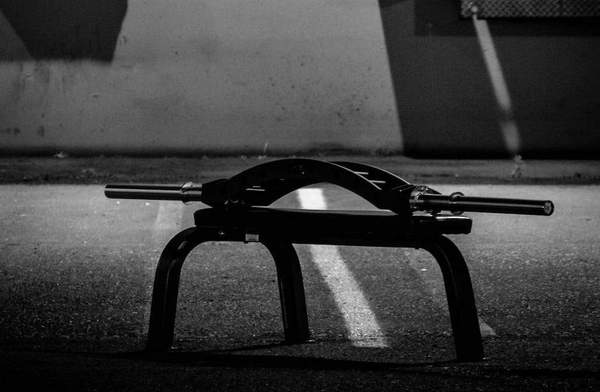 GGR Score: 4.5
Community Score: 4
Product Highlights
Cambered the same angle as the Duffalo Bar for increased range of motion.
Machined Sleeves allow the use of regular barbell collars and include our signature end caps.
Made in USA
Pros & Cons
Pros
The Kadillac Bar is Kabuki Strength's version of the football bar that utilizes the same curvature as the ever-popular Duffalo Bar.
Sleeves are machined to the Olympic standard which allows the use of regular collars, and traditional end caps for both tight tolerances on plates, but also a great look. This is something overlooked A LOT by other companies.
The entire bar, san sleeves, is coated in a highly-textured powder-coat that grips extremely well. This is honestly the best textured powder-coat we've seen on a bar. Reminds us of Williams Strength/EliteFTS but with even more grip.
Various grip angles at 10°, 12.5°, and 15° to "promote optimal, stacked joint position and improve movement mechanics."
The camber of the bar matches the Duffalo Bar which increases range of motion.
Can be used in the standard or reverse grip positions.
Thinner than many other multi-grip bars which means it's easier to use for overhead press and curls.
Shipping cost is lower than other Kabuki Bars due to the removable sleeves, yet it's just as strong.
Cons
Although we love the heavily-textured powder-coat, we would have preferred to see the handles knurled. This said, that likely would have increased the cost substantially and we don't think it would be worth it since the bar won't be used often for pulling. Some may disagree.
One reviewer claimed the bar didn't fit in their rack due to its width. "the diameter of the sleeves doesn't fit in my bench press rack (I have a Fortis rack with moving bar holder). I had to swap the J cups from my squat rack just to fit the bar onto the cups, and now it slides around." We have not had this issue.
Bottom Line
The Kabuki Strength Kadillac Bar is one of the best multi-grip bars that we've tested and reviewed. It's certainly unique and has a niche, but if you don't mind the premium cost of a Kabuki Bar, you're going to get one of the best designed, featured, and finished specialty bars on the market. We've used the bar for everything from bench to overhead press, to even seal rows. This is another bar from the mind of Chris Duffin that makes you think, "why hasn't this come out sooner."
For this comparison, we're going to look at another similarly designed adjustable Swiss bar: the Rogue MG-4CN, an updated narrow grip camber bar from their MG-4C. Additionally, we'll look at the Kabuki Strength Kadillac Bar, one of Coop's highest recommendations for Swiss bars, and what he uses in his own home gym.
Both of these bars are on the higher end of pricing, and the biggest difference between these bars is already evident. Rogue's camber bar with all of its bells and whistles is still over $100 cheaper than the Simmons Swiss bar, and the Kadillac bar comes in over $200 less than Grey Man Gear's bar.
There are other small differences, notably in the handles' textures. The Rogue bar has stainless steel knurled handles, which will feel great throughout your pressing. Kabuki does not have knurling, but the powder coat finish has a strong texture that will maintain a solid grip throughout your set. Both these other bars have a chassis width at about 7 inches, which will feel like a more balanced bench press bar.
Another design choice that Rogue and Kabuki does just a little bit better is using an Olympic sleeve, instead of the slightly smaller axle bar sleeve. The 2-inch width will fit your bumper plates much better, and you won't have to buy new collars just for this bar.
The Kabuki Kadillac Bar has fixed handles, so if you are looking for customization, then the Rogue MG-4CN is your best pick. The Simmons Swiss Bar is just too pricey compared to other top brands.
Read more on Rogue's latest generation of Swiss bars in our Rogue MG-4 Multi-Grip Bar review. You can also see why Coop is all the rage on Kabuki's Swiss bar in our Kabuki Strength Kadillac Bar review.
| | | | |
| --- | --- | --- | --- |
| | Grey Man Gear Simmons Swiss Bar | Rogue MG-4CN Narrow Multi-Grip Camber Bar | Kabuki Strength Kadillac Bar |
| Price | $799 | $395-$650 | $495 or $545 |
| Dimensions | 71" L x 11" W | 70.8" or 83.8" L x 7.1" W | 87" L x 7" W |
| Weight | 45 lbs | 44 or 54 lbs | 44 lbs |
| Chassis length | 41" | 41" | 41.5" |
| Chassis width | 11" | 7.1" | 7" |
| Sleeve length | 15" | 9" or 15.5" | 16.75" |
| Finish | Black powder coat, raw steel on handles | Proprietary black matte, or stainless steel | Bright zinc or proprietary matte black |
| Sleeve diameter | 1.9" | 2" | 2" |
| Grip options | 5 grip angles | 3 angles (extra handles must be purchased) | 3 angles |
| Width options | 8 widths adjustments | Can be adjusted between 6" and 26" | 3 fixed widths |
Customer Experience
While there are individual warranties for each of Grey Man Gear's products available, as of the time of this writing, there is no warranty information on Grey Man Gear's website for the Simmons Swiss Bar. They do offer a 30-day return, but only for unused and undamaged items in their original packaging. Unfortunately, you will have to foot the bill on shipping costs.
Grey Man Gear does have financing options available, though. If you're considering this bar, it will definitely help make the initial investment less painful.
Ordering and Assembling the Grey Man Gear Simmons Swiss Bar
The SImmons Swiss Bar can be purchased directly from greymangear.com, and the product will ship out between four and six weeks after the initial order. The bar is pretty much one piece, aside from the adjustable handles, so it is ready to go out of the box.
Customer Reviews
I searched far and wide for any customer reviews on the Simmons Swiss Bar, but was unable to find any. The website has zero reviews or ratings, and there just isn't much about this bar elsewhere.
More than likely, this is due to the fact that this bar (and brand) is relatively new, and is just beginning to pick up some momentum as a company. I would imagine as well that with its current price, there haven't been too many purchases yet, either.
Final Verdict of Our Grey Man Gear Simmons Swiss Bar Review
Grey Man Gear built a high-quality, innovative and unique specialty bar with their Simmons Swiss Bar. With five adjustable grip angles and eight width adjustments, there are endless combinations of grip positions. However, with such a high price tag, we can't help but feel like there are other similar products available that provide much more value.
Grey Man Gear Simmons Swiss Bar Rating
Grey Man Gear Simmons Swiss Bar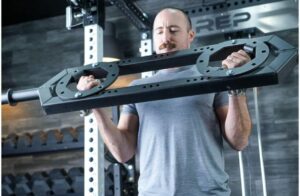 This is a versatile and unique Swiss bar, but how much value does it bring? Read on in our Grey Man Gear Simmons Swiss Bar review.
Product Brand: Grey Man Gear
Product Currency: $
Product Price: 799
Product In-Stock: InStock
Grey Man Gear Simmons Swiss Bar FAQs
What is the name of the company that makes the Grey Man Gear Simmons Swiss Bar?
Grey Man Gear is a company owned by BeaverFit, a company specializing in training equipment and storage for the U.S. Military.
Is the Grey Man Gear Simmons Swiss Bar worth it?
While being a very innovative and unique piece of American-made equipment, the Simmons Swiss Bar is priced higher than most competitors, meaning it won't provide a lot of value to most people.
How much does the Grey Man Gear Simmons Swiss Bar cost?
The Simmons Swiss Bar costs $799, plus any additional shipping fees.