Rogue Fitness has given us more options to their already outstanding Ohio Bar by adding world-class athletes signature touch to each barbell.
Without a doubt the Rogue Ohio Power bar and Ohio Bar have become some of the most sought after barbells in the powerlifting and CrossFit communities. These barbells are nothing new to the fitness community, but what is new is the different designs.
The standard Rogue Ohio Power Bar has been widely viewed as the most recommended "value" powerlifting bar. Of course you could spend three times as much money for a power bar, but then you have to throw comparison out of the window due to price difference. The difference between a Rogue OPB and a more expensive power bar will more than likely come down to the tensile strength and knurl. However, for 99.9% of people, the Rogue Ohio Power will be able to withstand almost everything you can throw at it.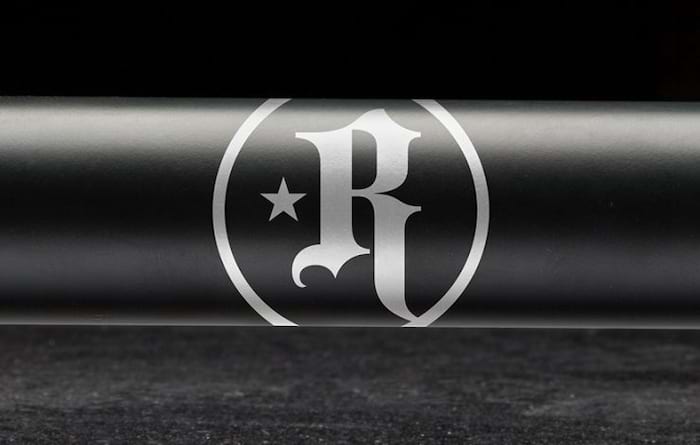 The Rogue Ohio Bar was one of Rogue's first release barbell to the public.Although the Rogue Cerakote Ohio Barbell is called the Ohio Bar, it's really a mash-up of the Rogue 2.0 Bar (the one that received our marks as the best barbell for most people) and the Rogue Ohio Bar with a special coating on the shaft and sleeves. The steel Rogue uses is excellent for multi-modality training and has just the right amount of whip and stiffness for any type of training - from the Powerlifter to the Olympic Weightlifter.
Some advantages right from the start when investing into a Cerakote bar, like the Cerakote Rogue barbells, will be its corrosion resistance. When sprayed with a salt spray, Cerakote finished at the top of being the most corrosive resistant, even when compared to stainless steel.
After being sprayed, stainless steel began to show signs of rust after 24 hours, which mind you, is still a long time. However, the same salt spray that was used on the stainless steel finish was also used on the Cerakote and the Cerakote did not show signs of corrosive until 2,034 HOURS IN! When choosing a bar to begin your home gym with, tests like this should factor into your decisions.
Knurling on a barbell has always come down to personal preference. Some people will like a sharper feel like an Okie Deadlift Bar, and other people will like a more passive knurl.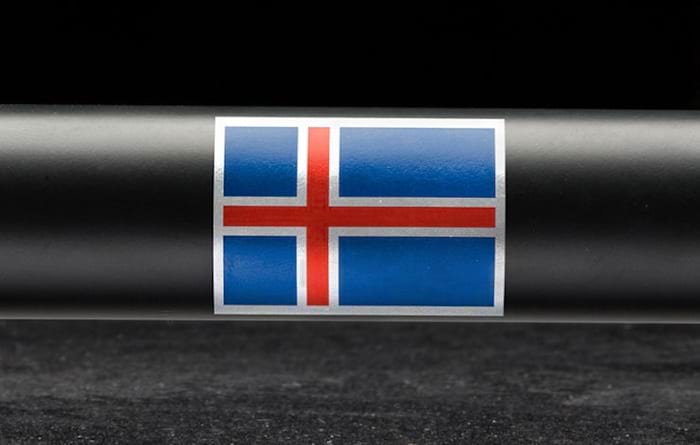 What we love about this new line of athlete-specific Ohio Bars and Power Bars are the variations that come with each barbell. One of the most popular names in the Crossfit world is Rich Froning Jr. and his barbell is about as clean as it gets. Froning's barbell is a 20kg, 190K PSI bushing bar that is completely blacked out.
The female version of the Rogue Ohio Bar is Rogue's Bella Bar, to which Rogue has given us the Bella Bar Davidsdottir edition. Almost the exact same as the Ohio Bar, only with a thinner shaft at 25mm and weighing around 15kg. Different from Froning's bar, Davidsdottir offers a white shaft with a black sleeve finish, all of which are Cerakote. It features the same tensile strength steel, dual knurl marks, and bushings for the rotation system.
Another athlete special barbell comes from someone not as familiar to the CrossFit Games, but without a doubhouseholdhold name in the Strongman community. Strongman Hafþór Júlíus "Thor" Björnsson, or better known as "The Mountain" from Game of Thrones, gives us two different barbell option for his athlete special Ohio Power Bar.
Overall there is not a whole lot of differences between Thor's two power bars. The all-black matte finish weighs in at 45 pounds, with a little thicker diameter than the standard Ohio Bar at 29mm, which makes this an Ohio Power Bar. You will find that 29mm will more than likely feel better while you are doing any sort of press or squat, and unlike Froning's and Davidsdottir, the Thor OPB offers a center knurl with only one powerlifting knurl mark.
Another difference between Thor's two barbells is the weight (one at 45 pound, the other 20kg) and the 20kg Thor Ohio Barbell has a chrome sleeve finish along with Cerakote coating. What we have found with black finish across the sleeves, is that it results in seeing the scratches from loading plates on to the bar and ends up being not as aesthetically pleasing to the eye long term. The 20kg Rogue Ohio Power Bar with Chrome sleeves is the one we would most recommend.
Both the 45 pound barbell and the 20 kg barbell come in at a 205k PSI, which is one factor that increases the stiffness of the bar over the standard Ohio Bar.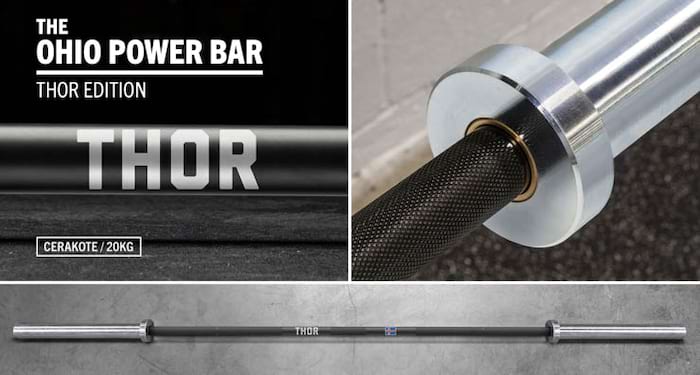 Our next Cerakote Ohio Bar comes from arguably the fittest man on earth...two years in a row. Mat Fraser has taken the 2017 Crossfit Games approved barbell, red Cerakote shaft with black matte sleeves, and added his personal touch to it. His signature phrase has been, "Hard Work Pays Off" and that is exactly what a person would see when training with this bar...a good reminder, no doubt.
Like Froning's, this barbell is your basic Ohio Bar specs with a 28.5mm diameter shaft, 20kg weight, dual knurl marks, bushing rotation system, and 190k PSI tensile strength steel. The only difference between Fraser's barbell and Froning's is their signature touch with their logos and Fraser's red shaft finish rather than Froning's all black matte barbell with white logo.
Our final athlete special barbell comes from the latest winner of the 2017 Crossfit Games, Tia-Clara Toomey. Toomey has taken Rogue's Bella Bar 2.0 and put her own spin on it. This barbell is lighter than the Davidsdottir edition weighing in at 15kg and with a diameter size of 25mm. This is a bushing barbell with 190k PSI. The shaft does not feature a center knurl, but is finished with a blue Cerakote and Toomey's signature arrow logo in white with Cerakote black sleeves.
Rogue did not completely re-design any of their already produced barbells, but simply added a special athlete touch to their barbells.
If you want a unique barbell inspired by a favorite athlete, then these are great options.