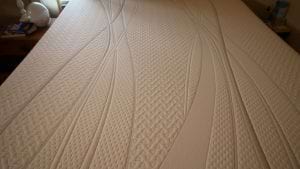 Foam mattresses have been on the market for some time, but in recent years have begun to explode in popularity.
With companies like Casper and Tuft+Needle popularizing a foam mattress that is not only affordable but also able to be shipped in a box, consumers have gone crazy over them!
AND, for good reason. I mean have you ever actually slept on a foam mattress? They're great, and the penny-pincher in me likes them because they're cheap (at least compared to traditional mattresses.)
I'd like to think that PerformaSleep saw the success and value provided by foam mattress companies, and wanted to take them one step further to provide benefits for athletes. Specifically strength and CrossFit athletes.
When I initially saw PerformaSleep mattresses I was definitely intrigued, but somewhat skeptical. Sure, it's a foam mattress that's probably just as good as the others available, but just simply marketed to gear hungry CrossFitters. I opted to do an honest review in exchange for the mattress, and they were delighted at the opportunity. I wasn't too sure.
I then started actually seeing what the PerformaSleep Mattress was all about.
Here are some of the features:
3 Layer Foam Mattress
Base Layer made out of High-Density Foam
Enersorb Technology that unlike traditional memory foam mattresses doesn't create sink holes in the mattress
CopperCool Gel Foam top layer that infuses gel foam with copper to provide for better recovery
I'll get into these features a little bit later, but ignore the corny marketing names like "Enersorb" and "CopperCool" and just know they sound gimmicky, but this mattress is FREAKING AWESOME.
The mattress comes in what essentially looks like a refrigerator box, wrapped in plastic, and sealed tight.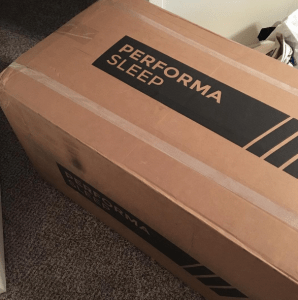 When you open the box and cut the wrapping, the mattress practically explodes and begins growing before your eyes. Pretty cool to be honest.
Being able to ship the mattress in such a small space allows PerformaSleep to ship the mattress free of charge to customers.
This is especially nice because you don't have to deal with used car salesmen masked as furniture salesmen, and if you've ever looked at the cost of shipping traditional mattresses you would probably just resolve to sleep on the floor. (Which as a side note I did for 2 years before I got married and probably had the best sleep of my life during that time. Fun fact, no charge)
The mattress looks clean, with nice stitching and minimal logos, although who really cares because it will be covered in sheets and dead skin. (Another fun fact for you, mattresses supposedly double in weight every 10 years, but foam mattresses do not because they don't absorb dead skin the same way as traditional beds.)
So far, there have been no problems in regards the stitching ripping or certain parts of the bed sagging. For that, I'd say the construction, up to this point, has been excellent.
Now, with a name like PerformaSleep, you better create a product that freaking PERFORMS!
And, it does just that.
My wife and I have been sleeping on a somewhat older mattress and have been looking to upgrade. The problem is when we've tried foam mattresses, they're usually way too soft.
We both like to sleep on firm surfaces. There's nothing worse than waking up after sleeping on something that feels like a cloud. Your muscles had been forced to support your body all night, and all of a sudden you wake up feeling awful. A firm mattress, in my opinion, is actually better for you because it forces your skeletal system to support your weight more than your muscles.
One of the big selling points behind the PerformaSleep Mattress is the foam gel top that's mixed with Copper.
Copper, for those unaware, has been used in joint sleeves for years due to it's claimed restorative properties.
Now, does copper actually help restore and rejuvenate? I honestly have no idea. It could be a placebo, but I will say this,
I have slept better on the PerformaSleep Mattress than any other mattress.
And that's coming from a natural-born skeptic.
Both my wife and I wake up feeling restored and really look forward to laying on the mattress.
One of the claims made by PerformaSleep is that the bed keeps you cool. Now, I wouldn't say the bed has necessarily kept me completely cool, but it certainly has kept me coolER than mattresses I've used in the past.
Staying cool is an important part of sleep and every little bit helps, so I was excited to experience a difference in body temp at night.