We test and review fitness products based on an independent, multi-point methodology. If you use our links to purchase something, we may earn a commission. Read our disclosures.
If you're new to working out and want to purchase an elliptical trainer for your home gym that's super affordable, consider the NordicTrack E 5.7 elliptical. Back in the day, when it was sold at Sears, you could grab this elliptical for just $599, which wasn't a bad price then. However, 10 years have passed since those days, and now you can purchase this cross trainer for about 250 bucks. That's a steal!
This elliptical machine has some notable features, including multiple built-in workouts, an adjustable stride, and iFIT compatibility—to name a few. Admittedly, it's not the best elliptical in the world, but it's a great option if you're new to working out and on a tight budget.
Since it's now discontinued and can't be purchased at Amazon or any major retailers, you'll have to hope it turns up at a garage sale or on Facebook Marketplace. Just in case you do happen to see it, though, we've prepared this NordicTrack E 5.7 elliptical review. That way, you can decide if this hand-me-down is good enough for you before you part with your hard-earned money.
You Can Count On Us to Tell You the Real Deal
You don't need anyone sugarcoating the truth when it comes to home gym equipment and what you should expect from it. Just like we try to limit the sugar in our diets, we also aim to eliminate the prettified fluff you'll often see regarding the various products out there.
To ensure we can tell you the real deal about ellipticals, treadmills, and other fitness equipment, we have our team of fitness instructors, certified personal trainers, and more actually try it out. Our expert testers often have their clients use the equipment, too, to see how they feel about it. As a result, we get real feedback from real people who've implemented it into their actual workout routines. This is huge!
So when you want the truth, count on those who are passionate about fitness and helping you reach your workout goals. We're not afraid to tell you if an elliptical is complete crap, we're more fearful of you buying something that doesn't meet your needs.
Looking for an Alternative to the NordicTrack E 5.7?
Best Alternative to NordicTrack E 5.7
GGR Score: 3.6
Product Highlights
7" smart HD Touchscreen

Water bottle holder, dual 2" digitally amplified speakers

AutoBreeze workout fan, oversized cushioned pedals

22 levels of digital resistance and up to a 20% incline

Constructed with heavy-duty solid steel
Pros & Cons
Pros
Programming options
iFIT enabled
Quiet
Sturdy build
30 pre-programmed workouts
Incline options
Cons
Stride length is small for a commercial elliptical
Requires a 4-year iFIT membership
Heavy
Bottom Line
Intended for commercial use, the Commercial 9.9 Elliptical is a sturdy treadmill that offers interactive programming through its required 4-year membership to iFIT.
The NordicTrack E 5.7 elliptical trainer is dated and might prove challenging to find, but fortunately, there are plenty of others to choose from. One such option is the NordicTrack Commercial 9.9. This front-drive elliptical with iFIT-compatibility will not only offer a challenging workout but also keep you entertained.
With specs like up to 20% incline and 22 resistance levels, you'll get plenty of variety that'll be sure to get your heart rate up while still remaining joint-friendly. Plus, for those who have no idea what kind of workout to do, you'll find 30 onboarding options on the console. As if that's not enough, those with iFIT memberships will get access to hundreds of trainer-led workouts. So say hello to automatically adjusted incline and resistance levels during your exercise sessions!
Don't feel like hooking up a tablet to utilize the Google Maps feature? Not a problem. This elliptical has a built-in 7-inch HD touchscreen to navigate the exercise library and change the virtual workout scenery.
Although the stride length on here comes up a little short, and the parts and labor warranty isn't the greatest, this elliptical will meet most people's cardio needs. However, be prepared for the price tag because this powerhouse won't appear on the "affordable ellipticals" list.
A Quick Look at the NordicTrack E 5.7 Elliptical
If you're looking for a low-impact activity that'll help you get in more cardio, the NordicTrack E 5.7 elliptical can help you do that. However, with it being one of the more affordable starter ellipticals once offered by the NordicTrack brand, it's naturally not the most advanced.
This machine has the basic features ellipticals should have to offer you a decent workout, which is honestly all that matters most of the time. Some ellipticals are decked out with a bunch of fancy features that sound really nice but will rarely get used. And honestly, ain't nobody got time for that, especially when you're budget shopping.
Trainees will find that this cross-trainer keeps it pretty simple, and there's a slight appeal to that. It's a starter machine from a well-known brand, and it comes at a great price. You'll see exactly what I mean when you keep reading this NordicTrack E 5.7 elliptical review.
Pros:
20 built-in workouts
20 digital resistance levels
300-lb user weight capacity
18-20″ adjustable stride
Stride adjust incline ramp
Cons:
No workout fan
Choppy pedaling experience
Doesn't fold
Construction issues
NordicTrack E 5.7 Elliptical Specs
Due to the fact that the NordicTrack E 5.7 Elliptical is off the market, our team had trouble finding reputable sources for some of these specs.
| | |
| --- | --- |
| Footprint | 68″ L x 26″ W x 67.2″ H |
| Weight | 250 lbs |
| Weight capacity | 300 lbs |
| Flywheel | N/A |
| Stride length | 18-20″ |
| Incline | 0-20 degrees |
| Resistance options | 20 |
| Preset programs | 20 |
| Interactive programming | iFIT Live Compatible |
| Warranty | Lifetime frame, 1-year parts and labor |
Key Features of the NordicTrack E 5.7 Elliptical
So, why in the world would anyone consider this particular elliptical? It's affordable, so it can't be that good, right? Well, although it's on the cheaper side for NordicTrack, some of the specs on here are what you'd see on higher-priced machines.
For example, there are 20 resistance levels, allowing you plenty of room to bump up the intensity and burn more calories. Plus, it has a stride adjust incline ramp to help you add even more variety to your elliptical workout. With 20 degrees of incline (aka five levels), you'll be able to target different muscle groups, like your quads, hamstrings, and calves.
Trainees may also appreciate the adjustable stride length this elliptical trainer has. Many of the cheaper cross-trainers only have one stride length, which is 16 or 18 inches, but here you get up to 20 inches, which is ideal for individuals around 6 feet tall. In addition, the machine can accommodate individuals up to 300 pounds, as well, whereas other affordable models might max out between 220 and 250 pounds.
If you're new to working out, this is a feature you'll probably appreciate the most. There are 20 onboarding programs, with 10 being geared toward calorie burning and the other 10 being performance based. NordicTrack could've easily skipped adding this since the elliptical carries iFIT Live, but it's nice that they didn't for those who'd prefer to do without an iFIT membership.
Footprint, Portability, and Durability
Length-wise, you're getting an almost 6-foot-long machine, so it will take up quite a bit of space in a room. It's not a folding elliptical, either. Therefore, if you're considering the E 5.7, I'd recommend you put it in a dedicated area of your home where you don't plan on moving it. While the width isn't too shabby, given that it only takes up a little over 2 feet, don't let that fool you. You'll need to make sure you have enough room to get on and off the elliptical and ensure it's not too close to other objects. So, to be on the safe side, give yourself at least 3 feet of clearance in the front and rear of the elliptical and 2 feet on each side.
If you absolutely have to move this front-drive elliptical, grab a partner because it's not something you'll be able to move alone safely. Seriously, the machine is heavy (250 pounds) and long, so don't overestimate your abilities and attempt to do it yourself. There are transport wheels on here, so at least you and your moving buddy don't have to worry about lifting it and carrying it to another room.
Also, because this is a starter machine, you can't expect the level of durability you'd find on a machine like the NordicTrack FS14i. However, since it comes from a well-known brand, it's not completely crappy, either. Some customers complained about the machine's construction, noting defective parts, but others were fine with it. I guess it all comes down to how often and how aggressively you plan on using the machine. For beginners, it might work, but this isn't the elliptical for advanced athletes who plan on using it five days a week.
Ergonomics
Anytime you start looking at the more affordable machines, you have to accept that you'll probably have to do without some desirable features. In the case of the NordicTrack E 5.7 elliptical, you're not going to get top-tier comfort. Instead, they've prioritized workout variety.
What this elliptical does have going for it are the oversized pedals, so your feet won't feel restricted, and the upper-body workout arms that have a soft grip touch. If you really don't want to engage your arms like that, though, you can place your hands on the stationary handlebars.
A comfort feature that would've been nice to have on here is a workout fan, so make sure you have a way to stay cool. I was surprised that this elliptical didn't at least have one-touch controls to change the resistance or incline levels. Some budget-friendly NordicTrack treadmills even have those conveniences, but hey, it is what it is.
Technology Benefits and Conveniences
Like practically all NordicTrack and ProForm machines, this one, too, is iFIT compatible. You'll find an iFIT Live button on the 5-inch backlit console window. If you set up a membership, you'll be able to download workouts by celebrity trainers like Jillian Michaels, develop your own workouts, race against friends, and more. The Google Maps addition is a nice perk, too. That feature lets you find an area in the world where you'd want to exercise, and then based on the scenery, the incline will auto-adjust to fit the route.
The display is where you'll find the workout stats you desire, such as calories, stride, speed, elapsed time, resistance, and more. If you want to see your pulse, use the CardioGrip™ heart rate monitor that's built into the handlebars. There is a My Trail feature, too, where you can view a quarter-mile racetrack graphic. If you're more visual, you'll like this. At a glance, you can see the number of laps you've completed and your current progress.
Trainees might also appreciate the Acoustics™ 2.0 Sound System and a water bottle holder. There's an iPod-compatible music port, too, but I'm not sure how many people will benefit from that feature these days.
Final Verdict of Our NordicTrack E 5.7 Elliptical Review
If you want a straightforward piece of fitness equipment to add to your home gym, say hello to the E 5.7 elliptical! It'll offer beginner trainees a challenging workout experience and a few technical advantages at an amazing price. Although it's missing some creature comforts, and the machine's overall durability might not be the absolute best, it's still worth considering.
Therefore, if you do happen to stumble across this machine for sale, we hope this NordicTrack E 5.7 elliptical review will help you decide if you should add it to your home gym.
NordicTrack E 5.7 Elliptical Rating
NordicTrack E 5.7 Elliptical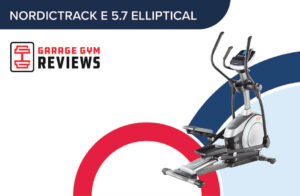 In this NordicTrack E 5.7 elliptical review, learn if this discontinued starter model is worth the money if you happen to see it at a garage sale one day.
Product Currency: $
Product Price: 1499
Product In-Stock: InStock
NordicTrack E 5.7 Elliptical FAQs
​How Old is NordicTrack E 5.7?
This cross-trainer came on the scene around 2013, so it's about 10 years old. 
How Much Does a NordicTrack E 5.7 Weigh?
It weighs 250 pounds, so don't even think about moving or assembling it yourself—you'll need to recruit a helper. The E 5.7 is definitely on the heavier end for home-use ellipticals. Most weigh between 150 and 300 pounds.
Are NordicTrack Ellipticals Good?
Icon Fitness, which owns other well-known brands in addition to NordicTrack (e.g., iFIT and ProForm), creates good quality fitness equipment for the home. Since the 1970s, they've been making, enhancing, and evolving ellipticals, treadmills, and more to meet the various needs of their customers. Providing a good workout experience to trainees is paramount, which shows in their products.