We test and review fitness products based on an independent, multi-point methodology. If you use our links to purchase something, we may earn a commission. Read our disclosures.
iFIT is a connected fitness app that's available on five brands of exercise equipment: NordicTrack, ProForm, FreeMotion, Weider, and Matrix. If your machine has an interactive console, you can access your iFIT account directly from the display. If not, you can download the app on any Android or Apple iPhone or tablet and connect via Bluetooth.
You can use it on compatible rowers, ellipticals, exercise bikes, and treadmills, all of which require regular maintenance and care. Like all technology, the iFIT platform can sometimes run into issues, namely connectivity problems.
If iFIT is no longer working on your cardio machine or on your smart device, our iFIT troubleshooting guide can help. We'll round up some of the most common problems with iFIT and iFIT-connected machines, explain why they happen, and walk you through how to fix them.
RELATED: How to Fix a Treadmill
Common Problems With iFIT: Troubleshooting Tips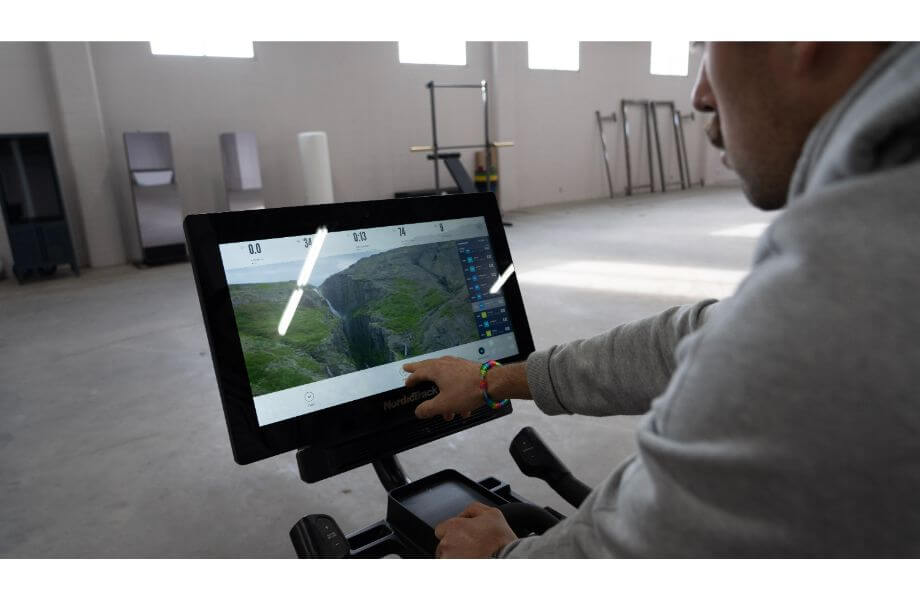 The most common problems with treadmills have to do with the console and the belt. Here are some issues you may encounter and some tips to fix them. Keep in mind that there are several iFIT-compatible treadmills so always reference your owner's manual to make sure you're properly caring for your specific model.
iFIT Not Working on Machine Console
Possible causes: Not connected to the internet, needs a new battery, not connected to power, wiring is loose, needs a factory reset
Not Connected to the Internet
iFIT-enabled machines require an internet connection for full functionality. If your console isn't working as it should, it's possible that you've simply lost your Wi-Fi connection. It's a good idea to try this before jumping into more complicated troubleshooting. Double check that your treadmill is connected to the internet (and that your internet and router are working properly). If not, connect it and see if that resolves the problem. If not, move on to the next steps.
Needs a New Battery
If your console is battery-powered, it may simply need new batteries. Pop in a fresh battery and see if iFIT populates the screen again. If not, keep moving through the following steps.
Not Connected to Power
If your console won't turn on at all, this is not an iFIT problem; it's a power problem. Check the power cord and make sure it's fully inserted into the plug. Flip the power switch to "off," unplug the cord, plug it back in, and flip the switch back to "on."
Wiring Is Loose
If the console isn't working at all, the wiring may have come loose. Unplug your machine, and use your owner's manual to work backward to remove the console and check the connections. If you're not comfortable taking the machine apart yourself, you may need to get a treadmill support person to help you.
Needs a Factory Reset
Lagging, freezing, and/or unresponsiveness are often signs that your treadmill just needs a reset. Many iFIT machines have pinhole reset buttons located in the top, back, or side of the console. To reset the treadmill, make sure the machine is powered off and use a paperclip (or similar tool like a SIM ejector) to press the reset button until you hear a click. Continue holding the reset button and turn the treadmill back on. You may need another person to help you with this, depending on where the reset button is located.
When the console powers on with a white screen and the iFIT logo, you can remove the paperclip and let the treadmill reboot and calibrate on its own. Heads up: This is a full factory reset that will delete all your settings and any apps that you've installed, so you may have to reinstall some things and redo custom settings, such as your time zone.
RELATED: NordicTrack Treadmill Repair
iFIT App Not Syncing With Machine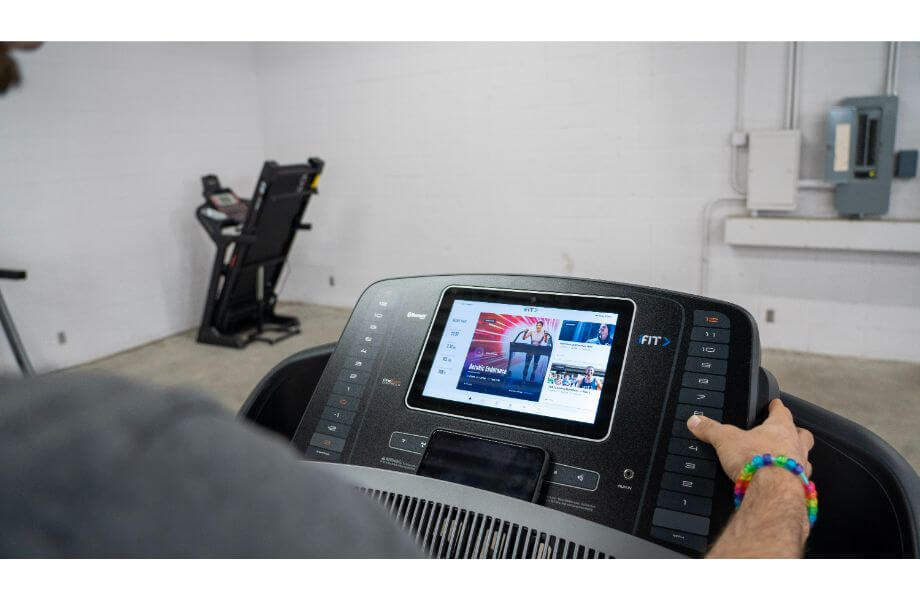 Possible causes: Bluetooth connection lost, logged out of account, app needs an update
Bluetooth Connection Lost
The most plausible scenario in this case is that the Bluetooth connection between your machine and your smart device was lost. Check your device settings to see if your connection is there; if it's not, reestablish the connection and wait for the information to populate.
Logged Out of Account
You may have been logged out of your account on your smartphone or tablet, in which case, communication between the phone app and machine platform may lag. Simply log back in and see if the information from your machine populates in the app on your phone.
App Needs an Update
If the iFIT app on your phone or on your cardio machine is due for an update, it's possible that the two platforms won't communicate with each other. On your phone, you can check for updates in the App Store; on your machine, you should be prompted to update the software automatically. If neither of those options are present, you may need to uninstall the app (on your smart device and/or on your machine) and reinstall it for a refresh.
RELATED: ProForm Treadmill Maintenance
iFIT App Not Syncing With Other Apps 
Possible causes: Bluetooth connection lost, software update needed
Bluetooth Connection Lost
Again, the most likely scenario here is that your Bluetooth connection between your iFIT app or iFIT machine and other apps—such as Apple Health—was lost. When this occurs, iFIT data won't automatically populate in other apps. Reestablish the connection and try again.
Software Update Needed
If reestablishing the Bluetooth connection didn't work, it's possible that you need to update your iFIT app and/or iFIT machine.
iFIT App Not Tracking Heart Rate
Possible causes: Bluetooth connection lost; heart rate monitor needs to charge
Bluetooth Connection Lost
Once again, Bluetooth is the likely culprit. Check your device settings and make sure your heart rate monitor is connected to your phone or machine, or both.
Heart Rate Monitor Needs to Charge
If your smartwatch or chest strap is dead, you probably just need to charge it. The Bluetooth connection will reestablish itself and your monitor should continue sending heart rate information to your iFIT app or machine.
How to Keep Your iFIT Machine in Working Condition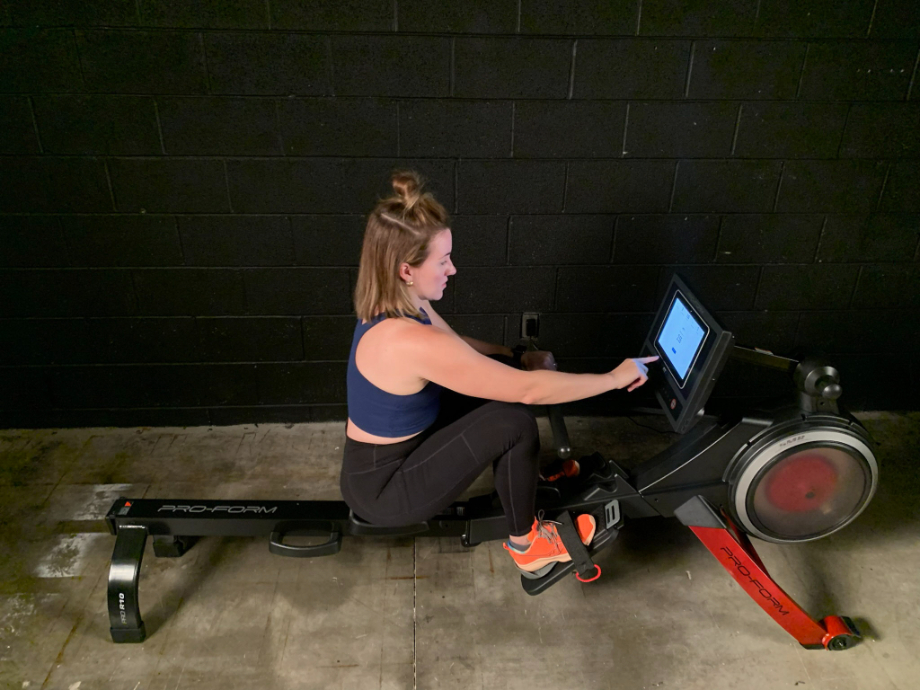 Like all fitness equipment, a treadmill is a piece of machinery. As such, it requires regular care and maintenance to keep it in good working condition. The best thing you can do to keep your iFIT treadmill running smoothly and your iFIT app working correctly is to keep up with the tech.
iFIT has regular firmware and software updates. These updates give you access to the latest and greatest workouts and features, but they also fix bugs and any reported issues. To keep your machine functioning optimally, make sure you're downloading these updates whenever they drop.
iFIT Troubleshooting: Final Thoughts
If your iFIT machine or app is giving you trouble, there are a lot of things you can do to try to make it run smoothly again. Ultimately, as an iFIT customer, the best advice is to follow the instructions in your specific model's owner manual or connect with iFIT support for more information.
iFIT Troubleshooting: Q&A
How Do I Reset My iFIT?
Most iFIT-enabled treadmills have a pinhole reset button located somewhere on the console. To reset, turn the machine off, press the reset button with a paperclip or equally narrow tool, and hold it down while turning the machine back on. When the machine reboots, you'll see a white background with the iFIT logo and blue text that shows you progress. Keep in mind that this is a factory reset and it will delete any settings on your machine.
How Do I Update My iFIT Software?
The iFIT app is constantly changing, and it's important to make sure you're downloading the latest software and firmware updates to keep your treadmill up-to-date and running properly. This will also ensure that you have access to any new workouts or features. To update your iFIT software: Go to "menu" in the top, left corner of your screen, then select "settings." Navigate to maintenance, then select "update." If updates are available, you'll see "update available." Click that and follow the on-screen instructions. If your treadmill is already running the latest versions, you'll see "up to date."
What Happens When iFIT Expires?
Many iFIT-enabled treadmills come with a complimentary iFIT subscription that can last for anywhere from 30 days to a full year. Once this iFIT membership expires, your machine will give you access to a handful of basic workouts, plus manual controls. However, you'll lose access to all the interactive iFIT workouts that come with the paid subscription. If you want to re-subscribe, you can sign up directly through your machine or on iFIT.com.