We test and review fitness products based on an independent, multi-point methodology. If you use our links to purchase something, we may earn a commission. Read our disclosures.
There are lots of rowing machines out there. So many, in fact, that buyers may start to face decision fatigue when faced with all of their options. Our goal is to help you decide which rowing machine is right for your home gym, and our XTERRA ERG600w Water Rower review is part of that mission.
Thousands of Meters Rowed
Our team of CrossFit Level 1 Trainers, certified personal trainers, and all-around exercise enthusiasts has spent (probably too many) collective hours on rowing machines. We've rowed on all types of rowers, from the most expensive high-tech indoor rowers to bottom-of-the-barrel budget rowers.
XTERRA ERG600 Water Rower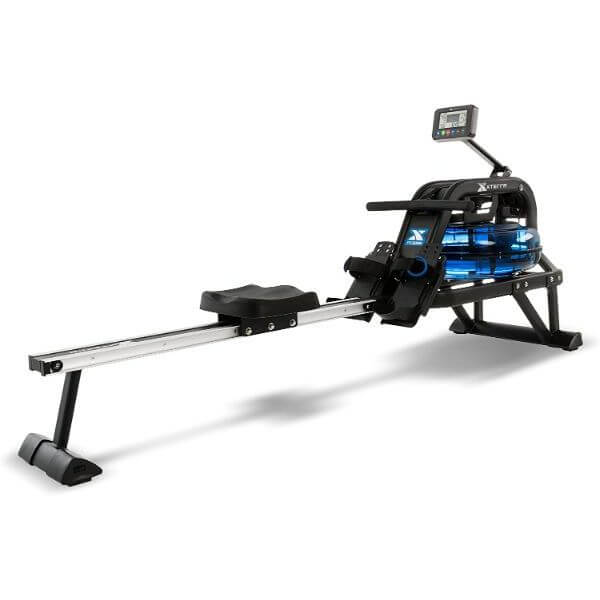 GGR Score: 3.3
Product Highlights
Water creates an open-water feel

Pressurized tank for longer performance

Features a 300-lb user weight limit

Included transport wheels 

Textured row handles

Monitor displays basic metrics

7 preprogrammed workouts

Adjustable footrests for multiple users
Pros & Cons
Pros
7 pre-programmed workouts
Stable
Quiet
Mimics open-water rowing
Large footrests fit most
Good customer service
Water resistance creates a smooth pull
Cons
Water rowers pose the risk of leaking
Small screen
Bottom Line
For less than $400, the XTERRA Fitness ERG600W Water Rowing Machine offers users pre-programmed workouts with a smooth water based resistance.
A Quick Look at the XTERRA ERG600W Water Rower
The XTERRA ERG600W is a rowing machine, hailing from the brand XTERRA Fitness, which also makes a variety of treadmills and other cardio equipment.
This particular rower uses water resistance, which means the resistance is virtually unlimited (even though XTERRA specifies that the machine has six distinct levels of resistance).
The cool thing about water rowers—as compared to magnetic rowers—is that the resistance is ultimately user-controlled. Variance in your rowing stroke creates variance in the resistance.
Anyway, wondering if the XTERRA ERG600W is the way to go for your full-body cardio workouts? Let's look at this erg in detail.
My Tips
I always like to tell people to set their expectations accordingly when purchasing budget fitness equipment. This rowing machine costs about $400 on Amazon, which doesn't make it the cheapest water rower available, but it's certainly no Ergatta. What I mean is: You might want to upgrade after a couple of years.
Buy it on Amazon. As of this writing, it costs half as much on Amazon as it does on the XTERRA website.
Is the XTERRA ERG600W Water Rower Worth It?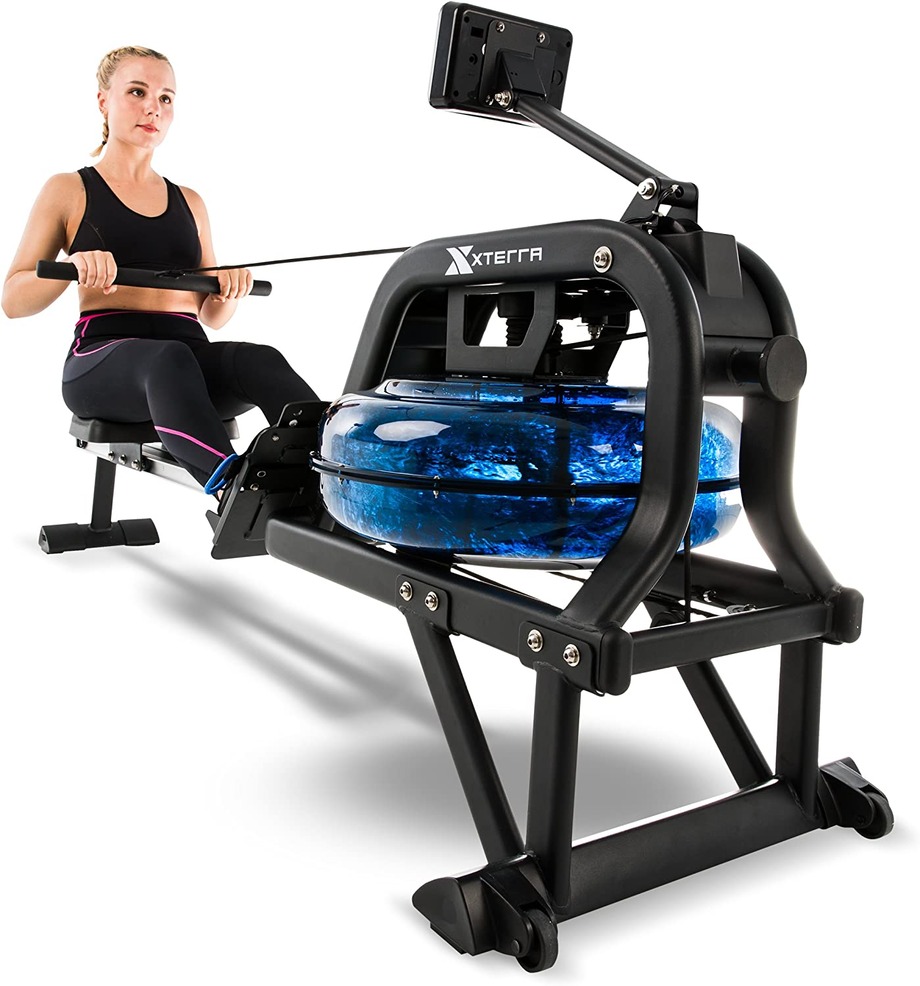 In truth, probably. The ERG600W comes at an affordable price point for most people, and I think it seems like a great starter machine for people interested in finding out if they like rowing.
For more conditioned people, advanced rowers, and those who plan on putting a rowing machine through high-intensity, high-volume use, I'd suggest spending more dough on something sturdier and with a longer warranty.
But for someone who just wants to use a basic rowing machine and plans for moderate use, the XTERRA ERG600W water rowing machine is worth the few hundos it costs.
Great for:
People on a budget
Beginners
Anyone looking to try rowing to see if they like it
Not recommended for:
People looking for a high-tech, immersive experience
Very conditioned individuals looking for a tough workout
Anyone who doesn't want to deal with maintenance (an air rower or magnetic rower would be better for that)
XTERRA ERG600W Specs
| | |
| --- | --- |
| Footprint | 80.7″ L x 22″ W x 33″ H |
| Stored Dimensions | 33″ L x 22″ W x 80.7″ H |
| Weight | 87 lbs |
| Weight Capacity | 300 lbs |
| Heights Supported | 5'1" to 6'1" |
| Resistance Type | Water |
| Resistance Levels | 6 |
| Foldable | No |
| Transportation Wheels | Yes |
| Seat | Contoured seat |
| Display | 5.5" LCD console |
| Connectivity | Heart rate transmitter (chest strap heart rate monitor sold separately) |
| Metrics | Time, Time/500M, Calories, Distance, Strokes, Strokes/Min, Pulse, Date, Room Temperature, Clock |
| Programming | Race, Manual Time Countdown, Distance Countdown, Strokes Countdown, Calories Countdown |
| Warranty | 5 years frame; 2 years parts; 90 days labor |
Editor's note: There are some discrepancies in product information on the manufacturer website and on Amazon. The specifications above reflect the information on the manufacturer website.
Customer Reviews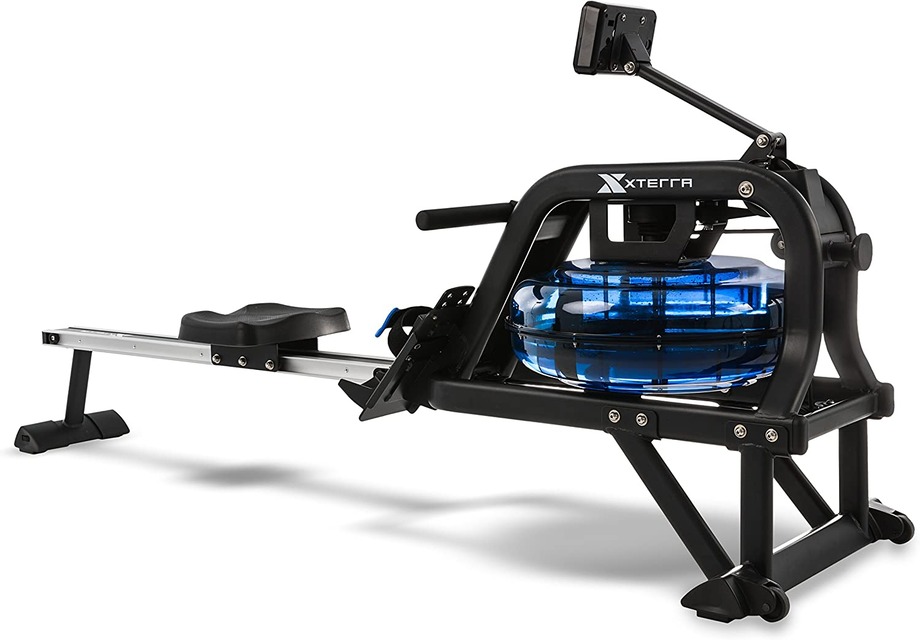 On the XTERRA website, the ERG600W has an average rating of 4.9 out of 5 stars, out of 13 reviews. On Amazon, this rower shows a rating of 4.3 out of 5 stars with a total of 282 ratings, at the time of writing. So, while there aren't a ton of customer reviews overall, the consensus is primarily positive.
Reviewer Matthew B wrote on Amazon: "My wife and I bought a pair before the new year. The boxes are heavy, but assembly was straight forward. After just over one week of daily use, we heard a snap during a workout and my power stroke was no longer even. The resistance seemed to freewheel midway through the pull. It seemed like a tooth on a gear broke, and now it skipped a bit."
"I called XTERRAsupport, and they were awesome," he continued. "Since it was less than 30 days since purchase, they wanted me to go back to Amazon for a full replacement. The Amazon return process was easy through the Amazon app. I requested that they call me, which they did immediately! They scheduled a pickup of the broken one for the next day, and the new one arrived in just three days. I had to disassemble the broken one and put it back in the box (which we had saved thankfully)."
Reviewer Matthew concludes with: "Overall it's a good machine for the price. The seat rollers are not as smooth as the much more expensive machines, but we are still happy with them and their response when one had a problem. We continue to be happy with them. #1 rower is working just fine with no issues, and the replacement for #2 rower has had no issues."
Other reviews generally rate the machine as high-quality and the vast majority of buyers were happy with their experience. The few negative reviews I found mention leaks and other issues (like mold) with the water tank, or are a result of user error (read: failing to understand how water rowers work.)
For example, reviewer "The human" wrote: "This is my first rower and I am not impressed by this XTERRA ERG600w water rower. I'm 6'2" for reference. I like the height and look of the rower. Those are the only positive things that I could describe about it. If you really want to adjust the rower's resistance, you have to, get this: aDd oR RemOvE WaTer frOm tHe wATeR TaNk!" (That's really how he wrote it.)
He goes on to say, "The last thing that I want to do is grab the siphon hose and bucket to work out. Major fail here!"
Well, "The human," I hate to report to you that that is, in fact, how water rowing machines work.
Anyway, onward.
Workout Experience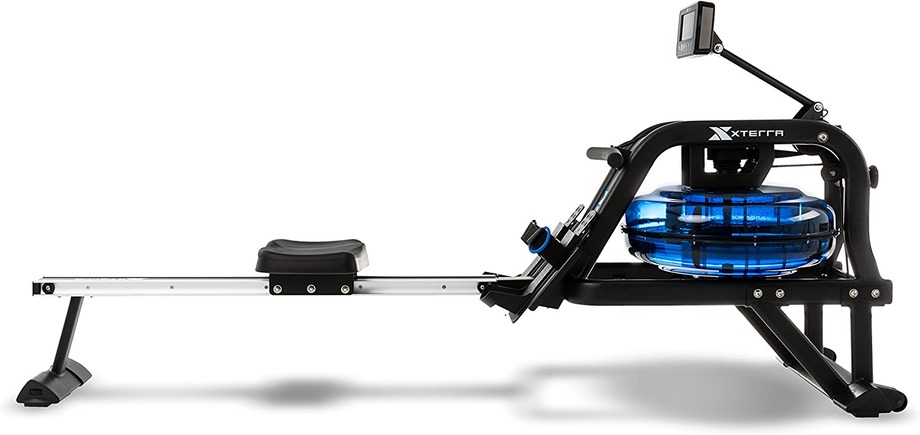 Based on my experience with other water rowing machines, I feel confident saying, based on the specifications, that the ERG600W performs similarly.
To expand on "The human's" customer review from earlier, with water rowers, you can change the resistance by changing the water level in the tank. This requires more effort than an air rower or magnetic rower, seeing as you have to siphon water out of the tank for less resistance and pour water back into the tank for more resistance.
It's definitely cumbersome, but worthwhile for those who want to feel more like they are actually rowing on real water in a real rowboat. According to XTERRA, "Impellers [in the tank] active motion through the water tank creates the similar peaceful sounds to actually rowing on the water."
The ERG600W has 16 impeller blades that spin around the tank. The higher the water volume, the harder it is for those impellers to spin.
Additionally, this rowing machine has a few programmable modes and built-in workout programs. You can use the LCD screen to navigate to the following modes: race, manual time countdown, distance countdown, strokes countdown, and calories countdown.
XTERRA doesn't have integrated programming similar to iFIT or other virtual programs, as far as I can tell. This means you're on your own as far as finding workouts to follow. The ERG600W doesn't have a device holder either, so you likely won't be able to set up your phone to stream third-party workouts.
Footprint and Portability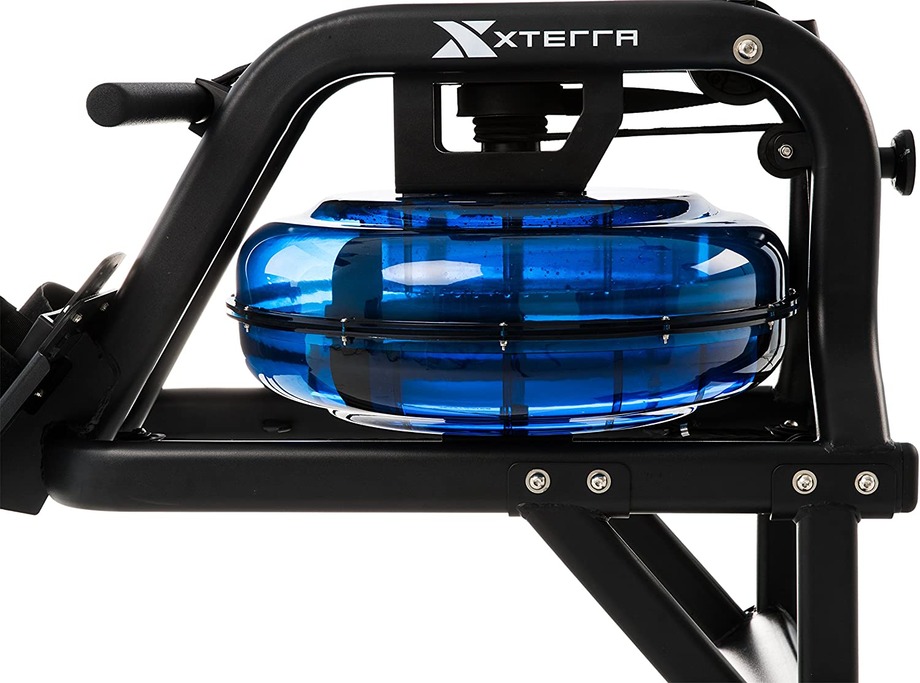 I wouldn't describe the ERG600W as a compact machine. It measures almost 90 inches in length, so you'll need a good bit of floor space for it. It does stand up for storage, but then those near-90 inches are needed in vertical height.
This rower has transport wheels and it weighs about 87 pounds empty, so most people will be able to move it pretty easily. I don't recommend moving it when the tank is full of water, since the sloshing can cause shifts in weight and make it tougher to wheel the machine.
Durability and Construction
The ERG600W has a 300-pound user weight limit, which falls at the lower end of the acceptable range. Other water rowers (typically those with wooden frames) can support user weights of up to 500 pounds.
I've seen this machine described as having a "solid steel frame," but based on the product information, that isn't true, seeing as it features dual aluminum slide rails. So at a minimum, the slide rails are aluminum, while other parts of the frame may be steel. The ERG600W has stabilizers so it shouldn't shift or wobble during use unless something is assembled incorrectly.
Truthfully, buyers don't need to pay so much attention to the construction materials and instead are better off knowing the user weight capacity.
I don't have any durability concerns with the XTERRA rower other than the potential for leaks in the water tank. A few customer reviews mentioned this, and it's a common problem among water rowers in general.
The Ergonomics
As mentioned previously, the ERG600W can support a maximum weight of up to 300 pounds. It can also support exercisers of varying heights from 5 feet, 1 inch to 6 feet, 1 inch. The machine sports adjustable footrests and wide pedals to accommodate a range of foot sizes and shoe types.
The rowing handle is straight, with no contour, which I'm not crazy about. The seat height is a bit low at 13.4 inches, which may make it difficult for some people (taller individuals and those with limited mobility) to get on and off of the machine.
Technology Benefits and Conveniences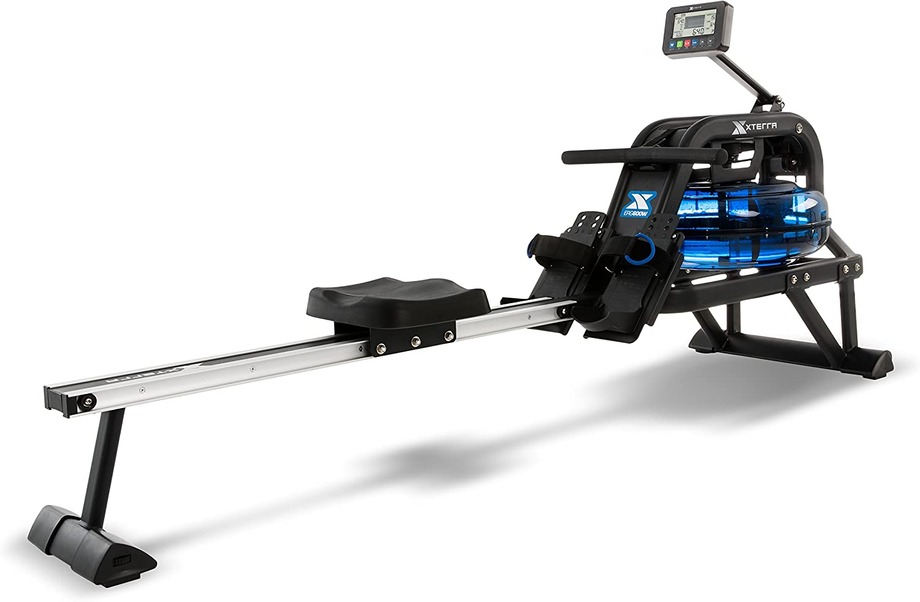 The ERG600W isn't super high-tech, but it's not as lacking in the tech department as some other budget-friendly rowers. It has a basic, small LCD display and a few workout modes. It does have a heart rate transmitter, but the compatible heart rate monitor is sold separately.
The readout on the display includes: total time, time per 500 meters, calories, distance, total strokes, strokes per minute, pulse (if you have the chest strap), date, room temperature, and calories burned.
There's no immersive programming on this rower, nor is there a device holder. If you need entertainment while rowing, I recommend setting the machine up near a television or using Bluetooth headphones to listen to music, podcasts, or an audiobook.
XTERRA ERG600W vs Sunny Health & Fitness Obsidian Surge
Obsidian Surge
Product Highlights
Water based resistance with a flywheel and 16 hydro blades intended to mimic true rowing

Durable frame with a slide rail length of 42 inches and a maximum user weight of 300 pounds

Features a sweat resistant handlebar and high-profile molded padded seat designed for comfort and functionality

Rubber transport wheels make it simple to move the rower when not in use and it can be stored upright to save space
Pros & Cons
Pros
Smooth slide
Budget friendly
Quiet
Works well for tall individuals
Solid frame supports up to 300 pounds
Compatible with ANT+ heart rate monitors
Adjustable floor stabilizers
Cons
Swivel designed footplates interfere with form and stability
Water reportedly leaks for some users
Bottom Line
The Sunny Health & Fitness Obsidian Surge 500 Water Rowing Machine is a value purchase offering a water-based rowing experience on a solid frame.
The Sunny Health and Fitness Obsidian Surge 500 Water Rower made it onto our guides to both the best budget rowing machines and the best water rowing machines. It's very similar to the XTERRA ERG600W, but it costs slightly more. With a difference of about $100 (if the Surge is not on sale), you're getting 15 built-in workout programs and you can use the SunnyFit app for even more workouts.
Here's a quick look at the differences between these two rowers.
| | | |
| --- | --- | --- |
| | Obsidian Surge 500 | ERG600W |
| Price | $500 | $400 |
| Product Weight | 92 lbs | 87 lbs |
| Dimensions | 80" L x 22" W x 34" H | 80.7″ L x 22″ W x 33″ H |
| Weight Capacity | 300 lbs | 300 lbs |
| Resistance Type | Water | Water |
| Programming | 15 preset workouts | 5 workout modes |
| Monitor | LCD | LCD |
Customer Experience
XTERRA has a pretty standard customer experience: Customers can return or exchange items within a 30-day window that starts upon delivery. You may be charged a 10% restocking fee, which is common when dealing with large fitness equipment items.
The warranty on the ERG600W could be better. It has a 5-year frame, 2-year parts, and 90-day labor warranty. Given the low cost of this machine, I think that's fair, though. Higher-end rowing machines typically come with 10-year frame warranties.
Ordering and Assembling the XTERRA ERG600W
Though we didn't assemble this unit ourselves, we can get a pretty good idea of the process online. In fact, one reviewer on Amazon summed it up pretty well:
"The machine was nicely packaged in the box, and it needed little assembly: mount the stand legs, insert the seat, and attach the main tube to the already assembled main unit," wrote reviewer Lamar on Amazon. "The computer needs mounting, too, with four screws. The connection to the water wheel is on top, as is the water fill hole."
He continued: "When upright to store, the water level is below the rotor shaft and the drain plug. I haven't seen any leakage in the upright or horizontal position. It comes with a siphon and a funnel. The siphon would be good to drain the water, but I used a gallon jug and the funnel to fill it."
"By the way," Lamar wrote, "you might as well fill it to the top mark. Momentum keeps the water circulating as you slide forward, so once you get it going, you get more swoosh from having the highest water level (as indicated on the side of the unit near and below the fill port)."
Another thing to note is that the ERG600W does require batteries to power the LCD display. It comes with the required two AA batteries, so no need to run out and buy any now.
Final Verdict of Our XTERRA ERG600W Water Rower Review
To conclude this XTERRA ERG600 rowing machine review, I'll say this: It seems like a good unit for the price. The key phrase is always "for the price." Are there better water rowers? For sure. But, for $400, I'd recommend this rowing machine to beginners and anyone who needs something simple, affordable, and relatively sturdy and easy to use.
Full Rating
XTERRA ERG600W
The XTERRA ERG600W Water Rower is a moderately priced rowing machine with water resistance. It is beginner-friendly and has a few programmable workout modes, as well as an LCD display with several metric read-outs.
Product Brand: XTERRA Fitness
Product Currency: USD
Product Price: 400
Product In-Stock: InStock
XTERRA ERG600 Water Rower FAQs
What is the best rowing machine?
What is XTERRA Fitness?
XTERRA Fitness is a brand that manufactures consumer gym equipment. It's also the name of the sport of off-road triathlon, which includes open-water swimming, mountain biking, and trail running. 
What are the best rowing workouts?