We test and review fitness products based on an independent, multi-point methodology. If you use our links to purchase something, we may earn a commission. Read our disclosures.
Once upon a time, there were just a few brands making massage guns—now there are literally hundreds. As a consumer, it super sucks to make a decision when hundreds of brands say their product is the best. If you're facing decision fatigue in your quest to buy a massage gun, let me help you out: In my Sportneer Elite D9 review, I explain the good, bad, and so-so characteristics of this popular massager.
Why You Should Trust Us
I've personally tested more than 40 massage guns, as well as a variety of other workout recovery tools, and have written more than a dozen massage gun reviews. I fully understand the science behind percussive therapy and know how to analyze a massage gun's product description versus its performance in real life.
Sportneer Elite D9
A Quick Look at the Sportneer Elite D9 Massage Gun
The Sportneer Elite D9 massage gun is one of four vibration massage guns available from Sportneer, a brand that manufactures a variety of fitness, wellness, and outdoor products.
Sportneer makes value-driven products, meaning they're generally affordable and decent, but not the highest quality. That's exactly the case with the Sportneer Elite D9, a basic massage gun that feels just like many others you can get on Amazon.
My Tips
Get the most out of your purchase by using the aluminum massage heads for cryotherapy or aromatherapy.
If you plan to travel with it, charge it fully, choose one attachment, and leave the rest behind to reduce bulk in your bag.
My Favorite Things:
Comes with six massage head attachments, including two aluminum ones
Battery life lasts up to 7 hours
Affordable and a good value for most people who want a massage gun
My Callouts:
This isn't a deep-tissue massager, nor is it technically a percussion massage gun, with an amplitude of 11 mm
Ergonomics aren't great; it's kind of top-heavy
Interchangeable attachments don't seem super durable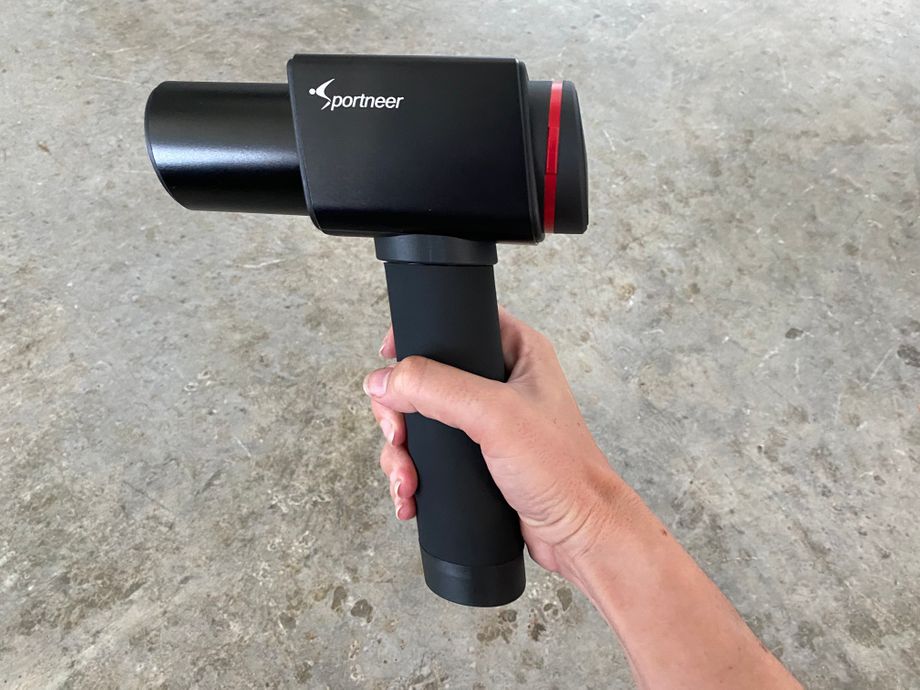 Is the Sportneer Elite D9 Massage Gun Worth It?
My overall impression of the Sportneer Elite D9 massage gun is that it isn't a bad product, but it isn't necessarily special, either. But this is true of the bulk of massage guns on Amazon.
The Elite D9 is super quiet—easily one of the quietest I've used. To me, that's the only real standout feature, because the rest of the vital specs aren't anything earth-shattering.
However, because this massage gun has such a high volume of reviews on Amazon, our team decided it was worth reviewing to help our readers decide if the Sportneer Elite D9 is worth buying.
Great for:
People who want a moderately powerful, full-sized massage gun for a low price
People who don't mind sacrificing power for quietness
Anyone who deals with high levels of soreness and doesn't want a super powerful muscle massager
Not recommended for:
People who are looking for a pro-level device that provides deep-tissue percussion
Anyone looking for a tool that will dig into trigger points
People who need a very travel-friendly massage gun
Sportneer Elite D9 Massage Gun Specs
| | |
| --- | --- |
| Speeds | 6 (1,300 to 3,200 PPM) |
| Motor | 220-watt brushless motor |
| Attachments | 6 (fork, bullet, flat, round, aluminum flat, aluminum dome) |
| Battery Life | Up to 7 hours |
| Noise | 30 to 40 dB |
| Product Weight | 2.3 lbs |
| Package Dimensions | 13.19" L x 10.67" H x 3.58" W |
Using the Sportneer Elite D9 Massage Gun
Overall, my experience with the Sportneer Elite D9 massage gun was fine—just fine, really, nothing more and nothing less. I used the Elite D9 during warmups, for post-workout recovery, and on rest days. Ahead, I break down the specs of this product and how they all played out in real life.
Speeds
You get six intensity levels with the Sportneer Elite D9. Small LED indicator lights tell you which speed you're on.
The speed range is 1,300 to 3,200 percussions per minute (PPM). This is a larger range than most massage guns at this price point, but it means there's more variance between speeds, or the jump from speed to speed is bigger. The individual speeds are:
1,300 PPM
1,700 PPM
2,000 PPM
2,400 PPM
2,800 PPM
3,200 PPM
Power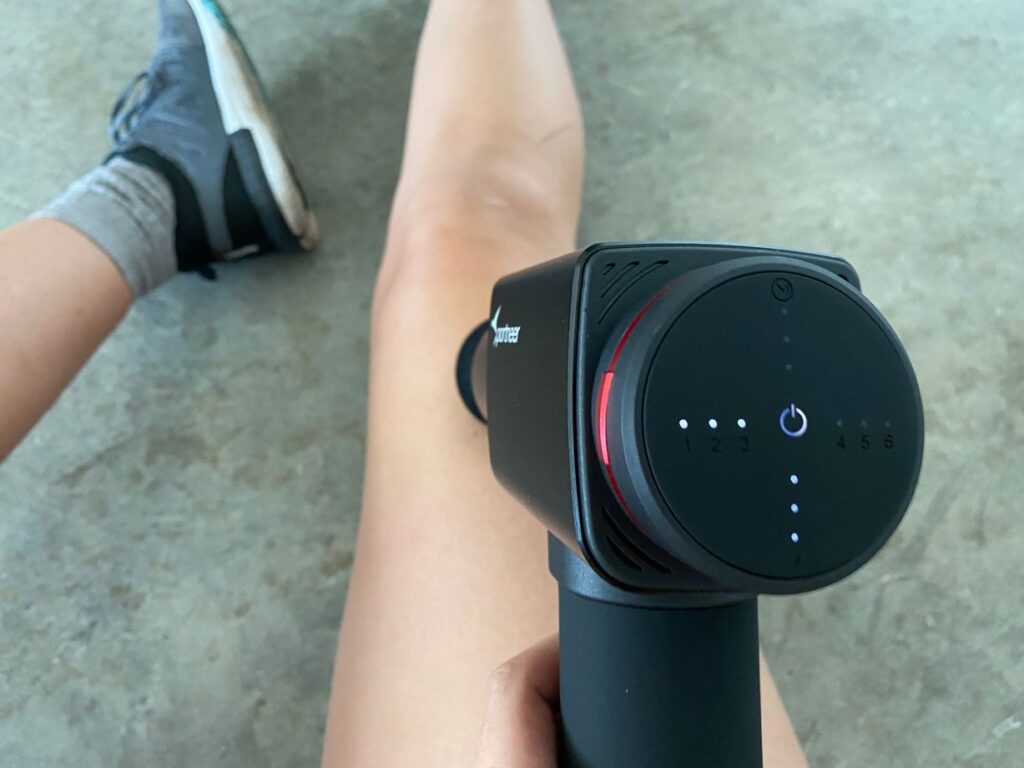 The Elite D9 features a 220-watt brushless motor that, according to the product listing, has almost 20 pounds (18.7 to be exact) of stall force. This is measly for the product's size—20-ish pounds of stall force is good for a mini massage gun, but not great for a full-sized one. However, if you're looking solely at the price, this falls in line with what's average for the $100-150 range.
Still, almost 20 pounds is enough for the average person. Most people won't press hard enough into their body to stall this massage gun.
Amplitude
The Sportneer Elite D9 has an 11-millimeter amplitude. This is about average for the price point, however, I'd expect a bit more power out of the box due to how heavy this gun is. It's also rather large. Weighing 2.3 pounds (1.6 ounces more than the Theragun Prime) and measuring approximately 10 inches in height by 8 inches in length, it lacks in power for its heft.
Ergonomics
There isn't anything overtly special or terrible about the design of this massage gun.
It features a cylindrical handle with a soft-grip rubber coating that doesn't slip around even in sweaty hands. The handle isn't too thick—I can fully wrap my hands around it—and it's slightly angled at about 45 degrees to help target hard-to-reach spots.
The Elite D9 is slightly top-heavy, though, which means it can quickly tire out the wrists and forearms.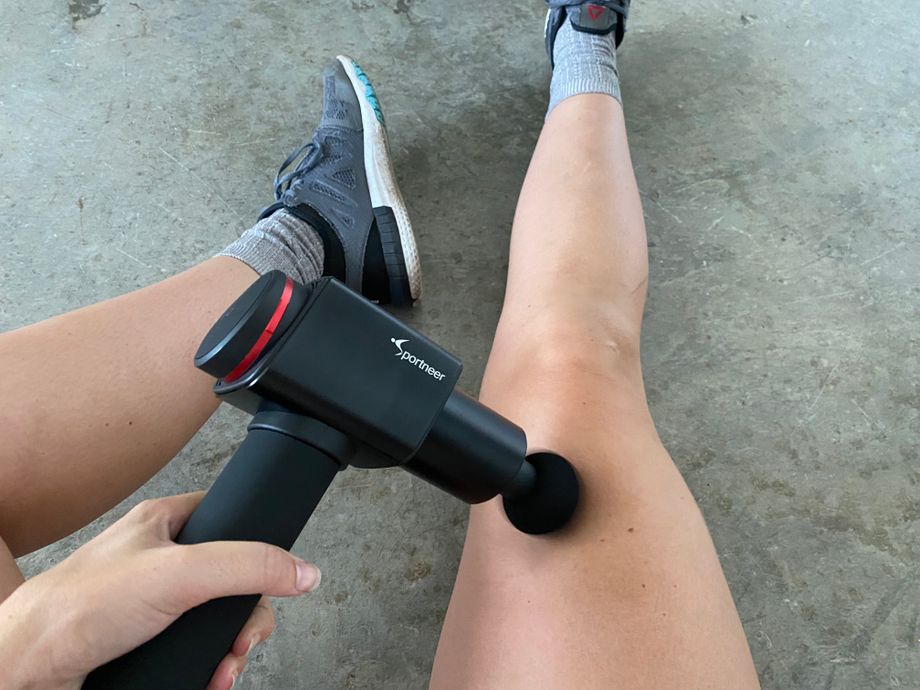 Attachments and Accessories
The Sportneer Elite D9 comes with six attachments, two of which have aluminum heads. I love this because you can use aromatherapy massage oils for an added element to your massage, or pop them in the freezer for a cryo massage. It's a nice touch.
The attachments included are:
Foam ball head
Plastic flat head
Plastic fork attachment
Plastic bullet attachment
Aluminum flat head
Aluminum dome attachment
The only reason I wouldn't give Sportneer a 5 out of 5 in this category is because the attachments don't seem to be of great quality. They may suffer the usual fates of plastic and foam over time (cracking, discoloration, warping, or compression). The aluminum attachments will probably hold up better, although the insertion points are still plastic.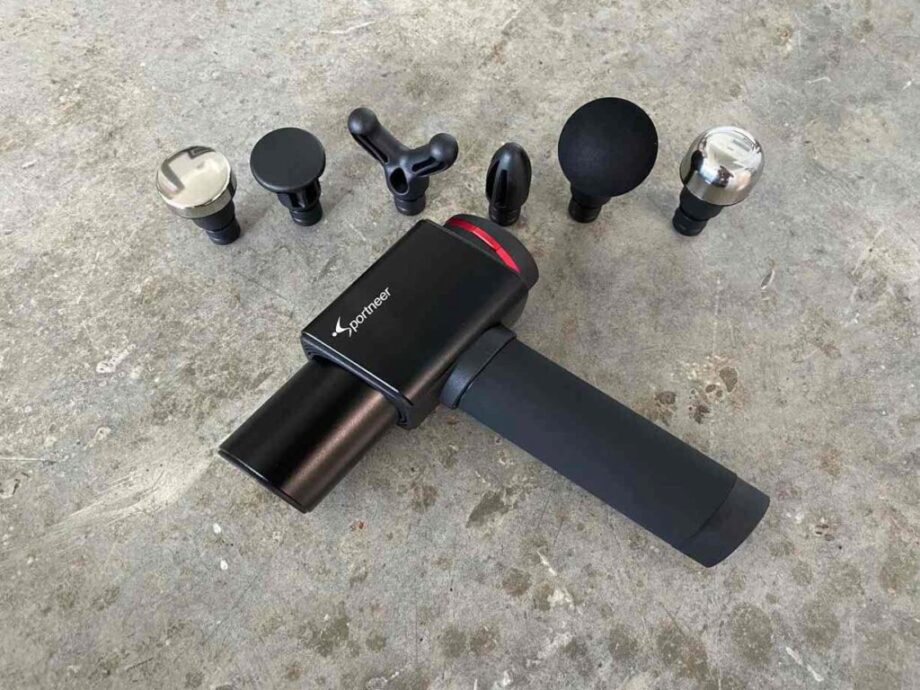 Noise Level
If quiet operation is your priority, the Sportneer Elite D9 is definitely an option to look into. This massage gun operates at a noise level of 30 to 40 decibels, which makes it easily one of the quietest massage guns I've ever used, even at the highest speed setting.
Battery Life
In the Amazon product listing, Sportneer claims the battery life on the Elite D9 lasts anywhere from 1.5 to 7 hours, which is a huge range. On the Sportneer website, it says the gun has 2 to 6 hours of battery life.
After using the Sportneer exclusively for a week, it didn't die on me (I started with a full charge), but I certainly didn't use it for 7 hours, which would've been an hour a day of use. I estimate I used it for 15 to 20 minutes per day, so it definitely surpassed the lower end of that battery life range.
There's an LED indicator on the massager to show you how much juice you're working with. If the rechargeable battery actually lasts the claimed 7 hours, that's superb (and perhaps the reason this massager is so heavy).
The Elite D9 uses a 3400mAh lithium-ion battery, the same type found in pretty much every other massage gun.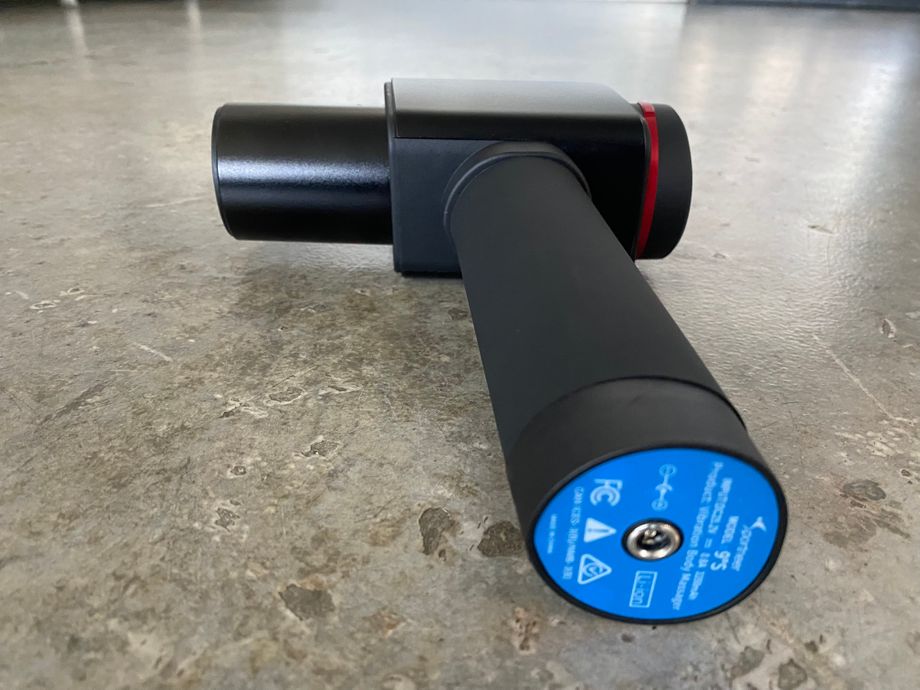 Traveling With the Sportneer Elite D9 Massage Gun
The Sportneer Elite D9 isn't small at all, and I wouldn't be enthused to travel with it.
It does come with a case, but everything together weighs about 5 pounds. The case dimensions are 13.19 inches long by 10.67 inches tall by 3.58 inches wide. It would take up a good bit of space in any bag or suitcase. I guess you could just carry it by hand, but there are better travel-friendly options out there.
The carrying case is of decent quality and fits all of the attachments nicely. It has a mesh pocket to hold the user manual and some odds and ends, like the included extra silicone rings that fit around the insertion points of the massage head attachments (this is good thinking ahead by Sportneer, but not a good indicator of quality parts).
But again, it's nothing special or above average in any way, which is my overall impression of this product.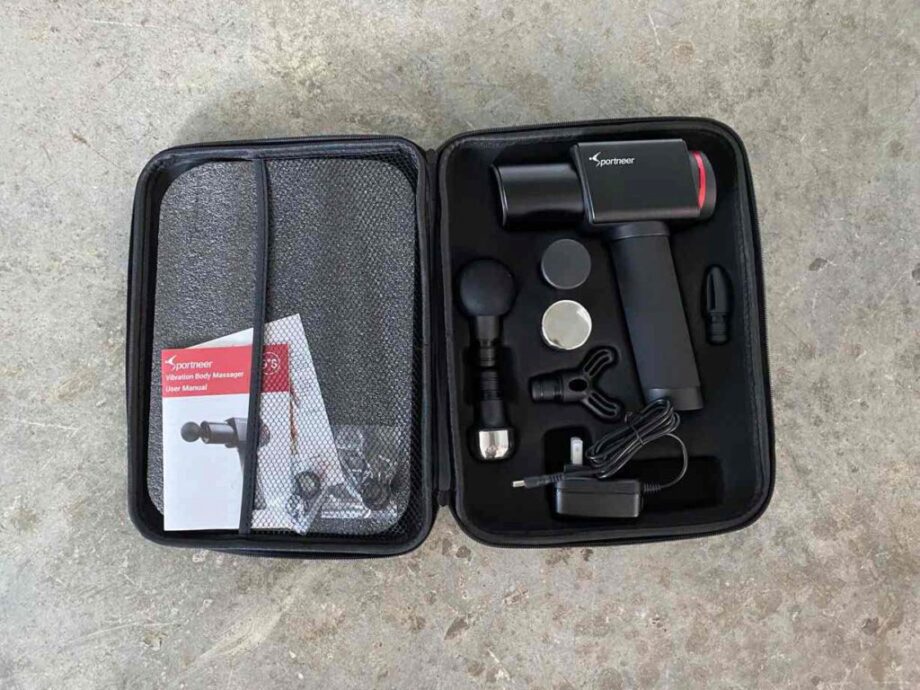 Technology Benefits and Conveniences
The smartest feature on the Sportneer Elite D9 massage gun is the 10-minute auto shutoff timer. This feature intends to keep people safe from the potential negative effects of using a massage gun for too long and, I suppose, the dangers of leaving it on unattended.
The Elite D9 doesn't connect to Bluetooth, so it doesn't have features like in-app speed control or automated recovery protocols. However, for a $130 price point, you can't really expect those features. Those things are becoming standard in more expensive massage guns, such as the Theragun line.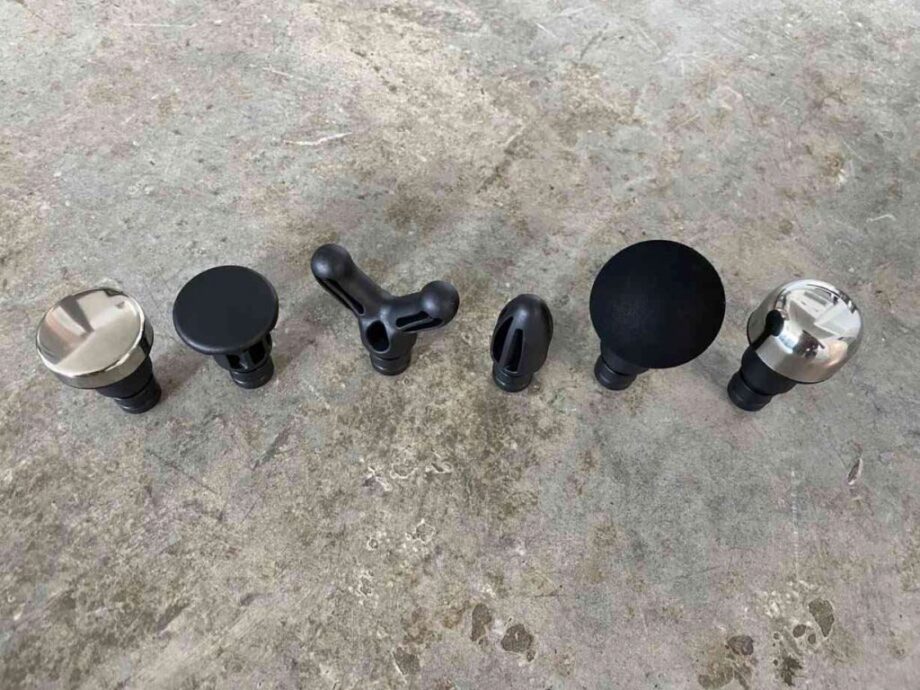 Sportneer Elite D9 vs. The Competition
There are so many massage guns on the market nowadays that it's simply impossible for one person to compare each and every model available. The slew of duplicates all over Amazon are largely just that: copycats. However, I can go into some similar competitors in the same price range.
Sportneer Elite D9 vs. Bob and Brad C2 Massage Gun
Renpho R3 Massage Gun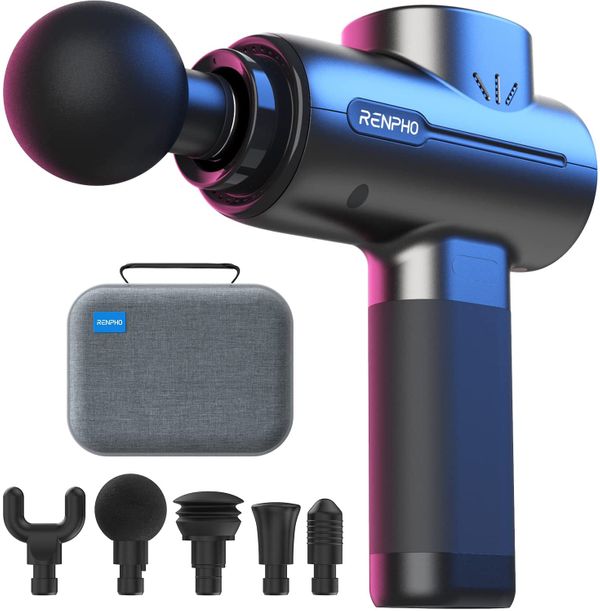 Renpho R3 Massage Gun
The ultra-lightweight, super quiet, and powerful Renpho R3 Mini Massage Gun is widely loved by users with over 10,000 great reviews on Amazon. This little beast of a gun comes with its own traveling case complete with five head attachments and a USB charger.And with a low noise level of only 45 decibels and weight of 1.5 pounds, it makes for a great sidekick when traveling. Use the R3 anywhere you want without worrying about disturbing others. The R3 is designed with  metal housing and a powerful brushless motor that delivers a relatively deep muscle tissue penetration (given its size) at a 10-millimeter amplitude. When targeting different muscle groups, choose between the five different massage heads and select from five speeds running from 1,800 RPM to 3,200 PPM.When used at the lower speed settings, the R3 is designed to hold a battery charge for up to 150 minutes, which is quite a bit less than competing models. However, the R3 does feature a 10-minute auto-off timer for improved battery life and user safety.
The Renpho R3 massage gun, another Amazon favorite, costs less than the Elite D9 at about $100. It features similar specs, with amplitude clocking in at 10 millimeters and sound hovering around 40 decibels.
Like the Elite D9, the Renpho R3 is a good value. It gets the job done—meaning it provides a decent massage—but it doesn't provide elite deep-tissue therapy.
Read my full Renpho massage gun review.
Sportneer Elite D9 vs. Chirogun
Chirogun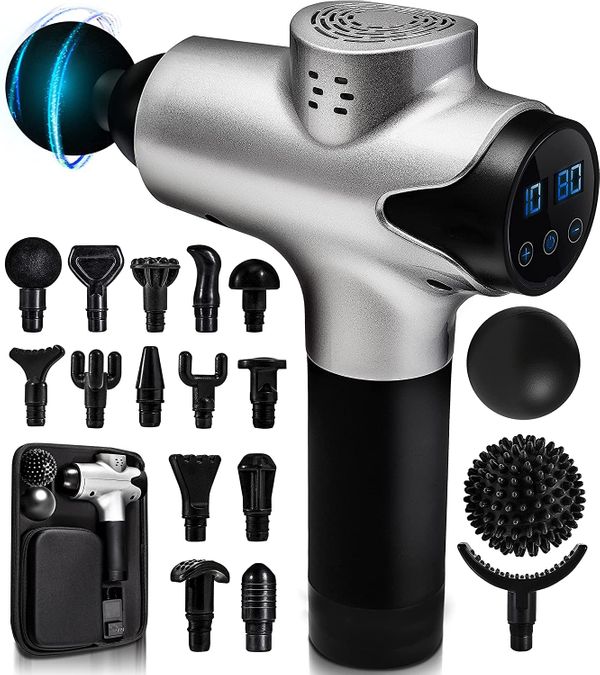 Chirogun is another popular massage gun on Amazon.
Its main selling points are that it has 30 speeds and 15 interchangeable attachments. It also comes with two massage balls for manual self-myofascial release. It's a bit louder than the Elite D9, but features a similar amplitude (it's not listed, but my educated guess is 9 to 12 millimeters).
The Chirogun made my list of the best budget massage guns, taking the "most versatile massage gun" category thanks to its breadth of intensity settings and attachments.
I have a full Chirogun review in the works, which I'll link back here when it's published, so you can make a more in-depth comparison.
Sportneer Elite D9 vs. Hypervolt and Theragun
Hypervolt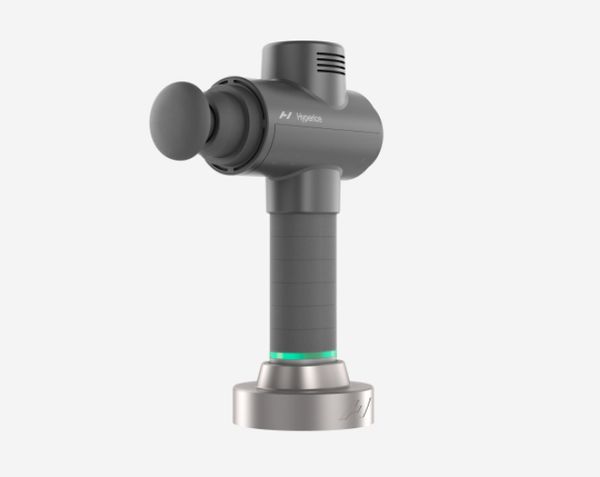 Hyperice Hypervolt 2
There are a LOT of massage guns out there. In fact, expert product testers at Garage Gym Reviews have reviewed and covered nearly 50 among our various massage gun guides, reviews, and comparisons. Hypervolt is one of the better known names in the workout recovery arena--it's up there with Theragun. (We even published a Hypervolt vs. Theragun in-depth comparison because both are so popular.)The Hypervolt 2 is Hyperice's base model percussive massage gun, and it features a lot of upgrades over the original Hypervolt. It's lightweight at 1.8 pounds and Bluetooth-enabled, for example. With three speeds of percussion and five interchangeable massage head attachments, the Hypervolt 2 is more than sufficient for the average fitness enthusiast or home gym owner.It's not the most powerful massage gun, and our team isn't thrilled at the fact that Hyperice doesn't publish certain specifications, but in our testing, it's clear that the Hypervolt 2 is one of the better options with enough power and versatility for most people.RELATED: Best Massage Guns
Theragun Prime
The truth is, the Sportneer Elite D9—and the other three options I just compared it to—will never compare with massage guns from Hyperice or Therabody.
Hypervolts and Theraguns cost a lot more than the Sportneer, Bob and Brad, and Chirogun because they're more powerful, have more smart features, and provide a high-quality treatment you won't get with a budget massage gun.
There's a reason professional athletes and sports teams use Hyperice and Therabody products versus the average Amazon massager.
RELATED: Hypervolts vs. Theraguns comparison
Customer Experience
Sportneer accepts order cancellations before the product is shipped or produced. If the order is canceled before it ships, you will get a full refund.
You can't cancel the order if the product is already shipped out, but Sportneer does offer a 30-day money-back guarantee for any reason. You may return undamaged products for a full refund for any reason within 30 days of the date the products were delivered.
The Sportneer website says there is an "extensive" warranty period for manufacturer's defects, but I couldn't find an exact time frame for the D9 massage gun.
For purchases not made on Sportneer website and or the official Sportneer store on Amazon, buyers are subject to retailers' terms for warranty and return services.
Ordering the Sportneer Elite D9 Massage Gun
Our team ordered the Elite D9 on Amazon and nothing unusual or problematic occurred. The product arrived quickly with everything intact. This may seem like a silly thing to point out, but the ordering and delivery process is always a buyer's first impression with a product.
Customer Reviews
At the time of writing, the Sportneer Elite D9 has an average rating of 4.8 out of 5 stars on the Sportneer website and 4.8 out of 5 stars on Amazon. Most reviews have the same overall sentiment: The Sportneer Elite D9 is a great product for the price.
I agree with that to an extent, as it's a well-made massage gun for its under-$150 price. I just imagine most people leaving reviews for the Sportneer haven't tried many (if any other) massage guns, so they're not actually sure what a powerful massage tool feels like in use.
Negative reviews mention a faulty battery and low-quality plastic parts, but it does seem like the vast majority of buyers are happy with their purchase.
Final Verdict of Our Sportneer Elite D9 Review
I would say this massage gun offers a slightly-above-average value for the price. There are some far worse massage guns out there for $130, and some better ones, which I review in my best budget massage gun guide.
The Sportneer Elite D9 will massage sore muscles and provide an overall pleasant experience, but it's far from the best of the best.
Its $130 price point makes it a good value for the average exerciser, but buyers shouldn't expect professional-grade massage therapy.
Full Rating
Sportneer Elite D9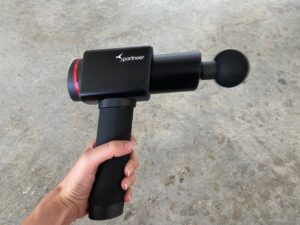 With so many massage guns available online, it's hard to choose one. Our Sportneer Elite D9 review determines whether this popular massager is worth buying.
Product Brand: Sportneer
Product Currency: USD
Product Price: 129.99
Product In-Stock: InStock
Sportneer Elite D9 Massage Gun FAQs
Answers to commonly asked questions about Sportneer massage guns:
What is the best massage gun for the price?
There are many massage guns in the $100 to $200 price range that do a decent job of massaging all muscle groups. However, I think the Theragun Prime offers the best value proposition. For about $300, you get unmatched specs like a 16-millimeter amplitude and in-app control of speed levels.
Is there a better massage gun than Theragun?
If money is no object, then no, there is no better massage gun than the Theragun Pro, Theragun Elite, or Theragun Prime. Therabody objectively produces the best combination of power, noise level, battery life, and treatment quality. 
Related: Foam Roller vs. Massage Gun
Is Sportneer a good brand?
Sportneer is a good brand that has a track record of taking care of its customers. I've tried many Sportneer products and have never had an issue with customer support. However, buyers should know that Sportneer makes budget-friendly, value-oriented products, so you won't see superb product quality as you would see from a luxury brand.