We test and review fitness products based on an independent, multi-point methodology. If you use our links to purchase something, we may earn a commission. Read our disclosures.
All it takes are a few runs in the snow, sleet, or rain to appreciate the benefits of a treadmill. If it's time to add a cardio machine to your home gym, and your budget hovers around $1,500, we've got two worthy models for you. This in-depth treadmill review compares the Sole F80 vs ProForm 2000 to help you determine if one of these models belongs in your home gym.
These two machines are comparable in price range with a few similar features, but there are key differences that could nudge you in one direction or another. Do you want a built-in screen for interactive workouts that adjusts the speed and incline for you, or are you more interested in a wide belt and powerful motor?
I put these two treadmills side-by-side (figuratively) to see how they compared, from the motor and incline range to the deck size and interactive programming. Read through this treadmill comparison to see if or which one of these treadmills fits your workout style and fitness goals.
Quick Look: Sole F80 vs ProForm Pro 2000
I've spent my fair share of time on a treadmill, both at home and at the gym. While there are days I feel like a hamster on a wheel, it's one of my favorite pieces of home gym equipment. And I'm not alone in my treadmill experience here at Garage Gym Reviews. My colleagues have tested and tried a wide range of treadmills and cardio machines, from ellipticals and stair-steppers to the NordicTrack FS14i, which combines three cardio machines into one.
While I haven't personally tested the Sole F80 or the ProForm Pro 2000 models, we've thoroughly researched and reviewed each model. If, after reading this treadmill comparison, you're still unsure, or your budget isn't quite as robust as it once was, take a look at the Sole F63, which is a more basic and less expensive model by Sole Fitness. We've tested the Sole F63 and consider it a good budget treadmill, though it can't compare to either of the models in this review.
RELATED: Sole F63 vs Horizon 7.0
Sole F80 and ProForm Pro 2000 Spec Chart
| | | |
| --- | --- | --- |
| | Sole F80 | ProForm Pro 2000 |
| Price | $1,699 | $1,599 |
| Footprint | 82" L x 37" W x 66" H | 77.3" L x 35.5" W x 59.6" H |
| Foldable | Yes | Yes |
| Warranty | Lifetime on frame, motor, and deck; 5-year parts and electronics; 2-year labor | 10-year frame, 2-year part, 1-year labor |
| Display | 9" backlit LCD | 10" smart HD Touchscreen |
| Weight | 278 pounds | 262 pounds |
| Interactive programming | 6 standard programs, 2 custom programs, 2 heart programs | iFIT |
| Motor | 3.5 HP motor | 3.25 CHP motor |
| Incline and decline | 15 levels | -3% decline to 12% incline |
| Speed | 0.5 to 12 MPH | 0 to 12 MPH |
| Weight capacity | 375 pounds | 300 pounds |
| Deck size | 22" W x 60" L | 20" W x 60" L |
Who Should Buy the Sole F80?
Tall users and those with a long stride
Heavier runners who prefer a wider deck
Users who prefer a simple but durable treadmill
Who Should Buy the ProForm Pro 2000 Treadmill?
Users who prefer a built-in screen
Those who want decline training options
Users who like extensive interactive programming and workout programs
ProForm Pro 2000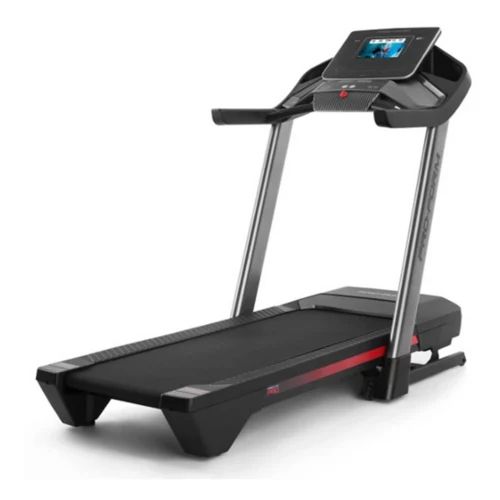 Key Similarities Between Sole F80 and ProForm Pro 2000
They're about the same price
Both models are folding treadmills
Both feature good deck cushioning
Have the same max speed
Both have a poor cooling fan
Important Differences Between Sole F80 and ProForm Pro 2000
The Sole F80 has a higher maximum weight capacity.
The Sole F80 has a more powerful motor.
The Sole F80 has a wider running surface.
The Sole F80 has a longer, more comprehensive warranty.
The Sole F80 has a built-in USB charger.
The ProForm Pro 2000 has a built-in touchscreen.
The ProForm Pro 2000 offers interactive iFIT programming (with a subscription).
The ProForm Pro 2000 has decline settings.
Interactive Programming
The ability to hop on the treadmill and follow along to a workout led by a personal trainer is important to some users. Here's how the interactive programming on each of these machines stacks up.
Sole F80
The F80 has six standard programs, two custom programs you can create yourself, and two heart programs. And you can watch your favorite streaming service while you run using a built-in tablet holder with a built-in USB charger to keep your devices running as long as you can.
The F80 is Bluetooth-compatible, so you can listen to music on the Bluetooth speakers. It's also compatible with a (separately sold) chest strap or you can use pulse grips to act as a heart rate monitor.
The Sole F80 doesn't have anything near the Pro 2000 treadmill in terms of interactive training and workout programs. Sole Fitness offers the STUDIO app for a monthly subscription, but it doesn't have the breadth of iFIT just yet, nor is it interactive and integrated directly into the F80.
ProForm Pro 2000
The ProForm Pro 2000 is iFIT-enabled, and you get a 30-day free iFIT membership upon purchase. iFIT is one of the better interactive apps for treadmills and workouts that go beyond the treadmill. I have a NordicTrack treadmill that came with a full year of iFIT for free, and it makes running on a treadmill more fun.
(Having said that, I didn't renew the subscription once it ran out because I prefer to make my own incline and speed adjustments while watching streaming services. It's a matter of personal preference.)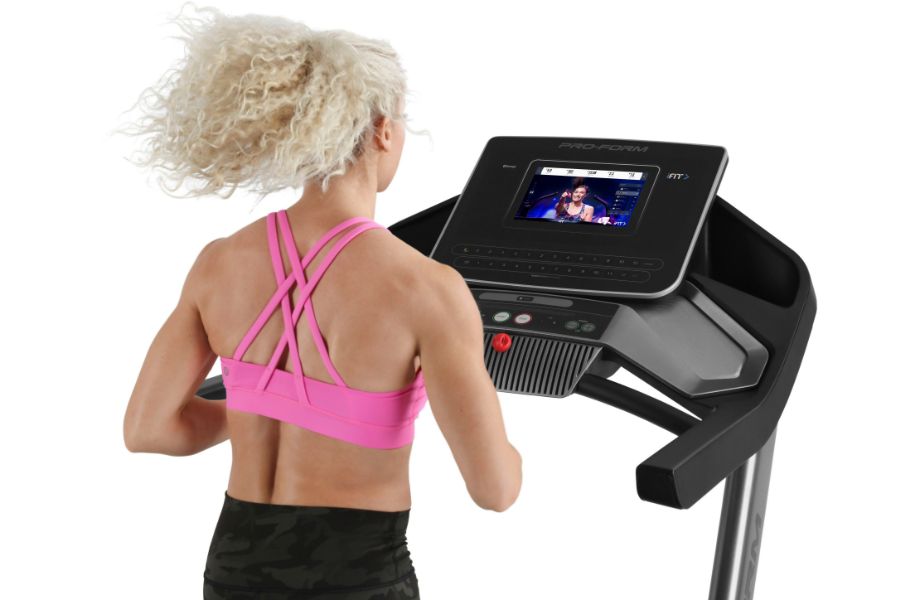 iFIT training programs wander along beaches, mountains, and parks around the world, kind of like a history lesson meets tour guide while you run. There are training sessions, pre-recorded classes, and leaderboards (à la Peloton) to keep you motivated. iFIT programs can automatically make speed and incline adjustments for you as well. Plus, you can use the iFIT app on other devices and do non-treadmill workouts, like strength and yoga.
The Pro 2000 treadmill will still run on manual mode if you choose not to get the iFIT membership. However, iFIT compatibility is one of this treadmill's greatest or at least most convenient strengths.
Customer Reviews
We love to know what real-life customers say about each of these machines as well. Here's what we found.
Sole F80
The Sole F80 also gets consistently positive reviews, with the sturdy build being a favorite. There are a few complaints worth mentioning, most with customer service. The other is in the assembly. It's not for the faint of heart.
"Bought this based on ratings to add to our home exercise equipment," said reviewer QuaintBoa-61918 on soletreadmills.com. "We chose to assemble ourselves. Getting the machine, all be-it in pieces was a bit of a challenge. Assembly was OK and I would recommend the assembly option for those who may be mechanically challenged. The machine is great. "
"This is an awesome treadmill!" an Amazon reviewer says. "It feels very stable and safe to use. Very easy to get started and personalize to your specific needs. The low impact on the knees and other joints is very important to the users in my family. I opted to add on the expert assembly. He was on time, polite, and took about two and a half hours to assemble. The treadmill works perfectly. Highly recommend!"
ProForm Pro 2000
The ProForm Pro 2000 gets consistently positive reviews. But as a heads up, the common complaints surround complicated assembly and usability if you don't have an iFIT subscription.
On ProForm.com, user Monalu2u wrote: "The whole experience with this treadmill has exceeded expectations! Buying online was easy, putting it together was straightforward, and the experience using it is inspiring. I'm a 65 year old single woman, and I managed to get it assembled by myself (after my daughter and son-in-law wrestled it into the house for me!). I'm appreciative of how well built and thought out this device is. I am so happy about all of the workouts here."
Another reviewer, E. Henley, on Amazon had issues with the ergonomics:
"The treadmill is solid and works ok, but my main complaint is the horizontal bar grips. They are too short and are not adjustable. I am 5′ 10″ and if I hold onto the horizontal bar, I am stopped over and running in a crouch. It isn't comfortable and is a dangerous position to be running or jogging in. The treadmill is made for someone 5′ 6″ and it would be perfect."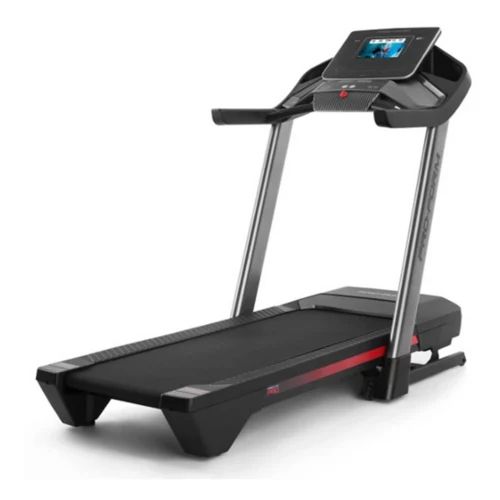 Company Policies
From warranty to financing, policies are an important part of the purchasing decision. See how ProForm and Sole compare.
Warranty
Sole F80
Sole provides a lifetime warranty on the frame, motor, and deck on the F80. (Yes, that's pretty amazing if you were wondering!) They also include five-year part, five-year electronic, and two-year labor warranties. The specificity and breadth of coverage from Sole Fitness adds significant value to this model.
ProForm Pro 2000
ProForm offers a 10-year frame, 2-year parts, and 1-year labor warranty. That's not bad, however, the industry standard is15 years to life on the frame. For this price point, we'd expect more comprehensive coverage.
Return Policies
Sole F80
Sole has a 30-day return policy that starts from the day it's delivered. However, that return policy is only in effect if you buy directly from Sole. If you decide to return it, the pickup method will be the same as the original order. For example, if you ordered curbside delivery, you've got to have the treadmill curbside for pickup, but you don't have to box it up yourself, nor do you have to pay return shipping fees—this is a great perk.
ProForm Pro 2000
ProForm has a 30-day return policy with a return window starting the day of delivery. You will get charged a $250 return shipping fee plus a 10% restocking fee upon return—ouch.
Financing Options
Sole F80
If you qualify, Sole works with Citizens Pay to offer financing options. Depending on your credit history, you could end up with payments of around $100 per month.
ProForm Pro 2000
ProForm offers financing through TD Bank with 0% APR for 12 or 39 months. However, there are additional taxes, delivery, and a few other charges that might get worked into the price. The exact monthly payment will depend on your credit history.
Sole F80 vs ProForm Pro 2000 FAQs
Can I use iFIT with a Sole treadmill?
Yes and no. You can use iFIT with a Sole treadmill, but you'll have to do it on your own device. Additionally, iFIT doesn't directly connect with the Sole treadmill, so any speed or incline adjustments will need to be made by you. It would be similar to using Sole's STUDIO app. 
Is the Sole F80 treadmill good?
The Sole F80 makes many best treadmill lists for its price and high-quality build. (We've also compared it to the NordicTrack 1750.) It has a high 375-pound maximum weight limit, folds, and has a solid build that Sole machines are known for. Taller, heavier runners and walkers with a will get quality that's similar to the machines you find at a professional gym. 
Who is the manufacturer of ProForm treadmills?
ProForm treadmills are made by iFIT, previously known as ICON Health & Fitness, which also happens to own and make NordicTrack commercial and home treadmills. (See how the ProForm Pro 2000 stacks up against the NordicTrack Commercial 1750, too.)
Does the Sole F80 have Bluetooth?
The Sole F80 does have Bluetooth. You can connect via Bluetooth to the speakers, as well as connect to certain fitness apps to upload your fitness data.