We test and review fitness products based on an independent, multi-point methodology. If you use our links to purchase something, we may earn a commission. Read our disclosures.
Schwinn is a brand that likely elicits memories of bicycles and perhaps even your childhood. That said, the Schwinn brand was bought and sold multiple times and has grown beyond the manufacturing of only outdoor bikes. Schwinn is now owned and manufactured by the popular fitness brand Nautilus.
Schwinn offers a variety of fitness equipment including indoor cycling options, ellipticals, and treadmills, too. In our Schwinn treadmill reviews, we'll cover the brand's three treadmill models, all remarkably similar specs.
Each model varies in speed and incline ranges as well as motor power and running surface area. What they have in common is that all three are folding treadmills, have easy-to-read consoles, and all come with preset workout programs.
Cardio Experts Here To Give You The Lowdown On Schwinn Treadmills
Our team of expert product testers has put top cardio equipment brands to the test including NordicTrack, ProForm, Peloton, Sole Fitness, and Bowflex, just to name a few. We've not only tested the best, we're a group of experienced fitness professionals including former college athletes, nutrition coaches, certified personal trainers, and CrossFit Level 1 Trainers.
Although we have not tried the Schwinn 830 or 870, we have ordered, assembled, and used the Schwinn 810 treadmill.
Schwinn Treadmills Lineup
Schwinn Fitness Treadmills Comparison Chart
| | | | |
| --- | --- | --- | --- |
| | Schwinn 810 | Schwinn 830 | Schwinn 870 |
| Price | $899 | $949 | $1,099 |
| Footprint | 69.1" L x 35.6" W x 56.7" H | 72.2" L x 35.2" W x 57.6" H | 72.2" L x 35.2" W x 57.6" H |
| Weight | 155 lbs | 200 lbs | 215 lbs |
| Weight Capacity | 275 lbs | 300 lbs | 300 lbs |
| Foldable | Yes | Yes | Yes |
| Display | LCD | LCD | LCD |
| Incline | 10% | 12% | 15% |
| Top Speed | 10 MPH | 12 MPH | 15 MPH |
| Motor | 2.6 CHP (not confirmed by Schwinn) | 2.75 CHP (not confirmed by Schwinn) | 3.0 CHP (not confirmed by Schwinn) |
| Running deck | 55" L x 20" W (not confirmed by Schwinn) | 55" L x 20" W (not confirmed by Schwinn) | 60" L x 20" W (not confirmed by Schwinn) |
| Preset workouts | 16 | 22 | 26 |
| Warranty | 10-year frame and motor, 1-year parts and labor | 10-year frame, drive, and motor, 2-year mechanical and electrical, 1-year labor | 10-year frame, drive, and motor, 2-year mechanical and electrical, 1-year labor |
Which Schwinn Treadmill Should You Buy?
All three Schwinn models are folding treadmills with transport wheels for easy maneuvering. Each treadmill also has built-in workout programs and basic LCD screens displaying program, time, distance, speed, incline, and calories burned.
None of these models offer touchscreens or interactive programming technology. However, you will find that you can use Bluetooth connectivity to use the Explore the World app. This app is currently free and available on both the App Store and Google Play.
You won't find trainer-led classes on Explore the World, but you will be able to watch scenic destinations while you run. You'll need your own tablet or smartphone to connect with this app.
The main difference in these models is the running deck length, CHP motor size, top speeds, incline range, and how many preset programs are available. The weight of the treadmills varies, as does the maximum user weight capacity.
Schwinn 810
Good for: Anyone looking for an entry-level cardio machine
Schwinn 810
Product Highlights
Folding treadmill
Transport wheels
2.6 CHP
Top speed 10 MPH
Incline up to 10%
16 built-in programs
Running surface measures 55" L x 20" W
Heart rate pulse grips
Pros & Cons
Pros
Folding design
Bluetooth technology
Cushioned running deck
Users reported it to be very quiet
16 workout programs
Cushioned deck is comfortable
10 percent incline levels
Cons
Weak motor
Warranty is so-so
USB port is for charging only; cannot transfer data
Some users report integrated speakers are weak
Bottom Line
While the Schwinn lacks the power and bells and whistles found on more expensive models, it has a sturdy build capable of providing users with challenging workouts.
Pros:
Soft drop folding mechanism
Built-in workout programs
Heart rate monitoring pulse grips
Power incline maxes out at 10%
Cons:
Average horsepower at best
Basic LCD screen
Subpar weight capacity
Difficult assembly, according to our expert testers
The Schwinn 810 is the base-model treadmill from Schwinn Fitness. It features a running deck measuring 55 inches long by 20 inches wide, which is just shy of the 60-inch length we like to see to accommodate tall people and the ability to get a full-length stride.
While Schwinn does not confirm the motor horsepower, our best guess based on our hands-on experience with this machine, and additional research, is that it clocks in at about 2.6 CHP motor. This will certainly allow you to run, but if you plan to get in regular weekly miles, the motor horsepower won't support you in the long term.
The handlebars include a pulse grip sensor for monitoring your heart rate, which is displayed on the easy-to-read LCD screen. Flanking either side of the display, you will be able to jump speed and incline at even integers and choose more refined selections with the up and down arrows.
Check out our full-length review on the Schwinn 810 from our expert product tester to decide if this tread's features are worth the sub-$1,000 price tag.
Schwinn 830
Good for: Casual runners or anyone who is not considerably tall
Schwinn 830 Treadmill
Product Highlights
Under $1,000
300-lb user weight capacity
Easy-to-read LCD console
Incline range up to 12%
Top speeds of 12 MPH
22 preset workout programs
10-year frame warranty
Pros & Cons
Pros
Folding treadmill
Preset workout programs
Incline training
12 MPH top speed
300-lb weight capacity
Cons
Subpar warranty
Weak motor
Bluetooth connectivity seems limited
Underwhelming deck cushioning
Pros:
300-lb user weight capacity
Easy folding system
Media shelf with USB charging
4 user profiles
Top speed of 12 MPH and max incline of 12%
Cons:
Underwhelming cushioning system
Limited app technology
Motor horsepower unspecified on the website
Our expert product testers have not officially been on the Schwinn 830, however with the specs so similar to the 810, we know we can still give you an accurate description of the cardio machine. For approximately $50 more dollars, you'll get a larger speed and incline range, plus a more powerful motor—sign us up!
The Schwinn 830 offers a slightly more powerful 2.75 CHP motor than the base-model 810. The 830 also has a 55-inch running surface, which is not confirmed on the Schwinn website (nor was the motor horsepower) however, I was able to corroborate these specs on Walmart's website.
The 830 features four different user profiles to export workouts using your preset programs and can connect to the Explore the World app via Bluetooth. The app allows you to collect workout data, but does not send any data from your smart device to the treadmill (unlike some other apps like JRNY, iFIT, and Zwift).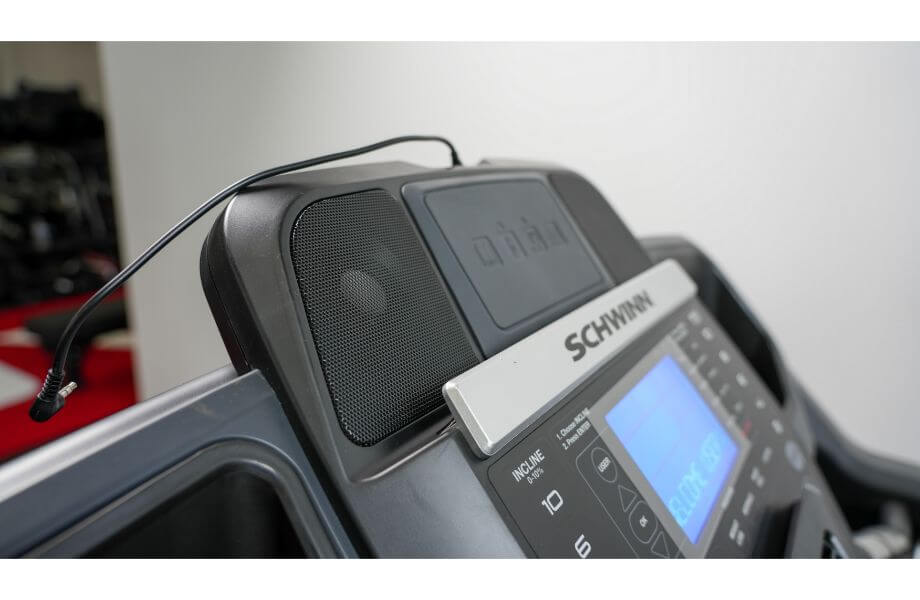 The Schwinn 830 features a four-cell "soft track" cushioning system that you can actually see impeded under the running belt. However, our expert product tester and writer, Caroline Lubinksy, reported that her experience on the Schwinn 810 (with the same four-cell cushioning) was underwhelming. Caroline is cardio guru and knows good cushioning—she favors the NordicTrack Commercial 1750 and the Sole Fitness F63.
Schwinn 870
Good for: Home gym owners who plan to set aside aside time for daily or weekly runs
Schwinn 870
Product Highlights
About $1,000
Powerful 3.0 CHP motor
Incline up to 15%
Speeds up to 15 MPH
300-pound user weight capacity
26 preset workout programs
10-year frame warranty
Pros & Cons
Pros
Folding treadmill
Incline training options
Preset workout programs
15 MPH top speed
300-lb max weight capacity
Cons
Subpar warranty
Underwhelming deck cushioning
Bluetooth connectivity seems limited
Pros:
26 preset programs
Incline up to 15% and speed up to 15 MPH
Dual LCD screens
Built-in workout fan
Cons:
Motor unspecified on website
In and out of stock on website
No interactive programming
Once you get over the $1,000 price range, you might expect something a little more flashy in a home treadmill—something with interactive programming or Bluetooth speakers.
The Schwinn 870 instead boasts a 3.0 CHP motor and a 60-inch running deck for runners (which was not confirmed by Schwinn but was corroborated on Walmart's website). These solid mechanical specs—in addition to 26 preset programs—shouldn't be overlooked compared to other high-tech treadmills on the market today.
However, if you're a runner who plans to train seriously on a treadmill, not only is the Schwinn 870 a good bet for your running deck and motor needs, it also features up to 15-percent incline and top speeds reaching 15 miles per hour.
Overall, the Schwinn 870 is has been in high regard on the website's review
Buyer's Guide to Schwinn Treadmills
To help you with the buying process here a few highlights of Schwinn treadmills:
Budget-Conscious
No matter which treadmill you choose, you won't have to spend much more than $1,000. Schwinn also has financing options if you qualify for the brand's credit card.
Limited Tech
The minimal technology and straightforward console will be the best buy if you're not committed to any particular app or streaming service. However, what you might enjoy is the fact that all three Schwinn models come with built-in training programs so you don't have to rely on just manual mode.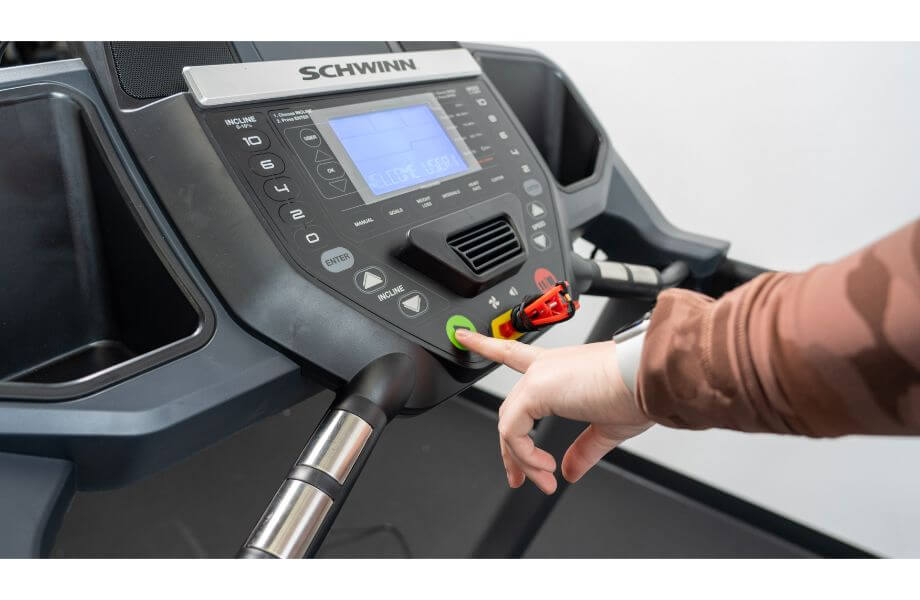 Training Options
If you plan to train for marathons on a Schwinn treadmill, you will be disappointed in the minimal cushioning and underwhelming power of the motor. Schwinn treadmills will be best-suited for walkers and casual runners. Two out of three models all feature 55-inch running decks, which is a bit shorter than we'd like to see for avid runners. Additionally, each model has a different top speed and highest incline setting.
Portability
All three models are foldable and have transport wheels to make moving easy. We suggest having a dedicated space for your Schwinn treadmill because the weight (ranging from 155 to 215 pounds) will make it difficult to move it in and out of storage on a frequent basis.
Brand Policies
Here is a quick look at Schwinn Fitness' brand policies.
Warranty
All three treadmills have a 10-year warranty on the frame and motor and one-year on labor. The 830 and 870 have two-year warranties for both electrical and mechanical issues. This treadmill warranty is close to industry standards, it doesn't quite meet the mark: We like to see at least 15 years on the frame and at least two years on parts and labor.
According to Schwinn's warranty details, if you were to buy one of these treadmills from a third-party retailer like Amazon, you will need to register your product before you make a warranty claim. It can be done online or by calling customer service. To contact customer service about making a warranty claim, you can call 800-605-3369.
Returns
Schwinn offers customers a 100-percent satisfaction guaranteed. According to Schwinn's website, if you're not satisfied with your purchase, you can contact customer service within six weeks of delivery to make a return. This goes beyond industry standards—we normally see companies requiring returns within 30 days.
Customer service will provide you with a Return Merchandise Authorization (RMA) number, which is necessary for all returns—in fact, the website states that if you return an item without an RMA, you will not receive a refund or credit of any amount.
Outside of this six-week window, you will not be able to return your equipment. You will also not be refunded for shipping, handling, or assembly fees.
Financing
Schwinn offers financing directly on the website through a Schwinn credit card. You will have to fill out a credit application form on the website, but if you are approved, you'll have 18 months of no-interest payments. This is subpar compared to the industry standard of at least 0% over the course of 30 months.
Whether you decide to pay off your treadmill within the 18 months is your choice, but you will be required to make a minimum on monthly payments—that amount is unclear on the website and likely depends on the total amount lended.
Final Verdict of Our Schwinn Treadmill Reviews
Overall, the Schwinn brand offers three solid options right around $1,000. Although you won't have built-in interactive programming capabilities, you won't be locked into an ongoing membership fee to use your treadmill, and you'll get some pretty solid mechanical specs
I don't think Schwinn brand treadmills are a great option for anyone who's looking for a super budget-friendly deal or someone looking for a high-tech machine. The treadmills offered by Schwinn are right in the middle.
FAQs About Schwinn Treadmills
Who makes Schwinn treadmills?
Nautilus is the parent company to Schwinn and Bowflex and manufactures products for both brands. 
Which is the best treadmill for home use?
The best treadmill for your home will primarily depend on your budget and your space. It also will depend on your fitness goals and if you are looking for a machine to get in your daily steps or train for running long distance. We have an entire roundup dedicated to the best home treadmills, with our top pick being the NordicTrack 1750. 
Does the Schwinn 810 treadmill have Bluetooth?
The Schwinn 810 has Bluetooth capabilities for the free Explore the World app.