We test and review fitness products based on an independent, multi-point methodology. If you use our links to purchase something, we may earn a commission. Read our disclosures.
Workout shoes are an important piece of gear that most invest in for their best home gym equipment. Unless you're one of those barefoot folks (which I am often as well). A good pair of shoes—and more importantly, the best pair for you—is the difference between an invigorating workout and a dumpster fire of a training session.
That's why I love reviewing all kinds of workout shoes, from the Nike Free Metcon 4s to the Reebok Nano X1s to the NoBull Trainers. In this Reebok Nanoflex TR training shoes review, I divulge all the pros and cons of this Reebok Nano wannabe.
Why You Should Trust Us
Our team is made up of fitness experts, enthusiasts, and credentialed professionals. We've all been wearing training shoes for a long time (collectively, many decades), so we know what to look for in a good pair of training shoes for different activities.
Reebok Nanoflex TR Training Shoes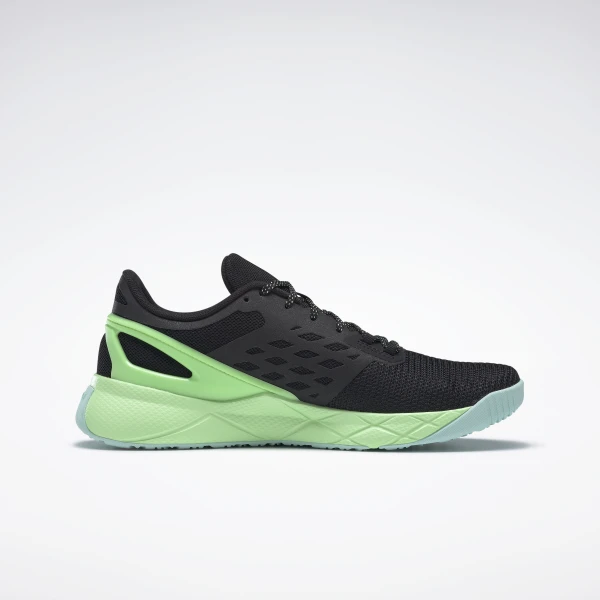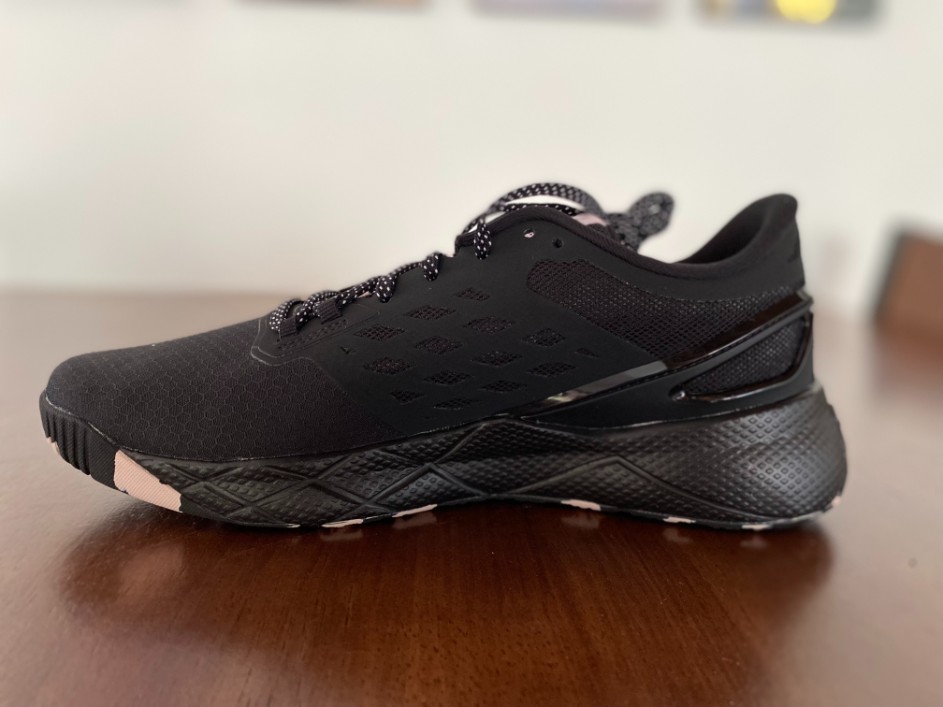 A Quick Look at the Reebok Nanoflex Training Shoes
Point blank: If you're looking for the best training shoes, look elsewhere. The Nanoflex TR Training Shoes—Reebok's budget-friendly version of the Reebok Nanos—ain't it. That said, these shoes do have their place. Their construction makes them a superior shoe for certain types of workouts, specifically high-intensity interval training. They're also good everyday shoes. Compared to their more popular older sibling, the Nanos, the Nanoflex TRs have some room for improvement.
Coop's Tips:
These aren't designed like true CrossFit shoes, so don't be surprised when they don't last as long as Nanos, NoBull Trainers, or Nike Metcons.
They combine elements of training shoes and running shoes, which makes them better daily wear shoes than most trainers.
These definitely fall into the category of narrow; if you have wide feet, skip them.
My Favorite Things:
Great for everyday wear
Flexible and versatile enough for most types of workouts
Very budget-friendly for a pair of Reebok cross-trainers
My Callouts:
The toe box is super narrow, but it does break in over time
Not the most durable cross-trainer
Not stable enough for heavy weightlifting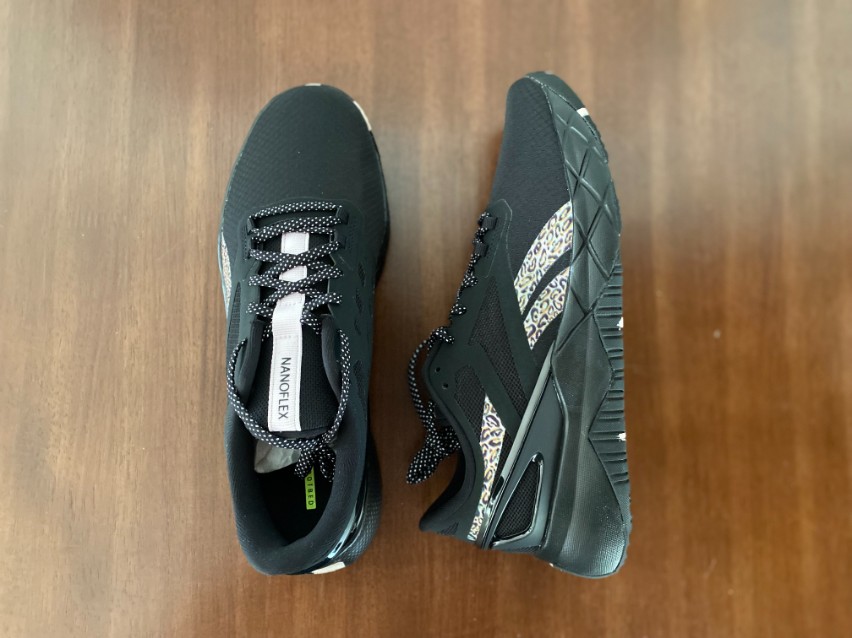 Are Reebok Nanoflex Training Shoes Worth It?
Like all shoes, a combination of your foot anatomy and the activities you do will determine if a shoe is worth buying. The Reebok Nanoflex TR training shoes are good for some things and not for others. This is Reebok's budget-friendly version of the Nano, so suffice it to say quality is sacrificed in some areas (notably, the outsole and mesh upper).
Our fitness staff writer and personal trainer Amanda Capritto tested and reviewed the Nanoflex TRs, and her ultimate verdict was that these shoes aren't the greatest for CrossFit or heavy lifting, but they're a good buy for general fitness or everyday use.
Great for:
People with narrow feet
Anyone looking for a less expensive cross-training shoe
People who want everyday shoes they can wear anywhere
Not recommended for:
People with wide feet
People looking for true CrossFit shoes
Anyone seeking durability over everything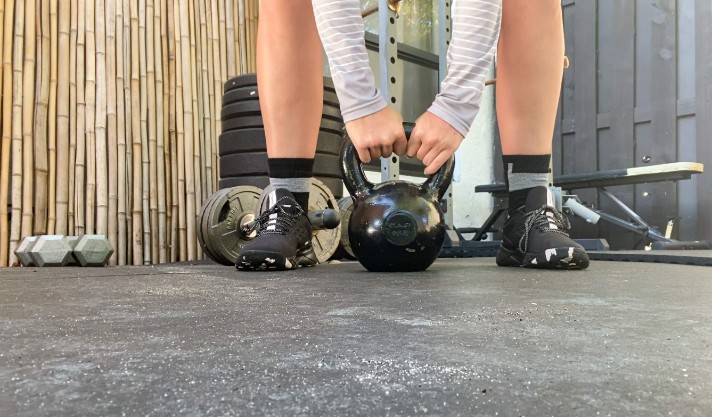 Wearing the Reebok Nanoflex Training Shoes
When testing the Nanoflex TRs, Amanda realized they're an ideal fit for some types of workouts but not for others. For most workouts, they performed just okay. But for one type, the Nanoflex TRs excelled.
Overall, Amanda didn't find these shoes to be the most comfortable, primarily due to the tight toe box. The forefoot of the shoe is narrow and led to some serious foot cramping during the first few uses.
After a few workouts, Amanda says the upper gave and broke in, but you really have to be dedicated to getting through that break-in period. These would be a good option for people who generally find most cross-training shoes to be too wide.
Wearing Reebok Nanoflex Training Shoes for CrossFit
These shoes work fine for some types of CrossFit WODs. They're definitely not ideal for all functional fitness workouts.
Amanda had no problem wearing the Nanoflex TRs while doing lunges, kettlebell swings, lightweight squats, and anything that didn't really involve her feet (like shoulder press, pull-ups, and push-ups). But when it came to box jumps, handstand push-ups, power cleans, and snatches, her "inner NoBull snob" came out and she was missing the stability and balance that comes with a flatter, more purposefully designed shoe.
The reason the Nanoflex TRs aren't great for those movements is because the innersole is more springy than it is in true CrossFit shoes, and the heel-to-toe drop is larger. This creates an element of instability that, while not a dealbreaker for all people, is a serious annoyance to any CrossFitters accustomed to a more stable shoe.
Wearing Reebok Nanoflex Training Shoes for Lifting Weights
Whether or not the Nanoflex TRs are good for lifting depends entirely on the type of lifting you do. If you sway toward hypertrophy workouts, supersets, and high-rep straight sets, you'll probably like the Nanoflex TR training shoes.
Amanda enjoyed wearing them for bodybuilding-style workouts and higher volume, lower load lifting. However, she didn't find them stable enough to do anything other than deadlifts at a heavy weight—meaning more than 80% of her max—and she wouldn't recommend them for Olympic weightlifting at all.
RELATED: Best Deadlift Shoes
These shoes just don't provide the level of stability you need for heavy powerlifting and the Oly lifts. Amanda did, however, find them comfortable for what CrossFitters call accessory work: movements like split squats, Romanian deadlifts, and strict dumbbell presses. (Basically anything where the feet stay planted and you're not going super heavy.)
Wearing Reebok Nanoflex Training Shoes for Cardio
If the Nanoflex TR training shoes stand out during any activities, it's high-intensity interval training. And I'm talking about true HIIT, not CrossFit-style workouts. Amanda wore these shoes for several genuine HIIT workouts—20 or 30 seconds of ultra-intense, high-volume work followed by periods of rest—and said they absolutely excelled.
I can tell you why: These shoes have a highly responsive midsole, which results in some springy action, making HIIT movements like high knees, toe taps, jumping rope, jump squats, and other explosive plyometric movements feel easier.
There's also more cushion in the Nanoflex TRs than there is in NoBull Trainers, Nike Metcons, and other CrossFit shoes. This means the Nanoflex trainers have better shock absorption and reduce the impact on your joints during HIIT workouts.
When it comes to low-intensity, steady-state cardio, Amanda says these shoes are alright. They're nothing special during long walks with her dog, she says, and although she'll still stick to her Brooks for running, the Nanoflex TRs are more comfortable during a light jog than the Nano Xs and X1s.
Wearing Reebok Nanoflex Training Shoes for Everyday Activities
The Nanoflex TR training shoes make phenomenal everyday shoes—as long as you have narrow feet. If you don't, all of the good aspects of this shoe are for naught.
If you do have narrow feet, you'll enjoy the responsiveness of the midsole in the Nanoflex TRs. They're relatively squishy for a cross-training shoe, making them comfortable for long walks, running errands, and even doing yard work.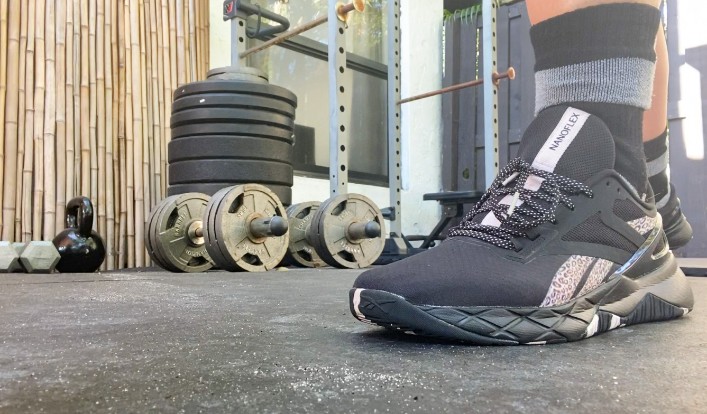 Reebok Nanoflex Training Shoes Construction and Materials
The Reebok Nanoflex TRs don't have any crazy innovative specs. They have a mesh upper, a rubber outsole with flex grooves, and EVA foam midsole and insoles. This is very basic construction for a pair of cross-training shoes.
Here are some things we like about the construction of the Nanoflex TRs:
The TPU heel clip and cage provides a locked-in feeling and prevents rubbing on the heel
The flex grooves on the outsole allow for full range of motion of the feet while walking
Cushioning from the midsole provides more arch support than most cross-training shoes, but not so much that you can't wear them for dynamic workouts
The only thing Amanda was absolutely not thrilled about was the forefoot construction on the Nanoflex TRs. The toe box is super narrow and, while the upper does have some give and will break in eventually, the first couple of workouts in these shoes were hardly short of excruciating. Props to Amanda for pushing on in the name of product testing.
Reebok Nanoflex Training Shoes Colorways and Design
The Nanoflex TRs come in a ton of colorways, just like the Reebok Nanos always have. For men, there are eight colorways available; for women, there are six colorways. I don't expect Reebok to add any new designs to this lineup as the shoe isn't marketed as a CrossFit shoe, rather as a budget-friendly cross-training shoe.
These shoes look sporty just like other Reebok shoes, with the same lines and contouring you see across the brand's products. Amanda actually thinks the Nanoflex TRs look better for casual everyday wear than the Nano Xs or X1s, due to the more subdued and earthy colors. Many of the women's and TR men's training shoes look similar in style.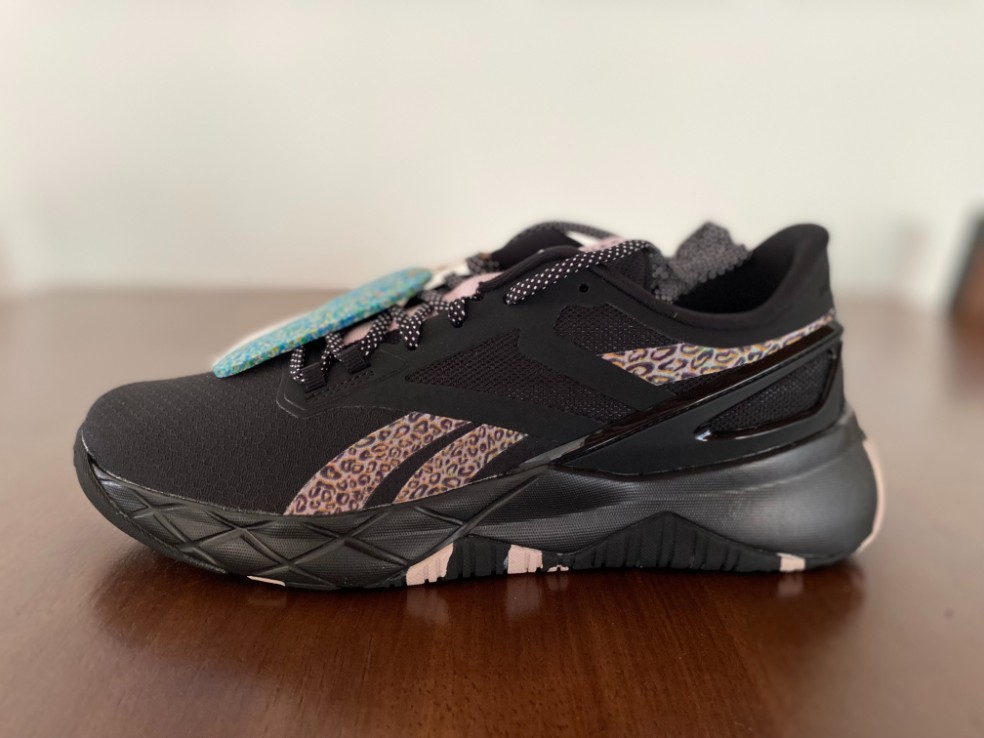 Reebok Nanoflex Training Shoes vs. Reebok Nanos
The Nanoflex TRs are similar to the Nanos in a lot of ways. For example, they both have rubber outsoles, mesh uppers, and feel relatively flat. The Nanoflex TRs also have a thermoplastic polyurethane (TPU) heel cage and heel clip similar to that on the Nanos.
These two cross-trainers differ in a lot of ways, too.
The two main differences are the toe box and the outsole. Compared to the Reebok Nano X and Nano X1, the Nanoflex trainers have a very narrow toe box, which doesn't allow for as much balance and stability. The Nanoflex TRs also lack a medial rope grip, although the thick rubber outsole is probably enough to prevent abrasion during rope climbs.
Additionally, the Nanoflex TRs lack the reinforced toe box you see in the Nanos, and the mesh upper isn't quite as durable (there's no flexweave). Overall, the Nanoflex TRs are a better everyday shoe and a great option for recreational lifting and high-intensity interval training; the Nanos are better CrossFit shoes and better for weightlifting.
Amanda says the Nanoflex TRs remind her most of the Reebok Nano 9s more than any other Reebok CrossFit shoes.
Oh, and there's a big difference in price, too: While Nanos start at $130, the Nanoflex TRs start at $90, and I've seen many colorways online for less than that.
Reebok Nanoflex Training Shoes Specs
| | |
| --- | --- |
| Price | $90 |
| Upper | Mesh |
| Size Range | Men's 6.5 to 14; women's 5 to 11 |
| Colorways | 8 in men's sizes; 6 in women's sizes |
| Tread | Rubber |
Ordering the Reebok Nanoflex Training Shoes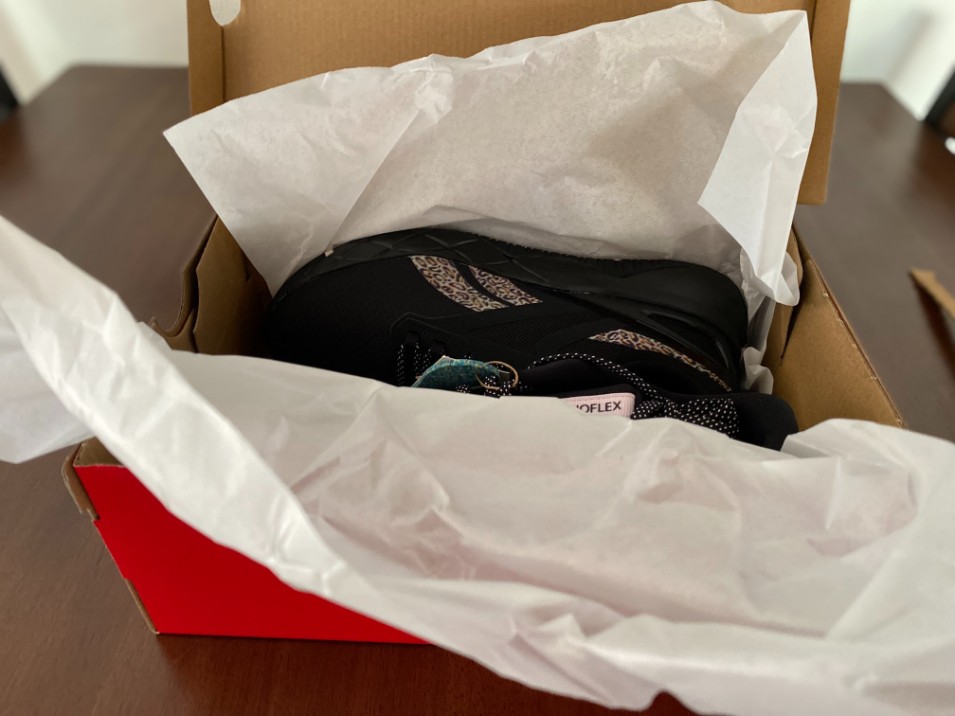 There were no issues whatsoever with the ordering process. Amanda's order did get delayed, though, and the delivery date ended up being several days after the initial expectation.
Amanda ordered the shoes directly from Reebok, but you can also get the Nanoflex TRs on Amazon and from retailers like Dick's Sporting Goods. Just remember that third-party retailers don't always carry the full lineup of sizes and colorways.
If you order from the Reebok website, you'll have to add another item to your cart to get free shipping as the order minimum is $99. But hey, at least the shoes aren't expensive!
Customer Experience
When you order a pair of shoes from Reebok, you have 30 days to return them for a full refund as long as they're in brand new condition. This means you'll have to decide whether or not you like the Nanoflex TRs before giving them a real chance to break in. Yes, this is a relatively strict return policy, but they are shoes. Reebok can't do anything with your used shoes.
Customer Reviews
According to customer reviews, Reebok didn't hit the jackpot with the Nanoflex TR training shoes. Most of the reviews fall into the 3-star range with comments that indicate the shoes are okay, but not spectacular in any way. The negative reviews cite things like the narrow toe box and rigidity, while the positive reviews praise the versatility of these trainers.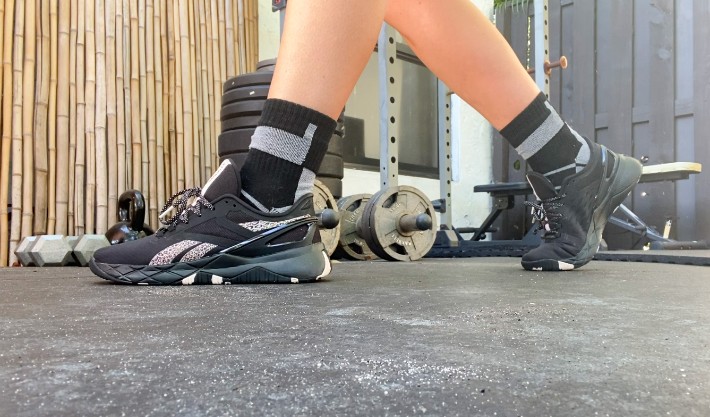 Final Verdict of Our Reebok Nanoflex Training Shoes Review
The Reebok Nanoflex TRs are a solid pair of budget-friendly shoes. They're a far cry from being on our roundup of the best CrossFit shoes and we wouldn't recommend them for heavy lifters, but for recreational lifting, HIIT workouts, and everyday use, we think they're a great shoe.
Would like to see a wider toe box and a more durable upper
Recommend sizing up half a size if you have normal feet, and skipping these if you have wide feet
Good for plyometrics, not great for heavy lifting
Awesome budget-friendly everyday shoe
Full Rating
Reebok Nanoflex TR Training Shoes
Workout shoes are an important piece of equipment that most people purchase for their home gym. In this Reebok Nanoflex TR training shoes review, I discuss all of the benefits and drawbacks of this Reebok Nano copycat. Why You Should Have Trust in Us Our team consists of fitness professionals, enthusiasts, and qualified professionals. We've all been using gym shoes for a long time (several decades), so we know what to look for in a decent pair of workout shoes for various activities.
Product Brand: Reebok
Product Currency: $
Product Price: 90
Product In-Stock: InStock
Reebok NanoflexTraining Shoes FAQs
Are the Reebok Nanoflex TR shoes better than Reebok Nanos?
It depends on what you wear them for. Nanos are a better true CrossFit shoe, but the Nanoflex TRs are great for walking, HIIT, and general wear.
Are Reebok Nanoflex TR training shoes good for CrossFit?
Reebok Nanos are much better for CrossFit than the Nanoflex TRs. Nanos will support you through a wider variety of functional fitness movements.
Can I wear Reebok Nanoflex TR training shoes for weightlifting?
We don't recommend wearing Nanoflex TR training shoes for Olympic weightlifting or heavy powerlifting. For general strength training, they should be fine.
RELATED: Best Weightlifting Shoes