We test and review fitness products based on an independent, multi-point methodology. If you use our links to purchase something, we may earn a commission. Read our disclosures.
The NordicTrack C950i was a budget-friendly commercial-grade treadmill that combined a folding SpaceSaver design, FlexSelect adjustable cushioning, a powerful 3.0 CHP motor, and a handsome collection of features including iPod speakers, iFIT integration, Bluetooth, and 32 built-in workout programs for seemingly endless fitness inspiration.
There was a lot to love about the C950i, but the construction was less sturdy than the slightly more expensive commercial options. It was not a bad buy by any means, but there were and still remain better options available.
Today, the NordicTrack C950i is discontinued, replaced by a slew of more impressive options, but we're providing a full NordicTrack C950i Treadmill review so you know the good, the bad, and the ugly, as well as what might work well for your home gym now that the C950i is no more.
Sounds like a plan? You know it!
We're Right on Track!
We strive to provide honest, straightforward information regarding the best, and sometimes the worst, fitness equipment and products on the market here at Garage Gym Reviews.
That's why when it comes to NordicTracks, and other high-end treadmill brands like ProForm, BowFlex, Peloton, we really know our stuff. We are certified personal trainers, CrossFit coaches, and nutrition experts. We live and breathe fitness, and we are committed to giving you a thorough and trustworthy perspective on all things fitness.
Looking for an Alternative to the NordicTrack C950i Treadmill?
Best Alternative to NordicTrackC950i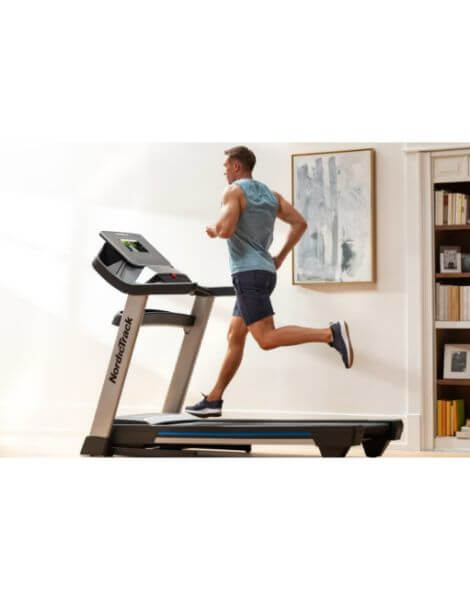 GGR Score: 4.25
Product Highlights
High-quality treadmill featuring an array of workouts with trainers -3% decline to 12% incline 10" touchscreen display Bluetooth connectivity Cushioned running deck
Pros & Cons
Pros
-Quiet treadmill
-Has an incline and decline
-Easy to fold when storing
-iFIT compatible
Cons
-Smaller screen than some other treadmills
-Fairly heavy compared to some others
Bottom Line
The NordicTrack EXP 10i Treadmill is a good option for at home workouts. While you might find more advanced treadmills, the value for the price makes this treadmill stand out.
The NordicTrack C950i treadmill is not a bad treadmill, especially if you're looking for a great folding treadmill, but it is now discontinued and not worth hunting down when there are so many similar or better NordicTrack treadmills available.
If you like what the C950i has to offer but would prefer something newer with a little more bang for your buck, you can't go wrong with the NordicTrack EXP 10i. The EXP 10i is a tad pricier, but the performance improvements really shine when you try it out.
Spend a little more upfront and the EXP 10i will pay dividends in its great performance and luxurious user experience.
A Quick Look at the NordicTrack C950i Treadmill
The NordicTrack C950i incorporates plenty of good features to offer a great user experience. You have your OneTouch speed and incline controls, FlexSelect adjustable cushioning, iPod and iFIT compatibility, an AutoBreeze cooling fan, a CardioGrip Heart Rate Monitor, and 32 workout programs available when you need something fresh to spice up the sesh.
It also uses the famous NordicTrack SpaceSaver design with EasyLift Assist so you can safely stash it when you're done sweating it out.
RELATED: Treadmill Workouts For Beginners: 4 Options To Get Started On Your Running Journey
At the price point it was originally sold at, you could do much worse than the C950i. Unfortunately, its lack of rear rollers render it wobbly when the incline is ramped up, and heavier users who break into a run or sprint will feel the machine's limitations.
It's a decent walking treadmill with a powerful motor, but the construction leaves something to be desired. The NordicTrack C950i is discontinued and, because there are so many great options available today, it will not be missed.
Pros:
Powerful 3.0 CHP motor
SpaceSaver design
FlexSelect adjustable cushioning
32 on-board workout programs
iFIT- and iPod-compatible
Cons:
No rear rollers
Poor console design
Difficult assembly
NordicTrack C950i Treadmill Specs
| | |
| --- | --- |
| Footprint | 78" L x 36" W x 56" H |
| Weight | 216 lbs |
| Weight Capacity | 350 lbs |
| Motor | 3.0 CHP DurX Commercial Pro Motor |
| Walking Belt | 20" W x 60" L |
| Display | 7" backlit LED display with touchscreen |
| Incline | 0%-15% |
| Speed | 0-12 MPH |
| Programs | iFIT-compatible, 32 workout apps |
| Foldable | Yes |
| Warranty | Discontinued product (NordicTrack offers a lifetime warranty on the frame and the motor, a 3-year warranty on parts, and a 1-year warranty on labor) |
Key Features of theNordicTrack C950i Treadmill
You may feel the NordicTrack C950i treadmill's limitations when pushing your pace or hiking steep inclines. The powerful 3.0 CHP motor will handle the speed demands, but the absence of rear rollers makes it feel shaky compared to alternatives.
If you're looking for a good folding treadmill for home use and you plan to predominantly walk or jog, the NordicTrack C950i won't let you down. Plus, they roll in some competitive extras like the luxurious FlexSelect adjustable cushioning system, the lovely AutoBreeze cooling fan, and a beautiful LED display.
Footprint, Portability, and Durability
Starting with the footprint, the NordicTrack C950i falls smack dab in the middle of what you'll expect with a commercial-grade NordicTrack treadmill. The length and width of the assembled model is par for the course, with a slightly generous tread belt at 20 by 60 inches, but the height is where it falls short. Literally. Taller users will get a good stride but may have to bend to grip the handlebars.
In terms of portability, the SpaceSaver design with EasyLift Assist makes freeing up floor space in your home gym a cinch. Rolling it away, on the other hand, is more arduous, and some users reported difficulty getting it to move without assistance.
Durability is one of the major concerns we had with the C950i. You expect a "commercial-grade" treadmill to withstand plenty of shock, especially if you're advertising a maximum user weight of 350 pounds. However, we noticed some shakiness at higher speeds and at higher inclines, mostly in part by NordicTrack's decision not to use rear rollers in the design.
Overall, it's a handy addition for a casual or moderate user with limited floor space at home, but avid runners and athletes will be better suited for higher quality builds. If you're just doing a treadmill walking workout, though, you should be fine!
Ergonomics
Despite the limitations, does the NordicTrack C950i offer a great user experience? Well, it's NordicTrack, and they've built a reputation by prioritizing the user experience and making things comfortable and easy. The C950i is no exception.
OneTouch speed and incline controls help make intervals much easier than having to hammer the plus and minus buttons like a maniac. Plus, the readouts on the modestly-sized LED display combined with the console buttons are all intuitive enough for even less experienced users to successfully navigate.
That said, the console is a bit cluttered. Buttons are crammed together so, side by side with the newer models, the C950i doesn't stand a chance.
To end this section on a high note though, the FlexSelect adjustable cushioning is divine. Having the ability to set how firm of a feel you'll get helps simulate different terrain types, and provides much-needed relief for people who need to cater to their joints and minimize impact.
Technology Benefits and Conveniences
The NordicTrack C950i doesn't boast all of today's modern conveniences, but it rolls a lot in to make for a competitive package. The touchscreen display is built for iFIT, as new purchases of this iFIT-compatible treadmill used to come with a complimentary one year iFIT membership. It also works with Google Maps so you could pick any of many illustrious locations to jog.
The C950i makes good use of Bluetooth technology as well, both in regard to fitness data and entertainment. While you can measure your heart rate using the CardioGrip Heart Rate Monitors on the handles, the treadmill also works with a chest strap. Connecting your smartphone or a Bluetooth-enabled device to the treadmill's two speakers also helps you amp up the energy while you get in your steps.
Throw in the AutoBreeze cooling fan and we're a big fan of the user experience. If only the NordicTrack C950i used a sturdier construction with this impressive array, we'd still be sold.
Final Verdict of Our NordicTrack C950i TreadmillReview
We don't hate the NordicTrack C950i, but it's far from flawless. Considering it is now discontinued, you'll be better off picking up something new with more modern conveniences, a better design, and less limitations.
NordicTrack C950i Treadmill Rating
NordicTrack C950i Treadmill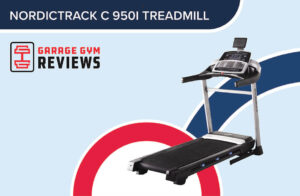 It's discontinued now, but was it any good? Here's a full NordicTrack C950i treadmill review to help you make the best treadmill purchase for your home gym!
Product Currency: USD
Product Price: 1799
Product In-Stock: InStock
NordicTrack C950i Treadmill FAQs