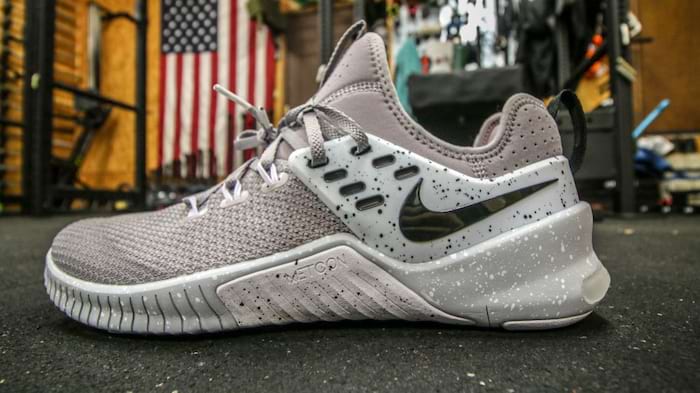 Nike did not skip any steps in making a quality training shoe that exceeds in both comfort and durability. From top to bottom, the Nike Free X Metcon is borderline flawless and can handle just about anything you throw at it.
For starters, the Nike Free X Metcon's are probably some of the most aesthetically pleasing shoes available. Without a doubt, these shoes perform not only in the gym, but also in the streets. The shoes look great while working out and they do not look out-of-place in casual activities.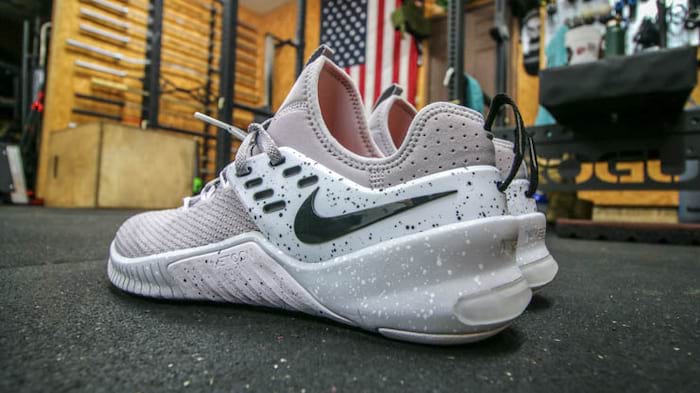 The Nike Free x Metcon Men's Training Shoe combines the lightweight flexibility of Nike Free with the durability and stability of Nike Metcon shoes—which means it can stand up to short runs, boot camps, strength training, and the WOD.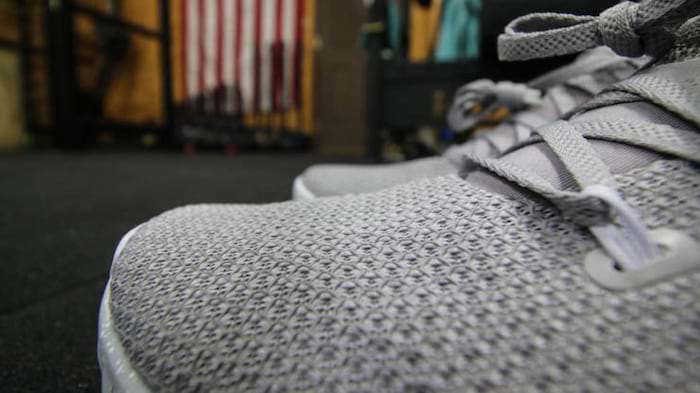 The upper section of the Free X Metcon's is made with TPU-faced mesh. Thermoplastic polyurethane (TPU) belongs to a class of polyurethane plastics having many important properties such as elasticity, transparency, and resistance to grease, oil, and abrasion. It is unique due to its extremely flexible nature. Technically speaking, TPUs are made up of thermoplastic elastomers.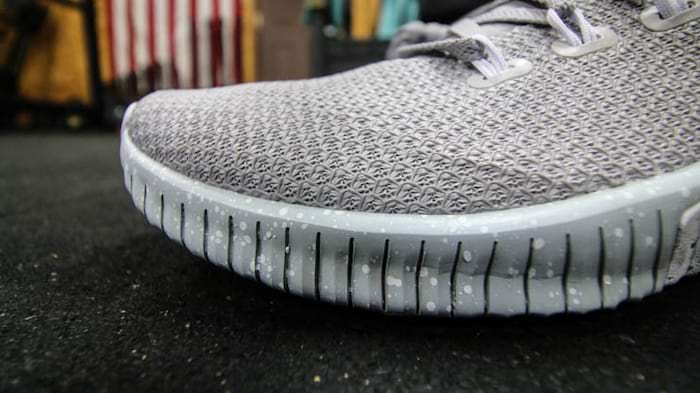 TPU has different advantages such as resistance to abrasion, ability to perform at low temperature, elasticity, and mechanical properties along with rubber-like elasticity. Think of flexible TPU has a hybrid material between hard plastic and soft silicone.
To put this in shoe terms, by being laced with TPU the entire upper portion of the training shoe is designed to give maximum lightweight durability, flexibility, stability, and any other "bility" you can think of while not letting your foot overheat while working out.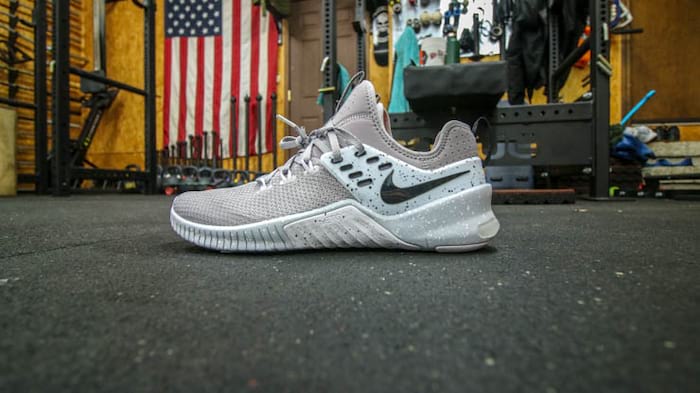 Nike is not the only training shoe company to latch on to TPU material, fellow competitor Adidas also has began to line their training shoes and work boots have also hopped on the TPU material given its success with durability and resistance to many different water/oils.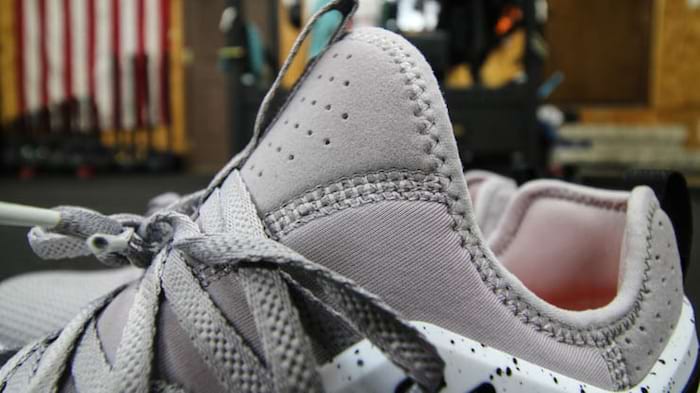 The upper section of the Nike Free X Metcon's seems to reflect that of the Nano 8's. The look and feel is very similar. This is by no means a bad thing, the Nano 8's are some of the most comfortable shoes available.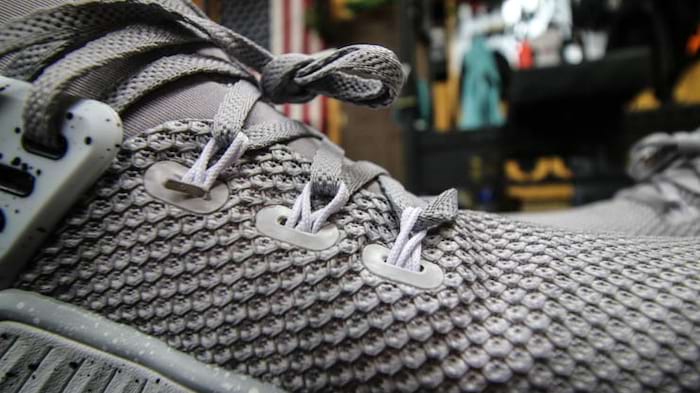 The vamp section of the Nike Free X Metcon's is lined with an all too familiar term in the Nike community, Flywire technology.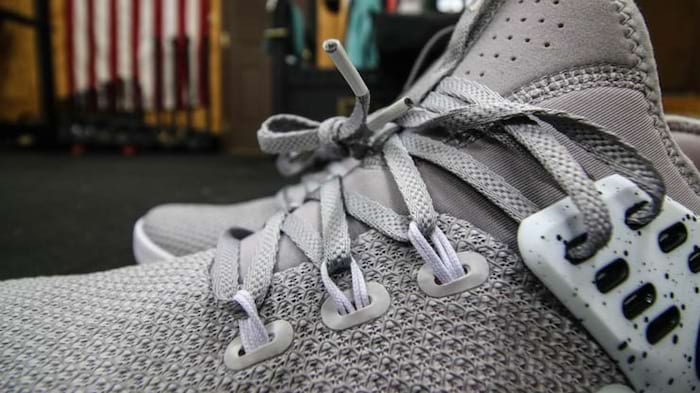 Nike Flywire technology consists of strategically placed filaments that function like cables on a suspension bridge to offer support precisely where it's needed. These strong Flywire filaments are applied to a minimalistic shoe upper and vamp, reducing weight to make it some of Nike's lightest footwear.
It has paper-thin fabric that covers the top of the foot, with Nike Flywire filaments attaching to the outsole and holding the foot in place.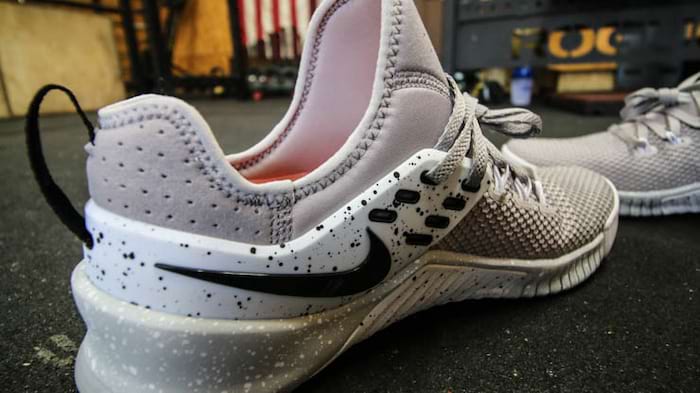 With Nike Free X Metcon's being structured with Flywire technology, it gives a dynamic fit that helps you lock your foot in place while allowing for natural movement.
Nike Free X Metcon's is formed with a comfort fit boot. The comfort fit boot has made it super easy to slide these shoes on and off while also still keeping the shoe soft and flexible.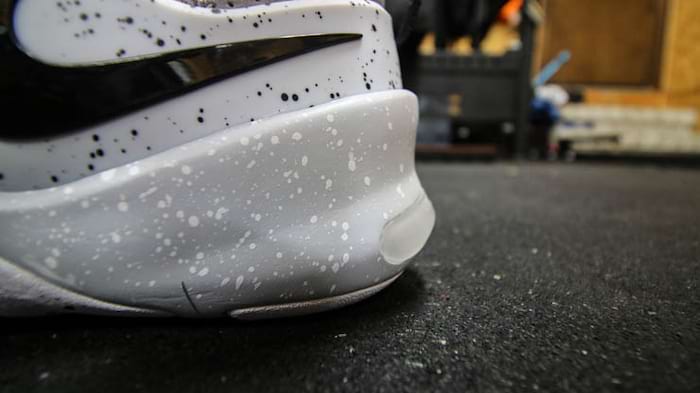 The outsole of the Free X Metcon's are made with two different types of rubber. The first rubber is Carbon Rubber. This is the same rubber that is used to make tires and it is the most durable.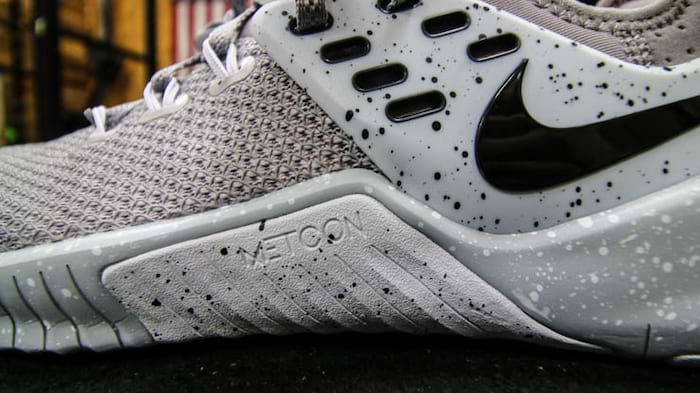 The second rubber is Blown Rubber. This is where the Free X Metcon's gets its lightweight feel from. It is lighter and more cushiony and not as durable as the Carbon Rubber. With Nike combining the two is how the shoe is so durable and still not miss a beat in lightweight.
From the outsole, the Free X Metcon's has rubber wrap up the midsole of the shoe. With combining the TPU and rubber, we find this extremely helpful with movements that can cause friction and abrasion such as rope climbs.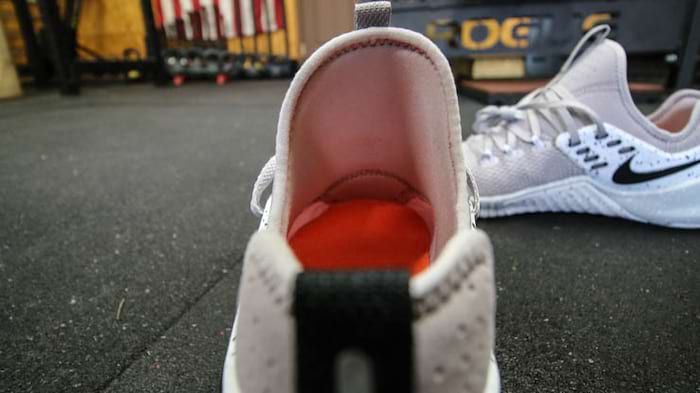 The heel to toe drop of the Free X Metcon's is 5mm which is in between the Nike Metcon DSX Flyknit 2's at 6mm and Nike Metcon 4's at 4mm, another shoe we've rated highly.
Along with this, the sidewall design of the Free X Metcon's only enhances its versatility. We tested these shoes in a quick pick-up basketball game and the shoes more than held up. This is due to the sidewall design and a greater focus on athletes that utilize lateral movements.
Nike designed the shoe to specifically help athletes with side to side lateral movements (think everyone but CrossFit athletes) like what takes place in a basketball game.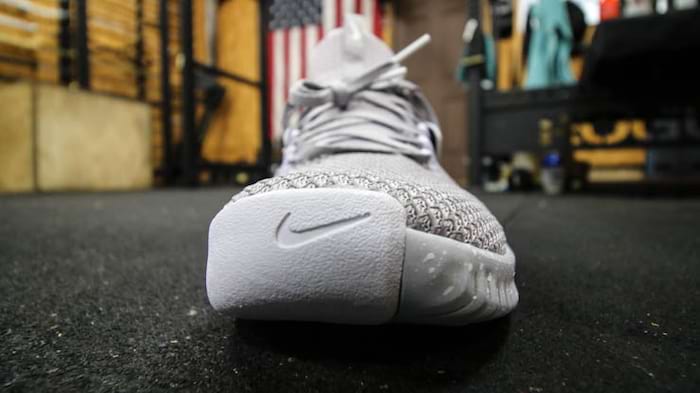 My foot never felt insecure while playing, I never felt I was one step away from twisting my ankle, and I would play basketball in these again if needed.
But of course, not everyone is going to use these shoes to play basketball in...but our thought was, why not test it.
To take these training shoes to the next level, Nike added heel clips that roll up the lateral and medial sides of the shoe. This is extremely helpful to anyone that decides to flip upside down and perform hand-stand push-ups.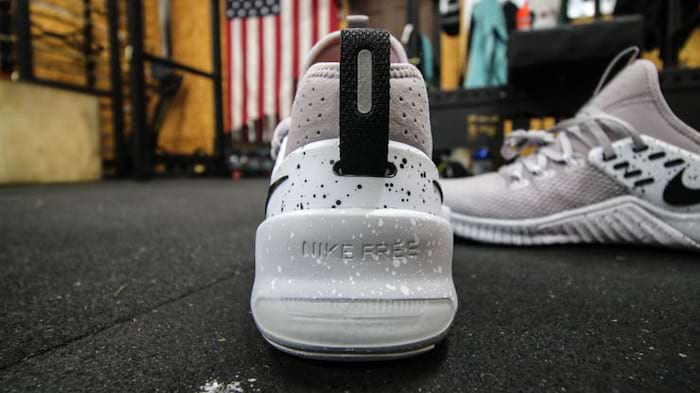 For anyone that competed in the CrossFit Open 2018, this would have come quite handy for 18.4.
Heel clips are designed to give the athlete minimal to almost zero drag while doing hand-stand push-ups. With just a rubber medial outsole, it can be difficult to get into a rhythm and you are making it harder on yourself with all of the friction/drag that is produced.
Finally, the midsole is built into the shoe. What this means is less likelihood for the shoe to squeak, which is a big benefit over the traditional Metcon line.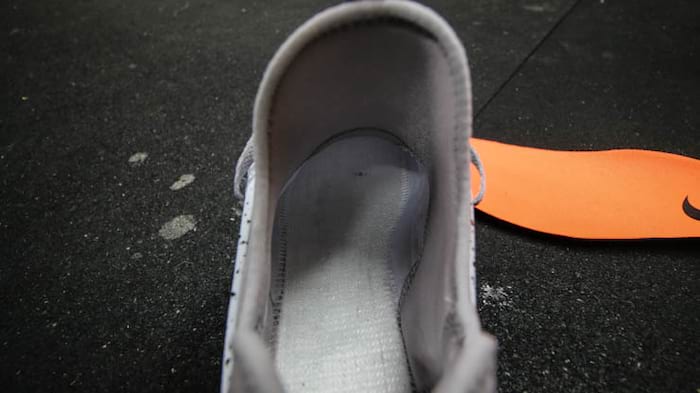 Top to bottom the Nike Free X Metcon's are some of the most versatile and durable shoes available, and at a price point of $119 should not go overlooked.