We test and review fitness products based on an independent, multi-point methodology. If you use our links to purchase something, we may earn a commission. Read our disclosures.
It's pretty common to find plant-based menu items on popular prepared meal delivery services, but it's unique to find a company dedicated to every item centered around vegetables. In this Mosaic meal delivery review, I'll cover all the details from signing up for Mosaic Foods to what it's like receiving your first box of frozen food.
While not all options are 100% vegan meals, the entire menu is plant-based. You'll also find several menu items that are dairy-free, soy-free, nut-free, and gluten-free.
If you're looking for a healthy meal delivery service that will help you consume fewer animal products, Mosaic Foods could be the right plan for you.
RELATED: Best Vegan Protein Powder
Medical disclaimer: This article is intended for educational and informational purposes only. It is not intended as a substitute for medical advice. For health advice, contact a licensed healthcare provider. GGR also recommends choosing a product that has been third-party tested for quality.
Over 40 Meal Delivery Services Tested
At Garage Gym Reviews, we're staffed with a team of fitness industry experts ranging from certified personal trainers to nutrition coaches. We know everything about fitness, from the best squat racks to the best pre-workout.
I personally tested Mosaic Foods and followed our rigorous testing methodology protocols that we used for all 40 meal delivery services our team tried. I even spoke with GGR expert panelist, registered dietitian and licensed dietitian Perry Nix, RD, LD, to get her overall impressions on this plant-based and whole food meal delivery service.
Mosaic Foods
GGR Score: 4.47
Product Highlights
Plant-based meal service

Frozen meals and smoothies

Schedule deliveries every 1-4 weeks
Pros & Cons
Pros
Sustainability-sourced, plant-based meals
Vegetarian and vegan options
Many nut-free and gluten-free options
Cons
Additional shipping fees for each delivery
Subscription model
Not all meals have a high-protein content
Bottom Line
Mosaic is a frozen meal delivery service that offers plant-based options for vegetarians, vegans, and omnivores alike. Once you sign up, you'll have access to pick your meals and view pricing. While all meals are meat-free, you'll find a variety of nut-free, gluten-free, soy-free, and vegan options as well. Mosaic has a wide selection of frozen veggie bowls, family meals, pizzas, smoothies, soups, and oat bowls.
A Quick Look at Mosaic Meal Delivery Service
In 2019, Mosaic Foods started with two friends (Matt and Sam) searching for a better, quicker way to eat plant-based meals. They decided that a frozen meal delivery service centered around vegetables could be one way to help people live healthier lives and have a better impact on the environment.
The goal was to make Mosaic Foods craveable enough for omnivores to eat night after night and offer more satiating meal options than just a salad. And they did just that.
Before You Buy
Mosaic Foods is dedicated to providing a menu with 100% plant-based meals
The service offers a selection of smoothies, soups, oat bowls, pizzas, and veggie bowls
Mosaic is free from artificial ingredients like Xanthan gum, maltodextrin, and cornstarch
Is Mosaic Foods Delivery Service Worth It?
After browsing the menu, ordering, and taste-testing Mosaic Foods, I can honestly say this meal delivery service is worth it for anyone truly trying to eat more plant-based and vegetarian meals. Meals range from $8 to $12 per serving, and each meal left me feeling satiated (as if I had consumed traditional high-protein foods for muscle building).
I also appreciate that this plant-based meal delivery service has a fully a la carte menu, and you're not locked into ordering from certain categories (Ahem…looking at you, Splendid Spoon).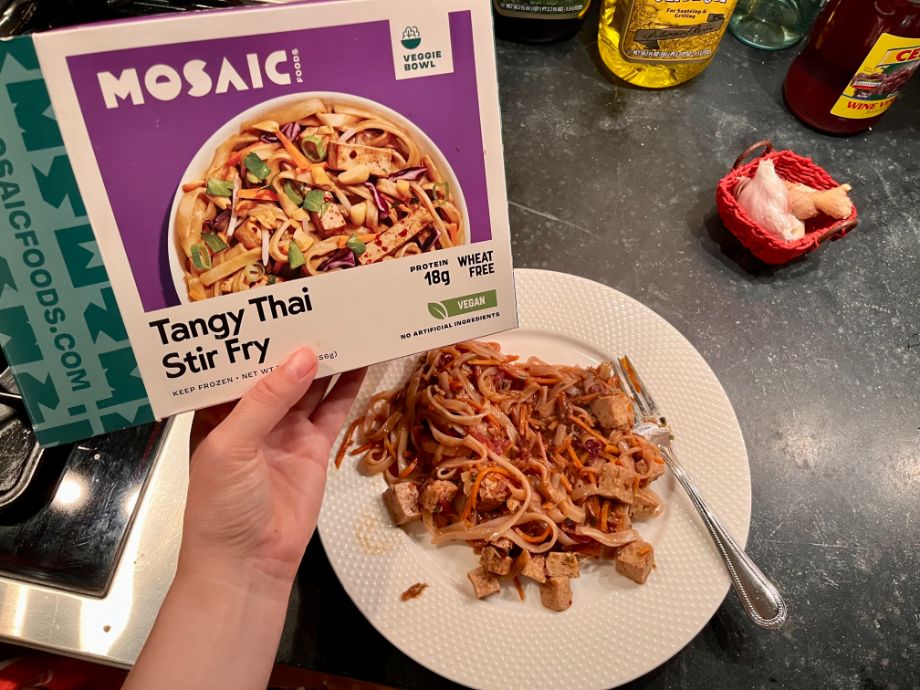 Great for:
Plant-based diets
Single-serve or family meals
Breakfast, lunch, or dinner
Not recommended for:
High-protein dieters
Dairy-free diets
Low-carb or keto diets
Mosaic Foods Meal Delivery Service Specs
| | |
| --- | --- |
| Price per meal | $6 to $12 per meal |
| Meals per week | 6-meal minimum |
| Meal kit or prepared | Prepared |
| Diet options | Vegetarian, Vegan, gluten-free, soy-free, |
| Fresh or frozen | Frozen |
| Delivery area | Most metro areas in Eastern and Western USA |
Overall Experience with Mosaic Meal Delivery
To get a full picture of my taste-testing experience with Mosaic Foods, I think it's important to tell you that I eat meat and dairy products. I'm not a plant-based dieter, and this meal plan didn't convert me either.
That said, I was pleasantly surprised by how delicious and satisfying each of the Mosaic Foods pre-made meals were. The plant-based meal delivery service arrives frozen and ready for you to eat. The brand offers an a la carte menu of plant-based smoothies, soups, oat bowls, pizzas, and veggie bowls.
Here are the meals I tried from Mosaic Foods:
Sweet Chili Tofu Bowl
Tangy Thai Stir Fry
Raspberry Cacao Smoothie
Mango Lassi Smoothie
Mushroom Lover's Pizza
BBQ Seitan Pizza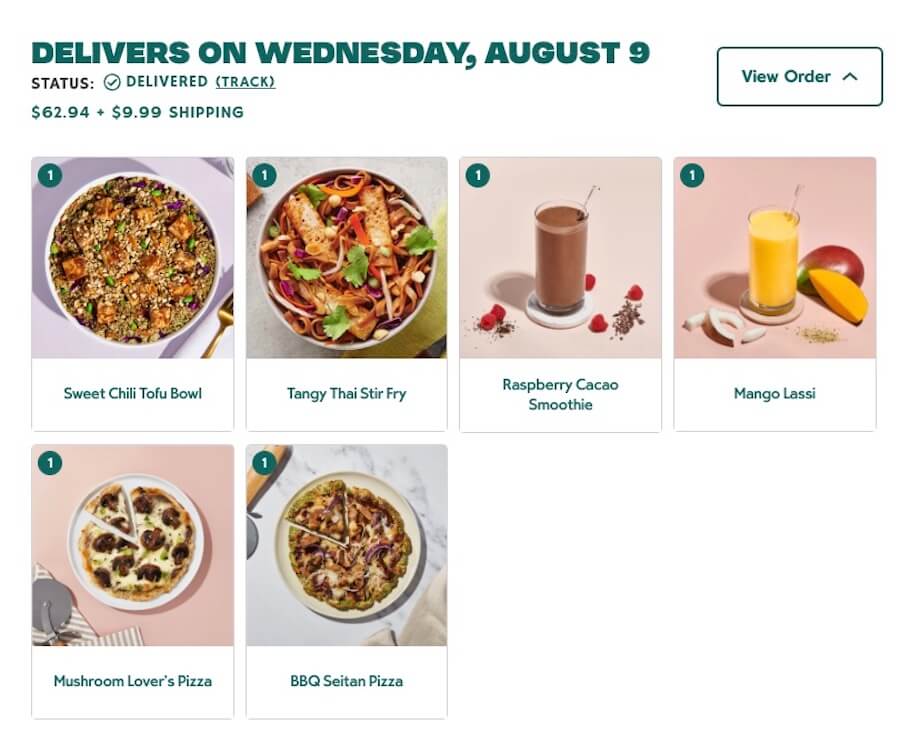 I tried all single-serving meals that could either be blended (smoothies), reheated (veggie bowls), or cooked in the oven (pizzas). However, there are larger, casserole-style meals on the menu advertised as Family Meals, like Veggie Pot Pie, BBQ "Meatloaf" & Sweet Potato Mash, or Curried Lentil Shepherd's Pie. 
Price Per Meal
With Mosaic, you'll have to sign up for the subscription plan before choosing your menu items, but rest assured this delivery service is cheaper than takeout. I give Mosaic a 4-out-of-5-star rating when it comes to price per meal.
I don't totally respect the subscription-based models of some of the best meal delivery services (or the fact you need a minimum of six menu items in your cart per order). But I do appreciate the a la carte menu and the fact items range from $6 to $24.
Here is a quick breakdown of what to expect for prices:
Oat bowls: $5.99
Smoothies: $8.49
Soups: $8.99
Veggie Bowls: $10.99
Pizzas: $11.99 (two servings)
Family Meals: $23.99 (four servings)
It's worth noting that you'll have the option to choose the cadence of your meal deliveries from every one to four weeks, which I didn't see on every meal service I tried. Many of the best meal kits and meal delivery services let you skip a week, but there were no options to make a monthly meal delivery—you'd have to do that manually yourself with most services.
Mosaic Meal Delivery Meal Preparation
Because Mosaic Foods are all frozen meals, the preparation is straightforward. Many meals can go in the microwave directly from the freezer, but it's suggested that you prepare some meals on the stovetop (like the veggie bowls and oat bowls).
Meals were excellent after preparing on the stovetop, and I was able to crisp-up the tofu on the Sweet Chili Tofu Bowl I tried, and found the vegetables felt pretty fresh and not mushy at all. I give Mosaic a 4.5 out of 5 stars for preparation, with just a half point knocked off because it will take a little extra time to prepare than just tossing it in the microwave. Keep this in mind if you plan to take them to work and only have access to a microwave.
Taste, Ingredient Quality, and Portion Size
When it comes to taste, I give Mosaic Foods a 5-out-of-5-star rating. I thought the meals were overall very tasty and all the meals I tested had excellent flavor and texture.
I was apprehensive going into testing Mosaic with everything being plant-based and assumed it would be either too bland or too earthy. To my surprise, these meals were packed with a sort of umami flavor.
For portion size, I give Mosaic a 4.5-out-of-5 star rating. Everything I tried was very filling and I didn't need to supplement with a snack later on to feel full.
Because this is a plant-based meal plan, the protein content is lower than I'd prefer per serving (even with some quality high-protein vegetables included). Speaking as a certified personal trainer, I recommend that my clients consume about 20 grams of protein (or more) at each meal. The veggie bowl entrees have a selection of high-protein, plant-based meals, but the oat bowls, pizzas, and smoothies are generally not over 10 grams per serving. I even tried one smoothie with only two grams of protein.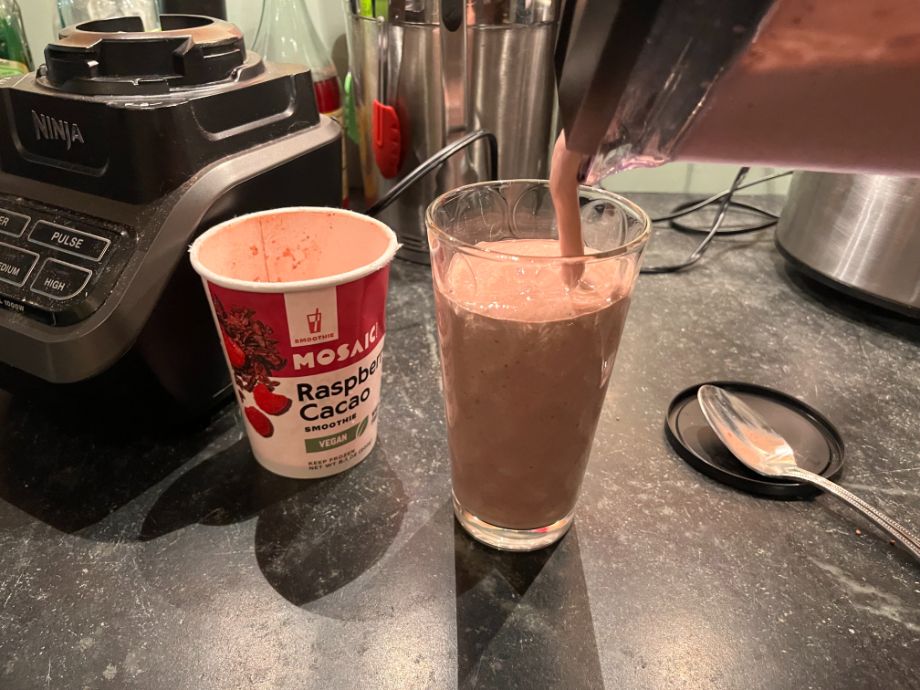 That said, the Sweet Chili Tofu Bowl I tried had 25 grams of plant protein. I even noticed the Peanut Tofu Bowl meal has 27 grams of protein, which is impressive for a plant-based meal.
RELATED: How much Protein Do I Need?
Additionally, carbohydrates are on the high end, but I'm not surprised by this because it's a plant-based meal plan with complex carbohydrates like lentils, quinoa, rice, sweet potatoes, and butternut squash.
And lastly, for ingredient quality, I rate Mosaic at 4.5 stars: It's pretty darn healthy and offers mostly whole foods. Plus, everything is non-GMO. There are even menu items advertised as low sugar (or no added sugar), nut-free, wheat-free, and soy-free.
When it comes to ingredient quality, Perry Nix, RD, LD, notes that "All of the single-serve and family meals are made with four or more vegetables to maximize taste, texture, and nutrients."
"Vegetables are full of vitamins and minerals that promote immune health, improve vision, and support strong bones and a healthy metabolism. Plus, vegetables are fairly low calorie and keep you feeling satiated—so the fact there are multiple vegetables in each meal is a bonus," she adds.
Meal Plans and Customization
When it comes to meal plans, I give Mosaic a 4-out-of-5 star rating. I take a point off for not having a filtering option if you're looking for gluten-free, dairy-free, or nut-free meals. These dietary restrictions do exist within the menu, but you have to read the meal description and nutrition facts to find out—there is no specific meal plan (or option to filter the menu) if you adhere to a gluten-free diet.
RELATED: Best Gluten-Free Meal Delivery
Other than the fact I wish Mosaic had a way to filter menu items by allergens, the brand gets a thumbs up from me. It's basically a plant-based a la carte menu, which is the ultimate customization, in my opinion.
For variety, I give Mosaic a 4-out-of-5 star rating. There are different categories of meals, including smoothies, soups, oat bowls, pizzas, veggie bowls, and family-style casserole meals. I don't think you'll get bored right away, but if you're on a weekly cadence, you might start to run out of new meals to choose from. It's a set menu of frozen food and while new items do get added once in a while, it's not a rotating menu or a seasonal menu by any means.
Perry Nix, RD, LD, notes that while she likes "the convenience of the bake-and-serve family meals, eating casserole-type meals and baked pasta could get old quickly." And I think the same goes for the 23 veggie bowl options currently available on the Mosaic Foods website.
Ordering, Packaging, and Shipping
It's pretty easy to order, but the one thing I noticed—and didn't care for—was the fact you have to sign up with your email address before you can view pricing and select meals to order. For this reason, I give Mosaic Foods a 3-out-of-5-star rating for ordering.
However, for the nutritional information—both on the website and individual packaging—I rate Mosaic at 5 out of 5 stars. Everything is labeled with a traditional nutrition label, which includes calories, macronutrients, and ingredients.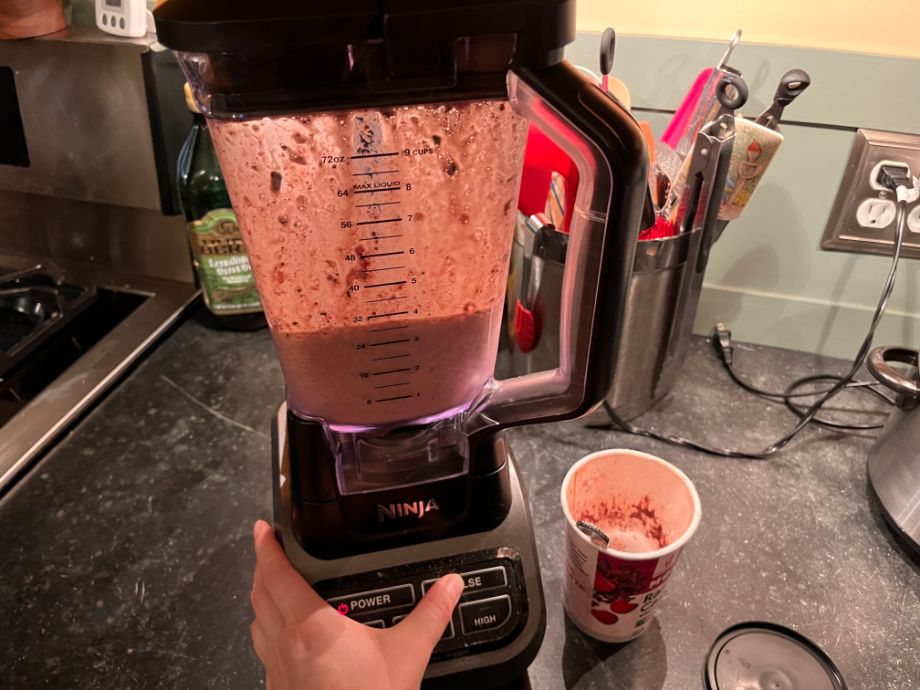 RELATED: Macros for Weight Loss
I also rate Mosaic at 5 out of 5 stars for shipping and packaging: The website states that all the packaging is recyclable, including the ClimaCell insulation and the cardboard box. It's shipped with dry ice and was completely frozen when it arrived at my doorstep. I live in northern New England, and shipping is rarely quick, so I was happy to see the dry ice still intact and the food still completely frozen.
Mosaic Foods vs Purple Carrot
Purple Carrot
GGR Score: 4
Product Highlights
Vegan meal kits and prepared meals

Breakfasts, lunches, dinners, and pantry items available

Boxes ship weekly

Quick prep options (meals that take less than 25 minutes)

Most non-produce items are organic
Pros & Cons
Pros
Has meal kits and prepared meals
Can choose from the whole menu
All meals and snacks are available
Menus change weekly
Cons
Can't mix and match meal types
No option for add-on proteins
Maxes out at 4 meals per week
Limited meal choices
Bottom Line
Purple Carrot offers vegan meal kits and prepared meals. There are no specific meal plans, but you can choose from the full menu, which includes breakfasts, lunches, dinners and "plantry" items—add-on products like brownie bites and salad dressing. You can't mix and match meal types, though.
Mosaic Foods compares to Purple Carrot because they are both plant-based meal delivery services. However, if you're looking for a truly vegan meal delivery service, Purple Carrot might be the best option for you. The entire menu is 100% vegan, and offers both meal kits and prepared meals. We've even selected Purple Carrot as our top pick for best vegan option in our best organic meal delivery roundup.
However, our expert panelist and registered dietician Perry Nix warns that Purple Carrot offers a limited selection of prepared meals. "Purple Carrot offers some pre-made meals, but this probably isn't the best meal service if that's what you're looking for," she says. "Their pre-made meal selection is limited, and you'll run out of options quickly."
It's also worth noting that Purple Carrot has a four-meal maximum, and Mosaic has a six-meal minimum. While this may not be a dealbreaker, if you'd rather have the option to order more food, Mosaic won't limit you on how many frozen meals can go in your cart each order.
| | | |
| --- | --- | --- |
| | Purple Carrot | Mosaic Foods |
| Price per meal | $6.63 | $6 to $12 per meal |
| Meals per week | 4-meal maximum | 6-meal minimum |
| Meal kit or prepared | Both options available | Prepared |
| Diet options | 100% vegan menu | Vegetarian, Vegan, gluten-free, soy-free, |
| Delivery area | Contiguous U.S. | Most metro areas in Eastern and Western USA |
Customer Experience
Mosaic Foods operates in this new-age subscription-style model, which irks me to my core. Plus, as I mentioned earlier, I was annoyed that I couldn't look through the full menu without signing up for the subscription meal service (but enough about me).
I appreciate the fact you can set your delivery cadence between one to four weeks and skip a week as many times as you want. You can also cancel with a quick and easy email to support@mosaicfoods.com without the need for explaining yourself (see my email correspondence below). You can also call during business hours or fill out a general inquiry form on the website.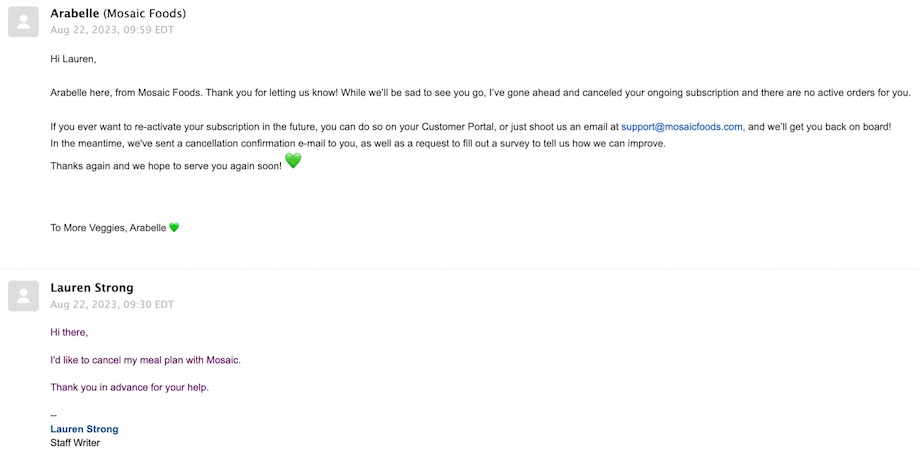 In addition to my experience with customer support, I appreciate the fact that Mosaic Foods offers recyclable packaging (even the ClimaCell insulation). Plus, it comes packed in dry ice, which you can let evaporate outside and recycle the plastic bags once it's gone.
Customer Reviews
While there are no customer reviews on the Mosaic Foods website, I was able to find over 800 customer reviews and a 4.7 overall rating on Trustpilot. Most folks are happy with the quality and taste compared to some of the best plant-based meal delivery services on the market.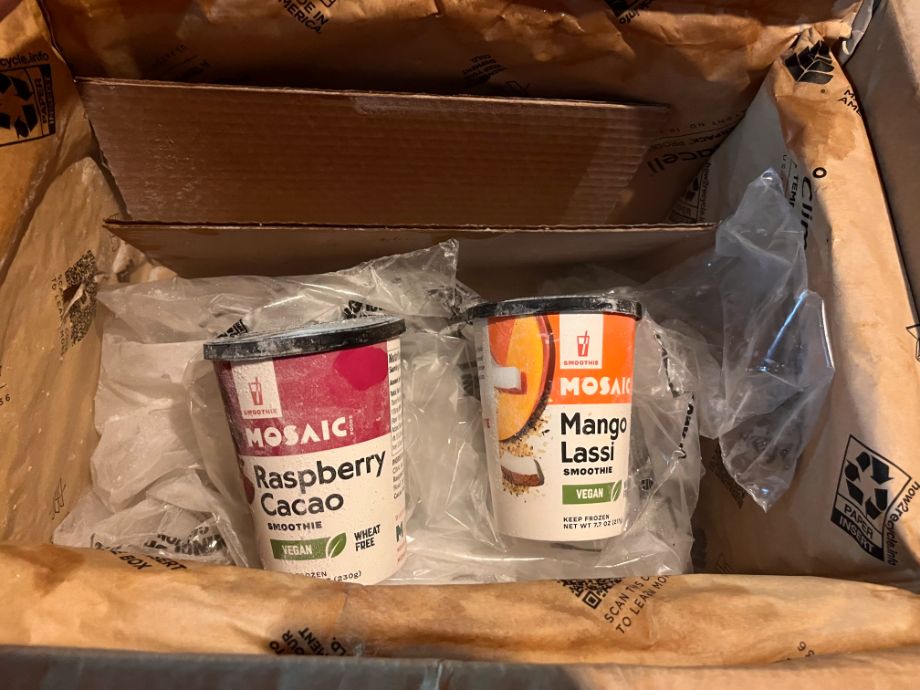 Although the reviews were overwhelmingly positive, there were two themes I noticed: Folks commented on the lack of variety in the menu (no new meals or rotating items) and the inability to deliver to everywhere in the United States.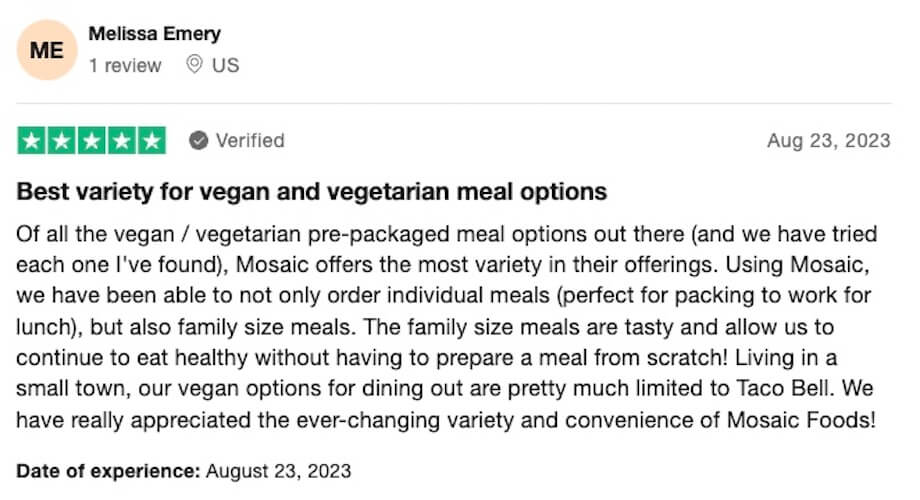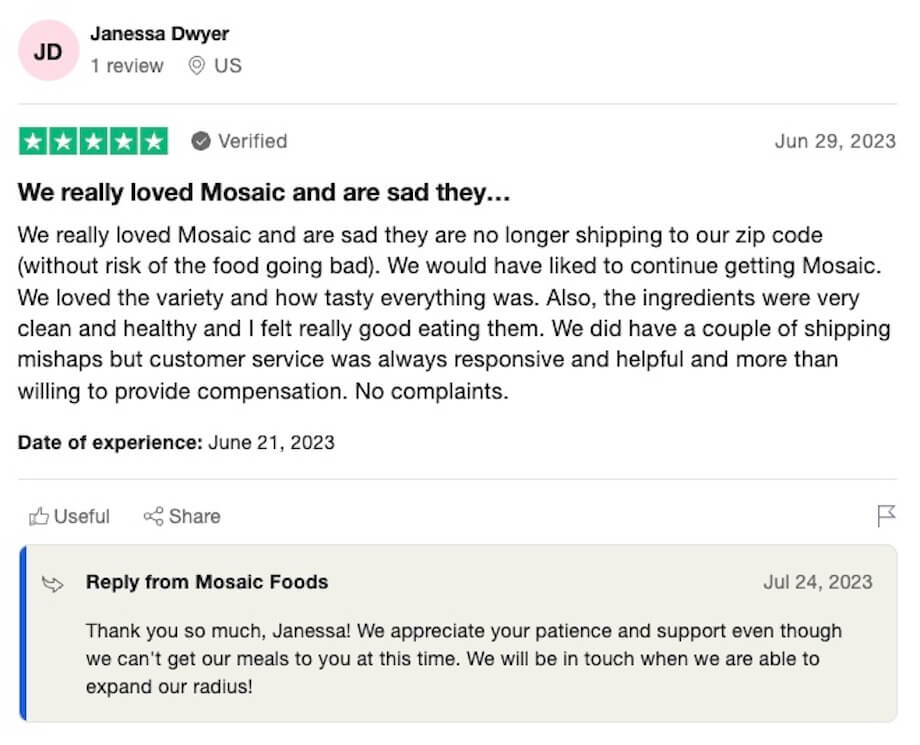 Final Verdict of Our Mosaic Foods Review
While Mosaic Foods won't be the best meal delivery service for everyone, they offer a tasty and inexpensive option for plant-based eaters with busy schedules. Plus, there is virtually no meal preparation other than reheating on the stovetop, oven, or microwave. 
Here are some things to consider before ordering Mosaic:
Every meal through Mosaic is plant-based and meat-free.
While there is no meat, not all menu items cater to eliminating allergens like nuts, soy, dairy, and gluten.
No meal prep is required, just reheating (or blending for smoothies).
Stick to entrees and pizzas if you're looking for high-protein, plant-based meals—smoothies, soups, and oat bowls cap out at 10 grams of protein per serving.
Mosaic Meal Delivery Rating
Mosaic Meal Delivery Rating
In our Mosaic Meal Delivery review, we'll cover the details from ordering to eating because we tested this plant-based meal delivery ourselves.
Product Currency: USD
Product In-Stock: InStock
Mosaic Meal Delivery FAQs
How does Mosaic Foods work?
To order Mosaic Foods, you'll have to first sign up with an email address to access the entire menu. Once you select your items (minimum of six), you can pick your delivery cadence of every one to four weeks. Your credit card payment will be processed before the delivery goes out.
Is Mosaic Foods frozen?
Yes, Mosaic Foods is a frozen meal delivery service offering plant-based meals.
Is Mosaic Foods processed?
Mosaic Foods offers frozen, whole food, plant-based meals. While some of the animal protein alternatives Mosaic uses are processed (like tofu or seitan), the food delivery company steers away from processed foods and artificial ingredients.
How do I cancel my mosaic food delivery?
You'll have to send an email to support@mosaicfoods.com to cancel your plan with Mosaic Foods. You can also call customer service.
How much is Mosaic?
Mosaic offers meals priced between $6 to $24 with a six item minimum.
These statements have not been evaluated by the Food and Drug Administration. This product is not intended to diagnose, treat, cure, or prevent any diseases.