We test and review fitness products based on an independent, multi-point methodology. If you use our links to purchase something, we may earn a commission. Read our disclosures.
Once your home gym is stocked with the necessities, there's an opportunity to get more creative with your next purchase. Specialty bars are a solid next step, and a trap bar would be a wise choice, says Cooper Mitchell, Garage Gym Reviews founder and our resident barbell expert. In this Giant Open Hex Trap Bar review, we'll break down the pros and cons of Giant Lifting's latest iteration of their budget-friendly open trap bar.
While trap bars, aka hex bars, traditionally wrap all the way around a lifter standing in the center, like the Rogue TB-1 and Rogue TB-2 bars, models with an open design such as the Giant Northland Open Hex Trap Bar are open on one side, making them a more versatile piece of equipment than their closed counterparts.
The Giant Northland Open Hex Trap Bar is undoubtedly a great value. At less than $300 during the brand's frequent sales (plus shipping), you'd be hard pressed to find another option with the same trimmings at that price.
"This is the cheapest, generally, open trap bar available, and also borrows features from the very high-end trap bars you know and love — Eleiko, Kabuki, and others — and combines those features at quite possibly the lowest price point of any open trap bar," Coop says. Let's dive into the specifics.
We've Got Your Back
Here at Garage Gym Reviews, we're committed to taking at least some of the hard work off your hands as you stock your home gym with quality equipment that fits your personal needs and budget, from the best dumbbells to the best treadmills. Our testers are bona fide fitness experts, including certified personal trainers, competitive weightlifting athletes, certified CrossFit Level 1 Trainers, and nutrition coaches, to name a few. We know our way around a gym, and you can rest assured we know what separates the good from the bad when it comes to home gym equipment. Read on for our take on the Northland Open Hex Trap Bar from Giant Lifting. 
GIANT Northland Open Hex Trap Bar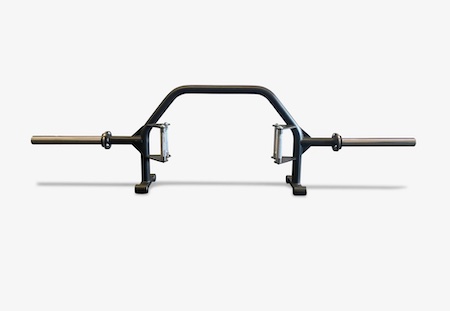 GGR Score: 4.18
Product Highlights
Trap bar with open hex design
Built-in jack
Dual knurled handles
Weighs 45 lbs
Weight capacity is 800 lbs
25" in between handles
Pros & Cons
Pros
Built-in jack
Dual knurled handles
Weighs 45 lbs
Great value
Respectable weight capacity
Cons
Isn't balanced
Lighter weight capacity than similar open hex bars
Distance between handles cuts down on versatility somewhat
Handles are not removable
Bottom Line
The GIANT Northland open hex trap bar provides a great value for the price—800-pound weight capacity, a built-in jack, and versatility in movements.
A Quick Look at the Giant Northland Open Hex Trap Bar
The latest version of Giant Lifting's Northland Open Hex Trap Bar is the brand's fourth iteration of an open hex bar design. As Coop points out, the bar features some of the trimmings seen on higher-end open hex bars at a significantly more affordable price.
One feature many lifters will appreciate is that the bar fits on most standard-size power racks, similar to the Eleiko Öppen Deadlift Bar. While deadlifts and farmers walks are arguably the most common trap-bar exercises, rackability makes it possible to do overhead presses and rack pulls, for example.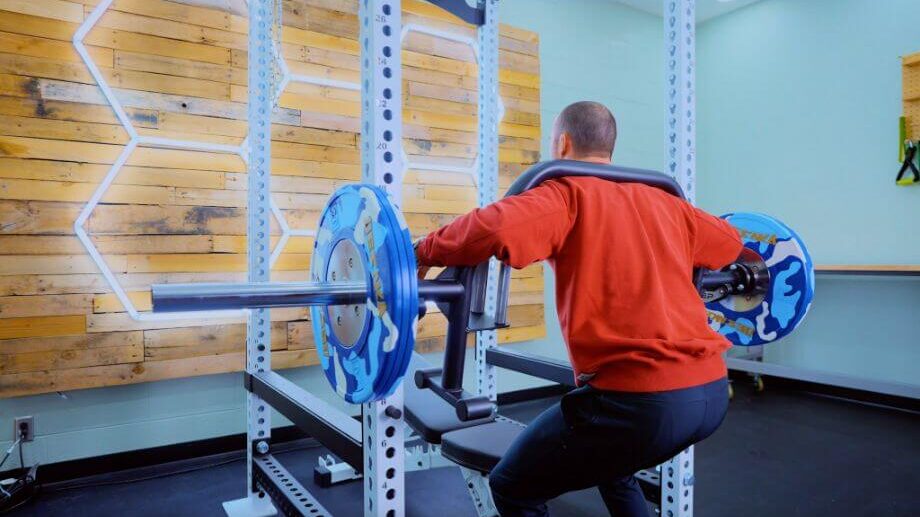 The Northland Open Hex Trap Bar also has dual handles à la Kabuki Strength's Open Hex Trap Bar. The dual handle heights may seem trivial to some, but they're a huge plus in Coop's book.
"In my training, I'm almost always using the higher handles," Coop says. Even the slight difference in height between the low and high handles can change the range of motion, making certain lifters less injury-prone and helping them go heavier, like Coop.
A built-in deadlift jack with high-quality solid steel feet allows you to stand the bar upright and load it without lifting it — a seriously convenient feature if you plan on lifting heavy. Standing the bar up on the jack also minimizes its footprint, making storage easier.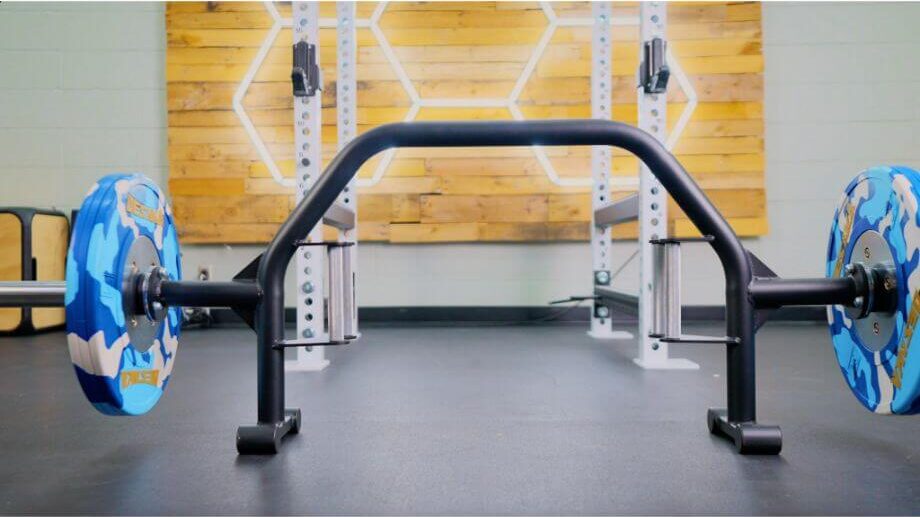 Before You Buy
This bar can be assembled quickly and weighs 45 pounds, taking the guesswork out of the equation for most lifters.
It's not balanced, meaning when you load it in a jacked position and return it to the ground, it falls forward—this probably isn't a huge deal for most people, just something to be aware of.
The 800-lb weight limit is lower than other open trap bars, but again, should be more than enough for most lifters.
Video Review
Is the Giant Northland Open Hex Trap Bar Worth It?
If you ask Coop, the Giant Northland Open Hex Trap Bar is a great value considering its low price point and list of features. It has some features akin to bars that are much more expensive, and the build quality is respectable.
Great for:
Home gym owners on a budget
People looking for a versatile bar
Those who want a rackable trap bar
Not recommended for:
Competitive athletes who require a higher weight limit
Those who prefer removable handles for pressing and squatting
Lifters looking for a high-end open trap bar
Giant Northland Open Hex Trap Bar Specs
| | |
| --- | --- |
| Overall length | 85.25″ |
| Weight | 45 lbs |
| Weight capacity | 600 lbs while jacked; 800 lbs functional capacity |
| Width from handle to handle | 25″ |
| Loading position height | 23.75″ |
| Frame/shaft length | 51.25″ |
| Loadable sleeve length | 16″ |
| Handle diameters | 28 mm, 38 mm |
| Sleeve diameter | 50 mm |
Using the Giant Northland Open Hex Trap Bar
You know Coop tested out Giant's Open Hex Trap bar thoroughly to give you the best review possible. Here are his thoughts.
Construction
Coop compares the construction of this bar to the REP Open Trap Bar, which comes in at a slightly higher price point than the Northland. The build quality won't stack up to a Kabuki or Eleiko bar, but those options will cost you more than twice as much depending on the brand.
The welding is consistent and smooth, indicating that they use machine welding, Coop notes. And the black powder coat is "good enough to get the job done and provide corrosion resistance," he says. The sleeves are chrome and Olympic-style, meaning you can use the same bumper plates and barbell collars as you do on Olympic barbells.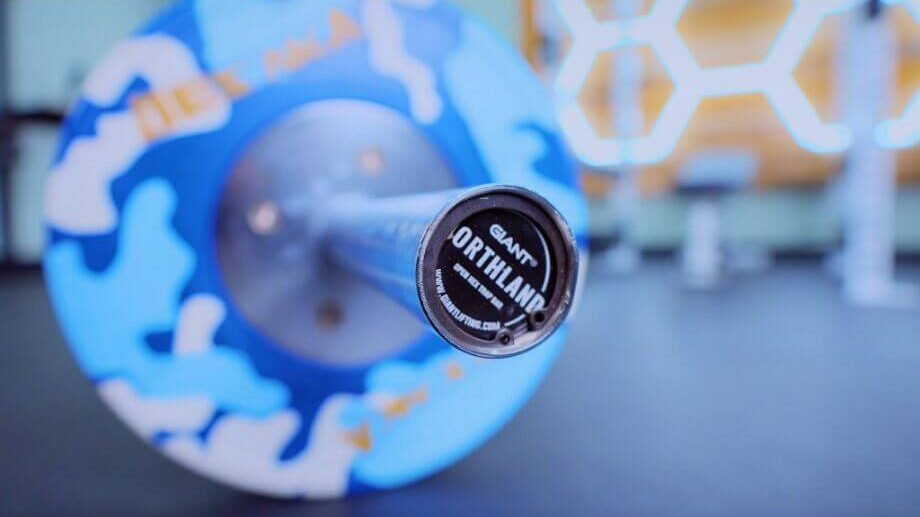 Welded caps on the jack stand are another plus, as is the addition of end caps on the bar, Coop says. While previous models had rotating handles, version 4 of the Northland hex bar has a fixed set of handles that are chrome and have medium to medium-aggressive knurling.
The Ergonomics
The distance from handle to handle is just about ideal for deadlifting, Coop says. Most people will find it to be comfortable, unless you're particularly tall, he says.
Another plus for Coop is the bar's weight. This trap bar weighs 45 pounds, making it easy to move around or place on a squat rack and simple to do gym math, since it's a base weight that most lifters are used to.
For overhead presses and squats, the area between the fixed handles is relatively narrow, which is something to consider if you want to do lots of pressing with your open hex bar. Also, the space would likely be too narrow for most people to bench press with this bar.
A final note is one that Coop considers a drawback — the bar is not perfectly balanced, so it tips forward when resting on the floor. But at its price point, that may not be a worry for most. This bar also isn't ideal if you plan to drop it often, as there are points that may be prone to bending and breaking at high loads. 
Comparison to REP Open Trap Bar
REP Open Trap Bar
Product Highlights
Removable handles turns this trap bar into a cambered-design bar that can be used for squats, lunges, and presses
Costs around $400 (good price for a trap bar)
6 inches of knurling on the frame
Chrome-plated sleeves
1,350-lb weight capacity
Pros & Cons
Pros
Removable handles increase its versatility
Rackable
Durable chrome coating on sleeves
Costs around $400
Cons
Not the most stable trap bar
Handles are wider apart than other trap bars
Knurling leans on the passive side
Bottom Line
The REP Fitness Open Trap Bar is a great value specialty bar filled with features that separates it from the competition.
The open trap bars most comparable in price and features to Giant Lifting's model are the REP Open Trap Bar and the Bells Of Steel Olympic Open Trap Bar / Hex Bar. While Coop recommends the Giant Lifting Northland Trap Bar over the Bells Of Steel Olympic trap bar right out of the gate, REP's model is a stronger competitor. Titan Fitness also makes an open trap bar at a similar price point, but we've yet to try it.
The REP Open Trap Bar is $100 pricier than Giant Lifting's bar at retail, but the Northland Trap Bar is frequently on sale. Even with shipping costs factored in, the Giant Lifting model comes in at a lower price point.
One benefit of the REP Fitness bar is its removable handles — this creates more space in the cambered section of the bar, which is great for squatting, lunging, and pressing movements when the handles may get in your way if you can't remove them.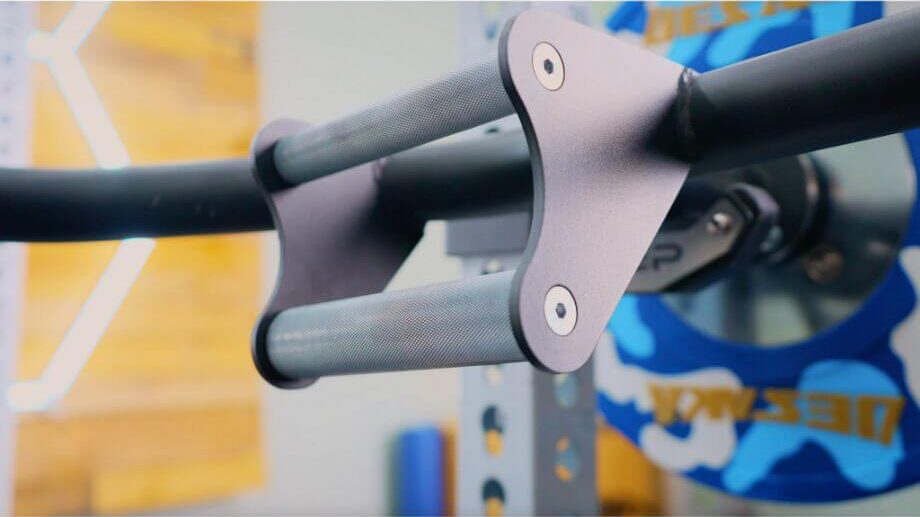 "If it were me in my garage, I would probably go with the REP Open Trap Bar if I were within that price point, and the reason is I use the camber part of the bar a lot," he says. The REP Fitness trap bar also has knurling in the center of the cambered section, which is a plus for times when you rack the bar on your back.
If you don't plan on using it as a camber bar much and mainly foresee yourself using it to trap bar deadlift, note that Coop actually prefers the trap bar portion of the Giant Lifting trap bar over the REP open trap bar. And if value is your main goal, Giant Lifting may reign supreme. The best trap bar for you may not be the same for someone else, so take your needs into account first and foremost.
Customer Experience
Giant Lifting has a general warranty covering material workmanship and defects on equipment, although cosmetic issues are typically not covered. For the Northland Open Hex Bar, the warranty covers one year from the date of purchase.
Note that the warranty is voided under certain conditions, including if the bar is dropped on spotter arm pins, benches, or safety arms. Damage from overloading the barbell is also not covered under warranty.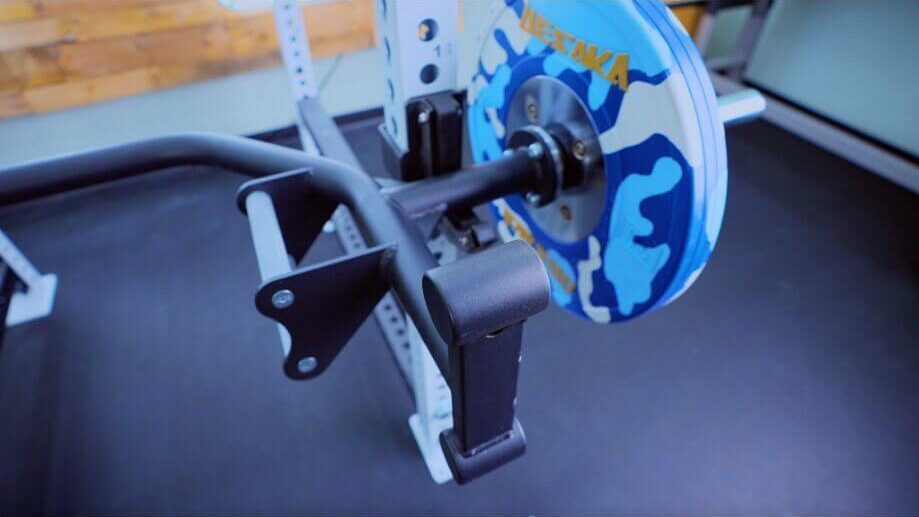 Ordering and Assembling the Giant Northland Open Hex Trap Bar
Ordering online is simple, and while it retails at $300, this bar is often on sale and the company offers discounts for military, first responders, and teachers. The cost of shipping depends on your specific location, and there are multiple locations where you can pick up an order in Washington or Arizona. Returns can be made within 30 days, but the product must be unopened and in new condition.
The bar arrives in a cardboard box packed with foam to minimize any dings or dents, and assembly is simple. You simply attach the sleeves with three bolts on each side using an allen key, and you're ready to lift.
Customer Reviews
The Giant Lifting Northland Open Hex Trap Bar has 39 reviews on the Giant Lifting website, with an overall 5-star rating.
Final Verdict of Our Giant Northland Open Hex Trap Bar Review
When it comes to value, Giant Northland Open Hex Trap Bar is hard to beat. With its dual handles, rackability, and built-in jack, it's a solid option for those whose main use will be deadlifting but who also want versatility on a budget.
The biggest hangups for Coop are the fact that the bar isn't balanced, as well as the relatively narrow space you have when you use the bar for pressing movements or squats because the handles are fixed. Depending on your personal preference, these drawbacks may not affect your workouts — and the bar is still versatile.
The relatively low rated weight limit is arguably the biggest thing to consider if you're a competitive athlete who would be deadlifting more than 800 pounds, although most people, especially beginners, won't find this limiting. In that case, a higher-end bar would be the way to go.
Overall, the Giant Northland Open Hex Trap Bar packs some great features into a low price point. Despite any drawbacks, the price is difficult to beat.
Giant Northland Open Hex Trap Bar Rating
Giant Open Hex Trap Bar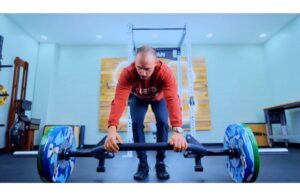 Learn all about one of the best budget open trap bars in this Giant Open Hex Trap Bar review.
Product Brand: Giant Lifting
Product Currency: $
Product Price: 300
Product In-Stock: InStock
Giant Open Hex Trap Bar Review FAQs
Are open trap bars worth it?
Open trap bars are a great investment for those who already have a standard barbell in their home gym, especially given their added versatility versus closed hex trap bars.
Are hex trap bars worth it?
For lifters who only intend to use their hex bar for deadlifts and farmers carries, a standard hex bar can still be a worthy investment.
What kind of trap bar is best?
The best trap bar for your home gym depends on your personal goals and budget, and key factors like the lifts you plan to do and the equipment you already have should guide your decision.
Is it OK to deadlift with a hex bar?
The trap bar deadlift variation is actually recommended for those with lower-back issues, because the center of gravity and neutral grip while using a hex bar takes some strain off of the lumbar spine relative to standard deadlifts with a straight bar.