Fringe Sport makes some of the best gear for your money, ANYWHERE.
Their bumper plates are pretty much the industry standard, but they've decided to start adding contrasting colors to make them more identifiable. I think this is a great idea, especially for large gyms that would like to make it easy on their members to identify their weight and put them up in the right place.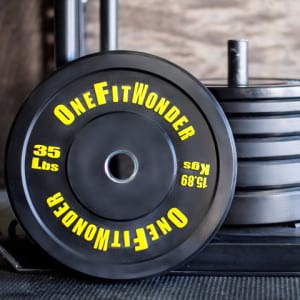 Specifications:
OneFitWonder contrast bumper plates are manufactured to go toe to toe with any bumper plate on the market. They are constructed with virgin rubber formulated specifically for its durability, density and low bounce. Most importantly, they go through the most customer-focused manufacturing, quality control and shipping process in the industry so you can rest assured that you are getting the highest quality plates with and we are taking the utmost care to ensure they arrive to you in pristine condition!
Extremely durable, will last for years in a garage or affiliate
Expertly designed stainless steel insert that remains firmly seated
Higher density means thinner bumpers and you can fit more weight on the bar
Weight Tolerance +/- 10 grams of declared weight
Low, dead bounce makes these safe in tight spaces
Plates are in pounds and are sold in pairs