We test and review fitness products based on an independent, multi-point methodology. If you use our links to purchase something, we may earn a commission. Read our disclosures.
We don't have to tell you why adjustable dumbbells are some of the best home gym equipment out there, right? You already know they help you save space and money, and that they provide you the same strength training benefits as free weights. OK, good. Now you just have to find the best adjustable dumbbells, which is easier said than done considering there are so many options.
Our EzBlock adjustable dumbbell review looks at one of the newest kids on the block who's looking to convince you that they're better than the PowerBlocks and NÜOBELLs we've all come to know and love. But are they?
Read on to find out.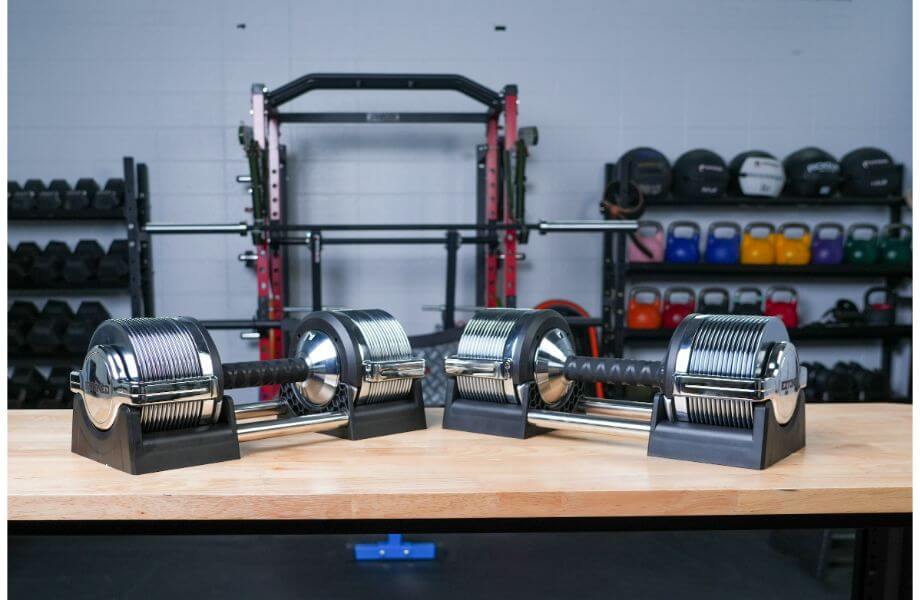 We Never Take the Ez Way Out With Our Dumbbell Reviews
Coop and the rest of the Garage Gym Reviews team have developed a foolproof way to test and review everything from barbells and weight plates to adjustable weights like the EzBlocks. That involves looking at everything from the weight increments to the ease of use, as well as identifying what type of lifters may benefit from the equipment.
We're able to do that because we're a group of certified personal trainers, CrossFit coaches, and competitive athletes who work with powerlifters, bodybuilders, and weekend warriors.
EzBlock Adjustable Dumbbells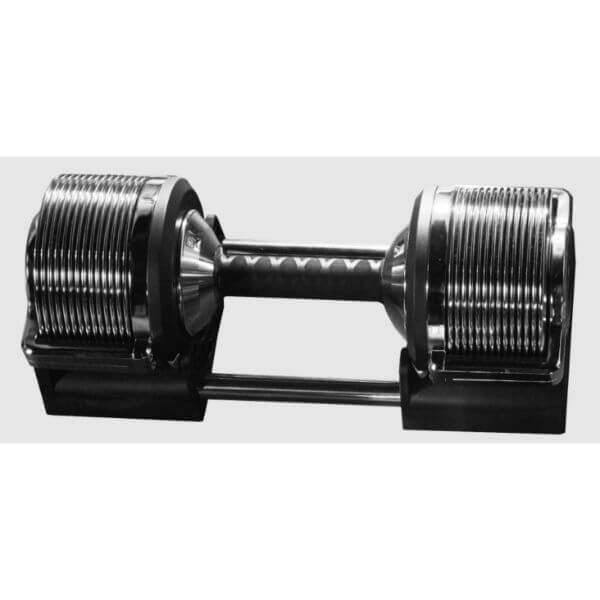 EzBlock Dumbbells
Advertised as 58 dumbbells all in one device, this adjustable dumbbell ranges from 6 pounds to 70 pounds. You are able to adjust this product in two pound increments, which is better than most adjustable dumbbells that change between 2.5- and 5-pound increments.Coming in around $800 for the pair, these are quite an expensive addition to your home gym. However, that's still less than it would cost to buy a set of fixed dumbbells from 5 to 70 pounds. Plus, having a pair of adjustable dumbbells can be an incredible space saver in your home gym. Instead of having multiple sets of dumbbells, you have minimized it down to one.The EzBlock dumbbells are made from 100% pure steel, making it durable and safe. These dumbbells are more similar to a traditional dumbbell, so you shouldn't have to compromise form as much as you would in comparison to other adjustable dumbbells.
A Quick Look at the EzBlock Adjustable Dumbbells
The EzBlock Adjustable Dumbbells are made by EzToned, a New Zealand-based company that makes home workout equipment that allows you to workout anytime, anywhere. And adjustable dumbbells fit right into that category, which is just one of the many reasons we've recommended them to most home gym owners.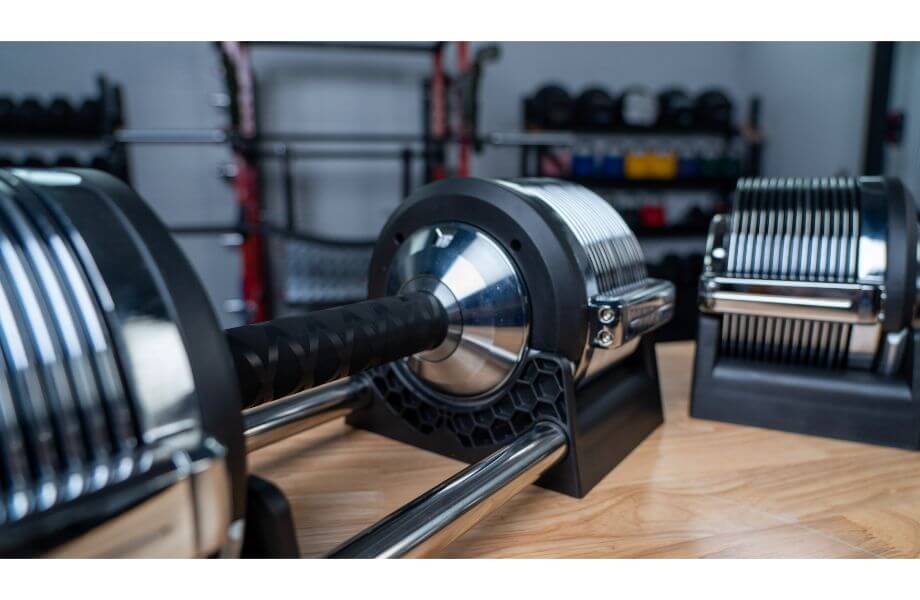 The thing that separates the EzBlocks from the dozens of other adjustable dumbbells is that they have the "most precise" weight increments on the market—2.2 pounds, or 1 kilogram. You simply turn the dial to increase the weight all the way up to 70 pounds, or 32 kilograms.
The dial adjustment mechanism is very similar to what we see on the Bowflex SelectTech 552 Adjustable Dumbbells, which is one of our favorites because of their ease of use.
My Tips
These are sold individually or in pairs, so make sure you pick the right one at checkout.
Pros:
Replaces dozens of traditional dumbbells
Changing weight increments is as easy as turning the handle
Most of the dumbbell, outside of the handle, is made of durable steel
Cons:
No knurled handle
$400 per individual dumbbell, or $700 for pair is fairly expensive
Doesn't come with an expansion kit to create heavier weights
Video Review
Are the EzBlock Adjustable Dumbbells Worth It?
The EzBlock Adjustable Dumbbells are sold individually and in pairs, but for argument's sake let's pretend you're buying the pair (because who wants just one dumbbell?). Two EzBlock Adjustable Dumbbells will set you back $700, not including shipping and handling.
That's a lot of money, so much so that the EzBlocks are one of the most expensive adjustable dumbbell sets on the market. But we're not against paying top dollar for premium goods, and there are a few people who we think may get their money's worth out of the EzBlocks (and we'll get to that in a bit). Here's who we think will enjoy the EzBlocks, and who may want to look elsewhere.
Great for:
Those looking for a compact set of adjustable weights
Anyone who wants an adjustable dumbbell that has a quick adjustment mechanism
People who want to get a full-body workout with one piece of equipment
Lifters looking to achieve progressive overload
Not recommended for:
Those looking to lift weights heavier than 70 lbs
Anyone on a budget
Lifters who want or need knurling on their dumbbells
EzBlock Adjustable Dumbbell Specs
| | |
| --- | --- |
| Weight range | 2.2 to 70 lbs |
| Increments | 2.2 lbs |
| Replaces | 58 dumbbells |
| Material | Steel, rubber |
| Knurling? | No |
| Adjustment mechanism | Dial |
| Warranty | 3 years |
"The World's Most Precise Dumbbell" — Here's Why that Matters
EzToned's main selling point with the EzBlock Adjustable Dumbbells is that they're the "most precise dumbbell" due to the 1 kilogram (again, for us Yanks, that's 2.2 pounds) weight increments that start at one kilo and go all the way up to 32 kilograms, or 70 pounds. If you're saying, "So what?" allow this certified personal trainer to tell you why that matters.
If you want to build muscle or get a stronger bench press, you need to achieve what's known as progressive overload, which mainly involves increasing either the weight you train with or the number of repetitions you do for a certain exercise.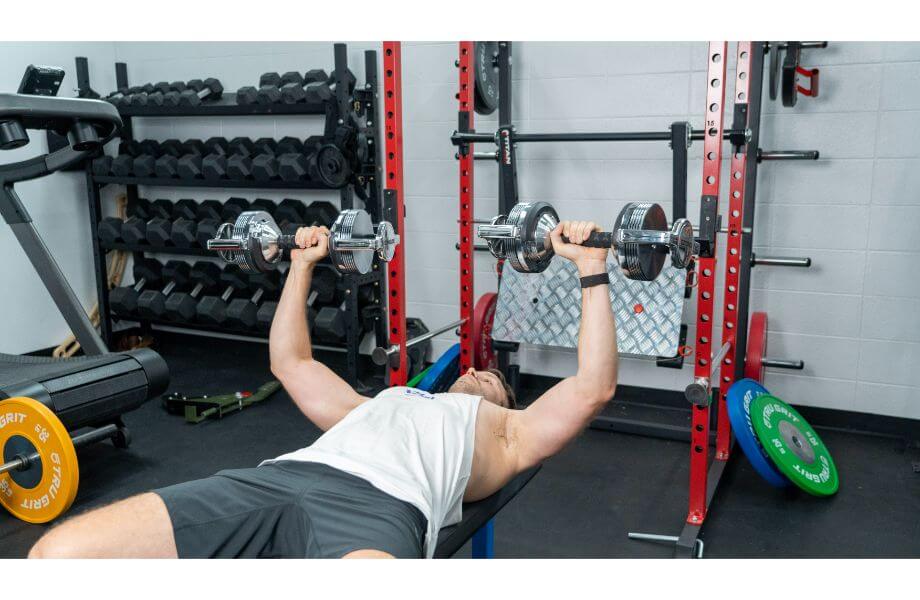 Since we're talking about dumbbells, we'll use biceps curls as an example and that your max is around 50 pounds, but you want to get that number up so you can get mountain peak biceps. Most adjustable dumbbells are going to have 5-pound increments, and while you can probably lift an additional five pounds, you may not be able to get many reps in.
With the EzBlock Adjustable Dumbbells, you could up the weight by only 2.2 pounds and do a lot more curls, which translates to more muscle and strength gains. And this philosophy can be applied to goblet squats, tricep extensions, shoulder presses, and so on.
In other words, calling these the "World's Most Precise Dumbbell" isn't just a marketing scheme (though if we're being honest that's certainly part of it), and the ability to have such incremental weight options could be a huge benefit to anyone looking to make gains.
It also makes it a great option for beginner lifters who want to work with lower weights, since the EzBlocks start at only 2.2 pounds.
Frankly, I'm a little surprised we haven't seen this from any of the major home gym equipment manufacturers. Is it a necessary thing? Not really, but it's certainly genius in my personal and professional opinion.
You Spin the Handle Right Round (Like a Record)
The other thing I really like about the EzBlock Adjustable Dumbbells is their ease of use, especially when it comes to adjusting the weight. You simply put the dumbbell in its tray, make sure all the plates are properly lined up, and twist the handle to select your desired weight.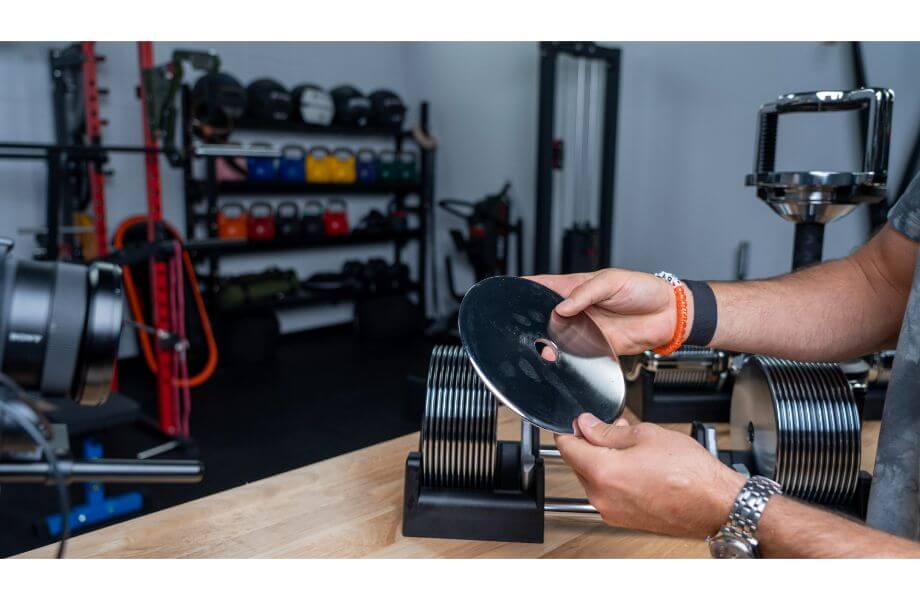 "Probably the quickest to change out of any adjustable dumbbell," says Garage Gym Reviews founder Coop, who tested these out. "Yes, even faster than NÜOBELLs I would say. Probably my favorite feature of the dumbbells."
This is similar to what we see on the Bowflex SelectTech dumbbells, and even the NÜOBELLs. Having this is a blessing because you save time putting plates on and off the dumbbell, like you see on the Ironmaster Quick-Lock Adjustable Dumbbells.
This quick change comes in handy when you're doing supersets (when you do two or more exercises back-to-back with minimal rest) or high-intensity interval training.
One criticism of the handle is that it has a rubber grip. Now, I get that nobody is going for an Olympic lift or trying to set a powerlifting record with these things, but it still would've been nice to have a knurled handle to make these things feel like a traditional dumbbell. But, that's just a personal preference (though it matters to many lifters).
70 Pounds Maximum Weight — Is it Heavy Enough?
One feature you should consider when buying an adjustable dumbbell, or even an adjustable kettlebell, is the maximum weight since you'll want something that can always challenge you. The EzBlock Adjustable Dumbbells max out at 70 pounds, which, for the vast majority of home gym users, will probably be enough.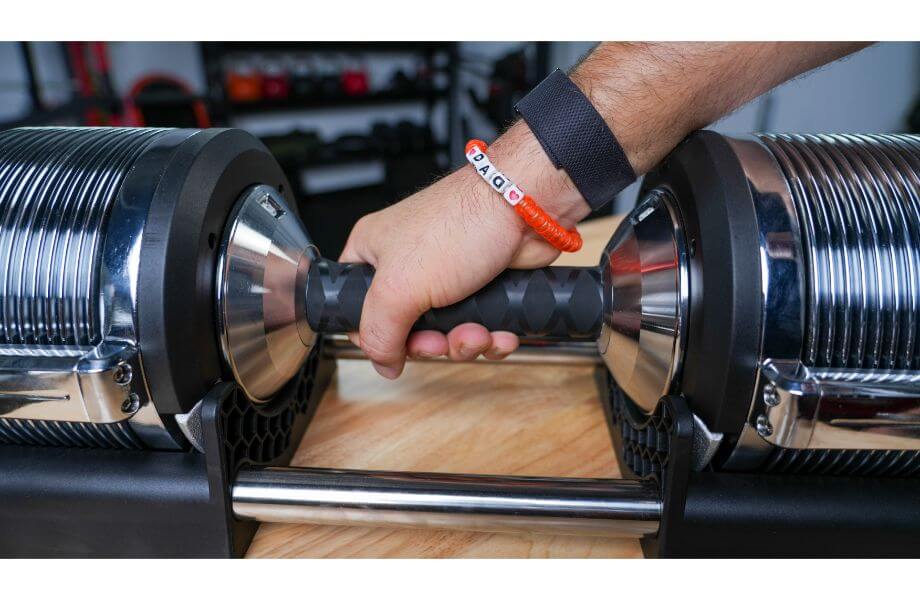 Looking at the dumbbells, it doesn't seem like there's much room for a future expansion kit to make these heavier (though I could be wrong).
If you're someone who easily reps more than 70 pounds on most moves, we'll have more recommendations later on but you might be better off with a loadable spinlock dumbbell like the Rogue DB-15. They're not as convenient as adjustable dumbbells, but you can make them as heavy as you like.
So how do these dumbbells feel in use? Here's what Coop had to say: "They're very bulky no matter the weight. So, even at their lightest, they still take the same width as they do at their heaviest."
That may not make a difference during most moves, but Coop said it was difficult for him to get a comfortable grip on them when attempting dumbbell swings.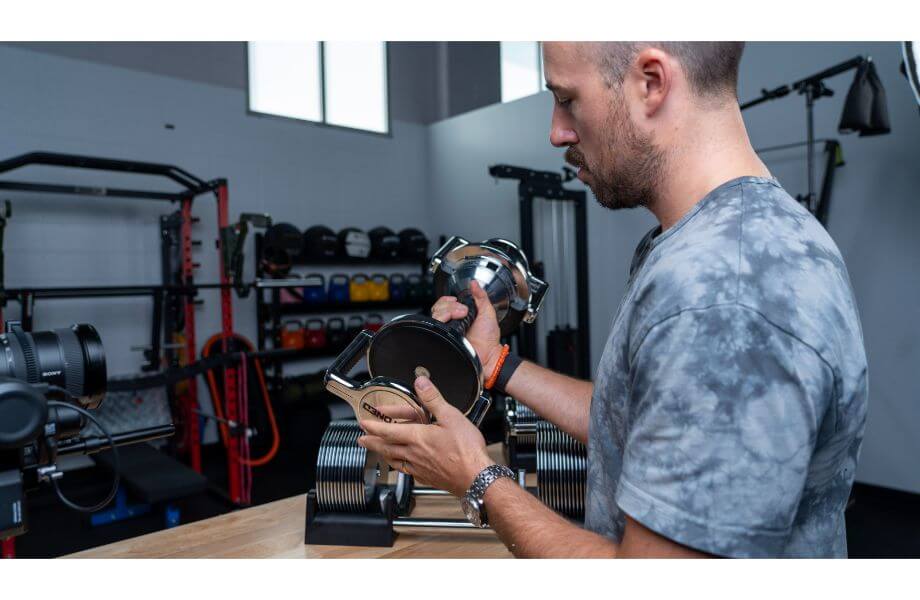 Durability
Adjustable dumbbells aren't known for being the most durable pieces of equipment, especially when compared to traditional hex dumbbells. That's because many use plastic or other cheap materials in certain parts, such as the selector pin (for those that use one) or the covering that protects the cast iron plates.
We know nobody ever plans on dropping their dumbbells (and if you're that type of person, just stop), but accidents happen. But when you're dealing with something that has plastic on it, those accidents could result in a busted dumbbell.
Aside from the ergonomic rubber grip, the EzBlock Adjustable Dumbbells are made with steel (we weren't able to track down what type of steel they used). Do we recommend you drop it to test out its durability? No, leave that to us and our YouTube videos. That said, we're more confident that these could take a beating compared to most other adjustable dumbbells.
EzBlock Adjustable Dumbbells vs Bowflex SelectTech 552
Bowflex SelectTech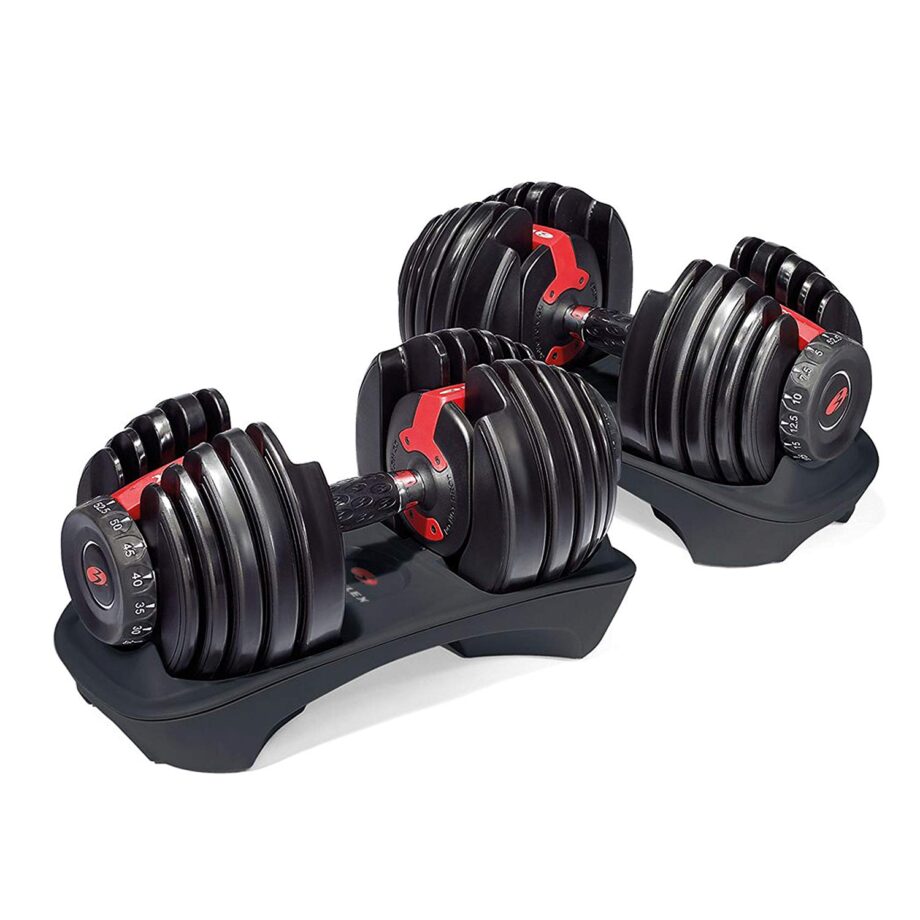 Bowflex SelectTech 552 Adjustable Dumbbells
These adjustable dumbbells replace 15 sets of weights. Weights adjust from 5 to 52.5 lbs in 2.5 lb increments up to the first 25 lbs. Easy-to-use selection dials for adjusting weights. They are sold as a pair. Easily switch from one exercise to next and with the turn of a dial you can change your resistance, enabling you to gradually increase your strength. Versatile workout for your legs, back, chest, abs, shoulders and arms. Compatible with the free Bowflex SelectTech® training App for iOS and Android.No more picking up 30 different dumbbells to give you the results you want! Say goodbye to 15 sets of dumbbells cluttering your workout space. With weight that adjusts from 5 to 52.5 lbs., you'll continue to see results as your fitness level improves. Durable molding around metal plates provides for a smooth lift-off and quieter workouts...no clanging metal plates! With the wider weight range you can do heavy exercises such as shrugs and lunges as well as lighter exercises such as curls and raises.
The EzBlock Adjustable Dumbbells remind us of the Bowflex SelectTech 552s because both simply require you to twist the handle to change the weight, going from the starting to max in under five seconds.
That's about where the similarities end, however. The Bowflex dumbbells are made with a lot more plastic, and the weight set isn't nearly as vast as the EzBlocks (as the name suggests, you start at 5 pounds and go all the way up to 52.5).
That said, the 552s are under $450 per pair on Amazon, which is a lot more budget-friendly than the EzBlocks. And they're still a high-quality dumbbell, you just have to take extra care not to drop them.
If you have the money for the EzBlocks, we'd honestly recommend them since you're getting a higher weight range and more durable construction. If you don't, the Bowflex dumbbells will serve you just as well (just know there's no expansion kit, so 52.5 pounds is the heaviest you'll be able to go).
Check out our full Bowflex SelectTech 552 Adjustable Dumbbell review for more information.
EzBlock Adjustable Dumbbells vs. NÜOBELL Adjustable Dumbbells
Nüobell Adjustable Dumbbells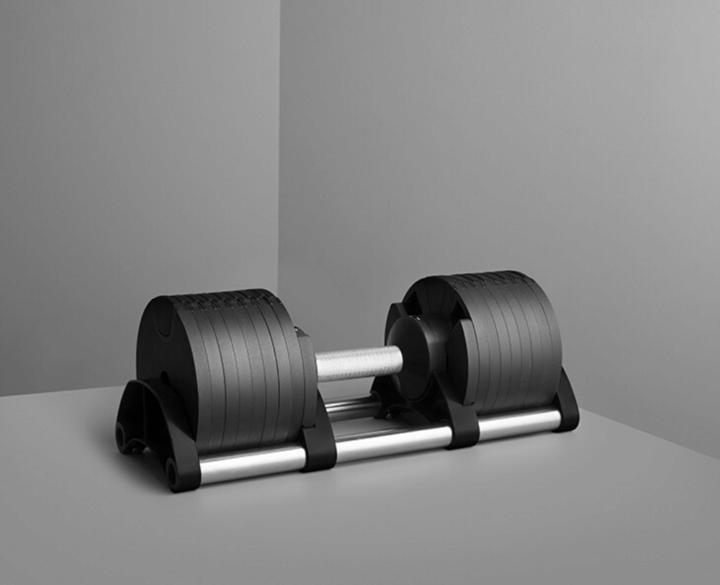 NÜOBELL Adjustable Dumbbells
NÜOBELL give you the convenience of all-in-one adjustable 5-80lb dumbbells that are easy to use and have superior durability thanks to its machined steel weight plates. This set of innovative dumbbells will quickly become your go to favorites.These are sold as a set of 2 x 80lb dumbbellsWeight Range lb5-10-15-20-25-30-35-40-45-50-55-60-65-70-75-80The material is steel and plastic Net weight: 80lbIncludes portable cradles for both adjustable dumbbells.
The NÜOBELL Adjustable Dumbbells retail for just under $750, not including shipping and handling, compared to the $700 asking price for the EzBlock Adjustable Dumbbells. If you're looking at this price range, we don't think $50 is going to make or break the bank.
The NÜOBELLs feel much more like a fixed dumbbell than the EzBlocks, thanks in large part to the knurled handle. Starting at five pounds and going all the way up to 80, in 5-pound increments, they replace 16 pairs of dumbbells, so not quite as much as the EzBlocks but still quite a bit (and you're getting a heavier maximum weight).
Unless the EzBlocks' one-kilogram weight increments are very appealing to you, we'd honestly recommend the NÜOBELLs. They have the same quick change handle as the EzBlocks, the knurling is a nice touch, goes all the way up to 80 pounds, and while there's some plastic, they're largely made of durable steel.
Read our full Nüobell Adjustable Dumbbells review for more.
EzBlock Adjustable Dumbbells vs PowerBlock Adjustable Dumbbells
PowerBlocks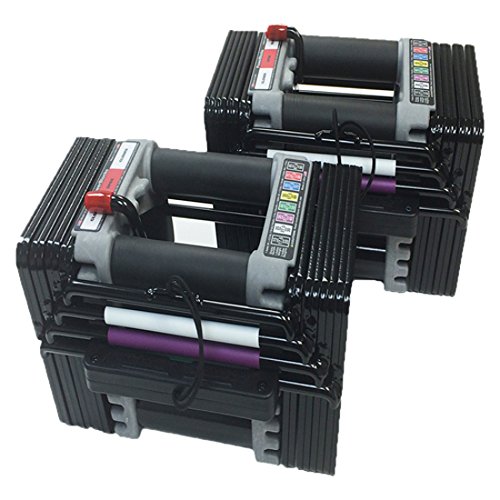 PowerBlock Elite Series Adjustable Dumbbells
PowerBlock was an innovator in this category and has been making adjustable dumbbells since 1991. This means they have had over 25 years of production and refinement to create the ultimately adjustable dumbbells set, and they truly have. The PowerBlock Elite dumbbells are one of the highest-rated and best-selling sets of all time. This is one of the last adjustable dumbbells sets to still be made in the USA, and PowerBlock uses only premium-quality materials. Thanks to their smart and economical design, the PowerBlocks are extremely tough and can withstand all sorts of regular gym abuse.Has a weight range of 5-50 lbs per hand and increments- 2.5 (adder weight), 5, 7.5, 10,15, 17.5, 20 25, 27.5, 30, 35, 37.5, 40, 45, 47.5, 50 pounds per hand Is expandable later to 70 and again to 90 pounds per hand. Made in USA 10 year home use warranty Replaces 16 pairs of dumbbells in the space of 1
There are multiple PowerBlock Adjustable Dumbbell options available, such as the PowerBlock Elite Series and the Power Block Pro Series. We don't have time to get into all the differences between the two, but just know the PowerBlock Pro has a wedge shape while the Elite has a closed-handle design (you can learn more in our PowerBlock Adjustable Dumbbells review).
Whichever you go for, you'll have a maximum weight of 50 pounds, but that doesn't include the expansion kit that allows it to go up to 70 pounds, matching the EzBlocks' weight. There's also an additional PowerBlock expansion kit that can make both models go up to 90 pounds per hand.
If you went with the Pro Series, you'd end up paying just about the same as the EzBlocks after adding the first expansion kit. The Elite Series, on the other hand, ends up being about $100 cheaper with the first expansion kit, and just $100 more expensive if you add on the second.
The PowerBlocks aren't quite as durable as the EzBlocks (though the urethane coating does protect them from shoulder-height drops), and the selector pin is quick though not as swift as the easy-turn handle.
If you're looking for value, we'd say go for the PowerBlocks. You also get a five-year warranty with the PowerBlocks, compared to the three-year coverage offered by EzToned.
One big caveat is that the PowerBlocks are not shaped like a traditional dumbbell, whereas the EzBlocks are more reminiscent of what you'd find in a commercial gym. That may make a difference to some people, especially those with larger mittens who may find their range of motion shortened by the PowerBlocks' closed-handle design.
Other Adjustable Dumbbell Options
NordicTrack iSelect Voice-Controlled Adjustable Dumbbells: Starting at 5 pounds and going all the way up to 50, these adjustable dumbbells can be connected to your Alexa device so you can change the weights with a simple voice command. That's…fun? There's also a knob if you prefer the ancient technique of using your hands to adjust weights. We haven't gotten our hands on them yet, but they sell for $600, which is more expensive than most with similar weight ranges.
Ironmaster Quick-Lock Adjustable Dumbbells: We didn't do a head-to-head comparison with these because it wouldn't be fair. The Ironmaster dumbbells use special plates that, in full honesty, are a bit of a hassle to put on and off, which also means having to do math to make sure you're putting the right amount of weight on the handle (not that that's difficult, but it is annoying mid-workout). They're a fine dumbbell, but if you're looking for convenience these ain't it, dawg.
Financing, Returns, Warranty
EzToned offers financing options through Affirm and ShopPay starting at $36.13 a month.
You have 30 days from the day of delivery to return your EzBlock adjustable dumbbells for a full refund, even if they've been opened and used.
There's a three-year warranty on the EzBlock adjustable dumbbells that covers every part of the equipment from any damages or manufacturing defects.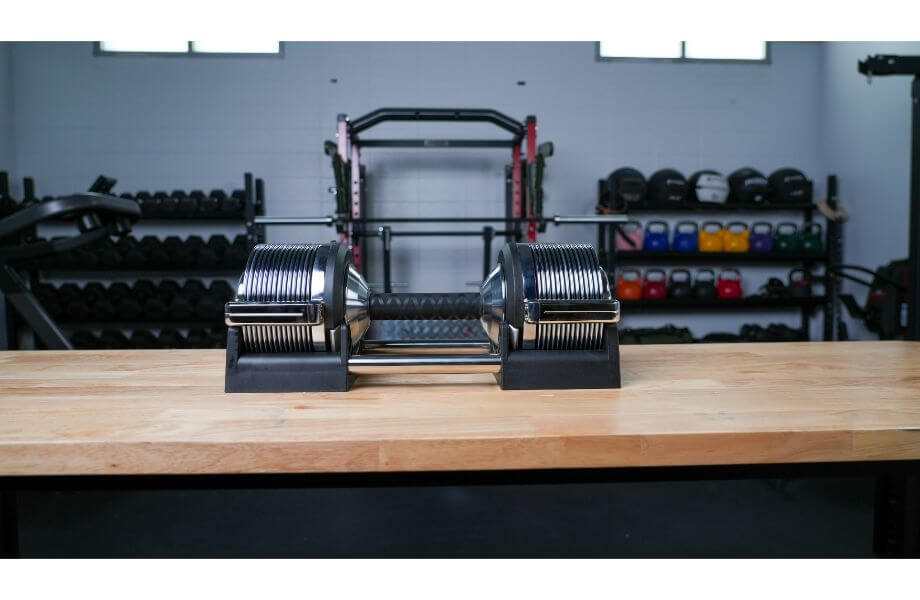 Ordering and Assembling the EzBlock Adjustable Dumbbells
EzToned's website states that the EzBlocks may take 8 to 10 weeks to ship, but, if you look at their shipping policy it states that U.S. orders take, on average, 3-10 business days.
And there's no assembly required. Simply take them out of the box and start lifting.
Customer Reviews
The EzToned website has more than 400 reviews on TrustPilot, but most of them seem to be about the company's EzBar home workout system (which is similar to the Gorilla Bow). That said, the company does have an average rating of 4.5 stars and many reviewers rave about the excellent customer service and products.
Final Verdict of Our EzBlock Adjustable Dumbbells Review
The EzBlock Adjustable Dumbbells are, in our opinion, a worthy contender in the adjustable dumbbell category. The ability to change weight increments can positively impact many people's strength training journey, and the additional handle only adds to these dumbbells' versatility and value.
The use of all-steel construction is another huge plus in our book, as is the quick change handle.
Our few criticisms, the lack of a knurled handle and expansion kits, are minor in the grand scheme of things and probably won't matter to many home gym owners.
At the end of the day, if you're looking for a high-value and durable adjustable dumbbell that can help you achieve the strength and muscle gains you're looking for, you can't go wrong with the EzBlock Adjustable Dumbbells. Plus, you have 30 days to try them out for yourself so what do you have to lose?
EzBlock Adjustable Dumbbells Rating
EzBlock Adjustable Dumbells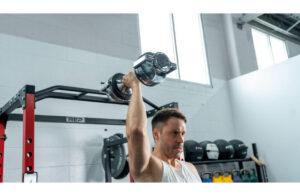 Our EzBlock Adjustable Dumbbell review looks at whether the most precise dumbbells can also be one of the best.
Product Brand: EzBlock
Product Currency: $
Product Price: 449.99
Product In-Stock: InStock
EzBlock Adjustable Dumbbells FAQs
Are adjustable dumbbells worth the money?
Absolutely! Adjustable dumbbells may be expensive upfront, but many manufacturers offer financing options to help make them more affordable. Plus, you'd spend the same amount of money (probably more) on a set of fixed dumbbells that would take up much more space.
How heavy should adjustable dumbbells be?
As heavy as you need them to be. Adjustable dumbbells can be as heavy as 50 pounds, and all the way up to 90. How much weight you need is going to depend on your fitness levels and future fitness goals.
Which adjustable dumbbells can be dropped?
Ideally, you'd never drop your adjustable dumbbell, or any other gym equipment for that matter. Repeated drops can result in dents and other damage to barbells and dumbbells. That said, the EzBlock Adjustable Dumbbells are made with steel that can hold up to drops better than plastic, which you find on many adjustable dumbbells.