We test and review fitness products based on an independent, multi-point methodology. If you use our links to purchase something, we may earn a commission. Read our disclosures.
Barbells are one of, if not the most necessary piece of home gym equipment, but they're not always the most compact (not to mention all the weight plates you need to make the bar heavier). Enter the Bowflex Selecttech 2080 adjustable barbell, capable of replacing seven straight and seven curl bars.
Bowflex has built a name for itself in the home gym industry, especially amongst those looking for budget-friendly and space-saving equipment, and our Bowflex SelectTech 2080 review will explain how they continue to succeed in those areas.
We think it's a great choice for people looking to do strength training in tight spaces, or those looking to cut down on the number of bars in their home gym.
Why You Should Trust Us
Between myself and the rest of the Garage Gym Reviews team, we've researched and tested hundreds of different barbells. Because of that, we're able to speak at length about things like knurling, weight distribution, durability, and even aesthetics (beauty may be in the eye of the beholder, but I'd like to think I know how to spot a good-looking barbell).
And we don't just do a few bench presses and deadlifts and call it a day–we take an in-depth look at all of these things. Seriously, we've written an entire article just on barbell knurling.
Beyond that, I'm quite familiar with Bowflex's line of products as I've reviewed the SelectTech 552 Adjustable Dumbbells, 840 Adjustable Kettlebell, Max Trainer M6, and more.
A Quick Look at the Bowflex SelectTech 2080
Bowflex SelectTech 2080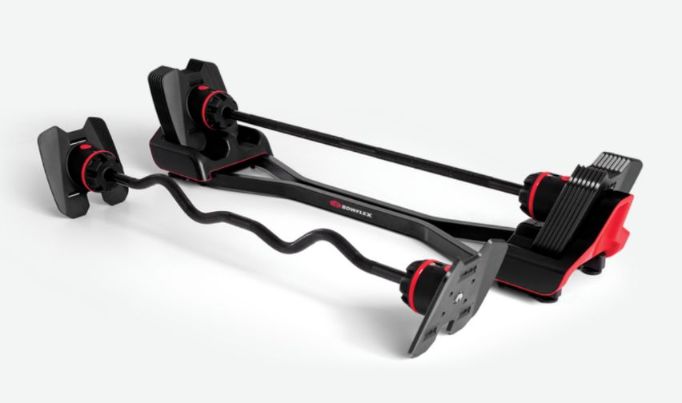 Bowflex SelectTech 2080
Bowflex SelectTech 2080 Adjustable Barbell is an adjustable barbell that comes with a straight bar and curl bar. Both come with passive knurling, a black oxide finish, and a weight range that starts at 20 pounds and goes up to 80.This is not a replacement for an Olympic barbell, but rather those fixed straight and curl bars that you often see at commercial gyms. It's great for accessory movements or HIIT-style workouts, but we suggest you don't drop it since it's made with lots of plastic and could easily break.It also feels different from traditional bars in that it's a little harder to overcome the inertia at the top of lifts due to the weight plates' designs.
Bowflex has been making home gym equipment long before it was cool, and I'm a big fan of its adjustable kettlebells and adjustable dumbbells. The Bowflex SelectTech 2080 Adjustable Barbell utilizes the same technology that makes it easily adjustable, affordable, and compact.
Each order comes with a barbell stand, two bars (a straight bar and an EZ-curl bar), and its own weight plates. The two bars start at 20 pounds, and depending on how many weight plates you want at any given time, it can go as heavy as 80–there's an expansion kit that allows it to go up to 120 pounds, if you need even more weight.
Just like Bowflex's dumbbells and kettlebells, the barbells are easy to adjust in that you simply turn a dial to your desired weight. With this, however, you need to line the barbell up with the weight plates for them to lock in, and the adjustment must be done on both sides of the barbell.
RELATED: Best Kettlebells
To be clear, this barbell is more suitable for things like curls, tricep extensions, and other accessory movements you'd do with a fixed barbell at a gym. You can still do bench presses and squats, but it's just not ideal or gets heavy enough for most people to do true-strength training in those movements.
Coop's Tips
Check to see if there's a Bowflex coupon code to help you save money on your purchase
Like other Bowflex products, this isn't built to be dropped, so handle it with care
My Favorite Things:
Quick to adjust
Space-saving design eliminates the need to buy multiple fixed barbells
Comes with a straight and EZ-curl bar
Expansion kit allows it to go up to 120 pounds
My Callouts:
Made with a lot of plastic
It's more difficult to overcome inertia with this barbell, compared to a traditional Olympic barbell, due to the weight plates
Knurling is passive (which is to be expected at its price point)
Dropping the bar will likely lead to breakage
Is the Bowflex SelectTech 2080 Worth It?
I liked using the Bowflex SelectTech 2080 Barbell and do recommend it to those that fit into its target audience as it's a good value and is so seamless to use.
It currently retails for about $600 (not including shipping), which is more budget-friendly than similar products, such as the MX80 Adjustable Barbell.
Here's who I think will enjoy it, and who may want to stick with a traditional Olympic barbell and weight plates.
Great for:
People in apartments or smaller home gyms who don't have room for an Olympic barbell and plates
Home gym owners who don't want to buy an entire barbell set
Anyone who focuses on HIIT-style training, or people who train with high reps and low weight
Not recommended for:
Lifters who are looking to lift heavy amounts of weight
Trainees who require more aggressive knurling
Bowflex SelectTech 2080 Specs
| | |
| --- | --- |
| Footprint | 59.3″ L (62.4" with 40-pound expansion) x 11.7″ W x 12.7″ H |
| Weight | 117.3 lbs |
| Weight range | 20-80 lbs (40 lb expansion sold separately) |
| Weight increments | 10 lbs |
| Adjustment mechanism | Dial |
| Warranty | 3 years |
| Materials | Black oxide, plastic |
Lifting With the Bowflex SelectTech 2080
Right off the bat, I want to reiterate that the Bowflex SelectTech 2080 Adjustable Barbell is not a replacement for an Olympic barbell. If you start using it with those expectations, you're going to be disappointed; but if you look at it as a fixed barbell, you'll be pleasantly surprised.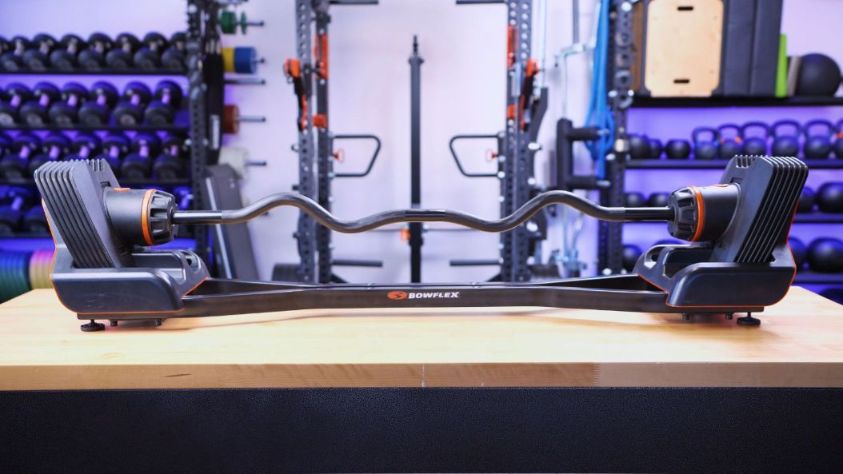 Both the straight bar and the EZ curl bar come with passive knurling, but that's not a bad thing in this case. Since they'll mostly be used for HIIT-style and high-rep workouts, you don't really want anything too aggressive on these.
The bars themselves have a black oxide finish, which provides enough protection to the bar from rust. I don't think rust will be too much as a problem as these products are more likely to be used in a living room or spare bedroom that acts as a home gym, rather than a garage gym setting.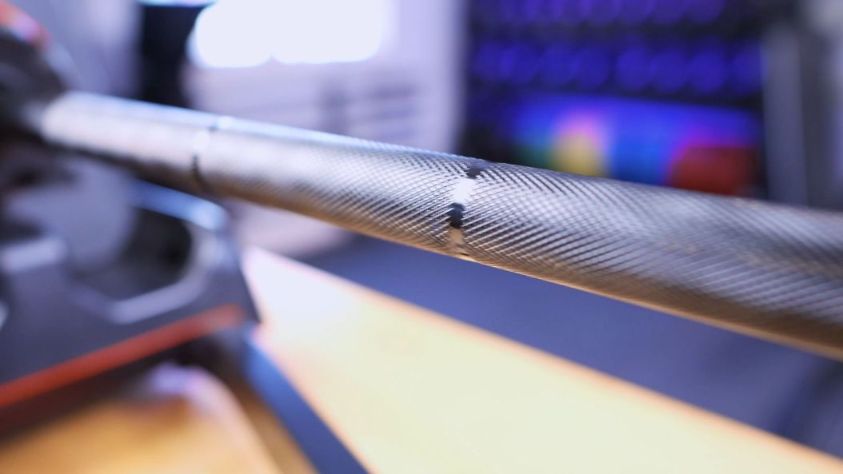 There's also a lot of plastic used on these bars, specifically on both ends of them where the moving parts are. Because of this, I highly recommend against using this for things like deadlifts, since slamming it on the floor will only get you a first-class ticket to a busted barbell that won't be covered under the warranty.
That said, you can still get a full body workout with this bar. Here are some of the moves I did while using the Bowflex SelectTech 2080:
Tricep Extensions
Bicep Curls
Skull Crushers
French Presses
Rows
Lunges
Overhead Press
Floor Press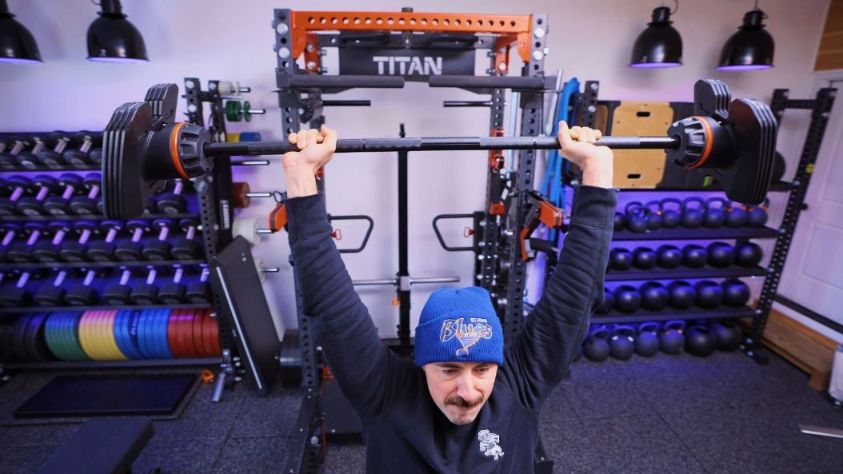 For the most part the barbell felt just fine in use, with the exception of having to overcome inertia at the top of certain lifts. It just feels offset and a bit wobbly at certain times, which is probably due to the fact that the weight plates are a square-like shape and not an aerodynamic circle like you see on traditional bars.
It's not anything that's going to present a challenge, even for beginner lifters, but if you've been lifting for a while you will feel a difference when trying to defeat the forces of gravity.
Adjustment and Weight Sizing
Unlike Bowflex's other adjustable weights, you have to turn two dials to adjust the weight settings on this barbell (one on each side). The SelectTech technology makes it so quick to change the weight though, so it's not that big of an issue.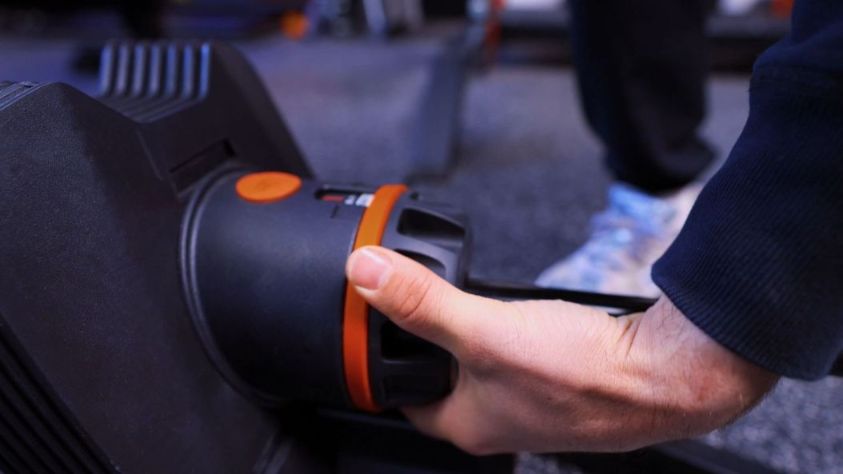 The one thing that may cause some slowdown is you need to line the barbell just right with the weight plates, or it might not adjust properly. Yeah, it might take you an extra second or two to change the weight increment, but over time, the barbell and plates should stretch and make adjustments a little smoother.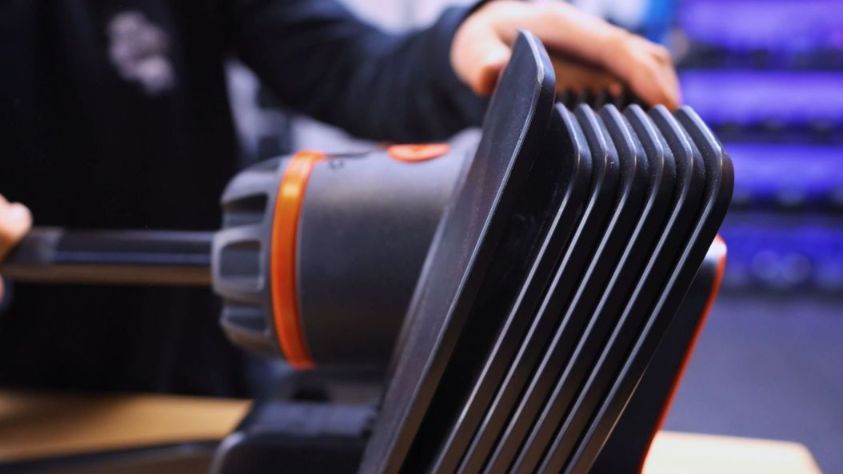 As the name suggests, the bar has a weight range starting at 20 pounds and up to 80, with 10-pound increments. There is a 40-pound add-on kit that allows it to go up to 120 pounds, which I think is more than enough for most people.
Storage and Footprint
Each order comes with a base where you can place one of the bars along with the weight plates. This is the base you'll use to adjust the bars during use. If you don't like the idea of one of your bars resting on the floor, you can order an additional base or a stand capable of holding both that also comes with a media rack to hold your smartphone or tablet (great if you want to stream live workouts).
Bowflex excels at making space-saving equipment, and this is no exception. In the base, both bars clock in at 59.3 inches in length (62.4 inches if you get the 40-pound weight upgrade), 12.7 in height, and 11.7 inches in width.
Bowflex SelectTech 2080 vs. MX Select Barbell System
The closest comparison to the Bowflex SelectTech 2080 would be the MX80 from MXSelect. The MX80 has the same weight range, but in 5-pound increments, and the barbells are made with steel. With that higher quality, though, comes a higher price–$250 higher, to be exact. Whether you think it's worth the extra bucks is up to you, but I think Bowflex's product does just as good of a job at a lower price.
Ordering and Setting up the Bowflex SelectTech 2080
Ordering the Bowflex SelectTech 2080 was simple, and mine was delivered quickly and in great shape. The assembly directions were simple, and it was easy to set up.
Returns, Financing and Warranty
You can return any Bowflex product within six weeks of delivery if you're not happy with it, but only if you order it through Bowflex.com (the same policy doesn't apply if you buy it in a store).
The Bowflex SelectTech 2080 comes with a 3-year warranty, which covers manufacturing defects.
Want to finance your purchase? You can split it up into 18 $34 monthly payments if you qualify.
Customer Reviews
The Bowflex SelectTech 2080 has a 4.7 average rating, with more than 400 reviews. Some happy customers said it eliminated the need for a gym membership (hoorah!) and allowed them to get a quick weight lifting workout right in their living room.
Others, though, complained the quality didn't match up to the rest of the SelectTech line of products. This was mostly due to the fact that you must line up the plates with the barbell each time you want to change your weight selection.
Final Verdict of Our Bowflex SelectTech 2080 Review
Here's the thing: Bowflex has a very specific target audience, and it's generally people who just want a quick home workout so they can stay active. The Bowflex SelectTech 2080 does that very well.
At the end of the day I think most people should start with a high-quality barbell and Olympic plates, as that's going to offer you more versatility. Plus, if you need extra weight you can always add more on (you just need to buy more plates).
One reason why you might want to include these in your home gym is they can replace up to 14 fixed bars that you'd otherwise use for weight training accessory lifts. The max weight is enough for most lifters (especially if you purchase the extra 40 pounds), and while it's not the highest quality bar in the world, it gets the job done.
Bowflex SelectTech 2080 Rating
Bowflex SelectTech 2080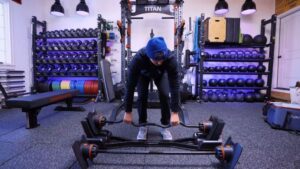 The Bowflex SelectTech 2080 is an adjustable barbell that's great for people in small spaces, or those who want to replace multiple fixed barbells.
Product Brand: Bowflex
Product Currency: USD
Product Price: 599
Product In-Stock: InStock
Bowflex SelectTech 2080 FAQs
Is Bowflex 2080 worth it? 
If you're someone who does HIIT-style workouts, high reps with low weight, or just wants a quick and simple way to workout then we believe so. It's compact, affordable, and replaces 14 bars with just two pieces of equipment.
Is Bowflex good quality? 
Overall, we think so with the exception that they use a lot of plastic in their products. This is not only bad for the environment, but it also means their weights won't be as durable as something made with steel. You also need to be extra careful not to drop it, as it could break. 
Can you get ripped on a Bowflex?
Technically you can get ripped with anything, from resistance bands to your bodyweight. So yes, using Bowflex products along with sticking to a proper diet and ample sleep can get you ripped. Maybe not quite as ripped as if you were using an Olympic barbell, but you'll still get there.