We test and review fitness products based on an independent, multi-point methodology. If you use our links to purchase something, we may earn a commission. Read our disclosures.
If your feet are killing you, and you've tried out some of the best walking shoes without any relief, you may need to reevaluate your footwear even further.
"Your plantar fascia supports the arches as you walk, absorbing the shock that naturally occurs," explains Brad Schaeffer, DPM, a board-certified podiatrist and foot surgeon with the American Board of Foot and Ankle Surgery (ABFAS) and owner of Central Park SOLE in New York City.
"We put a lot of weight and stress on our feet, they are the foundation and shock absorbers of the body. Repeated tearing and stretching causes the tissue to become irritated and it can become quite serious," he says.
Eventually, this can lead to plantar fasciitis—inflammation of the plantar fascia, a band of tissues that connects your heel bone to your toes. And that can come with foot pain. In fact, the Academy of Orthopedic Surgeons1 (AAOS) says plantar fasciitis is one of the most common causes of heel pain, and "poor arch support and ill-fitting shoes only make things worse," says Dr. Brad.
The AAOS recommends shoes with thick soles and extra cushioning, which offer extra heel support and reduce tension on the fascia. Custom orthotics can also help, but you want to make sure you're starting with the right kind of shoe.
We've created a guide to the best walking shoes for plantar fasciitis, and to help narrow things down, the GGR team researched and tested almost 70 pairs of sneakers. We also used Dr. Brad's advice on what to look for. Without further ado, let's examine our picks.
Best Walking Shoes for Plantar Fasciitis in 2023
Best Walking Shoes for Plantar Fasciitis Overall: Vionic Walker Classic
Good for: Anyone looking for a cushioned shoe with some solid arch support
It's difficult to crown a walking shoe as "best overall," especially when you throw painful conditions like plantar fasciitis into the equation. That being said, the Vionic Walker Classics have many features that appeal to a broad range of people.
For starters, they're cushioned with a podiatrist-designed orthotic insole that has a deep heel cup to keep the back of your foot stable, and enough arch support to correct any pronation while keeping your ankle in place.
While the heel is on the firmer side, the midsole and heel have enough give to keep you comfortable without making the shoe feel unstable. The midsole is made of EVA foam that has minimal elevation to maintain a smooth transition from your heel to your toe.
Vionic achieved a good balance of flexibility here. You want a Goldilocks shoe that's firm enough that it won't bend in half, but not too firm that it has no give. This shoe is flexible enough to allow for natural movement, but not so flimsy that you feel like you don't have enough support.
Because of all these pro-foot-health features, the Vionic Walker Classics have a Seal of Acceptance from the American Podiatric Medical Association. They're available in regular and wide width.
| | |
| --- | --- |
| How it helps | Podiatrist-designed orthotics, flexible (but not too flexible) midsole |
| Midsole construction | EVA foam |
| Heel-to-toe drop | N/A |
Best Walking Shoes for Plantar Fasciitis for Seniors: Brooks Addiction Walker 2
Good for: Those with flatter feet who don't mind a basic-looking shoe
As you age, the strength of your ligaments and tendons starts to decline2. This means they "spring back" less, which can result in flattening of your arches and lengthening of your feet and toes. Because of this, there are the best walking shoes for seniors, and a firm-but-cushioned insole is the best way to support your foot through this life stage.
The Brooks Addiction Walker 2 has a mid-range level of cushion with maximum support. There's soft DNA foam cushioning in the midsole that responds to your specific movement patterns, weight, and speed, and extra support throughout the shoe that Brooks calls an Extended Progressive Diagonal Rollbar (PDRB).
Basically, this is a fancy way of saying there's a support system that allows you to maintain your natural walking stride while preventing too much wobbling or ankle rolling. These walking shoes also have a unique outsole that's slip-resistant and adds to the stability.
There are no fancy colors or patterns to be had here—the shoes come in all-white or all-black only—but there are four different widths to appeal to feet of all sizes and shapes. Wearing shoes that are too small can contribute to and/or exacerbate plantar fasciitis, so this is an important callout here. You can get them in narrow, medium, wide, and extra wide if you need them extra roomy to accommodate your changing feet.
| | |
| --- | --- |
| How it helps | Responsive cushioning and extra support to prevent unnatural movement; comes in four widths to properly fit all types of fit |
| Midsole construction | DNA foam |
| Heel-to-toe drop | 12 mm |
Best Budget Walking Shoes for Plantar Fasciitis: Saucony Cohesion 13
Good for: Those looking for great shoes on a tighter budget
Let's face it: Good shoes can be expensive. Typically, you're looking at around $150 to $200 for a quality pair, but you can score the Saucony Cohesion 13s for much less. They retail for around $50, but still have a lot to offer for those with plantar fasciitis.
The midsole has a thick, foam construction that's made from what Saucony calls "Versafoam technology." It's responsive and supportive without negatively impacting the stability of the shoe.
These don't have the same level of cushioning as the HOKAs or similar maximalist pairs, but you also have the option to remove the insole and add some orthotics if that makes them work better for you. As-is, GGR senior staff writer and certified personal trainer Amanda Capritto says they're on the firmer side and don't propel you forward as much as other running shoes, but this is expected since they're intended for walking.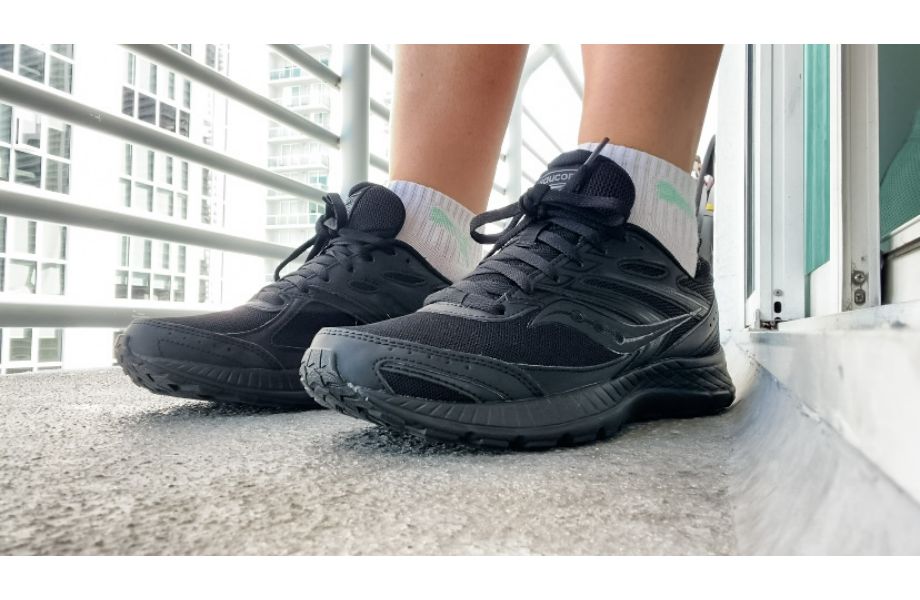 In addition to their foam midsoles, these shoes also have a durable rubber outsole with decent-sized lugs that help with traction on most types of terrain. But if you're mostly going to be trail running or walking, you'll probably want something a little beefier.
RELATED: Best Trail Running Shoes
The Saucony Cohesion 13s are "very neutral" shoes, according to Amanda. If you have under- or overpronation, you may need more targeted support, but Amanda thinks "most people could probably walk in them for many miles without problems."
| | |
| --- | --- |
| How it helps | Foam midsole and cushioning around the ankle |
| Midsole construction | Foam (Versaform technology) |
| Heel-to-toe drop | 12 mm |
Best Cushioned Walking Shoes for Plantar Fasciitis Overall: HOKA Bondi 8
Good for: Walkers who like an extra-cushioned, maximalist shoe
HOKAs aren't just backed by anecdotal evidence—almost everyone who wears them loves them—they're backed by science, too. The HOKA Bondi 6s, which are the predecessors to the Bondi 8s, were used in a 2022 study3 on the management of symptoms in early-stage plantar fasciitis.
The researchers found that an extra-cushioned, maximalist shoe (something HOKA is known for) could help reduce stress and strain from impact better than a traditional athletic shoe.
RELATED: Best Running Shoes for High Arches
Compared to the HOKA Bondi 6s, the Bondi 8s have extra cushioning and a more responsive midsole that's adaptable and easier on the foot. There's a billowed shape that helps balance your foot strike to reduce the risk of injury (or exacerbating existing conditions). They also have more rubber on the outsole, which helps with stability and durability.
All these features earned the HOKA Bondi 8s a Seal of Acceptance from ​The American Podiatric Medical Association (APMA), which basically means they contribute to better foot health.
Anthony O'Reilly, the GGR performance editor and certified personal trainer who tested these shoes, said they have an amazing fit and the cushioning is "like a cloud." These are the pair he reaches for when he does his 10-mile walks, and they've held up well over time.
| | |
| --- | --- |
| How it helps | Maximalist design and extra cushioning |
| Midsole construction | Memory foam |
| Heel-to-toe drop | 4 mm |
Best Slip-On Walking Shoes for Plantar Fasciitis: Kuru Pivot
Good for: Those who prefer slip-ons to traditional lace-up walking shoes
Slip-on shoes have come a long way—in looks and comfort. The Kuru Pivots are easy to slide on and off, and they look sleek and stylish. But it's not just the ease of getting them on that makes these shoes stand out—they're super comfy, too.
I have wide, short, flat feet and have a hard time finding shoes that are comfortable. They're either too tight, too narrow in the toe box, or too short (or all of the above). The Kuru Pivots are none of those things. They fit great, and they have just the right amount of cushioning and arch support.
Kuru makes its own patented shoe components: KuruCloud, a lightweight, shock-absorbing EVA foam and KuruSole, a dynamically flexing midsole that helps maintain your foot posture and alignment. The Pivots have both of these features, plus an additional foam insole that provides more arch support.
This translates to a really supportive shoe with just enough cushion to make them feel comfortable, but not so much that you feel unstable.
In lieu of functional laces, these have an elastic midfoot that keeps your foot securely in place, and a pull tab on the heel that makes it easy to put on and take off.
| | |
| --- | --- |
| How it helps | Shock-absorbing EVA foam combined with a midsole that has just-right flexibility |
| Midsole construction | EVA foam |
| Heel-to-toe drop | 8 mm |
Best Hiking Shoes for Plantar Fasciitis: La Sportiva Ultra Raptor II
Good for: Walkers who prefer to hit the trail or other rugged terrain
Hiking can inflame and irritate the fascia in those with plantar fasciitis, especially if you're wearing the wrong shoes. Some hiking shoes can be stiff and a little too firm, but the La Sportiva Ultra Raptors II have two layers of cushioning that can help take the edge off.
There's compression-molded EVA foam in the midsoles to help absorb shock and protect your feet from impact, plus an additional EVA insert that offers another layer of protection. EVA is also really durable, so it can withstand regular use without premature breakdown.
According to GGR performance editor and expert product tester Anthony O'Reilly, these do require a short break-in period "but that doesn't take long and you're rewarded with, what I think, is the best hiking shoe," he says.
In addition to the extra cushioning, there's also a heel stabilizer that can keep your foot in place and increases stability—two things that can help alleviate (or prevent) plantar fasciitis.
The TL;DR? This is a solid, ultra-durable shoe. It's waterproof, stable, has a rock guard and lacing harness, and is "lugged to the max," according to Anthony who adds, "It's like putting your foot in a tank. Your foot's not going anywhere."
| | |
| --- | --- |
| How it helps | Two layers of EVA foam, heel stabilizer |
| Midsole construction | EVA foam |
| Heel-to-toe drop | 9 mm |
Best Running Shoes for Plantar Fasciitis: Brooks Adrenaline GTS
Good for: Runners who need more support but don't want to sacrifice speed
Running is much higher-impact than walking. As such, additional cushioning and shock absorption is warranted, especially if you're dealing with plantar fasciitis or other foot problems.
The Brooks Adrenaline GTS sneakers are our top pick for the best running shoes for beginners for a few reasons. First, they have soft DNA Loft cushioning in the midsole that takes pressure off your foot and helps absorb impact. The soft cushioning also keeps the midsole uniform, which helps with smoother transitions from your heel to toe.
These aren't the cushiest shoes from Brooks, but they offer a nice balance of cushion and stability so you can maintain speed and performance, while still getting the proper support.
These shoes also have the brand's signature GuideRails. This is an additional support system in the shoe that allows you to maintain your natural strike pattern, while reducing extra rotation in your heels and shins. In other words, they don't force you into an unnatural pattern, but they do keep your knees and feet in a safe range to help reduce pain (and boost overall comfort).
| | |
| --- | --- |
| How it helps | Soft cushioning and GuideRails to support the foot while maintaining natural strike pattern |
| Midsole construction | DNA Loft cushioning |
| Heel-to-toe drop | 12 mm |
Best Rainproof Walking Shoes for Plantar Fasciitis: KLAW Footwear 528
Good for: Walkers who prefer hitting the pavement on dreary days
Like HOKAs, the KLAW 528s are maximalist shoes with tons of cushion and a rocker style that helps propel you forward. They're designed to support "critical areas of your foot," according to the brand, and have targeted cushioning and support in the midsole, forefront, and heel to help absorb shock and impact. Unlike other uber-cushioned shoes that can fit a bit wobbly, Nicole Davis, GGR senior editor and certified personal trainer, says they still feel very stable.
There's additional arch support, so these work well for those with high arches and plantar fasciitis. And a deep cup in the heel, which Nicole says you can definitely feel, that helps take pressure off and adds some stability.
RELATED: Best Stability Running Shoes
There's no breathable mesh upper—instead they have a rainproof leather upper that's designed to keep your feet dry in most walking conditions. There's also anti-slip tread that's similar to no-slip work shoes.
These sneakers do have a certain aesthetic that's not for everyone and Nicole says she wasn't a fan at first, calling them "super clunky," But she also says they're super comfy for walking and feel really durable, so the trade-off may be worth it, even if they're not your particular style.
| | |
| --- | --- |
| How it helps | Extra cushioning, heel cup for extra stability |
| Midsole construction | Foam |
| Heel-to-toe drop | 7 mm |
Other Walking Shoes for Plantar Fasciitis We Researched
As I mentioned, our team has tested over 70 pairs of athletic shoes, so there were plenty more that were in the race for a spot in this guide. Here are a few that didn't make the cut.
New Balance 880: These shoes do have a lot of cushioning, but they're more of a traditional running shoe than the pairs on our list. And during testing, our tester didn't think there was really anything special to them. If you want a neutral sneaker for running, they'll do the trick, but we think there are better pairs for walking pain-free.
Asics Gel Nimbus: The Asics Gel Nimbus shoes have a similar style to HOKAs. They have a ton of cushioning and a rocker-style sole, but GGR writer and certified personal trainer Lauren Strong felt like they pitched her forward and negatively interfered with her gait. They're also designed more for running than walking.
HOKA Clifton 8: The Clifton 8s have more cushioning than traditional running shoes, but not as much as the Bondi 8s, which we recommend for walking with plantar fasciitis. The Bondis are heavier, so if you want a pair for running, the Cliftons are a good choice.
Brooks Ghost 14: The Brooks Ghost 14s are one of the most popular running shoes. In fact, we named them the best neutral running shoe in our Best Running Shoes guide. However, we just don't think they're the most comfortable shoes for walking. They do have Brooks' signature DNA Loft foam in the midsole but we think there are better pairs of shoes out there for those with plantar fasciitis pain.
OOFOS OOmg eeZee: OOFOS are really popular recovery shoes. We think they're a good option if you're in serious pain or your doctor recommends them, but for daily walks, they're a bit much. The cushioning is very impressive though.
Orthofeet Kita Hands-Free: Orthofeet shoes are marketed as orthotic sneakers, but they're really just shoes with more arch support and removable insoles (similar to what you'd find over-the-counter at the drugstore or on Amazon). There's nothing wrong with them, we just like the features and style of the other pairs on our list.
How We Picked and Tested the Best Walking Shoes for Plantar Fasciitis
We've officially tested almost 70 pairs of sneakers over the years—and we've unofficially tested even more in our daily lives. We're avid walkers and runners, and we're constantly on the hunt for the best shoes for all types of activities. For this guide, we leaned on our research and experience, and picked podiatrist Dr. Brad's brain to narrow down the options for you.
When testing the best walking shoes, we took them through different scenarios and on various terrains. We walked down the streets of NYC and hit the trails in Florida in all types of weather. We assessed performance, weather-resistance, comfort, and overall fit. We also considered style (after all, you probably want your sneakers to look good, too).
We chose shoes that performed well on our tests, then narrowed them down to only those that have features that make them a good fit for plantar fasciitis. This means extra cushioning, support, and stability.
Because everyone has different needs—some people need more arch support while others need a wide toe box—we included a variety of different shoe types and styles to cover all the bases.
Benefits of Walking Shoes Designed for Plantar Fasciitis
Foot health is important to overall wellness, and wearing the wrong type of shoe and/or exercising in worn-out shoes can contribute to plantar fasciitis. But physical therapy4 (with lots of heel and foot stretching), doing lower-impact activities (like walking), and wearing the right shoes can help alleviate symptoms as you work to correct the underlying issue.
But what does the "right" shoe actually do? Here are some benefits of wearing walking shoes designed for plantar fasciitis:
Proper support for the heel and forefoot
Extra cushioning in the footbed/insole that can absorb impact and reduce tension
Enough space to ensure your foot isn't cramped
Extra stability to help you maintain your stride without wobbling or ankle rolling
Buying Guide: What to Look for in the Best Walking Shoes for Plantar Fasciitis
Everyone has slightly different needs, but there are some common things you should consider when choosing the best walking shoes for plantar fasciitis.
Arch Support
"Arch support, arch support, and arch support. I can't stress this enough," says Dr. Brad. "For walking especially, it is important to keep feet stable; the goal is to keep your lower body in alignment as much as possible. Arch support is probably the most critical feature that affects comfort and can help prevent a myriad of issues."
You don't want shoes that are too rigid, but you want to make sure they're not so flexible that they can fold in half. Find a shoe that falls somewhere in the middle (all the walking shoes we picked fit the bill).
Cushioning
Ample cushioning is another important consideration. Cushioning absorbs shock and helps to avoid further tissue irritation and damage, according to Dr. Brad.
You want your shoes to absorb impact and keep as much tension as possible off your fascia. However, you don't want so much cushioning that you feel unstable. The sweet spot really depends on what you like and your individual anatomy, so you may have to try a couple pairs to see what feels good to you. Look for shoes that have foam in the midsoles and maybe an additional orthopedic insole.
Ample Room in the Toe Box
Proper room in the toe box is another often-overlooked fit issue, according to Dr. Brad. "Ill-fitting and constricting shoes cause a lot of the problems I see in my practice including bunions, plantar fasciitis, ingrown toenails, blisters, and more," he says.
Style and Aesthetics
You may need an orthotic shoe but that doesn't mean you want it to look like an orthotic shoe. Fortunately, many companies are combining comfort and aesthetics, instead of prioritizing one over the other. That means you don't have to choose a walking shoe that you think is ugly; look through the options, check out the colorways, and find a pair that makes you feel good.
FAQs About Walking Shoes for Plantar Fasciitis
What Kind Of Shoes Should You Avoid If You Have Plantar Fasciitis?
Shoes that are too high, too flat, too loose, or too tight can contribute to and exacerbate plantar fasciitis, according to Dr. Brad. "A good shoe for plantar fasciitis should provide a good balance transfer for one's gait—this is the movement from when one's heel strikes the ground until the toe off, propelling forward at the end of one's step. You can see how this is really where the plantar fascia works! Therefore, really flat flip-flops or shoes are a bad choice," he says.
On the flip side, "​​A comfortable shoe with adequate arch support, stability, and fit will immediately take the strain off your plantar fascia," Dr. Brad says.
Is It OK To Keep Walking With Plantar Fasciitis?
Yes, it's okay to keep walking with plantar fasciitis. "I recommend walking, including uphill outside (hiking), using a treadmill incline, and a stationary bike. Incline walking stretches the plantar fascia, and in my experience and option, as long as there's no pain or even a little pain that doesn't get worse, these activities can benefit the condition," Dr. Brad says. He adds that you should avoid these activities, including stretching, if there's notable or chronic pain.
Do You Need More Arch Support For Plantar Fasciitis?
Arch support is one of the most important considerations for plantar fasciitis, according to Dr. Brad. He says that you can try over-the-counter insoles, like those from Dr. Scholls if you don't want to go out and buy new shoes. However, if you have persistent pain, it's important to see a board-certified podiatrist for assessment, diagnosis, and treatment. "Don't let it go too long, otherwise there may be long-lasting damage and need for interventional treatments," he says.
References
1. American Academy of Orthopedic Surgeons. Plantar fasciitis and bone spurs.
2. UCLA Health. Coping with the changes your feet undergo as you age. 2018.
3. Fridman, R, Obradovic, KN. A prospective study on maximalist athletic shoes as part of a comprehensive approach to the medical management of early-stage plantar fasciitis. Clin Res Foot Ankle. (2022). 10:329. doi:10.4172/2329-910X.1000329.
4. National Library of Medicine MedlinePlus. Plantar fasciitis. 2022.