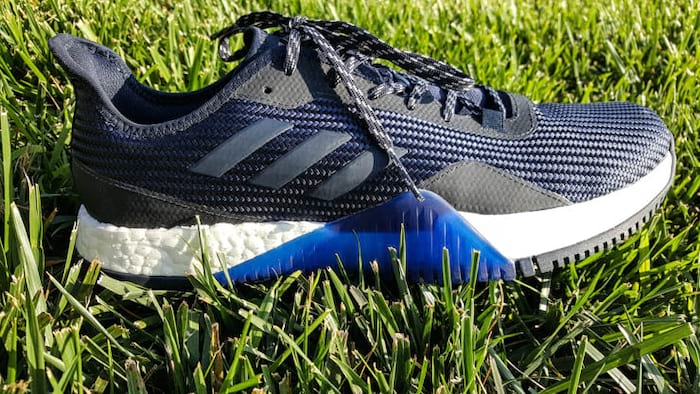 My first impression of the CrazyTrain Boost's was that they looked like the illegitimate love child of a Reebok Nano 2.0 crossed with a Skecher's Shape-Up. This may be exaggeration, but they are not particularly aesthetically pleasing. As my wife said, "those look like old man shoes."
Which is not entirely untrue.
They're not as sleek as your Nike Metcon 3 or Nano 7.0's and the current colorways available are mundane at best. But, when looking at the shoe from a particular angle (from above and behind) they don't look half bad.
Boost isn't always the best looking midsole (it kind of looks like styrofoam right?) but it performs. Unfortunately, Adidas engineers have been quoted as saying that Boost likely will stay white as any paint or pigment added to the Boost will impact the physical properties of the Boost and inhibit the full performance potential. If you aren't crazy about 25% of your shoes canvas being white (which also happens to dirty easily) then this shoe may not be for you.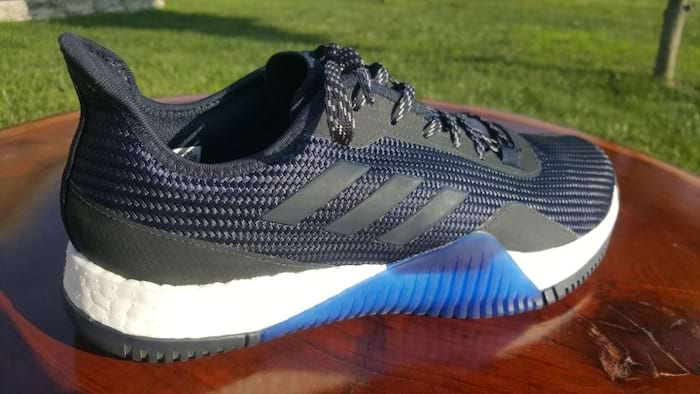 The CrazyTrain Boost's release was more a soft release than anything, as if they were unsure of how it would take to a market dominated by Reebok, Nike, No Bull, etc. I felt as if Adidas is very much playing it safe and testing the waters before they really push to enter this market. The colorways are subtle, the promotion of the shoe is virtually non-existent and Adidas is known for their running  and lifestyle shoes more than their trainers.
However, I am of the opinion that this shoe could be very popular among the CrossFit and functional fitness communities. This shoe as a whole outperforms its predecessor, the Crazy Power TR's (except for stability) and I sincerely believe this will not be the last time you hear of Adidas in the cross-training world. But as we know all too well, looks can oftentimes be of more importance to those more concerned with looking good than performing to their maximum potential.
If you are in the game of having the freshest kicks at the gym, these may not be for you; however, if you are a serious athlete that prides performance over presentation, continue on with me as we dive into nitty gritty of these shoes technology, construction and overall performance.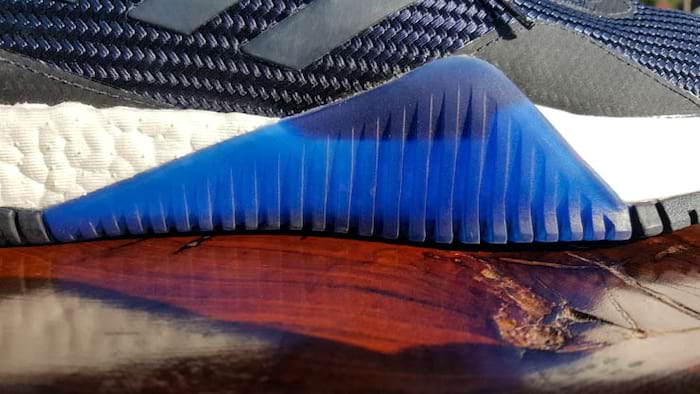 I may have gone a little too far with my reference to the CrazyTrain Boost's being an illegitimate love child of the Nano 2.0 and Skecher Shape-Ups; however, what these shoes lack in style they absolutely make up for in construction and performance.
Overall Adidas is known for having a good quality control track record and are able to lean on their massive infrastructure to produce shoes that compete with the best out there (they do own Reebok after all.)
I found no loose stiching, glue spots, or otherwise compromising issues within the overall construction.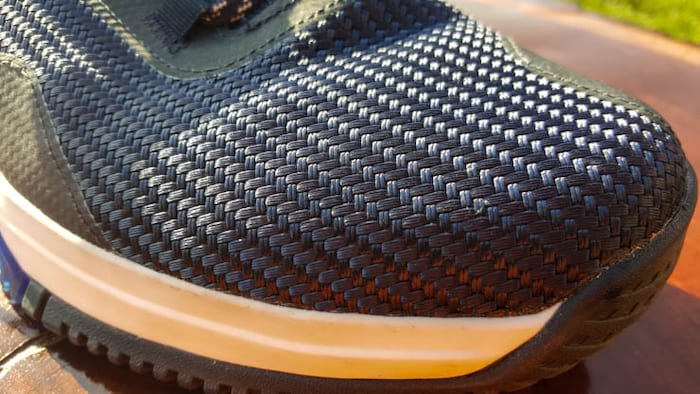 Unlike Reebok's 'NanoWeave' on the newest Reebok Nano 7 Weave's which gives the shoe breathability, the upper portion of the CrazyTrain Boost's is constructed from a tightly woven (close-knit) textile mesh with a textile lining for improved stability and durability. Despite this, the shoe actually remains fairly flexible.
The shoe also features a synthetic rubbery upper on the toe as well as other hot-spots prone to more wear for improved durability. This does slightly compromise the shoes overall breathability, but it should will hold up for months of hard training (years for some.)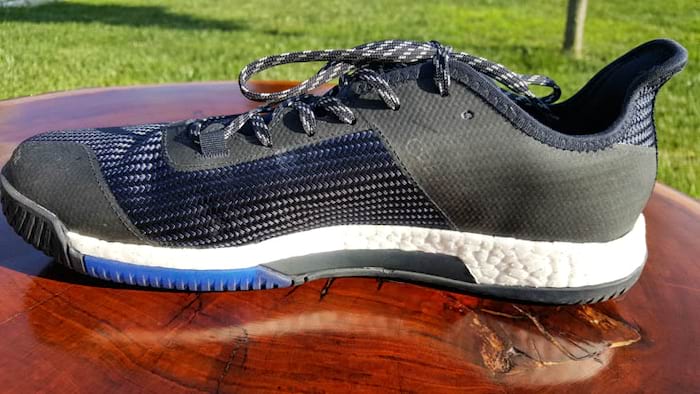 One of my concerns with the upper was how it would hold up to multiple sets of rope climbs. Most CrossFit-specific shoes have some sort of guard on the inside of the shoe to prevent fraying and damage. That said, after a workout featuring over 10 rope climbs the shoe showed no signs of wear and the multi-surface outsole with multi-directional tread on the outside of the shoe provided exceptional grip when you needed to "bite" the rope.
I was pleasantly surprised to find the outsole to be both grippy and durable.  I would have liked to seen the rubber synthetic they put in other high-wear areas on the inside of the midfoot to prevent rope burn, however, I think the textile mesh actually performs better than the rubber synthetic would as it slides down the rope rather than being grippy and causing increased friction.
Unlike the Metcon 3 or Nano 7.0, this shoe does not feature TPU in the heel which was not surprising given that Adidas is really making an effort to push this Boost technology. The Boost in the heel makes these shoes especially comfortable for the heel strikers. There is a TPU midsole casing to promote stability; so for those midfoot strikers, it may not feel like you're running on the same cloud as is does for the heel strikers. I would not hesitate to say that these are the most comfortable trainers I have used for running during metcons. Whether it be long runs like Murph or short 100m sprints, these shoes performed overall really well across all striking types. Also important to note, there is also a TPU bar for additional stability in lateral movements which is a definite need for the functional athlete i.e. lateral bar over burpees, box overs, etc.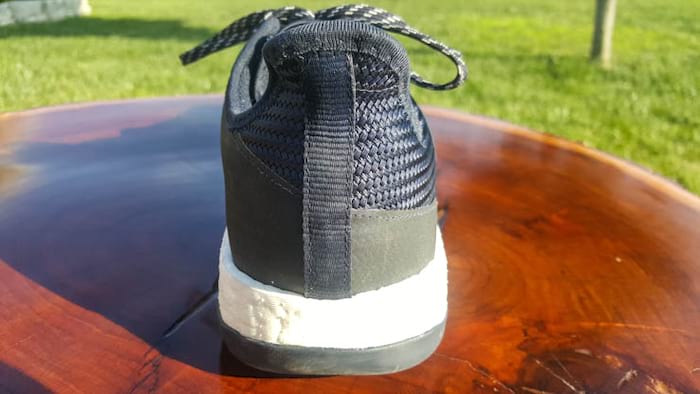 One of the nicest features at the heel of this shoe is the integrated heel pull. Most shoes like the CrazyTrain Boost's predecessor the Crazy Power or Metcon 1's, Nano 5.0's, have a stitched on piece of nylon or synthetic weave which is absolutely not functional and can easily be ripped off.
The heel pull on the CrazyTrain Boost's is integrated into the whole heel and is both functional and adds some much needed style points in my opinion.
Despite the Boost in the heel, these shoes do not have as much heel slip as you might find in a Metcon but doesn't feel as tight and locked in as say the Nano. I would also mention that these shoes allow you to feel more secure due to the attached tongue so when you tighten down the laces you really do feel like you are locked into the shoe. This was not surprising when learning that there is a 6mm drop on the shoe which is slightly more than the Nano 7 (4mm).
Another feature of the shoe I found appealing was the wide forefoot to allow for splaying of the toes for squats, cleans, sled pushes, etc. The extra room can be likened to the Nano 7 which was a big plus for me. Some trainers like the Metcon 3's seem to be more narrow on the forefoot and doesn't allow for as much toe splay which I feel connects you more to the floor.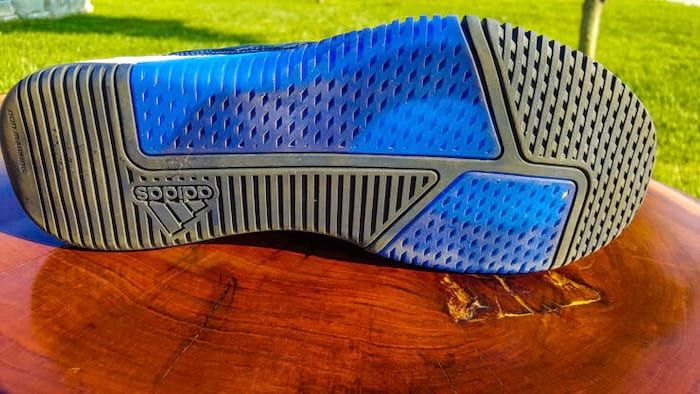 Moving down, the sole of the CrazyTrain Boost's we see that Adidas dropped the Traxion® outsole on the Crazy Power TR's, but still integrates a multisurface, multi directional outsole for improved grip. It felt good both on training floors as well as running outside on concrete and asphalt.