We test and review fitness products based on an independent, multi-point methodology. If you use our links to purchase something, we may earn a commission. Read our disclosures.
Sole Fitness makes solid exercise equipment that often skips the latest tech upgrades in favor of quality and durability. The SB700 fits Sole's mold with a high-quality steel frame and aluminum shroud. It's designed for cyclists who don't want a built-in screen and may occasionally want to remove the display for a boutique cycling experience.
The SB700 can compete with Sole's top-of-the-line bike, the Sole SB900. While there are a few minor differences between the two, the biggest is the resistance type. You can save money with the SB700's friction resistance via felt brake pads versus the SB900's magnetic resistance. Brake pads take slightly more maintenance, but those found on the SB700 are nearly silent and provide variable resistance that challenges both beginning and experienced cyclists. Both bikes cater to cyclists who prefer to go light on tech upgrades in favor of a strong warranty and excellent build quality. Find out more in our Sole SB700 review.
We've Ridden for Miles So You Don't Have To
At Garage Gym Reviews, we're a dedicated group of certified personal trainers, CrossFit Level 1 Trainers, nutrition coaches, and seasoned athletes committed to finding the best fitness equipment and programs on the market. If you ask our opinion on a piece of equipment, there's a good chance one or all of us will tell you more than you want to know.
We haven't tested the SB700 ourselves, but we're not new to exercise bikes. Collectively, we've spent plenty of time on recumbent bikes, upright bikes, road bikes and everything in between. Years of experience have shown us how different drives, resistance types and materials tend to perform. We also take a good look at independent and customer reviews to identify patterns and get an in-depth look at performance.
GGR Score: 4
Product Highlights
Upright exercise bike with friction resistance 

Good for indoor and outdoor cyclists 

Compatible with STUDIO app, which has thousands of workouts

Integrated tablet holder

Display shows time, calories burned, and heart rate

Seat and handlebars adjust vertically and horizontally
Pros & Cons
Pros
Adjustable seat and handlebars
Braking design offers a quiet and smooth ride
Compatible with a wireless heart rate chest straps
Integrated tablet holder included
Durable build
Cons
Friction resistance will require more maintenance
Pedals do not offer a clipping option
Some users reported difficulty with customer support
Pre-programmed workouts are not included with purchase
Bottom Line
The Sole SB700 would be a great addition to your home gym and is a great buy for the rider who cares for quality and comfort over technology, although it might be a little overpriced for the features it offers (except when on sale, as it often is).
A Quick Look at the Sole SB700
The SB700 may be slightly less sophisticated than the heftier Sole SB900, but it's still an excellent quality bike with many of the same features. For example, you can vertically and horizontally adjust both the seat and the handlebars for a comfortable fit. Though it's technology-light, it's heart rate chest strap-compatible as long as you provide your own chest strap. There's also the option to remove the three-inch by four-inch LCD screen to mimic a cycling class. The SB700 also has a heavy flywheel at 48 pounds. Heavier flywheels generally equate with a quiet, smooth ride.
The SB700 has a felt pad braking system that's incredibly quiet, considering it's not magnetic resistance. Brake pads will eventually need to be replaced, but you're not compromising on noise with this model.
Another difference worth mentioning between the SB700 and the SB900 is the pedals. The SB700 has toe cages only, while the SB900 has SPD/toe clips or toe cages (the pedals flip over). The two models have the same impressive warranty, display size, and dimensions. The SB700 will save you a few hundred dollars yet provide the same quiet ride on a machine that comes with an impressive warranty.
Before You Buy:
The SB700 isn't compatible with all heart rate monitors. It's worth a call to Sole to see if the model you have will work.
Pay attention to how the resistance levels feel to you. There are no resistance level markings to help you reset the resistance if more than one person rides the bike.
Find a streaming program or fitness app you love to watch while you ride. (If you use a fitness app, you'll have to make resistance changes manually.)
Is the Sole SB700 Worth It?
We think the SB700 is a great indoor cycling bike that's built for high-quality, long-term performance. However, that doesn't make it the perfect model for everyone. Those who prefer to work out without the help of added technology will probably find the SB700 to their liking. If you rely on live classes and leaderboards for motivation, this might not be the bike for you.
Great for:
Those who don't want to directly connect to fitness apps
Those who don't have strong WiFi
Those looking for an exercise bike with good durability and a strong warranty
Those who want high-quality at budget-friendly price
Not recommended for:
Those who want to sync a fitness app with their fitness equipment
Those who prefer to use preset programs
Sole SB700 Specs
| | |
| --- | --- |
| Footprint | 40" L x 21" W x 42" H |
| Weight | 141 pounds |
| Weight capacity | 300 pounds |
| Display | 3" x 4" LCD (removable) |
| Resistance | Friction |
| Frame | Steel tubing with aluminum shroud |
| Flywheel | 48-pound flywheel |
| Drive | Belt |
| Pedals | Toe cages |
| Seat | Vertically and horizontally adjustable |
| Handlebars | Vertically and horizontally adjustable |
| Programming | None |
| Warranty | Lifetime frame, three years electronics and parts, one year on labor |
Customer Reviews
Like all fitness equipment, this bike has its pros and cons. Overall, the pros far outweigh the cons, but there are a few things to be aware of, according to customer reviews.
"We wanted a simple, no frills, no subscription exercise bike," reviewer Underwood605 said on the Sole website. "This gave us exactly that. It's a heavy, high-quality bike that I believe will last us for many years to come. You get what you pay for with this one."
"Now, it is heavy, and it arrives in a big box that can be difficult to handle," said Kelli R. on Amazon. "I managed it on my own, but it can see where an extra set of hands would have been helpful. The only assembly is to attach the front and rear stabilizers, the handlebars, and the display. It wasn't hard at all, and once the stabilizers (legs) were attached, I could wheel the bike into its final location. I did notice the resistance seemed choppy at first, but once I broke it in, that seemed to even out. Compared to the road bike trainer, this bike is surprisingly quiet."
More About the Sole SB700
Sole Fitness is coming out with a new line of exercise bikes fairly soon, which means the SB700 will still be available but could be on its way out. The quality certainly won't go down and a new product line on the horizon could mean that you can find the SB700 at an even better price in the near future. Here are the important aspects to keep an eye on as you make your decision.
Footprint, Portability, Durability, and Construction.
At 42 inches high by 40 inches long by 21 inches wide, the Sole Fitness SB700 is relatively compact. The only way it could be more compact is to be foldable, which it isn't. However, it does have transport wheels under the front supports so you can move it around if needed. For a non-folding bike, it's also relatively lightweight at 140 pounds. However, for the most part, this is the kind of bike that you keep in a single room and move around that room based on your needs.
We've already mentioned the steel tubing and aluminum shroud in the frame, but they're worth mentioning again. Aluminum is incredibly strong but it's also lightweight, cutting down on the bulk of the final product. The strong materials allow for a maximum user weight of 300 pounds.
The handlebars and toe cages are also highly durable. You also have the option of swapping out the pedals for SPD or another type if you want.
The Ergonomics
Both the seat and handlebars of the SB700 are vertically and horizontally adjustable, so users of varying heights can get a comfortable fit. The handlebars also offer several grip positions, though some users on Soletreadmills.com have reported that the handlebar padding wasn't quite enough—they had to shift their hands periodically to prevent pain points.
The pedals are another area where you can get more comfortable. The bike comes with toe cages that work with any type of shoe. Plus, it has two water bottle holders that hang underneath the handlebars where they're easy to reach.
The design of this bike lets you get a great cardio workout. You can reach the manual resistance knob without losing your cadence. Plus, the 48-pound chrome-plated flywheel maintains a smooth pedaling motion.
Technology Benefits and Conveniences
This bike is light on technology, which for the right user is a strength. However, what little technology it does have isn't particularly impressive. The three-inch-by-four-inch LCD display is not backlit, so in certain lighting, it might be difficult to see. Some users consider that a strength because there's not a bright light shining on their faces while riding. Others find it a hindrance because they can't see their metrics as easily. It depends on your point of view and what you want from the exercise bike.
A few users on Soletreadmills.com have some additional technical issues with the display, namely that it doesn't track metrics accurately.
The other techy bit that's missing from this bike is preset programs; there are zero. All resistance changes are yours to make manually.
Comparison to the Schwinn IC4
The Schwinn IC4 is similar to both the SB900 and SB700, but the Schwinn has a few upgrades that might make it a better fit for you. For one, the IC4 has magnetic resistance versus the friction resistance on the SB700.
However, like the SB700, the Schwinn IC4 doesn't have a built-in screen but has a media holder for a separate device instead. As far as build quality, they're on par with one another. Both bikes have vertically and horizontally adjustable handlebars and seats, and they have identical warranties (10-year frame, three-year electronics and parts, and one-year labor).
The differences include:
One-year JRNY app membership
Backlit metric console
100 magnetic resistance levels
Dual-sided pedals (cages or clip-ins)
Magnetic resistance
Two three-pound dumbbells
A final difference to consider is that the Schwinn IC4 can sync with many popular fitness apps, including Peloton, Zwift, and MyFitnessPal so you can track your metrics over time.
However, as far as the smooth, quiet ride, high-quality build, and low-tech design, these two bikes are neck and neck. If you want a bike that connects and syncs with popular fitness apps but doesn't have a built-in screen, that's when you'd pick the Schwinn IC4 over the Sole SB700. However, if you just want to get on and ride (who needs syncing?), the SB700 will feel about the same and save you some cash.
Schwinn IC4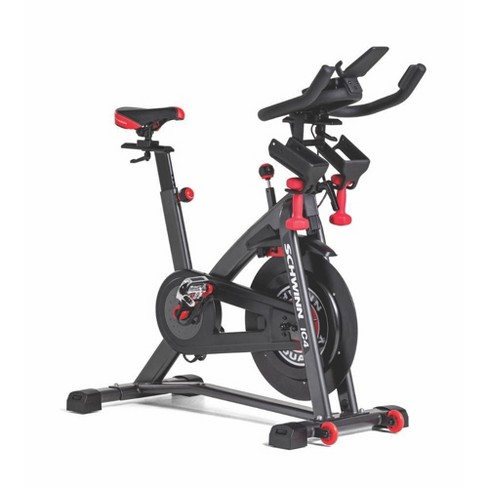 Product Highlights
Connects to Peloton and Zwift apps
100 levels of resistance
Sturdy and doesn't shake while exercising
Pros & Cons
Pros
Connects to Peloton and Zwift apps
100 levels of resistance
Sturdy and doesn't shake while exercising
Cons
LCD display is bare bones
Android users may notice a lag in metrics shown
Parts note clearly labeled to help with assembly
Bottom Line
For under $1,000, the Schwinn IC4 is a solid purchase and one of the best exercise bikes if you're looking for a cheaper alternative to Peloton.
Customer Experience
Sole offers an impressive lifetime warranty on the frame with a three-year warranty on electronics and parts and a one-year labor warranty. However, if you feel like you need more than that you can add a five-year protection plan that extends coverage another five years beyond the warranty.
You've got 30 days from the time of delivery to decide if you want to keep or return the bike. That return policy only applies if you buy the bike directly through the Sole website.
Ordering and Assembling the Sole SB700
Ordering is straightforward on the Sole website. There are several options from which to choose, including the bike plus an annual membership to STUDIO, Sole's fitness app; the bike plus a monthly STUDIO membership; or the bike alone.
In our opinion, the STUDIO app doesn't add a great deal of value to the bike since you can't sync metrics to the app. There are other fitness apps you can use that function better and have more (and higher-quality) content.
Financing is available through Citizens Pay, and monthly payments will depend on your credit score and history.
Assembly of the Sole SB700 is simple and straightforward. Most customers don't have any trouble with it because the frame comes completely assembled. Users must attach the pedals, handlebars, display, and supports underneath the bike. You can also find helpful assembly videos on Soletreadmills.com.
Final Verdict of Our Sole SB700 Review
In this Sole SB700 exercise bike review, we've covered a quality bike that skips tech upgrades for a sturdy, durable frame and comfortable ride. You save money by opting for a model with friction rather than magnetic resistance. Friction resistance may require a bit more maintenance, but it's quiet and effective for cyclists for light commercial or home use. This could be the bike for you if:
You want the quality of a $1,000 bike at a lower price point
You don't want the latest tech upgrades
Your goal is to keep cycling simple
Sole SB700 Rating
Sole SB700
In our Sole SB700 review, find out how this sturdy, well-built bike compares to others on the market.
Product Brand: Sole
Product Currency: $
Product Price: 1399.99
Product In-Stock: InStock
Sole SB700 FAQs
Does the Sole SB700 work with Zwift?
The Sole SB700 doesn't directly connect to or sync metrics with fitness apps like Zwift. However, you can place a device in the tablet holder and follow workouts while riding. Metrics are displayed on the SB700's LCD screen.
How expensive is the Sole SB700?
The Sole SB700 sells for between $500 to $800. The price often reflects the model. The most recent 2023 model costs the most but is often on sale on the Sole website for around $700.
Can you take classes on the Sole SB700?
You cannot take classes directly on the Sole SB700 because it doesn't sync with fitness apps. It does have a built-in tablet holder so you can watch workouts or streaming services while you ride. However, there are no automatic resistance adjustments or the option to record metrics through an app unless you manually enter them. The display is heart rate monitor compatible and connects through Bluetooth so that your heart rate displays directly on the screen along with RPMs, time, calories, distance and speed.