We test and review fitness products based on an independent, multi-point methodology. If you use our links to purchase something, we may earn a commission. Read our disclosures.
Pre-workout is one of the most popular sports supplements for its ability to help provide energy, enhance focus, and result in a muscle pump. There are so many pre-workouts on the market it can feel hard to choose, especially when most of them contain some variation of the same concoction of ingredients.
In this Six Star Pre-Workout review, I'll break down the supplement facts label of this popular pre-workout so you can understand exactly what's in it and why—and if it's worth a try. Two of our GGR product testers, Lindsay Scheele and Anthony O'Reilly, used this pre-workout, judging it against several criteria, including taste, solubility, performance, side effects, and more. Our final score represents their experiences and how scientifically supported the ingredients and dosages are.
RELATED: What to Look for In Pre-Workout: Buying Guide
Medical disclaimer: This article is intended for educational and informational purposes only. It is not intended as a substitute for medical advice. For health advice, contact a licensed healthcare provider. GGR also recommends choosing a product that has been third-party tested for quality.
Nearly 60 Pre-Workouts Tested
Our product testers are certified industry pros: We're personal trainers, nutrition coaches, CrossFit trainers, USA Weightlifting coaches, and sports nutrition coaches. Several of us are athletes ourselves and we all use various supplements to support a healthy lifestyle and maintain our fitness. Now, we're bringing our expertise to you by testing pre-workouts and other products for in-depth reviews. 
Six Star Pre-Workout
GGR Score: 3.61
Product Highlights
Six Star's creatine-free pre-workout 

Designed for athletes with clinically dosed ingredients 

New packaging 

Six Star-listed benefits: T

rainer harder and longer with increased energy and focus
Pros & Cons
Pros
30-day return policy
Flexible dosing: can take 1 or 2 scoops - recommended you start with 1
255 mg stimulant blend
Subscribe and save 20%
Cons
Contains sucralose
Processed at a facility that also processes allergens
Some customers report allergic reaction- redness and itchiness
MIxed reviews on taste
Bottom Line
Six Star Pre-Workout Explosion is designed for athletes with 255 mg of a stimulant blend. SixStar shares that their product will help you train harder and longer by increasing energy and focus. There are mixed reviews on the taste and effectiveness. Both positive and negative reviewers noted that the supplement made them itchy. Negative reviewers also experienced redness.
A Quick Look at Six Star Pre-Workout
Six Star Pre-Workout Explosion is a medium-stim pre-workout containing 135 milligrams of caffeine, along with other common pre-workout ingredients like beta-alanine, betaine anhydrous, citrulline, and arginine.
It comes from popular brand Six Star, which manufactures various supplements, including creatine, protein powder, and BCAAs. The brand is known and loved for its partnership with Kellogg's—yes, the cereal company—and its uniquely flavored supplements like Frosted Flakes and Fruit Loops whey protein powders.
RELATED: What is Creatine?
There are a few different pre-workouts from Six Star: Explosion, Explosion Ripped, and 4th Quarter Energy. Our testers tried Explosion and Explosion Ripped, which are largely the same, but the latter has green tea extract added for weight loss, purportedly.
Before You Buy
Six Star Pre-Workout Explosion is sweetened with sucralose, so we do not recommend it to individuals who are sensitive to artificial sweeteners.
It contains 135 milligrams of caffeine, which is tolerable for most people who drink coffee regularly, but may be too minimal for people who are used to the strongest pre-workouts. On the other hand, it may be too strong for those used to stim-free pre-workout.
There is a risk of allergen cross-contamination because this product is manufactured in a facility that also processes eggs, shellfish, fish, wheat, soy, peanut, milk, and tree nuts.
Is Six Star Pre-Workout Worth It?
Pre-workouts, in general, can be a wonderful supplement for those who need an energy boost and/or desire a pump during their workout. However, with pre-workouts, it's critical to carefully examine the ingredients and dosages, especially the amount of caffeine, to understand if that specific pre-workout is worth it for you.
A container of Six Star Pre-Workout Explosion costs about $24 for 30 servings, making the price per serving about $0.80. That's pretty inexpensive and, according to our testing methodology for pre-workout, earns Six Star a score of 5 out of 5 points for pricing.
Because of its low price and moderate caffeine content, I think this pre-workout is at least worth a try. However, it's under-dosed in many aspects, so it won't be right for everyone, which I'll cover thoroughly in the formulation section.  
Great for:
Beginners
Individuals looking for an energy boost with safe amounts of caffeine
Those who like bold, fruity flavors
People looking for a decent pump during weight training
Not recommended for:
Individuals sensitive to artificial sweeteners
People looking to avoid artificial ingredients like dyes and sweeteners
Those with allergies to eggs, shellfish, fish, wheat, soy, peanut, milk, and tree nuts, because there is a risk of cross-contamination during manufacturing
Athletes who are subject to drug testing (this product is not third-party tested)
Six Star Pre-Workout Specs
This information is from the manufacturer's web page for Six-Star Pre-Workout Explosion in Fruit Punch. There may be minor discrepancies for other flavors or information from other retailers.
| | |
| --- | --- |
| Price per serving | About $0.80 |
| Caffeine dose | 135 mg from caffeine anhydrous |
| Creatine dose | 0 mg |
| Citrulline dose | Unclear (it's in a proprietary blend) |
| Beta-alanine dose | 1.5 g |
| Other active ingredients | Vitamin C, niacin (vitamin B3), choline bitartrate, betaine anhydrous, L-arginine ketoglutarate (AKG), taurine, L-arginine hydrochloride, L-tyrosine |
| Other inactive ingredients | Citric acid, natural and artificial flavors, silicon dioxide, malic acid, maltodextrin, FD&C Red No. 40 Lake |
| Sweeteners | Sucralose, acesulfame potassium |
| Flavors | Fruit Punch, Icy Rocket Freeze, Pink Lemonade |
Experience Using Six Star Pre-Workout
Two people on our GGR product testing team tried Six Star Pre-Workout: Anthony O'Reilly, GGR performance editor and certified personal trainer, tried the Explosion Fruit Punch, and Lindsay Scheele, lead video reviewer for GGR Everything, tried the Explosion Ripped Watermelon flavor.
Both testers used the pre-workout prior to intense training sessions. Anthony is an avid lifter who mostly performs bodybuilding-style weight training workouts, while Lindsay focuses more on CrossFit and Olympic weightlifting.
Anthony says, "This is a fine beginner's pre-workout. It's insanely cheap and has all the staples, albeit most are part of a proprietary blend or under-dosed. I'd recommend this to people who are just getting started and looking for a moderate pre that won't make them feel itchy and over-energized." 
Lindsay concurs, saying, "I didn't feel the itch like some other pre-workouts give me (paresthesia from beta-alanine), and I did have great lifting days when I took it, but overall, I wouldn't choose this because of the lack of creatine as well as a low dose of citrulline, among other things."
All in all, Six Star Explosion and Explosion Ripped won't give you the itch or the jitters like strong pre-workout supplements will, but it also won't result in the greatest muscle pump or peak performance. It's a happy medium and a good starting point for beginner lifters.
RELATED: Best Pre-Workout for Beginners
Price Per Serving
As Anthony pointed out, Six Star Explosion pre-workout powder is "insanely cheap."
On the Six Star website, Explosion costs about $24 for 30 servings, which makes the price per serving just $0.80. Anthony got it even cheaper on Amazon, snagging a container for less than $20 with a price per serving of $0.56. This makes it one of the cheapest pre-workouts.
Explosion Ripped costs the same on the Six Star website, about $24. They're essentially the same dietary supplement, so this checks out. You can also likely find this one on Amazon to save a few bucks, too.
Formulation
OK, here we go. I'll start by saying that Six Star Explosion is not the best pre-workout available. It is under-dosed in multiple areas, and it contains a lot of artificial ingredients that health-conscious (not just fitness-conscious) people would probably prefer to avoid.
Our testers gave this pre-workout a combined score of 3.25 out of 5 for formulation due to the lack of creatine monohydrate and the under-dosed ingredients.
Here's what you'll get in one scoop of Six Star Pre-Workout Explosion.
Vitamin C as ascorbic acid, 250 mg
Frankly, it's unclear to me why Six Star included so much vitamin C in this pre-workout formula since vitamin C has been associated with blunted performance. According to a 2023 review1 in Current Sports Medicine Reports, researchers concluded that "11 articles showed either neutral or negative effects of high-dose vitamin C supplementation on muscle damage, physical performance, perceived muscle soreness, and/or adaptations to training."
A 2023 meta-analysis2 in the journal Nutrients investigated the effect of antioxidant supplementation on sports performance, coming to a similar conclusion about vitamin C.
That said, a "high dose" in this context generally means 1 gram or more, so 250 milligrams may not impair performance. However, if you take two scoops—and also take a multivitamin or get a lot of vitamin C from your diet—your regimen may backfire on you.
Niacin (vitamin B3) as niacinamide, 30 mg
This is another interesting choice on the part of Six Star. There is limited research around niacin and sports performance, but what research does exist does not point to niacin as a helpful ergogenic aid—quite the contrary. In a 2021 trial published in the International Journal for Vitamin and Nutrition Research3, the study authors concluded that niacin actually impairs exercise performance, possibly by altering lipid metabolism (the way your body processes fats for energy).
Again, the dose in a single scoop of Explosion may not be anything to worry about. The Journal of the International Society of Sports Nutrition's position statement on energy drinks4 states that "limited evidence indicates a reduction in exercise capacity" when high doses of 280 milligrams are consumed. This pre-workout formula contains just 30 milligrams.
Choline as choline bitartrate, 40 mg
Choline is an essential nutrient necessary for many bodily processes and functions. In the world of sports performance, researchers have proposed that choline could be a helpful performance aid by extending time to fatigue since intense and prolonged exercise (such as a triathlon or marathon) is associated with decreased choline levels in the body, according to 2008 research5 in the International Journal of Sport Nutrition and Exercise Metabolism.
The mechanisms of this aren't perfectly understood, but a 2019 report6 in the journal Frontiers in Nutrition states that choline may play a role in how the body processes fats for energy. It also forms acetylcholine, a neurotransmitter involved in learning, memory, and attention, and reductions in the release of that neurotransmitter may "may contribute to the development of fatigue and exercise performance impairment," according to the report. 
Beta-alanine, 1.5 g
Beta-alanine is a key ingredient in most pre-workouts, as it is known to increase muscle endurance and reduce fatigue, according to a 2012 meta-analysis in the journal Amino Acids7. Unfortunately, 1.5 grams is a very low dose of beta-alanine, so it's unlikely that Six Star Explosion would produce the results seen in clinical trials studying the effects of beta-alanine. According to the International Society for Sports Nutrition8, the recommended daily dose of beta-alanine is 4 to 6 grams.
On the plus side, this lower dose also means you likely won't experience paresthesia, a common side effect of beta-alanine that causes a tingle or itchy sensation in the skin.
Betaine anhydrous, 1.25 g
According to registered dietitian Chelsea Rae Bourgeois in our guide to the best pre-workout ingredients, betaine anhydrous is a naturally occurring chemical in the body but is most often associated with beetroot.
"Supplement companies often include beetroot in their ingredients to harness its powerful pre-workout properties," Chelsea writes. "For example, beets contain nitrates that help improve blood pressure, increase endurance, and boost oxygen uptake."
This increase in blood flow is part of what causes the coveted muscle pump during a tough workout. That "full" feeling in your muscles is the result of increased blood flow and fluid retention in the muscle tissue.
L-arginine alpha-ketoglutarate (AKG), 1.1 g
Also referred to as arginine AKG, this compound purportedly increases nitric oxide production in the body. Research on this specific compound is inconclusive and not super-promising. For instance, a 2012 trial9 in the Journal of the International Society of Sports Nutrition did not find this compound to produce any ergogenic effects.
However, research on arginine in general suggests that doses of 1.5 to 2 grams per day can result in improved aerobic athletic performance, according to a 2020 meta-analysis in Nutrients10. It's unclear why Six Star chose arginine AKG instead of just L-arginine, but either way, the 1.1-gram dose doesn't meet the clinical standard.
Advanced Pump Complex
This is a proprietary blend that contains a total of 500 milligrams of:
Taurine, an amino acid associated with improved performance by way of several mechanisms, although research is inconclusive, according to a 2021 systematic review11 in the Journal of the International Society of Sports Nutrition.
L-citrulline and L-citrulline malate, variations of the amino acid citrulline, which is known to cause vasodilation12 and increase the muscle pump
L-arginine hydrochloride, the amino acid arginine bonded with hydrogen and chloride, which is just a salt version of L-arginine.
RELATED: Best Pump Pre-Workout
Pre-Workout Explosion Blend
Another proprietary blend, this one contains the following ingredients totaling 255 milligrams:
Caffeine anhydrous, supplying 135 milligrams of caffeine. This is slightly low compared to the typically recommended dose of 200 milligrams, but is a good option for those with a lower caffeine tolerance, beginners, and those who get a lot of caffeine from other sources daily.
Choline bitartrate which, as discussed above, may have positive effects on endurance.
L-tyrosine, an amino acid that has been studied for its impact on mental strength and focus. Research is inconclusive, with some studies showing performance enhancements and other studies showing none.
All other ingredients in the formula are for taste, texture, or preservation. This product contains sucralose and aspartame potassium for sweetness, as well as Red Dye 40 for color, so if you prefer not to consume those ingredients, this isn't the pre-workout for you.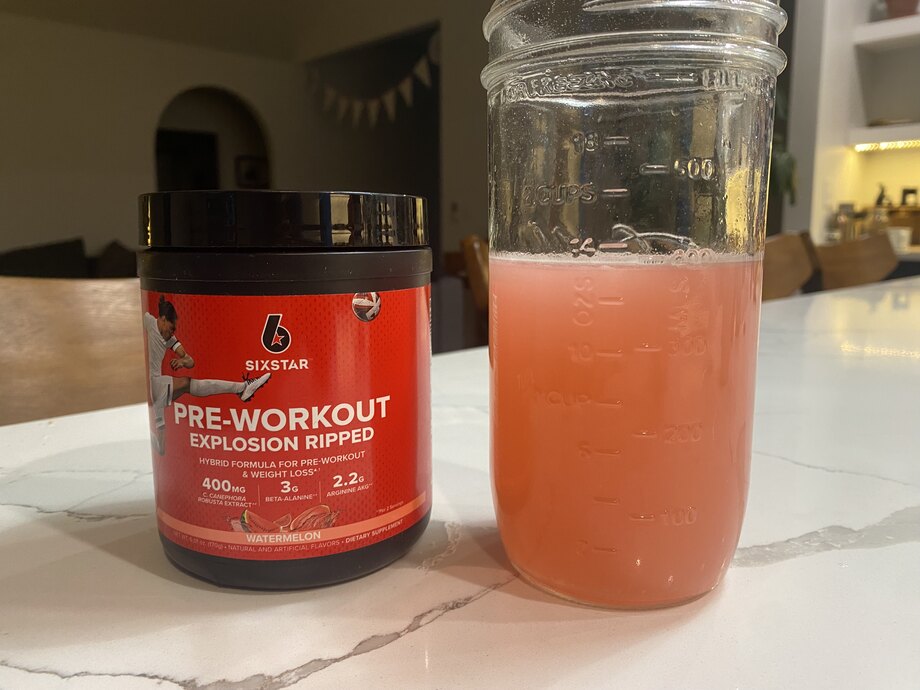 Six Star Explosion Ripped Formula
The formula for the Ripped version of this pre-workout is a little different, and by "a little different," I really mean a little bit. The formula is largely the same except for the addition of green tea extract, which Six Star promotes for weight loss.
As for whether green tea extract and the active compound called chlorogenic acid actually works for weight loss, research is inconclusive. The U.S. Office of Dietary Supplements has concluded that green tea extract may have a "possible modest effect on body weight," according to its review of weight loss supplements13.
Some studies, such as a 2019 randomized controlled trial14 in the journal Nutrients, suggest that chlorogenic acid could potentially have a role as a weight loss agent. In this trial specifically, results suggest that coffee high in chlorogenic acid may reduce abdominal fat and waist circumference. In a 2020 systematic review and meta-analysis15 in the journal Phytotherapy Research, results suggest that green tea supplementation "can be combined with a balanced and healthy diet and regular physical exercise in the management of obese patients."
So there is promise here, but nothing to position green tea extract as a magic weight loss supplement. Also, it's important to remember that these trials studied overweight and obese individuals, and the results don't necessarily extrapolate to individuals who are already at a healthy weight.
RELATED: Weight Loss Pills That Don't Work
In any case, Explosion Ripped doesn't cost any more than Explosion, so if you want to try it, go for it. If it were to cost more due to the green tea extract, I'd say skip it.
Additionally, Explosion Ripped doesn't contain betaine anhydrous; Explosion Does. As mentioned, betaine anhydrous is associated with beet root extract, which is a nitric oxide booster. If you are looking for a pre-workout that can potentially assist with endurance as nitrates do, Explosion is the better choice.
Taste and Solubility
While both Anthony and Lindsay rated the pre-workout with 5 out of 5 points for texture, Lindsay was not impressed with the taste.
She tried the Watermelon flavor and scored the powder with 2.5 out of 5 points for taste, saying, "Blah, felt like I was drinking a barn that grew watermelon. For real, it was not a great taste at all. I also had a few friends at the gym taste it. We all agreed: it was drinkable, but not enjoyable."
Anthony tried Fruit Punch and says, "I'm getting more Hawaiian Punch than I am Kool Aid. It's pretty tasty and not overly sweet." He gave it 4 out of 5 points for taste.
RELATED: Best Pre-Workout for Muscle Gain
Side Effects
Neither of our testers experienced negative side effects after taking this pre-workout. Artificial sweeteners are associated with gastrointestinal distress in some people, so if you fall into that camp, skip this pre-workout.
Additionally, caffeine can cause jittery feelings of nervousness, but at 135 milligrams per serving, that likely won't be an issue for most people with this product.
Beta-alanine can cause paresthesia, a pins-and-needles feeling in the skin, but again, at a low dose of 1.5 grams per serving, most people won't experience that with this pre-workout.
Third-Party Testing
Third-party testing is independent lab testing that ensures that what's on a product's label is actually what's in the product.
Six Star Pre-Workout Explosion is not third-party tested; neither is Explosion Ripped. GGR recommends taking third-party tested supplements whenever possible, but recognizes that those certified products typically cost more. For athletes, we recommend only using third-party tested supplements to ensure they are free from banned substances in sports.
Six Star Pre-Workout vs Total War Pre-Workout
Total War Pre-Workout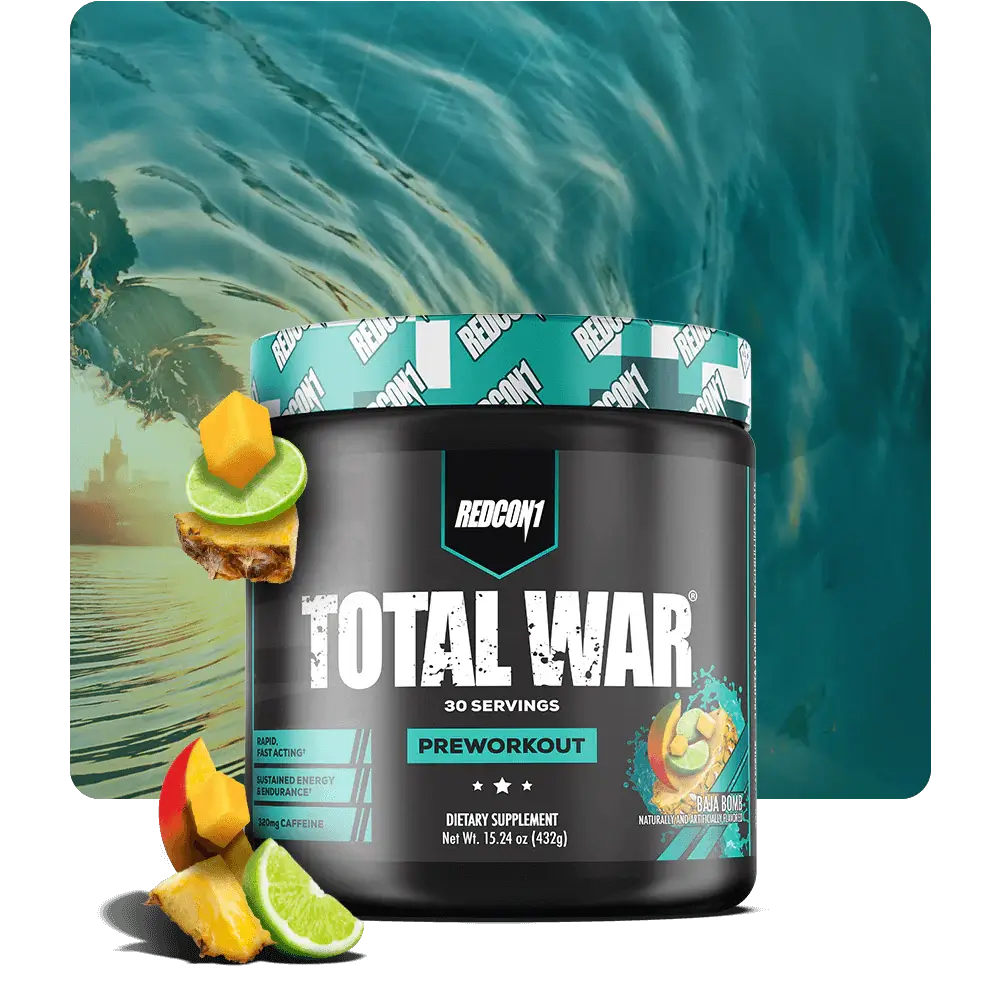 GGR Score: 4.1
Product Highlights
Original, long-standing Total War formula

20+ unique flavors

Full, effective dosages in every scoop

Caffeine from multiple sources for longer-lasting effects
Pros & Cons
Pros
Fully transparent label
No proprietary blends
Ingredients targeting pump, energy, and focus
Effective dosages of ingredients
320 mg of caffeine per scoop
Dicaffeine malate for long-lasting energy
Competitively priced at $1.43/serving
Cons
High dosage of caffeine can be too much for some users
Beta-alanine may cause uncomfortable itchiness
Bottom Line
Total War is a complete pre-workout with effective dosages, a transparent label, and flavors galore. This is a great overall option for any gym-goer, though the caffeine-sensitive may need to start with a half dosage.
Redcon1 Total War Pre-Workout is another popular supplement. It contains many of the same ingredients as Six Star Explosion, including caffeine anhydrous, beta-alanine, citrulline, and taurine. On the contrary, Total War does not include choline, betaine anhydrous, L-arginine, or L-tyrosine.
Total War contains a few other active ingredients that aren't found in Six Star, for various purposes like hydration (sodium) and focus (agmatine sulfate). The inactive ingredients are quite similar, with silica and maltodextrin appearing in both pre-workouts.
Redcon1 Total War is noticeably more expensive at $1.40 per serving. It also contains more than double the caffeine in Six Star at 320 milligrams per serving.
You can read my Total War pre-workout review for more info on this supplement.
| | | |
| --- | --- | --- |
| | Six Star Pre-Workout | Total War Pre-Workout |
| Price per serving | About $0.80 | About $1.40 |
| Caffeine dose | 135 mg from caffeine anhydrous | 320 mg |
| Creatine dose | 0 mg | 0 mg |
| Citrulline dose | Unclear (it is in a proprietary blend) | 6 g (citrulline malate) |
| Beta-alanine dose | 1.5 g | 3.2 g |
| Other active ingredients | Vitamin C, niacin (vitamin B3), choline bitartrate, betaine anhydrous, L-arginine ketoglutarate (AKG), taurine, L-arginine hydrochloride, L-tyrosine | Sodium, agmatine sulfate, juniper berry extract, green tea extract, theobromine, naringin extract, BioPerine |
| Other inactive ingredients | Citric acid, natural and artificial flavors, silicon dioxide, malic acid, maltodextrin, FD&C Red No. 40 Lake | Natural and artificial flavors, disodium phosphate, silica, calcium silicate, maltodextrin |
| Sweeteners | Sucralose, acesulfame potassium | Sucralose, acesulfame potassium |
| Flavors | Fruit Punch, Icy Rocket Freeze, Pink Lemonade | 27 options |
Customer Experience
Six Star allows customers to make returns or request refunds within 60 days of purchase (so 50 to 55 days from receipt of the product). You must make a request through the contact form on the website; this is the only way to get in touch with the company.
If you buy from a third-party retailer, you are subject to that retailer's policies.
Ordering Six Star Pre-Workout
You can order Six Star pre-workout on the company website or from Amazon. It may also be available at your local GNC. The price will vary based on where you buy it (often cheaper on Amazon).
Customer Reviews
Customer reviews are mixed, with some buyers saying Six Star pre-workout is life-changing and others saying they don't notice any effect.
"The stuff definitely does the trick," wrote one buyer. "I mixed two scoops before an intense four-hour workout. This stuff definitely got me pumped up and gave me enough energy to last the entire session. I did two and a half hours of weight training and an hour and a half of cardio. Gave me tons of energy and great focus. No distractions during the work out, was really nice. And I absolutely love this flavor. "Icy rocket freeze" is by far my favorite."
On Amazon, Six Star Pre-Workout Explosion has nearly 17,000 reviews with an average rating of 4.4 out of 5 stars—pretty good, I'd say.
Final Verdict of Our Six Star Pre-Workout Review
Six Star Pre-Workout Explosion and Explosion Ripped could be good options for first-time pre-workout use. The low doses mean it won't cause anxiety, nervousness, jitters, or itchiness, all of which are commonly associated with strong pre-workouts.
However, that also means you aren't getting the scientifically validated doses of the ingredients.
We recommend it to beginners and people sensitive to caffeine/stimulants; we don't recommend it for people sensitive to artificial sweeteners or other artificial ingredients.
Six Star Pre-Workout Full Rating
Six Star Explosion Pre-Workout
Six Star Pre-Workout Explosion is an inexpensive pre-workout supplement with 135 milligrams of caffeine, plus beta-alanine, arginine, betaine anhydrous, and other common pre-workout ingredients. However, the ingredients are mostly under-dosed and not in line with clinical recommendations for sport performance.
Product Brand: Six Star
Product Currency: $
Product Price: 23.99
Product In-Stock: InStock
Six Star Pre-Workout: FAQs
What does Six Star pre-workout have in it?
Six Star Explosion pre-workout contains vitamin C, niacin (vitamin B3), choline bitartrate, betaine anhydrous, L-arginine ketoglutarate (AKG), taurine, L-arginine hydrochloride, L-tyrosine, caffeine anhydrous, sucralose, acesulfame potassium, citric acid, natural and artificial flavors, silicon dioxide, malic acid, maltodextrin, and FD&C Red No. 40 Lake. 
Is Six Star pre-workout good for weight loss?
No pre-workout is a weight loss supplement in its own right. Pre-workout can, however, give you a boost of energy and help you work harder in the gym, which may translate to weight loss as long as you're also eating a nutritious diet and maintaining a caloric deficit.
How much caffeine is in Six Star pre-workout?
One scoop of Six Star Explosion contains 135 milligrams of caffeine.
These statements have not been evaluated by the Food and Drug Administration. This product is not intended to diagnose, treat, cure, or prevent any diseases.
References