We test and review fitness products based on an independent, multi-point methodology. If you use our links to purchase something, we may earn a commission. Read our disclosures.
The gym equipment business is always evolving, and the top manufacturers do their best to present their customers with updated machines that provide the best service possible. As a result of that, some machines have to be placed into retirement in a sense.
Such is the fate of the Nautilus T614 Treadmill. Nautilus opted to discontinue this model, and it's no longer available for sale by Nautilus or on Amazon. However, you may find this great treadmill under $1,000 on some sites and in some stores at a clearance price, or it may pop up for sale online. In our Nautilus T614 Treadmill review, we'll tell you why this could be worth buying for your garage gym or personal workout space as well as give you options for alternatives.
We Know Treadmills
Not only are our experts knowledgeable about treadmills, we have actually used a lot of them. Dozens, in fact. Just like you would want to learn about your car from the best mechanics, you want to know the best information about fitness equipment you want to spend your hard-earned money on from a team like ours.
We have also used and reviewed the Nautilus T616 treadmill, so we have a good idea of what to expect from this machine.
Looking for an Alternative to the Nautilus T614?
If you're planning on upgrading your Nautilus T614, or if you want to find a comparable treadmill for your home gym, then you should consider the Nautilus T616 treadmill, or you can check out our list of the Best Treadmills under $600 for something that may be more budget friendly. The T616 is very similar to the T614, featuring an impressive 15% incline, speeds up to 12 MPH, and a generously-sized running deck.
Best Alternative to Nautilus T614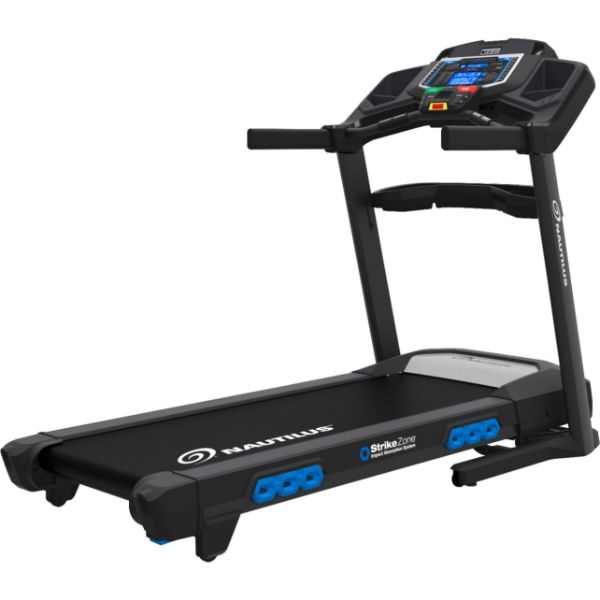 Nautilus T616
The Nautilus T616 treadmill is the company's entry level machine. Despite its entry-level status, it comes with many features, including: 0-12 mile-per-hour speeds, 0-15% incline grades, 26 workout programs, SoftDrop folding system for storage, StrikeZone cushioning, and adjustable 3 speed fan for comfort.The 26 workout programs include manual/quick start, interval training, heart health, and custom workouts. Runners can also sync with the Explore the World App to run through 27 routes in 19 locations around the world with a subscription and three free courses. The app does have poor reviews, with users struggling with buffering and slow video playback. If you'd like an immersive global run, a more technologically advanced treadmill would be a better option.Customer reviews of the Nautilus T616 are mixed. Positive reviews state that the T616 is solidly built, easy to set up, and simple to use. Negative reviews complain that the T616 is noisy and slow to change speeds. They've also reported difficulty with the T616 synching with various apps and struggling to maintain a connection with the included heart rate monitor chest strap.
A Quick Look at the Nautilus T614
The T614 is a treadmill that can serve beginners very well, and it can be great for people that want a cardio option when they can't run outside. Some of the treadmill's best features include its 22 workout programs, the StrikeZone cushioning system for minimal joint impact, and its backlit LCD display console.
This isn't a large home treadmill, and it has transport wheels as well as a folding system for easier storage, which can help if you have limited space. Heart rate can be tracked via the contact handles, but there is no chest strap for this machine.
Pros:
Affordable at under $1,000
22 workout programs including a custom workout
Easy-to-ready 5.5-inch LCD console
Quiet 2.75 CHP motor
Speakers and MP3 input
Folding design
300-lb weight capacity
Incline up to 12%
Cons:
No touchscreen or Bluetooth
Motor isn't ideal for serious runners
200-lb machine may be hard to move
Nautilus T614 Specs
| | |
| --- | --- |
| Footprint | 72.2" L x 35.2" W x 57.6" H |
| Weight | 200 lbs |
| Weight Capacity | 300 lbs |
| Motor | 2.75 CHP |
| Walking Belt | 55" L x 20" W, 2-ply |
| Display | 5.5-Inch LCD |
| Incline | 0-12% |
| Speed | 0-12 MPH |
| Programs | 22 |
| Warranty | 10 years frame and drive motor, 2 years mechanical/electronics, 1-year labor |
Where Can I Find the Nautilus T614?
Since the T614 has been discontinued, it's not available to purchase from Nautilus or any of the other major retailers. Your best bet to find one would be on Facebook Marketplace or through other online sale sites such as eBay.
Key Features of the Nautilus T614
The T614's has a reading shelf and two cup holders to provide all the storage space you should need. You can also connect your phone or music device to it through its MP3 media input and the USB port.
The T614 also has a central fan that can keep you cool while you're working out. You can use the contact handles for heart rate monitoring, but it doesn't come with a chest strap, as some newer Nautilus models like the T616 does.
Footprint, Portability, and Durability
The Softdrop folding design makes folding and unfolding this machine simple, which can save time for training. It also comes with transport wheels so it can be moved out of the way, though at 200 pounds, we can't guarantee that's an easy job. It won't store under a bed or in a small closet.
The max user weight for this machine is 300 pounds, which is right in line with the industry standard. The 2-ply running belt should hold up for many workouts to come, and the frame should withstand longer runs and walks. Sprinters and marathon runners may want to consider another option, but for heart health, occasional runners, and people looking to lose weight, this can be a dependable treadmill.
Ergonomics
The running space on the T614 is 20 inches wide and 55 inches long. That is adequate space for walking or jogging, but you may want more space for sprints or to go all-out on a high incline. The display panel has a lot of functionality, such as the media shelf for a tablet or book and multiple cup holders. There are hand grips on the side for extra safety if needed.
Technology Benefits and Conveniences
The treadmill offers an MP3 input port and can connect to the MyFitnessPal app, which can help you monitor your progress. It also has its own ways of tracking workout data such as calories, time, and distance that can help you goal track each time you use it.
While this isn't a machine that boasts a fancy high-definition touchscreen, it does have an LCD screen to track your metrics. Extra features include the built-in speakers, multiple user profiles, quick goal programming, and interval training options.
Final Verdict of Our Nautilus T614 Review
The Nautilus T614 is a really good treadmill. It was originally launched in 2015, and it was priced at slightly under $1,000, which is around the normal price range for a treadmill this size. People who are in the market for a new treadmill may be better served buying one that has been released more recently, but from what we can gather, this is still a solid treadmill.
Nautilus T614 Rating
Nautilus T614 Rating
In our Nautilus T614 Treadmill Review, we take a look at the specs of this now-discontinued treadmill.
Product Currency: $
Product Price: 899
Product In-Stock: InStock
Nautilus T614 FAQs
How much is a Nautilus T614 treadmill?
The Nautilus T614 was originally priced at $949. Since it has been discontinued, you may be able to find it for less online. If you're in the budget for a treadmill that costs less than $1,000, check out our recommendations to find one that would be a great fit for your home gym.
Is Nautilus a good brand?
Nautilus is mostly known for their commercial weight training machines. When it comes to cardio equipment, they may not be as popular for treadmills as NordicTrack or ProForm, but they are a very good company that is well established in the fitness space. 
How do I reset my Nautilus treadmill?
To reset your Nautilus treadmill, make sure the incline is all the way down to "0." Stop the belt, come off the treadmill, unplug it from the wall, then plug it back in. This should reset the programs for the Nautilus. You can also follow up with Nautilus for more information about resetting your treadmill.
How do you calibrate a Nautilus treadmill?
The instructions below are from the Nautilus T614 Owner's Manual.
1. Hold down the PAUSE/STOP button and RIGHT ARROW button together for three seconds while at the Welcome screen to enter the Console Setup Mode. Console will beep and display date information when it enters Setup Mode.
2. Push OK four times until the Console displays the TOTAL RUN HOURS screen.
3. Hold down the PAUSE/STOP button and RIGHT ARROW button together for 3 seconds to go into the Engineering Mode.
4. Push the Down arrow button 4 times until the Console displays "RUN MCB CAL" . Be sure the area around the Treadmill is clear of all bystanders, children and pets. Be sure there is nothing on or under the Walking Belt, or near the Treadmill.
5. With the area clear, push the OK button. The calibration procedure will begin by automatically moving the Walking Belt and lifting the Deck
through the full range of incline motion. Be sure not to touch or allow anyone else to touch the machine while calibration is occurring.
6. When calibration is complete, the Console will display "done" for a few seconds , and then return to the "RUN MCB CAL" option .
7. Flip the power switch to OFF. Calibration is now complete for the machine. If this did not work, you should follow up with Nautilus by contacting their customer service.