We test and review fitness products based on an independent, multi-point methodology. If you use our links to purchase something, we may earn a commission. Read our disclosures.
Gym equipment is like trash. Not literally, but as in, one man's trash is another man's treasure. Or something like that. What I mean is: No piece of equipment is right for everyone. Some people refuse to buy anything but the best, while others are looking for the best their budget can buy. In this Lifespan RW1000 review, you'll find out which bill this rower fits and if it could work for you.
We Know Ergometers Like Brady Knows Football
We've spent countless hours with our bums on the seats of indoor rowing machines, noting every detail from the flywheel weight to the shape of the pedals and the drive system. We aim to never lead our readers astray and instead guide them to buy the absolute best products within their budget. Thanks to our roster of credentialed fitness pros and equipment experts, we can do exactly that.
Lifespan RW1000 Rower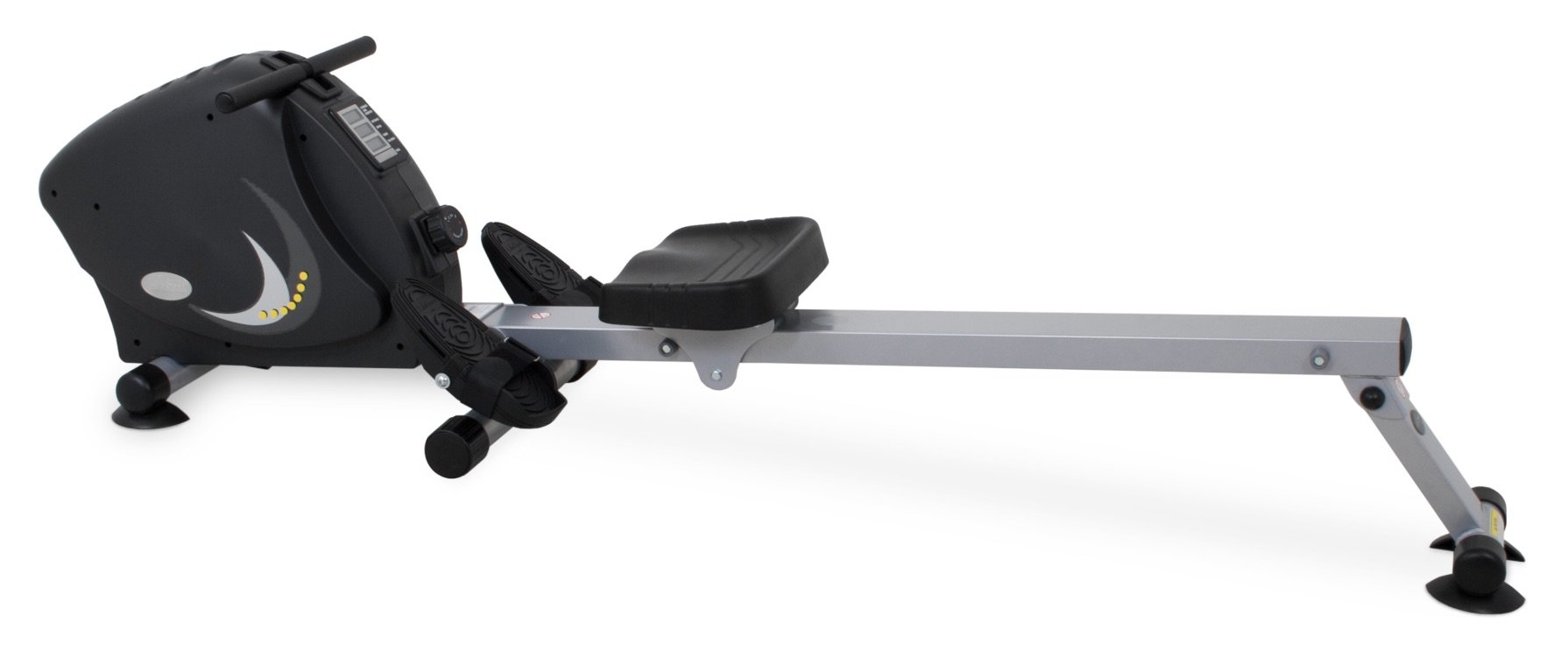 GGR Score: 3.0
Product Highlights
Magnetic resistance rower 

Foldable design 

Front mounted transport wheels
Pros & Cons
Pros
Foldable design
Cushioned seat
Free shipping and 30-day return policy
Cons
Short rail length
Only 5 levels of resistance
Pulley uses fabric strap
Bottom Line
The Lifespan RW1000 is a compact, foldable rower available for under $900. It is probably best for beginners due to limited levels of resistance.
A Quick Look at the Lifespan RW1000 Rower
The RW1000 is a basic indoor rowing machine with a magnetic resistance system. It has a simple LCD display and a comfortable injected foam seat.
There are, and excuse my French, a crap ton of extremely similar rowers available from other brands and retailers. On Amazon alone, there are hundreds of rowing machines that look just like the RW1000—and while we haven't used the RW1000, we have thoroughly tested many ike it.
In the rest of this Lifespan RW1000 rowing machine review, we'll go into more detail about all of this.
Before You Buy
Bluntly, we think there are better rowers available at this price point. When not on sale, the Lifespan RW1000 costs $900 and the quality is nowhere near the quality of the Concept2 RowErg, which costs around $1,000.
There is no Bluetooth connectivity nor ANT+ capability, so be aware of that if you intend to connect headphones or a smart device to stream workouts. 
This rower does fold, but it requires 90 inches (7.5 feet) of floor space when in use, so make sure your home gym can accommodate that dimension. 
Is the Lifespan RW1000 Rower Worth It?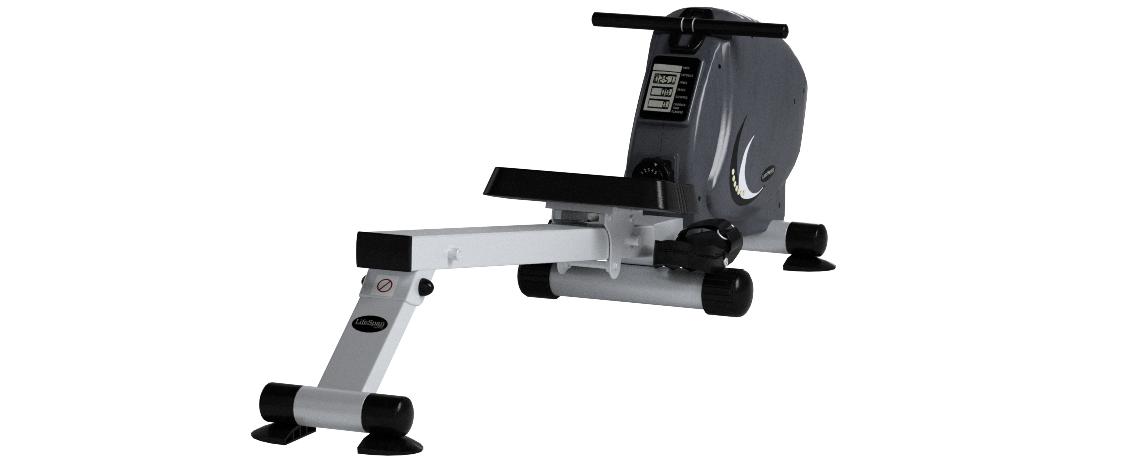 The Lifespan Fitness RW1000 Rowing Machine is a foldable magnetic rower that utilizes an eddy current system and has five levels of resistance. The folding steel frame and transport wheels make for easy storage, and the plastic flywheel housing sports a small, basic LCD monitor.
While all of that may sound fine and dandy, those are extremely basic features—which are totally fine if the price point is right. When not on sale, the RW1000 costs about $900. This is actually outrageous for the features offered. There are extremely similar rowing machines (which I will compare to the RW1000 later) that you can buy for half of $900 or even less.
My No. 1 goal as a fitness equipment reviews writer is to steer consumers away from products that cost more than they should. In this review, I'll detail the good and bad of the RW1000 like I do for every other product, but I want you to keep in mind the price point and other offerings from different brands.
Great for:
Beginners
People with limited storage space
Exercisers who don't care about rowing metrics and stats
Not recommended for:
Home gym owners looking for a more durable rower
Advanced, conditioned individuals
People who want built-in workouts
Lifespan RW1000 Specs
| | |
| --- | --- |
| Footprint | 90″ L x 18.5″ W x 23″ H |
| Stored Dimensions | 34″ L x 19″ W x 64″ H |
| Weight | 98 lbs |
| Weight Capacity | 300 lbs |
| Heights Supported | Not specified |
| Resistance Type | Magnetic |
| Resistance Levels | 5 |
| Foldable | Yes |
| Transportation Wheels | No |
| Seat | 14" injected foam contoured seat |
| Display | LCD |
| Connectivity | None |
| Metrics | Distance, time, calories, stroke count, and strokes-per-minute |
| Programming | None built-in |
| Warranty | 10 years frame, 2 years parts, 1 year labor |
Customer Reviews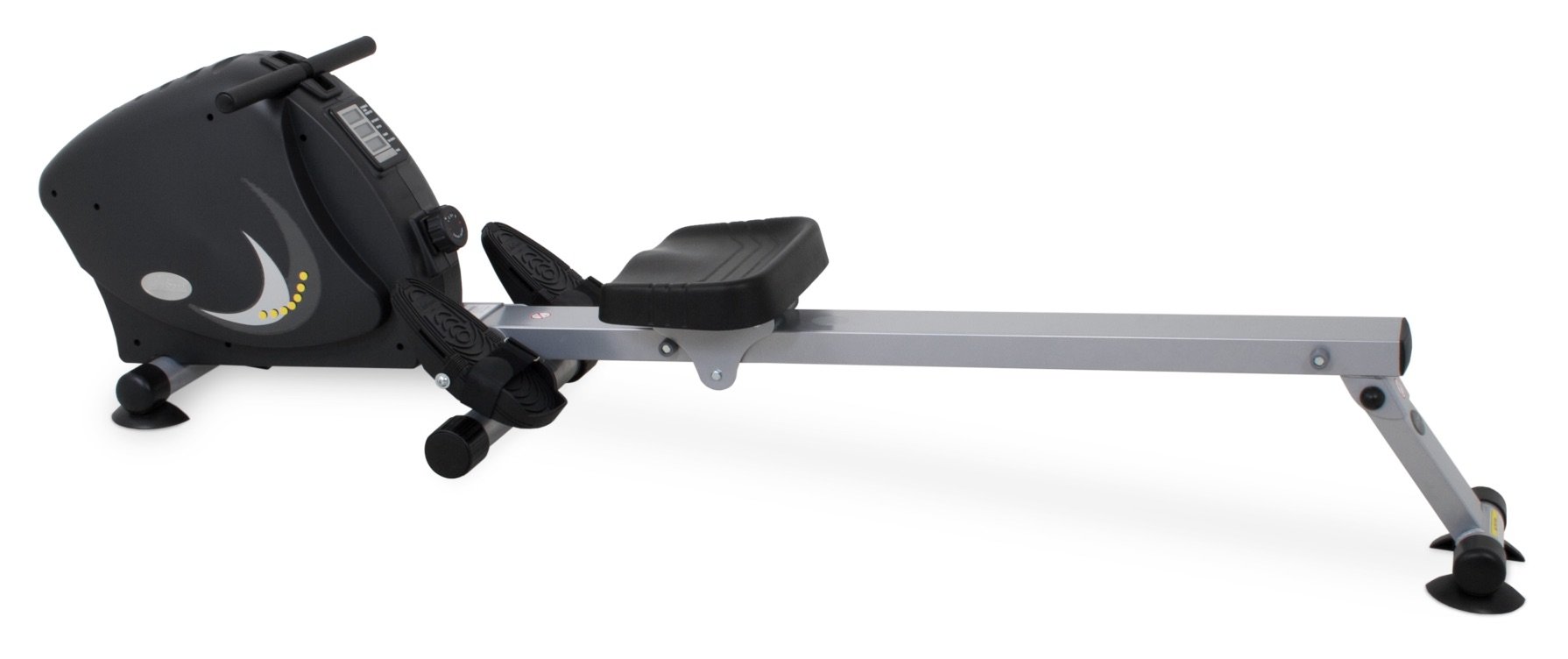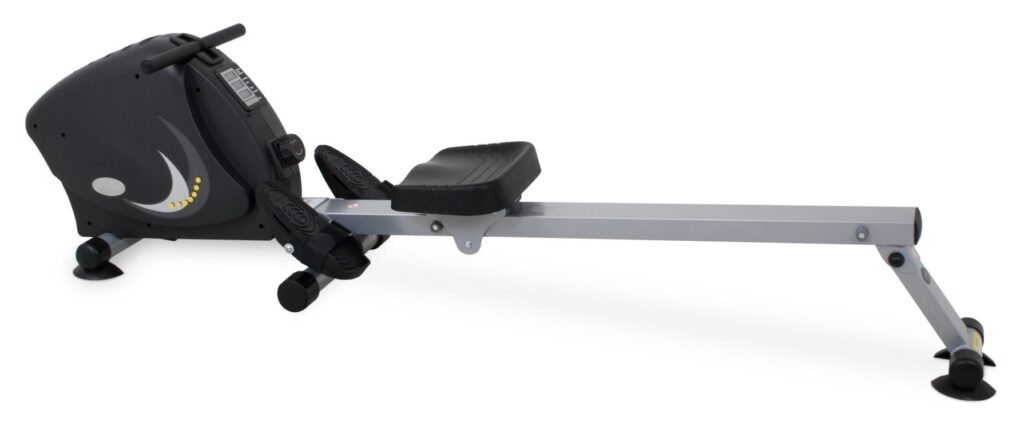 The Lifespan RW1000 foldable rowing machine has an average rating of 4.4 out of 5 stars at the time of writing. The reviews are largely positive, with buyers stating that they've enjoyed their experience with both the company and the product.
One buyer wrote: "This was my first-ever purchase of exercise equipment, and I had done a lot of research as a consumer before settling on a decision. I was pleased that the RW1000 was affordable, compact (you can fold the seat bar upwards to save space when not in use), and also the machine was very easy to put together (it arrived in two pieces/boxes)."
The customer continues: "Having been able to use it for over a month now, I can say I am very pleased with my purchase. The product is worth its value, it is incredibly sturdy and a quality product, and I can really get a good workout in, even in my small bachelor apartment. I've definitely seen an increase in my muscles and I also love how the rower machine counts my pulls so I can get a consistent workout, every time."
On Amazon, where the machine is currently unavailable, buyers are not quite as pleased.
A customer on Amazon, who " spent a lot of time looking and comparing reviews" to save money, wound up disappointed with the Lifespan RW1000. This reviewer felt let down because the rower didn't feel sturdy and stable, the LCD monitor never worked, and the machine became unusually noisy after a few workouts. The buyer ended the review with a succinct, "All in all, you get what you pay for."
Another buyer who purchased the rower used sums up my feelings about the price: "For the retail price, I would expect ANT+ and Bluetooth, and a larger and better display, though."
I would expect at least that much for a $900 list price, especially considering you get all that and more with the similarly priced Concept2 RowErg.
Workout Experience
There are mixed reviews about the workout experience on the Lifespan RW1000 rowing machine. It generally seems that people who are new to exercise and rowing enjoy the experience and get a challenging rowing workout.
However, customer reviews indicate that people at a more experienced fitness level who want to row with intensity do not find the rowing machine challenging enough. One buyer even wrote that he had to weigh down the front of the machine to pull hard on the drive:
"If I get into a good rhythm and start pulling with any force (and it's just a fabric strap you're pulling) I find that the front actually lifts off the ground," the buyer wrote. "I only weigh 135 pounds, so I definitely didn't expect to pull the unit right off the ground! I actually had to find some heavy weights and put them on the front feet in order to keep that from happening."
On the flip side, one reviewer found the Lifespan RW1000 to be the perfect machine for his needs.
"My doctor recommended a rowing machine for cardio exercise that was not weight bearing on my knees. My knees were getting bad enough that I could not walk or treadmill fast enough to get my heart rate up where I wanted it for a workout," the buyer wrote. "You can get a really good workout with this machine. It has 5 levels of resistance; I am up to the third level."
He continued, saying: "It seems well made and is sturdy. I have been using it for several months and have no doubt that it will last several years. The foot straps hold your feet tightly. The seat and seat wheels work well."
Footprint and Portability
This rower is relatively lightweight at 98 pounds, however, there is one glaring flaw: It doesn't have transport wheels. So, while a 98-pound machine is easy for most people to roll on wheels, it's certainly not easy for everyone to pick up a near-100 pound machine with uneven weight distribution and cart it across a room. For this reason, I can't call the RW1000 an easily portable rowing machine.
Perhaps its redeeming feature is its foldable frame. The machine folds up to measure 34 inches long, 19 inches wide, and 64 inches high, so it takes up relatively little floor space when not in use. You should know, however, that the total length is 90 inches, so you do need ample space when using the machine.
Durability and Construction
Durability is where the Lifespan RW1000 rowing machine seems to disappoint most buyers who leave negative reviews. Many customers complain of the machine wobbling during use and even feeling as if they'll topple over while rowing.
Additionally, there are several complaints of the LCD monitor failing to work at all, or breaking after a few workouts. Some buyers also complain that a squeaking sound developed in the flywheel after a handful of sessions.
One buyer wrote about a potential safety concern: "Over time, the rail that the seat slides back and forth on can build up a residue. This residue from dirt, grease, sweat and oils can cause the resistance to slow, if not stop the seat from freely sliding on the rail. It happened to me today when I pulled and extended my legs and the seat didn't move with me. I ended up on my butt off the side of the rail in an uncomfortable position (at the least) and I could see where you could bruise a tailbone or wrench your back."
On the other hand, some buyers rate the durability positively, stating that the machine works quietly and they felt stable while using the rower.
The Ergonomics
Possibly the only comfortable feature about the RW1000 is the injected foam seat. It's 14 inches wide, soft, and contoured.
However, there are many complaints around comfort. For starters, the slide rail is at a slightly downward angle, and the display is so low that you'll likely have to extend your neck to look at it.
Using my past experience on similar rowing machines to judge the ergonomics of the RW1000, it also looks like taller individuals may not be able to achieve full leg extension during their rowing stroke. Lifespan Fitness does not specify the monorail length or max user inseam, so I can't say for sure.
Technology Benefits and Conveniences
You won't get much tech with this rower. It sports a simple, small LCD display that reads out a few (potentially inaccurate) metrics. It displays distance, time, calories, stroke count, and strokes-per-minute. However, some customers report that the metrics do not match up with read-outs on other machines.
Lifespan RW1000 vs Stamina Rowing Machines
Stamina Rowing Machine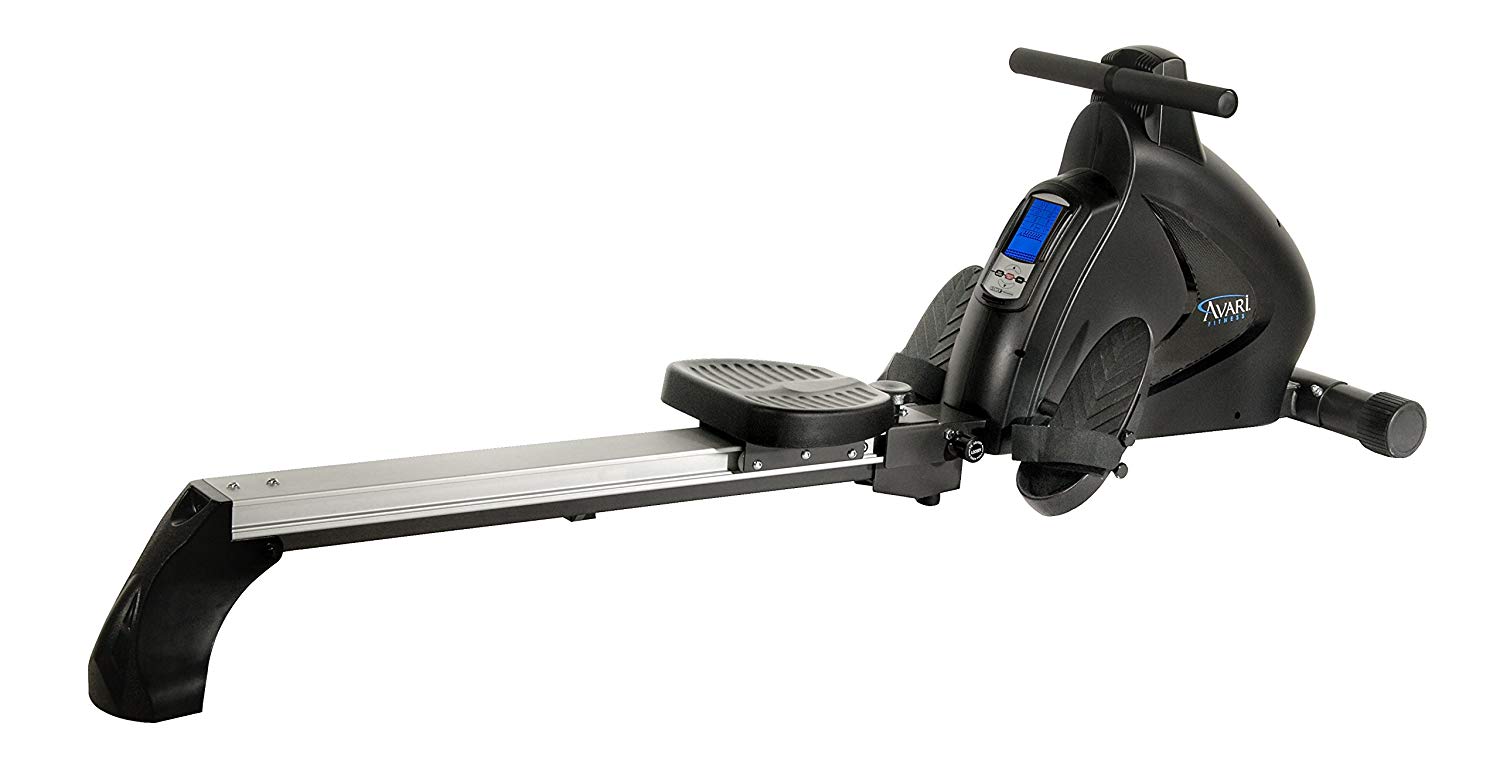 GGR Score: 5
Community Score: 5
Product Highlights
Gym equipment is like trash. Not literally, but as in, one man's trash is another man's treasure. Or something like that. What I mean is: No piece of equipment is right for everyone. Some people refuse to buy anything but the best, while others are looking for the best their budget can buy. In this Lifespan RW1000 review, you'll find out which bill this rower fits and if it could work for you.
We Know Ergometers Like Brady Knows Football
We've spent countless hours with our bums on the seats of indoor rowing machines,
» Read more about: Lifespan RW1000 Review (2023): There Are Better Options for the Price »
Stamina has a huge line of rowing machines, many of which are similar to the Lifespan RW1000. Presently, Stamina offers six magnetic rowing machines ranging from a few hundred dollars up to more than $1,000. I tested the Stamina ATS 35-1403, which is an air rower, but we have also tested and extensively researched many other Stamina Rowing Machines.
Even though I wouldn't generally recommend Stamina over another brand, I will say this: You'll find rowing machines of similar quality to the RW1000 but for less dough, so Stamina presents the better value.
Lifespan RW1000 vs Sunny Health and Fitness Rowing Machine
Sunny Health & Fitness Rowing Machine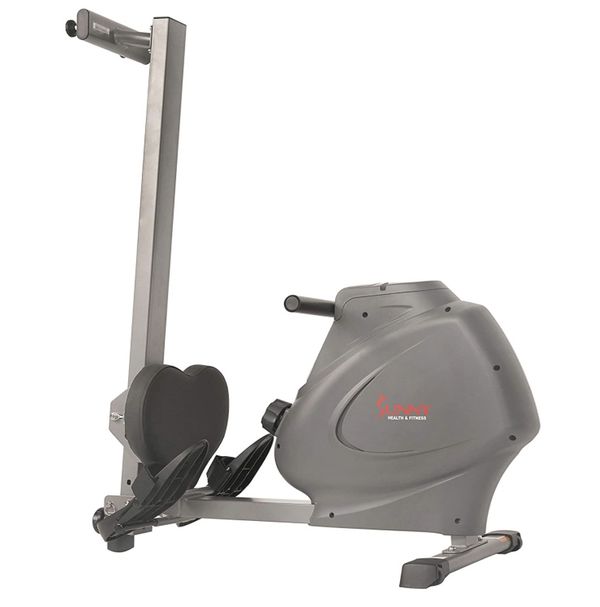 Product Highlights
Costs less than $300
Weighs just 50 lbs
Easy to store
Good entry-level purchase to find out if you enjoy rowing for exercise
Pros & Cons
Pros
Costs less than $300
Weighs just 50 lbs
Easy to store
Good entry-level purchase
Folds for storage
Cons
Shorter seat rail
No preset workouts
Lots of plastic parts
Bottom Line
The Sunny Health and Fitness SF-RW5801 is an inexpensive magnetic rower and a good "starter" rowing machine to find out if you enjoy it for exercise.
We have tested oh-so-many cardio machines from Sunny Health and Fitness, including a handful of rowing machines. Like Stamina, Sunny Health and Fitness produces too many machines to count—and also like Stamina, you'll find Sunny rowers at lower prices than the Lifespan RW1000.
Sunny Health and Fitness is one of our favorite budget-friendly home gym equipment brands, consistently earning a spot on our guides to budget equipment. We think a Sunny rower is the better choice for most people, considering the lower price points.
Customer Experience
Lifespan provides a pretty good warranty on this rower: 10-year frame warranty, 2-year parts, and 1-year labor. This is consistent with the industry standard for home rowing machines.
Lifespan also offers free shipping, 30-day returns, and financing options with Bread or SplitIt.
If you need to contact Lifespan, you can do so via email. There is an online chat option, but it isn't an instant messaging format. When I clicked on the chat icon, it said "typically responds in a few hours."
Ordering and Assembling the Lifespan RW1000 Rower
According to customer reviews, assembling the Lifespan RW1000 is pretty quick and easy. The shipment will arrive in two separate boxes (one with the flywheel and one with the frame and other parts), and assembly should take less than an hour. This tracks with our experiences assembling similar machines.
Final Verdict of Our Lifespan RW1000 Review
My bottom line about this rower is that there are better options available for the price. Particularly, if you're going to spend around $900 on a rowing machine, I'd encourage you to save up an additional $100 to buy the Concept2 RowErg. The value of the RowErg simply can't be beat in our opinion—for around $1,000, you can get a much sturdier, much stronger, much more effective rowing machine.
Full Rating
Lifespan RW1000
Read our Lifespan RW1000 review to find out if this mid-tier rower is worth the spend.
Product Currency: $
Product Price: 899
Product In-Stock: InStock
Lifespan RW1000 Review FAQs
What is the best rowing machine? 
What are the different types of rowing machines? 
There are a few types of rowers, including: magnetic rowing machines, air rowing machines, water rowing machines, and hydraulic rowing machines. There are also hybrid machines, which typically combine air and magnetic resistance.
What are some rowing workouts?