We test and review fitness products based on an independent, multi-point methodology. If you use our links to purchase something, we may earn a commission. Read our disclosures.
Even if you haven't boarded the greens powder train, you've likely at least heard of Athletic Greens. Recently rebranded as AG1, Athletic Greens has taken the growing greens market by storm due to its robust formulation—err, or more likely its "influencer" marketing efforts.
But Vibrant Health Green Vibrance is a real OG (Original Green, of course) and stepped onto the greens scene back in 1992. Green Vibrance claims many health benefits—such as supporting digestive health, circulation, and immunity—like the other greens powders that have followed its lead, AG1 included.
While AG1 takes the crown as the best greens powder overall, Green Vibrance still receives an honorable mention—and primarily for one core reason that we'll certainly address. We consider both to be high-quality green powder supplements, but let's dive deeper into the two in this Green Vibrance vs Athletic Greens review.
Green Vibrance
GGR Score: 3.24
Product Highlights
Supports healthy nutrition, digestion, circulation, and immunity

Made with nutrient-dense whole foods

Claim to source and supply every ingredient to ensure purity

Provides 25 billion probiotics and prebiotics

Notable ingredients include organic cereal grass powders and juices, astragalus, and spirulina
Pros & Cons
Pros
Whole foods-based
Probiotics and prebiotics aid digestion
Quality ingredients
Variety of sizes sold
No artificial flavors or coloring
Cons
On the pricier side
Taste is not for everyone
Bottom Line
The Vibrant Health Green Vibrance is formulated with nutrient-dense whole foods to provide a comprehensive range of nutrients in order to effectively support healthy nutritional intake, digestion, circulation, and immunity. Made with high-quality and individually sourced ingredients, Green Vibrance powder has an added 25 billion probiotics and prebiotics to promote a healthy gut. Notable ingredients range from organic cereal grass powders and juices to holy basil, goji berries, and flaxseed powder.
Athletic Greens
GGR Score: 4.25
Product Highlights
Contains 75 minerals and nutrients in one serving

Available in travel pouches and bundle and save options

Said to support gut health with prebiotics, probiotics, and naturally occuring enzymes

Supports immunity with key ingredients like vitamin C and mushrooms

Magnesium is added to boost energy

May aid in recovery as it features superfood complex with adaptogens and antioxidants
Pros & Cons
Pros
Backed by notable health experts
Transparent and detailed ingredient list
75 vitamins and minerals
Cons
Expensive
Some reviewers dislike the taste
Bottom Line
If you're looking for a greens powder with a unique blend of minerals, nutrients, power greens, enzymes, and probiotics and you're willing to spend some money, Athletic Greens may be a good choice for you.
Medical disclaimer: This article is intended for educational and informational purposes only. It is not intended as a substitute for medical advice. For health advice, contact a licensed healthcare provider. GGR also recommends choosing a product that has been third-party tested for quality.
Comparison Chart
| | | |
| --- | --- | --- |
| | Green Vibrance | Athletic Greens |
| Price | $99.56 for 86 servings | $99 for 30-serving pouch |
| Price per serving | $1.20 | $3.30 |
| Flavor options | Unflavored | No flavor options |
| Vitamins | Vitamin A, vitamin C, vitamin D3, vitamin E, vitamin K, vitamin B12, folate | Alpha lipoic acid (ALA), biotin, bromelain, CoQ10, folate, methylcobalamin, niacin (nicotinamide), niacin (nicotinic acid), pantothenic acid, riboflavin (B2), thiamine (B1), vitamin A, vitamin B6, vitamin C, vitamin E, vitamin K2 |
| Minerals | Calcium, iron, phosphorus, iodine, magnesium, chromium, potassium, sodium | Calcium carbonate, calcium citrate, calcium phosphate, chromium picolinate, copper, magnesium glycinate, manganese, potassium, potassium phosphate, selenium, sodium, zinc citrate |
| Whole-food sources | Barley grass, oat grass, wheat grass, spirulina, beet root, parsley leaf and stem, ascophyllum nodosum seaweed, apple, tomato, zucchini, carrot, spinach, broccoli, broccoli sprouts, kale, amla, strawberry, acerola, camu camu, goji berry, turmeric, pomegranate, ginger, cayenne pepper | Acerola, alfalfa, apple, artichoke, barley grass, bilberry, bioflavonoids, broccoli flower, carrots, cocoa bean polyphenol extract, hawthorn berry, Lycium berry, papaya, pea protein, pineapple, spinach, spirulina, stevia |
| Digestive enzymes and probiotics | Protease, lipase, amylase, invertase, cellulase, Bifidobacterium breve, Bifidobacterium longum, Lactobacillus acidophilus, Lacticaseibacillus paracasei, Lactiplantibacillus plantarum, Lacticaseibacillus rhamnosus, Lacticaseibacillus rhamnosus (B), Lactococcus lactis, Bifidobacterium animalis ssp. lactis Lafti, Bifidobacterium bifidum, Streptococcus thermophilus, Lactobacillus helveticus | Bromelain, Bifidobacterium bifidum, Lactobacillus acidophilus |
| Adaptogens | Eleuthero, holy basil | Ashwagandha, astragalus, beet powder, burdock root, chlorella, citric acid, dandelion root, eleuthero root, ginger, grape seed extract, green tea extract, kelp, lecithin, licorice, milk thistle, policosanol, reishi mushroom, rhodiola, rose hips, rosemary, shiitake mushroom, slippery elm |
| Third-party testing? | No | Yes, NSF Certified for Sport |
| Return policy | 90-day money-back guarantee | 90-day money-back guarantee |
Quick Look: Green Vibrance vs Athletic Greens
Green Vibrance contains a touch over 70 plant-based compounds bundled into various categories—like cereal grasses, adaptogens, digestive enzymes, prebiotics, and probiotics. While it lacks third-party testing, Green Vibrance does not contain proprietary blends and the amount of each ingredient is itemized. It comes in Unflavored with various tub sizes and subscribe-and-save options.
The ever-so-popular Athletic Greens contain 75 nutrient-dense ingredients—including vitamins, minerals, whole-food sourced nutrients, probiotics, and adaptogens—categorized into "complexes," or proprietary blends. Despite not knowing how much of a specific ingredient is in each complex, AG1 is third-party tested through NSF Certified for Sport. AG1 offers single and double subscriptions for its 30-serving pouch and travel packs.
Because there's much to these greens powders, check out our in-depth Athletic Greens review and Green Vibrance review.
Who Should Buy Green Vibrance
Anyone wanting to know exactly how much of each ingredient is in their green superfood powder
Consumers who appreciate various sizing options
Those wanting greater probiotic diversity and abundance
People who are comfortable with the natural flavor of earthy greens and grasses
Consumers looking for a more budget-friendly Athletic Greens alternative
Who Should Buy Athletic Greens
Athletes or anyone else looking for a third-party tested powder
Those willing to splurge on a greens powder
Consumers who want more adaptogens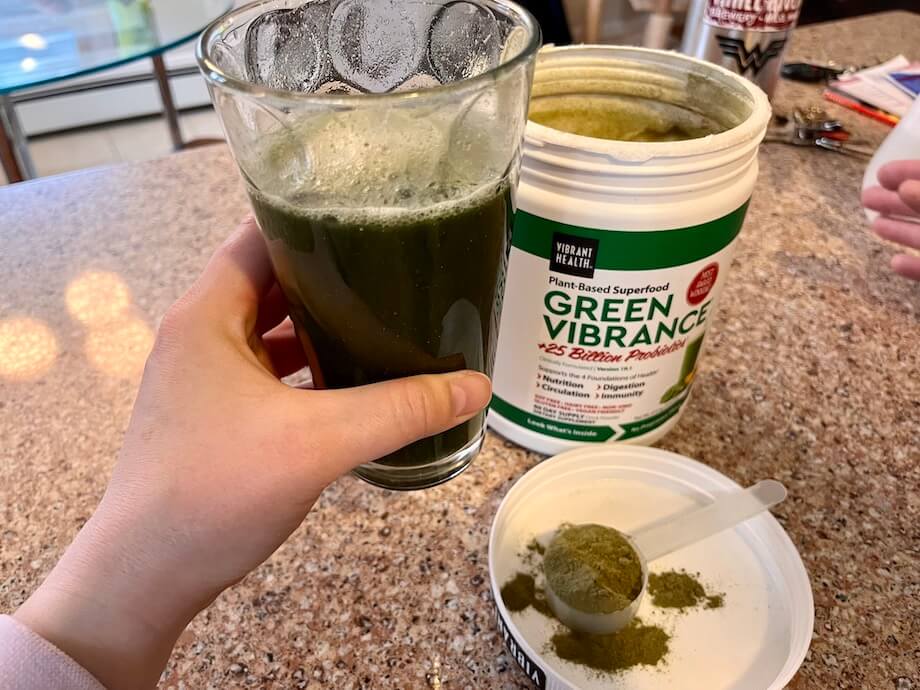 Key Similarities Between Green Vibrance and Athletic Greens
Both can help sneak in convenient nutrients—like leafy greens and probiotics—that may support gut health, the immune system, and general wellness
Both contain a lengthy ingredients list compared to other greens powders
Both are formulated with non-GMO and organic ingredients, although neither are Certified USDA Organic
Both offer the convenience of a subscription service
Both are gluten-free, dairy-free, and vegan-friendly and formulated without artificial ingredients
Both top the list for the best greens powder for bloating
Important Differences Between Green Vibrance and Athletic Greens
Green Vibrance is about half the cost of AG1
AG1 is third-party tested through NSF Certified for Sport, while Green Vibrance does not undergo third-party testing
Unlike AG1, Green Vibrance does not contain proprietary blends 
Green Vibrance comes in various sizes while AG1 only comes in 30-serving pouches and travel packs
Whereas AG1 contains more adaptogens, Green Vibrance offers more probiotics and digestive enzymes
AG1 seems to be the best-tasting based on many reviews and our hands-on experience
Formulation
There's great overlap in the formulations, but a few aforementioned differences are worth reiterating—besides, this is actually what you'll be consuming! Let's dive into them more:
Green Vibrance provides 25 billion CFUs (colony-forming units) from 12 strains, while AG1 supplies 7.2 CFUs sourced by two probiotic strains. However, more doesn't always mean better; different strains have different roles, and the best probiotics should match your needs.
Green Vibrance offers more digestive enzymes1, which may aid nutrient absorption and manage digestive and malabsorption disorders like lactose intolerance.
AG1 provides significantly more adaptogens2—like ashwagandha and dandelion root—that may help combat stress, improve mood, and support cognition. While adaptogens are unique ingredients, they can interact with certain medications and be risky during pregnancy and if breastfeeding. (Check out our best greens powders for pregnancy roundup.)
Athletic Greens contain proprietary blends, while Green Vibrance ingredients are individually itemized and quantified. While proprietary blends aren't inherently "bad" per se, we don't know the exact amounts of each ingredient to examine if they're present in clinically-effective doses—which is why we prefer fully transparent formulas.
Taste and Solubility
While formulation matters most, you'll need to get it down to reap any super greens powder benefits. Based on our testers' experiences, AG1 seems to have the upper hand.
GGR staff writer Lauren Strong tested Green Vibrance and was far from wowed. "I have to be honest: the taste is not good. It has a very strong grassy flavor and a strong smell. I found that using a shaker bottle worked better than a glass because the shaker bottle cap prevented me from smelling the green drink every time I lifted it to my mouth for a sip. There are no added sugars to cut the grassy, wheaty, green flavor."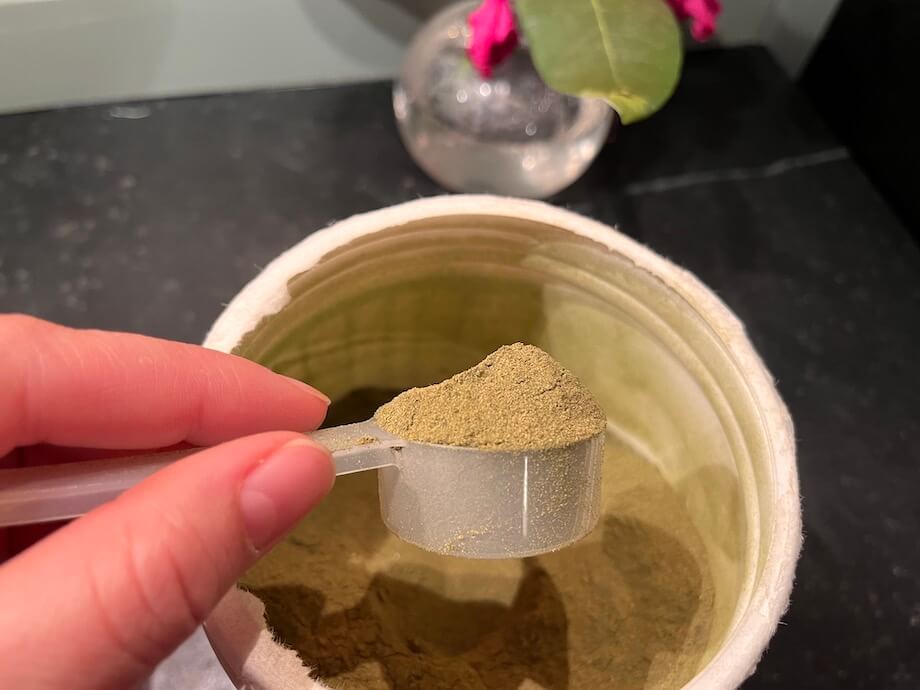 But on the bright side, Lauren shares, "Some folks will appreciate the fact there is no sugar, especially people who are sensitive to carbohydrates, sugars, or artificial sweeteners. Lastly, I will say that after the initial taste test, all subsequent servings of this green drink I filled the scoop slightly less than all-the-way full. The flavor is so intense that I'd rather just not have too much of it."
(And dominantly why Green Vibrance received an honorable mention in our best greens powder review.)
GGR senior editor Nicole Davis had quite the opposite experience testing Athletic Greens. "Although it doesn't come with flavor options, the taste is actually pretty good for a greens powder. It's mild and a bit grassy (to be expected), but I get a pineapple vanilla flavor predominantly. It's very pleasant."
Third-Party Testing
Because dietary supplements are not tightly regulated by the Food and Drug Administration (FDA), we always prioritize third-party tested products. And, at least at this time, Green Vibrance is not third-party tested.
On the flip side, AG1 is NSF Certified for Sport, an independent party confirming what you see on the label is what you get. The green powder supplement is also tested for and free of banned substances identified by the World Anti-Doping Agency (WADA), which is especially important for competitive athletes.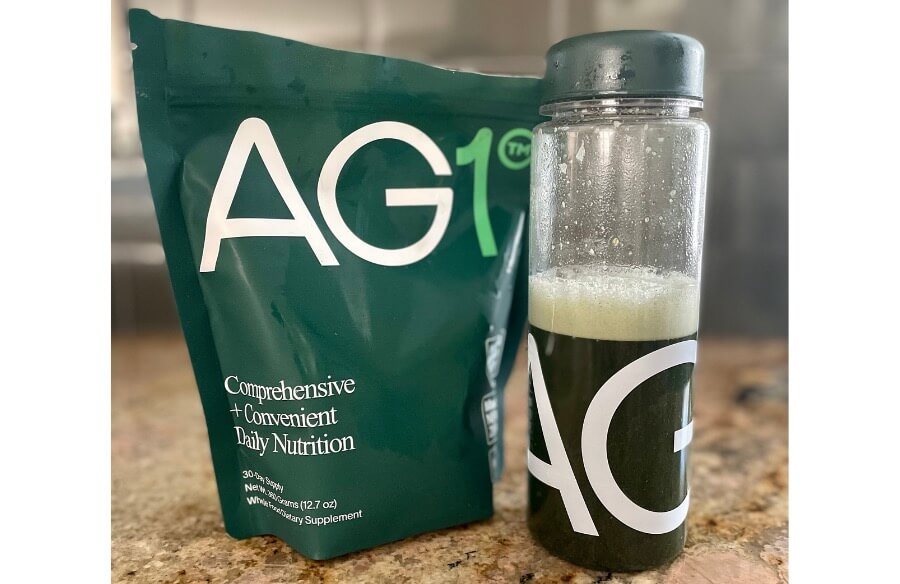 Company Policies
Both greens supplements offer a generous 90-day money-back guarantee with a full refund if you are unsatisfied with your product. But there are a few caveats to note.
With AG1, you must return the product to get the refund, and the shipping costs will not be refunded. To receive a full refund with Green Vibrance, Vibrant Health only offers a full refund for unopened products; if it's been opened, you can receive matched-value merchandise credit. Shipping and handling charges are also non-refundable.
Subscribe-and-save options are also available for both greens powders, and you can cancel or skip them at any time. How much you save will also depend on your subscription and the serving size you choose.
For instance, prices can vary slightly between Amazon and the company website—subscribing to the 83-serving tub costs $99.56 on Amazon but $91.70 on the Vibrant Health website.
A single subscription of AG1's 30-serving pouch also costs $2.63 per serving, while a double subscription (60 servings) runs slightly cheaper at $2.48 per serving.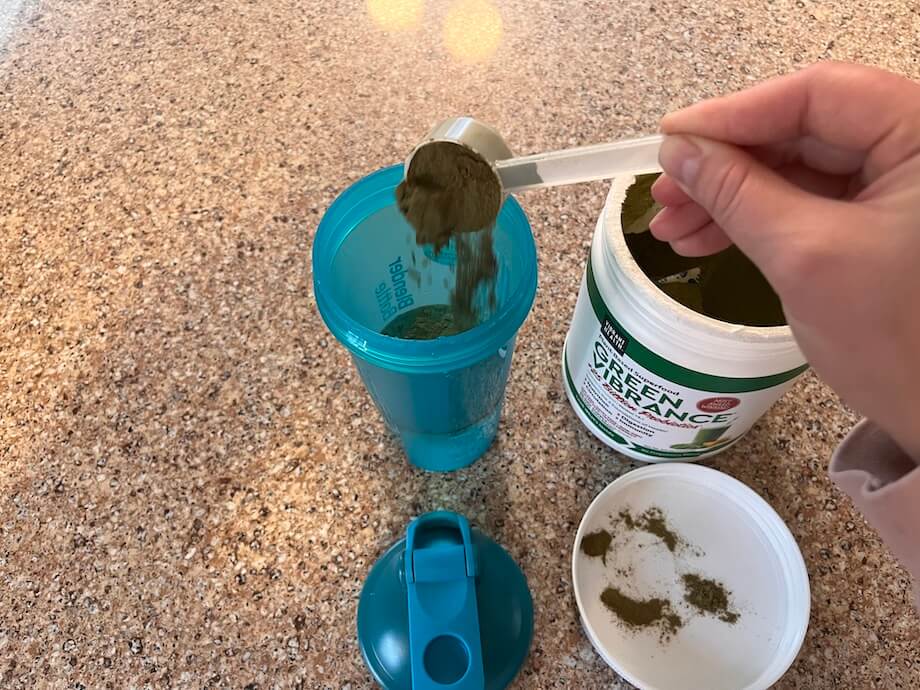 Speaking of subscriptions, AG1 throws in some freebies! You'll get a starter kit with a canister, shaker, and five travel packs with the single subscription; with the double subscription, you'll get the starter kit plus a year's supply of Vitamin D3+K2.
Final Thoughts on Green Vibrance vs Athletic Greens
AG1 and Green Vibrance are comparable, yet each has pros and cons. The biggest standouts include:
Green Vibrance is significantly less expensive than AG1
While AG1 contains proprietary blends, Green Vibrance offers full-transparency labeling
The grassy flavor and smell of Green Vibrance can be really off-putting for consumers, especially those new to greens, yet AG1 seems to be enjoyed by many
AG1 is NSF Certified for Sport, and Green Vibrance lacks third-party testing
Differences aside, both provide high-quality, convenient micronutrients—vitamins and minerals—and phytonutrients—plant compounds like antioxidants—if fruit and veggie intake is low. You'll also get adaptogens, pre- and probiotics, and digestive enzymes from each—all without the worry of artificial additives.
Green Vibrance vs Athletic Greens FAQs
Is AG1 better than Green Vibrance?
While the greens powders have comparable formulas, AG1 is the better option for anyone wanting a third-party tested product.
Is AG1 better than other greens powders?
AG1 is an all-in-one greens powder that undergoes third-party testing, but it is costly and contains proprietary blends. This isn't to say it's not a high-quality and well-received product, but other reputable greens powders may fit a wider net of budgets.
Is Green Vibrance good for your liver?
Green Vibrance claims to support the liver with burdock root3, silamarina milk thistle4, and dandelion root5 extracts. While these herbal ingredients are being explored for treating and protecting against liver disease, a whole foods diet limited in ultra-processed ingredients and alcohol plays a larger role in liver health. 
What are the side effects of AG1?
While AG1 and super greens powder side effects can vary wildly based on the consumer's health history, the most common complaint is bloating. Certain ingredients may also interact with medications, so critically review the label before consuming and consult a dietitian or doctor for expert guidance.
These statements have not been evaluated by the Food and Drug Administration. This product is not intended to diagnose, treat, cure, or prevent any diseases.
References