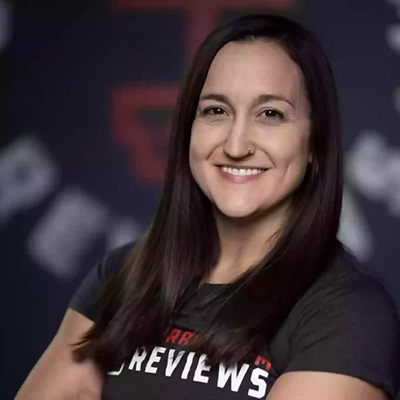 Kate Meier, NASM-CPT, USAW-L1, CF-L1
Head of Content, Gym Owner, Personal Trainer, Dog Enthusiast
Kate has nearly two decades of experience working in both the fitness and content industries. Personally, Kate enjoys competing in weightlifting and doing burpees.
On the content side, Kate's background is in newspaper journalism. She branched into public relations for the American Red Cross for about five years and then moving into content marketing. Today, her work at Garage Gym Reviews blends her excitement for fitness and love of writing. If she isn't reviewing fitness equipment, you can find her working out or spending time with her two children.
Get to Know Kate Meier, NASM-CPT, USAW-L1, CF-L1
Certification
NASM Certified Personal Trainer
USA Weightlifting Level 1
CrossFit Level 1
Kate has been a certified personal trainer and coach for more than a decade. She has worked in a number of settings: youth athletics, she owned a CrossFit affiliate, she now owns an Olympic weightlifting gym, personal training, weightlifting coach, CrossFit coach, and fitness floor consultant at a YMCA.
Specialties
Kate specializes in working with people of all ages and abilities who are interested in functional fitness. Her clients include teenagers just learning to lift, and 70+-year-olds who want to increase bone density.
Favorite Equipment
The barbell, the air bike, and a pull-up bar
Most Recently Reviewed Articles