We test and review fitness products based on an independent, multi-point methodology. If you use our links to purchase something, we may earn a commission. Read our disclosures.
When it comes to strength training, kettlebells are a staple in just about any program. They can be a great addition to any home gym as well, as they don't take up a lot of space and are an effective tool for resistance-training exercises. However, it's hard to know what the best kettlebell for your needs is. Also, buying a collection of kettlebells can get pricey quickly. That's where the Amazon Basics Kettlebell comes in.
The Amazon Basics brand centers around making good quality products at affordable prices. Originally starting with electronics, Amazon has branched out to all sorts of products, even fitness equipment.
So how does the Amazon Basics Kettlebell fare? These kettlebells are certainly budget-friendly, but are they a worthwhile piece of equipment? Well, I got a hold of an Amazon Basics Cast Iron Kettlebell and took it through several workouts. In my review of the Amazon Basics kettlebells, I'll go over the pros and cons of this budget kettlebell and the value that it brings.
Basically, We've Tested a Lot of Kettlebells
Our team has tested dozens of different kettlebell products, from standard kettlebells to competition kettlebells, and even adjustable kettlebells; we have experience in testing equipment to find what works, what doesn't, and what could be improved on in a piece of gym equipment. In addition, our team consists of certified personal trainers, CrossFit-L1 trainers, and competitive athletes, so we understand what to look for in a quality kettlebell, because we live for this stuff.
For this review, I personally tested out a 45-pound Amazon Basics kettlebell. As an Olympic weightlifter and former gym owner, I was able to take a look at the kettlebell for its grip and feel, as well as its durability and construction.
Amazon Basics Cast Iron Kettlebells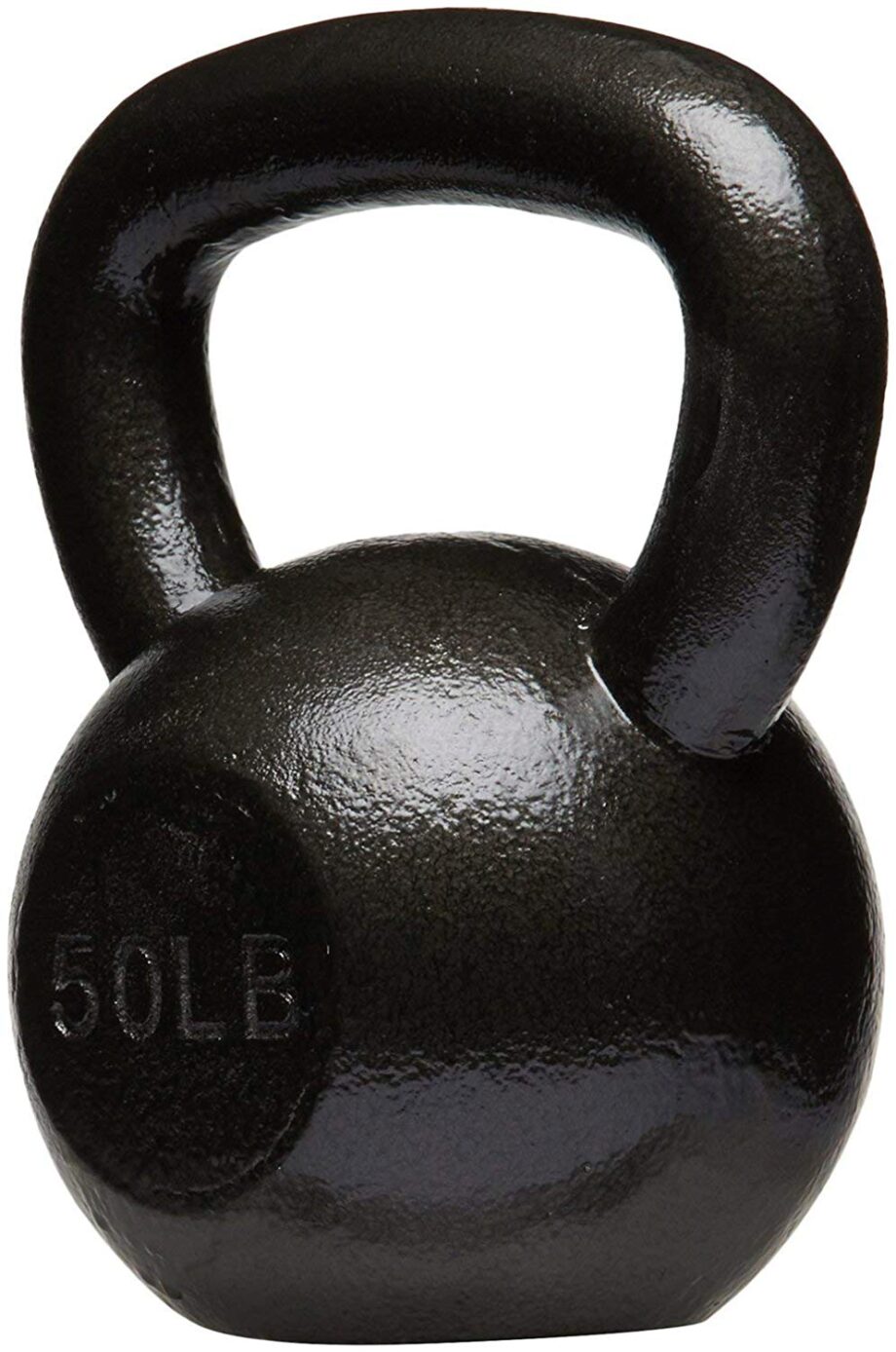 GGR Score: 3.7
Community Score: 4.1
Product Highlights
Supports a wide range of resistance-training exercises
Made of solid cast iron for reliable built-to-last strength
Enamel coating for increased durability and corrosion protection
Textured, wide handle to ensure a comfortable grip
Backed by an AmazonBasics limited one-year warranty
Pros & Cons
Pros
Solid, high-quality cast iron
Affordable price
Painted enamel coating for corrosion protection
Wide, textured handle for comfortable grip
One-year limited warranty
Cons
Enamel coating gives kettlebell a slicker feel and grip
Paint can chip easily
Bottom Line
The AmazonBasics Cast Iron Kettlebell is a great budget kettlebell for people looking to add kettlebell training to their home gym. The enamel finish gives it a smooth feel and grip, which can be a less aggressive grip to someone new to kettlebells, but also feels like less of a grip compared to most other kettlebells.
A Quick Look at the Amazon Basics Kettlebell
Most everyone knows about Amazon by now, as the company has been around for nearly 30 years. Their Amazon Basics line of products is made to create an affordable option for consumers for everything from electronics to household appliances to fitness equipment, like the Amazon Basics Cast Iron KettleBell.
This kettlebell certainly hits the mark, as it is one of the lowest-priced kettlebells on the market, with the kettlebells priced at about just over a dollar per pound. Made of cast iron like most common kettlebells, the Amazon Basics has one feature that differentiates it from other kettlebells: an enamel finish. Most kettlebells have a powder coating on the exterior, which usually gives more grip; the Amazon Basics enamel kettlebell's coating gives it a smoother feel, and a glossy look compared to other kettlebells.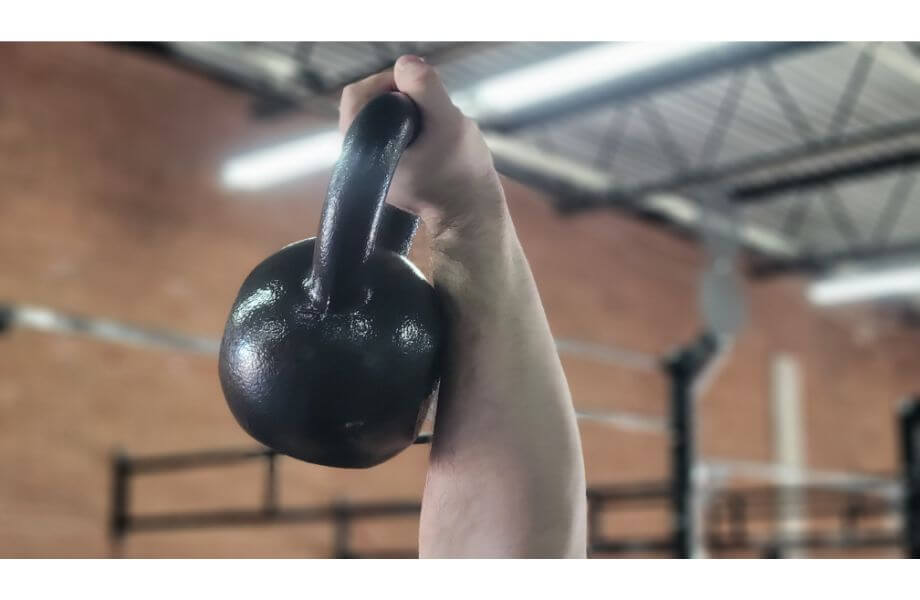 There is no color-coding on their cast iron kettlebells, but the weight is engraved on the front to clearly denote which kettlebell is which.
Before You Buy
These kettlebells are not competition kettlebells, which have specific dimensions for height (11.1 inches), diameter (5.5 inches), and handle thickness (33 millimeters) at every kettlebell weight. The Amazon Basics Kettlebells do not follow those parameters, so if you are looking to train for kettlebell sport, I'd recommend finding ones with competition specs.
Weight options are limited, as they currently range from 10 pounds to 45 pounds. At one point, there were 60-pound kettlebells available, but when I went to purchase a kettlebell, 45 pounds was the heaviest option. As of this writing, the 45-kettlebells were out of stock as well. The 10-pound option was also out of stock.
Amazon also offers a vinyl-coated cast iron kettlebell, which has the same enamel finish with a colorful vinyl coating around the bulk of the kettlebell, made to help prevent floor damage in the case of dropping a kettlebell. This is still a budget-friendly option, and all the weight options are in stock. However, these kettlebells only go up to 40 pounds; furthermore, the vinyl coating can also wear down and crack, and are not as durable as a cast iron kettlebell..
Is the Amazon Basics Kettlebell Worth It?
The Amazon Basics kettlebell is a great piece of equipment if you're looking to add a kettlebell or two to your home gym without breaking the bank. The kettlebell is solid cast iron, which means it was built from one piece of iron, and will last. So at almost half the price of some competitors, it has pretty good value.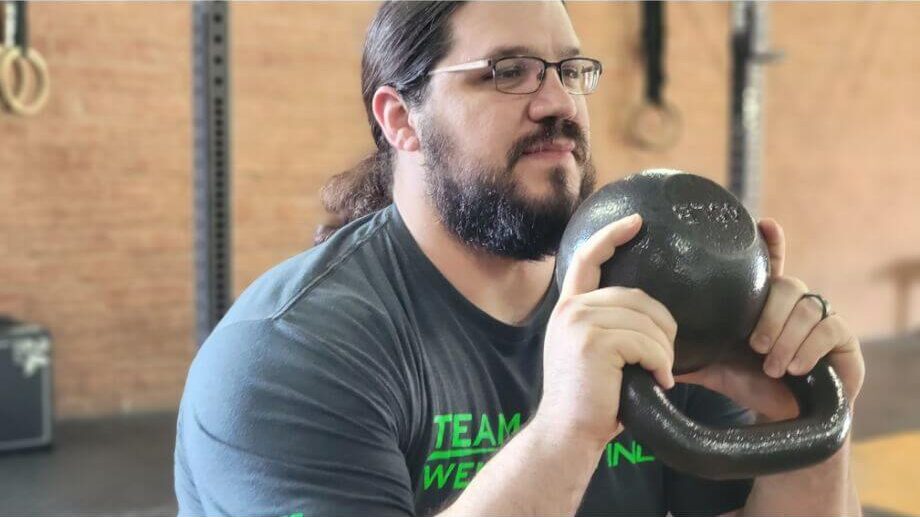 How much value you will get from it is going to rely heavily on your preferences. The thicker handle may be thicker than most people prefer; however, I like it. Another point of contention is the enamel finish. Done for corrosion protection, the glossy finish gives the kettlebell a slick feel, which only became worse during a workout, when my hands got sweaty. Chalk didn't seem to help much. Still, the smooth enamel feel is nice if you don't like too aggressive of grips in your strength training equipment.
One major drawback for the cast iron kettlebell is that quantities are limited. It currently only goes to a max weight of 45 pounds, and that weight and other weights are currently out of stock. If you're looking to grab several kettlebells, it might be good to look at the vinyl-coated kettlebells, as they have a few more weight options, and all are in stock at the time of this writing.
Great for:
People looking for a budget-friendly kettlebell
Anyone needing a durable kettlebell for general exercise
Those wanting lighter kettlebells
Not recommended for:
Those wanting a kettlebell with competition specs
People who prefer more grip than an enamel finish
Anyone who needs kettlebells heavier than 45 pounds
Amazon Basics Kettlebell Specs
| | |
| --- | --- |
| Weight Options | 10, 15, 20, 25, 35, 45 lb |
| Dimensions (45 lb) | 8.63" L x 5.8" W x 10.6" H |
| Color | Black |
| Handle Thickness (45 lb) | 38 mm |
| Material | Cast iron |
| Finish | Black enamel |
Workout Experience/Using the Amazon Basics Kettlebell
At a first glance, the Amazon Basics kettlebell has a simple design. It's nothing fancy—a standard round kettlebell with a flat bottom and wide handle. The handle is on the thicker side, at about 1.5 inches, or 38 millimeters. While this could be a deterrent for someone preferring a thinner handle, I liked the feel of the handle. The handle would also be smaller and thinner at the lighter options.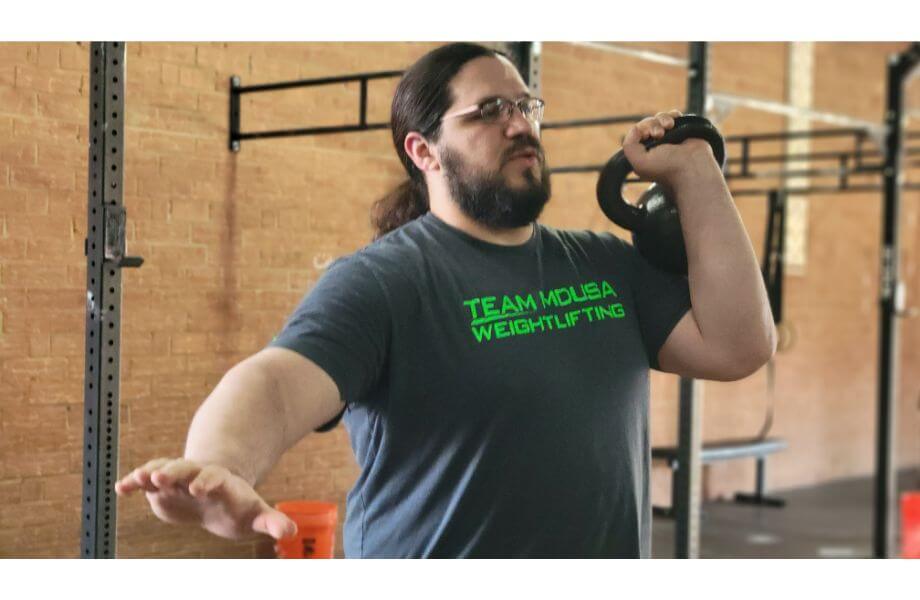 The handle is textured and wide to allow for a good, comfortable grip. The handle itself is wider than the kettlebell, which makes it very easy to grip the kettlebell with two hands for a kettlebell swing or goblet squat. While the slight bump of texture and wider handle did help with the grip of the kettlebell, I did have an issue with the enamel finish.
The enamel coating is different from most kettlebells I've worked with. Most kettlebells usually have a powder coating or a matte finish, which gives the kettlebell a textured finish with good grip. The enamel, glossy finish makes the kettlebell slick, which I felt got less grippy once I was sweating. I also tried chalk, which usually helps grip, but the chalk didn't seem to help the grip on the enamel. While the kettlebell never slipped out of my hands while working out, I don't think this kettlebell has as much of a secure grip as I'm used to. With that said, that also might be a positive for anyone who prefers a less aggressive grip.
Construction & Durability
The Amazon Basics Kettlebell is made from solid, high-quality cast iron. It was cast from one piece, meaning the handle was molded with the rest of the kettlebell; there are no welding spots, and therefore no weak spots in its construction. This gives it a built-to-last strength, where this kettlebell can endure pretty well through any workout. The one issue is that cast iron is susceptible to rust if the enamel paint ever chips or cracks.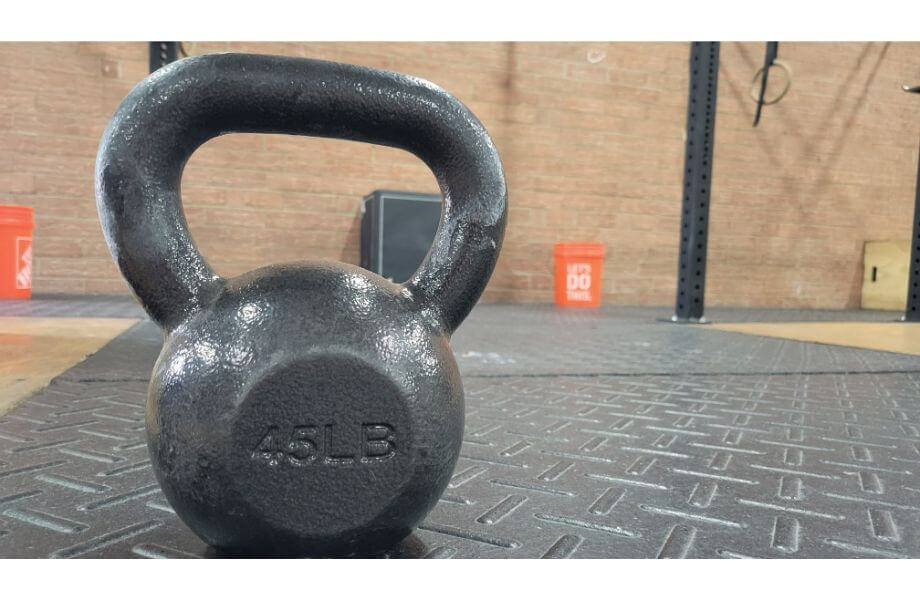 Which reminds me, the enamel coating is for corrosion protection and to help prevent rusting; however, that enamel won't last as well in a garage or outdoor setting as a powder coating would. Enamel paint is prone to chip and crack, which would expose the cast iron and ensure some corrosion and rust. One bad drop might be enough to start the paint chipping. Ideally, I would store this kettlebell indoors to help make the enamel coating last.
One other thing to point out in its construction is the "flat" bottom. While flat enough to store upright, the bottom of the kettlebell is not perfectly flat, making this kettlebell not ideal if you were wanting to balance on the grip for a kettlebell pushup or renegade row. Still, this kettlebell will work for a broad range of exercises regardless, including deadlifts and swings, and provide all the benefits of other kettlebells.
Comparison to Yes4All Cast Iron Kettlebells and REP Fitness KG Kettlebells
When compared to other brands of kettlebells, the strengths and weaknesses of the Amazon Basics Cast Iron Kettlebell are made apparent. Its strength is in its affordable price, comparable only to the Yes4All Kettlebells, as the 45-pound, or 20-kilogram, kettlebells are both just over $50. The REP Fitness kettlebells are nearly $80 for the same weight.
Where the Amazon Basics kettlebells falter though is in the selection and coating. Both REP and Yes4All have a wider selection of kettlebells, going far beyond the 45-pound maximum that Amazon offers. The Yes4All goes up from 5 pounds all the way to 50 pounds with 5-pound increments, and REP has a heaviest kettlebell of 48 kilograms, or 106 pounds. Also, both the alternatives have powder coating, which will provide more of a grip doing high-rep cardio movements, or power movements with the kettlebells.
The Amazon Basics kettlebell is a great budget option, but due to limited weight options, the Yes4All Kettlebells are a good budget option with a selection of weights. The REP Fitness Kettlebells are going to be a better quality kettlebell, but the price also goes up for that quality.
| | | | |
| --- | --- | --- | --- |
| | Amazon Basics Cast Iron Kettlebell | Yes4All Cast Iron Kettlebells | REP Fitness KG Kettlebells |
| Weight Options | 10, 15, 20, 25, 35, 45 lbs | 4, 6, 8, 10, 12, 14, 16, 20, 24, 32, 40 kg | 1, 4, 6, 8, 10, 12, 14, 16, 18, 20, 22, 24, 28, 32, 36, 40, 44, 48 kg |
| Dimensions (45lb/20kg) | 8.63" L x 5.8" W x 10.6" H | Not disclosed | Not disclosed |
| Color | Black | Black | Black, with international color-coded rings |
| Handle Thickness (45lb/20kg) | 38 mm | Not disclosed | 38 mm |
| Material | Cast iron | Cast iron | Cast iron |
| Finish | Black enamel | Powder-coated | Matte coating |
Yes4All Cast Iron Kettlebells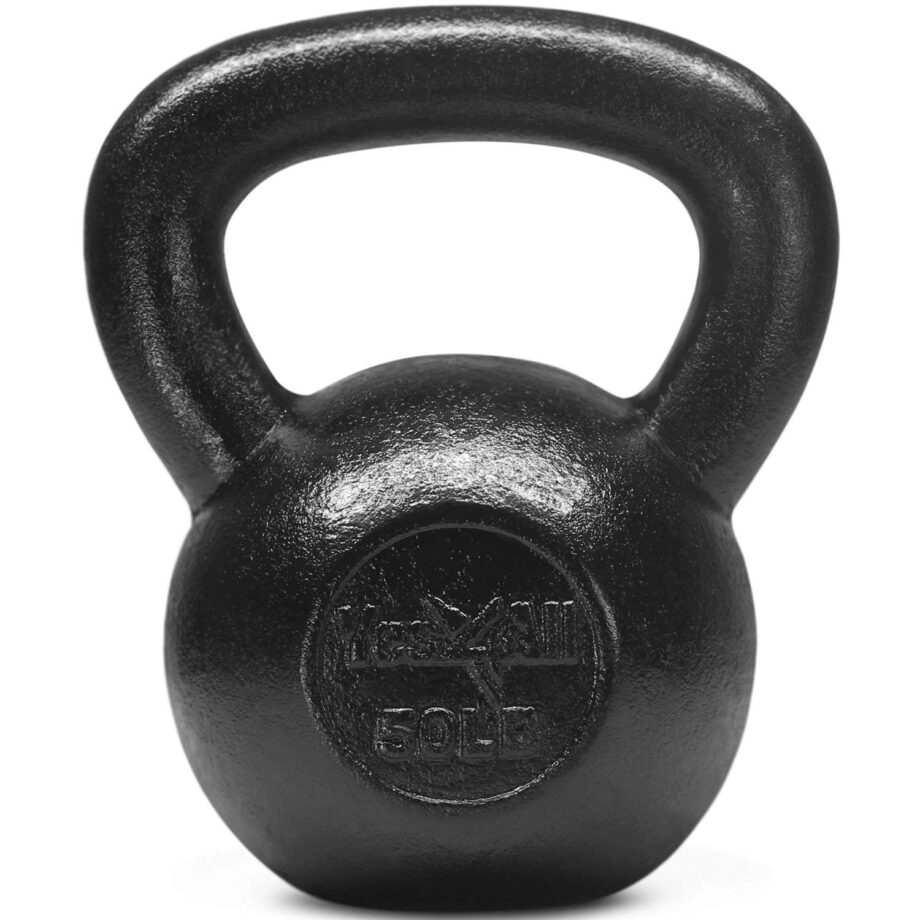 GGR Score: 3.8
Community Score: 2.4
Product Highlights
Functional fitness equipment
High-quality solid cast iron
Black powder coat finish
Wide, smooth handle with slight texture
Flat, stable bottom
Pros & Cons
Pros
High-quality cast iron
Budget-friendly price
Wide handle to grip with two hands comfortably
Powder-coated matte finish
Cons
Weight options only go up to 32kg/71lbs
Not competition kettlebell specs
Paint can be rough
Bottom Line
The Yes4All Cast Iron Kettlebell brings a quality kettlebell at an affordable price point. The matte finish gives grip, but can be a little aggressive if you prefer less grip.
REP Fitness KG Kettlebells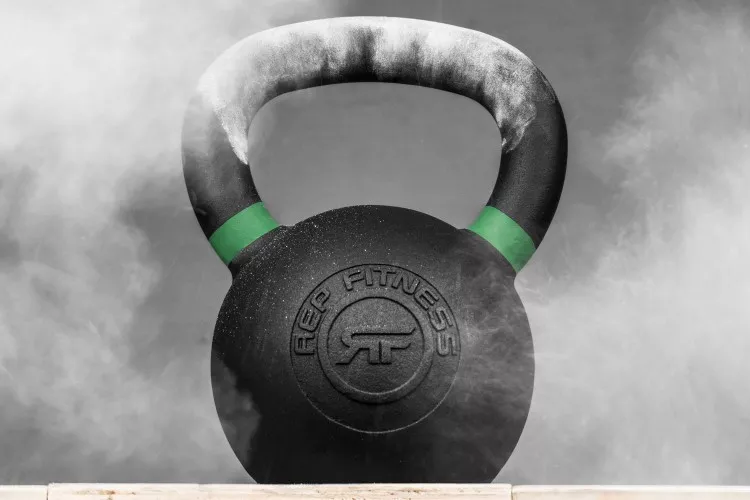 GGR Score: 4.75
Community Score: 2.8
Product Highlights
Range from 4 kg (9 lbs) to 48 kg (106 lbs)
Have a great grip with or without chalk
Reasonably priced
Made of cast iron
Pros & Cons
Pros
Good grip with or without chalk
Gravity die casting
Matte coating
Cons
May be susceptible to rust
No weights above 106 lbs
Textured handle not for everyone
Bottom Line
REP Fitness kettlebells, in both the kilogram and pound versions, are an excellent choice for people who want a grippy, well-constructed kettlebell.
Customer Experience
Compared to other options, Amazon has exceptional customer service, offering free returns on the majority of their products. This kettlebell is no different; a new and unused kettlebell can be returned within 30 days of receiving it.
Amazon Prime members also get free shipping on these kettlebells, which is another reason that they're such a great budget choice. Shipping weighted products can be costly, so free shipping is a major bonus.
The kettlebell comes with a limited one-year warranty, where a defective item can be replaced, or you can ask for a refund.
Ordering the Amazon Basics Kettlebell
For Amazon Prime members, two-day shipping is free. When I purchased my 45-pound kettlebell, I had to wait a couple days before it shipped, probably because of limited quantities at this weight; there were only six left in stock when I made the purchase. Once it shipped, though, I had my kettlebell within two days; I actually got it a day earlier than Amazon originally projected.
One thing I should reiterate is that quantities are limited with this kettlebell, and weights don't go up wildly high. If you're holding out for a certain weight and it is out of stock, you are going to have to wait a bit, or just go for a different option, either a competitor, or Amazon's vinyl-coated kettlebells.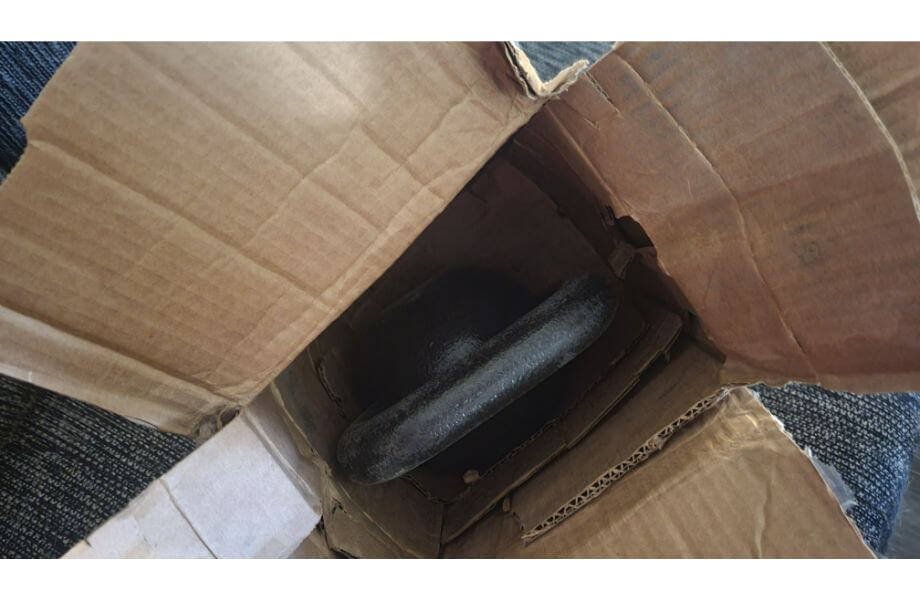 The box was beat up upon arrival, which is common with a weighted item. What surprised me was that there was no protection within the box. The outside was taped a lot, to prevent any tearing or ripping of the cardboard box during shipping, but inside was just the kettlebell—no foam or peanuts or anything. The kettlebell was fine, and I'd expected the cast iron to survive the shipment, but it would ease my mind more if there was a little bit of added protection during the shipment process.
Customer Reviews
The Amazon Basics Kettlebell is rated high on its website, with an average rating of 4.8 out of 5 stars in over 15,000 reviews. Most people pleased with the product noted that it was a solid cast iron kettlebell for a low price, and it had good value. A couple of the complaints were about the bottom not being perfectly flat, as well as the paint chipping over time. In one case, the kettlebell had a sharp point on the handle, probably left from the casting. This didn't happen with my kettlebell, but the customer was able to fix it with a metal file.
Final Verdict of Our Amazon Basics Kettlebell Review
The Amazon Basics Kettlebell is a budget-friendly kettlebell with good value. If you're looking for a high-quality kettlebell with a consistent build and flat bottom, or to buy a range of several weights, I would consider another brand like REP or Rogue. However, if you're in the market for an inexpensive, lightweight kettlebell for a basic kettlebell workout, this is a great way to go.
Amazon Basics Kettlebell Rating
Amazon Basics Kettlebell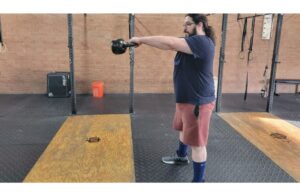 Needing a basic budget kettlebell to get a good sweat with? Check out the Amazon Basics Kettlebell in our review!
Product Brand: Amazon
Product Currency: USD
Product Price: 42
Product In-Stock: InStock
Amazon Basics Kettlebell FAQs
Are cheap kettlebells worth it?
A budget-friendly kettlebell can be a great choice if you are new to kettlebell training. I'd still recommend getting a cast-iron kettlebell, as it will be much more durable than a cement-filled kettlebell. If you want a high-quality kettlebell, or one with competition specifications, then you will have to spend a little more money though.
Should I buy one or two kettlebells?
This all depends on what you plan to do with your kettlebell! Unlike dumbbells, you don't have to buy a pair of kettlebells at the same weight always, as many exercises can be done with just one kettlebell, such as a kettlebell swing. In some cases, you may want a second kettlebell for a kettlebell variation, like a double kettlebell clean; if you are planning on exercises like this, then a second kettlebell would make sense. Nevertheless, for most workouts and exercises, one kettlebell should do.
How heavy should a beginner kettlebell be?
There are a lot of factors to consider when choosing the right kettlebell weight for a beginner. Even if you're new to kettlebells, if you have done some strength training beforehand, you should be able to handle a heavier weight than someone completely new to weight training. With that said, a good beginner weight can be about 35 pounds (16 kilograms) for men and about 25 pounds (12 kilograms) for women. Still, these weights can be adjusted based on your starting strength levels as well.