We test and review fitness products based on an independent, multi-point methodology. If you use our links to purchase something, we may earn a commission. Read our disclosures.
If you're looking for the best pre-workout for women—or even just a flavorful way to get your pre-sweat energy boost—you may have come across Alani Nu's pre-workout supplement. Containing just 200 milligrams of caffeine, several nootropics, and a research-backed dose of l-citrulline malate, this is a powder that can easily become one of your new favorite wellness supplements. Find out more about this pre-workout in our Alani pre-workout review.
Medical disclaimer: This article is intended for educational and informational purposes only. It is not intended as a substitute for medical advice. For health advice, contact a licensed healthcare provider. GGR also recommends choosing a product that has been third-party tested for quality.
Get the Scoop on Pre-workout From Our Expert Team
In addition to our nutrition experts and world-class fitness trainers, our team is made up of people who not only thrive on talking about lifting, but who do it themselves as well. That's why we don't write a review unless it's honest and authentic. Using our firsthand experience from actually testing, tasting, and trying the pre-workouts we review to fuel our exercise performance.
Alani Nu Pre-Workout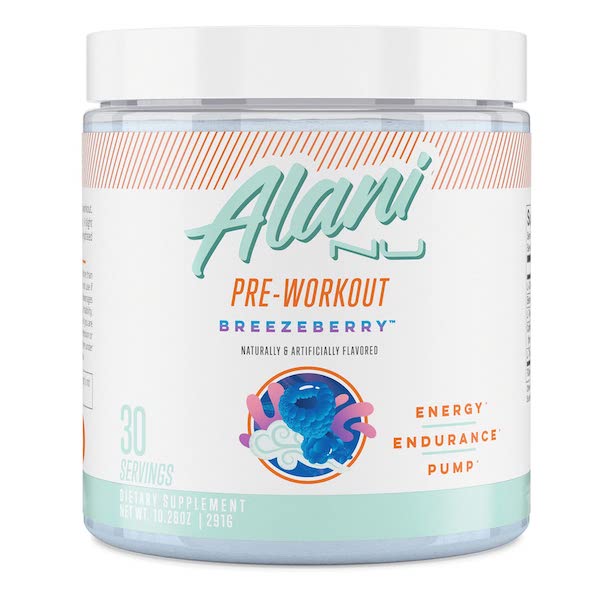 GGR Score: 3.9
Product Highlights
Women's-specific pre-workout powder
200 mg caffeine
6 g L-citrulline
10 flavor options available
Subscribe and save
Pros & Cons
Pros
Several flavors available
200 mg of caffeine
L-citrulline, beta-alanine, and other amino acids
4.9 out of 5 star rating
Can subscribe and save
Cons
Contains silica
Sweetened with sucralose
A Quick Look at Alani Nu Pre-Workout
With energy drinks, hormone-balancing vitamins, whey protein, and its whimsical labeling, Alani Nu—founded by Katy Hearn and her husband Haydn Schneider—is known in the fitness community for being a women-focused brand. However, anyone can enjoy its products.
Alani Nu's pre-workout ingredients make a formulation that's simple, easy to use, and does not contain an excessive amount of caffeine, so you don't feel the jitters like with some pre-workouts that are full of stimulants. With 12 fun flavors, this supplement would be approachable for pre-workout beginners but has also amassed quite a loyal following of fans.
Before You Buy
Return policy only refunds store credit
Make sure you aren't super sensitive to the effects of beta-alanine
Don't expect auxiliary ingredients like BCAAs or creatine
Read reviews to see which are the most loved flavors!
Is Alani Pre-Workout Worth It?
For almost $40 for a tub, this product is not the most expensive wellness supplement on the market, but it is not the most inexpensive either. In spite of this, if you're only looking for a simple pre-workout supplement without a ton of bells and whistles, then this product has a lot of positive aspects.
Great for:
Those who love a great taste and a variety of cool flavors
People who prefer a smaller scoop of pre-workout
Those who don't need a ton of stimulants in their pre-workout
Not recommended for:
People sensitive to the tingling effects of beta-alanine
Those who operate better on a stim-free pre-workout
People who prefer a naturally sweetened dietary supplement
RELATED: Best Stim-Free Pre-Workout
Alani Pre-Workout Specs
| | |
| --- | --- |
| Price per serving | $1.19 |
| Serving size | 1 scoop (10 grams) |
| Flavors | Rocket Pop, Cosmic Stardust, Rainbow Candy, Hawaiian Shaved Ice, Island Crush, Breezeberry, Mimosa, Galaxy Lemonade, Blue Slush, Sherbet Swirl, Kiwi Guava, Juicy Peach |
| Key ingredients | L-Citrulline Malate, Beta-Alanine, L-Tyrosine, Caffeine, L-Theanine |
| Third-party tested? | No |
| Benefits | Delayed fatigue, increased energy levels, better mental performance, fat-burning potential |
Experience Using Alani Pre-Workout
Nicole Davis, a senior editor here at GGR, is a fan of Alani Nu. She says the following about her experience: "This is one of my go-to pre-workouts. I like the fun flavors, albeit sweet, and the caffeine and beta-alanine dosages are not over-the-top—it's just enough to feel energized without feeling jittery or super tingly." Let's dig a bit more into this supp's intricacies.
Price Per Serving
At about $36 on Amazon for 30 servings in a tub, each serving of Alani Nu pre-workout comes out to about $1.19 per serving. This is pretty close to the market average for most pre-workout powders. However, it may seem steep to those transitioning from a more frugal supplement. You can save a few bucks by participating in Alani Nu's rewards program, so keep that in mind.
Formulation
Alani Nu pre-workout ingredients are clearly labeled, but we want to break the formulation down for you here:
L-citrulline malate 2:1: 6 grams
Beta-alanine: 1.6 grams
L-tyrosine: 500 mg
Caffeine: 200 mg
L-theanine: 200 mg
Other ingredients include silica, natural flavors, sodium citrate, sucralose, acesulfame potassium, sodium chloride, and spirulina extract.
The formulation of Alani Nu pre-workout supplements seems carefully thought out. Studies have shown that just 1 mg of caffeine per kilogram of body weight, when combined with the nootropics theanine and tyrosine, can improve mental and physical performance1. Caffeine can also give you the energy boost you need to help motivate you to put in an intense workout. One cup of coffee has about 95 milligrams of caffeine, so you're looking at the equivalent of about two cups in one serving of Alani Nu pre-workout.
The main ingredient, though, is 6 grams of L-citrulline, which has been shown in this research-backed dose to increase blood flow to the muscles2. This not only helps oxygen get to your tissues faster, meaning you don't fatigue from lack of oxygen as quickly, but it gives you a nice pump to have you walking away from the gym with confidence. It may also help fight muscle soreness.
RELATED: Best Pre-Workout Ingredients
Finally, the 1.6 grams of beta-alanine can help you lift more weight by delaying fatigue, according to a 2008 study3. However, the dosage here of 1.6 grams is less than the research-backed dosage of 3 to 5 grams per day. Another important note here is that beta-alanine is responsible for that notorious feeling of the "pins and needles" you get on your skin—called paresthesia—not long after taking pre-workout powder. Although it's harmless, be wary of this for those who aren't a fan of this sensation.
Lastly, science has shown that spirulina can be an effective weight loss compound4, although we don't know how much spirulina is in the Alani Nu pre-workout formulation.
Taste and Solubility
One of the most prominent pieces of feedback about Alani Nu pre-workout powder is that the taste is amazing. However, you may not agree if you aren't a fan of sweet pre-workout supplements.
Nicole says "I've tried Cosmic Stardust and Hawaiian Shaved Ice. Both are delicious, but they're definitely on the sweet side. If that isn't your jam, beware. I've also tried the energy drinks in a can that Alani Nu makes and I like those as well!"
Side Effects
To avoid negative pre-workout side effects, it is important to follow the instructions carefully when taking pre-workout due to its high amounts of caffeine, amino acids, and neurotransmitters.
If you have heart problems, you should avoid taking pre-workout due to its effect on heart rate. In addition, if you take prescription medications or if you have liver or kidney problems, you may experience side effects. Always consult your physician before starting any supplement regimen.
Third-Party Testing
While Alani Nu products have been GMP-certified and manufactured in the U.S., they hold no certification of third-party testing from a widely recognized body at this time. However, Alani Nu's website claims that their products have been tested for banned substances.
Third-party testing is important because the FDA does not regulate the supplements industry, so you want to be sure that what's on the label is what's actually in the product.
Comparison to Ghost Pre-Workout
Ghost Legend Pre-Workout
GGR Score: 4.5
Product Highlights
Pre-workout for energy, focus, and pump

Unique flavors based on some childhood favorites, like Welch's Grape and Oreo

Gluten-, sugar-, and soy-free

Updated version 2 is now vegan
Pros & Cons
Pros
100% transparent label
10 flavor options, including collaborations with popular brands
Updated vegan formulation
Natural caffeine sources
Cons
Uses artificial flavor
Contains sucralose
Some reviewers shared the pre-workout made them itchy and jittery
Bottom Line
Ghost Legend pre-workout is a vegan option with naturally sourced caffeine and a wide variety of flavors that are mostly positively reviewed.
Another brand making waves in the fitness industry for its products and eye-catching marketing is Ghost.
Ghost Legend pre-workout is a bit more expensive than Alani Nu at $1.79 per serving. Also, one serving is 2 scoops, which isn't a huge deal for some people, but for those who prefer a smaller volume of pre-workout drink, it could be a problem. Ghost also contains only half of the l-citrulline contained in Alani Nu, but twice as much beta-alanine.
Both products are sweetened with sucralose, but only Ghost has artificial flavors listed on the label. That said, Ghost does contain more nootropics and caffeine than Alani Nu. So, Ghost may be a more attractive option for those who want more of a kick to their pre-workout.
Read our full thoughts on Legend in our Ghost pre-workout review.
Customer Experience
If you need support from Alani Nu while using their products, you can contact customer service by filling out the contact form on their website. You can also use the Chat Bot on the contact page, but it is only available during certain hours (when we tried at 5 p.m. PST, we were told to try again at 5:30 a.m. PST).
On their FAQ page, you can find an extensive guide to get answers to any questions you may have, whether they are about your product or ordering questions such as shipping, payments, or exchanges.
Finally, Alani Nu has a page of recipes using their products that show you how to use them to make delicious meals and drinks like protein oatmeal using their protein powder, energy slushies, and even protein ice cream!
Ordering Alani Pre-Workout
To purchase a product, you do not need an account. Alani Nu uses Shopify to process orders, similar to most retail websites. Adding items to your virtual cart, filling in your shipping information, and selecting a payment method are all you need to do.
The cost of shipping is a flat $5, which makes things simple. Additionally, if you are spending over $50, you have the option to pay in four installments every two weeks with no interest or fees if you prefer not to pay the entire cost up front.
Alani Nu does accept returns within 30 days of your purchase. However, they cannot refund your original payment method and you must cover the cost of return shipping. If you choose to return your pre-workout, you will receive store credit unless it was purchased at a retail location.
Customer Reviews
Alani Nu Pre-workout has 17,555 reviews on Amazon at the time of this writing, with an average 4.5-star rating with most of the reviews raving over the great taste.


Final Verdict of Our Alani Pre-Workout Review
If you're in need of a stimulant-containing workout with a standard formulation and great taste, you want to go with Alani Nu. Bonus points if you're one of our female-identifying readers, as many of the brand's products have been formulated just for you.
The scoop size is only 10 grams, so you don't have to worry about an overly sweet or high-volume concoction.
Alani Nu pre-workout contains 200 milligrams of caffeine from natural sources, just enough to give you a boost without the jitters.
It also includes several nootropics to keep you focused and delay fatigue.
This supplement is not appropriate for those with heart, liver, or kidney disease.
Alani Pre-Workout Rating
Alani Pre-Workout
Alani Pre-Workout Review (2023): Simple Formula and a Sweet, Sweet Taste
Product Currency: $
Product Price: 39.95
Product In-Stock: InStock
Alani Pre-Workout FAQs
Is Alani a good pre-workout?
Alani Nu is a good pre-workout, especially for beginners, in terms of taste and a simple formulation that comes in a relatively small serving size.
How long does Alani pre-workout last?
How long does pre-workout last depends on many factors, including your size and tolerance. In general, the effects of pre-workout will probably last between 30 minutes and two hours.
How much caffeine is in Alani pre-workout?
There are 200 milligrams of caffeine from arabica bean extract in Alani Nu pre-workout.
Does Alani have side effects?
In healthy individuals without health conditions or taking prescription medications, Alani Nu pre-workout should not cause any side effects when taken as directed. Due to the beta-alanine, however, some users may experience a tingling sensation.
These statements have not been evaluated by the Food and Drug Administration. This product is not intended to diagnose, treat, cure, or prevent any diseases.
References