We test and review fitness products based on an independent, multi-point methodology. If you use our links to purchase something, we may earn a commission. Read our disclosures.
Being a competitive weightlifter, I know a lot about strength training and building muscle. However, there are some muscles we never consider training: our respiratory muscles. Sure, when we're thinking about increasing our aerobic capacity and endurance, we think about using the best cardio machines, but is there a way to build our breathing muscles?
Yes, there are quite a few different ways to work on improving your breathing. When I worked with a sports psychologist, we used various breathing exercises to help control my breathing in high-pressure competitions. Another common training plan for building respiratory strength is a breathing trainer, like the Airofit breathing trainer.
In our Airofit review, we'll go through the ins and outs of the Airofit Pro 2.0, a smart respiratory training device that is unique on the market of breathing trainers, both in technology and price. Does the price match the value, though? Read on to find out.
You Can Breathe Easy With Our Testing
Our testers have the lung capacity to talk to you a bit about a lot of things in the fitness industry: gym equipment, supplements, and support gear. With backgrounds in personal training, coaching, and competitive weightlifting, our team has a lot of experience with the fitness world. When it comes to fitness apps and fitness trackers, we've tried a lot of different smart devices, and can tell you what works and what doesn't.
With the Airofit Pro 2.0, GGR Founder Coop Mitchell tried out this unique piece of technology, and gave me his thoughts, trying both the breathing trainer, as well as the Airofit app.
Airofit Pro 2.0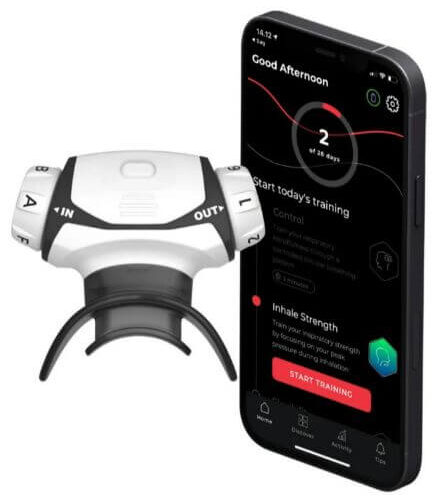 GGR Score: 3.9
Product Highlights
Smart breathing trainer

Personalized training plans

Long battery life

Splash-resistant hardware

Bluetooth connectivity

Magnetic charging cable
Pros & Cons
Pros
Designed to strengthen breathing muscles for improved performance
Exercises developed by industry-leading breathing experts
Customize by inputting age, size, training goals, etc.
World's first smart breathing trainer
Cons
Has some glitches, but company resolves them quickly
Pricey, depending on how much you'll use it
Bottom Line
This product is only as good as the amount of effort that you are willing to put into it. It offers you advanced technology and tailored training to help you learn how to breathe more efficiently, with the goal of strengthening you from the inside out. If the excellent reviews and raved-about customer service don't quite convince you, take advantage of the 45-day satisfaction guarantee to give it a try for yourself.
A Quick Look at the Airofit Pro 2.0
Respiratory muscle training, also known as inspiratory muscle training, has been shown to be more effective at improving respiratory muscle strength in asthmatics than conventional breathing techniques, according to a March 2021 study1. The Airofit Pro 2.0 is a breathing device that claims to build lung capacity through breathing training, and tracks your progress conveniently through the Airofit app.
Unlike many breathing trainers on the market, Airofit makes the claim to accurately track your breathing capability and lung function over time. They have the research to back it up as well; in a May 2021 study2, the Airofit Pro was compared to a medical-grade respiratory trainer—the MicroRPM—and was shown to be just as accurate. Additionally, the athletes who tested these devices said the Airofit was easier to use and understand.
The app is easy enough to use in conjunction with the trainer; after setting training goals and an initial lung test, the app will modify your training plan in accordance with your results, and track progress over time. The breathing trainer has two dials on either side of the trainer that you turn to adjust the breathing resistance—one for inhaling and one for expiratory pressure.
Before You Buy
This trainer is one of few smart breathing trainers on the market. Not only does the app offer training exercises, but it'll also record and chart progress on your lung function, lung capacity along with inhale and exhale strength, and then personalize your training program accordingly.
The amount of value the Airofit Pro 2.0 has with its $349 price tag will depend on how much data you want while training your breathing. If the price is a bit high, there is a less expensive Airofit Active for $129; this won't have the smart capabilities of the Pro, though.
Airofit recommends using the trainer and app twice a day, for about five minutes at a time. While it seems easy enough to fit in ten minutes of training into your day, if you'd have trouble fitting this into a hectic schedule, this may not be worth the price.
Is the Airofit Pro 2.0 Worth It?
The Airofit Pro 2.0 definitely has worth and value for the right person and athlete. The training system has been shown to be accurate and effective in helping improve lung capacity and performance. It can be a great training device for an athlete who wants to increase their VO2 max—the maximum rate of oxygen a person can use during exercise.
In addition, respiratory trainers like that have been shown1 to help symptoms associated with asthma. It'd be great for people to help lessen respiratory symptoms associated with asthma or COPD, amongst other respiratory issues.
The main drawback is the price. Many people don't see the value of a plastic trainer and app for $349; however, it can provide as much accurate information as medical-grade equipment, and for about a third of the price. If you are looking for a budget option to train your breathing, this isn't it; but for a smart breathing trainer, this is actually a little on the inexpensive side.
RELATED: Best Budget Home Gym Equipment
Great for:
Endurance athletes, swimmers, and cyclists wanting to improve their anaerobic threshold
Those suffering from respiratory symptoms of asthma or COPD
People who would like to improve their breathing patterns to combat stress and improve overall well-being
Not recommended for:
Those looking for a budget-friendly breathing trainer
People with a hectic schedule who would have trouble getting in consistent training sessions
Runners not interested in tracking lung function
Airofit Pro 2.0 Specs
| | |
| --- | --- |
| Price | $349 |
| Weight | 1.6 oz |
| Dimensions | 2.8" L x 3" W x 1.1" H |
| Bluetooth connectivity | Yes |
| Warranty | 2 years |
Workout Experience Using the Airofit Pro 2.0
The Airofit Pro 2.0 is fairly easy to use—both the device and the mobile app. Coop had no trouble with getting the device and app running: "The app is very seamless and connects well with the device. The device is simple and easy to use."
Once the app and device are connected through Bluetooth, you begin by answering a short questionnaire on your goals in using the device. Then, you'll have a short lung test that will assess your current lung capacity and respiratory muscle strength. Once assessed, the app will offer programs and exercises personalized to your needs and goals.
For each exercise and training level, the app will tell you what to set each dial to on your trainer, adjusting breathing resistance on inhales and exhales. Putting your mouth on the mouthpiece, you'll begin your breathing exercises; as you go through exercises, the app will mark your progress as well.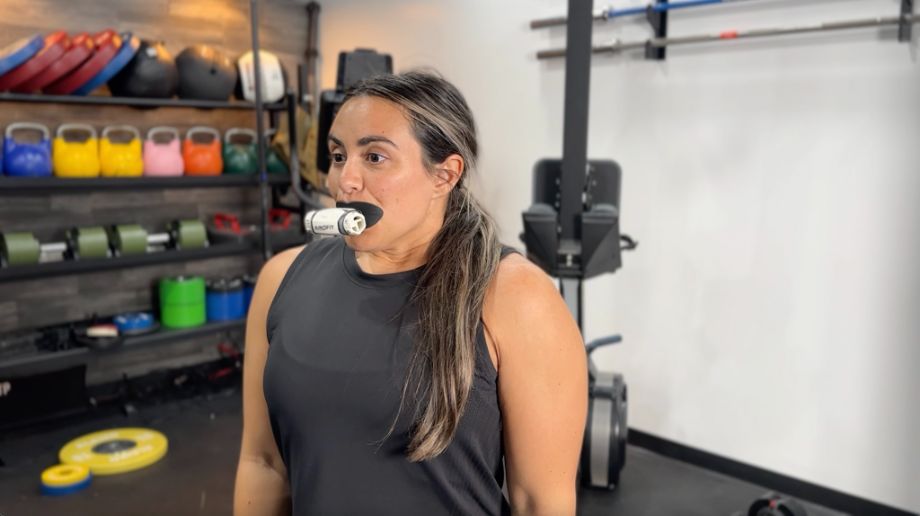 The app recommends for users to train with the Pro 2.0 twice a day, for a few minutes at a time. While this is ideal, some reviews claim seeing results with even less use than that. Coop himself didn't have a lot of time with the Airofit trainer before he saw some improvement in his breathing. He said, "Definitely some improvements on breathing, but I saw improvements more so in controlling my breathing when under stress."
Despite the marked improvements, when I asked Coop if he would continue to use it, his response was direct: "I won't continue using it. Not because I don't think it has benefits, but because there's so many other things I can think of to spend my time doing, and you have to be fully focused while using it." And although it is only a few minutes at a time, it isn't something you can squeeze in easily; you need to sit down and have no distractions to properly focus on your breathing.
Coop did notice improvements, though, and thinks it would be a good fit for the right person trying to improve every realm of their fitness: "For someone trying to eke out every performance benefit, I think it would be great."
Construction & Durability
In testing home gym equipment, a lot of our equipment is made to be durable and solid. It's not the case with the Airofit trainer. As Coop notes, it's "mostly plastic, but so long as you take care of it, I don't see any issues in the future." And Coop is right.
Most of the time while using the trainer, you should be relaxed and seated anyways. So the product doesn't need to be made to endure tough environments or activities. With that said, if you keep up with maintenance and cleaning of the trainer, and take care to place it where it won't easily get damaged when not in use, the Pro 2.0 should last easily.
Because the trainer is on your mouth, the trainer will need to be washed and rinsed off often to be clear of saliva. Fortunately, the mouthpiece and main chamber can be taken apart from the battery pack and run under hot water pretty easily. So long as you do this regularly, you shouldn't need much more cleaning and maintenance.
The battery lasts between four and seven days at a time, when it needs to be charged, a magnetic charging cable is provided. On one hand, this is nice, as it removes a crevice where saliva could fall into after repeated use. On the other hand though, Coop points out that the cable is unique. So unique, that "if lost, I would probably have to order another cable."
Ergonomics
The main thing about comfort here is the mouthpiece. Although the breathing trainer comes with one mouthpiece, they do offer extra mouthpieces for purchase, and they can be purchased in three different sizes. If you do find that the advanced mouthpiece feels awkward, try a size up or down; it could help.
Technology Benefits
Like the best online workout programs and apps, the Airofit app is available for both Android and Apple phones. There is a free version, which will work fine with the trainer, but all the features of the Airofit Pro 2.0 can be unlocked with a premium subscription. At only $7 a month, or $40 annually, the main difference is the number of statistics you'd like to track.
Both versions of the app have access to 17 breathing exercises over three exercise levels of difficulty, and track progress over time. However, the free version only keeps record of the last 30 days, whereas the premium version will track your entire history with the trainer. In addition to this, the premium version has some added perks, like training tips, advanced statistics, and even HRV and sleep data integration through Apple Health (sorry Android users).
Comparison to Other Breathing Trainers
At a first glance, the biggest thing to separate the Airofit Pro 2.0 from other breathing trainers is the price. Being made of plastic, there are other trainers on the market with similar builds and setups, but at a few hundred dollars cheaper than the Pro 2.0. So what differentiates the Airofit trainers from others to justify the price?
The thing that best sets apart the Airofit Pro 2.0 is that unlike its other competitors, the Pro 2.0 is a smart breathing trainer. Like the best smart home gym equipment, the breathing trainer tracks the specifics of your breathing exercises and uses the data to personalize the app and device to you and your needs.
The smart aspect of the Airofit trainer helps separate itself from the rest of the competition by having these features:
Accuracy: The Airofit Pro 2.0 is the latest version of the Pro trainer, and it takes an initial assessment of your lung function with a three-step test. As discussed before, the accuracy of the trainer's data points have been shown to be comparable with medical-grade equipment and breathing trainers.
Personalization: After an accurate test and initial questionnaire (to determine your goals), the app will set forward a personalized program customized to your needs and current respiratory strength.
Charted progress: The breathing trainer will record data of each session, so you can see and compare your progress and improvement over time.
The smart features of the Airofit are the main reasons for the price point. It is very innovative in this field of respiratory trainers; however, some people may still not need or want the data points that the Airofit Pro 2.0 collects. In this case, a cheaper competitor might be a good option.
Ordering the Airofit Pro 2.0 and Customer Experience
The Airofit Pro 2.0 can be purchased directly through airofit.com. There are financing options for the nearly $350 breathing trainer, depending on the country you live in; however, Airofit does have some policies allowing you to try the Pro 2.0 risk-free…relatively.
First, they have free worldwide shipping on their trainers. You can purchase this virtually anywhere in the world and not have to pay anything for shipping. Additionally, you get a 45-day money-back guarantee, where you can try the Airofit trainer for over six weeks, and if you aren't satisfied with the product, you may send it back for a full refund and no questions asked.
Airofit also provides a two-year warranty on the device, supporting you by replacing faulty equipment and defective parts. That's probably as risk-free as you can be with an initial purchase.
The Denmark-based company can be contacted through email. Furthermore, there is a contact form that can be filled out on the website.
Customer Reviews
As of this writing, Airofit has 682 total reviews on Trustpilot, with an average rating of 4.4 stars out of 5. Most of the reviews are positive, with some of the major complaints coming from issues with getting the app to operate correctly. Quite a few reviews spoke on the app glitching, to which customer service has said they are constantly updating and perfecting the app.
Another point of concern was with the battery life. While the battery should last for up to four to seven days, many customers pointed out that the battery went bad sooner than it should have. If it was within the two-year warranty period, a replacement trainer or battery was sent out without any problems, though.
Final Verdict of Our Airofit Review
The Airofit Pro 2.0 is an innovative breathing trainer that smartly tracks your progress on the mobile app. Anyone wanting to improve and strengthen their breathing will find value from this product and the data it collects. Those who make the purchase will find the breathing tests and personalized programs highly informative and helpful.
Still, the price point will also deter many people who don't see the value in the data it collects. It has good value, but only to those interested in all of the data points.
Airofit Pro 2.0 Rating
Airofit Pro 2.0
This breathing trainer has smart capabilities, certainly setting it apart from other competitors. Find out more in our Airofit review.
Product Brand: Airofit
Product Currency: $
Product Price: 349
Product In-Stock: InStock
Airofit Pro 2.0 FAQs
Do lung trainers really work?
Lung trainers are a method to train inspiratory muscles, or muscles used for inhalation and exhalation. Studies1 have shown that the inspiratory muscle training can improve the respiratory muscle strength in patients suffering from asthma. They've been shown to be an effective tool at better, more efficient breathing.
Does Airofit increase your VO2 max?
The Airofit Pro 2.0 trainer will help build respiratory strength, which will increase your lung capacity, allowing you to inhale more oxygen in one breath. This will in turn boost your VO2 max, which is the maximum rate of oxygen you are able to use while exercising. More oxygen means a higher VO2 max.
RELATED: VO2 Max Calculator
Is Airofit worth the money?
While definitely a unique and interesting piece of equipment providing a lot of value, at its price point, the Airofit Pro 2.0 will only appeal to certain people. The Pro 2.0 will be best suited for athletes and people wanting to improve their respiratory muscle strength, and also track their progress while training their lung function.
References
Chung Y, Huang TY, Liao YH, Kuo YC. 12-Week Inspiratory Muscle Training Improves Respiratory Muscle Strength in Adult Patients with Stable Asthma: A Randomized Controlled Trial. Int J Environ Res Public Health. 2021 Mar 22;18(6):3267. doi: 10.3390/ijerph18063267. PMID: 33809922; PMCID: PMC8004228.
Stavrou VT, Tourlakopoulos KN, Daniil Z, Gourgoulianis KI. Respiratory Muscle Strength: New Technology for Easy Assessment. Cureus. 2021 May 2;13(5):e14803. doi: 10.7759/cureus.14803. PMID: 34094759; PMCID: PMC8168762.