We test and review fitness products based on an independent, multi-point methodology. If you use our links to purchase something, we may earn a commission. Read our disclosures.
If you're looking for the best weight bench on the market—one that offers stability, versatility, and a well-built design—the newest Rogue Fitness offering might be exactly what you're looking for. It has a multitude of functions with flat and incline positions plus an optional foot catch for decline positions.
In this Rogue Manta Ray Bench review, we're going to cover all the specs and whether this pricey adjustable bench is worth the investment. It's also very similar to Rogue's Adjustable 3.0 Bench and the REP BlackWing Adjustable Bench—so we'll be comparing all three later on. Let's dive in.
We've Tested More Than 40 Different Weight Benches
Our team of expert product testers here at Garage Gym Reviews are fitness industry professionals including elite-level strength athletes, competitive weightlifters, gym owners, and certified personal trainers. We have decades of collective industry experience that allow us to test and select the highest-quality products when it comes to anything from best power racks to the best pre-workout.
We've also tested more than 40 weight benches (and have in-depth reviews on more than two dozen) from budget options like the one in this FLYBIRD Adjustable Bench review to standard flat benches like the one we tested for the Rogue Monster Utility Bench review. For the Manta Ray bench, OG product tester and founder of GGR, Coop Mitchell, had hands-on experience with the bench and used it for both pressing and rowing.
Manta Ray Bench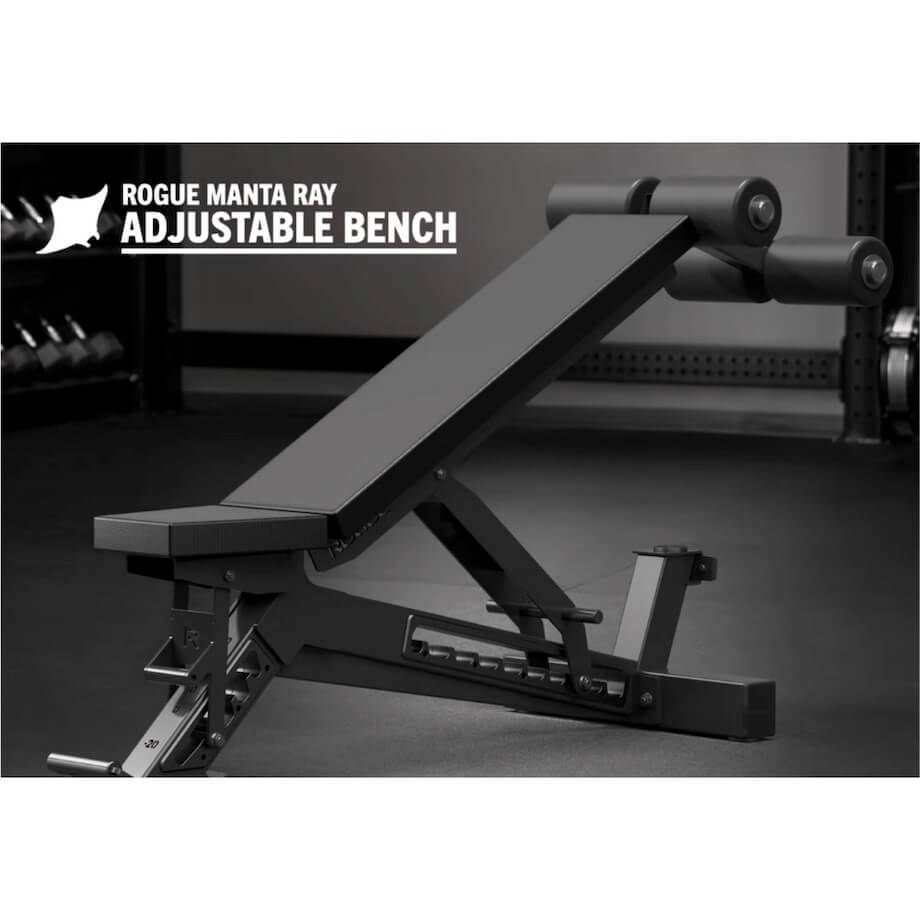 GGR Score: 4.4
Product Highlights
Incline and decline adjustable weight bench

Made in the USA

Patent pending

Heavy-duty design

Minimal pad gap
Pros & Cons
Pros
Minimal 1" pad gap
10 different back pad angles
5 different seat angles
Upright storage capability
Premium wheels
Handle for portability
Cons
Expensive price tag
Only available in black
Foot catch for decline bench is $200 extra
Assembly required
Bottom Line
The Rogue Manta Ray Adjustable Bench is a solid bench with both incline and decline capabilities. The Manta Ray offers 10 different back pad positions and five seat positions for incline flat and incline training. When it comes to decline training, the foot catcher is an optional add-on for $200.
A Quick Look at the Rogue Fitness Manta Ray Bench
Rogue Fitness is an American-based strength and conditioning manufacturer known for some of the most rock-solid and best home gym essentials on the market.
The brand offers a variety of weight benches including the Rogue Adjustable Bench 3.0 (which we have tested and reviewed) and the popular Rogue AB-3, which can be retrofitted to include decline features. The Manta Ray is the newest bench from Rogue and offers a new ladder system to provide more incline and decline positions than the 3.0 bench.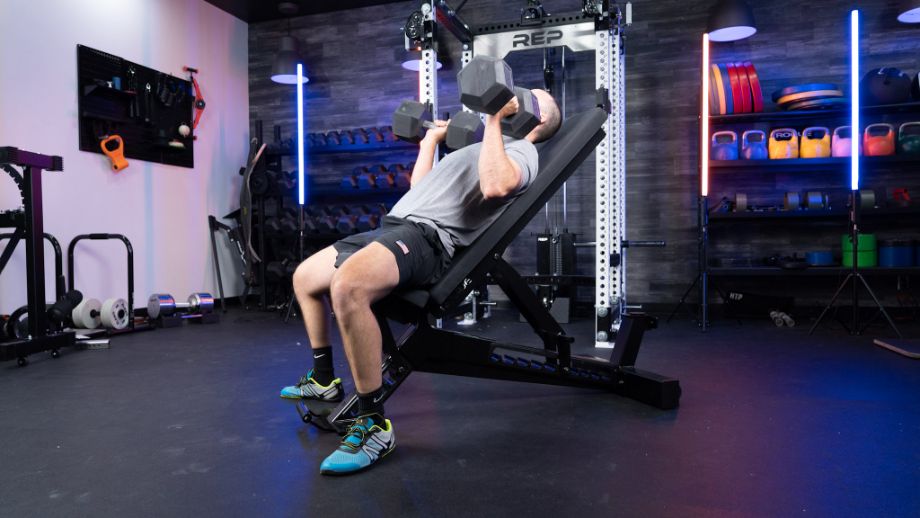 Before You Buy
Check out our guide on how to save money on Rogue Fitness equipment.
Without the additional foot catch, this is not a true FID bench (flat, incline, and decline).
The Manta Ray weighs 140 pounds, but the felt weight using the handle will be about 54 pounds.
Rogue Manta Ray Bench Video Review
Is the Rogue Manta Ray Adjustable Weight Bench Worth It?
The Rogue Manta Ray bench is a valuable piece of equipment offering everything you need in one single bench including a minimal gap between the pads and over 50 configurations between the flat, incline, and decline angles.
That said, it's going to cost you. The Manta Ray is priced at $995 for the bench alone. The Manta Ray foot catch is an additional $200, which you'll probably need if you're buying this for decline training.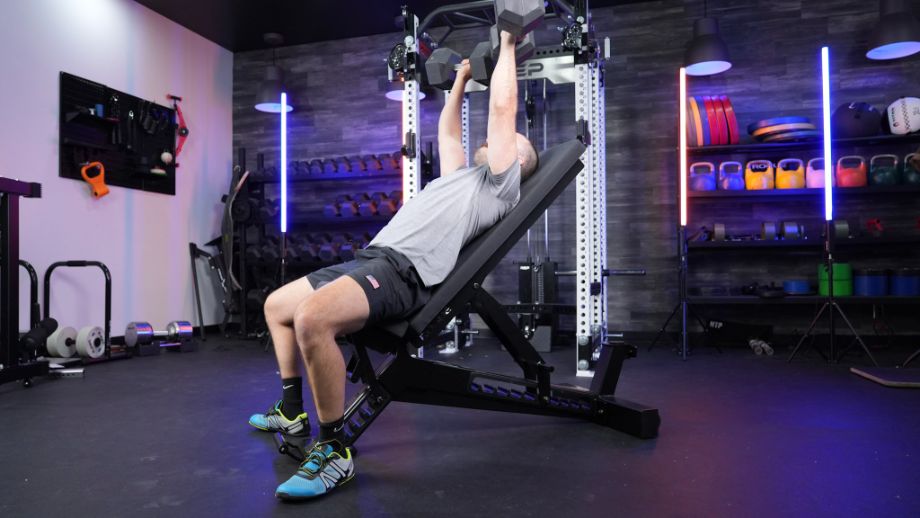 After shipping and tax fees, you'll be spending nearly $1,300. It's a stable bench, but it's not for budget garage gym owners, this is for folks who want the best adjustable bench possible and don't care how much it costs. For this reason, we give the Rogue Manta Ray a 3-out-of-5-star rating when it comes to value.
For reference, the REP BlackWing Adjustable Bench offers many of the same FID bench features, but is priced around $600 with free shipping.
Great for:
Flat, incline, and decline bench press
Nordic hamstring curls
Powerlifting-style weight lifting
Stand alone use or in a squat rack
Not recommended for:
Budget-conscious gym owners
Beginners to strength training
Anyone who'd prefer a DIY weight bench
A true FID bench
Rogue Manta Ray Bench Specs
| | |
| --- | --- |
| Price | $995 |
| Footprint | 57" L x 24.75" W x 17.5" H |
| Weight | 140 lbs |
| Pad width | 12" |
| Pad gap | 1" |
| Back positions | 10 |
| Seat positions | 5 |
| Made in USA | Yes |
| Materials | 3" x 4″ 7-gauge steel frame, grabber vinyl pad |
| Extra features | Transport wheels, handle, upright storage capability |
| Foot catch | Optional for an additional $200 |
| Warranty | Limited lifetime on frame and welds, 90-day on upholstery |
Using the Rogue Manta Ray Bench
When it comes to actually using the Manta Ray Adjustable Bench, it works like an adjustable bench should. However, Coop notes that because this is a premium product (with a high price tag), he's apt to be more nitpicky. "The more something costs, the more critical we should be of it," says Coop.
That said, for overall use we give the Manta Ray a 3.5-out-of-5-star rating (with the premium price tag in mind).
For one, the decline options are not available to use unless you purchase an optional $200 foot catch. So that means if you don't purchase the foot catch, you have a $995 incline bench and flat bench.
In comparison, "Many true FID benches actually go down and negative 15 degrees or so from the standard without having to add a foot catch," says Coop. The REP BlackWing Bench is one example of a true FID bench.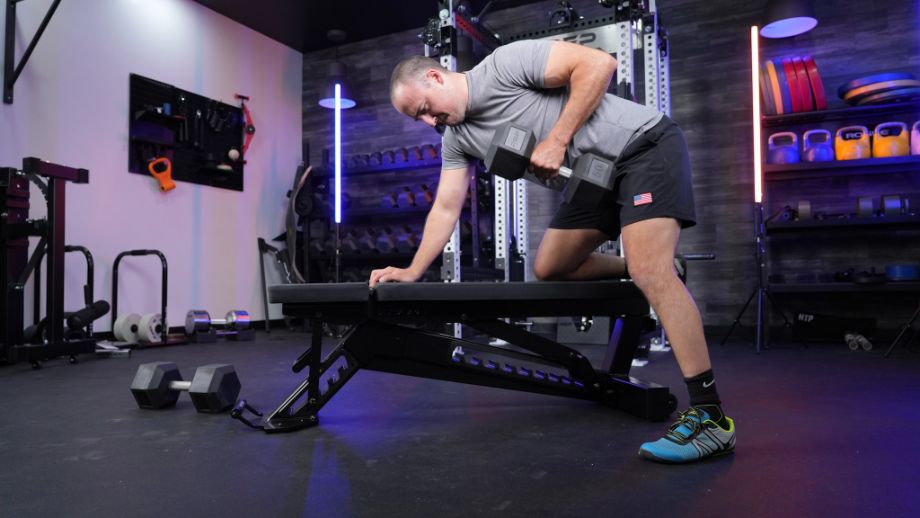 Secondly, while we like the ladder-style adjustment system on the Manta Ray, Coop has one call out about it: "The ladder system has more play than I'd expect for the price point," he says.
The Manta Ray has a gap on either side of the pin when resting in any given setting on the ladder. While a minor detail, Coop notes that at this price point it's surprising to see any side-to-side play.
In use, this won't be a major issue because you'll be applying pressure to the back pad with your bodyweight during pressing or rowing movements—but it could be noticeable if you need to make an adjustment and or move your shoulders back mid-set. You may get side-to-side feedback if you make such adjustments.
For redeeming factors while in use, Manta Ray has 10 different back pad angles and 5 different seat positions; you'll have nearly 50 different possible configurations to choose from. "Basically more than anybody would ever need, but it allows you really dial in the position for any one," says Coop.
RELATED: Dumbbell Bench Press
Plus all the numbers are laser cut so you can easily find the position of your choice without guessing which angle you're using.
Heavy But Still Portable
One of the first things that stands out about the Manta Ray—when reviewing the specs or picking it up for the first time—is that it's heavy.
"This bench is a tank," says Coop. "Weighing in at 140 pounds, this is one of the heaviest, if not the heaviest benches on the market."
However, Coop used a luggage scale attached to the front handle of the bench to quantify how much weight you'll feel in your hands when tipping the bench up and using the transport wheels. With this test, Coop found that the felt weight is only 54 pounds. In comparison, the REP Fitness BlackWing bench was 64 pounds in felt when picking it up from the front handle.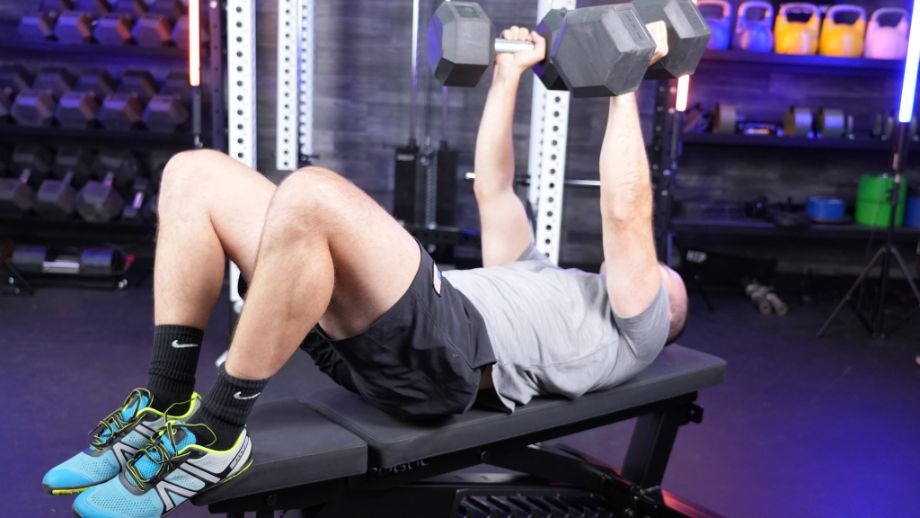 While the overall construction is heavy, this will still be manageable to maneuver when needed. We give the Manta Ray a 4-out-of-5-star rating for overall footprint and portability.
Even though it's heavy and has a decent footprint (at almost 5 feet long and just over 2 feet wide), this bench stores in an upright vertical position.
There is a UHMW plastic coating on the back side of the frame to keep the pad and frame from contacting the ground. There are also transport wheels for increased portability.
Construction and Durability
When it comes to the overall construction and durability, we give the Manta Ray a 4.5-out-of-5-star rating. In true Rogue fashion, this is overbuilt. The Rogue Manta Ray is a premium bench made from heavy-duty, thick 7-gauge steel (which adds to the overall weight and heaviness). For perspective, most heavy-duty squat racks only use 11- or 14-gauge steel.
This is one of the reasons this bench is so expensive. It's almost unnecessarily durable.
It features an MG black powder coat finish which is glossy (not a typical textured, matte-finish) and is "the same stuff Rogue uses on racks, which is really well done," Coop notes.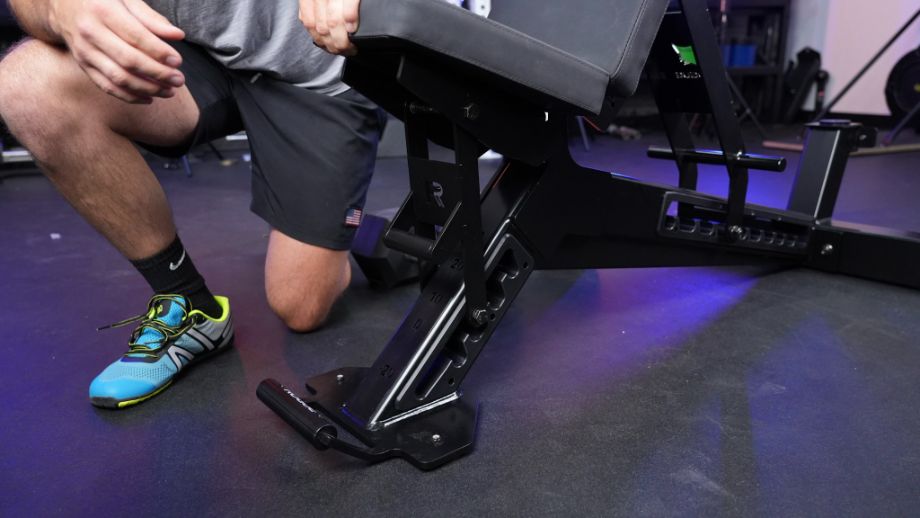 "Plus, the welds are really well done—the stability on this bench partly comes from a welded frame. There is a welded full-arced frame that then bolts to the back legs," explains Coop.
Another quality construction feature is an internal ladder system with UHMW plastic throughout on both the back ladder adjustment system and the seat pad. Basically, Rogue revamped the ladder with a laser cut design versus bolting on a ladder to the sides of the frame.
Coop's biggest callout on the overall construction is the round, injection molded handle on the front of the bench. "I don't like it," says Coop, questioning why Rogue would use plastic when such a small feature could have been a knurled handle. This is where the half points got knocked off.
Designed for Stability
With the weight of a 140-pound adjustable bench, you'll find quite a bit of stability during any pressing, pulling, or isometric drills. Coop even notes that when the bench is set in any given position, it's solid enough to make you feel like it's fixed in that position.
With the solid weight alone, we'd give this a decent rating, but with the added design choices to the footings, we're giving the Rogue Manta Ray a 5-out-of-5-star rating on stability.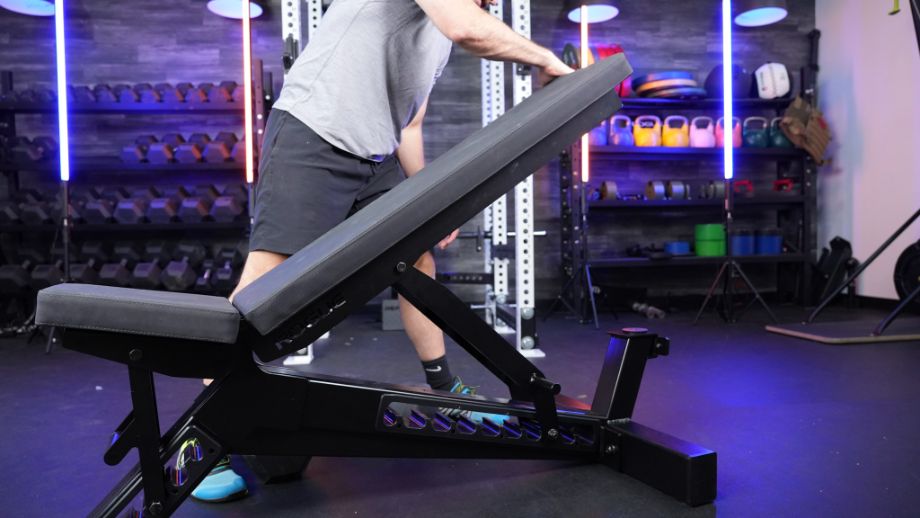 The footings to the Manta Ray give the bench additional stability. The back supports are wide and offer about 25 inches in length to keep you from tilting while on the bench.
Additionally, the front foot is designed with a wide, extended steel plate that offers more stability than a traditional square post. This extra fin on either side of the post is also where the Manta Ray name came from. This design helps prevent any side-to-side wobble you might get from a tripod-design bench.
"It doesn't really get in the way—you can tuck your feet to the side, behind, or on top without much worry," says Coop about foot position for optimizing leg drive while benching.
Pad Gap and Material
According to Coop, one of the most notable features on the Manta Ray Adjustable Bench is the construction of the bench padding. "Rogue took my favorite vinyl material seen on the Rogue Thompson Fat Pad and added it to the Manta Ray," says Coop.
But what's so special about the vinyl? It's a unique textured Grabber Vinyl that is quite grippy and doesn't allow any slipping or sliding under heavy weights—perfect for big benchers or powerlifters. For this reason, the Manta Ray gets a 5-out-of-5-star rating for everything related to the foam and covering.
"The foam is also the perfect amount of comfort to firmness ratio. I absolutely love these pads," Coops says about the 12-inch wide pad.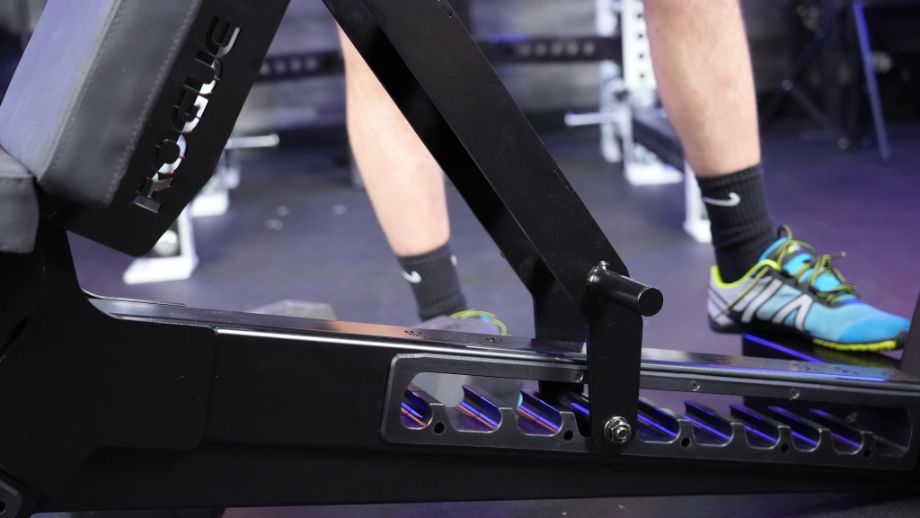 Additionally, there is a minimal 1-inch pad gap, which earns the Manta Ray a 5-out-of-5-star rating in this category. This small gap is ideal for anyone who dislikes the feeling of your glutes being wedged in the pad gap while flat benching in a power rack with a barbell or with a pair of the best adjustable dumbbells.
This is one of the thinnest gaps on the market (aside from the REP Zero Gap System on the BlackWing) and even thinner than the ultra-sturdy adjustable bench we tested for our Stray Dog Bench review.
Conveniences and Comfort
With the nearly $1,000 price tag, we thought it would be best to highlight some of the additional features you'll see in the Manta Ray.
Firstly, you'll be able to stand this up in a vertical position for storage with a UHMW plastic coated stand-up foot, but Coop mentions with the heavy weight of the bench you might not want to put in the storage position or take it out of storage as the first thing you do in your home gym.
"Warm up before standing this up, please," says Coop.
RELATED: Best Warm-Up Exercises
Additionally, there are no stickers at all on the Manta Ray. Everything is laser-cut or embossed so none of the markings will fade or get stripped off with wear and tear. There are also premium transport wheels, which Coop thinks are the best out of any bench on the market.
Rogue Manta Ray Vs Rogue Adjustable 3.0 vs REP BlackWing
Rogue Adjustable Bench 3.0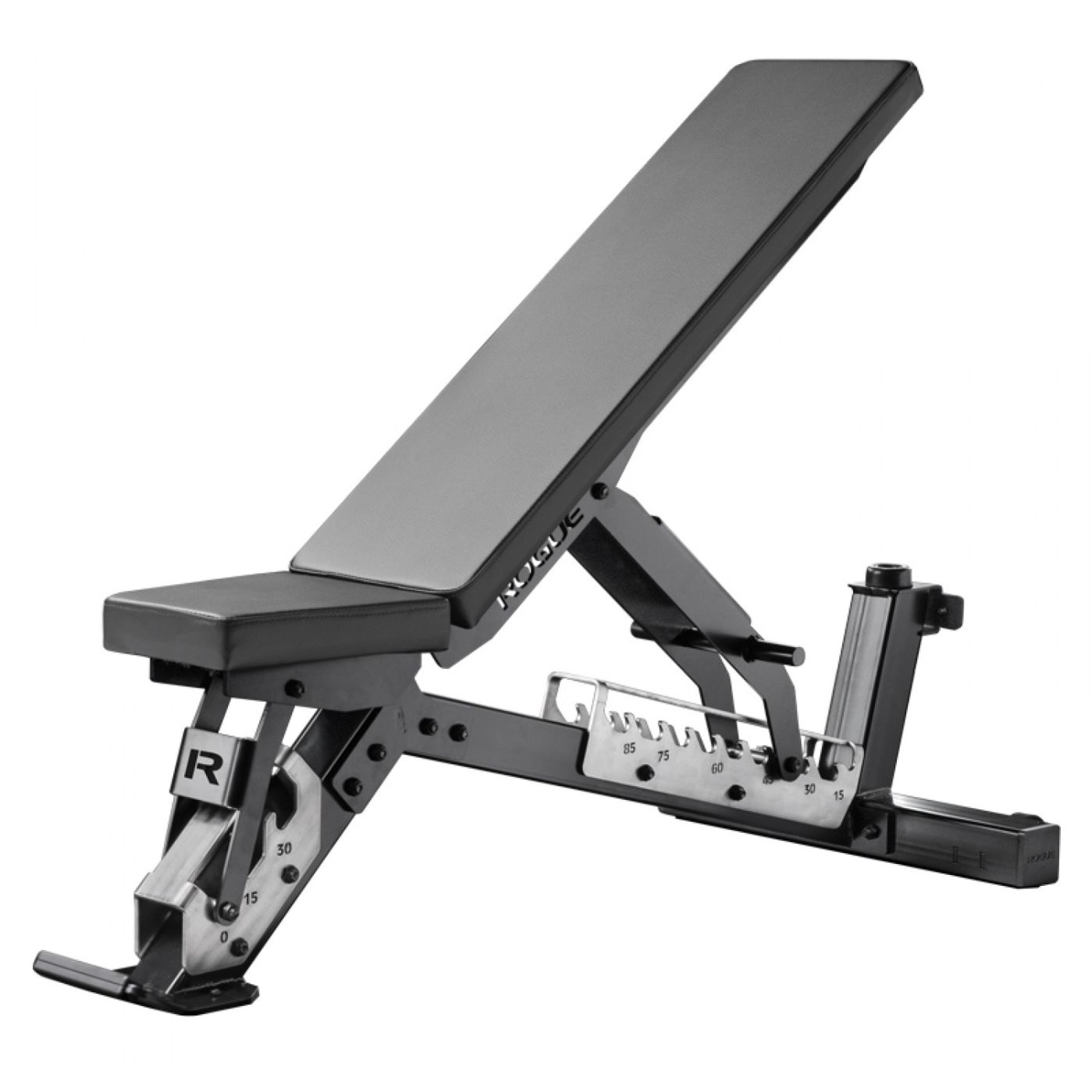 GGR Score: 4.5
Product Highlights
Made in the USA
10 back pad adjustments
3 seat positions
Little gap
Great pad
3x3 11-gauge steel construction
Pros & Cons
Pros
A lot of adjustment options for a ladder-style bench 
There's barely a pad gap at most angles, and sometimes there's none 
Very stable and portable 
Made in the USA
Heavy duty and made to last
Cons
All the parts are in separate boxes, so assembly can take a while 
Other benches, though maybe not quite as good, may provide a better value 
Not an FID bench as there is no decline position
Bottom Line
The Rogue Adjustable Bench 3.0 is one of the brand's best benches to date. Yes, its price tag is a little steep, but if you have the money, you get a lot of bang for your buck.
REP BlackWing
GGR Score: 4.6
Product Highlights
Heavy-duty FID adjustable bench

12 different angle adjustments with back pad

6 adjustable angles for seat pad

Comes in standard and wide widths

Compatible with optional leg roller attachment

Vertical storage

11-gauge steel frame

ZeroGrap technology ensures no gap between back and seat pad at every angle

Pads made with new CleanGrip material
Pros & Cons
Pros
Wide bench option
Multiple color options
Compliant with IPF competition height standards
1,000-lb weight capacity
Vertical storage
Heavy-duty materials
Cons
Pricey compared to other adjustable benches
Some reviews said ZeroGap adjustments were tedious
Bottom Line
REP Fitness has continued to innovate with the Blackwing Adjustable Bench. Continuing to improve on previous benches, the Blackwing is a compact weight bench with a variety of adjustable angles for both the seat and back pads; plus, it stores vertically. The ZeroGap adjustments ensure there is no gap between the two pads at any angle, and the adjustments have been simplified since its first iteration. Although a bit pricey, the innovation and high-quality materials used make this bench worth a look.
Our expert product testers at GGR all agree that the Manta Ray is a high-quality adjustable bench, but it's likely not worth the extra cash in comparison to the Rogue Adjustable Bench 3.0 or the REP BlackWing Adjustable Bench. Both comparable adjustable benches start around $600 with options to purchase additional features.
RELATED: REP BlackWing Adjustable Bench Review
The Rogue Manta Ray is constructed from heavy-duty 7-gauge steel while the other two benches are made from 11-gauge steel, which is still a quality and durable thickness for a weight bench.
If you're looking for a true FID bench, the REP BlackWing is the best option with the ability to decline 15 degrees without the need for an additional foot catch. However, if you weren;t planning on purchasing the foot catch and just want a great bench for your home gym, the Rogue Adjustable Bench 3.0 is a solid option that we appreciate and use here at GGR.
RELATED: Rogue Adjustable Bench 3.0 Review
| | | | |
| --- | --- | --- | --- |
| | Rogue Manta Ray | Rogue Adjustable Bench 3.0 | REP BlackWing |
| Price | $995 ($1,195 with foot catch) | $595 ($695 for stainless steel) | $599 ($619 for wide bench) |
| Footprint | 57" L x 24.75" W x 17.5" H | 56.5″ L x 24.75" W x 17.5" H | 59.5" L x 25.8" W x 17.2" H |
| Frame material | 3×4″ 7-gauge steel | 3×3″ 11-gauge steel | 11-gauge steel |
| Pad gap | 1" | 1" | Zero gap |
| Weight | 140 lbs | 125 lbs | 131 lbs |
| Back pad adjustments | 10 positions (0 to 85 degrees) | 10 positions (0 to 85 degrees) | -8 to 85 degrees |
| Seat adjustments | 5 positions (-20 to 30 degrees) | 3 positions (0 to 30 degrees) | -10 to 45 degrees |
| Warranty | Limited lifetime on frame and welds, 90-day on upholstery | Limited lifetime on frame and welds, 90-day on upholstery | 10-year on bench frames, 1-year on sewn inseams |
Customer Experience
When it comes to the overall customer experience, Coop gives Rogue Fitness a 5-out-of-5-star rating. Although Coop's experience with Rogue has been overwhelmingly positive, he thinks it's worth mentioning that it may take a while to get a response from customer service due to the high demand and popularity of the brand.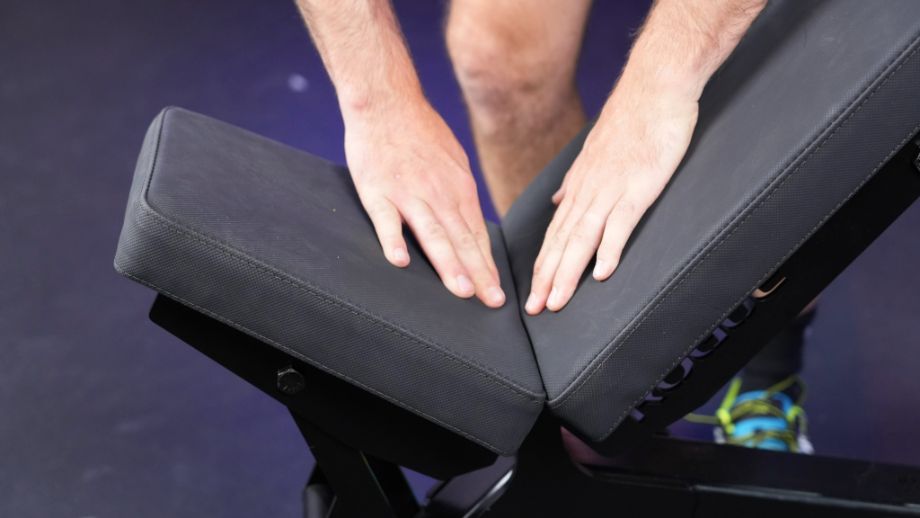 You can contact Rogue via live chat on the contact page, general inquiry form, or by calling (614)-358-6190.
Returns
When it comes to returns, Rogue offers a standard 30-day return window. If you plan to return your Rogue product, make sure it's unused and in new condition. You'll also need to return it in the original packaging. You'll be on the hook for return shipping and Rogue won't refund you the original shipping fees, either.
Warranty
Like many other fitness equipment brands, Rogue offers varying warranties depending on the product and will also void the warranty if you treat equipment with neglect, abuse, or misuse.
For the Manta Ray Adjustable Bench, there is a limited lifetime warranty on the frame and structural welds and a 90-day warranty policy on the upholstery.
Financing Options
At checkout, you'll have the option to use PayPal for a speedy experience or use PayPal's Pay Later option or Affirm for financing options. Both financing options have short loan terms available where you can pay back within a short period of time with no incurred interest. Both third-party options have monthly payment plans, too.
It's also worth noting that Rogue partners with Rigquipment Finance to offer lending solutions and consulting for gym owners buying between $5,000 to $250,000 of gym equipment. You can see more about that service on the Rogue Financing webpage.
Customer Reviews
We're typically a little suspicious when we come across all 5-out-of-5-star reviews on a brand's website (or Google reviews) but sometimes it's just because the product is either really good or really new. I think this Rogue Manta Ray is probably a little bit of both.
At the time of writing this review, the Rogue Fitness website features 12 customer reviews. All customers are pretty much elated with their purchase and all write glowing 5-star reviews. People do mention how heavy it is, and one person even comments that with the foot catch it's a whopping 160 pounds.



Final Verdict of Our Rogue Manta Ray Bench Review
At the end of the day, Coop doesn't see the value in the Manta Ray. "I like the bench with the vinyl, how stable it is, the front foot and the internal ladder system, but when you add everything up and compare it to everything else on the market, it just falls flat," he says.
While our product testers agree that it's a rock-solid bench, the price is just a little too hard to swallow for what it is, especially with the $200 optional foot catch. While it's optional, it's the only way the Manta Ray can be used in a decline setting.
Rogue Manta Ray Bench Rating
Rogue Manta Ray Bench Rating
Will this pricey adjustable bench blow your socks off? Find out in our in-depth Rogue Manta Ray Bench review.
Product Currency: USD
Product Price: 995
Product In-Stock: InStock
Rogue Manta Ray Bench FAQs
How much does the rogue adjustable bench weigh?
The Rogue Adjustable Bench 3.0 weighs 125 pounds while the Manta Ray Adjustable Bench is 140 pounds.
How tall is a rogue bench?
Both the Rogue Adjustable Bench 3.0 and Manta Ray Adjustable Bench are 17.5 inches tall.
Why are Rogue benches so expensive?
In general equipment from Rogue Fitness is expensive because it's manufactured in the United States. The brand also constructs equipment from solid, heavy-duty materials which are expensive to source and ship.