We test and review fitness products based on an independent, multi-point methodology. If you use our links to purchase something, we may earn a commission. Read our disclosures.
The Rogue Flat Utility 2.0 Bench was once one of the best flat benches available on the market. Though superior models have since been released, it's still a great piece of gym equipment that I recommend for many home gym owners (should you meet a specific criteria.)
Rogue Fitness kept the design simple, yet effective in durability and stability, which are two important attributes to look for in a weight bench.
My Rogue Flat Utility Bench 2.0 review will go over everything from how secure this weight bench is, to how the vinyl padding feels when you're lying on it, and why all those factors are just some of the reasons I'd highly recommend this bench for most home gym owners.
Rogue's Best Value Flat Bench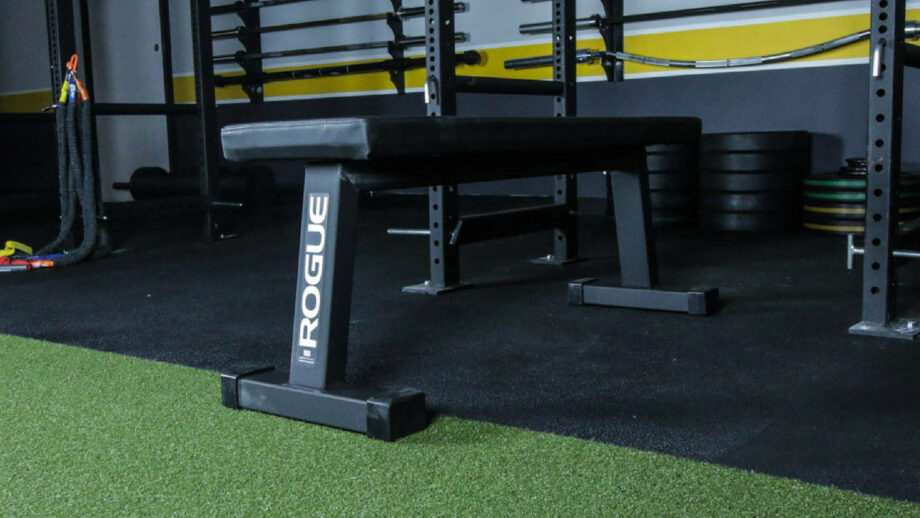 Rogue Flat Utility Bench 2.0
No nonsense. No limitations. No assembly required. The redesigned Rogue Flat Utility Bench takes the weight bench back to basics, featuring 2x3" 11-gauge steel construction, a high-density Neoprene pad, and a pair of angled, wide-set legs for maximized stability. Ergonomically designed and built in the USA, the Flat Utility Bench 2.0 ships fully assembled and offers a needed antidote to the wobbly flat benches and unwieldy FID weight benches routinely imported by the big box stores. While easy to maneuver at just 40 pounds, the Flat Utility Bench is also heavy-duty enough for a tank to sit on it. So no matter the size of the athlete or the intensity of the workout, you've got a rock solid foundation underneath you.
Why You Should Trust Us
I'm a different type of benchwarmer–I've tested and reviewed more than 100 weight benches over the years, and created a list of what I believe to be the best weight benches for home gyms. That list includes flat benches, as well as adjustable benches that are perfect for weightlifters, powerlifters, and recreational athletes.

My team of reviewers and I look at a bench's portability, the stability of the back pad and seat, pad width, and everything in between in an effort to give you the most thorough bench reviews you can find on the internet. Our goal is to be the go-to source for everything home gym-related, and we won't achieve that by taking any shortcuts.
A Quick Look at the Rogue Flat Utility Bench 2.0
Arguably, one of the more important pieces of equipment in any home gym or commercial gym is a weight bench. Without a bench, how is the living water of gains supposed to flow through a body? In fact, benching is so important to the strength training community that Monday has been deemed International Chest Day.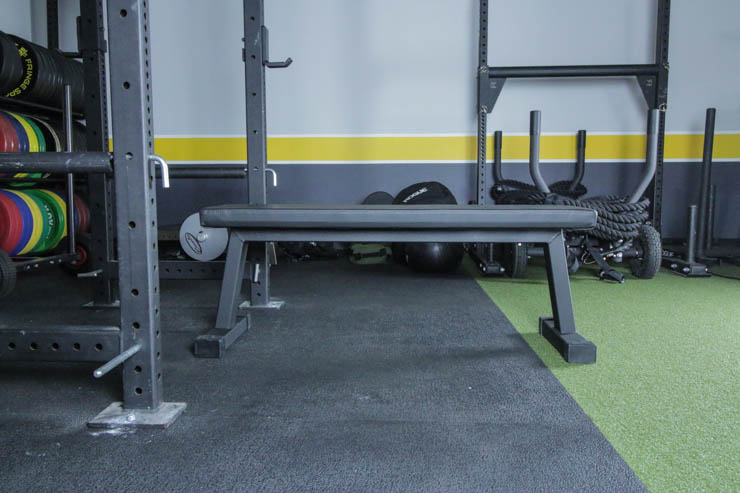 Whether you participate in International Chest Day or not, bench day is a day we all look forward to. It's what can get us through the dreaded leg day…but oh so important leg day.
The Rogue Flat Utility 2.0 Bench does not mess around. It doesn't get cute with its design. True American craftsmanship went into the creation of the Flat Utility 2.0 Bench, and although I think there are superior options, should be somewhat near the top of any list when looking at purchasing a new bench to put into their power rack.
Coop's Tips:
Rogue offers an inexpensive bench hanger so you can store your bench when it's not in use
Competitive powerlifters should not practice on this bench because its 18-inch height does not meet International Powerlifting Federation standards (which states benches can't be taller than 17.7 inches)
My Favorite Things:
You can attach different pads to this bench
The one-piece construction makes it incredibly durable and stable
Minimal assembly required
Lifetime warranty
My Callouts:
There's no way to adjust the feet for when you're using it on uneven surfaces, one of the downsides of a welded frame
Not as budget-friendly as some other flat weight benches
I can definitely foresee an update on this bench by Rogue in the near future, as I think they should.
Is the Rogue Flat Utility Bench 2.0 Worth It?
With its lifetime warranty and structure that can handle just about anything you throw at it, the Rogue Flat Utility 2.0 Bench would be a great addition to any home or commercial gym. I would recommend it to anyone who needs a heavy-duty, high-quality bench for bench presses, dumbbell rows, or any other exercise.
RELATED: Dumbbell Exercises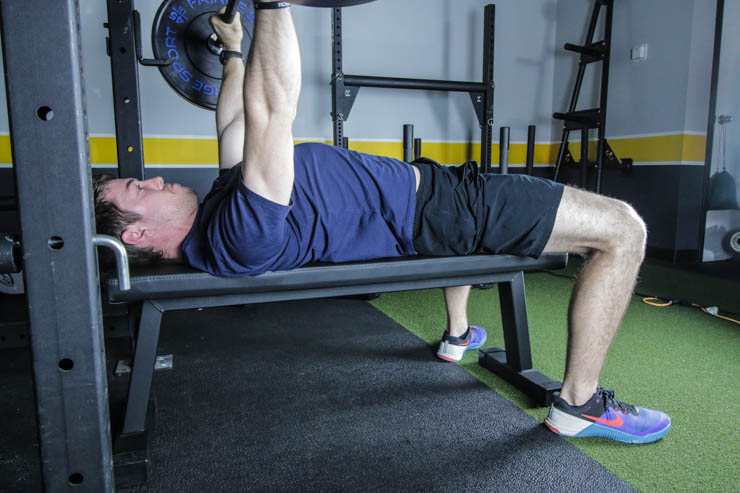 But while I find it to be one of the better weight benches on the market, it certainly isn't for everyone. In many ways, due to the amount of competition on the market today, the Flat Utility Bench 2.0 has been passed by both cheaper and more expensive options.
On that note, here's who I think might also enjoy the Rogue Flat Utility Bench 2.0 and who I think should probably look for another one.
Great for:
Anyone who needs a bench that offers rock-solid stability
People who want an extremely simple, no frills bench
People who want a weight bench that will last a long time
Not recommended for:
People with home gym floors that are not level
Competitive powerlifters (it does not meet IPF standards for weight benches) or shorter lifters
Home gym owners with small spaces, as the bench isn't designed to stand upright like others
Rogue Flat Utility Bench 2.0 Specs
| | |
| --- | --- |
| Footprint | 47" L x 14" W x 18" H |
| Weight | 40 lbs |
| Weight capacity | 1,000 lbs |
| Construction | 2×3″ 11-gauge steel |
| Pad width | 12" |
| Pad thickness | 2-1/4″ |
| Made in the USA? | Yes |
Using the Rogue Flat Utility Bench 2.0
Rogue has always produced some of the best quality home gym equipment available, including barbells and squat racks. The Flat Utility 2.0 Bench lives up to the high standard Rogue Fitness has created from a quality perspective.
It's also a great improvement over Rogue's first flat utility bench, especially when it comes to stability. One of the biggest ways they improved the stability is by making the new frame have an angled profile for the bench's legs. This angled profile adds to an already stable foundation for the Rogue 2.0 Flat Utility Bench.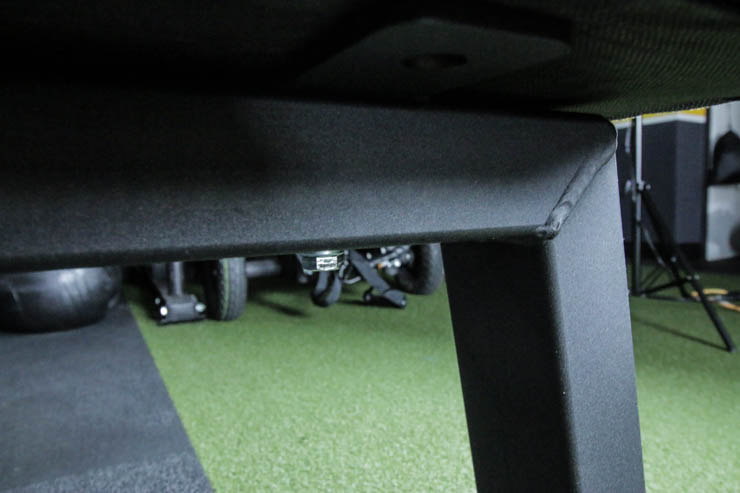 The angled profile and overall frame of the bench is rounded out with rubber feet, replacing the plastic caps. These rubber feet not only eliminate any wobbling, but also ensure it won't scratch or scrape up your flooring.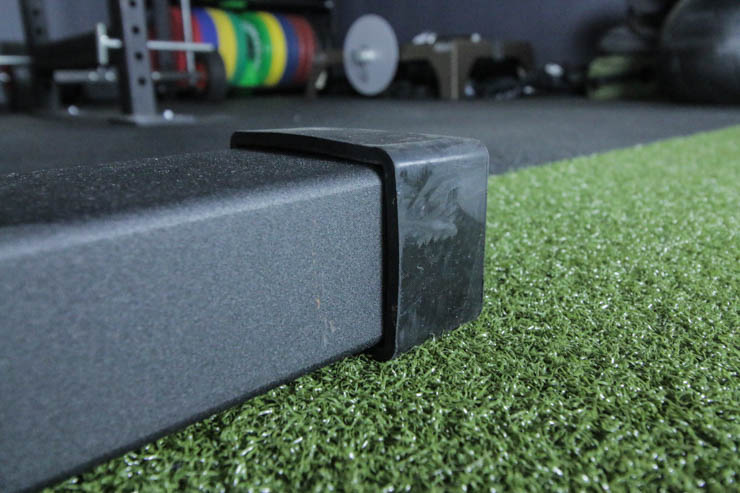 But an angled profile and rubber feet aren't the only way Rogue has increased this bench's stability, they also made it a single-piece steel frame that's welded together. This single piece enhances stability, yes, but it also adds another element of quality.
Overall, a single piece steel frame is better than a bolted together flat bench in terms of durability, but it's not as great for surfaces that may be uneven. This frame will likely last forever and doesn't budge whether you're a 100-pound or 1,000-pound bencher.
For those who remember, the first Rogue Flat Utility Bench used to connect the frame and the feet with a butt joint base. Rogue has redesigned their utility bench to make a much stronger and stable pass-through joint to give maximum durability and increased life of the bench.
Vinyl Padding
The foam that the pad is made with is incredibly dense. A lifter will not be sinking into the pads while getting their body ready to lift and at the same time, it isn't uncomfortable. The vinyl that Rogue uses to house the foam is built to last as well. Most vinyls that come with benches are manufactured cheaper with a slick finish on top. The Rogue Flat Utility Bench 2.0 has a little more of a grippy top so the lifter won't slide.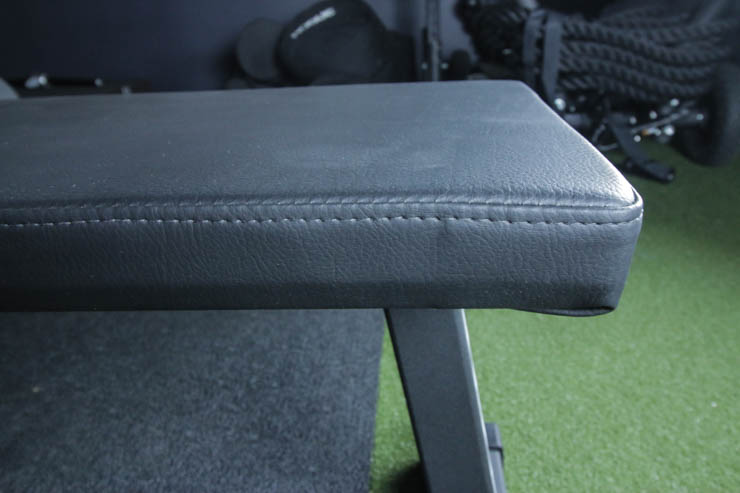 Another great thing about this bench is the versatility it has by being able to attach different pads.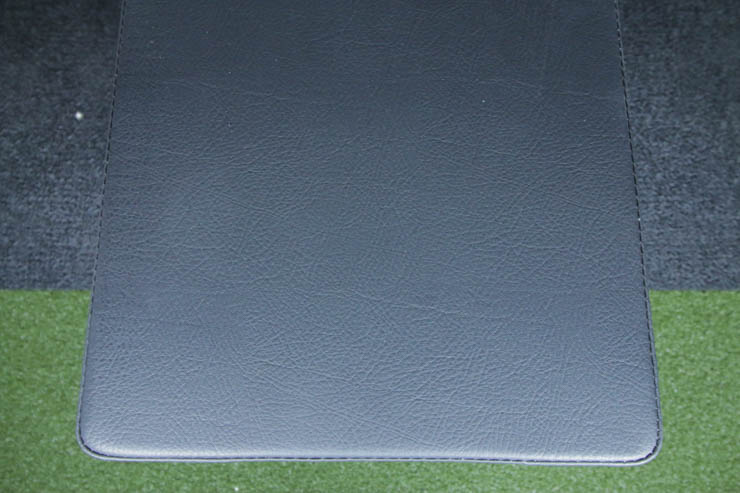 One of Rogue's more popular products is the Thompson Fat Pad. This bad boy is 4.5 inches thick and 48 inches in length with a grippy top, so a person won't slide around while lifting…and yes, it does attach to the Flat Utility 2.0 Bench.
Suggested Improvements for the Rogue Flat Utility Bench 2.0
The Rogue Utility Bench 2.0 is one of the better weighted benches available, but with that being said, there are a couple of things that could be added to the bench.
The first thing is, since the bench is a fully welded frame (which I have a love/hate relationship with), the bench will always remain level. This is fine if it's always being used on a level surface, but most people's garages are not level. An easy fix for this is for Rogue to offer adjustable feet like what is seen on many of the best air bikes or bolt-together legs.
The other thing I would suggest is for Rogue to laser cut its logo on the bench. Rogue has one of the cleanest logos in the fitness industry, and has always just slapped a sticker on most of its equipment. I think it would be great if the brand started laser cutting its logos instead of having a sticker that can easily be ripped off.
Lastly, the current height of the bench top is too high. Seventeen inches is standard and this bench should be updated to meet it, or at least get closer.
Footprint and Construction
The steel used to create the Rogue Flat Utility 2.0 Bench is the same 2×3-inch 11-gauge steel used on a majority of their machines, like the Abram GHD 2.0 and Reverse Hyper. The 2×3-inch 11-gauge steel is also what's used to construct Rogue's racks and rigs.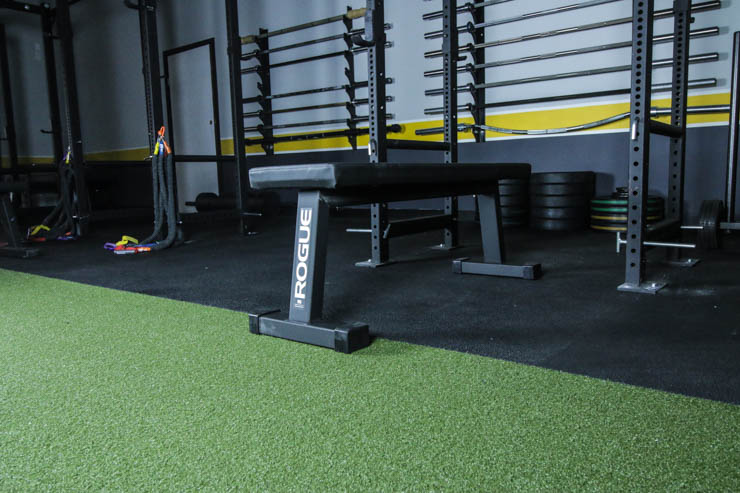 The Rogue Flat Utility Bench 2.0 is 48 inches long, 14 inches wide, and sits 18 inches off the ground. The pad that is sent with the frame is a 12-inch wide pad and is 2.25 inches thick. The default pad that is sent with this bench is better than most companies' upgraded pads.
Ordering and Assembling the Rogue Flat Utility Bench 2.0
The Rogue Flat Utility Bench 2.0 is easy to order through Rogue Fitness' website, and currently retails for $210.
Once the Rogue Utility Bench has found its way to your front door, different from other companies such as the Titan Flat Weight Bench, the Rogue Flat Bench arrives almost completely assembled. The only assembly required with the 2.0 is simply screwing the pad onto the already welded together steel. This makes things head-ache free for people who might not excel in working with their hands.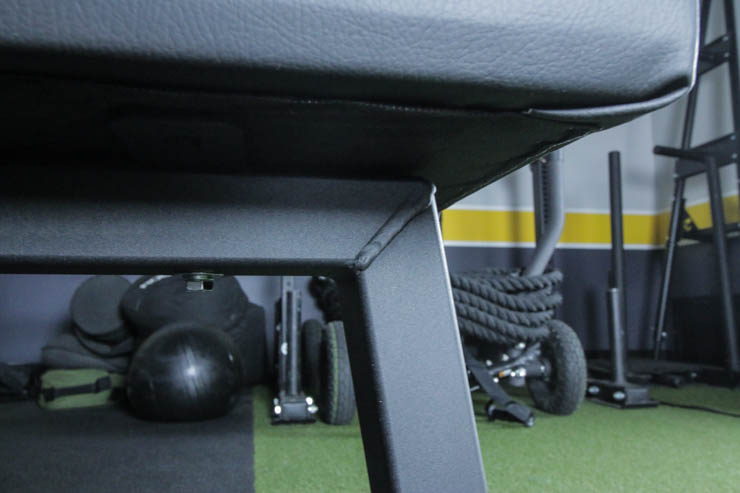 Rogue Flat Utility Bench 2.0 vs. Titan Flat Weight Bench
A comparable bench to the Rogue Flat Utility Bench 2.0 is the Titan Flat Weight Bench. The Titan Flat Weight Bench is 52 inches long, sits 17 inches off the ground, and the base is 17 inches wide. Titan manufactures their steel out of China, which isn't always an issue, but for those wanting American craftsmanship, Rogue is the way to go.
Titan Flat Weight Bench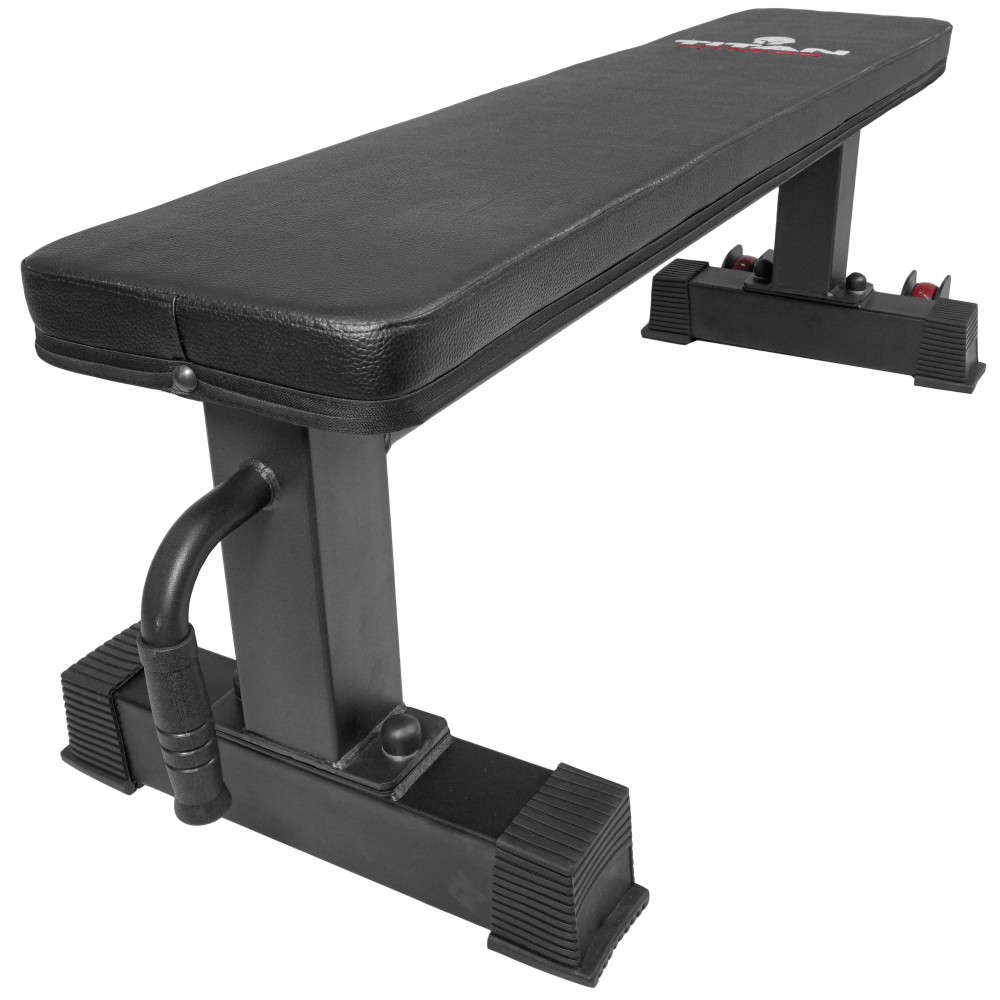 Titan Flat Bench
The Flat Bench by Titan Fitness is designed with enough integrity to handle your massive gains. Built at the perfect height for bench pressing and padded for long lasting comfort. Complete your home gym and your exercise routine!Features:- Meets requirements for Competition Bench- Rigid Steel Base- Comfortable Padding- Sleek Leather Finish- Wheels for Quick Workout Changes
An advantage to the Titan Flat Weight Bench is that the steel frame is rounded out with a handle and back wheels that make it a little easier to transport around your gym. The Rogue Utility Bench weighs about 40 pounds, so it's not difficult to pick up and move. Rogue also offers a bench hanger so it doesn't just sit there and take up space.
Without a doubt, the Titan Flat Weight Bench is a great bench for the price point, but the one-piece construction of the Rogue Flat Utility Bench 2.0 is hard to beat.
Rogue Flat Utility Bench 2.0 vs. REP FB-5000
Another bench that's similar to the Rogue Flat Utility Bench 2.0 is the REP FB-5000 Competition Flat Bench from REP Fitness.
REP FB-5000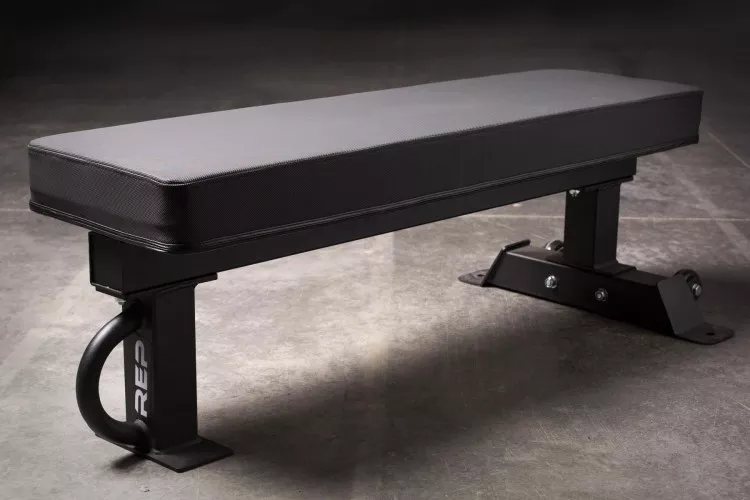 REP FB-5000 Competition Flat Bench
The Rep Fitness Competition Flat Bench is designed to handle the heaviest weights, and has compatibility with the Rep Fitness Wide Pad or the Thompson Fat Pad (with 4-bolt mounting pattern, please check yours) for those seeking an extra-wide pad.A heavy-duty bench for big lifts.Why a 3-Post Flat Bench? Nothing in the way of your feet, at powerlifting competition spec height, and rated to 1,000 lbs at an incredible price.Dims: 17" high (top of pad), 48" long (pad), 12" wide (pad), 62 lbs. 4" thick pad. Designed to meet IPF specs of height, width, and length Heavy-duty 3x3" 11 gauge steel frame with even thicker connecting plates. Durable vinyl upholstery with 4" thick pad with plywood base. Connects with 4 bolts. 2 extra bolt holes on frame for future pad compatibility. 17" height from floor to top of pad. Our bench height allows athletes to use proper positioning of the feet, and arch the back to push up serious weight with proper form. Height stays the same when using the Rep Fitness Wide Pad. If swapping our pad for the Thompson pad (must be 4-bolt mount pattern), total bench height will increase 1/2 inch, and you will need to purchase (4) 3/8"(dia)x1"(length) bolts. 3-foot design for ease of leveling, and to ensure front support does not get in the way of foot positioning. *Please note* Front foot DOES NOT need to be perfectly flat in order to be stable while you're laying down on the bench. Similar to a tripod--lay down and let all 3 points support you, not just the front foot. Welded metal endcaps Handle and wheels for easy transport. Easy assembly, 15 minutes with a wrench.
The REP FB-5000 meets IPF standards (it has a 17-inch height), has great padding, a 1,000-pound weight capacity, and a single-post design you'll see on benches at any competition. If you're looking to get into competitive lifting, this is the bench I'd recommend.
But in terms of the home gym athlete, my vote goes to Rogue. It just has better overall quality, and both cost the same (as of this writing). One problem with the REP bench is the vinyl isn't cut quite as tight and doesn't feel as thick as Rogue's. It's also 20 pounds heavier than the Rogue bench.
Customer Experience
Rogue Fitness' customer service team can be reached by phone or email, though it might take them a while to get back to you due to their popularity. They're typically more expensive than other brands, such as Titan Fitness, but if you're looking to save cash on a made-in-the-USA brand I wrote an extensive guide on how to save money on Rogue equipment.
Warranty and Returns
The Rogue Flat Utility Bench 2.0 comes with a limited lifetime warranty, which essentially means it covers any and all manufacturing errors. You're not protected against any misuse of the item or normal wear and tear.
Rogue gives you 30 days from the delivery date to return any new and unused items. That means if you use it, it's yours for good.
Customer Reviews
The Rogue 2.0 Flat Utility Bench has a 4.9 average rating (out of 5) with 520 reviews. Most reviewers say this is a sturdy bench and people have used it for everything from CrossFit to powerlifting.
"I like that this bench is light enough to move around but heavy duty enough to use for benching, step ups and anything you can think of!" reviewer Vivfit from Colorado wrote.
There are a few negative comments, with some people claiming the bench is too expensive for what it is, some saying it's too tall for them, and others saying there were problems with their product.
"The opening where the rubber boot is supposed to fit, is bent out of shape, so the boot doesn't fit snuggly and consequently, the bench doesn't sit perfectly flat on the floor," reviewer bilhow911 from Idaho wrote.
Final Verdict of Our Rogue Flat Utility Bench 2.0 Review
Overall, the Rogue Utility 2.0 Bench is an extremely durable bench and is certainly made to last Add in its stability, vinyl top, foam padding, and price point, there's a lot to like.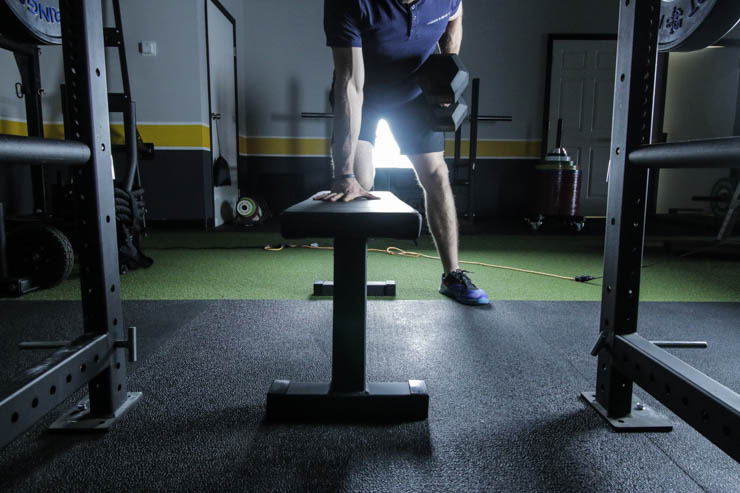 That said, there have been countless other flat benches released since this one that we think are superior but that's not to say this still isn't a great bench. It's just that if you're looking for the best-of-the-best, we recommend you look elsewhere.
Full Rating
Rogue Flat Utility Bench 2.0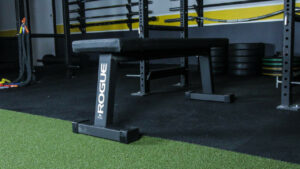 The Rogue Flat Utility 2.0 Bench is one of, if not the best flat bench available on the market. Rogue has kept the design simple, but yet effective in durability and stability. With its lifetime warranty and structure that can handle just about anything you throw at it, the Rogue Flat Utility 2.0 Bench will be a great addition to any home or commercial gym.
Product Brand: Rogue Fitness
Product Currency: USD
Product Price: 210
Product In-Stock: InStock
Rogue Flat Utility Bench 2.0 FAQs
Is a Rogue bench worth it? 
If budget is of no concern, and you're looking for a well-built piece of equipment that will last several years then yes. Benches like the Rogue Flat Utility Bench 2.0 are a perfect example of why Rogue Fitness is a household name in the fitness industry. 
How much weight can a Rogue bench hold? 
It depends on the model, but the Rogue Flat Utility Bench 2.0 can withstand up to 1,000 pounds. 
Does Rogue bench come assembled? 
Again, it depends on the model but the Rogue Flat Utility Bench 2.0 comes mostly assembled and all you have to do is connect the frame to the vinyl padding.