Rogue Fitness is one of the only companies allowed by Louie Simmons to produce the Reverse Hyper or sale in the US.
They currently have multiple models, including the popular RH-2 Reverse Hyper.
I personally think the reverse hyper is an essential tool for rehab. I've used them and the relief you receive for your lower back is out of this world.
With the Z Hyper, Rogue has beefed up just about everything and included a bolt together design that should save on shipping and allow for easier portability, beefed up 3x3" 11-guage steel construction, and an option stabilizing crossmember.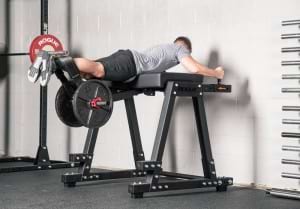 One of the biggest differences that will be welcoming for many is the adjustable handles.
Manufactured in Columbus, Ohio, the Rogue Z Hyper is approved by Louie Simmons himself as an effective tool for physical therapy, back rehab exercises, and for regular everyday training—particularly for those looking to reduce back tightness and strengthen the hamstrings, glutes, and hips. Like the RH-2, the Z Hyper includes an oversized pad (35" wide x 24" deep x 3" thick) with an extended back lip to keep the user's hips from resting on any metal/hard surface. A 3x3" step on each side of the unit makes it easier to climb aboard, and rubber feet are included on the base for extra grip/stability and floor protection.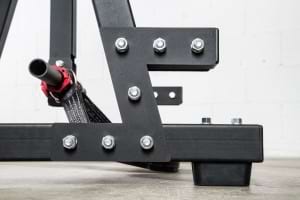 Specifications
Made in Columbus, OH, USA
Bolt-together design
3x3" 11-gauge steel construction
Footprint: 51.5" long x 43" wide (1.31m x 1.09m)
Compatible with all increments of bumpers and steel, including 45lb steel plates
10.5" usable storage length on each side of the swing arm allows for a capacity of over 700 lbs of steel plates
Adjustable Front Handles (ranging from 2-14" from pad edge) to accommodate varying user heights
Over-sized Pad with extended lip portion for better comfort
Protective Rubber Feet
Includes (1) pair of Rogue Metal Axle Collars and (1) Spud Inc. Hyper Strap
Optional Base Crossmember addition for resistance bands
Optional Reverse Hyper Roller Attachment also available*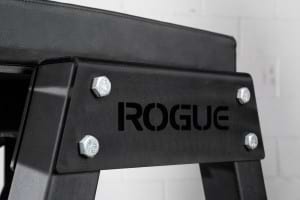 The Science Behind the Reverse Hyper
Rogue's Reverse Hypers decompress the spine and produce no vertical compression on the spine at all. This simple device allows for dynamic strength development in the concentric phase, while serving as a rehabilitation mechanism in the eccentric phase. The spine is gently stretched and depressurized during the process, creating--in essence--an internal pumping mechanism, filling the spinal column with spinal fluid and the lower back muscles with blood. Anyone who has injured their back knows that the pressure needs to be relieved and circulation restored to the injured area in order to rehabilitate. The reverse hyperextension machine offers one of the best methods for achieving this.