We test and review fitness products based on an independent, multi-point methodology. If you use our links to purchase something, we may earn a commission. Read our disclosures.
You're probably familiar with Reebok for the brand's shoes or as a sponsor for the CrossFit Games. However, Reebok Fitness also manufactures a multitude of cardio fitness equipment including treadmills, exercise bikes, ellipticals, and rowers.
In this collection of Reebok treadmill reviews, we'll cover the running machine specs, brand policies, and where to make your purchase.
We've Logged Hundreds of Miles on Treadmills
Our expert product testers at GGR are a group of certified personal trainers, CrossFit Level 1 Trainers, and nutrition coaches. We're passionate about fitness and helping you find the best piece of equipment for your home gym. We have ordered, assembled, and reviewed dozens of treadmills from high-end machines to budget treadmills and everything in between.
Although our product testers had hands-on experience with the Reebok Adjustable Floatride treadmill (from assembly to working out), we have not had our hands (or feet) on the other Reebok treadmills listed in this review. Instead, we're utilizing our collective knowledge of industry standards and our experience with the Floatride to help determine which of these machines deserves a space in your home gym.
Treadmills From Reebok Fitness
Reebok FR20z Adjustable Floatride Treadmill
Reebok FR30z Adjustable Floatride Treadmill
Reebok Jet 100x Treadmill
Reebok GT40x Treadmill
Reebok Treadmill Comparison Chart
| | | | | |
| --- | --- | --- | --- | --- |
| | Floatride FR30z | Floatride FR20z | Jet 100x | GT40x |
| Price | Around $700 on Amazon | Around $600 on Amazon | About $700 | N/A |
| Footprint | 73.6″ L x 29.1″W x 45.2″ H | 69.6" L x 27.1" W x 42.5" H | 61.8" L x 28.7" W x 50.7" H | 67.1" L x 30.3" W x 51.7" H |
| User Weight | 264 lbs | 264 lbs | 242 lbs | 242 lbs |
| Motor | 4 HP | 2.25 HP | 2.0 HP | 2.0 HP |
| Max speed | 12.4 MPH | 11.2 MPH | 11 MPH | 10 MPH |
| Incline levels | 15 | 15 | 12 | 12 |
| Display | Touch LED display | Touch LED display | 5 separate LED display screens | 5" LCD screen |
| Foldable | No | No | Yes, soft drop folding mechanism | Yes, with soft drop folding mechanism |
| Preset workout programs | 24 | 24 | 24 | 36 |
| Cushioning | Floatride+ cushioning zones | Floatride+ cushioning | Air Motion cushioning | ONE Series cushioning |
| Warranty | 10-year motor, 2-year parts and labor | 10-year motor, 2-year parts and labor | 10-year motor, 2-year parts and labor | 10-year motor, 2-year parts and labor |
Reebok FR30z Adjustable Floatride
Good for: Anyone who needs a treadmill with a powerful motor and a sleek, modern look
Reebok Adjustable Floatride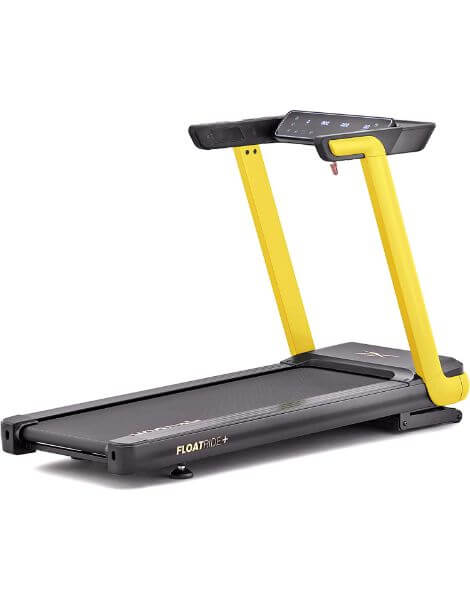 GGR Score: 3.9
Product Highlights
Designed to offer the features of a commercial treadmill 

Running deck is cushioned with Reebok's signature Floatride+ zone cushioning

Eco-Kinetic 2.25 HP motor housed under the hood supports speeds up to 11.2 MPH

Features 15 levels of power incline, 24 onboard fitness programs, integrated surround sound speakers, an integrated tablet holder, Bluetooth connectivity, hand pulse sensors, and a small pivoting console which displays speed, distance, time, calories, and heart rate 

Compatible with the Kinomap app, which features more workout options
Pros & Cons
Pros
Easy to use
Good range of incline (15 levels)
Affordable price
24 unique built-in fitness programs
Integrated surround sound speakers
Cushioned running deck
LED display
Cons
Weaker motor
Won't support sustained running
Not foldable
Bottom Line
The FR20 is a solid choice for light joggers looking to workout at home on a treadmill that offers a good range of speed, incline, and programming.
The Reebok Adjustable Floatride from Reebok Fitness is a sleek home treadmill featuring a minimalist design with a slim LED console. The display sits flush with the crossbar, on top of the treadmill uprights, so there is not a whole lot of bulk on this machine.
GGR founder and OG product tester Coop ordered, assembled, and tested the Floatride. He notes that "many treadmills with this kind of price tag feature big, media-rich consoles," says Coop. However, "I like the simplicity of the device and the minimal touchscreen console," he adds.
The Floatride doesn't have all the bells and whistles you might see with iFIT-enabled touchscreens on brands like NordicTrack or ProForm. Despite the lack of tech, "it does have a powerful motor and can get above 12 MPH—many in this price range have maximum speeds of 10 MPH," says Coop. The machine also features a 59-inch running deck, which is spacious enough for full running strides.
Coop also notes the Floatride has a modern aesthetic. "This treadmill will look good in a space considering many at this price point are big Buick-type machines," says Coop.
The Floatride offers Bluetooth connectivity so you can connect to apps like Zwift and Kinomap. In addition to using your smartphone or tablet, you can also cycle between the 24 preset programs or the three heart rate control programs without the use of a wireless internet connection.
Reebok FR20z Adjustable Floatride
Good for: Runners looking for modern-looking treadmill with nice specs
The FR20z looks nearly identical to the FR30z, but has a slightly smaller footprint and running deck (measuring 55 inches). Additionally, this model features a smaller 2.25 horsepower motor that reaches top speeds of 11.2 MPH, which doesn't match the speeds on the FR30z.
The FR20z has the same sleek touch-response LED. The console is also lit up with an illuminated bezel around the perimeter and can pivot for better viewing.
We also like that both Floatride models have pulse sensors on the handrails in addition to speed and incline buttons for quick mid-workout changes.
Reebok Jet 100x Treadmill
Good for: People seeking a folding treadmill with a minimal design
When you shop for the Reebok Jet 100x treadmill, the Reebok Fitness website will direct you to a European retailer. It's also hard to find this model in stock on Amazon. For that reason, we have an alternative suggestion if you've been eyeing the Jet 100x: Our fan-favorite and workhorse of a machine, the Sole F63. It's priced right around $1,000 and features a strong motor, lifetime frame warranty, and an impressive 325-pound user weight capacity.
Best Alternative to Reebok Jet 100x
GGR Score: 4.3
Community Score: 3.2
Product Highlights
Folding treadmill
Costs around $1,000

Heart rate chest strap included

Bluetooth speakers, USB port, and cooling fan

Powerful 3.0 HP motor
Pros & Cons
Pros
Financing is available
Bluetooth speakers
USB port
Device holder
15 different levels of incline
Cushioned deck
20" W x 60" L belt
325-lb weight capacity
Lifetime frame and motor warranty
Cons
Heavy machine
No touchscreen
Bottom Line
The Sole F63 Treadmill is an affordable option for people who want a powerful, reliable machine without breaking their budget.
But, back to the Jet 100x. Although this treadmill doesn't have the same motor power as the Floatride, it will still deliver top speeds of 11 MPH with the compact 2.0 horsepower motor.
A few conveniences we like on the Reebok Jet 100x are the built-in speakers that can be used with the auxiliary port, an adjustable fan, and two water bottle holders. The console is not a touchscreen like the Floatride, rather a simple LCD display with traditional button controls on the frame, below the screen.
The handrails feature built-in EKG pulse sensors for a quick way to monitor your heart rate while working out. The console will also display speed, time, distance, calories, steps, and incline. Speaking of incline: The Jet 100x has 12 levels of incline and 24 built-in workouts to keep you challenged.
When you're not walking or running, you can fold the treadmill belt up away from the floor to store the machine in a vertical position. The deck has a hydraulic folding system that will softly (and safely) bring the running deck back down the floor.
Reebok GT40x Treadmill
Good for: Individuals looking for foldable treadmill designed for walking or jogging
This is another model on the Reebok Fitness catalog that isn't easy to find. The GT40x features specs suitable for walkers. In that case, we have the perfect alternative for your walking needs: The Horizon 7.0 AT. It has a similar 2.5 CHP motor, it folds, and is priced under $1,000.
The Reebok GT40x is a solid treadmill for anyone looking for the basics. This treadmill has a decent 2.0 horsepower motor that will certainly support walkers and joggers, but is not designed for serious runners. The running deck is also a little short for running strides at 51 inches long.
For walkers, this treadmill delivers the essentials like built-in workout programs, pulse sensors to monitor your heart rate, incline training options, and speeds up to 10 MPH.
The GT40x is another folding treadmill from Reebok with a soft drop mechanism for safety and easy storage. Aside from the nifty folding mechanism, you won't find high-tech features like a touchscreen display. The GT40x offers a console with basic metric readouts including speed, time, distance, calories, pulse, and incline.
Discontinued Reebok Treadmills
In addition to the treadmills featured on the Reebok Fitness product catalog, here are some of the discontinued models you can still find user manuals for:
Reebok One GT40S Treadmill
Reebok Competitor RT 8.0 Treadmill
Reebok V 8.90 Treadmill
Reebok R 6.90 Treadmill
Reebok ZigTech Series Treadmills (including ZigTech 710, 910, 1410, and 1910)
Reebok Jet Series Treadmills (including Reebok Jet 200 and Jet 300)
What to Look For in a Reebok Treadmill
Reebok Fitness has manufactured home-use treadmills for years. However, the Adjustable Floatride Treadmill is the only model you'll have luck finding in stock on websites like Amazon, Walmart, and Target.
That said, here are a few things to consider before you purchase a Reebok treadmill:
What is your price range and does this Reebok treadmill fit within those parameters?
Is the Reebok treadmill you're researching currently in stock?
How much space will I need in my home gym for this treadmill?
Does the treadmill fold?
Does it have transport wheels?
How long is the running deck and will it work with your height or stride?
Will the user weight capacity be compatible with your bodyweight?
Reebok Policies
Reebok Fitness policies are hard to nail down because the brand doesn't sell fitness equipment directly to customers from the website. Additionally, the website brings you to European retailers when you navigate to check treadmill prices.
If you end up needing support with your Reebok treadmill purchase, you can fill out a form online or call the United States customer service phone number at 1-800-215-6216.
Warranty
The Reebok Fitness website lists a 10-year motor warranty and a 2-year parts and labor guarantee on both Floatride models, the Jet 100x and the GT40x. However, the brand does not list any warranty information on the frame.
Returns
Because your Reebok treadmill purchase will take place on a third-party website like Amazon, Target, or Walmart you will have to adhere to the specific retailer's return policy.
For example, if you purchase a Reebok treadmill through Amazon, there is a straightforward 30-day return policy. It's worth mentioning that Amazon will only provide returns for items that are shipped from an Amazon Warehouse.
Financing
Financing options are available on Amazon if you qualify for the Amazon Rewards Visa Card. With this offer, you can make interest-free payments for as little as $35 per month for 18 months.
Final Verdict of Our Reebok Treadmill Reviews
Reebok treadmills offer some solid options for a certain type of home gym owner, but these treadmills aren't for everyone. Reebok treadmills will be well-suited for anyone who wants a straightforward machine without a lot of high-tech features. These will also be good machines for people who are concerned about monthly subscription fees for programming.
FAQs About Our Reebok Treadmill Reviews
What is the best indoor treadmill for home use?
Our expert product testers continue to rank the NordicTrack Commercial 1750 as a top pick for home gym treadmills (despite having the word commercial in the name, it's actually designed for home use). The NordicTrack 1750 isn't cheap though—it will run you over $2,000. 
What is a good but cheap treadmill?
If you're not looking to spend a ton of cash, check out our roundup featuring the five best treadmills we've tested under $600. Spoiler alert: The ProForm City L6 was our top pick for runners. 
How much should I pay for a good treadmill?

How much you spend on a treadmill is subjective and depends on your budget, space, and goals. We've tested quality treadmills at multiple different price points. A budget treadmill typically falls below $1,000. Mid-range treadmills average about $1,500 to $2,000, while high-end treadmills can be priced well over $3,000.
How long should a treadmill last?
With proper care, cleaning, and belt lubrication a treadmill will have a long life—oftentimes upwards of 10 years.