We test and review fitness products based on an independent, multi-point methodology. If you use our links to purchase something, we may earn a commission. Read our disclosures.
If you've been anywhere near the serious cycling crowd, Zwift and Peloton have both likely passed in casual (and competitive) conversation. Both of these apps offer training, workouts, metrics, and more. But depending on your goals and personality, one of them may work better for you than the other.
In this Peloton vs Zwift comparison, we put the pros and cons side by side to determine who would benefit most (or least) from each fitness app. From the prices to the premise of the training platforms, we'll go over the similarities and the differences, identifying the types of users who'll benefit the most from each app.
Peloton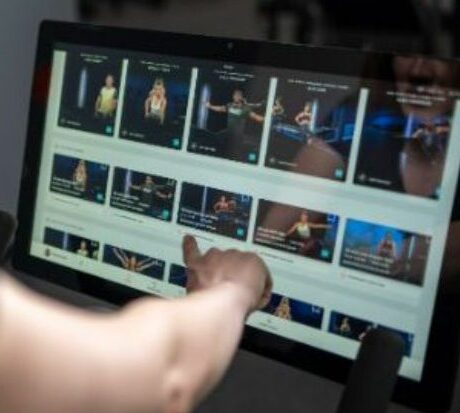 GGR Score: 4.5
Product Highlights
World-class workout classes
Variety of fitness routines
On-bike and off-bike workouts
Don't need a Peloton bike to sign up for the app
Pros & Cons
Pros
World-class programming
Not just bike workouts
Can be used all over the world
Keeps tracks of all training metrics
Train from the comfort of your own home
30-day free trial
Cons
Costs $39 per month
Required to access Peloton Bike's features
Bottom Line
The Peloton app is one of the best training programs we've come across on any piece of exercise equipment.
Zwift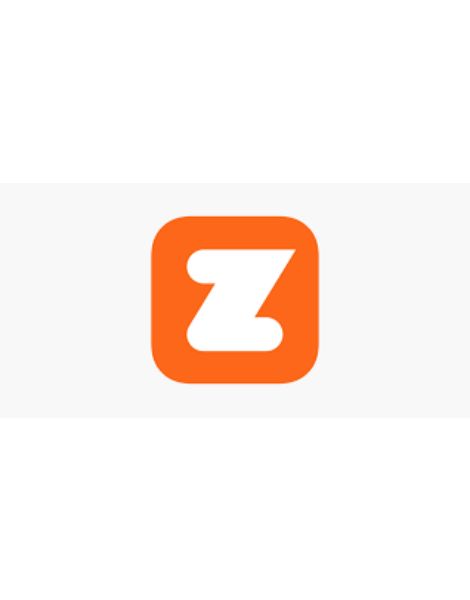 GGR Score: 4.25
Product Highlights
Indoor gaming experience for cycling and running 

11 worlds with thousands of routes 

Live and on–demand workouts
Pros & Cons
Pros
Game format keeps users motivated
Training plans available for running and cycling
Variety of workout options: live, on-demand, group, solo, race
7-day free trial
Cons
Difficult to use on phone because of small screen
Not all rides are available at all times
All training plans start on Monday
Requires additional equipment to fully participate in cycling
Bottom Line
Zwift uses game features to make indoor cycling and running more fun, but the app has a history of crashing and isn't great on small phone screens.
Comparison Chart
| | | |
| --- | --- | --- |
| | Peloton | Zwift |
| Price per month | $12.99 | $14.99 |
| Types of training | Cycling, running, walking, strength, meditation, cardio, stretching, yoga, outdoor activities | Cycling and running |
| Live workouts | Yes | No |
| Number of users | ~5.9 million | ~4 million |
| Number of instructors | 60 | 0 |
| Number of on-demand classes | Thousands of classes with new classes added regularly | Nine worlds with single workouts and training plans available in each totaling 1,000+ workouts |
| Avenues to access | Peloton Tread, Tread+, Bike, Bike+, Guide,and App available through Google Play or theApple App Store on any smart device | App available through Google Play or the Apple App Store through any smart device, compatible bike, or smart trainer with Bluetooth or ANT+ |
| Heart rate monitoring | Yes | Yes |
| Trial period | 30 days | 14 days |
| Number of users | One with Peloton app, up to five with all-access membership through Peloton equipment | One |
Quick Look: Peloton vs Zwift
Peloton enjoys a strong reputation for instructor quality and class variety. You don't have to use a Peloton bike to use the Peloton app, any compatible spin bike or stationary bike will do. Zwift isn't too far behind with a reputation as the app for everyone from hobbyists up to pro cyclists. Many stationary bikes are compatible with Zwift, including Peloton, but you can also use a road bike on a compatible bike trainer.
While these two leaders in the fitness app industry share some common characteristics, their differences tend to attract different types of users. Peloton's vast class options go beyond cycling workouts to include an ever-growing number of classes for running, walking, strength training, and a whole lot more. Zwift turns boring indoor cycling into an immersive gaming experience, with intense training and entertainment mixed together in an accurate and highly competitive virtual world.
Who Should Use Peloton
Those who want a wide variety of workout options
Those who may not have access to fitness equipment every time they exercise
Those who prefer instructor-led classes
Those who want the option of live classes
Those who cross-train often
Who Should Use Zwift
Anyone who uses a compatible trainer or exercise bike for indoor training
Those who use cycling as their primary form of exercise
Triathletes who need a training app that focuses on cycling and running
Cyclists of any level who need an indoor training app
Key Similarities Between Peloton and Zwift
On-demand classes (or rides in the case of Zwift)
Access to high-quality cycling workouts
Similar, though not identical ($12.99 Peloton, $14.99 Zwift), monthly subscription fee
Both are compatible with more than just the brand's exercise equipment
Important Differences Between Peloton and Zwift
Peloton classes are led by instructors
Zwift workouts are designed by, but not led by, trainers
Option to use Zwift Companion app for access to social features
Peloton offers yoga, meditation, HIIT, Pilates, and more
Zwift only offers cycling and running training
Zwift organizes races and lets users organize events with friends
Zwift allows user to set up meetups with friends
Zwift is a virtual environment made of nine worlds
Peloton training plans can last up to 18 months
Zwift training plans last a few weeks to months
Zwift relies on a game-like interface and structure, with users earning upgrades the more they use the app
Peloton offers live classes and a leaderboard
Peloton comes with a 30-day trial
Zwift comes with a 14-day trial
Zwift requires a compatible device and equipment
Peloton can be used without equipment, just a compatible device
Workout Experience
When you put Zwift vs Peloton, you see that both apps have killer workouts, but they create somewhat different workout experiences. Peloton's instructor-led workouts cover areas that include:
Strength
Meditation
Cardio
Stretching
Yoga
Cycling
Boot camps
Running
Walking
Outdoor activities
There are also options to explore locations around the world with prerecorded routes for cycling, running, walking, and hiking. You can attend live classes and climb the leaderboard, though on the Peloton app you can't see who people are in your classes or their metrics, only your place on the board. Overall, Peloton's platform can either give you a spin class feel or a real-world outdoor riding experience, with training plans available if you have specific goals in mind.
The Peloton app, which is different from the all-access membership that's preloaded on Peloton equipment, is compatible with many other devices besides Peloton. If you have a compatible bike or treadmill, basic stats are recorded in the app and you can access structured workouts while using non-Peloton machines.
The integration of the Peloton app with non-Peloton machines depends on the compatibility of the equipment. Some will let you watch workouts on a built-in screen, while others will only sync metrics with the Peloton app, but you can still watch workouts on a separate device. We like that you can use the Peloton app for daily workouts even if you're not cycling or don't have access to equipment. It can work on any compatible device like a tablet, laptop, or TV. 
RELATED: Best Online Workout Programs
In contrast to Peloton's real-world design, Zwift's platform creates a virtual gaming world where you interact with other users using an avatar. There are nine worlds with many courses/classes in each one. At any one time, there are only three worlds open: Watopia, the most developed of Zwift's worlds, plus an additional two worlds based on a predetermined schedule. Zwift offers a monthly calendar to show when each world will be open.
There are also two additional worlds only used for races. And races are one of the key differences between these two apps. With Zwift, you can join virtual races and race against other users. Zwift uses personal stats and information so that your avatar's power output mimics your real-life performance, which is what makes it such a great option for indoor training. The more you ride, the more features you unlock, like accessories for your avatar and bike.
You can also schedule rides with friends in available worlds, using the Meet Up feature in the Zwift Companion app. Zwift Companion is a second Zwift app that you don't have to use but is included for free with your Zwift subscription. As Zwift describes it, Zwift Companion is like a remote control for Zwift. It lets you join clubs and get workout recommendations based on your fitness level, performance, and preferences. It's also the social hub for Zwift activity, where you can see your friends, send messages, and see how many people are using Zwift at any one time.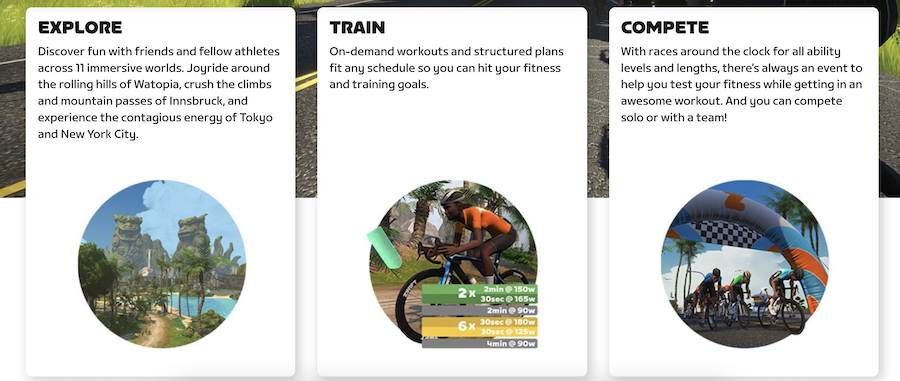 Zwift has cycling and running training plans for users of different levels, from beginners to competitive athletes. There are options to join group rides or pacer groups, too. You can also race against yourself with a HoloReplay. For cyclists, it's hard to beat Zwift's training options. Plus, with a compatible trainer, you can use your own bike or a compatible smart bike. Zwift sells its own (pricey) trainer, but the app is compatible with many smart trainers.
When comparing the two experiences, Peloton's is more like having a gym in your pocket, with access to instructor-led classes from many disciplines and options for on-equipment training. Zwift provides a motivational gaming experience, with access to training plans and options for a little healthy competition. However, there are no live instructors or workout options beyond cycling and running.
Technology, Compatibility, and Connectivity
The Peloton app is compatible with the Peloton Tread, Tread+, Bike, Bike+, Guide, and App that's available through Google Play for Android devices or the Apple App Store for iOS. Peloton equipment comes loaded with a full, all-access membership that includes everything in the Peloton app, plus auto-adjust features (which change the resistance on a Peloton stationary bike or the speed and incline on a Peloton treadmill), detailed metric recording (versus basic in the Peloton app), and up to five user profiles. The Peloton app, which we are reviewing here, only allows one user profile and basic metrics.
The Peloton app (not the all-access membership, which costs around $44 per month) works with many other treadmills, stationary bikes, and compatible devices. It includes unlimited classes for a single profile and basic metric information.
The Zwift app is available through Google Play or the Apple App Store, and you can access it through any smart device and use it with a compatible bike or smart trainer with Bluetooth or ANT+. Zwift sells a trainer called the Zwift Hub that automatically connects to the app. However, there are many other Bluetooth and ANT+ capable trainers and stationary bikes through which you can use Zwift. If you plan to use Zwift for running, you may need additional equipment sold through Zwift to accurately track your runs.
Users need to have a laptop, tablet, or phone on which to watch Zwift while on the trainer or bike. Many Zwift users also recommend having a fan going and your water nearby. If you get off during a race, you're automatically kicked out if you stop pedaling.
Community Access and Competition
Both Peloton and Zwift include a social community and competition, but Zwift puts you more head-to-head with your competition. You can virtually see your avatar next to other users' avatars. You can also use the Zwift Companion app to connect with friends, create groups (and join groups), and organize Meet Ups. Zwift regularly opens two special worlds to hold races and events where users can compete with one another. You can also send messages to friends while you're riding (and when you're not) through the Zwift app.
The Peloton app's social features aren't as robust as Peloton's own all-access membership or Zwift's social platform. You can participate in live classes, but you can't see the progress or leaderboard status of other people in the class. You can still compete with other users, but you don't specifically see who those users are. However, if you like spin classes and don't have time to get to the gym, the Peloton cycling experience comes pretty close.
Company Policies
Zwift has a 14-day trial period, and you can cancel your subscription at any time. Peloton has a 30-day trial period, with the option to cancel your subscription at any time. Peloton also offers discounts if you sign up for a yearly versus a monthly subscription.
Final Thoughts About Peloton vs Zwift
Both of these apps offer excellent workout variety and quality. It really depends on your fitness goals, equipment, and preferences as to which one is best for you. If you primarily cycle or run and gaming features motivate you, Zwift is the more obvious choice. You might have to invest in compatible equipment like a trainer or bike if you don't already have one. If you're into cross-training and prefer instructor-led workouts for a gym-class experience, the Peloton app may be a better fit.
FAQs on Peloton vs Zwift
Is Peloton or Zwift better?
For cycling-specific training and workouts, Zwift is the better choice. For general fitness and trainer-led instruction, Peloton is the better option.
Do real cyclists use Peloton?
Real cyclists can and do use Peloton. Peloton can be particularly helpful for cyclists who need to cross-train because of the class variety. 
Do pro cyclists use Zwift?
Zwift is popular among both pro and amateur cyclists. It uses your personal information and metrics to create very realistic virtual scenarios that are calculated to mimic your actual power output.
Can Zwift be used with Peloton?
Zwift can be used with a Peloton bike, but all of the features aren't available. For example, some social features aren't available when using a Peloton.