We test and review fitness products based on an independent, multi-point methodology. If you use our links to purchase something, we may earn a commission. Read our disclosures.
Everyone and their grandma has a fitness tracker nowadays. That's probably partially because there are so many types of fitness trackers out there now that come at affordable price points—and some are so simple even your grandparents can operate them. In our Garmin Vivosmart 4 review, you'll learn that this tiny but mighty activity tracker is one of those: simple but powerful.
Why You Should Trust Us
My team and I have tested most of the best fitness trackers available, judging them against criteria like fit, comfort, tech, tracking features, accuracy, customer service, and more. We know what kind of fitness trackers are good for different kinds of athletes and fitness enthusiasts.
Related: The Garmin Vivosmart 4 made our Best Fitness Gifts list!
Garmin Vivosmart 4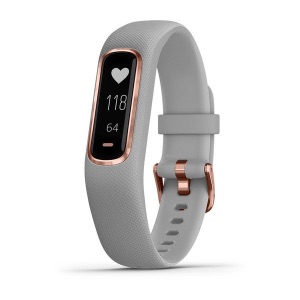 Garmin Vivosmart 4
This slim, swim-friendly wearable comes loaded with fitness and wellness features to help you make the most of a healthier, more active lifestyle.
A Quick Look at the Garmin Vivosmart 4
Garmin is a staple in the fitness tracking world. It's a leader in sports and fitness technology and has been releasing innovative products since 1989, when the company released its first GPS under the name ProNav. Since then, Garmin has been hard at work improving its GPS technology and integrating it with wearables, competing with the likes of Fitbit, Polar, and Apple Watch.
The Garmin Vivosmart 4 is one of many Garmin wearables that uses GPS among other technologies to track your fitness and health. It improves upon its predecessor, the Vivosmart 3, with advanced sensors that track metrics like blood oxygen and heart rate variability.
Coop's Tips:
Budget a couple of hours to charge this watch right out of the box
Keep in mind this tracker doesn't have built-in GPS, so it might not be the best for runners, unless you carry your phone with you.
Don't dive deeper than 50 meters, as the waterproofing feature won't hold up past that
My Favorite Things:
Advanced sleep tracking and other advanced health monitoring features
Small and comfortable design
Affordable
My Callouts:
Doesn't have GPS but can use your phone's
Super small screen isn't great for viewing data
Not the most durable fitness watch
Is the Garmin Vivosmart 4 Worth It?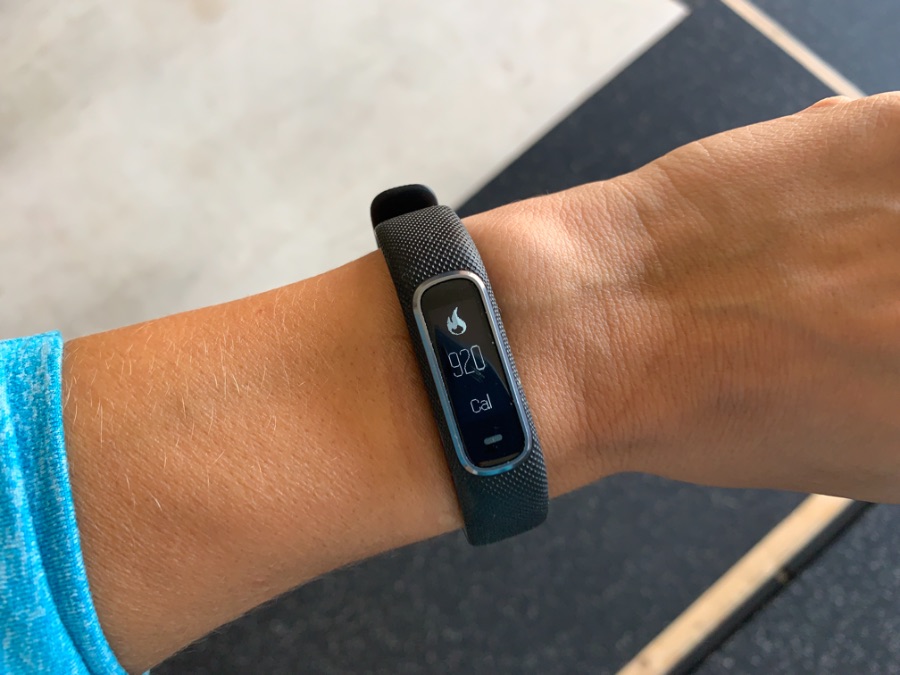 At $129, the Garmin Vivosmart 4 is super affordable compared to other smart fitness trackers, especially for all of the features you get.
It doesn't have the advanced features of more expensive watches, like GPS or ECG like the Apple Watch, but it's also half the price of the Apple Watch.
I think this is well worth the money. Is it the best fitness tracker? That depends on your preferences and needs.
Great for:
Someone looking for small, sleek fitness watch
Fitness enthusiasts who want a lot of features for a good price
Anyone who wants a smartwatch they can dress up
Not recommended for:
People who want built-in GPS tracking
Runners, cyclists, hikers, or other distance-based athletes
Anyone who wants a large screen to view data
Using the Garmin Vivosmart 4
Our product tester and editor Kate Meier mostly enjoyed her experience with the Vivosmart 4. The minimalist design made it comfortable to wear during workouts and sleep in, and the silicone band is easy to clean. It has tons of advanced health and fitness monitoring features, which makes for super fun and comprehensive reports on your daily health and wellness.
One criticism is that the OLED display is very small. You can still read it, but it is narrow and sometimes it takes a second to realize what number you're looking at because something like "10,064" for steps will span two lines. Other than that, there's lots to love about the Garmin Vivosmart 4.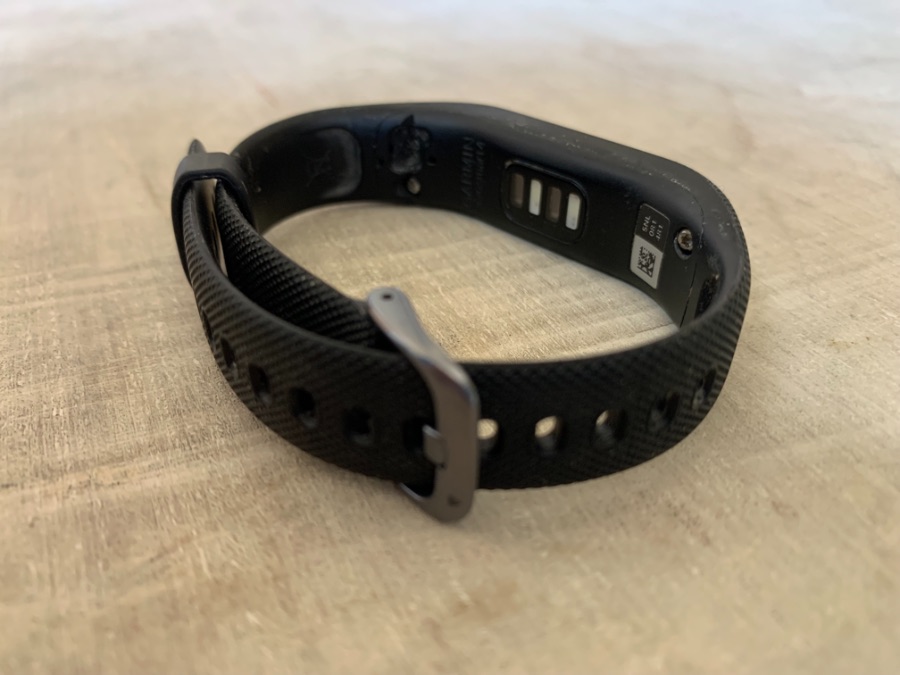 Fitness and Wellness Features
As far as fitness tracking goes, the Garmin Vivosmart 4 impresses. It has everything you've come to expect as standard in a fitness watch, such as a heart rate sensor and calorie tracking, but it's also packed with other features for a well-rounded report on your wellness.
This watch tracks:
Calories burned
Heart rate
Resting pulse
Sleep
Stress levels
Steps taken
Blood oxygen saturation levels (spO2)
"Body battery," or how rested you are
VO2 Max
Hydration
Menstrual cycle
Floors climbed
It also has several activity profiles to choose from for tracking workouts:
Running
Cycling
Swimming
Walking
Multi-sport
Strength training
Cardio training
Elliptical training
Stair stepping
Yoga
The Garmin Connect app also features a number of fun challenges you can do, like a weekly steps challenge where you can see leaderboards of how other people are doing and "compete" against them. There are also badges you can earn for accomplishments like walking a certain number of steps in a month. We love the community aspect of activity tracking, because we know how hard it can be to stay motivated or disciplined with your workouts.
I particularly like the fact that stress tracking is becoming a standard metric on activity watches. It's too easy to overlook stress as a factor in your health and fitness, or simply ignore stress and do workouts that may just make things worse. (No matter how good a stressor exercise is, it's still a stressor, and your body reacts with more of the same stress response—kind of why we love Whoop so much.)
It's also great to see pulse ox sensors becoming more common, even on smaller watches like the Vivosmart. Blood oxygen is a great indicator of how recovered you are and if you're ready to take on your next tough workout.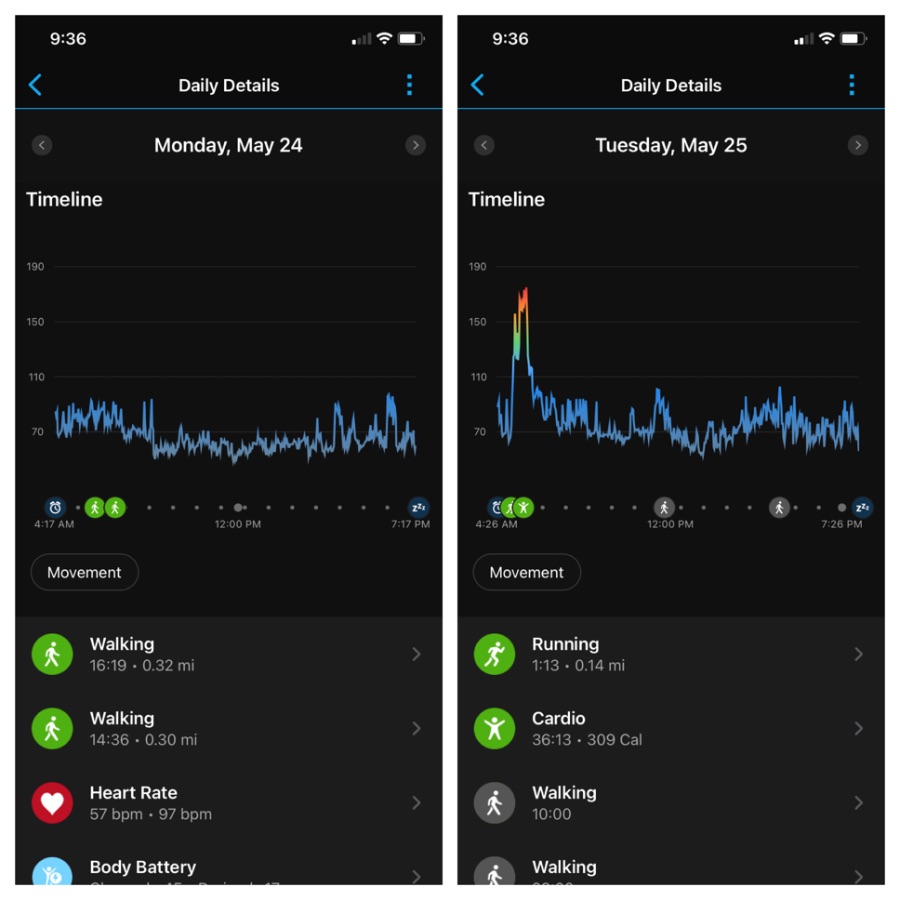 Tech Capabilities
The Vivosmart 4 is compatible with iPhone and Android. It connects to your phone and gives you updates for texts and phone calls—and even for apps like Slack! Kate was never able to get alerts for emails, but she wasn't able to figure out why.
Some customer reviews mentioned that the app is tough to navigate at first, and Kate said she agrees: It does take a little bit of time to get used to scrolling through options on the watch and understanding what they are, she said, but the app is really easy to use and navigate once you get it set up.
We both wish the Vivosmart had built-in GPS capabilities, and we honestly aren't sure why it doesn't. The Fitbit Charge 3 and Fitbit Charge 4 do, and those both have a super similar design to the Vivosmart. You can connect your Vivosmart to your phone for connected GPS tracking, but that might be an annoyance to runners, walkers, and bikers who don't feel like taking their phone along. For that reason, we don't think the Vivosmart is one of the best running watches or biking watches out there (we'd recommend something like the Garmin Forerunner for that). 
Battery Life and Charging
It took about two hours to charge right out of the box, which is neither terrible nor great. I still wish devices like this came fully charged, because who isn't excited to use their new fitness tracker right out of the box? It doesn't take quite as long to charge if you plug it in while it still has some juice left.
According to the specs, the Garmin Vivosmart 4 battery can last up to seven days, but only if you don't enable pulse ox tracking or sleep tracking. Kate wore the watch for 24 hours before it showed any sign of losing battery, with all features enabled.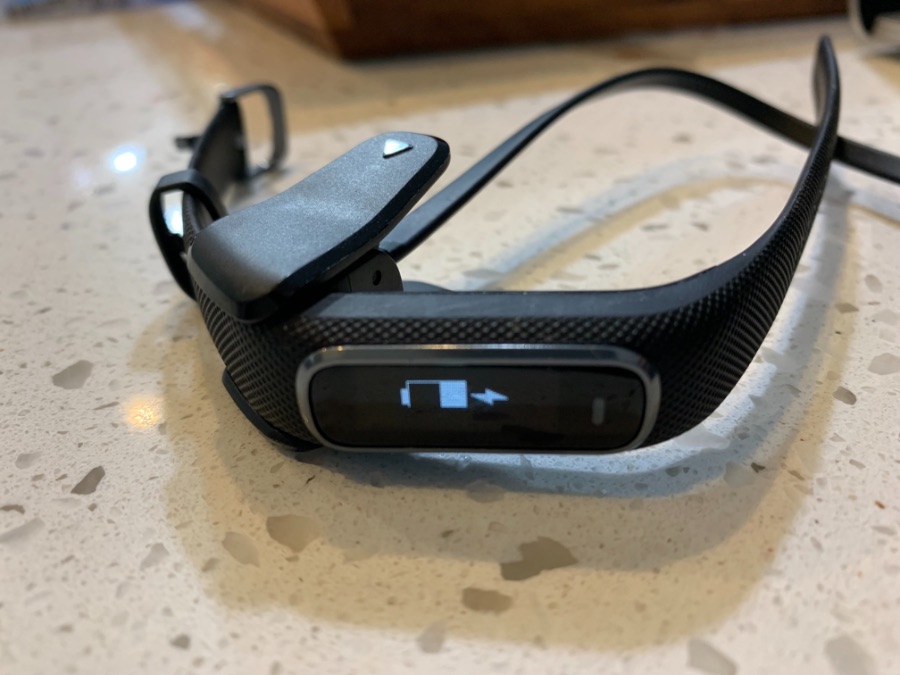 Comfort and Style
This fitness watch is sleek and narrow, and the style definitely caters more to women than men, most of whom would probably prefer something a bit larger and more rugged. Kate got the all-black one, which is her preference, but on the website, you can also get white with rose gold, berry, and light blue. This is definitely a watch you could dress up if you wanted to.
You also have about a half dozen options to customize what appears on the watch face, which is nice.
Kate said she could easily sleep in the watch, and actually forgot she was wearing it at times. How's that for comfort? Her only gripe is that she has small wrists, and the hard face part of the watch is a little long for her and extends beyond the width of her wrist. It's not a huge deal, she said, but she would have to seriously tighten up the watchband to get it to sit on her wrist the way it's supposed to.
Construction and Durability
For such a small watch, I have to give claps to the Vivosmart for being as durable as it is. It isn't perfect—some reviews say the aluminum bezel snaps off after a year or so—but our product testers found the wearable to hold up just fine to all sorts of different workouts. This even includes exercises like burpees, where there's a lot of potential for the watch to get dinged or scuffed.
Ordering and Assembling the Garmin Vivosmart 4
You can get the Garmin Vivosmart 4 from the Garmin website or from several third-party retailers, including Amazon, Best Buy, Walmart, Staples, and Factory Outlet Store. We ordered the watch from Amazon. You might be able to get faster delivery on Amazon, but Amazon runs out of stock quicker than the Garmin website does.
There's no assembly required when you get the package; you'll just need to charge up the watch, plus download the Garmin Connect app and sync up your new watch to the app.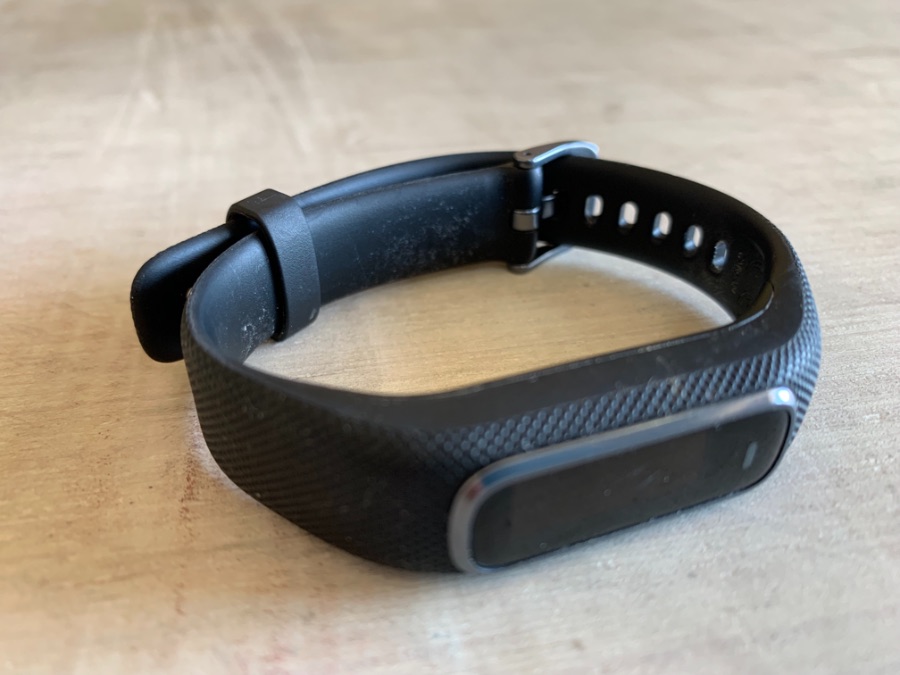 Vivosmart vs. Vivofit vs. Vivoactive vs. Vivosport
Garmin has an entire lineup of Vivo fitness watches. Whatever your fitness level or preferences, one of these can definitely suit your needs. Here's a quick look at Garmin's Vivo lineup:
The Vivofit is a tiny fitness tracker with an even smaller screen than the Vivosmart. It only comes in black and white, and it tracks far less than the Vivosmart. The Vivofit monitors sleep, women's health, calories, steps, and distance. It does not have a heart rate monitor. It also only costs $80.
This one is nearly identical to the Vivismart, but it has built-in GPS. It lacks a few other features, including blood oxygen and menstrual tracking. The design is slightly boxier and it comes in fewer colors.
This is an entirely different class of activity tracker. It has a thick band and a large, round watch face that can display a lot of data at one time. In addition to all of the tracking features on the Vivosmart, the Vivoactive also has respiration tracking, hydration tracking, mindful breathing activities, on-screen animated workouts, and Garmin Coach, a personal running coach on your wrist.
Garmin Vivosmart Specs
| | |
| --- | --- |
| Screen material | Polycarbonate |
| Strap material | Silicone |
| Touchscreen | Yes |
| Display size | 0.26″ x 0.70″ (6.6 mm x 17.7 mm) |
| Display type | OLED |
| Sizes | Small/Medium and Large |
| Battery life | Up to 7 days |
| Water rating | ATF 5 (swim) |
| Heart rate monitoring | Yes |
| Pulse ox | Yes |
| VO2 max | Yes |
| Sleep tracking | Yes |
| Women's health tracking | Yes |
| Sensors | Altimeter, accelerometer, ambient light |
| Connectivity | Bluetooth and ANT+ |
Customer Experience
Garmin has one of the more pleasant customer experiences out there. The support center on Garmin's website is in-depth with an option to enter serial number or device model to troubleshoot, watch tutorial videos, and contact the support center/call a team member. Shipping is free on all orders over $25.
The Vivosmart 4 itself comes with a one-year limited warranty and a 90-day warranty on repairs. Returns may be made within 30 days of purchase, with the exception of opened software, custom products, and downloadable products. You must return items where you bought them, which means you have to return online purchases online and retail purchases in-person.
Customer Reviews
At the time of writing, there were no customer reviews on the Garmin website, so I headed over to Google, where the average rating on the Vivosmart 4 is 4.2 stars. Common complaints include that the little silver band around the screen pops off after a year or so but that Garmin is very receptive to replacing parts. Other critiques include the lack of GPS functionality and that the screen is small, but that's something you can clearly see before purchasing the device.
Positive reviews praise the Garmin app for being intuitive and the data for being accurate. Most buyers seem to enjoy the variety of fitness and wellness tracking features, as well as the small profile of the watch.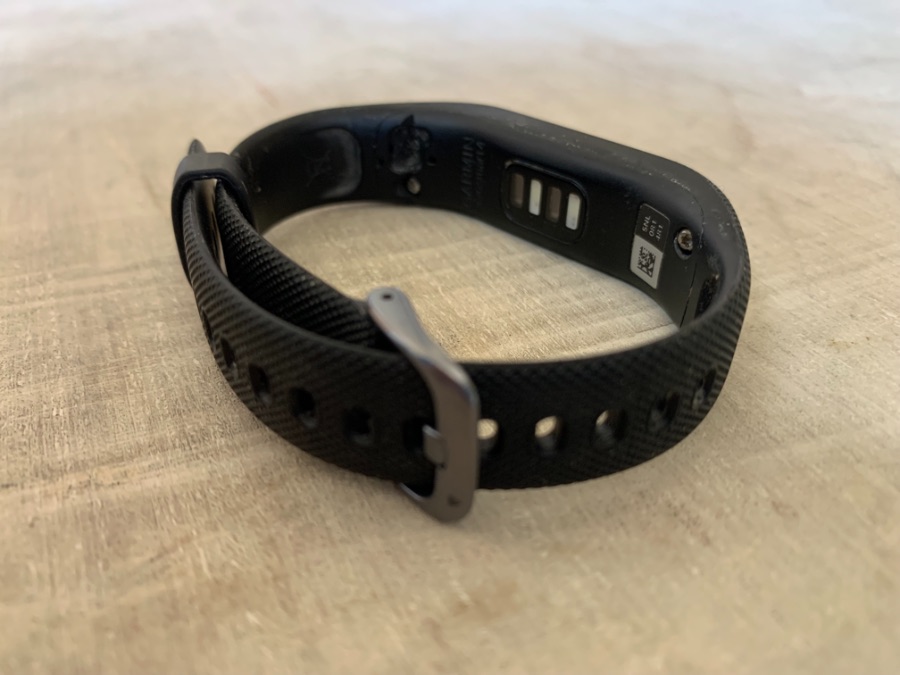 Final Verdict of Our Garmin Vivosmart 4 Review
Kate says she really likes this tracker. "I'm not a tech savvy person, but I found it really easy to use," she told me. "It gives me reminders to get up and move if I have been sitting too long." In particular, Kate loves the price, sleep tracker function, step counter and heart rate monitor.
This activity tracker is a great value. You get a lot for the price.
The screen is a little small for Kate's liking, and it isn't always responsive, even to double taps
It has mostly positive reviews with only minor gripes
We wouldn't recommend for endurance athletes due to the lack of native GPS
Great all-in-one activity tracker for most fitness enthusiasts
Garmin Vivosmart 4 Rating
Garmin Vivosmart 4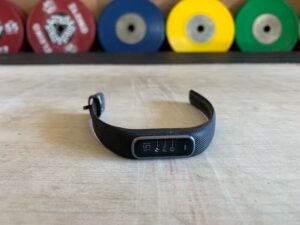 The Garmin Vivosmart 4 is one of many Garmin wearables that uses GPS among other technologies to track your fitness and health. It improves upon its predecessor, the Vivosmart 3, with advanced sensors that track metrics like blood oxygen and heart rate variability.
Product Brand: Garmin
Product Currency: USD
Product Price: 129.99
Product In-Stock: InStock
Garmin Vivosmart 4 FAQs
Questions about the Garmin Vivosmart 4? We have you covered:
How old is the Garmin Vivosmart 4?
Garmin launched the Vivosmart 4 at IFA, a European tech show, in September 2018. 
Is the Garmin Vivosmart 4 waterproof? 
The Garmin Vivosmart 4 has a Garmin Water Rating of "swim" or ATF5, which means it's waterproof up to depths of 50 meters. The Garmin website specifies that this means you can safely wear your Vivosmart 4 for "splashes, rain or snow, showering, swimming, diving into water, snorkeling."
Does Garmin Vivosmart 4 have GPS? 
No, the Vivosmart 4 does not have GPS functionality, and that's one of our biggest callouts. However, you can connect the smartwatch to your phone to get GPS capabilities. 
How do you tell if Garmin Vivosmart 4 is fully charged? 
You can determine the charge level of your Garmin Vivosmart 4 by looking at the battery icon on the screen. If you plug it in, you'll see the entire battery icon light up if it's already fully charged. If not, the battery icon will blink to indicate charge level. 
What can Garmin Vivosmart 4 do?
The Garmin Vivosmart 4 is small but mighty. It can do a lot of things, including track your sleep, estimate blood oxygen saturation, track and log workouts, monitor your heart rate and heart rate variability, and more.