We test and review fitness products based on an independent, multi-point methodology. If you use our links to purchase something, we may earn a commission. Read our disclosures.
All-in-one bundles can go one of two ways: They're either the best thing since sliced bread, or are full of useless items that don't really equal out to being a good value (looking at you, obnoxiously priced Dior advent calendar).
In the case of home gym kits, I'll be honest––I'm usually not a fan. At least this was the case until the RPM Atom Kits hit the market. RPM Training Co. is a brand I'm quite familiar with, and I've always been impressed with the quality of their equipment (particularly their well-made jump ropes). Consider me intrigued.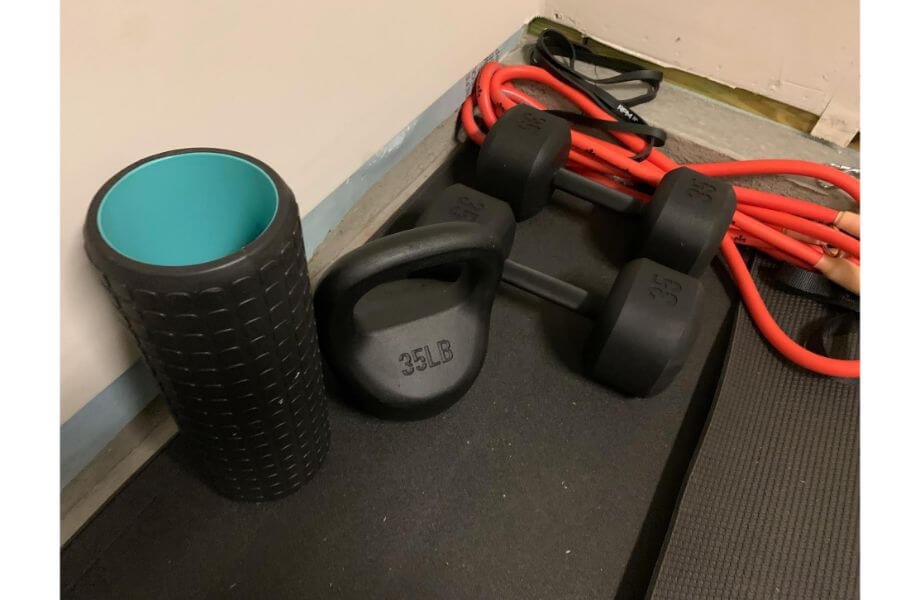 In this RPM Atom review, I'll go into detail on the quality and useability of the included items. I'll also compare each piece of equipment to other comparable products I've used in the past to see if this is actually a good deal. Will this RPM Atom Kit live up to the hype, or is it too good to be true? Let's find out together.
Homie, Let's Get You a Great Home Gym
Pretend I'm standing a foot away from you saying "I want YOU to have a great home gym" like an Uncle Sam propaganda poster from 1916. The kicker is, I actually do want you to have a home gym you love, complete with wonderful equipment. And I'm not the only one (cue Sam Smith).
The team at Garage Gym Reviews wants to help you find your fitness equipment soulmates (wait, can you have more than one soulmate?). Our knowledge as certified personal trainers, former college athletes, and nutrition coaches helps us give you an expert's take on barbells, plates, jump ropes, and everything in between.
RPM Atom
Product Highlights
3 home gym kits available: Axis, Fly, and Power
Contain a variety of equipment to start a home gym
Customizable components depending on fitness level
Starts at $1,000
Pros & Cons
Pros
Easy way to start a home gym
Customizable to your fitness level
Accompanying app leads you through workouts
Cons
It's an investment
Need quite a bit of space
A Quick Look at the RPM Atom Home Gym Kit
RPM has made outfitting your home gym a seamless process with three different home gym options: the Atom Axis Kit, Atom Fly Kit, and Atom Power Kit.
Each of these three kits comes with a variety of equipment you need for a great workout including things like kettlebells, plyo boxes, jump ropes, and more.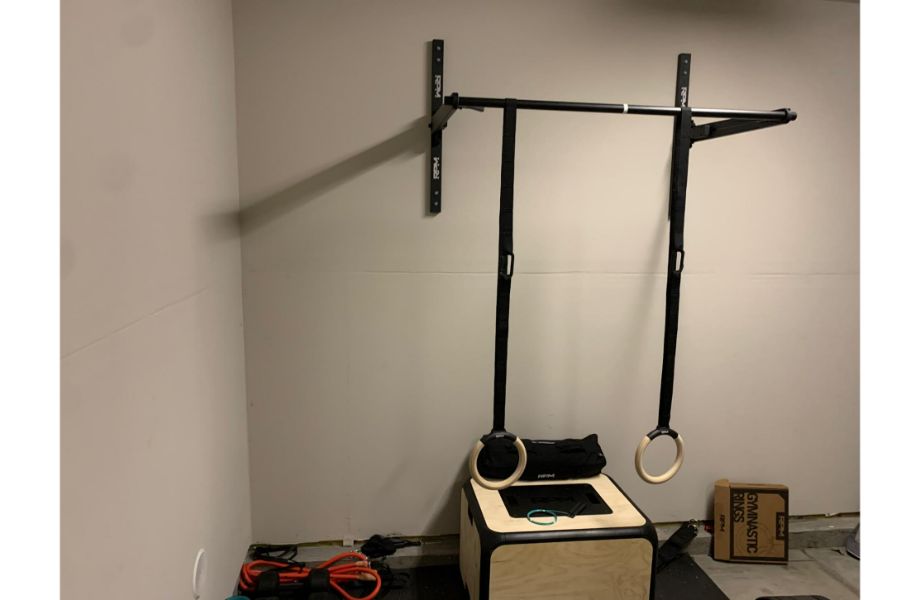 The Atom Power Kit is the most expensive offering of the three clocking in at almost $2,000. However, you do get pretty much everything you need to get started, including a few things you don't get in the other kits such as a barbell, bumper plates, collars, gymnastics rings, and a pull-up bar.
Before You Buy:
Take the Atom Onboarding assessment to determine which level kit to purchase.
Check to see if you qualify for financing through Affirm.
Is the RPM Atom Home Gym Kit Worth It?
Trying to decide if buying an Atom Home Gym Kit from RPM is worth it? Here's who I think will drool over them and who should build their home gym a different way:
Great for:
People who want an easy way to start a home gym
Garages
Functional fitness enthusiasts
Daily training
Not recommended for:
Tight budgets
People who want to outfit their home gym with a variety of brands
RPM Atom Home Gym Equipment Kit Specs
| | |
| --- | --- |
| Price | $1,000 to $2,000 |
| Fixed components | Exobox, PVC pipe, mobility tools, core mat, training mat, gymnastics rings, barbell collars |
| Customizable components | Dumbbells, kettlebells, sandbag, pull-up bar, barbell, bumper plates |
| Levels | Power Kit Level 1-4 (Female and male options) |
| Kits available | Axis, Fly, Power |
| Shipping within US | Between $199-$299 |
| Training program | Atom GPP; subscription required at $29 per month |
| Financing available | Yes; through Affirm |
Functional Training Simplified with the RPM Atom Equipment
Although I do currently own a condo, I don't have a home gym, which is both shocking and shameful considering I've worked at GGR for almost two years. True sacrilege, I tell you. Anyway, since I don't have a garage of my own, I enlisted the help of my boyfriend, who does have one, and informed him we were using it for the RPM Atom Power Kit.
I'd recommend using about half of a two-car garage's space, as everything fits well without being too crowded. My set, which was the advanced female level, came with a 15-kilogram barbell, a variety of plates, barbell collars, recovery tools, a jump rope, resistance bands, dumbbells, a kettlebell, sandbag, gymnastics rings, a plyo box, and a pull-up bar.
It's been very convenient to use, and I was impressed with the overall quality of the products and the look. RPM equipment doesn't look cheap, and it certainly doesn't perform like a cheap set would. I loaded my 15-kilogram barbell with all of the plates provided in order to deadlift, and the bar didn't bend at all with the almost 200-pound load.
I will say, the plates are a little gritty on the outside, likely due to the "crumb rubber" construction, so take care to not snag them on clothing. However, they do work as they should, and they slide easily onto the barbell. Works for me.
Call me a sinner and take me to church, because I'm about to make a confession. The barbell collars that came with this set are downright wonderful. In fact, they remind me of the Rogue OSO Barbell Collars, which I also love. I definitely recommend picking a pair of these up, even if you decide not to grab the entire Atom Power Set. Although they're $45 when purchased separately, they're absolutely worth the price.
Atom GPP Functional Training
RPM designed the Atom GPP programming to be compatible with all three of the home gym kits (although both can also be used solo). The subscription is $29 per month, but you can take advantage of the free, seven-day trial on the website if you're wanting to give it a go.
Based on the sample workout, you'll be treated to a fairly quick workout (around 45 minutes) each day, which appears to be CrossFit-based. You'll do movements like kipling pull-ups, sandbag rucking, and double-unders. The coach also leads participants through both a warm-up and cool-down. I like the fact that there are a few people demonstrating the movements (besides the coach) because I think it makes working out feel more communal and approachable.
Footprint, Portability, Durability, Construction
The RPM Atom set has a lot going for it, but portability isn't one of those things. If you intend to purchase one of the sets, particularly the Atom Power Kit, you'll need substantial room.
Remember, you'll need to be able to store non-compactable things like a barbell, plates, and a plyo box (on top of other things). I decided to use half of a two-car garage, which is about how much space I'd recommend putting aside for one of these kits.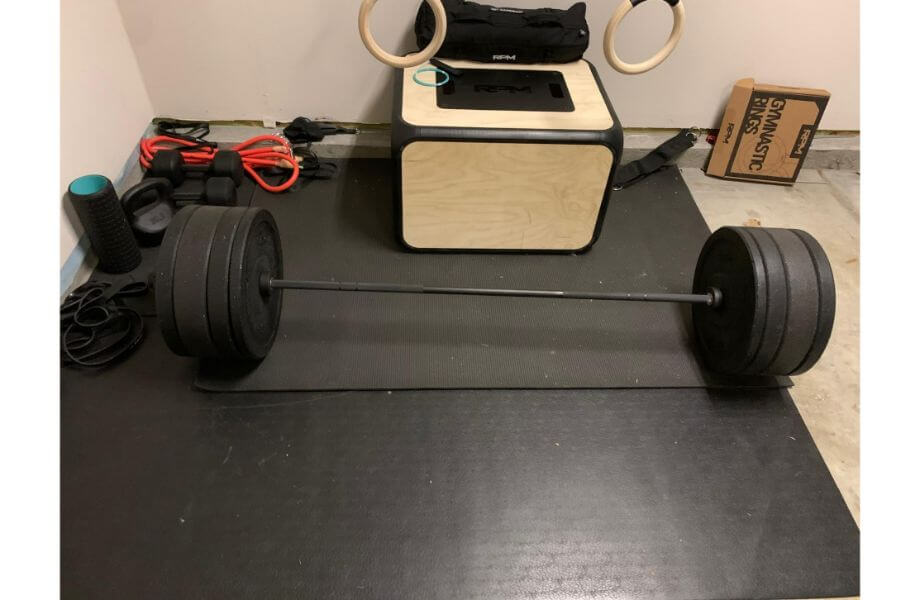 In terms of the durability and construction of the equipment, I was smitten almost immediately. The barbell has a nice cerakote coating on it, and is even made in the USA. I honestly didn't know what to expect from an all-encompassing kit, as sometimes quality suffers (even with brands you wouldn't expect it from) but it didn't disappoint in this case. The knurling isn't passive, but isn't so aggressive that you feel an immediate new blister popping up.
The dumbbells are in the same boat––you get the same ideal knurling at the center of each. I was also very pleased with the Exobox, which is RPM's name for their plyo box. The wood feels durable and the metal center can even open up for extra storage (a great place to store your jump rope and resistance bands).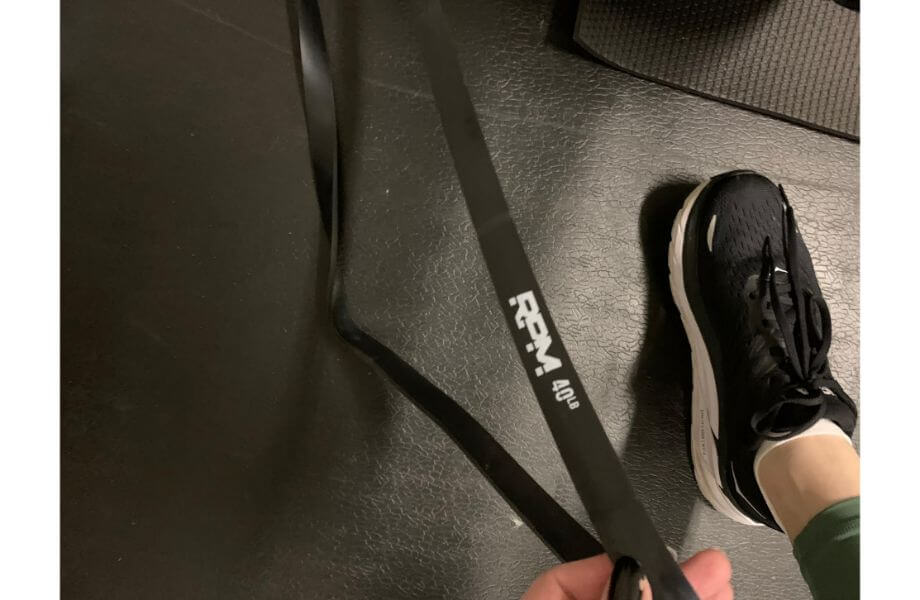 Customer Experience
The warranty for these kits isn't explicitly stated on the product page, but after doing some digging, I found the information I was looking for. RPM Training Co. gives their barbells a three-year warranty, which isn't horrible, but it is less than almost all of Rogue's barbells. Industry-standard wise, we expect to see at least a five-year warranty on a quality barbell.
The bumper plates get between 180 days to one year of warranty protection, depending on the weight. All other home gym equipment is under warranty for one year.
Although RPM usually offers a 30-day return window for unsatisfied customers, this isn't the case with the Atom Kits. Atom Kits are final sale, so I recommend being really sure about your purchase before pulling the trigger.
Ordering and Assembling the RPM Atom Home Gym Kit
Prior to purchasing anything, I recommend taking the Atom Onboarding assessment, which will help you determine which set to purchase. There are four different levels to choose from for both men and women: Level one, level two, level three, and level four. Each represents a different level of physical fitness, and includes lighter or heavier weights depending on what you select.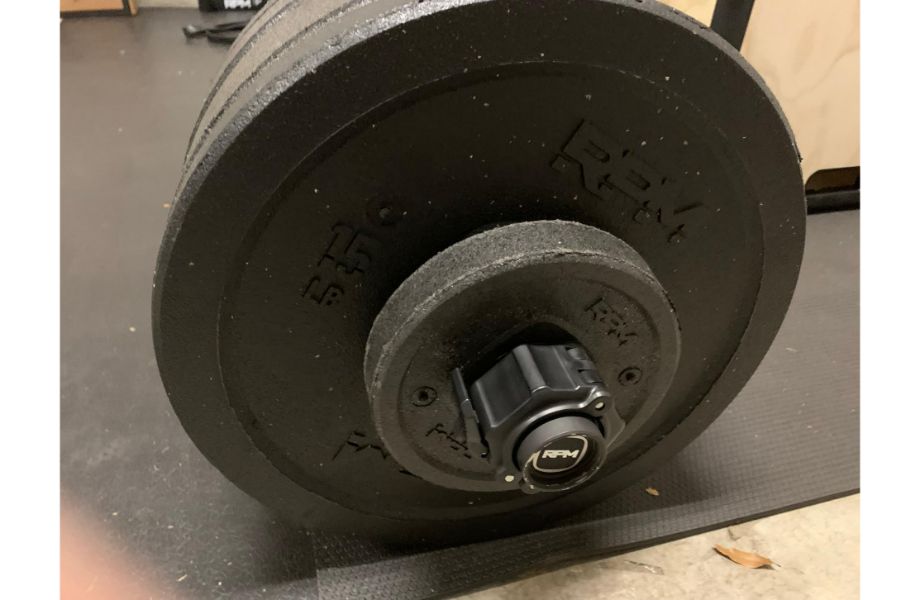 After you choose which level you would like to purchase, simply add it to the cart and check out. If you'd like the opportunity to finance your set, you'll be able to see if you qualify through a credit check with the popular platform Affirm.
Depending on which set you choose, your shipping costs will vary. If you're in the U.S., expect to pay a sizable amount for shipping. I'm talking close to $300 for the Atom Power Kit, around $250 for the Atom Fly Kit, and about $200 for the Atom Axis Kit. Within a few weeks, a freight company will reach out to you about delivery. Please note that you'll need to be present for the delivery, as they all require a signature upon receipt.
In terms of assembly, there isn't too much you'll need to do. My shipment arrived on a huge pallet, so I did have to cut through loads of cling wrap, which is no biggie. After that, you'll need to unbox all of the cardboard boxes, which have the plates inside.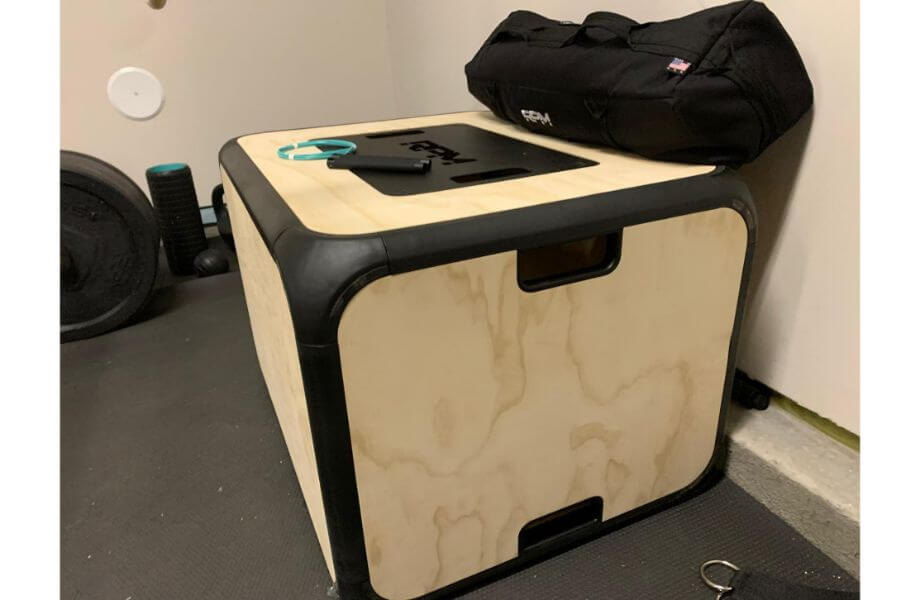 At first, I didn't realize that the Exobox opened up, and thought the company had forgotten to include the smaller items included in the Atom Power Kit. Spoiler alert: They didn't forget. The jump rope, recovery tools, barbell collars, and resistance bands were neatly tucked in the innards of the plyo box. It is worth noting that you'll need to undo four screws to open up the Exobox's metal compartment, so have a screwdriver ready.
The other things (like the kettlebell, dumbbells, training mat, and yes, even the sandbag) come ready to use. I was very impressed that RPM added filler to their bag ahead of time, as brands like GORUCK usually expect you to purchase sand separately.
The only complicated part was installing the pull-up bar, which does require a few tools. I'd recommend having a drill and a stud finder to make the process easier (unless you know where the studs in your wall magically are, in which case, I'm impressed). RPM does provide a fairly in-depth instruction manual for this part, so provided you follow directions, you'll have it up in no time.
Customer Reviews
The RPM Atom Home Gym Kit is currently only available on the RPM Training Co. website. This set has a perfect five-star rating, but it does only have 16 total reviews.
Happy customers lauded the durability and quality of the set, as well as the overall value.
"Awesome," customer Connor exclaimed. "I've had a garage gym with many different pieces of equipment over the years. This assortment of equipment is by far the best quality I have had yet. I love the look, but more importantly, it withstands my training. My training is tough, so I want my gear to be the same. Dropping the dumbbells, tossing the sandbag: This stuff can handle it. It allows me to do my training without worrying about whether my equipment can take it."
There currently (as of December 2023) aren't any bad reviews, but a few customers did mention things like the training mat arriving ripped (I didn't experience this) and the weakness of the 10-pound plates. However, in my experience, almost all 10-pound plates (from any brand) shouldn't be dropped on their own, as they have a tendency to bend.
Final Verdict of Our RPM Atom Review
The RPM Atom Kit can be a great choice for those who need an all-in-one solution to building out their home gym. Here are our main takeaways after using this set for a few months:
Many of the components are customizable, so choose your weight selection wisely––you want something that you'll actually be able to lift.
The included barbell is multipurpose and can be used for a variety of movements.
The shipping company will likely, at best, put the extremely heavy set inside of your garage (or outside of your front door). If you plan to put it elsewhere, I recommend taking each piece out one at a time to avoid injury.
The plates are on the grittier side, so don't expect a smooth outer coating.
Take advantage of Affirm's financing options––you may be eligible to break your payments up into more manageable pieces.
RPM Atom Home Gym Kit Rating
RPM Atom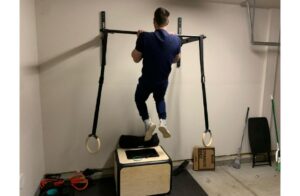 Check out our RPM Atom review to get the inside scoop on this all-in-one home gym kit.
Product Brand: RPM
Product Currency: USD
Product Price: 1995.00
Product In-Stock: InStock
RPM Atom Home Gym Kit FAQs
What is Atom RPM?
The Atom Home Gym Kit from RPM is an all-in-one home gym set. You can choose between three different packages, which include things like barbells, bumper plates, jump ropes, pull-up bars, and more. You'll also be able to customize the weights you choose to include based on your current fitness level (for no additional charge). To learn more, go to rpmtraining.com.
What is RPM in a gym?
RPM stands for "revolutions per minute" and usually is used in reference to cycling. It essentially means how many times you'll be able to rotate around an axis within a minute, so it is calculating continuous speed—in other words, how fast you pedal.
What equipment do I get in the Atom Home Gym Kit from RPM?
This depends on the set you choose. I chose the Atom Power Kit from RPM, which includes almost all of the basics you need to build your home gym. Here's what's included:
Plyo box
Set of dumbbells
Sandbag with filler
Kettlebell
Jump rope
Core mat
Training mat
Foam roller
Myoball
Resistance bands
PVC pipe
Pull-up bar
Gymnastics rings
Barbell
Bumper plates
Barbell collars
What other equipment do I need besides what's in the RPM Atom Kit?
Besides adding additional plates, a bench, and possibly a rack, I'd recommend adding some sort of cardio machine. Cyclists may enjoy adding an exercise bike like a Peloton or hit the pavement with a road bike and compatible app Zwift. I'm personally more of a sprints girl, and enjoy using a treadmill in tandem with some sort of programming option like iFIT or the Peloton app.
Figure out what kind of cardio exercise lights your fire, and stick with it. Whether that's through action sports, using a rowing machine, or with something like the Wattbike Atom, it's a good choice. In fact, any type of activity that makes you move more is a win in my book.