We test and review fitness products based on an independent, multi-point methodology. If you use our links to purchase something, we may earn a commission. Read our disclosures.
If you're a home gym owner, you may be searching for one of the best squat racks that is budget-friendly, versatile, and doesn't take up a lot of space. Typically, a squat rack or power rack is a heavy-duty piece of equipment that can come at a higher price point, especially if you want extras like a cable crossover machine.
The RitFit Power Cage is a versatile machine that comes at a good price. Is it worth the money? Read on in our RitFit Power Cage review.
We've Tested Functional Trainers Like No One Else
If it goes in a home gym, then we've had our hands on it. Our testers include weightlifters, athletes, certified personal trainers, and more who have used dozens of the best functional trainers, squat racks, and all other types of fitness equipment. We've had the chance to put premium functional trainers, like the nearly $5,000 Inspire Fitness FT2, to the test, and even much sought-after top-value options like the Bells of Steel Functional Trainer. Thanks to our vast experience, we can give you a realistic account of what you can get with your hard-earned money.
GGR's founder and equipment expert, Coop, took the time to extensively review RitFit's budget-friendly functional trainer in a full video review to see if it's worth the buy for cost-conscious consumers.
RitFit Functional Trainer
GGR Score: 3.9
Product Highlights
3-in-1 home gym machine

Heavy duty 2x2" steel, square frame

16-sq ft footprint

Comes in black or orange

Max capacity of 1,000 lbs
Pros & Cons
Pros
12 included accessories to complement the base machine
High-grade steel J-hooks hold up to 1,000 lbs
Rubber liners protect the bar rod and absorb noise
5-degree incline design helps to prevent the weight from dropping
Beam has multiple grip positions
High-quality pulleys for smooth training
Cons
Machine may be small for larger body frames
Some customers had trouble putting together
Bottom Line
Each side support on the machine can hold up to 330 pounds, providing great built-in storage and keeping your gym more space-efficient. Most reviewers found the machine fairly simple to put together and reported it to be a solid structure that met their expectations. If you're looking for something to add to your home gym that will expand its range, this would be a great way to get started. This machine's versatility lets you perform cable flys, bench press, and pull-ups, just to start.
A Quick Look at the RitFit Power Cage
The RitFit Power Cage is technically called the RitFit PC410CC. "It's a lame name but possibly a sick rack for those of you looking for a budget squat rack," Coop says.
This machine combines a power rack with a plate-loaded functional trainer. And, bonus: "This is actually one of the only on the market that is within this price range," Coop says, as you can get it for just under $700 at the time of this publishing.
In use, it resembles some of the best home gyms: "It mimics the function of many of the more expensive options that we see and we've reviewed on the market, like the Rogue Slinger or the REP Fitness Athena and Ares," Coop says.
This squat rack comes in two colors: matte black and orange. It sports a standard cage rack with 2-inch-by-2-inch uprights (though the gauge steel is not listed anywhere; our guess is that it's around 14-gauge steel). RitFit claims its rack can hold up to 1,000 pounds. However, Coop has some natural skepticism about this weight claim and suggests keeping it lighter than this upper limit to maximize your safety. Realistically, though, it is sturdy enough for almost any lifter out there who never comes close to the thousand-pound threshold.
Before You Buy
Measure your ceiling height to ensure you have enough space to use a pull-up bar; this is 85" tall.
Consider that most parts of the RitFit Power Cage are only under warranty for a year, which may not be enough for people who are tough on their equipment.
Video Review
Is the RitFit Functional Trainer Worth It?
Generally speaking, yes, we think this product is worth the price, which is around $700. While it doesn't have a high-end feel, it gets the job done and for an affordable cost.
Like all the best home gym equipment, what's worth it for some might not be worth it for others. Based on our review, here's who might think it's hot and those who might think it's not.
Great for:
New fitness enthusiasts looking for a versatile rack
Those looking for the best budget home gym equipment
People who want an affordable, space-friendly functional trainer
Not recommended for:
Those who need more than a 1,000-lb limit
People who have low ceilings in their home gym
RitFit Functional Trainer Specs
| | |
| --- | --- |
| Footprint | 29" D x 44" L x 85" H |
| Weight | 193.6 lbs |
| J-Hook weight capacity | 1,000 lbs |
| Plate holder capacity | 165 lbs each side |
| Hole size | 1" |
| Height positions | 15 |
| Warranty | 3-year warranty on the frame, 1-year on parts |
| Uprights | 2" by 2" |
| Pulley Ratio | 2:1 |
Using the Plate-Loaded Functional Trainer
One of the most interesting things about the RitFit Power Cage is that it offers a functional trainer. "You're not buying this rack just because you like the way it looks or design or some of that stuff," Coop notes. "You want this because you want it to function like a functional trainer. You just want something that's going to get it done."
This is not something you'd typically see on budget power racks. As a result, you can pack more punch into strength training because you'll have a space-saving rack and functional trainer. The RitFit is plate-loaded, which means you can use your own weight plates and save on the shipping that a weight stack would cost you.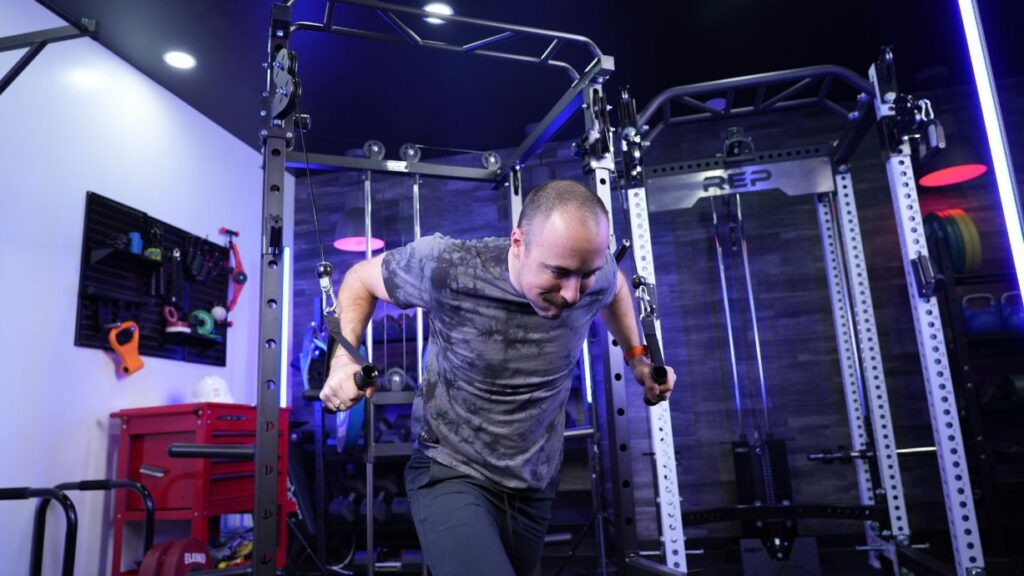 RitFit notes that each plate holder can support up to 165 pounds and claims you can use 2-inch Olympic plates or 1-inch plates. In our own testing, we found that the weight carriage system is one of the strengths of this product. It has a low start weight of 2 pounds per side, which is ideal for rehab/prehab exercises. Also, the rods are slightly slanted, which means that as the weights move up and down, you don't need to worry about them sliding off.
The Cable System
Right off the bat, we don't love that RitFit doesn't state what the cables are rated for. Because this is plate-loaded, you need to be sure you don't load up too much weight and snap the cable. "I would assume looking at the cables and comparing them to others that I've seen, these are probably rated around 300 to 350 pounds," Coop says.
Coop noted that even though many parts, like the pulley system, on the functional trainer, are made of plastic and are not particularly solid, the functional trainer actually feels smooth when you're using it. The front pulleys, which swivel, don't move incredibly smoothly. Also, due to the design, the ball on the cable grinds into the pulley.
"If you really want just like an ultra smooth functional trainer, you could replace the pulleys with aluminum," Coops suggests.
RELATED: The Best Cable Machines for a Home Gym
Attachments
There are 12 extra accessories, including cable attachments, that come with the RitFit Power Cage. Those include:
A multi-grip pull-up bar
2 j-hooks
2 cable handles
2 plate holder racks
A landmine
2 plate storage tubes
2 safety spotter arms
The J-Hooks
The j-hooks on the RitFit Power Cage are V-shaped instead of the classic J. They are made of a high-grade steel on the outside but feature a rubber lining to protect your barbell.
"The weight capacity on the uprights really doesn't matter so long as you have j-cups that can hold it," Coop explains. "These j-cups are actually quite nice, especially compared to other products in this price range."
The Spotter Arms
Another important part of any squat rack training system is the spotter system, whether it's safety bars or straps. The RitFit comes with two safety arms, though in our testing, we found them to be a little short. "This is average at best, because they're not very long," Coop says. He felt that the safety spotters do not appear to be set up to support 1,000 pounds of weight due to their length and thinness, which is something to keep in mind if you squat or bench press heavy.
Multi-Grip Bar
We do like that this rack comes with a multi-grip bar, because that tends to be an expensive add-on with other rack systems. This bar gives you angled, neutral, and wide-grip hand placement options for pull-ups and chin-ups.
"These bars are very thin," Coop warns, "and I personally prefer a thicker girth so I get a better pump on my forearms." However, you could always use something like Fat Gripz if you wanted to add a thicker grip.
RELATED: The Best Pull-up Bars
Footprint and Portability
Equipment like the RitFit Power Cage is not small. It has a 16-square-foot footprint. However, you're getting a lot of use out of that space, because this is a functional trainer and a squat rack that can work in most home and garage gyms.
By our measurements, the depth of the cage is 29 inches, and it's 44 inches wide. "From a functional trainer standpoint, it's pretty narrow," Coop says. However, he said he didn't mind it much, you just may not get the deepest possible range of motion.
The RitFit is a little over 7 feet high. "The thing adding extra height is the multi-grip pull-up bar," Coop explains. Therefore, you'll need enough clearance in your space above the rack if you plan to do pull-ups.
At just shy of 200 pounds, this isn't a machine that moves around easily. Therefore, assemble it where you plan to put it.
Durability and Construction
Given the price point that the RitFit checks in at, its durability and construction are pretty good. However, one of the biggest questions is whether it can sustain the 1,000 pounds it is rated for. "We've tested other racks that are listed at similar widths and similar gauge steel, and they hold up," Coop says. However, would he recommend someone load this up with 1,000 pounds? No.
Many pieces of equipment are made of plastic. This may be most obvious with the pulleys that are made of plastic instead of smoother gliding aluminum ones. However, we still did feel like the cage was sturdy in our use.
RitFit Power Cage vs. Fitness Reality 810XLT
Fitness Reality 810XLT
GGR Score: 4.2
Product Highlights
Rated for 800 lbs
Comes with weight storage, landmine attachment, and spotter arms
Priced under $300
1-year warranty
Pros & Cons
Pros
Affordable
Compact
Comes with a number of attachments
Extra long spotter arms included
Fairly sturdy
Has a pull-up bar
Cons
Short 1-year warranty
Rated for 800 lbs
Bottom Line
The Fitness Reality 810XLT Power Rack is a good option for those looking for an affordable, durable squat stand with lots of extra attachments included.
It's hard to compare RitFit to other similar products, because the truth is that there aren't many other squat-rack-functional-trainer combos on the market in this price range. So we are going to compare it to another affordable product.
Both the RitFit and the Fitness Reality 810XLT have a reasonable price tag. While RitFit is more than twice the cost, you do get a cable crossover along with the rack. You do have the option to add a lat pulldown attachment to the Fitness Reality product, though it still doesn't offer as much versatility as RitFit.
Find out more in our Fitness Reality 810XLT review.
| | | |
| --- | --- | --- |
| | RitFit Power Cage | Fitness Reality 810 XLT |
| Price | Around $700 | Less than $300 |
| Dimensions | 29" D x 44" L x 85" H | 50.4" L x 50" W x 81.3" H |
| Weight | 193.6 lbs | 130 pounds |
| Weight Capacity | 1,000 lbs | 800 pounds |
| Attachments | Multi-grip pull-up bar; 2 j-hooks; 2 cable handles; 2 plate holder racks; landmine; 2 plate storage tubes; 2 safety spotter arms | Landmine, spotter arms, weight holders |
Customer Experience
There are a few ways to buy the RitFit Power Cage: on the brand's site for around $700; or on Amazon where you may find coupons. The RitFit website offers military discounts as well as discounts for students, first responder, or medical personnel. If you prefer to shop on Amazon, they occasionally offer a $50 coupon; of course, you get free shipping. However, do note that you also get free shipping from buying directly from their website.
RitFit's Loyalty Program
If you decide to order directly from RitFit's website, you should sign up for their loyalty program first. You can earn points by liking their page on Facebook, following them on Instagram, celebrating a birthday, and more. Once you've racked up enough points, you could use them to redeem valuable things like a $20 off coupon, 12-lb dumbbells, an electric massager, and more.
Does RitFit Offer a Warranty?
Yes, RitFit provides a pretty generous 3-year warranty on its frame and a 1-year warranty on its parts that begins on the order date. But there are some caveats here. This warranty is not transferable, so you can't utilize it if you weren't the original buyer and someone else sold it to you. In addition, the warranty does not apply to users in Hawaii or Alaska.
Another thing to keep in mind is that if your product is damaged by environmental factors, such as a flood, or damaged because you misused it – they won't cover that. If your functional trainer is damaged during the shipping process, you'd need to photograph the damage, try to keep it in its original packaging, and contact their customer service department.
Handling Returns and Exchanges
RitFit only allows returns and exchanges within 30 days of the delivery date of the functional trainer. The product must be returned unused, and the customer must return it in its original packaging.
Before returning anything, the customer must reach out to RitFit and ask for the return process to start. Once they receive the product, they'll evaluate whether or not it's defective. If it's faulty and their fault, they'll repair it or send a different one. If the product is defective and it's not a responsibility of theirs, your refund request may be rejected. In a scenario where the product is returned, and there's absolutely nothing wrong with it, you'll be responsible for the item's postage to their warehouse facility.
Ordering and Assembling the RitFit Power Cage
The ordering process for the RitFit Functional Trainer is pretty straightforward. You can order it through the Company's website directly or on Amazon. The only catch is that the functional trainer is often out-of-stock. As a result, you might have to pre-order it and wait a month or two before it's available and ready to ship.
Paying For The RitFit Functional Trainer
If you order from the Company website, you can pay via debit/credit card, PayPal, and ShopPay. ShopPay may be a good choice for those who aren't ready to split with the cost of the functional trainer upfront. ShopPay allows you to make four interest-free payments every two weeks if approved.
The Shipping Process
If you order directly from the website, expect that it'll take approximately 7-10 business days from the time that you place your order for the product to arrive on your doorstep. Shipment only happens within the continental United States via FedEx, and it cannot be shipped to military bases.
Assembling The RitFit Functional Trainer
If you order the RitFit from Amazon, expect to find your product jammed into tiny boxes. We found that it made sorting out things during the assembly process problematic.
From our experience, RitFit provided detailed instructions with the equipment. Sam "AsSAMbly" from our team found it reasonably easy to assemble and could do so in two hours. It will likely take a bit longer if you're not experienced with assembling these. We recommend bringing on an additional person to speed up the process and to have a helping hand.
Customer Reviews
Customer reviews for the product on RitFit's site are overwhelmingly positive. Users note that you get a lot of bang for the exercise buck and that the whole set-up seems solid, stable, and durable.
M.W.stated, "Super sturdy! I got exactly what I saw. Strongly recommended." And, R.W. goes on to add that it is a "Great rig for the price, install wasn't bad at all."
Final Verdict of Our RitFit Power Cage Review
"I do think this offers a good value for a functional trainer that doesn't have a lot of competition within the price range," Coop says. "If you have the space for a separate functional trainer, that's where I would suggest doing something different."
The RitFit Functional Trainer fills an essential hole in the market for functional trainers. Many of the functional trainers out there cost significantly more than the RitFit product and price people out of the market. Compared with the handful of reasonably priced options, the RitFit option is of higher quality and offers better functionality.
Great value for people who want a combined power rack and functional trainer to save on space
It provides the functionality to do lots of different exercises
Some parts may not be as high quality as what you get with a more expensive option. There are lots of plastic parts.
RitFit Power Cage Rating
RitFit Power Cage
In our RitFit Power Cage review, we'll talk about the ups and downs of this budget-friendly home gym machine.
Product Currency: $
Product Price: 699.99
Product In-Stock: InStock
RitFit Functional Trainer FAQs
What Exercises Can You Do On The RitFit Functional Trainer? 
One of the most attractive aspects of this functional trainer is the ability to do many different workouts. Some examples include lat pulldowns, bicep curls, and a variety of weight bench exercises. 
Also, thanks to the 360-degree landmine that can fit 1-inch and 2-inch bars, you can do a single-arm landmine press, which is good for the shoulder joints and triceps. 
If you purchase this product, it'll come with a free workout poster, providing even more workout ideas. 
When Was RitFit Company Founded? 
RitFit is a U.S.-based company that was founded in 2016. They aim to provide affordable, high-quality home gym equipment that's simple, strong, and effective. Based on that description, the RitFit Functional Trainer product appears to align with the company's core values. 
What Are Some of the Best Functional Trainers?