We test and review fitness products based on an independent, multi-point methodology. If you use our links to purchase something, we may earn a commission. Read our disclosures.
I expect the best out of everyone (but mainly myself) and feel frustrated when these ideals don't come to fruition. Although both you and I will likely feel this way again (we're human, after all), your elliptical doesn't need to disappoint you.
Enter our Horizon elliptical review. I'll go over the ins and outs of the two currently available ellipticals on the Horizon website (plus a few discontinued ones). And luckily for you, neither of these machines will require selling your kidney on the black market to purchase. Yay for affordability and durability!
Great Workouts are on Your Horizon
Look! It's a bird! It's a plane! It's a Horizon elliptical peeking over the clouds! Although this scenario reads more like a feverish thought than real life, finding a great Horizon elliptical won't be but a dream. I, alongside the expert product testers and reviewers from Garage Gym Reviews, am poised and ready to share gobs of fitness knowledge with you.
After all, we're certified personal trainers, former college athletes, and nutrition coaches. Fitness is what we do and what we're passionate about. To help lead you in this quest, we'll examine the currently available Horizon ellipticals (plus machines of years past, RIP) to help you decide which is the right option for you.
Low-Impact Horizon Ellipticals
Horizon Evolve 3 (Out of Stock: No longer available for purchase online)
Horizon Evolve 5 (Out of Stock: No longer available for purchase online)
| | | | | |
| --- | --- | --- | --- | --- |
| | Horizon EX-59 Elliptical | Horizon 7.0 AE Elliptical | Horizon Evolve 3 (No longer available) | Horizon Evolve 5 No longer available) |
| Price | Around $700 | Around $900 | Around $1,400 | Around $1,600 |
| Flywheel | 14 lbs | 23 lbs | 18 lbs | 23 lbs |
| Warranty | Lifetime frame, 1-year brake, parts, and labor | Lifetime frame and brake, 3-year parts, 1-year flywheel and labor | Lifetime frame, 3-year brake and parts, 1-year labor | Lifetime frame, 3-year brake and parts, 1-year labor |
| Incline | None | 20 levels | None | None |
| Resistance | 10 levels | 20 levels | 20 levels | 20 levels |
| Stride length | 18" | 20" | 20" | 20" |
| Foldable | No | No | Yes | Yes |
| Weight | 145 lbs | 194 lbs | 175 lbs | 181 lbs |
| Weight capacity | 300 lbs | 325 lbs | 300 lbs | 300 lbs |
| Footprint | 74″ L x 25″ W x 64.5″ H | 76″ L x 24″ W x 65.5″ H | 69″ L x 28″ W x 69″ H | 69″ L x 28″ W x 69″ H |
| Step-up height | 10.75" | 10.75" | 10" | 10" |
| Display | 4.5" LCD | 7" LCD | 5.5" LCD | 6.25" LCD |
For context, the Horizon Evolve 3 and Evolve 5 cannot be purchased on the Horizon website, although the product page is still visible. The site states that these machines can only be purchased in-store at select retailers, which leads me to believe that they are phasing them out/getting rid of the last bit of inventory.
Luckily, both the Horizon EX-59 and the Horizon 7.0 AE ellipticals are excellent options available for purchase directly from the brand's website. If you're looking for a comparable foldable elliptical like the Evolve 3 and 5, I recommend either the NordicTrack SE9i or the SE7i.
Horizon EX-59 Elliptical
Good for: The budget-conscious elliptical shopper
Horizon EX-59 Elliptical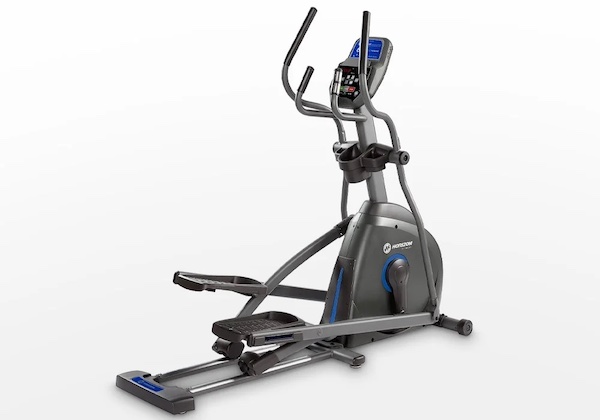 Horizon EX-59 Elliptical
The Horizon EX-59 is a front-drive elliptical that was ergonomically designed to provide ease of use. A step-up height of 10.75 inches, as well as pedals that are closer together than a standard elliptical, allow for more of a natural range of motion that mimics walking. The stride length is 18 inches, which is smack dab in the middle of the range you want to see on ellipticals, plus it comes equipped with 10 levels of magnetic resistance. Other positives include the tech capabilities, namely Bluetooth connectivity and speakers, plus a built-in device holder and USB port to charge your phone or tablet while you're working out. The LCD display shows metrics including calories, distance, heart rate, program level, speed, time, and watts, and the machine comes with five pre-programmed workouts: Calorie, Distance, Intervals, Manual, and Weight Loss.With a footprint of 74 inches by 25 inches by 64.5 inches, the EX-59 is not a very compact machine. While a weight capacity of 300 pounds and a 14-pound flywheel points to less durability for long-time use, the machine does have a lifetime warranty on the frame, which is a definite plus. There's a one-year warranty on parts and labor.
Pros:
Around $700
Great financing available
18" stride length
300-lb max user weight
Lifetime frame warranty
5 preset programs
10 levels of resistance
Cons:
14-lb flywheel is subpar
High step-up height
Small display
Although the Horizon EX-59 elliptical has gone up in price slightly within the last year, it is still an affordable cardio machine. Clocking in at around $700, the EX-59 is a budget-friendly machine that still has the durability shoppers want. Horizon offers a stellar lifetime frame warranty, which is better than a variety of ellipticals I can think of that are double the price (no shade).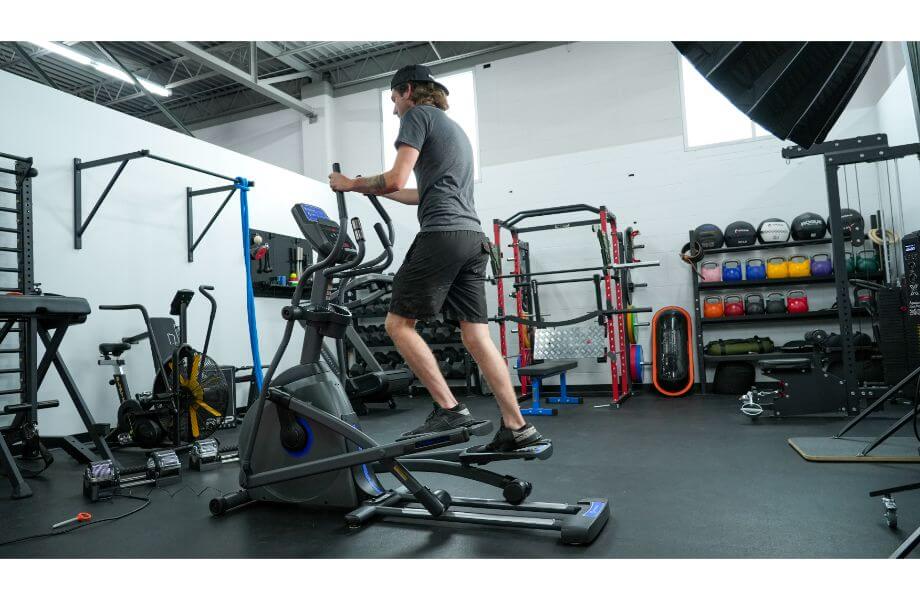 The Horizon EX-59 also has a 300-pound user weight capacity, which is higher than the industry standard by 25 pounds. Plus, if you're a taller person, you'll appreciate the 18-inch stride length, as it makes the machine feel like a true elliptical versus a step machine.
Although the EX-59 doesn't have a touchscreen display, you can enjoy the five preset programs: calorie-based, intervals, weight loss, manual, and distance workouts. If you're more into interactive programming like iFIT, you can still watch your classes on your own device. The EX-59 has a handy tablet holder and Bluetooth connectivity, which makes viewing programming a breeze.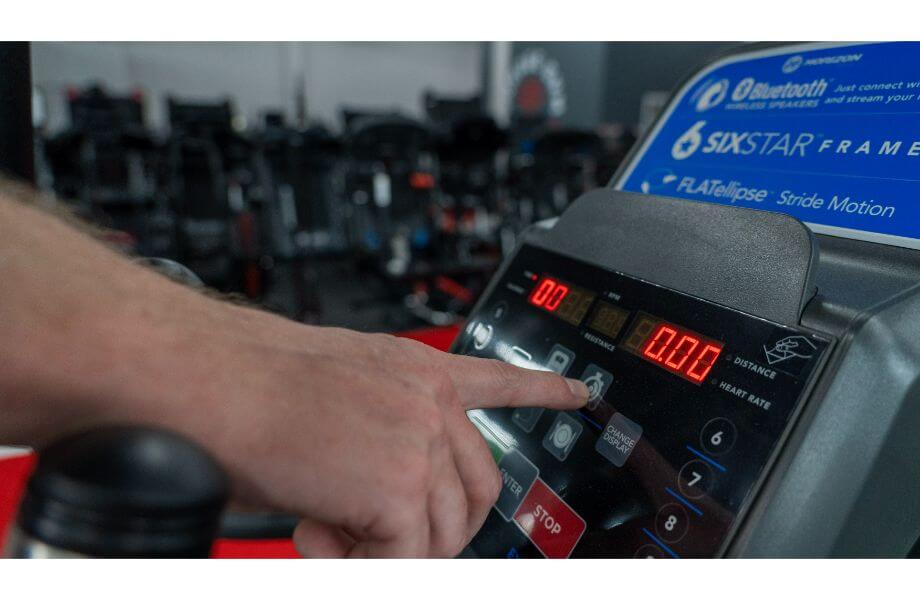 For the price, it is hard not to like the EX-59. However, there are still a few things to be aware of before purchasing. One, you'll need to know that the step-up height is pretty high. If you're someone with balance issues, this might not be the right choice for you.
I'm also not crazy about the 14-pound flywheel. For reference, we generally expect to see between 16 to 20 pounds for an elliptical flywheel. This isn't necessarily a deal breaker, but a lighter flywheel does mean the EX-59 is slightly less smooth than those with heavier flywheels.
Check out our full Horizon EX-59 elliptical review.
Horizon 7.0 AE Elliptical
Good for: Someone who wants a durable elliptical without lots of tech-y extras
Horizon 7.0 AE Elliptical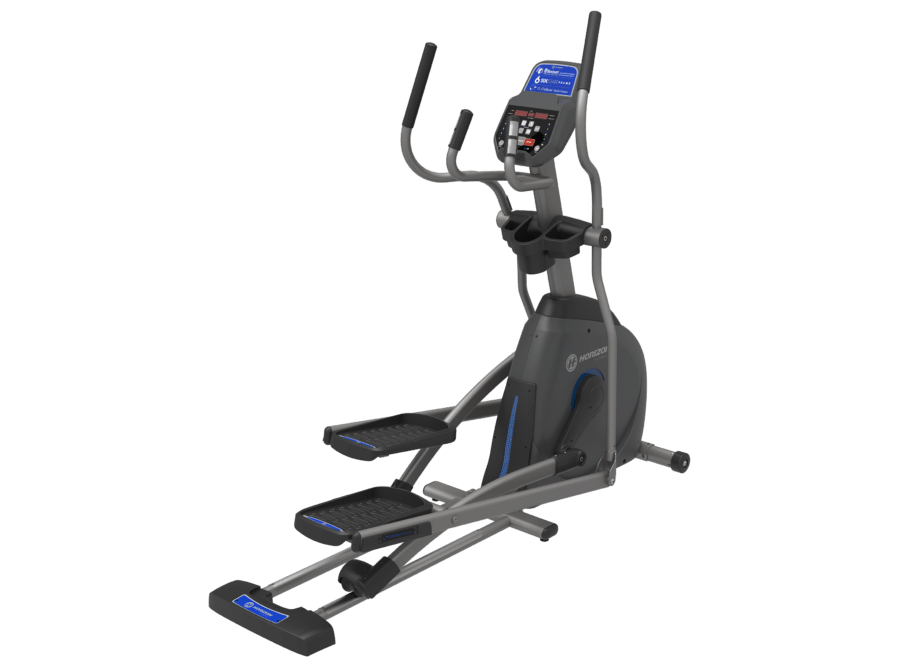 Horizon 7.0 AE Elliptical
Bring your fitness classes, music and entertainment to your workouts with advanced Bluetooth speakers. Smart fitness technology pushes data to your favorite tracking apps. Ergonomic Six-Star Frame encourages ideal body position and movement for a more efficient and comfortable workout. Achieve better muscle tone and burn more calories with advanced power incline.Read our full Horizon 7.0 AE Elliptical review.
Pros:
Under $1,000
Lifetime frame and brake warranty
20 levels of incline
325-lb user weight capacity
23-lb flywheel
20" stride length
Has preset programs
Financing is available
Cons:
Difficult to assemble solo
Heavy
High step-up height
They say you can't have it all, but the Horizon 7.0 AE would beg to differ. This elliptical trainer is under $1,000 and has awesome financing options to boot. Besides the reasonable price tag, the 7.0 AE also has a 23-pound flywheel and a 325-pound user weight capacity. The hefty 23-pound flywheel is obvious when you use the machine, as it makes the 7.0 AE incredibly steady. I even used the machine on the carpet and it didn't move a metaphorical muscle. Talk about swoon-worthy!
Unlike the EX-59, the 7.0 AE does feature incline options, and 20 of them at that. You'll also be able to take advantage of the 20 different resistance levels compared to the EX-59's 10. This opens up a world of possibilities for different types of elliptical workouts.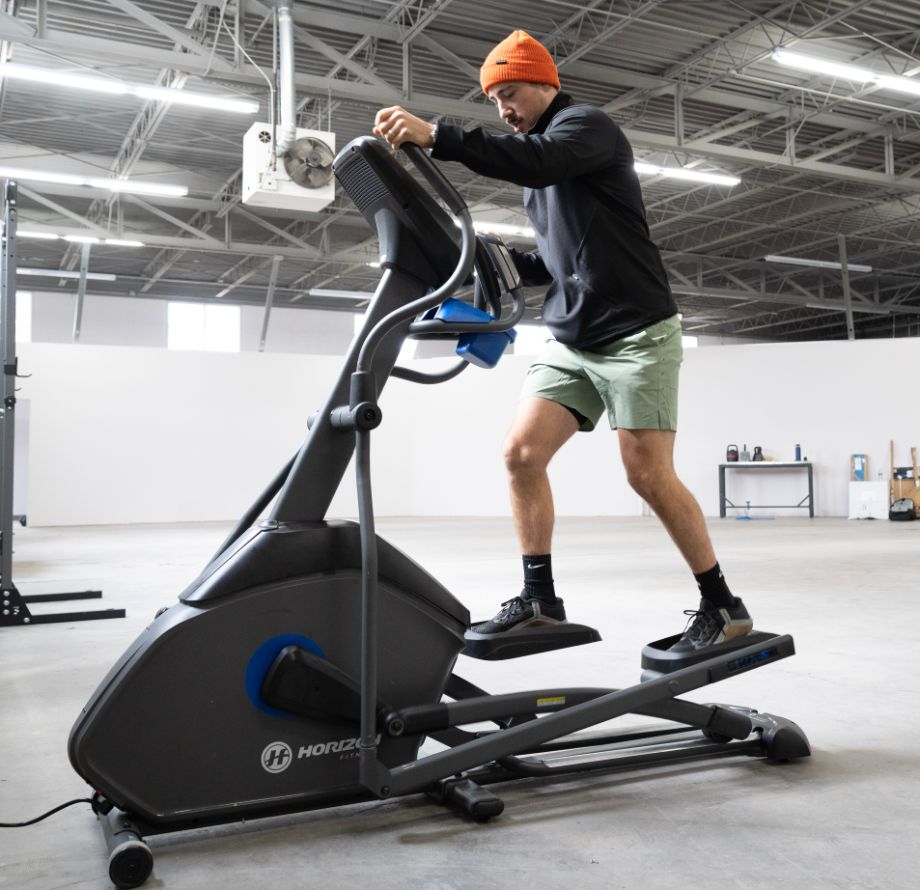 It is worth noting that this machine is difficult to assemble solo. I should know––I did it by myself! If you want to avoid frustration, grab a friend or family member to help with certain components, like wiring the display and screwing on the pedals.
I'd also recommend utilizing another person (or two) to help with the moving process. I was a silly goose and tried to do it myself–I can deadlift more than the machine weighs, so it should have been fine (or so I thought). Although I can deadlift a significant amount, that is not the same as attempting to carry this machine solo up a flight of stairs. Don't say I didn't warn you.
Read more with our entire Horizon 7.0 AE elliptical review.
RELATED: Deadlift Muscles Worked
Other Discontinued Horizon Fitness Ellipticals
Horizon EX-57: The Horizon EX-57 is the little brother to the currently produced EX-59. According to reviews, this was the least-expensive model produced by Horizon and the specs reflected the price.
Horizon AT1501 Ascent Trainer: The AT1501 Ascent Trainer is a front-drive elliptical trainer with good-looking specs. With an 18-pound flywheel and pivoting pedals, the only apparent downside (besides it being discontinued) is the massive footprint.
Horizon Syros 2.0 Elliptical: This machine appears to be a rear-drive elliptical with the flywheel clocking it at 15.5 pounds (or 7 kg). You can't currently purchase the Syros 2.0 elliptical online, but you may have luck finding it on Facebook marketplace or Play it Again Sports.
Horizon Elite E7: The Elite E7 doesn't have a USB charging port or Bluetooth connectivity, so you're not missing much by not having this machine. However, you can input your zip code on the Horizon site to see if any in-person retailers are carrying the E7 if you're really wanting it.
Horizon Elite E9: Horizon isn't really known for making expensive cardio machines, but the Elite E9 appeared to be one of their only offerings that was over $1,600 (besides the decked-out Evolve). Sadly, you won't be able to order this online––secondhand is your only option.
How We Evaluate Ellipticals
When examining ellipticals, we ask ourselves a variety of important questions. Although this is by no means all-encompassing, here are a few of the things we consider:
Stride length: What is the stride length? Is it between 18 and 20 inches?
Flywheel: How heavy is the flywheel? Is it between 16 and 20 pounds?
Display: Does this elliptical have a touchscreen? If not, does it have an LCD screen, LED display, or another type of screen? What metrics or workout data are you able to view? Can you view any fitness apps on the screen?
Price: Is this machine considered a budget, mid-range, or expensive elliptical based on the price range?
Extras: Is there a cooling fan, a tablet holder, or a water bottle holder? Does this elliptical come with a heart rate monitor? Does this machine have built-in speakers, a USB port, or a USB charging spot?
Handlebars: Is there more than one set of handlebars? Are they cushioned for comfort?
Programming: Can programming be viewed on this machine or hooked up via Bluetooth connectivity? If not, does it have preset workout programs?
Pedals: Are the pedals comfortable for a variety of users? Do they have texture? Are they well-cushioned pedals?
Dimensions: Will this elliptical machine fit in most home gyms? Can it be folded or compacted in any way?
Step-up height: How tall is the step-up height? Will it be easy for someone with balance issues to mount and dismount?
Levels of resistance: How many levels of resistance does this machine have? Is it magnetic resistance?
Incline: Does this elliptical have incline options?
Weight: How heavy is this machine? Can it be moved by one person or do you need another set of hands? Are there transport wheels to make the process easier?
User weight capacity: What is the weight capacity? Does it exceed the industry standard of 275 pounds?
Warranty: Does this machine have a lifetime warranty on the frame? If not, how does it stack up to the industry standard?
Horizon Fitness Elliptical Review FAQs
What is the best elliptical?
After plenty of hands-on testing and reviewing specs, our team has decided the NordicTrack AirGlide 14i is the best on the market. In terms of the best budget elliptical, we enjoy the Horizon 7.0 AE.
Is 30 minutes a day on the elliptical good?
Figuring out what is "enough" is subjective and doesn't take into account current fitness level, age, ability, and a host of other factors. What may be a lot for you may not be enough for someone else. Move your body in ways that feel good to you (whether that is 10 minutes on the elliptical or 30). If you need guidance, I suggest consulting with a certified personal trainer who can give you a specialized workout plan.
What should my heart rate be on the elliptical trainer?
There isn't a one-size-fits-all answer to this question. However, Garage Gym Reviews has compiled a helpful guide for you to understand your target heart rate zone. If you have any specific questions, it is best to work with an expert (such as a registered medical professional) who can help you understand what factors (weight, age, gender, fitness level, health issues) affect your specific heart rate.