We test and review fitness products based on an independent, multi-point methodology. If you use our links to purchase something, we may earn a commission. Read our disclosures.
CrossFit is a training style made up of constantly varied, high-intensity functional movements. As such, you want a barbell that can perform a wide variety of movements and last a long time.
A good CrossFit Barbell will have many features similar to a general purpose barbell; the best CrossFit barbell makes Olympic lifting, powerlifting, CrossFit metcons, and accessory work all feel smooth and natural. The main difference I see in CrossFit bars compared to general barbells is that a solid CrossFit barbell must have increased durability and allow athletes to easily cycle the bar (that is, it must be great for high-repetition workouts with a variety of movements).
A big reason CrossFit bars require increased durability? Most barbells made for CrossFit are used in an affiliate setting, not just a garage gym. This means tons of people use the bars every day and don't necessarily take the same care of them that the owner would.
CrossFit bars are often dropped from overhead, slammed into the ground, and chalked up as if the person using it was drowning in their own sweat. (I've also seen some weird stuff done to barbells at affiliates, like using a barbell as if it was a shovel and straight-up throwing the bar.) So, yeah, durability is key.
The best CrossFit barbells enable athletes to perform all of the Olympic lifts (snatches, cleans, and jerks), all of the power lifts (back squat, bench press, deadlift), and any type of accessory work.
As CrossFit continues to soar in popularity, everyone and their brother wants to sell you a CrossFit bar. To be frank, there are a lot of low-quality CrossFit bars out there now. That's why I decided to compare the best of the best CrossFit barbells all in one place. Keep reading for my top picks for the best CrossFit barbells.
RELATED: Best CrossFit Equipment
The Best Barbells for CrossFit
Best Overall CrossFit Barbell for Men: Rogue Ohio Bar
Best Overall CrossFit Barbell for Men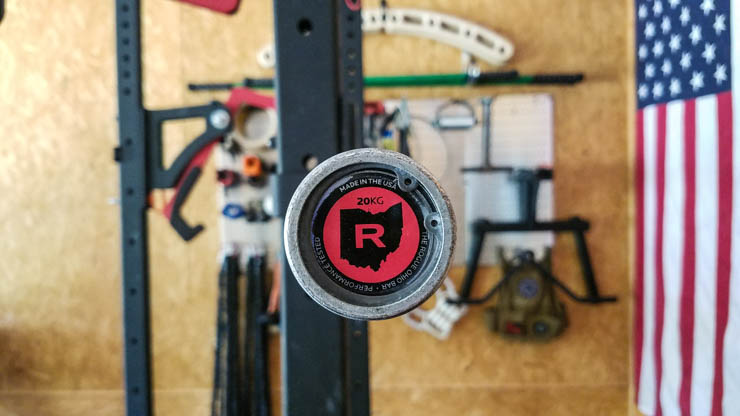 Rogue Ohio Bar
Each Rogue Ohio Bar is machined and assembled in Columbus, Ohio, and includes a lifetime guarantee against bending.The bushing sleeves on the Ohio Bar promise a reliable spin, and their snap ring design maintains optimal stability throughout any type of weightlifting regimen-- from basic high school or collegiate strength training programs to intense Crossfit workouts. This steel is manufactured in the US and has proven to be one of the best steel variants for a multi-purpose barbell.Each barbell shaft is ground and polished prior to machining which allows the bar to have a very smooth finish post any black oxide, zinc or chrome finish.Every bar shaft is machined in Columbus, Ohio. A great deal of pride is built into each bar as the knurling process is an art. We spent months working on the knurl we believe to be the best for the Ohio Bar.To test the knurl it is more a beer tasting process than exact measurement. There is a look and feel that go into testing every bar. The Ohio Bar is available with 4 different finishes. Each finish offers a different level of oxidization protection and has a direct effect on the feel of the knurl. Black Oxide is a mild oxidization protectant process. This type of steel treatment will still require some maintenance but will give the best knurl feel, more like a naked bar. Zinc is a medium oxidization protectant process. This type of steel treatment requires minimal maintenance and is used on The Rogue and Bella Bars.The Ohio Bar is also available in Stainless Steel & an advanced ceramic-based coating called Cerakote. The Ohio Bar is assembled with bronze bushings which act as bearing surfaces between the bar sleeve and bar shaft. This is a very robust way of building a barbell. Each bar will come with an Ohio Bar card that has the initials of the Rogue team member that built the bar. This bar will have normal "whip" during Olympic weightlifting and enough stiffness to hold for heavy powerlifting. The steel in this bar is proven as an excellent choice for weightlifters.
Good for: Literally anyone from newbies to Games athletes; this is the best barbell for CrossFit on the market.
My Favorite Things:
Lifetime warranty
Multiple finish options
Strong tensile strength for sustaining CrossFit loads/dropping
Manufactured at Rogue's Ohio factory
My Callouts:
Somewhat expensive for a CrossFit barbell at around $300
No chrome finish option
Some finish options add to price
No 15kg version
Point blank: This is a great bar. It's essentially the same as the Rogue Bar 2.0, but made with bronze bushings and available in more finish options. You can get the Rogue Ohio bar in stainless steel with no finish, in steel with a black zinc finish, or in cerakote with multiple color combinations.
No matter the finish, the Rogue Ohio Bar is easily the best CrossFit barbell out there, thanks to its seamless construction and sick specs.
Manufactured in Columbus, Ohio (like many Rogue products), the Ohio Bar features a 28.5-millimeter shaft diameter with dual knurl marks to accommodate both power and Olympic lifting. It doesn't have center knurling.
The 190,000 PSI tensile steel strength (200,000 for the stainless steel option) and 16.4-inch sleeve length allow the bar to handle heavy loads. This level of strength is pretty standard these days and makes a barbell safe and comfortable to use for Olympic lifting, powerlifting, bodybuilding, and CrossFit.
The bronze bushing system on the Ohio Bar provides ample spin and whip, and it should last a lifetime.
Finally, Rogue has one of the best lifetime warranties anywhere. There are other CrossFit barbells that I would say are a little bit cheaper and have the same specs and performance, but can't hold a candle to the warranty Rogue offers. Bill Henniger, the owner of Rogue Fitness, has built his company by putting the customer first. It's what has allowed Rogue to earn and maintain the top spot as far as equipment manufacturers.
The price of the Rogue Ohio Bar is a little much when you can get the Rogue 2.0 Bar (covered below), which is very similar, for a lower cost. However, the Ohio Bar is constructed at Rogue's home factory in Ohio, which is a big plus!
Check out my review on the differences between some of the best home gym barbells, like the Rogue Ohio Bar vs Rogue Power Bar.
(If you want to check out other great bars from Rogue, I like the Rogue Athlete Cerakote Ohio Bar- Froning Edition, which is just like the Ohio Bar with a black zinc finish and has been impregnated with Froning's sweat (maybe). I feel the same way about the Operator Bar as I do the Ohio Bar; the only real difference is that the Operator Bar has an olive drab finish that appears to wear off quickly. The Rogue Castro Bar is similar in construction to the Ohio Bar but is bare steel, and not ideal for CrossFitters.)
Best Women's Barbell for CrossFit: Rogue Bella Bar 2.0
Best Women's CrossFit Barbell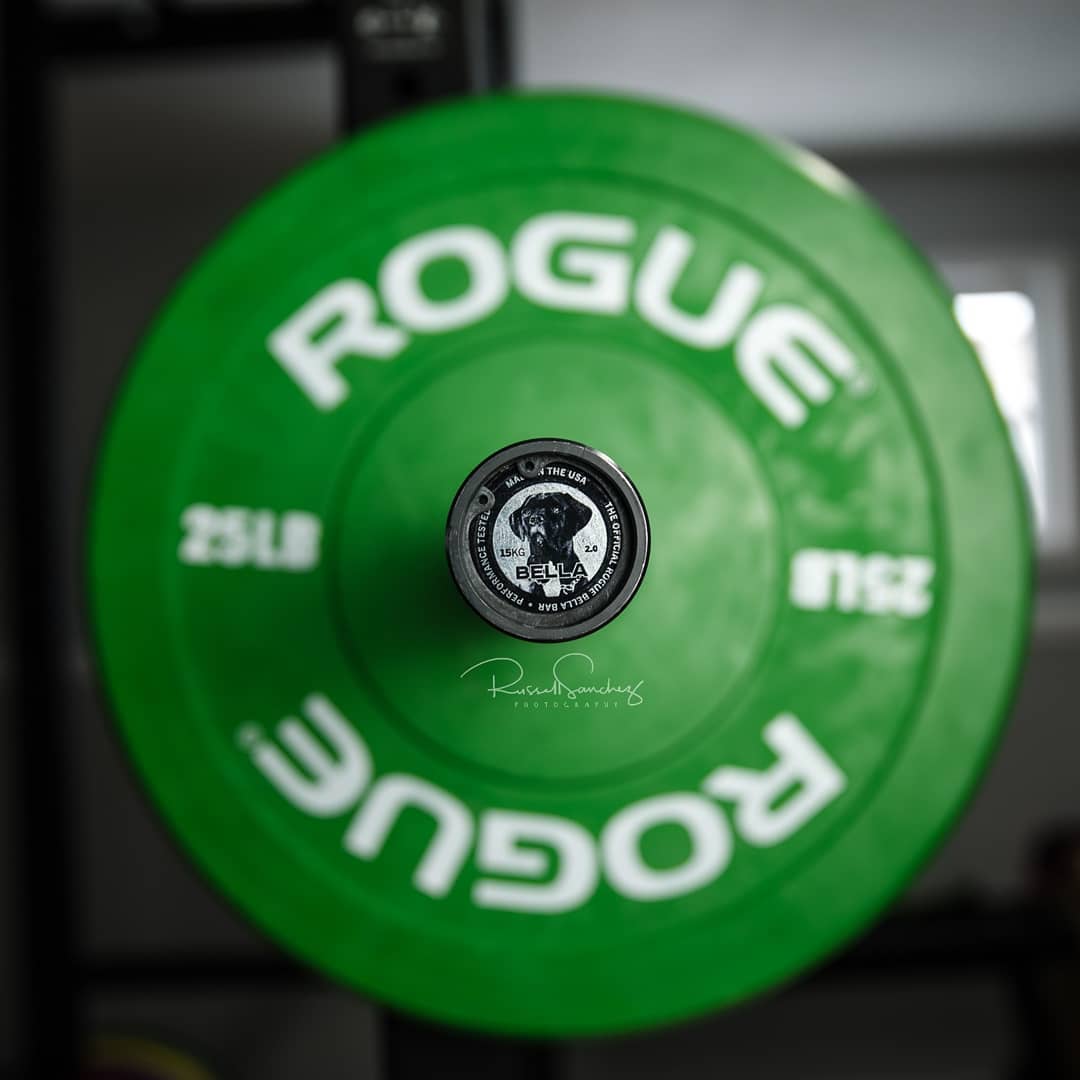 Rogue Bella Bar 2.0
The Bella Bar is Rogue's go-to multipurpose 15KG barbell for female athletes. Fully machined and assembled in Columbus, Ohio, this versatile ladies bar is uniquely optitmized for Olympic weightlifting, powerlifting, and/or a CrossFit WOD.A staple of women's CrossFit competitions-- including events at the CrossFit Games-- the 25MM Bella Bar has no center knurl and features the same Rogue signature Dual Knurl Marks and 190 PSI tensile strength as our flagship 20KG Ohio Bar. The hybrid knurling pattern itself offers a firm but comfortable grip on both Powerlifts and Oly lifts, while quality U.S. steel and snap-ring bronze bushings produce the perfect balance of rigidity and natural whip.Built with as much attention to detail as any bar in the Rogue family, the Bella Bar is a women's weightlifting bar forged on equal ground.Specifications:Made in Columbus, OH, USA Weight: 15KG (33LB) Diameter: 25MM (0.98 inches) Bar Length: 79.13", Loadable Sleeve Length: 13.00" Tensile Strength: 190,000 PSI Black Zinc Coated Shaft Bright Zinc Coated Sleeves Dual Knurl Marks: Both Powerlift and Olympic Knurling No Center Knurl
Good for: People who prefer softer knurling and a thinner bar (and those who don't mind doing the fitness math for a 35-pound bar).
My Favorite Things:
25mm shaft is great for a smaller/narrower grip
Multiple finish options
190K PSI tensile strength steel, as much as some great 20kg bars
Fully manufactured at Rogue's Ohio campus
My Callouts:
Pretty soft knurling
15kg bars tend to have more whip
Loud when dropped
The Rogue Bella Bar is probably the most popular women's barbell out there, and it's definitely the most popular women's CrossFit barbell. The Bella Bar has made many appearances at the CrossFit games and if you enter an affiliate, there's a good chance they're stocked with Bella Bars.
It's built specifically as a multipurpose weightlifting bar, and the specs show that: It has dual knurl marks for Olympic and powerlifting, no center knurl, bronze bushings, and 190,000 PSI tensile strength.
It comes in stainless steel or in alloy steel with different finishes, including cerakote, black zinc and e-coat.
The 25-millimeter shaft diameter is perfect for people with smaller hands, and the softer knurling is great for anyone who wants a lighter grip. On 15-kilogram bars, the sleeve length is shorter compared to 20-kilogram bars. The Bella Bar has a sleeve length of 13 inches compared to Rogue's standard 16.4 inches on 20-kilogram bars.
Despite its smaller diameter and lighter weight, the Bella Bar can still be dropped (with bumper plates) without concern. Because the difference between tensile strength and yield strength (how much the bar can hold) is greater than it is with 20-kilogram bars, the Bella Bar has more whip than standard-sized barbells. It still has great spin and can handle heavyweights.
Some people say the Bella Bar is overpriced at $225 for black zinc, $285 for cerakote, and $320 for stainless steel, but it's a Rogue barbell and it's fully machined in the USA.
For more on the Bella, check out by Rogue Bella Bar 2.0 review.
Runner-Up CrossFit Barbell: American Barbell Training Bar
Runner Up CrossFit Barbell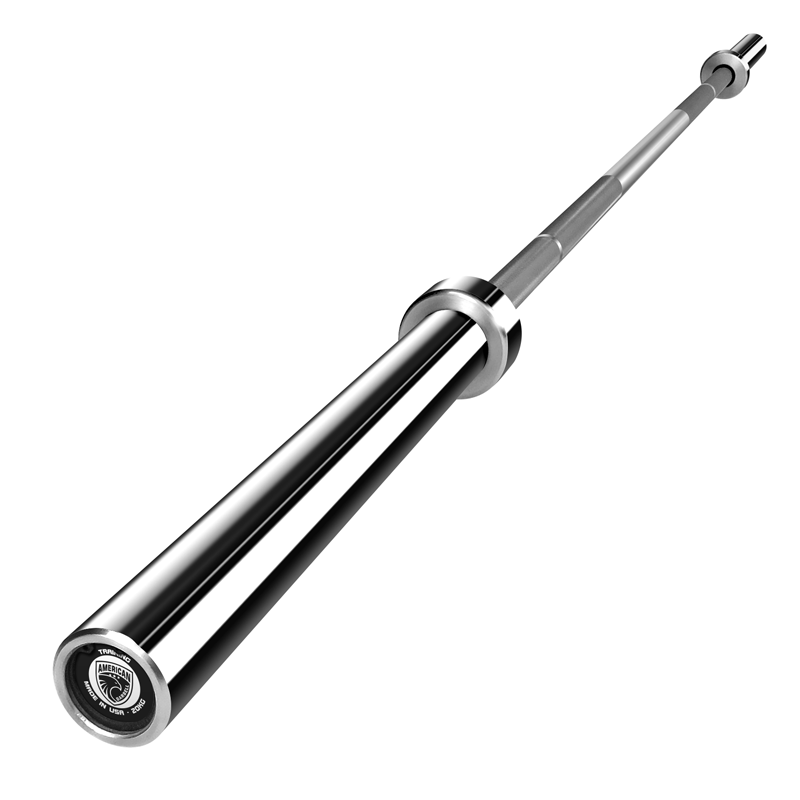 American Barbell Training Bar
The American Barbell Training Bar is a solid, versatile barbell for just about any application. We've tested it against the day-to-day abuse of heavy training and it's proven to last.The bar shaft is made from precision ground alloy steel and the strength of the shaft is tested with every shipment of raw material to ensure we have a consistent 190,000 PSI tensile strength. This attention to detail also allows for excellent whip and long-term performance of our bars. The shaft and sleeves are finished in hard chrome for added durability and corrosion resistance, and the knurl pattern is crisp with just the right amount of tack.The bar sleeves are precision machined and each one is coated with hard chrome for protection against dropping and impact. Sleeves rotate around high strength composite bushings used in aircraft and automotive industries for smooth rotation.Application: Olympic Weightlifting, Weightlifting, Competition Bushing System Center knurl: No Shaft: Hard Chrome Coating Sleeve: Precision Ground Steel with a Hard Chrome Coating IWF Specification Made in USA Warranty: Limited Warranty*
Good for: Anyone who likes the Rogue Ohio Bar but wants to save a few bucks.
My Favorite Things:
190K PSI tensile strength
Composite bushing system
Made in the USA
Available in 20kg and 15kg
My Callouts:
Milder knurling than Rogue bars
Chrome isn't the most durable finish out there
On the pricey side at $325
American Barbell is using a chrome finish with this bar, which I think is awesome. It not only looks good, but it is very durable as well.
The whip on this bar is perfect for general lifting and the average garage gym owner. With mild knurling, 190,000 PSI tensile strength steel, a composite bushing system, and high-alloy steel construction, the American Barbell Training Bar gives Rogue bars a run for their money.
This bar comes at a decent price of $325. But, when you see that it comes with free shipping, it becomes an even better deal. American Barbell also offers a 15-kilogram Training Bar for $315 that stands up to Rogue's Bella Bar.
I also love that this barbell is made in the USA — I think there's something special about USA-made products. American Barbell is clearly going after Rogue Fitness with these specs, warranties, and manufacturing in the US. This is my personal favorite bar that I've used for CrossFit, so I'm interested to see how it catches on with the others, specifically Rogue bars.
Read my full in-depth review of the American Barbell Training Bar, plus my review of the American Barbell Gold Standard Bar.
(Speaking of other American Barbell bars, the American Barbell California Bar is another good CrossFit barbell that uses a composite bushing system and has a hard chrome finish on the sleeves. However, the shaft has a cerakote finish for added durability. It also has the dual knurl markings becoming standard on functional fitness barbells.)
Best Value Barbell for CrossFit: Fringe Sport Wonder Bar V2
Best Budget CrossFit Barbell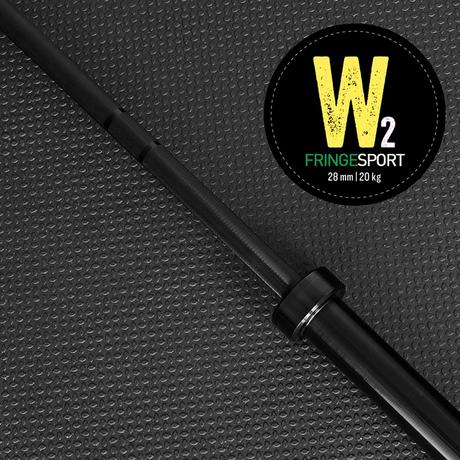 Fringe Sport Wonder Bar V2 20KG Barbell
The Wonder Bar reigns as the nucleus of the barbell universe here at Fringe. We set out on a noble quest to design and build the best bar suited for commercial gyms, and make it available to you at a home gym price. We completed our hero's journey and now offering our reward to you delights us. This versatile bar will serve almost everyone well. You can set world records on this bar, and use it for most training. If you're a seasoned athlete or an affiliate owner, consider stepping up to the Bomba Bar V2 (made in America) or even our Fringe Sport Weightlifting Barbell. Here are a couple of Wonder Bar features to be aware of:The 28mm shaft diameter is great for Olympic movements. The needle bearing cartridges provide great spin, but may require oiling in time. If you're new to lifting or building a home gym and need more info to learn what type of barbell works best for you, here's a helpful guide.We have an informal state motto here in Texas- "come and take it." Not only do we want you to do this with the Wonder Bar V2, but we'd like to put our own spin on it. Fringe it, or forget it.WONDER BAR V2 SPECS:The Wonder Bar V2 comes in a bushing version or bearing cartridges version. Except for that, the specs for both are the same.Bushing rotation or bearing collar Killer all-black Zinc finish Tensile strength: 205,000 PSI Yield strength: 160,000 PSI Weight capacity: 1,600 lb Weight: 20kilograms / ~44 pounds Collars: Bushing (Yellow "W") Bronze Oil Lite Bushing Rotation or Bearing (Green "W") 4 Needle Bearing Cartridges Per Collar Whip: Stiff Spin: Moderate (Bushing) or Fast (Bearing) Best Use: Garage Gym or WODing. Read below for Bushing vs. Bearing differences. Material: Alloy Steel, Black ZincPlated Length: 86 inches Sleeve Specs:16 inches Length and 2" diameter Shaft Specs: true28mm diameter Knurl: Dual Knurling - Double Ring IWF + IPF Knurling (No Center Knurl) Smooth knurl depth- neither a cheese grater nor too soft Warranty: Lifetime Warranty against manufacturer's defects.
Good for: Exercisers who don't care about brand names and just want a quality bar they'll get many years of use out of.
My Favorite Things:
Inexpensive compared to other bars at about $260
Free shipping makes it more budget-friendly
Choose from bushing or bearing system
205K PSI tensile strength
20kg and 15kg options
My Callouts:
Only one finish available (black zinc)
Scuffs easily
Very little whip
Fringe Sport makes some of the best budget home gym equipment on the market. The Wonder Bar V2 is no exception. The specs on this bar are phenomenal and at around $260, the price can't be beaten.
You won't find many other barbells with 205,000 PSI tensile strength steel for less than $300, let alone one that strong with knurl hash marks to IWF and IPF (International Powerlifting Federation) specifications.
The black-on-black zinc finish looks sleek and protects the alloy steel construction from corrosion, although a common problem with zinc finishes is that they scuff relatively easily and then you end up with a black-on-silver kind of deal.
As for the knurling, it's a good knurl for all-purpose workouts — just what you want in a CrossFit barbell. As Fringe Sport says, "neither cheese grater nor too soft."
The Wonder Bar V2 uses high-impact bronze bushings, which means this bar should last you a long time, even if you drop it often. The bushings also have decent spin, but it's nothing like you can get with a bearing bar, so luckily you can choose to make your Wonder Bar a bearing bar!
You have a year to decide if this bar is right for you, as Fringe Sport offers a full-year satisfaction guarantee with free returns. This alone is a really big deal and adds to the value of the bar.
If you prefer a 15-kilogram bar, Fringe Sport makes a 15kg Wonder Bar V2 in that specification as well.
Best All-Purpose Barbell for CrossFit: Rogue Bar 2.0
Best All-Purpose CrossFit Barbell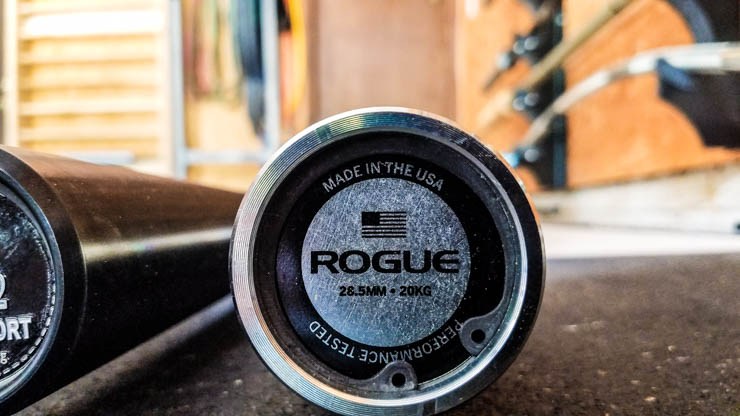 Rogue Bar 2.0
This is the next generation of the 28.5MM Olympic bar that helped launch the revolution. Now fully machined and assembled at the Rogue factory in Columbus, Ohio, the Rogue Bar 2.0 represents the highest level of precision engineering with a wide range of new features—including stronger 190 PSI steel, durable composite bushings, and CNC-machined groove sleeves with customizable color bands, available hereLike the original flagship Rogue Bar, Version 2.0 still offers convenient dual knurl marks for both Olympic and powerlifting, with a black zinc coated shaft and bright zinc sleeves. The addition of a groove in the sleeve enables athletes and coaches to more easily identify and differentiate bars by changing out the bands. The bar comes standard with Rogue-branded bands, but you can swap them out with any of the additional color options available, or even use any custom, personalized band that matches the dimensions.The Rogue Bar 2.0 is among the first in our arsenal to use composite bushings—a self-lubricating material often found in hi-tech aerospace equipment and military vehicles. For intense, high-rep training, these bushings dramatically minimize friction to both provide a reliable spin and help extend the shelf life of the bar itself.The Rogue Bar helped us cement our reputation at the CrossFit Games and beyond, and we believe the Rogue Bar 2.0 is a worthy successor to that mantle.
Good for: The do-it-all CrossFitter who also includes powerlifting, Olympic lifting, and bodybuilding-style workouts in their routine.
My Favorite Things:
Composite bushings
Extremely versatile
Attractive finishes
My Callouts:
Only one finish available
Black zinc shows wear quickly
Knurling might feel light for some people
This barbell is very similar to the Rogue Ohio Bar (most Rogue fitness barbells have similar features all around), but I would argue that the Rogue Bar 2.0 is best for someone who does a little bit of everything.
In other words, if you do one or two CrossFit metcons a week and do an equal amount of bodybuilding-style workouts, Oly lifts, and heavy powerlifting, the Rogue Bar 2.0 gives you the best bang for your buck.
Different iterations of this bar have been used in the CrossFit Games for as long as the Rogue Bar has been around, so it's good enough for you if it's good enough for the fittest people on earth.
The only real downside to the Rogue Bar is that it only comes in one finish (black zinc shaft and bright zinc sleeves), This is a fairly durable finish and I especially like the bright zinc sleeves as they won't show abuse as bad as a black zinc sleeve will. I'm not a huge fan of black zinc as it shows wear quickly. It does come with machined sleeve grooves with customizable silicone bands.
Still, with a 28.5-millimeter shaft diameter, dual knurl marks for Oly and power lifts, no center knurl, and composite bushings for ample spin, this barbell can do everything a CrossFitter needs it to do. It also features 190,000 PSI tensile strength and a good whip. This is a great tensile strength for general purpose lifting — Olympic weightlifting, powerlifting, bodybuilding, CrossFit, and everything in between.
Best Luxury Barbell for CrossFit: Eleiko XF Bar
Best Luxury CrossFit Barbell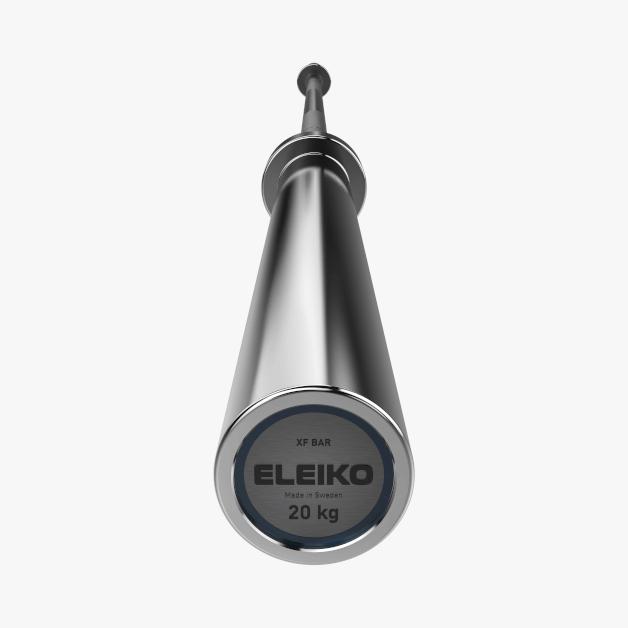 Eleiko XF Bar NxG 20KG
The Eleiko XF Bar is everything you love about our specialized weightlifting bars but specifically engineered to be well suited for functional fitness training. Appropriate for a variety of lifts, the bar delivers the same whip and Eleiko feel but less aggressive knurling keep your hands more comfortable during fast paced high volume training. The NxG update includes a re-engineered sleeve construction that incorporates a dust-proof seal for improved performance and durability along with a more refined knurling.CHOOSE THIS BARDesigned for multi-purpose strength and endurance training, this is the ideal bar if you anticipate doing a variety of lifts, especially if you plan to hit training sessions that include high volume workouts.FEATURES AND BENEFITSDual markings serve as optimal hand placement guides for both Olympic lifts and powerlifts. Features improved bearing construction and more refined knurling Combination of rotating and fixed bearings ensure great spin for the fast Olympic movements, without compromising performance in heavy powerlifts. The less aggressive knurling is perfect for fitness athletes that love intense high-rep lifting. 215,000 PSI tensile strength means fantastic durability.
Good for: Athletes who do equal Olympic lifting and CrossFit, and who don't mind spending some extra dough on a good bar.
My Favorite Things:
It's an Eleiko. Honestly, enough said.
215K PSI tensile strength
Chrome finish
Comes in 20kg and 15kg
My Callouts:
Unsure of bushing and bearing combined system
12-year warranty (compared to industry-standard lifetime warranty)
Expensive, costing more than $600
Look, this bar won't make it onto everyone's shopping list. At $630, the price is steep — very steep — for a CrossFit barbell that will likely be dropped a gazillion times and drowned in chalk.
However, this is an Eleiko. It's a high-quality steel bar. You know they make a good product when the name says it all.
The Eleiko XF barbell has dual markings and a comfortable grip ready for anything, which is the foundation of a good CrossFit barbell. It has fantastic durability and a bar feel with 25,000 PSI tensile strength Swedish steel. Swedish steel is some of the best in the world for weightlifting. Eleiko barbells cost more because they cost more to make. You get what you pay for.
Unlike the rest of the barbells on the list, the Eleiko XF uses a combination rotation system, making it a true multi-purpose bar. I honestly just don't know about the combination of bushing and bearings though. Does it really aid the spin well enough to compromise a potentially shortened lifespan?
Anyway, it's got a chrome finish, which is the best finish for a barbell until I'm proven otherwise. Eleiko says the knurling on this bar is its least aggressive knurling, which is even better for CrossFit workouts that require high repetitions and bar cycling.
The Eleiko XF bar is also available as a 15-kilogram bar.
Eleiko has, from what I've seen and read, one of the shortest warranties in the industry. Most leading brands offer a lifetime warranty on their barbells, and Eleiko offers a 12-year warranty on the XF bar.
Best CrossFit Barbell for Heavy Lifters: Get RXd Stealth Bar
Best CrossFit Barbell for Heavy Lifters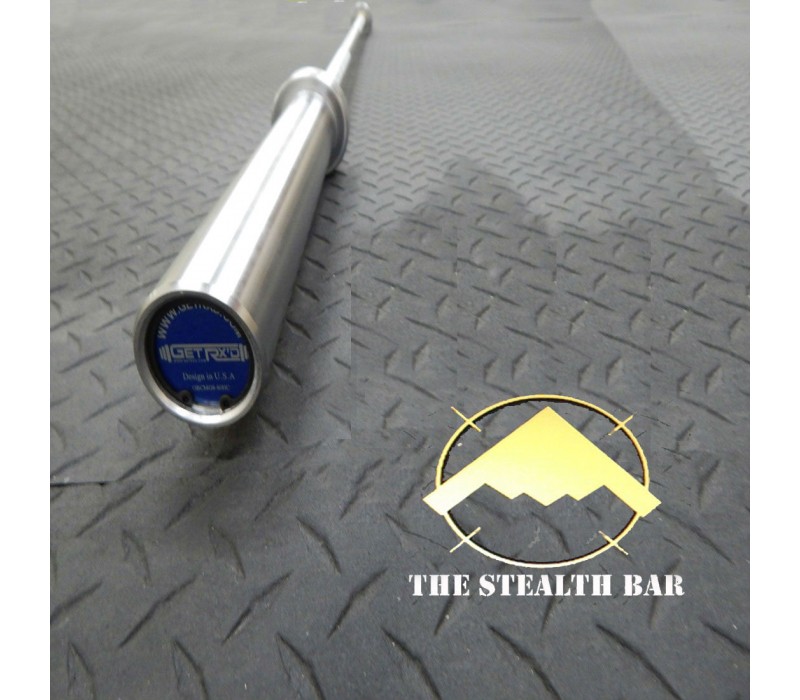 Get RXd Stealth Bar
The Stealth Bar is our premiere Olympic weightlifting barbell. With a sophisticated design of 2 Oil-Impregnated Bushings and 8 Oversized Needle Bearings, the spin on the Stealth Bar is both impeccable and mesmerizing. 216,000 PSI Tensile steel was carefully manufactured to create a piece of equipment that is both high level in athletic performance and economically efficient enough to be used by anyone. The Men's Stealth Bars can be easily identified by the gold band on the collar. The Stealth Bar comes in both Black Zinc and Hard Chrome finishes. If you are in the market for an Oly Bar but have second thoughts about breaking the bank, look no further. The only thing this barbell breaks are PR's!KNURLING:"The knurling of this barbell is very well crafted. The knurl is consistent throughout the entirety of the barbell - something that we look for in high quality bars. The knurling stops just at the collar, so those who grip the bar at its widest, for the snatch, will still have plenty of knurling to hold. The knurling is not too sharp that it cuts up your hands, but it is still aggressive enough to make for a nice contact between hand and barbell. There is no center knurling on the bar so it will serve those who do high volume workouts as well"Oscillation (WHIP):"The Bar has a nice balance between a weightlifting bar (with a fair amount of whip) and a powerlifting bar (a more rigid barbell). The bar is balanced, which will make it comfortable for most lifters across multiple disciplines of strength and conditioning"SPIN:"I'm not sure that you could find a barbell with a better spin than a Get RXd Stealth Bar. Some bars that spin for a long time seem to have a loose sleeve construction, but not this one. The Stealth Bar uses a needle bearing and bushing combination to provide excellent spin and also durability. I am a huge fan of the spin that the Stealth Bar provides"
Good for: People who plan to regularly lift heavy loads and want extra confidence in the strength of the bar.
My Favorite Things:
216K PSI tensile strength
Available in 20kg and 15kg
Hard chrome sleeve and shaft coating
Dual Oly and power knurl marks
My Callouts:
Combined bushing/bearing system is questionable
28mm (versus 28.5mm) shaft diameter can lead to more whip
Knurling is more rigid than Rogue and American Barbell bars
Unknown manufacturing location
The Get RXd Stealth Bar is a steal: For less than $300, you get 216,000 PSI tensile strength steel. This is the strongest bar on this list of best CrossFit barbells, and it's without a doubt the best for people who plan to burden it with extremely heavy loads.
For spin, the Stealth bar employs a dual bushing/bearing system, which I'm still not entirely sure about. I would need to use a dual-spin bar alongside a regular bushing or bearing bar for a long time to see how the durability of dual-system bars holds up. However, I do like the fact that the bushings in this bar are oil-impregnated, which means they self-lubricate and require less maintenance.
In addition to dual-spin, the Stealth bar also has dual knurling, which is key for a CrossFit barbell. There's no center knurling on this barbell, just like the others in this review.
Both the sleeves and the shaft of the Stealth bar are finished in hard chrome, my favorite barbell finish. Also, the gold bands on the collars of the 20-kilogram barbell make the bar look even cooler.
The Stealth bar is also available as a 15-kilogram bar for $250. All the specs are the same, except for the thinner shaft diameter (25 millimeters) and shorter sleeves (13 inches). The women's bar still sports 216,000 PSI tensile strength.
I wish Get RXd offered more information about where its products are manufactured because I like to know where my goods are coming from. The Get RXd headquarters is in Texas, but the company provides no information as to where the Stealth bar or other products are made.
Benefits of Having a CrossFit Barbell
There are tons of benefits to having a barbell in general. A barbell is a mainstay of any garage gym because it provides tons of training opportunities, and is the only way to truly train the big three lifts: back squat, deadlift, bench press, snatch, clean, jerk. Of course, you can do many of these movements with dumbbells and even kettlebells, but you'll never be able to throw considerable weight around.
Honestly, if you have to choose just one thing for your home gym, choose a barbell and weight plates. A power rack is a nice addition, too, but if you're on a budget, you can do all your lifts from the floor until you can get that coveted power rack.
As for having a CrossFit barbell specifically, the primary benefit is durability and lifespan. Any of the barbells on this list will last you many years with minimal maintenance. Of course, you can't completely neglect the care of your barbell, but with basic maintenance (i.e., not dropping it empty from overhead and cleaning the chalk off after use), you'll enjoy a lifetime with your CrossFit barbell.
Also, choosing a CrossFit barbell means you're choosing one suited for high-rep workouts. When you're in the middle of a grueling WOD or strength training for volume, you don't want to be distracted by overly aggressive knurling or lack of spin on the bar.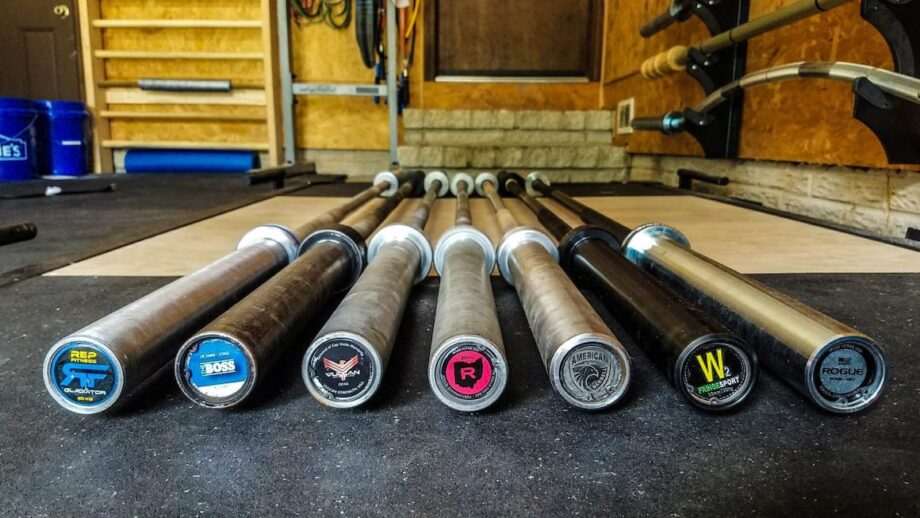 How to Choose a Barbell for CrossFit
A few attributes that I think are best for CrossFit barbells include:
Price
Because you'll likely beat the crap out of your CrossFit barbell, you probably don't want to spend too much money. This negates the Eleiko option for most people. I would say that the $250-$300 range is best for CrossFit barbells, and bars in the $300s or higher should have something extra to offer that means a lot to you (like the fact that the Rogue Ohio bar is manufactured at the Ohio Rogue campus).
High Durability
I expect most CrossFitters will be dropping their bar from overhead or from the front-rack position, moving quickly through high volumes of repetitions, and working out in a non-climate-controlled area. All of these factors mean you need a durable barbell, which means you need one with high tensile strength and a high-quality coating.
Look for at least 180,000 PSI tensile steel strength. Stainless steel bars are ideal in terms of oxidation resistance, but other common (and less expensive) finishes such as hard chrome and cerakote also increase durability. Zinc also protects against oxidation, but avoid black zinc if you beat up your barbell pretty well, as it shows scuffing more easily than bright zinc.
Medium Knurling
A CrossFit barbell should be grippy, but it shouldn't tear your hands up. Save the bloody palms for pull-ups and toes-to-bars. Medium knurling assists with grip without digging into the skin too much.
Low Whip
Barbell whip is the difference between yield strength and tensile strength. A very whippy barbell flexes significantly under heavy loads, whereas a low-whip barbell remains stiffer. A good CrossFit barbell has enough whip to accommodate moderately heavy loads, but not so much that you're dealing with an oscillating bar during a metcon.
Bushings
Most CrossFitters need a bushing system, not a bearing system. Dual systems can work, too, but you can't go wrong with bushings on a CrossFit barbell.
For more on how to buy a barbell, read my barbell buying guide.
Frequently Asked Questions About Barbells for CrossFit
What type of steel Is best for CrossFit barbells?
Stainless steel is the most durable type of steel for use in barbells, and it also requires the least maintenance, as it's corrosion-resistant. Alloy steel and Swedish steel (high-alloy steel) are good second choices, as long as the barbell has a solid protective finish. Stay away from bare or naked steel unless you want to spend your days cleaning and maintaining your bar. As you might expect, stainless steel barbells are more expensive than bare steel or coated steel barbells.
What type of finish is best for CrossFit barbells?
If you're not going to get a stainless steel barbell for CrossFit, get as good of a coating as your budget allows. After stainless, cerakote is the most durable, long-lasting finish. Then, in order from most durable to least, comes e-coat (an electrically applied paint), zinc, chrome, black oxide, and bare steel. When talking about durability as it relates to barbells, we're talking about resistance to oxidation.
What type of knurling is best for CrossFit barbells?
CrossFitters do Olympic and powerlifting moves, so they should purchase a bar that has dual knurlings for the best comfort and grip. A true powerlifting barbell has a center knurl, and the knurling across the entire bar tends to be deep and sharp.
Competition Olympic lifting barbells also have center knurling, although many manufacturers have started making Olympic barbells without center knurling due to the popularity of Olympic lifts in CrossFit. Overall, Olympic barbells have milder knurling than power bars.
A good CrossFit barbell will have both Olympic and powerlifting knurl marks but without the center knurling. In terms of depth and sharpness, you want a CrossFit barbell to have mild knurling.
Should you have bushings or bearings on a CrossFit barbell?
Bushing bars are favorable for powerlifting while bearing barbells are favorable for Olympic lifting. This is because bearing bars have an extremely fast spin ability and bushing bars spin at a slower rate. Seeing as CrossFit uses both Olympic and powerlifting movements, either type of barbell can be used. Most CrossFit barbells use the bushing mechanism, though. It's really up to personal preference: Do you prefer more spin or less?
Which CrossFit barbell Is best?
My top pick for the best CrossFit barbell is the Rogue Ohio Bar. Not only does it have all of the features a good CrossFit bar should have, but it also comes in a ton of different finish options, so you can pick the best option for your garage gym and the level of maintenance you're willing to put in.