We test and review fitness products based on an independent, multi-point methodology. If you use our links to purchase something, we may earn a commission. Read our disclosures.
If you're currently trying to build muscle, you've likely looked into a variety of supplements, perhaps including the best creatine, the best protein powder, or even the best pre-workout powder.
There's another supplement that should be on the list of potentials for anyone on a quest to expedite muscle growth: mass gainer.
Mass gainers are powders that contain a high amount of protein, carbohydrates, and calories to help muscle-seekers stay in a caloric surplus (consume more calories than they expend) each day. In this Crazy Nutrition Mass Gainer review, we'll look at the macronutrient profile and other specs, using a sports dietitian's analysis of the product to help you decide whether it's worth buying.
RELATED: Best Protein Powder
Medical disclaimer: This article is intended for educational and informational purposes only. It is not intended as a substitute for medical advice. For health advice, contact a licensed healthcare provider. GGR also recommends choosing a product that has been third-party tested for quality.
A Dozen Mass Gainers Tested
Our roster of product testers includes certified personal trainers, certified nutrition coaches, and experienced fitness aficionados ranging from general enthusiasts to Olympic athletes. We've tested about a dozen mass gainers at this point to create our guide to the best mass gainers, and we'll continue testing new products and updating our assessments of available items to make sure you can spend your dollars on the right products for you.
Crazy Nutrition Mass Gainer
GGR Score: 3.6
Product Highlights
Protein powder designed to help increase size and bulk

Nearly 40 g of protein per serving

488 calories and 55 g of carbohydrates

Low sugar content

Digezyme added to aid in digestion

Available in chocolate and vanilla
Pros & Cons
Pros
Customers like the flavor
60-day money-back guarantee
Low sugar content
Digezyme to aid in digestion
Cons
4 scoops per serving
Limited flavors
Expensive
Not third-party tested
Bottom Line
With natural ingredients and a low sugar content, Crazy Nutrition Mass Gainer has a high amount of protein and carbs, without being overloaded on sugars. With this, Crazy Nutrition Mass Gainer will get you the calories and protein you need while maximizing muscle gain over fat during your bulking phase. This protein powder also has Digezyme, which aids in digestion to prevent bloating or stomach issues.
A Quick Look at Crazy Nutrition Mass Gainer
Crazy Nutrition Mass Gainer is a powder supplement with 488 calories, 55 grams of carbohydrates, and 40 grams of protein per serving. It also contains ingredients such as digestive enzymes, MCT oil, vitamins B6 and B12, zinc, and magnesium.
Crazy Nutrition claims that when you add their mass gainer to your daily routine, "you can begin to expect massive gains in as little as two weeks."
This is quite the statement to make, considering that building muscle is a very, very slow process. Seeing substantially visual muscle gain in just two weeks is virtually impossible, regardless of training regimen, diet, and supplementation. Even two weeks of pure fat gain wouldn't make a "massive" difference in one's physique—that's just too short a time window.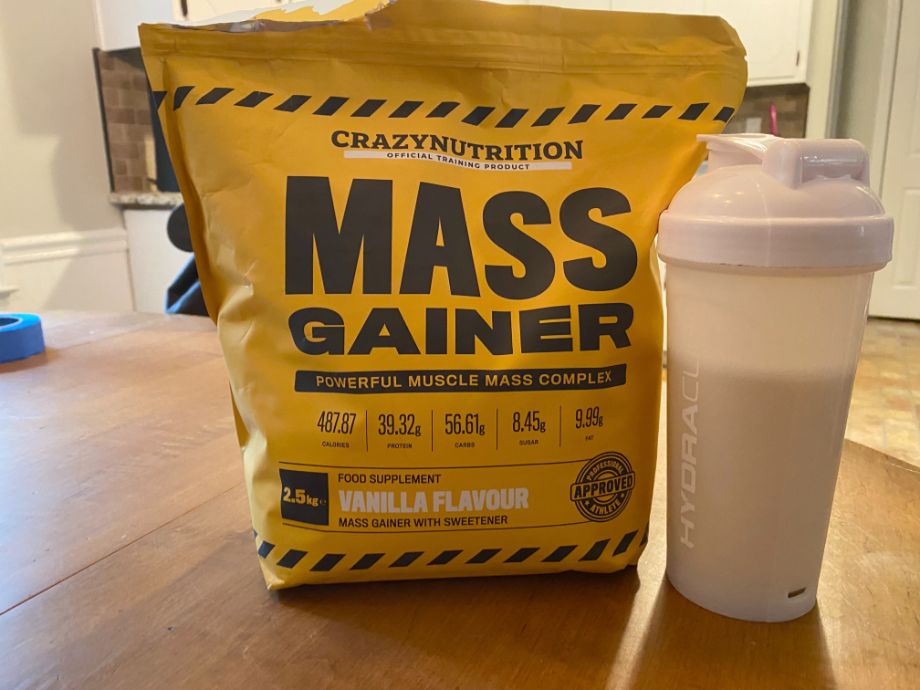 To set realistic expectations, visible changes in physique typically begin to occur with around four weeks of consistent, effective training and a supportive diet and supplementation protocol. But really, substantial changes to body composition require consistent efforts for six to 12 weeks—and for people who are already highly trained, visible changes may take much longer.
That said, Crazy Nutrition does offer a 60-day, 100% money-back guarantee, with the website reading that if you don't begin to put on mass in as little as two weeks, you can return the product for a full refund with no questions asked.
Before You Buy
This mass gainer is low in calories and macros compared to most other mass gainer products, with fewer than 500 calories per serving.
There's a 60-day money-back guarantee on this product, so there's no harm in ordering it to see if you like it.
Is Crazy Nutrition Mass Gainer Worth It?
This mass gainer is quite expensive at about $4.50 per serving. The bag costs $89.99 and there are 20 servings per bag. This is on the high side, with some of our top picks for the best mass gainer costing less than $3 per serving. Still, we have other top picks that surpass $6 per serving, so this one isn't the most expensive we've seen.
That said, the macros in Crazy Nutrition Mass Gainer aren't up to par with other mass gainers. Whereas the majority of our top picks have upward of 1,000 calories with more than 100 grams of carbs and 50 grams or more of protein, Crazy Nutrition has just 488 calories with 55 grams of carbs and 40 grams of protein per serving.
For its price point, we'd definitely expect to see higher calorie, carb, and protein content.
That said, it could still be right for some people.
Great for:
Smaller individuals who want to build muscle but don't need 700 to 1,000 calories in a shake
People who want to put on mass at a slower rate
Individuals looking for a recovery-type post-workout shake, rather than a true mass gainer
People who can tolerate lactose and sucralose
Not recommended for:
Larger individuals who need upward of 700 calories per serving in a mass gainer
Those looking for more than 40 grams of protein and more than 55 grams of carbs in their mass gainer
People on a budget looking for a lower cost-per-serving
Those looking to avoid artificial sweeteners
Crazy Nutrition Mass Gainer Specs
| | |
| --- | --- |
| Price per serving | About $4.50 |
| Flavor(s) | Vanilla, Chocolate |
| Calories per serving | 488 |
| Protein per serving | 40 |
| Carbs per serving | 55 |
| Sweeteners | Sucralose |
| Main ingredients | Oat flour, whey protein concentrate, milk protein concentrate |
| Third-Party Testing | No |
Experience Using Crazy Nutrition Mass Gainer
Kate Meier, GGR Head of Content and product tester, tried this mass gainer with some members of her Olympic weightlifting team. They each tried the powder a few times, with different ratios of water to powder, to find out what works best.
RELATED: Best Protein Powder for Muscle Gain
Price Per Serving
This mass gainer costs $4.50 per serving, which is right down the middle of the price range for mass gainers. However, with 488 calories, 40 grams of protein, and 55 grams of carbs, it does not contain ample macronutrients compared to other mass gainers, which makes that price point very expensive.
For reference, Transparent Labs Mass Gainer contains 750 calories, 53 grams of protein, and 110 grams of carbs at a price point of about $5.13. For less than $0.75 more per serving, you are getting 10 more grams of protein and almost double the carbs, plus the 1:2 protein-to-carb ratio for optimizing muscle protein synthesis, according to registered dietitian Laila Ouldibbat.
Formulation
The main ingredients in Crazy Nutrition Mass Gainer are gluten-free oat flour as the main carb source, plus whey protein concentrate and milk protein concentrate as the protein sources.
Other ingredients include:
Powdered MCT oil, a saturated fat that has been studied for various health and fitness benefits
DigEzyme, a blend of five digestive enzymes (amylase, protease, lactase, cellulase, lipase)
Piperine, a black pepper extract that aids in nutrient absorption
Vitamin B6 (as Pyridoxine HCl) and vitamin B12 (as methylcobalamin), two water-soluble vitamins with various roles in energy metabolism and overall health
Zinc and magnesium, two essential minerals with known immune benefits as well as potential benefits for workout recovery and sleep quality
Sucralose as a sweetener
Beta carotene for color
Our team consulted with registered dietitian nutritionist Destini Moody, who specializes in sports dietetics, to get an expert analysis of the Crazy Nutrition formula. Here's what she had to say:
"It's not a totally useless product, but there are definitely better ones out there. For four scoops (which is about 1 whole cup) of powder, it doesn't seem super efficient," she said. "I do like that it includes clean carbs from oat flour, plus digestive enzymes and piperine to help with the amino acid absorption."
However, it's a "huge bummer" that the powder contains whey protein concentrate instead of isolate as its main protein source, Destini said. "So, the small amount of protein it contains isn't the highest quality—as you may know, whey protein isolate is about 95-97% protein by weight compared to concentrate's 80% by weight."
Additionally, Crazy Nutrition Mass Gainer contains sucralose as a sweetener, so those who are sensitive to artificial sweeteners may want to choose another product.
RELATED: Best Protein Powder for Weight Gain
Taste and Solubility
Our testers tried the Vanilla flavor. "It's a really pleasant vanilla taste," Kate says. "It's definitely something palatable. One of the two guys who tested this, Hunter, a competitive weightlifter, says it tastes like vanilla protein."
Unfortunately, the powder did not get such high remarks for solubility. The serving size is four scoops, which is a lot, and makes for a drink that's kind of hard to blend.
"We did one scoop once and two scoops another time. The two scoops in a full blender bottle (24 ounces) of water didn't mix as well," Kate says. "The oat powder seems to settle at the bottom, so you'd have to keep shaking it up before every drink. Otherwise, the oat powder settles and makes the last few sips pretty rough; it tastes like a mouthful of oats."
Kate says that this powder is probably "best used in an actual blender, not shaken up in a blender cup."
The instructions are to add four scoops to 300-500 milliliters of water (10 to 16 ounces) in a blender bottle, which Kate says doesn't seem like enough liquid. "I don't see how that becomes anything but a paste," she says.
Side Effects
One of our testers, Jacob, who is sensitive to lactose, said, "I didn't feel well after drinking this. It's important to note that this contains milk proteins, so I did have an unsettled stomach for a bit, but I'm also sensitive to lactose."
The powder does have lactase, which is an enzyme that breaks down lactose, so people who are less sensitive may not have any problems. Someone who doesn't have issues with lactose might feel better. Our other tester, Hunter, who has no issues with lactose, didn't have any negative effects.
Because mass gainers contain so many calories and carbs, it's not unusual to experience a bit of bloating after drinking one.
Some people worry about blood sugar levels when taking a high-carb supplement, but with a high-quality mass gainer that contains complex carbs as well as ample protein and fat, you shouldn't experience blood sugar spikes. If you have diabetes, however, you should check with your doctor before taking mass gainer.
Third-Party Testing
There isn't any information on the website indicating that Crazy Nutrition Mass Gainer is third-party tested by any lab or independent organization. However, the label seems transparent; there are no proprietary blends that make it difficult to understand what exactly is in the powder. Still, for athletes who are subject to drug testing, it's best to choose a product that is verified to be free of banned substances.
Crazy Nutrition Mass Gainer vs Transparent Labs Mass Gainer
Transparent Labs Mass Gainer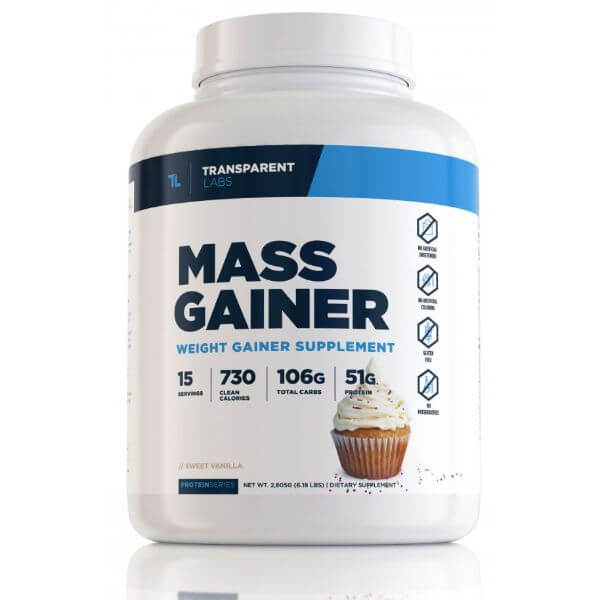 GGR Score: 4.5
Product Highlights
760 calories per serving

Each serving provides 53 grams of protein, 13 grams of fat, and 109 grams of carbs

Formulated to support lean muscle mass 

Carbohydrates are derived from tapioca, oat, and sweet potato sources

Available in Sweet Vanilla and Chocolate Donut flavors

Sweetened with Stevia and monk fruit
Pros & Cons
Pros
Contains creatine monohydrate
Free from artificial ingredients
Derived from nature-based sources
No added sugar
Gluten-free and non-GMO
Completely transparent list of ingredients
Taste
Cons
High saturated fat count
Expensive
Shipping takes a long time
1:2 ratio of protein to carb may not be enough for some
Bottom Line
Transparent Labs Mass Gainer is one of the more expensive mass gainer supplements, but it offers high-quality, naturally occurring, and clean ingredients that taste good.
Transparent Labs Mass Gainer is one of our top picks for the best mass gainers. It contains 750 calories, 53 grams of protein, and 110 grams of carbohydrates with a price per serving of about $5.13. The serving size is only two scoops compared to Crazy Nutrition's four, which makes for a more soluble, palatable drink, too.
Destini wrote our Transparent Labs Mass Gainer review and summed up her thoughts with this: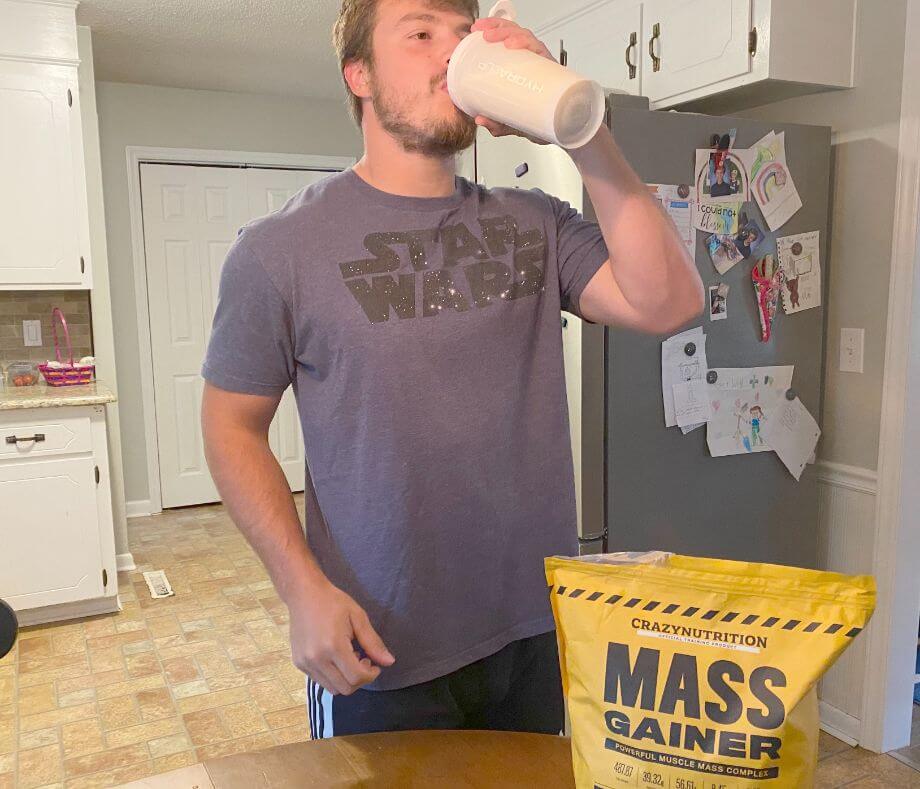 "Macros like these make it the total package in just one supplement. Although post-exercise is one of the best ways to utilize Mass Gainer, it's a handy product for anyone looking to gain weight. That's right: This supplement is not just for people looking for hypertrophy, but also for the elderly with a lack of appetite or weight loss, the sick, the injured, or anyone looking to maintain or gain weight in a healthy way."
| | | |
| --- | --- | --- |
| | Crazy Nutrition Mass Gainer | Transparent Labs Mass Gainer |
| Price per serving | $4.50 | $5.13 |
| Flavor(s) | Vanilla, Chocolate | Sweet Vanilla, Chocolate Glazed Donut |
| Calories per serving | 488 | 750 |
| Protein per serving | 40 | 53 |
| Carbs per serving | 55 | 110 |
| Fat per serving | 10 | 14 |
| Sweeteners | Sucralose | Stevia extract |
| Main ingredients | Oat flour, whey protein concentrate, milk protein concentrate | Organic tapioca maltodextrin, grass-fed whey protein isolate |
| Third-Party Testing | No | Yes, independently tested by Analytical Resource Laboratories |
Customer Experience
This is one category where Crazy Nutrition gets great remarks. We love that the company offers a 60-day money-back guarantee, so if you don't like the product, you can return it for whatever reason and get a full refund. This is rare to see with supplements, since they are consumable products.
Ordering Crazy Nutrition Mass Gainer
As of this writing, it looks like Crazy Nutrition Mass Gainer is only available directly from Crazy Nutrition, as the official website, crazynutrition.com. There, just click "order now" and choose whether you want to do a one-time purchase or sign up for subscribe-and-save, which will save you 30%.
What's interesting is that Crazy Nutrition decides the shipping frequency based on how many times per week you work out. For example, if you say you work out six days per week, the company will ship you two bags of the mass gainer every seven weeks. If you say you work out twice a week, they'll send you one bag every three months.
Customer Reviews
Despite our so-so evaluation of this product, customers on the Crazy Nutrition website seem to love it. At the time of writing, the product has a rating of 4.6 out of 5 stars on the company's website.
I appreciate this customer's realistic review: "Been taking this a couple months ago in combination with working out using my new PowerBlock set. Up from the low 140s to around 150 in two and a half months. It's been an easy way to get in the extra calories I had been missing to really put on mass"
The above customer put on about 10 pounds of mass in 10 weeks—a pound a week—which is a much more realistic timeline than Crazy Nutrition's promise that you'll see gains in just two weeks.
Other customers say they love that the carb source is natural, rather than maltodextrin, which is common in mass gainers. For the most part, customers think that the product is effective, but wish there were more flavor options.
Final Verdict of Our Crazy Nutrition Mass Gainer Review
The Crazy Nutrition Mass Gainer supplement is not our favorite gains formula; we think it's a bit expensive for the macros it offers. However, it could be a good choice for smaller individuals who don't want 700 or more calories in a shake, or people who just want to be in a smaller surplus.
We do appreciate the inclusion of digestive enzymes and black pepper extract, as well as the natural-ingredient, whole-food carb source. We wish the protein came from an isolate and not a concentrate, but we're glad to see a mass gainer formula free from fillers.
Crazy Nutrition Mass Gainer Full Rating
Crazy Nutrition Mass Gainer
A sports dietitian, certified nutrition coach, and certified personal trainer break down the supplement facts in this Crazy Nutrition Mass Gainer review.
Product Currency: USD
Product Price: 90
Product In-Stock: InStock
Crazy Nutrition Mass Gainer FAQs
What is mass gainer? 
Mass gainers are nutritional supplements that can help you gain weight. They can help you "bulk up" by providing you with more calories in an easy-to-drink form. They typically contain around 700 to 1,200 calories with 50 to 70 grams of protein and 100 to 150 grams of carbs.
How does mass gainer work? 
Mass gainer, or weight gainer, is simply a high-calorie, high-carb, high-protein supplement, often using a whey protein blend, that increases your daily calorie intake. They are typically used by people in the bodybuilding community and in other strength sports to increase lean muscle over time. Some people use them as meal replacements, too.
Is it OK to drink mass gainer everyday?
If you are specifically looking to expedite weight gain and gain muscle mass, sure, you can take a weight gainer supplement every day until you reach your desired body weight. Many people reserve their intake of mass gainers for days they do resistance training, using them in place of a regular protein supplement as part of their post-workout muscle recovery supplement stack.
These statements have not been evaluated by the Food and Drug Administration. This product is not intended to diagnose, treat, cure, or prevent any diseases.