We test and review fitness products based on an independent, multi-point methodology. If you use our links to purchase something, we may earn a commission. Read our disclosures.
If you're anything like me, things like high-tech algorithms and artificial intelligence might give you the heebie-jeebies when you sit down in a quiet place and think about it for too long. And then in the next moment it's possible to be fascinated by technology without feelings of fear.
The good news is the newly redesigned CAROL Bike 2.0 falls into the "not scary" AI category, unlike ChatGPT (which, for me, falls into a strange, dark, gray area of technology). But enough about the things that keep me up at night, I know you're here for the CAROL Bike 2.0 review—the brand's second generation stationary bike with instant, AI-controlled resistance, and short but intense workouts.
Fitness Pros Testing Latest and Greatest
Here at GGR, our expert product testers are not just fitness enthusiasts, but fitness industry professionals ranging from Olympic athletes to certified personal trainers.
We've ordered, assembled, tested, and written dozens of reviews on indoor exercise bikes from top brands like Bowflex, NordicTrack, and Peloton. OG product tester and GGR founder, Coop Mitchell has now tested not only the original version of the CAROL Bike, but the 2.0 model, as well.
That said, we think our collective experience with cardio equipment paired with our experience with CAROL will help you decide if the CAROL Bike 2.0 is worth the investment for your home gym.
CAROL Bike 2.0
Product Highlights
Commercial-grade exercise bike

Made for maximum training 

Comes with a wearable heart rate monitor

Multi-grip handlebar
Pros & Cons
Pros
11" touchscreen with high resolution display
AI-controlled resistance
Silent belt for a quieter ride
Home membership allows for 8 riders
Cons
Relatively expensive
You have to buy a monthly membership for the workouts
Only 18 provided workouts
Bottom Line
The Carol Bike 2.0 is a high-tech bike with five grip positions, 18 different short and effective workouts, and more!
A Quick Look at the CAROL Bike 2.0
If you've just been newly introduced to the CAROL Bike 2.0 and you're trying to determine what all the hype is about, let me give you a quick rundown: The CAROL 2.0 is a solid indoor cycle bike with high-tech (and hands-free) artificial intelligence-controlled resistance settings. Not only will you have the resistance level controlled for you (and it will gradually get harder as you progress) the CAROL 2.0 AI-programming is designed around reduced exertion high-intensity interval training aka, REHIT.
Don't worry if this is your first time hearing about REHIT—it's not as widely known as the concept of high-intensity interval training (HIIT). According to the CAROL website, REHIT is an optimized form of HIIT training that offers full cardiovascular health benefits in a fraction of the time it takes to do a regular steady-state cardio workout (or 20 minutes of HIIT, for that matter).
Before You Buy
A $15 monthly membership fee is required to access the AI-personalized workouts and metrics
Your membership allows you to have unique user profiles for up to eight cyclists
The CAROL Bike comes with a bottle holder and heart rate monitor
CAROL stands for "cardiovascular optimization logic"
Is the CAROL Bike 2.0 Worth It?
The CAROL Bike 2.0 will not be the best cardio solution for every home gym owner. "The Carol Bike is much different from most studio cycle bikes, not in how it's made," says Coop, "but how it's designed to be used for improved cardiovascular health in short periods of time. CAROL workouts are all about efficiency."
That said, Coop thinks the CAROL 2.0 is worth the investment for folks who are short on time and also value the data behind their results. On the other hand, Coop's biggest annoyance with CAROL is the monthly membership.
"Without the membership, there's no optimization of resistance, only the starting resistance," explains Coop, which means you can free ride without a membership, but that's about it. The monthly membership is $15 per month and does not feature on-demand classes (like Peloton and iFIT) but rather a collection of 18 different workouts and fitness tests.
Great for:
Anyone who needs an option for low-impact cardio workouts
Individuals who need quick, time-efficient, and effective workouts
People who like to track performance with high-tech metrics
Not recommended for:
Anyone on a tight budget
Folks who don't like the idea of paying for a monthly subscription to access metrics
People who prefer studio classes
CAROL Bike 2.0 Specs
| | |
| --- | --- |
| Price | $2,595 |
| Footprint | 45.5″ x 22″ |
| Weight | 120 lbs |
| Weight capacity | 330 lbs |
| User height range | 4'7"-6'7" |
| Display | 11" touchscreen |
| Handlebar | Ergonomic multi-grip |
| Resistance Type | AI-controlled instant resistance |
| Bluetooth | Yes |
| Pedals | Adjustable toe cages/SPD clips |
| Warranty | 1-year on frame, parts, and components |
Workout Experience with the CAROL Bike 2.0
The first thing I wanted to know from Coop's workout experience was what makes the CAROL 2.0 different from the original. He let me know there are quite a few similarities, but the main difference is the 2.0 is "overall a superior, more refined product," says Coop. "The last CAROL Bike functioned well, but it definitely felt like a mish-mash of parts. This one feels like a more cohesive, well thought through product," he adds.
Coop also notes that the unique part about riding the CAROL Bike is the software and data. The technology gives you a hands-free experience and does not require you to touch a knob or wonder about how hard to push yourself.
"Essentially, you press the start button on the monitor and then it takes care of all the resistance. It's literally plug and play, you just focus on your output," says Coop.
"The AI-controlled resistance that turns on at just the right time at just the proper resistance and it learns your performance over time to provide ongoing incremental difficulty is what makes it special," he adds.
In addition to the AI-controlled resistance, the other thing that sets CAROL apart from the competition is the signature REHIT workouts, which is a researched1 approach to drastically reducing the amount of time it takes to improve cardiovascular health and overall performance.
In other words, researchers set out to find an even more time-efficient way to improve health that didn't require folks to take a 45-minute run or partake in a 20-minute HIIT session, and in the end they came up with REHIT.
The REHIT formula focuses on two bouts of 20-second sprints in all-out fashion. This allows you to complete a CAROL workout in about 10 minutes, including a warm up and cool down.
Because of the all-out work you're expected to do, you will have the option to start with 10-second sprints—with the AI technology incrementally increasing your sprint time as you progress, of course.
Footprint and Portability
The CAROL 2.0 has a fairly small footprint, and will take up less than 7 square feet in your home gym (or spare bedroom). Although small in size, it's a mighty machine at 120 pounds.
However, when you need to move your CAROL 2.0 out of the way, the transport wheels make it fairly easy. The wheels are located on the back of the bike, behind the bike seat. All you need to do is squat down and grab the front stabilizer, tip the bike onto the wheels, and roll it out of the way.
Durability and Construction
The CAROL 2.0 has a slightly updated look and feel with a powder-coated steel frame and a heavy-duty plastic shrouding around the pedals and flywheel.
Although the plastic shrouds were a callout Coop had on the original CAROL Bike, Coop mentions that the belt-drive system (versus chain drive) in addition to the frictionless, magnetic brake will lead to a durable piece of home fitness equipment.
Just like the original CAROL Bike, the 2.0 delivers solid construction that allows you to "put all of your effort into the bike and it remains stable," says Coop. That might seem minor, but the idea behind the CAROL is to incorporate 20-second sprints of all-out effort, so it's worth considering the construction of the stationary bike you're being asked to go full-out on.
The Ergonomics
The CAROL website states that the bike accommodates folks from 4 feet, 7 inches to 6 feet, 7 inches tall—and everyone in between. This bike also has a maximum user weight capacity of 330 pounds, which allows a wide variety of riders to use the CAROL 2.0.
To customize your riding experience, there are stepless configurations and adjustments on both the seat and handlebars, meaning there is no pull pin adjustment, you can make micro adjustments.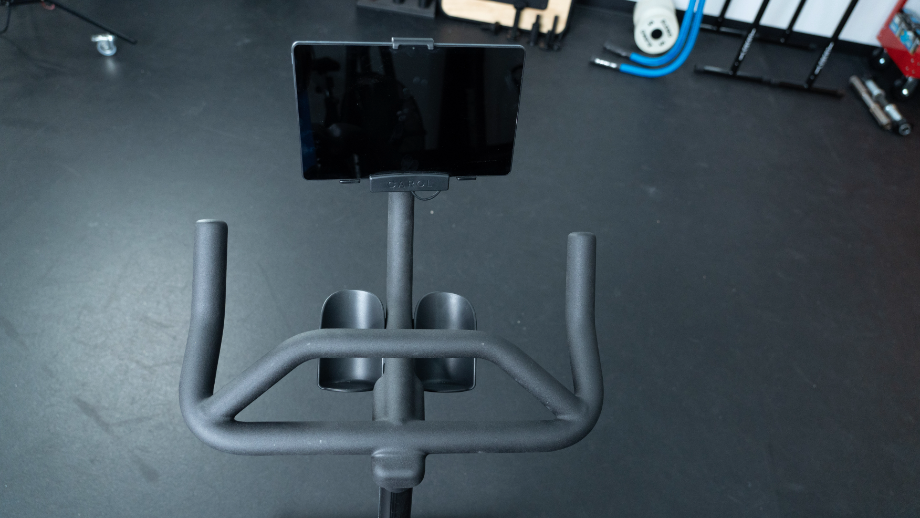 The adjustable seat not only moves up and down but also forward and backward to help you customize how close your upper body sits to the handlebars. Speaking of handlebars—you will be able to adjust them, too—the 2.0 now features a five-position, multi-grip handlebar versus the straight bar featured on the original bike.
The built-in pulse grip heart rate monitor is no longer part of the handlebar design, but we like the fact the multi-grip handlebar gives you more options and control over your training (and body position). Plus, the 2.0 now comes with a chest strap for heart rate monitoring, which is often more accurate.
Technology Benefits and Conveniences
CAROL not only has AI-controlled resistance levels, the AI technology also learns about your performance and provides the right amount of resistance for you based on your current fitness level and makes it more challenging over time (how cool!).
Keep in mind that all these incremental changes to resistance are being done without taking your hands off the handlebars—CAROL's AI processor is powering the changes for you. CAROL predicts when to dial up your resistance and for how long to keep that resistance going.
The AI technology also manipulates your workouts based on past performance, which means the more you use your CAROL Bike, the more data can be stored about your progress and influence how difficult future workouts will be.
Coop warns that your baseline starts very low, but it's necessary to go through these beginning stages so that the CAROL Bike learns your individual output. In addition to CAROL delivering harder resistance levels, here is an overview of other metrics you will see when using CAROL and the monthly membership:
An overall fitness score
Heart rate (using the included chest strap)
R-R intervals (small changes in the intervals between successive heartbeats)
HRV (heart rate variability) measurement
Peak Power
Energy Output
Local and global leaderboard stats
In addition to all the metrics you receive from your CAROL membership, you can also choose to connect to third-party apps like Zwift and Rouvy on the 11-inch high resolution touchscreen.
CAROL Bike 2.0 vs Keiser M3i vs Peloton Bike
The CAROL really sets itself apart from other bikes like the Keiser M3i and Peloton with under 10-minute workouts. It's different from the moderate-intensity continuous training offered by a manual free ride or a studio class from Peloton. The CAROL is designed to deliver effective workouts in just minutes.
However, if you're not convinced that the AI-powered workouts are right for you, here is a comparison on CAROL's top competitors:
| | | | |
| --- | --- | --- | --- |
| | CAROL Bike 2.0 | Keiser M3i Indoor Bike | Peloton Bike |
| Price | $2,595 | Around $2,450 | Around $1,450 |
| Footprint | 45.5″ x 22″ | 51" L x 26" W x 49" H | 59″ L x 23″ W x 53″ H |
| Weight | 120 lbs | 92 lbs | 135 lbs |
| Weight Capacity | 330 lbs | 350 lbs | 297 lbs |
| Resistance | AI-controlled instant resistance | Micro-adjustable | 100 levels of micro-adjustable resistance |
| Pedals | Adjustable toe cages/SPD clips | Adjustable toe cages/SPD clips | Delta-compatible aluminum pedals |
| Warranty | 1-year warranty | 3-year frame warranty, 90 days labor warranty | 5 years frame, 12 months touchscreen, components, pedals, and labor |
Keiser M3i Indoor Cycle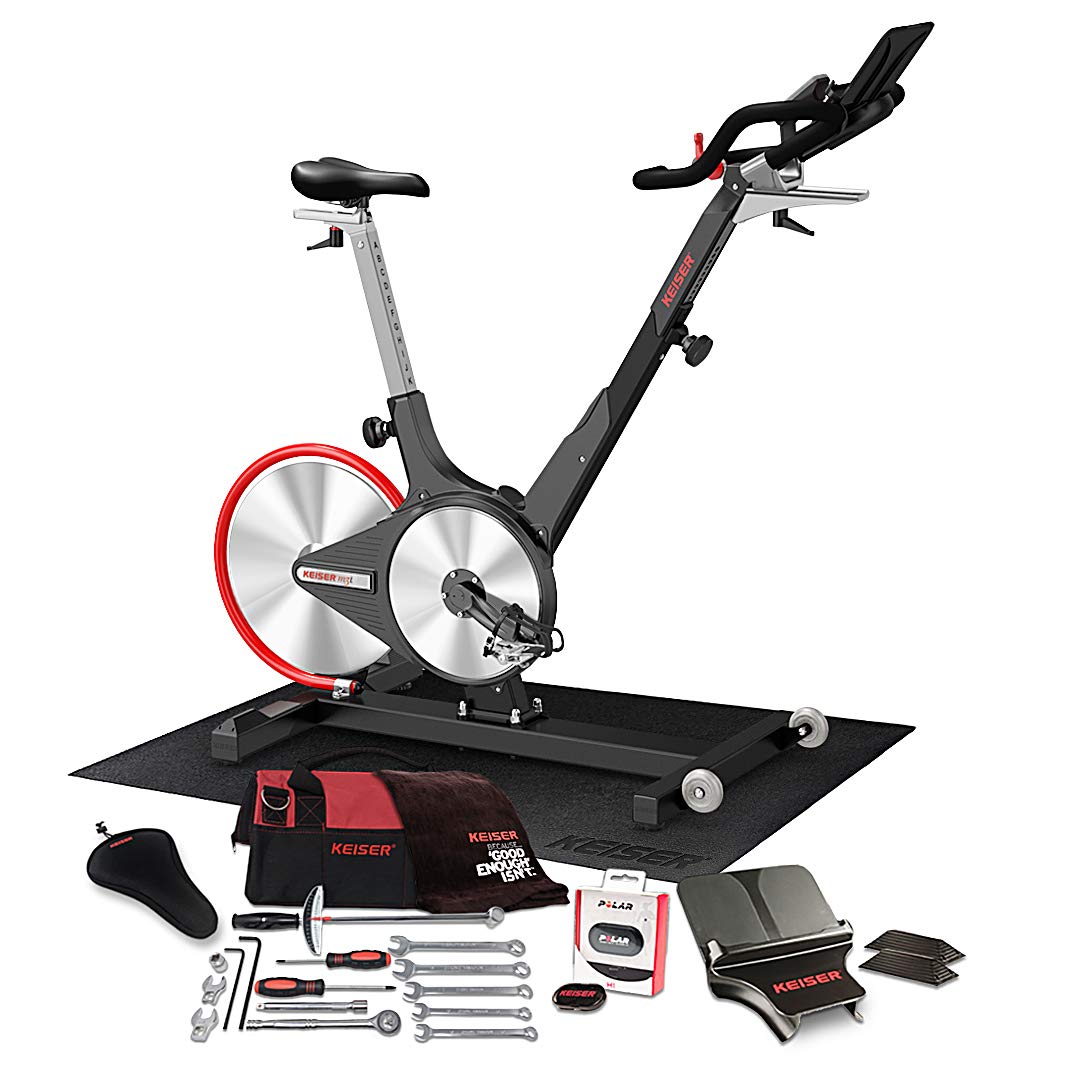 GGR Score: 3.6
Community Score: 5
Product Highlights
More than 20 years ago, Keiser set out to create a bike that would exceed the demands of indoor cycling. Designed around you, an indoor bike that fits riders of all body shapes and sizes; a bike that achieves a quiet but true road bike experience inside your home; and the only stationery bike built in the United States to ensure the tightest quality control.
Made in USA
Peloton Bike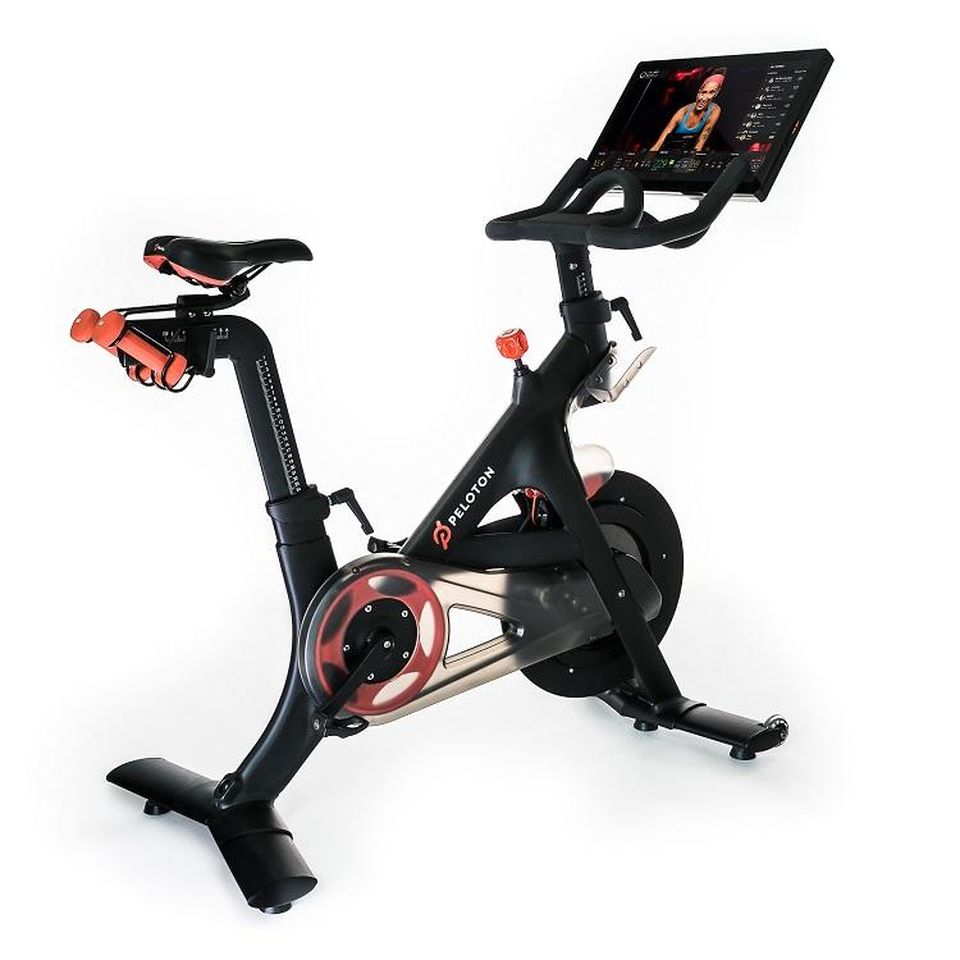 GGR Score: 4.33
Community Score: 5
Product Highlights
21.5" touchscreen for immersive training
Live classes and on-demand cycling sessions
Leaderboard-style competition
Adjustable screen, seat, and handlebars for customized ride
5-megapixel front-facing camera
Bluetooth connectivity
Pros & Cons
Pros
Immersive experience
Access to thousands of classes, challenges, and a large variety of workout options
Compact footprint
Sleek design
Financing options
"Try before you buy" option
Cons
Disappointing warranty
Membership is required to use bike
Expensive
Shipping is not included
Bottom Line
One of the more expensive options for virtual biking, the Peloton Bike is designed to be an all-in-one fitness solution on a high-quality cardio machine. You're paying not only for the bike, but the unique training experience it makes accessible from the comfort of your home.
Customer Experience
Firstly, if you decide to invest in a CAROL Bike, you'll have a 100-day window to try the bike and make sure you're totally happy with your purchase. And if you're not, you have over three months to return for a full refund. The return details are not explicitly listed on the website, but from our experience with other brands, you'll need to make a request so that your return is officially acknowledged by the company.
Secondly, the warranty for the CAROL Bike misses the mark completely. Industry standard for a good warranty on exercise bikes typically starts with at least 10-15 years on the frame. The CAROL Bike offers a 1-year warranty, which includes everything from the frame to the parts and electronics. This is disappointing and one area that we hope the brand improves in its next iteration.
It's also worth noting that CAROL is a U.K.-based company. But don't worry if you live in the U.S., there is a customer support line for both U.S. and U.K. customers on the brand's contact page. You can also contact customer support via email at info@carolbike.com.
Ordering and Assembling the CAROL Bike 2.0
If you're ready to add the CAROL to your cart, you will have the option to choose 0% financing for up to 12 months through Affirm if you qualify based on your credit history. This option will be presented after you've filled out your shipping information, when you're prompted to enter your billing information. CAROL offers free shipping (for the continental United States), which is an added bonus when you're about to drop over $2,000 on a cardio machine.
If you want to have your bike professionally assembled, it will cost you an additional $199, but it could be worth it so that your bike is ready to use right out of the package. However, if you decide to skip the professional assembly, you might like knowing that the flywheel, plastic shroud, and the frame's upright come pre-assembled. You will just need to attach the stabilizers, handlebars, and wire the Android tablet.
Customer Reviews
It's worth noting I first went to Amazon to find honest customer reviews, but the CAROL Bike is not sold on Amazon. So, I went back to the CAROL website and clicked through the brand's featured customer reviews on TrustPilot.
Customer reviews turned out to be overwhelmingly positive, with 199 reviews and a 4.7-out-of-5-star overall rating. Most of the frustrations I read about were not really for the bike itself but with the technology, app, and WiFi connection.
Final Verdict of Our CAROL Bike Review
While REHIT might not be everyone's cup of tea, I think the CAROL Bike 2.0 offers a lot to home gym folks who are truly limited on time and looking for the best exercise for cardiovascular health and most efficient use of their time.
We know CAROL also has a hefty price tag, which does not make this investment suitable for everyone. That said, here are some benefits we see to buying a CAROL Bike:
Hands-free AI-controlled resistance
Super time-efficient workouts
Metrics like over output and power
Accommodates taller and heavier folks
Low-impact training for all skill levels
CAROL Bike 2.0 Rating
CAROL Bike 2.0
Find out how home gyms now have the chance to work smarter, not harder in our CAROL Bike 2.0 review.
Product Brand: CAROL
Product Currency: $
Product Price: 2595
Product In-Stock: InStock
CAROL Bike 2.0 FAQs
Can you use CAROL Bike without a subscription?
Without a monthly subscription, you will not have access to the AI-controlled resistance and incremental progressions, which is what sets this bike apart from the competition.
What is the warranty on a CAROL Bike?
The warranty on the CAROL Bike covers a mere one-year period and can be upgraded to a two-year period for an additional fee.
What are the benefits of a CAROL Bike?
One of the main benefits of the CAROL Bike is the CAROL workouts designed for reduced exertion high-intensity interval training (REHIT). This type of training is quick, efficient, and won't take more than 10 minutes of your time.
References
Cuddy TF, Ramos JS, Dalleck LC. Reduced Exertion High-Intensity Interval Training is More Effective at Improving Cardiorespiratory Fitness and Cardiometabolic Health than Traditional Moderate-Intensity Continuous Training. Int J Environ Res Public Health. 2019 Feb 7;16(3):483. doi: 10.3390/ijerph16030483. PMID: 30736402; PMCID: PMC6388288.