We test and review fitness products based on an independent, multi-point methodology. If you use our links to purchase something, we may earn a commission. Read our disclosures.
Editor's Note: The Bowflex TC1000 TreadClimber is no longer in production. We suggest viewing the Bowflex Treadmill 22 as the best alternative, or view our Best Treadmill roundup for more options.
It's a treadmill! It's an elliptical! No, it's a Bowflex TC1000 TreadClimber! This unique (and now defunct) cardio machine combines the lower-body engagement of an elliptical or stepper with the benefits of a treadmill.
In this Bowflex TC1000 TreadClimber review, I'll give valuable insight into what I really think about this hybrid cardio machine. Should you find the TreadClimber on the secondhand market or go with a newer alternative? Keep reading to find out what I think!
(Bow)Flexin' Our Fitness Expertise
We love to flex: Our huge biceps, tree-trunk quads, and of course, our fitness expertise. At GGR, our expert product testers and reviewers are also certified personal trainers, former college soccer players, and nutrition coaches. We're also well-versed in fitness equipment industry standards, so we can give our opinions through a more regulated lens.
Looking for an Alternative to the Bowflex TC1000 TreadClimber?
Let's get one thing straight: The Bowflex TC1000 TreadClimber cannot be duplicated (and not because it's the best thing since sliced bread). This is simply because the TreadClimber combines a stepper/elliptical with a treadmill, which isn't something we are currently seeing on the market. If you're looking for a more traditional treadmill experience, but want to stick with a brand you know, check out the Bowflex Treadmill 22.
This tricked-out treadmill has it all: Extensive incline plus decline options, a 400-pound weight capacity, and a touchscreen for interactive programming. After discontinuing the TreadClimber series, Bowflex reportedly focused its energy on perfecting the Treadmill 22. Plus, it's around the same cost as the TC1000 (about $2,300).
Best Alternative to Bowflex TC1000 TreadClimber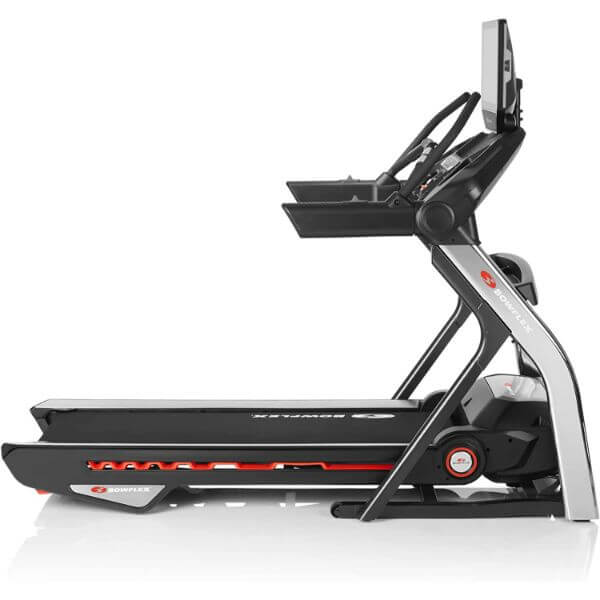 GGR Score: 4.02
Product Highlights
High-quality, sturdy treadmill featuring a spacious 22-inch by 60-inch cushioned running deck

Bluetooth enabled to connect to your smart devices with a heart rate monitor included

22-inch immersive console with adjustable HD touchscreen 

Equipped with the JRNY fitness platform which houses on-demand and voice-coached workouts

1-year membership included, featuring 200 scenic destinations as the backdrop for your workout

With a JRNY membership, users can also log into several entertainment apps including Netflix, Hulu, Amazon Prime Video, Disney+, and HBO Max

Speeds ranging from 0 to 12 miles per hour

Impressive incline range from -5% to 20%
Pros & Cons
Pros
400-lb max user weight capacity
Immersive training
Large cushioned running surface
Folds easily for storage
Equipped with entertainment apps
Decline and incline
Cons
Requires a JRNY membership
Console may be confusing for some
Long delivery times reported
Bottom Line
The Bowflex 22 is a high-quality treadmill with impressive components that features an immersive training experience via the JRNY platform.
A Quick Look at the Bowflex TC1000 TreadClimber
Bowflex created an entire fleet of TreadClimbers: the TC1000, TC100, TC200, TC10, TC5000, TC3000, TC5300, TC20, and the TC6000. However, none of these machines are still produced today. While the secondhand market isn't exactly rich with TreadClimbers, you may still be able to find them here and there at places like Play It Again Sports, Facebook Marketplace, or refurbished exercise equipment retailers. 
Pros:
Unique combination of stepper/elliptical and treadmill
300-lb user weight capacity
12 settings of resistance
Attached transport wheels
Intuitive display
Cons:
Short warranty
Heavy at 185 lbs
Weak motor
Cannot be compacted
Bowflex TC1000 TreadClimber Specs
| | |
| --- | --- |
| Footprint | 46″ L x 28.5″ W x 55.25″ H |
| Weight | 185 lbs |
| Weight capacity | 300 lbs |
| Speed range | 0.5 to 3.8 MPH |
| Resistance | 0-12 |
| Belt dimensions | 46.5″ L x 8.5″ W |
| Display | LCD |
| Warranty | 1-year warranty |
| Safety key | Yes |
| Motor | .5 CHP |
Key Features of the Bowflex TC1000 TreadClimber
The Bowflex TC1000 TreadClimber is a very interesting and unique machine. Instead of having a traditionally flat treadmill deck, the TreadClimber has two different mini-decks (one for each foot) that the brand calls "treadles."
Once you've started the machine, one of the treadles moves up as the other goes down. While these platforms are hard at work, the belt of the machine is moving like a traditional treadmill. Reportedly, the TreadClimber is supposed to be a more joint-friendly machine than a traditional treadmill. This is due to the fact that the treadles rise and fall with the natural cadence of someone walking.
Although I think this machine could provide a decent low-impact workout for someone, you can only do so much on the TC1000. Since the speed range caps out at 3.8 miles per hour, you'll be doing a power walk at the most intense setting. This might be fine for walking enthusiasts (looking at you, GGR writer Anthony O'Reilly), but it likely won't cut the cheese for serious runners and joggers. Especially if you're paying close to $2,300, you want the machine to have multiple purposes, and the TC1000 doesn't.
For additional context, the motor of this machine is probably the weakest I've ever seen at .5 CHP. I'm not surprised that this machine can only handle a fast walk, especially when you consider the motor's power.
The TC1000 has 12 different resistance levels, which control the depth the treadles go while the user is walking. For example, if you choose a low-level intensity, the treadles will only move within a small range. For a tougher workout, choosing a higher resistance level means the treadles will go a lot higher and lower horizontally.
The 300-pound user weight capacity on the TC1000 is on-target for the industry standard we expect to see. However, it is worth noting that this machine isn't exactly light. At almost 200 pounds, you'll definitely need additional assistance to move the machine safely.
Footprint, Portability, and Durability
Although I wasn't able to find the exact dimensions of each treadle, they look to be on the shorter side. This contributes to the overall footprint of the TC1000 being a bit smaller than I am used to seeing. However, the machine isn't what I'd call compact, just wide versus being long.
Unsurprisingly, you cannot compress this machine in any way. You'll need a large home gym or spare guest room for the TC1000 to live out in the open at all times.
Like I mentioned above, you'll likely also need a friend or two to move this machine safely. Although I'm sure all of you reading this have the strength of the Hulk, don't hurt yourself over a cardio machine. It isn't worth it (even for the temporary ego boost).
Since I've never used the TC1000 before, I cannot speak to how well the machine will/would hold up over time. However, if the short, one-year warranty is any indication, it isn't very durable. I have the feeling this is more about the weak motor than the steel frame. Bowflex typically makes really stable machines, so I wouldn't be surprised if this one was similarly sturdy.
Technology Benefits and Conveniences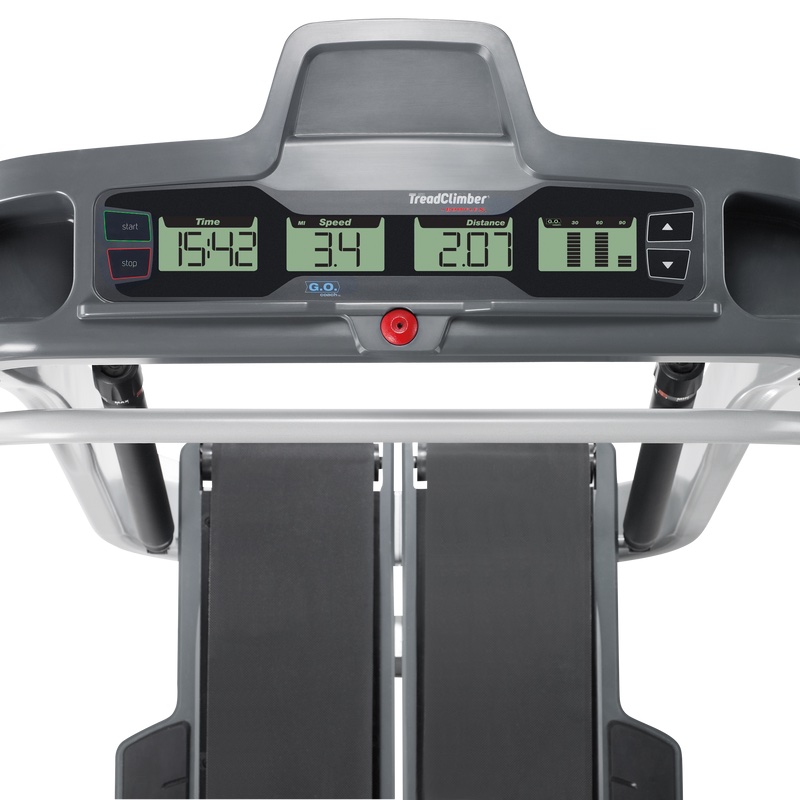 Since this machine was initially released in 2006, the technology features aren't top-of-the-line. You'll find a pretty basic LCD display, which will show the user various metrics during a workout like distance traveled, elapsed time, calories burned, speed, and resistance level.
Although Bowflex now has its own interactive programming service, JRNY, this machine was released long before it was a thing. Therefore, it cannot be connected to the machine in any way.
Final Verdict of Our Bowflex TC1000 TreadClimber Review
For most people, I don't think the Bowflex TC1000 TreadClimber is worth the cash. Although it isn't still being produced by Bowflex, it can be purchased on the secondhand market for those interested.
However, I think that most folks would be much happier with a newer treadmill, like the Bowflex Treadmill 22. You'll get more features, a better warranty, and interactive programming that works with the machine's touchscreen for around the same price.
Bowflex TC1000 TreadClimber Rating
Bowflex TC1000 TreadClimber
If you're interested in an alternative to the Bowflex TC1000 TreadClimber, check out the Bowflex Treadmill 22
Product Brand: Bowflex
Product Currency: $
Product Price: 3599.00
Product In-Stock: InStock
Bowflex TC1000 TreadClimber FAQs
When did the Bowflex TreadClimber TC1000 come out?
According to Amazon, the TreadClimber TC1000 came out in 2006. 
At the time, the brand ran a commercial that reportedly allowed customers to try a TreadClimber machine for 60 days before committing to it. This was a part of their "satisfaction guarantee" policy. However, the brand does not still do this for other cardio machines; their return policy is 30 days.
Is Bowflex TreadClimber discontinued?
Yes, all of the machines within the Bowflex TreadClimber series are discontinued at this time. If you are still interested in purchasing one for yourself, they are available on the secondhand market.
What fitness level should use a Bowflex TreadClimber versus other types of cardio machines?
I believe all cardio machines can be used by anyone, regardless of fitness level. The trick is to tailor your workout to fit your specific needs and current conditioning level. 
Looking for weight loss? Interval training on a traditional treadmill is ideal for a high calorie burn. 
If you're someone who is worried about joint impact and doesn't want to run, a TreadClimber workout is a good option for you. I would recommend this machine for someone who is less conditioned since it cannot support jogging or running.
Stair steppers, stair climbers, and elliptical trainers are all good options for someone to get their heart rate up in a way that is manageable for them. However, I truly want people to workout in a way that makes them feel good and excited to get their body moving. Don't just do a treadmill workout if you absolutely abhor them––it just isn't sustainable (or fair to yourself).