We test and review fitness products based on an independent, multi-point methodology. If you use our links to purchase something, we may earn a commission. Read our disclosures.
Typically, when you think about weightlifting, powerlifting, and bodybuilding exercises, you likely envision using the best Olympic barbells or dumbbells for movements like the traditional deadlift. However, they're not the only option out there for those who want bigger muscles and improved strength.
The best trap bars offer a unique design, allowing you to deadlift more weight while protecting your lower back. In our Bells of Steel Open Trap Bar review, we uncover if this is an affordable trap bar ideal for home gym owners, or if you'd be better off checking out another option.
We Know Trap Bars
As Coop says, "We have tested and reviewed a lot of these." In fact, we have researched and used around 30 or so, putting them through our own workouts. Our testers include weightlifting coaches and certified personal trainers. For the Bells of Steel Bar, GGR founder, Coop Mitchell, but the equipment to the test to assess its durability and overall value.
Bells of Steel Open Trap Bar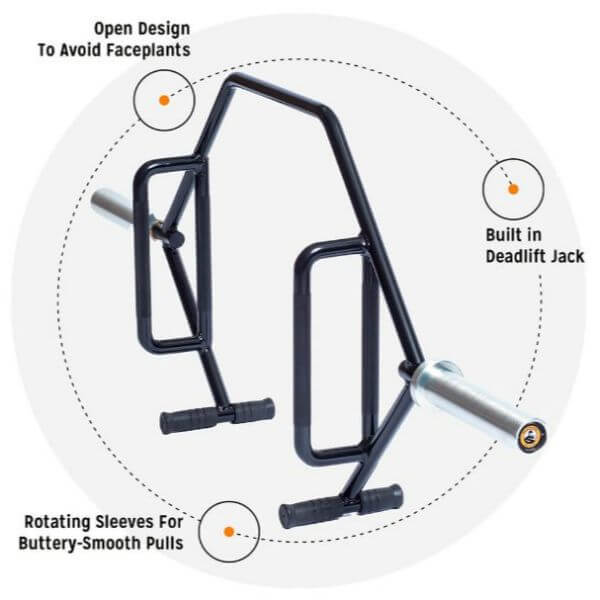 GGR Score: 4.1
Product Highlights
Has rotating sleeves
Open-end frame
Built-in deadlift jack
Costs under $200
700-pound weight capacity
Pros & Cons
Pros
Budget-friendly
Rotating sleeves
700-pound weight capacity should be enough for most users
Built-in deadlift jack
Open-ended frame
Free shipping
30-day money-back guarantee
Cons
Knurling is inconsistent
Bends at higher weights
Poor packaging
Bottom Line
For less than $200, the Bells of Steel Open Trap Bar/Hex Bar is a great product with a unique design that sets it apart from the competition in its price range.
A Quick Look at the Bells of Steel Open Trap Bar
The B.o.S. Open Trap Bar, also referred to as the Hex Bar 3.0, is a reasonably priced piece of home gym equipment. On the market for roughly $299 at the time of this publishing, it's a good choice for budget-conscious garage gym owners who want to boost their deadlift experience but aren't wanting to shell out large amounts of money. It features a built-in jack, an open-ended frame, and rotating sleeves.
RELATED: Eleiko Öppen Deadlift Bar Review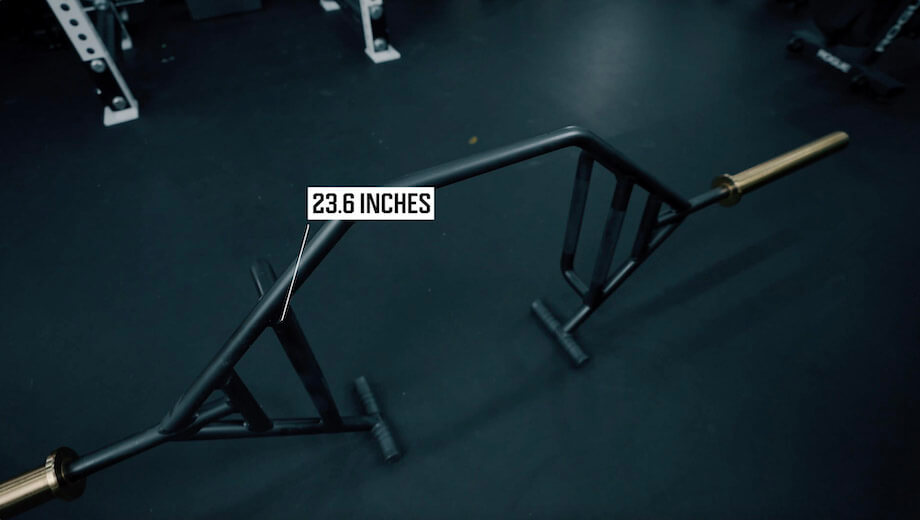 Before You Buy
This trap bar is not rackable and is primarily meant to be used off the floor.
There is a 700-lb weight capacity; this is fine for most of us, but may not be enough for advanced trainers.
The sleeves are short, so those using thick bumper plates may only be able to load 3 to 4 45-lb ones on each side.
Video Review
Is the Bells of Steel Open Trap Bar Worth It?
Bells of Steel has carved out a solid reputation as a company that offers a wide range of durable home gym equipment at an attractive price, which is why we feature the brand on lists like our best folding squat racks. Unlike high-end trap bars that can cost upward of $500 or more, the BoS bar is much more affordable. It won't break the bank and gives you the flexibility to do almost any exercise you want, from trap bar deadlifts to lunges, thanks to its open-ended design.
However, is it worth purchasing? As Coop says, and is true of many specialty bars, "It's nice to have, but it's not necessarily a must-have." 
Great for:
Cost-conscious trainers who don't want to spend a lot on a hex bar
New lifters who want to practice a wide range of exercises
Individuals with a lower back injury looking to continue deadlifting
Someone who wants to easily load and unload their trap bar using a jack stand
Not recommended for:
Someone looking to lift more than 700+ pounds
Individuals who prefer aggressive knurling on their trap bars
Bells of Steel Open Trap Bar Specs
| | |
| --- | --- |
| Footprint | 59" L x 22.2" W x 4.8" H |
| Bar Weight | 47 lbs |
| Weight capacity | 700 lbs |
| Loadable Sleeve Length | 9.7"/247 mm |
| Handle Diameter | 25 mm |
| Width from handle to handle | 23.6" |
| Cost | $299.99 |
| Warranty | Limited lifetime warranty |
| Finish | Black oxide |
| Sleeve Finish | Bright zinc |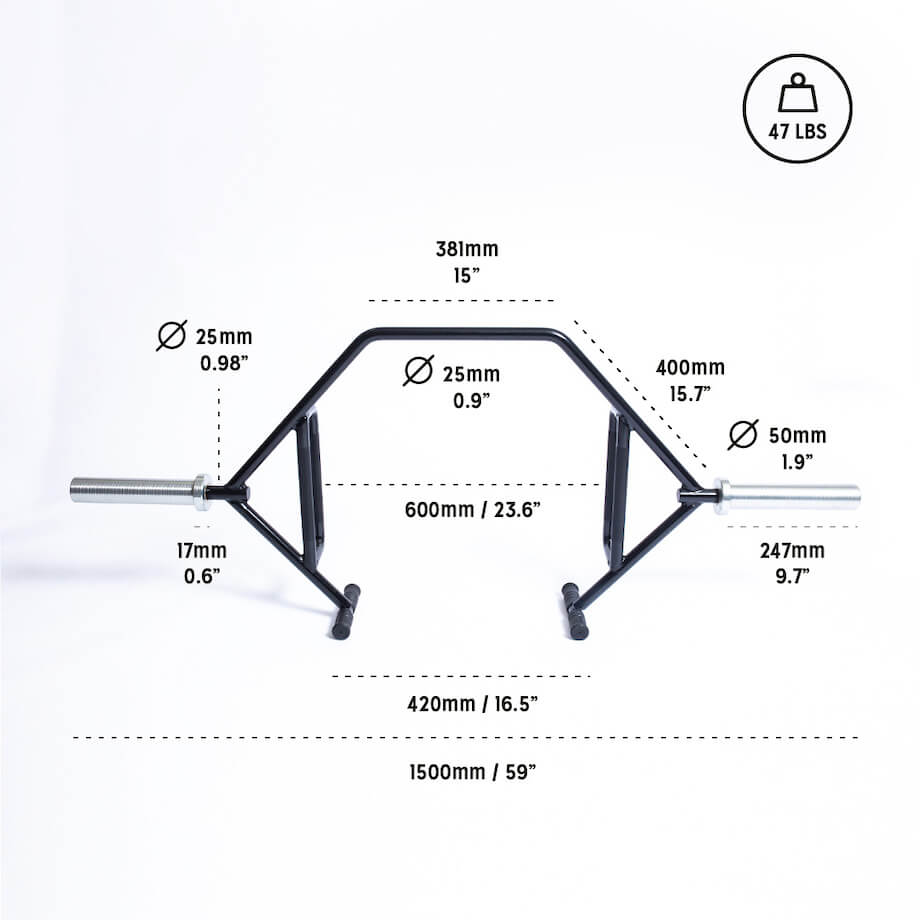 Bells of Steel Open Trap Bar: Construction
Although affordability is important, you certainly want to ensure that your purchase meets your fitness needs. The B.o.S. Open Trap Bar offers pretty good value for novice powerlifters but might not be what you pick if you're more advanced.
RELATED: REP Fitness Open Trap Bar Review
The Built-in Jack
Built-in deadlift jacks are usually only seen on higher-end specialty bars, so it's nice to see them on this affordable bar. Conveniently, you can use the bar like a lever, rotating it vertically until it's sitting up on the jacks. Since this lifts the bar, you benefit from easy loading and removal of your weight plates.
Plus, to make it even better, the grips on the jack stand are rubber, so they won't scratch up your home gym floor either while you're working out or moving it from one location to another.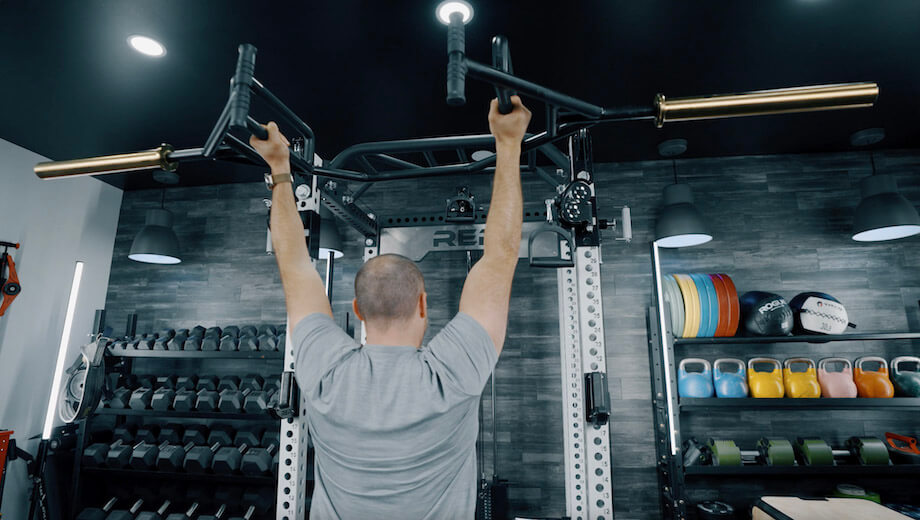 This feature might seem easy to overlook, but it's something to appreciate when you consider how many people ditch their trap bars due to loading/unloading issues. As Coop says, "The jack stands are one of those features you don't realize you want until you have it."
The Open-ended Frame
There are traditional trap bars, and then there are open-ended hex trap bars like this one, but what's really the difference? Well, the open-ended frame lets you do so much more workout-wise. With traditional ones, you can't easily do seated- or lunge-style movements, which might be annoying if you like to switch it up. The open frame, though, allows versatility and is handy for novices looking to boost muscle growth, pulling strength, and proper hip-hinge form.
The Rotating Sleeves
One feature we love on this trap bar are the 1.9-inch rotating sleeves.
One of the issues with traditional bars is how the rotating weight plates can start pulling on the bar. This causes the bar to tilt when you're exercising, which throws off your balance and can hurt your wrist. However, since the shaft on this hex bar stays neutral while the sleeves rotate using bronze bushings, Coop noticed in testing that the movements become much more comfortable for your wrists.
The Loadable Sleeves Come Up…Short
The loadable sleeves measure 9.7 inches, which is short. Consider, by contrast, the Rogue Fitness TB-1 Trap Bar, which features 16 inches of loadable sleeve length on each side.
The pros to having shorter sleeves are that it makes the trap bar compact, more affordable, and reduces shipping costs. However, the big con is that with it being less than 10 inches long, you can't add much weight to it. If you add a pair of Olympic barbell collars, which take up approximately 2 inches of space, you're left with only 7 loadable inches.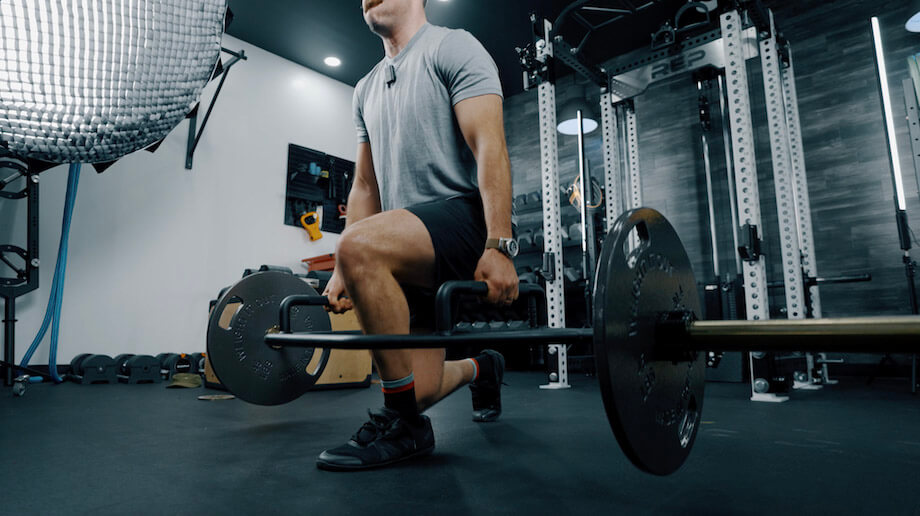 According to the Bells of Steel website, you can add the following number of weighted plates:
3 45-lb dead-bounce bumper plates
3 45-lb conflict bumper plates
4 45-lb competition bumper plates
7 45-lb machined plates (like iron plates)
RELATED: The Best Bumper Plates  
Based on that and the 47 pounds offered by the bar itself, you might be able to fit three to four 45-pound regular bumper plates. This will grant you between 317 and 445-ish pounds, which is still pretty intermediate for powerlifters. If you switch to thinner plates, you might be able to cross that 600-pound threshold, but even then, that might not be enough for the advanced athletes out there.
Using the Bells of Steel Open Trap Bar
In our own testing, there are a few features that stood out to us.
The Dual-Handle Height
One convenient feature on this piece of equipment that improves the workout experience of everyone, but especially those who are new and/or have limited mobility, is the dual-handle height. The higher raised handles, as Coop mentions, "are better for balance and gives a better starting point." It can help you adjust your form and build up your back and hip strength, which is essential.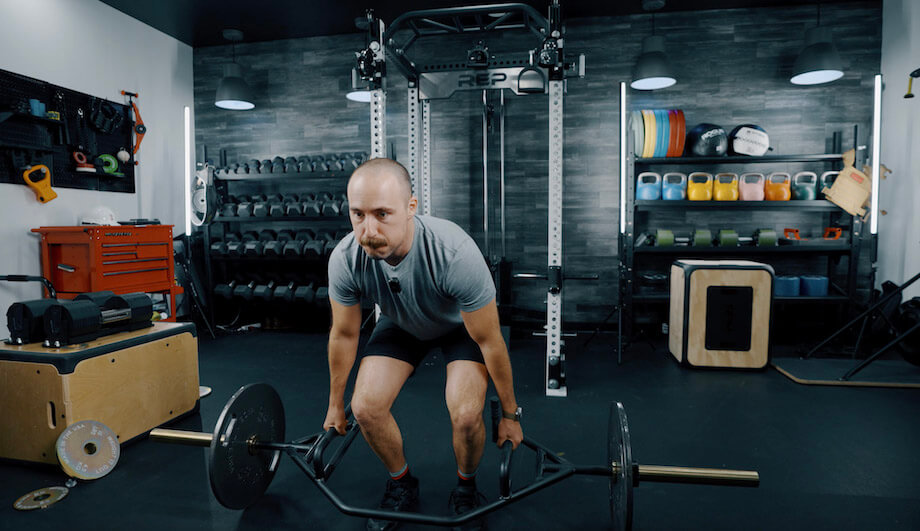 Overall, the dual-handle height affords a much more user-friendly experience, and it's really a necessity for all trap bars. As Coop says, "Any of the trap bars that I have that just have a single handle, no matter how good, I just don't end up using them that much."
RELATED: Kabuki Strength Trap Bar Review
Width From Handle To Handle
Some brands, like REP Fitness, have created trap bars with very wide widths. This, unfortunately, can make lifting uncomfortable for some people with shorter wingspans.
The B.o.S. Open Trap Bar checks in at 23.6 inches, which seems like kind of a middle ground. It's just slightly narrower than the military standard of approximately 25 inches. As Coop says, "Even if you're a strongman monster with lots of girth in the waist, you'll be able to fit in this just fine." However, if you like wider handles and want to be able to do exercises like the snatch grip deadlift, this wouldn't be the right equipment for you.
Types of Exercises You Can Do With The Bells of Steel Open Trap Bar 3.0
As with any trap bar, there are numerous exercises that you can do with the B.o.S. Open Trap Bar. Obviously, you can do trap bar deadlifts. Coop also points out, "Because the open design of the bar helps keep your weight centered and gives you a greater range of motion, it's also a great tool for doing lunges."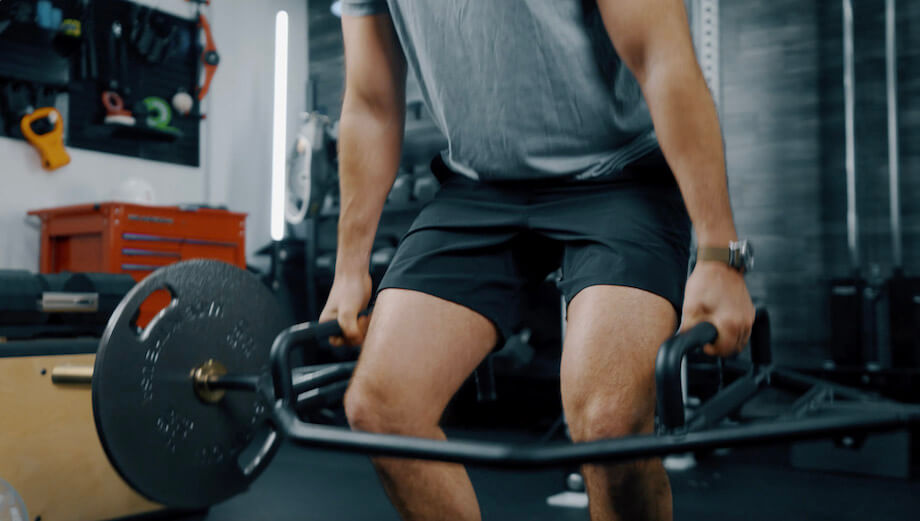 Additional workouts you can do with this hex bar include:
Farmers carries
Romanian deadlifts
Shrugs
Split squats
Walking lunges
RELATED: The Biggest Trap Bar Benefits
Footprint and Portability
Weighing only 47 pounds and having relatively short handles, this trap bar is undoubtedly smaller than others in its category. It's 59 inches long, almost 5 inches high, and about 22 inches wide, so it takes up space, but not a whole lot.
You shouldn't have any issues moving it around your home gym as needed, but it's definitely not something you'd put in your gym bag and take with you.
Is The B.o.S. Open Trap Bar Durable?
The Bells of Steel Open Trap Bar is well-made for the most part, especially considering its price. It's constructed using mostly alloy steel that's sturdy and safe to use. However, the frame is only 25 millimeters in diameter, which is on the thinner side for a trap bar. This is likely a huge reason why the bar can only handle 700 pounds.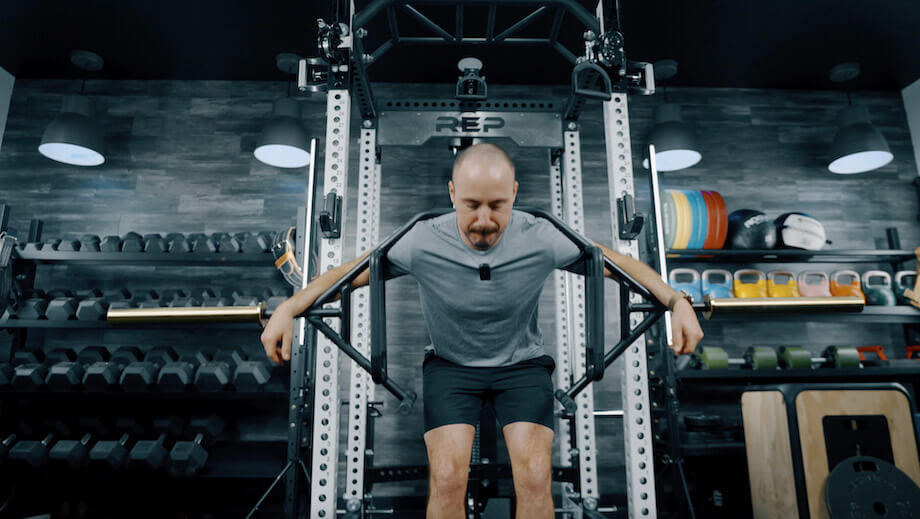 In addition, it's powder coated in black oxide, and honestly, that's not the most aesthetically pleasing look. Plus, black oxide tends to scratch and peel easily, so that may mean that your model could look like it has been well-loved after not that much use.
The B.o.S. Open Trap Bar vs. Giant Open Hex Trap Bar vs. Rogue TB-1
GIANT Northland Open Hex Trap Bar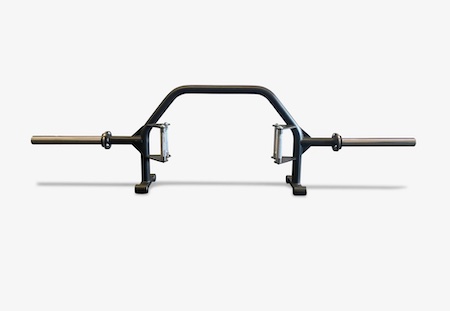 GGR Score: 4.18
Product Highlights
Trap bar with open hex design
Built-in jack
Dual knurled handles
Weighs 45 lbs
Weight capacity is 800 lbs
25" in between handles
Pros & Cons
Pros
Built-in jack
Dual knurled handles
Weighs 45 lbs
Great value
Respectable weight capacity
Cons
Isn't balanced
Lighter weight capacity than similar open hex bars
Distance between handles cuts down on versatility somewhat
Handles are not removable
Bottom Line
The GIANT Northland open hex trap bar provides a great value for the price—800-pound weight capacity, a built-in jack, and versatility in movements.
Rogue TB-1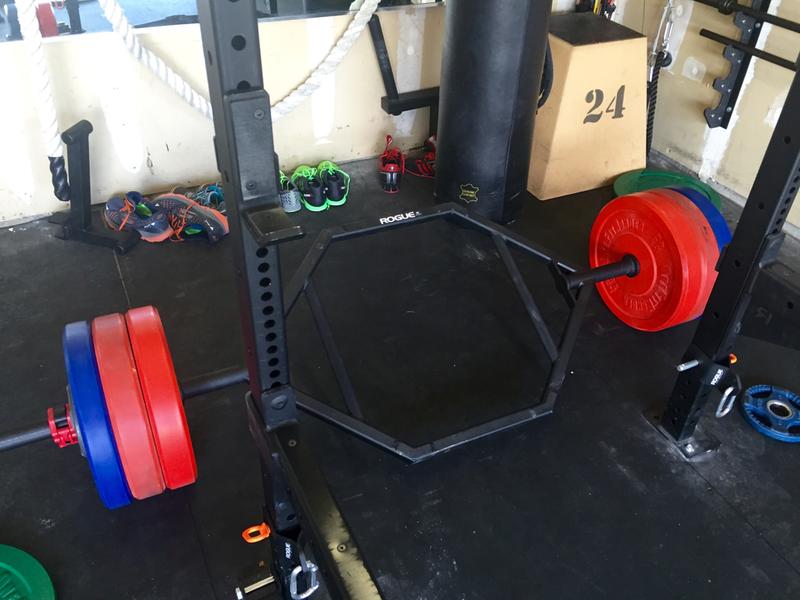 GGR Score: 4.5
Community Score: 4.2
Product Highlights
Closed design
High weight capacity
No whip
Updated, precision sleeve construction
Made in USA
Pros & Cons
Pros
Reasonable price for a specialty bar, at $325
Powder-coated
Aggressive knurling
Rackable
Consistent knurling throughout the handles
Cons
Knurling may be too sharp for some
Lack of knurl marks makes balancing the bar tricky 
Powder-coated sleeves chip easily 
Bottom Line
The Rogue TB-1 Trap Bar 2.0 is an excellent choice for home gym owners who want a rackable hex bar that is built to last.
As mentioned before, The B.o.S. Open Trap Bar is undoubtedly in a crowded market, so how does it stack up against similar products?
The Giant Northland bar offers significant functionality, even at its less-than $300 price point. Unlike the B.o.S. Open Trap Bar, this affordable option has 16-inch loadable sleeves, which allows it to be easily tracked so you can do deadlifts and squats. Another positive many users point to is the aggressive knurling on the handles. This bar's strong grip surface makes it less likely to slide or slip down, especially during heavy lifts. As Coop says in our Giant Open Hex Trap Bar review, "The Northland Open Trap Bar is really the best value in the category."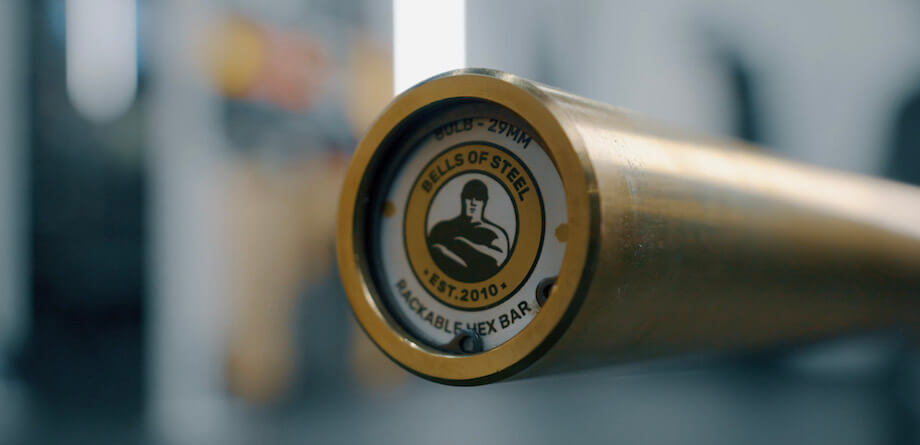 The Rogue Fitness Trap Bar is a bit pricier, coming in at almost $400. In addition, it's heavier than the B.o.S. Open Trap Bar by nearly 15 pounds, which could make it more challenging to use for those new to lifting or rehabbing from an injury. However, on the plus side, since it is heavier, we assume it must also sustain a greater weight capacity. Unfortunately, Rogue doesn't state exactly what that weight capacity is.
| | | | |
| --- | --- | --- | --- |
| | BoS Open Trap Bar | Giant Northland Trap Bar | Rogue Fitness TB-1 Trap Bar |
| Cost | $299 | $269.99 | $395.00 |
| Weight | 47 lbs | 45 lbs | 60-lbs |
| Weight Capacity | 700 lbs | 800 lbs | Unknown |
| Loadable Sleeve Length | 9.7" | 16" | 16" |
| Handle Diameter | 25 mm | 28 mm and 38 mm | 1.34-inches |
| Width from handle to handle | 23.6" | 25" | 25" |
The B.o.S. Open Trap Bar Customer Experience
Bell's of Steel offers a 30-day money-back guarantee if you're unsatisfied. Therefore, if you purchase the Open Trap Bar and don't like it, just reach out within 30 days of receiving the product to let them know. They'll send you a shipping label, but you must pack it up, place it in its original box, and drop it off at your nearest package carrier. Do keep in mind that B.o.S. will collect a $20 return shipping fee.
In addition, if you're a military member, veteran, first responder, or medical professional, you're eligible for a 5% discount.
RELATED: The Best Military Discounts on Home Gym Equipment
Does Bells of Steel Offer a Warranty?
If your hex bar bends during regular use or has a defect in function, workmanship, or material, Bells of Steel will repair or replace it, but keep in mind that the warrantied weight capacity is 700 pounds, so if you go over that and something happens to the bar, you may be out of luck. In addition, do note that this warranty only applies to the original purchaser, so if you buy it from someone else, it doesn't transfer to you.
Ordering the Bells of Steel Open Trap Bar
If you're considering ordering the Open Trap Bar, you can do so in two ways. You can purchase it directly on the Bells of Steel website or head on over to Amazon.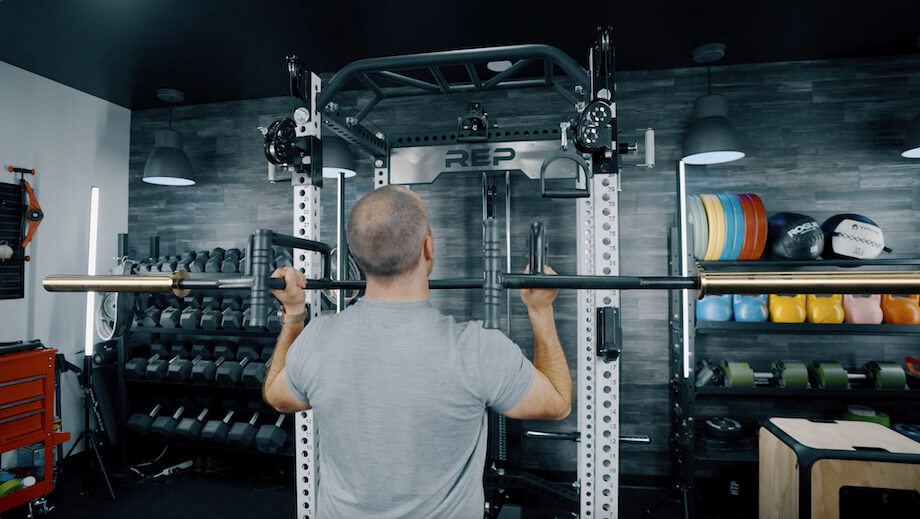 Financing
If you're uncomfortable paying for the hex bar in full, Bells of Steel offers financing through Affirm. With that option, you can break this almost $300 product into 3, 6, or 12 monthly payments.
Shipping and Pick-up Process
Whether you order via Amazon or the Bells of Steel website, you'll get free shipping. Currently, Bells of Steel aims to process orders within one business day and only ships to areas within the continental United States. If you don't mind going to Indianapolis, you can pick up the trap bar in-person at their warehouse.
Customer Reviews
The Bells of Steel website has hundreds of reviews of this product, and they are all overwhelmingly positive.
For example, Chris noted, "For the price, this can't be beat … for a budget bar trap, you really can't go wrong here." Malinda added that she loved the versatility of the product and that she was able to use it for deadlifts, while her husband used it for shrugs.
The reviews on Amazon were still mostly positive, but a few customers complained. One person mentioned, "The only thing I did not like about it is the weld finishing quality and finishing touches. My hands got poked by some sharp edges from the welding wire material." Another person stated, "The trap bar arrived without any packaging (just a shipping tag), and with scratches. One handle is not perpendicular to horizontal, but that issue seems more to do with poor craftsmanship."
Final Verdict of Our Bells of Steel Open Trap Bar Review
Overall, the B.o.S. Hex Bar is a good bar at a decent price point. However, Coop notes that there is really nothing special that sets it apart from the crowded field of competitors. In fact, some of the competitors seem to offer more bang for the proverbial buck. As Coop mentions, these products are starting to show their age. It's time for Bells of Steel to come out with a new open trap bar that sets itself apart from its competitors.
Nonetheless, this Open Trap Bar might be a good option for you if you like these features:
A functional, compact design that allows you to do a variety of exercises
Built-in deadlift jack for quick loading/unloading
Rotating sleeves so the load doesn't shift and your weight remains centered
Dual handles that accommodate those with back injuries
Bells of Steel Open Trap Bar Rating
Bells of Steel Open Trap Bar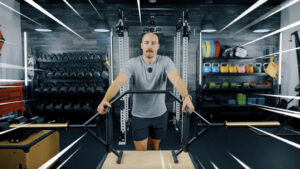 In this Bells of Steel Open Trap Bar review, we uncover if this budget-friendly bodybuilding home gym product is worth the buy.
Product Currency: USD
Product Price: 300
Product In-Stock: InStock
Bells of Steel Open Trap Bar FAQs
How Do You Assemble the Bells of Steel Open Trap Bar? 
If you don't like setting up equipment, you'll love this open trap bar. There's absolutely no setup required. Once the bar arrives at your home gym, it's pretty much ready to go. 
Is The Bells of Steel Industrial Trap Bar The Same As The Hex Bar 3.0? 
No, the Industrial Bar and the Hex Bar 3.0 are different products and cater to varying types of customers. The industrial bar can hold up to 882 pounds of weight, includes aggressive knurling, is rackable, and has much longer sleeves. It's a great option for advanced powerlifters, whereas the Hex Bar is best for novice trainees. 
In addition, the Industrial Bar looks better than its cost-effective Hex Bar 3.0 cousin. It's coated with a black cerakote, which Coop says is both highly durable and aesthetically pleasing. To add more bang to the aesthetic buck, the industrial version has gold titanium sleeves that will not show scratches and dents and will surely draw the eyes of any lifter in a gym. In fact, Coop notes that many people in his own gym pick up the shiny gold and titanium option before they try out more expensive bars. 
As good as this bar is, it's, unfortunately, being discontinued by Bells of Steel. 
What Comes With The Hex Bar 3.0
The Bells of Steel Hex Bar has a number of great features, including:
Rotating sleeves
A built-in bar jack
Open frame design